So you've decided you want to take the family camping – great! This guide will walk you through every step you will need to plan your first camping trip with kids.
58% of campers [1] go with their immediate family and it's understandable why – it's a fantastic way to enjoy the great outdoors and bond as a family.
Whether this is your first camping trip or your fiftieth, there's still plenty of advice and tips throughout to help make your trip even better.
When to Go
When is the right time of year?
Whilst winter camping with kids might be possible for experienced recreationists, you shouldn't be considering it for a first trip. Once you've got a grasp of camping in kinder climates, maybe then you can think about an adventure out in the snow.
If you want to learn more about winter camping, check out our guide. In the meantime, I would recommend sticking to camping in spring, summer, or autumn.
Related: If you prefer camping in comfort, you might be interested in trying out a cabin tent in the summer. They're super spacious and feel more like a home. Check out our reviews of the best cabin tent for camping.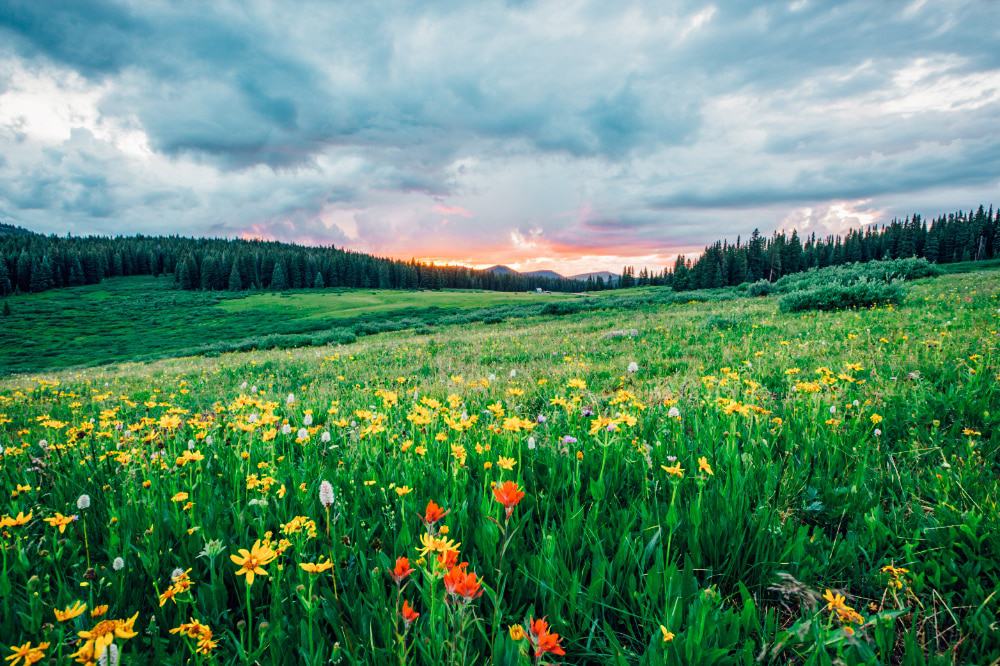 There's no universal best time to go camping so you will need to consider the local climate.
For example, here in Scotland, the weather is very uncertain so whatever time of the year you are planning to go camping it can be hard to predict.
A major consideration I have when camping is midges (or "no-see-ums" as they're known in North America). They typically aren't too bad before early May but after that can be a nightmare.
If you're camping in Montana, mid-June to late September are recommended as the best time to enjoy places like the Glacier National Park. July and August are peak seasons – which can bring more visitors and different considerations for your trip.
Tip: If you're camping during the busier peak months, make sure to book your accommodation well in advance.
It can also be a good idea to check out any festivals or local events that might be going on in the area to decide when you want to go.
School holidays are a good time to take the kids away without having to worry about
Various factors influence when you should go camping. There is no universal timeframe that can be offered I'm afraid. Research your local climate and use your best judgment.
Just don't try and head out in winter yet!
Some Factors to Consider:
What age should you take kids camping for the first time?
Figuring out when to take your kids out for their first camping trip can be hard to judge – particularly if you haven't been camping before!
But there's no definitive age you should aim to take kids out into the great outdoors.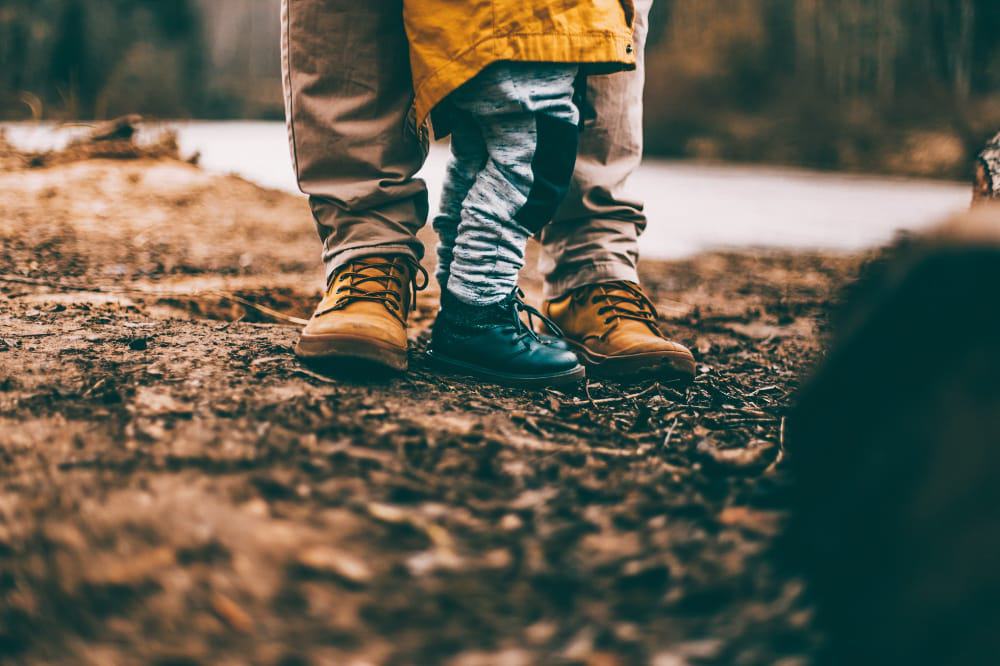 29% of campers [1] take kids aged 9-14 camping, making it the most popular age range and the average age for a first trip is around 10. Kids younger than this might require more supervision for your trip whilst older teenagers might feel uncomfortable with the lack of privacy.
Up to 7% of families even take kids aged under two on trips! Personally, I'm not sure how much enjoyment I'd get from taking a toddler camping – but don't let that stop you!
Families do go camping with very young children and manage to have a good time. As with most things involving outdoor activity (and indeed parenting!), if you put the preparation in beforehand you should be fine.
Teenagers meanwhile are often more enthusiastic about camping than some people would anticipate. 58% of teens [2] were very enthusiastic about camping with very low levels of dissatisfaction being reported.
Generally, you can take kids camping at pretty much any age throughout most of the year! Just make sure to consider any specific needs your child has and any challenges weather or climate might bring.
Related: Looking for a brilliant camping experience for a big group? Check out our reviews of the best large tents for camping.
Where to Go
Location, Location, Location!
Whilst part of camping is about experiencing new landscapes and environments, for your first trip I recommend staying close to home. You don't want to be any more than a brief car journey from home in case things don't go according to plan.
I would recommend looking for a site within a short drive to a town that has a take-out place as well. A pizza can make an easy, no-fuss dinner when you're camping.
You don't have to eat stove-cooked beans all weekend (or at all – there are lots of meal recommendations further down if you're looking for inspiration).
Tip: Try to keep the kids awake during the car ride to the campsite, even if it's a long journey – they'll sleep better at night!
Look for an area that is close enough to home and civilization in case things go wrong but ideally isn't familiar to your kids.
Amenities
Camping experience varies by the campsite. Dispersed camping, or wild camping, involves no campsite amenities at all.
But most family camping is set in designated campsites with toilets, showers, and sometimes even small shops on-site (often selling basics like matches or sun cream as well as little treats like ice-cream).
Showers might seem contrary to the rugged, outdoorsy spirit of camping. But teenagers, in particular, can be self-conscious and struggle with roughing it. They might not appreciate days without showering and giving up hair or beauty products.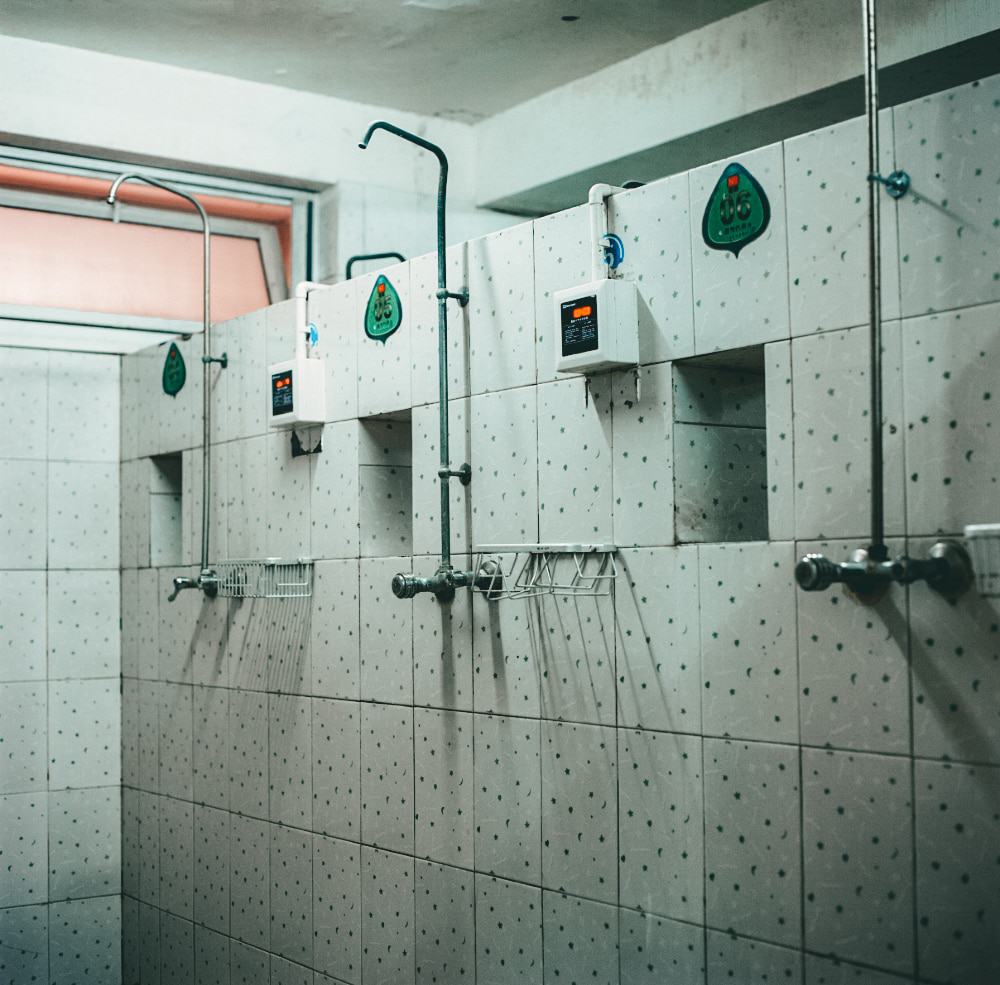 What kind of amenities you will need will probably be determined by your child's needs. Are they toilet trained? Are they still in diapers? Think about these sorts of questions before you venture deep into the backcountry.
Once you understand what you will need from a campsite, you can start looking at what you might want.
What makes the site special?
Are your kids sporty? Then look for a campsite with plenty of space for ball games! Or research some watersports activity if you're camping near a body of water. For example, canoeing or kayaking can be great activities for a range of ages and needs very little experience if the conditions are right.
Different kids want different experiences when camping. If you're stumped for suggestions to keep them entertained, you can check out our list of activities for camping with kids.
Campsites will often come with on-site playgrounds which can be great for young children, especially if you want them to meet other kids.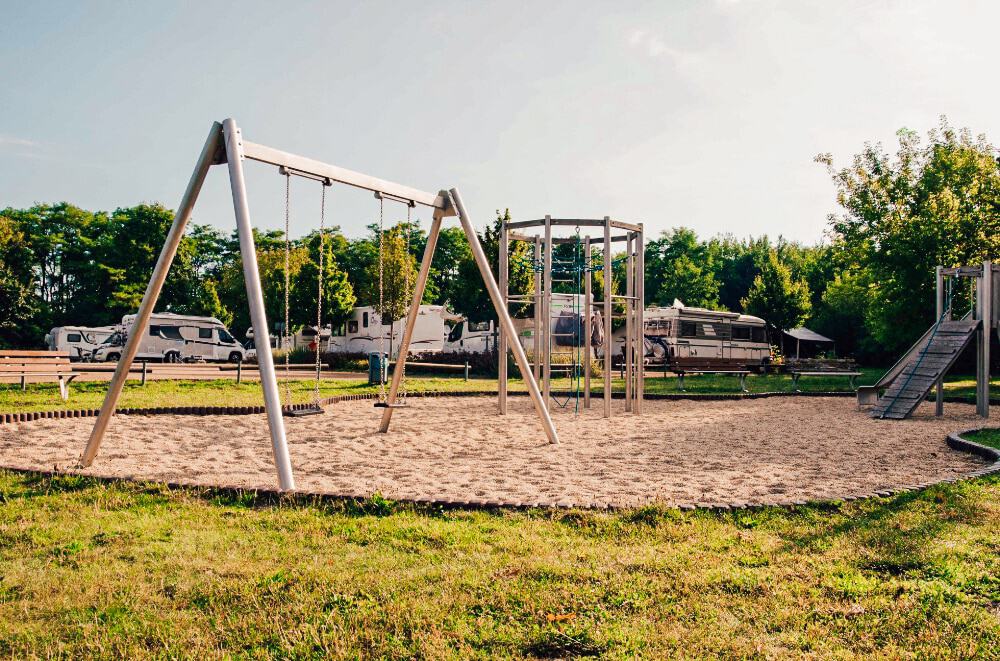 If you are planning to do a lot of hiking on your camping trips, then look for campsites that have nature trails attached to them.
Campsite directories have options for searching for sites with walking and nature trails in the UK [3] whilst the National Park Service has information on sites in the USA [4].
I wouldn't recommend planning out everything you're going to do on your camping trip – leave some room for spontaneity! But make sure to research the area beforehand and have some local activities planned out.
Glamping
This is a lot of equipment. For a family going out to buy all this for the first foray into camping can be very expensive.

Glamping is an alternative way to get outdoors and experience nature without having to buy all the equipment for camping. Unlike just renting the equipment you won't have to set up your accommodation at most glampsites.

Some glampsites are not child-friendly so check before you book!
What to Pack
Every trip is different and there's no exhaustive checklist for everything you might need.
However, there are some core items that most trips are going to need and the ten essentials which you should make sure to bring on every outdoor pursuit.
I'd recommend writing a personal checklist for your first trip and adjusting after as you learn from your experience. You can keep this process up until you've nailed the checklist and know what you need to take for a good trip.
Tip: If you have family or friends who regularly go camping, ask them if you could join them for a trip sometime! It can make things a lot easier if you can go camping with an experienced recreationist for your first trip.
To get started on what you should bring, I'll cover some of the key equipment you will need and extras I'd recommend.
Key Points to Consider
Durability – will it stand up to wear and tear?
Ease – can two adults manage to erect the tent or inflate the air bed?
Comfort – are the rooms big enough?
Budget – can you afford it?
Your home from home
Bringing a tent to sleep in is a core element of the camping experience.
Family-orientated tents are often large with plenty of space for sleeping areas as well as a living space for getting ready or sheltering from the rain. Often they will come with a porch at the front as well which can be an absolute must-have for muddy kids!
More large single-room tents have come on the market recently with the growth of bell tents, yurts, and tipis. However, these tents can be expensive due to their unique design. For the cost of boutique design tents, you could get a top of the range large family tent.
Large tents with podded rooms are a great advantage over smaller, backpacking tents when it comes to family camping. They allow a degree of privacy and while keeping everyone together under one roof.
Tip: If you are taking teenagers, it might be an idea to bring a smaller tent to give them privacy. Cheap pop-up tents are available that are designed for quick, easy use but I'd recommend investing in a more substantial two- or three-person tent.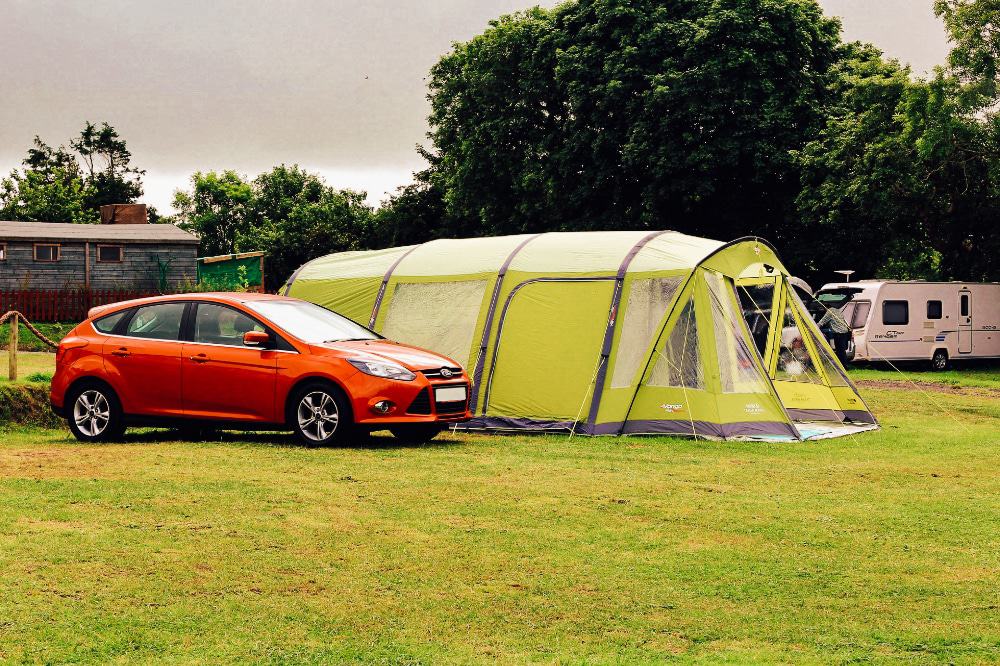 However, they are more expensive than smaller, more functional tents. Rather than buying a tent for your first adventure, maybe look into renting instead. It can help reduce the cost of the initial trip, but if you're heading out camping regularly it is worth buying your own tent.
Tip: If you have good friends who go camping already, consider asking to borrow some of their equipment for the first trip to help keep costs down – just make sure to look after any gear you borrow!
When setting up the tent at your campsite, make sure to get the kids involved! It's important to teach them these skills to bolster their camping experience.
A bed for the night
Once you have a roof over your head, you can start thinking about a bed for the night.
Sleeping mats or pads are great lightweight solutions to insulate the ground and give you some comfort at night. However, if you're car camping and can easily bring a more comfortable bed for the night, it might be worth considering.
You could bring a camp bed or cot. They are designed to raise you off the cold, hard ground and give you a more comfortable sleep at night. They are easily put up and also offer a storage space under the bed for rucksacks!
Because camp beds are fairly narrow it can make it difficult for sprawlers to sleep on them and side sleepers often complain due to a lack of padding.
Another option is an inflatable mattress or air bed. These are definitely the most effort as they require blowing up but they can be a comfortable solution. The extra height makes them a great solution for people with mobility issues.
There are plenty of options to have a comfy night in your tent.
Personally, I would usually opt for the camp bed when family camping. I've used air beds before and the difference in comfort level for me wasn't significant. But the extra storage space camp beds can offer is a fantastic advantage over bulky airbeds.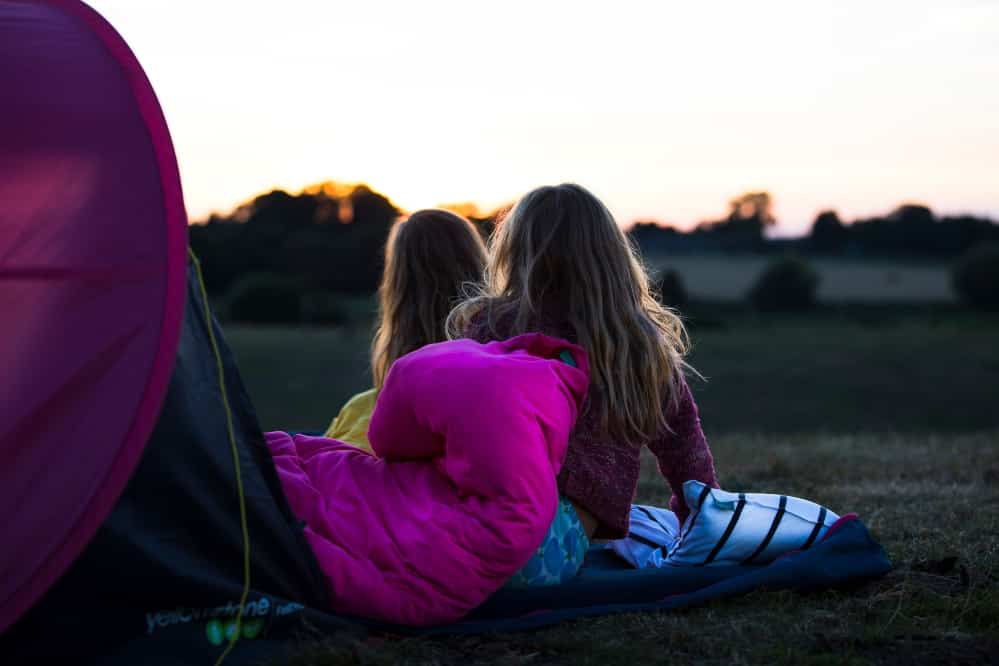 Bundle Beds
We recently stumbled upon the Bundle Bed – an all-in-one bed that comes with sheets, a duvet and a pillow attached. It rolls up into a handy carry bag that can be stored away easily until your next trip.

They can be great if you have trouble getting your kids to sleep on a roll mat or fitting an air mattress in your tent.

But the best part of the Bundle Bed for us is that they use recycled plastic bottles as the filling for their pillows and duvets.
Sleeping Bag
Now you have a shelter and bed for the night, next you'll need some bedding! Most people opt for a sleeping bag when camping.
But using a sleeping bag that is too big can make it ineffective and mean a cold night. Thankfully there's plenty of kids sleeping bags out there to solve that issue.
Make sure they are warm when they get into their sleeping bag at night. Maybe leave a jumper or something else handy for them to pull on during the night if they get cold, and make sure they go to sleep with socks on.
We've already written an article with some advice on how to stay warm in a tent for some guidance.
You can rent sleeping bags, as you can with tents, but the savings will be less substantial. Sleeping bags are handy beyond camping as well – for example, as a spare bedding option for guests. You should get enough use from a sleeping bag to justify buying one.
Related: Pitching the tents can take away critical time from your experience. Instant tents can hugely reduce this setup time. Find out what the best instant camping tents are.
Clothes
Knowing to bring the right kind of clothing rather than too many clothes is the key to packing for camping.
You can get away with reusing clothes more than you would at home and so will your kids. You don't need a new outfit every day – you need to be dry, warm, and comfy.
Pack lots of layers – for you and the kids. Layers are the easiest way to regulate your temperature because you can adjust as you get too warm or too cold.
Socks are the one item I recommend overpacking. Cold, wet feet are a miserable experience so make sure you have plenty of spares for everyone!
Clothing Basics:
Underwear and base layer – Plenty of spare socks and quick-drying t-shirts!
Insulating layer – fleeces and pullovers to keep you cozy
Shell layer – a waterproof jacket
Footwear – walking boots for hiking or rain boots and a pair of more casual trainers should be fine
Tip: Make sure to tuck long pants into socks during tick season – and regularly check kids' legs!
If temperatures cool on your trip, make sure to keep an eye on your little ones – it's a lot easier to encourage them to put another layer on rather than trying to warm them up once they are cold!
Involve the kids in packing their clothes as well if they are old enough. Tell them what you will be doing and ask them what they think they should bring. This can encourage children to take more responsibility.
Some Extras to Think About
Can your kids go without their favorite stuffed toy? You don't need to bring the whole toy box but you can bring the odd item to help them feel more comfortable.
Make sure to bring a light source with you for each person – ideally a head torch as it allows you the freedom of your hands whilst being used. For keeping the kids safe, you can bring glow sticks and string to make glow-in-the-dark necklaces to keep an eye on them at night.
Tip: You can start a camping box filled with non-perishable supplies you are always going to need such as toilet roll to save time packing and unpacking.
Remember that you know your kids better than anyone else, so make sure to consider their specific needs when packing.
Here are some other items I advise you bring:
Garbage bags
Washing up liquid
Drying cloth
Plates, cups, and cutlery
Frying pan and pot
Toilet/kitchen roll
Camping chairs
Antibacterial wipes
Clothes pegs
Insect repellant
What to Do
Keeping the kids entertained can be a challenge at the best of times. Going camping means a break from your normal life and routine, which means you might need some fresh ideas to keep the kids occupied.
Check out our guide for a full list of over twenty suggestions for camping games and activities for kids. Here are a few of my highlights.
Camping Olympics: a great idea for nice weather and big groups!
Dedicate a day of your trip to Camping Olympics. This works best with a large group so you can play in teams but if you have less than six players you can play as individual participants.
You can come up with all sorts of games for people to participate in. If you have a wide age or ability range make sure to factor that into the games or competitions you pick.
Suggestions for events:
Scavenger Hunt: reconnect with nature
A good opportunity to let the kids explore their natural surroundings. Draw up a checklist of local animals, plants, and landmarks that might be found around camp to teach the kids about wildlife and have a bit of fun!
Chubby Bunny: good fun by the campfire or in the tent
The aim of the game is simple – whoever can put the most marshmallows in their mouth without chewing and still say "chubby bunny" wins! This game can work if the weather turns and you have to spend some time in your tent.
Designing Your Camp Menu
You'll need to bring some way to cook, most likely a gas stove. If you are planning to do some campfire cooking then make sure to bring what you require for that, such as a grill.
If you are cooking over a fire [5], let the fire burn until the flames reduce and rake embers together to cook on – like how you would cook over coals on a BBQ. I have written a guide to show you how to start a campfire.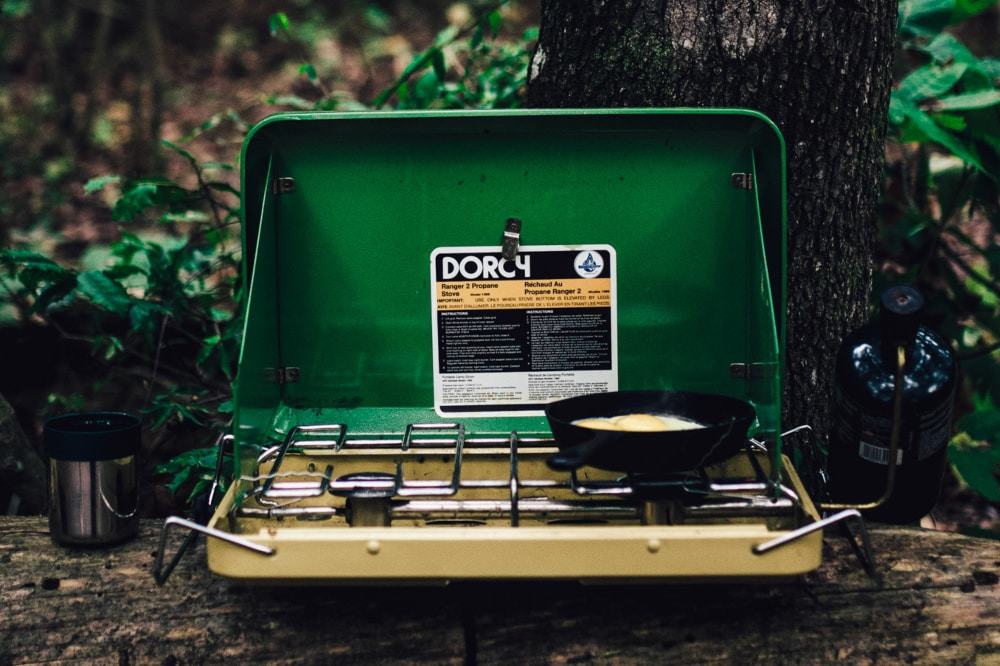 Sometimes the image of eating when camping involves lots of dehydrated and freeze-dried foods heated over a stove. But there's no reason you can't eat well on your trip.
Tip: Freeze some jugs of water before putting them in a food cooler to take with you. They will keep food and drink cold and once the ice melts you have clean drinking water ready.
Here are some meal suggestions to keep the family happy!
Breakfast
You can either keep it light with some fruit and cereal bars or fry up something more substantial. Pre-mixed pancake batter means you can have pancakes in the morning with as little work as possible.
Brands like Krusteaz offer mixes that only need water added to them to make pancakes!
The next time you visit somewhere that has single serving syrup packets, grab a couple of spares for taking with you. You can do the same for packets of butter or margarine as well. A lot of places have them – including McDonald's – so they shouldn't be too hard to find.
Other ideas:
Porridge – I like getting flavored sachet packs and adding milk or water to them
Cereal – Keeping milk fresh when camping can be difficult, maybe consider dairy alternatives like oat milk as they don't need to be refrigerated before being opened (but then must be kept chilled!)
Lunch
Something I admittedly haven't tried but sounds great for camping is walking tacos or Frito pie!
Make some chili at home before leaving for your trip and heat it up when you're camping (over a stove if you're out walking) – then dump it in a pack of tortilla chips and sprinkle some cheddar on top.
It's simple and elegant. A genius solution to provide a warm, filling meal with the convenience of a bag of chips. Any snobs who balk at this dish simply do not understand its brilliance.
Tip: Tortilla chips like Doritos or Fritos also make great fire starters, so throw some in among your kindling
A peanut butter and jelly sandwich is also a great lunch for hiking trips. It will keep easily, doesn't require preparation and the peanut butter gives you a long, slow-burning energy boost.
Other ideas:
Bagel – The best bread for camping as they don't crush or dry out easily
Soup – Make some soup at home and bring it with you to be warmed up for lunches
Dinner
Mac and cheese is my ultimate home comfort food so being able to have some when I'm camping is heaven!
You can make your mac and cheese at home up to the point where you would put it in the oven to melt the cheese on top. Then, let the pasta cool before putting it into a foil pie dish, sprinkle cheese on top, and then cover with tin foil.
Once your fire has been started, take the foil dish and put it in amongst the hot coals to finish cooking the mac and cheese.
It can be tricky to handle foil packages in fires – if you can get heat resistant welding gloves fairly inexpensively or try and turn the package with tongs. Be aware that the tongs method can lead to ripping and spillage!
Hot dogs are a camp food classic and can be easily prepared over a fire. Just bring some buns, ketchup, and mustard. Simple!
Other ideas:
BBQ – burgers, sausages, and even steaks can be cooked over a BBQ set up
Chilli – if you're bringing some for walking tacos, maybe bring enough for a dinner as well
Just bear in mind that, if you bring any perishable food with you, it's important to know how to keep food cold while camping.
Dessert
The most important meal of the day!
S'mores are a campfire classic! You only need three ingredients: graham crackers, chocolate, and marshmallows. Break your graham cracker in half to make your top and bottom then take some chocolate pieces to fit the graham cracker and cover both halves.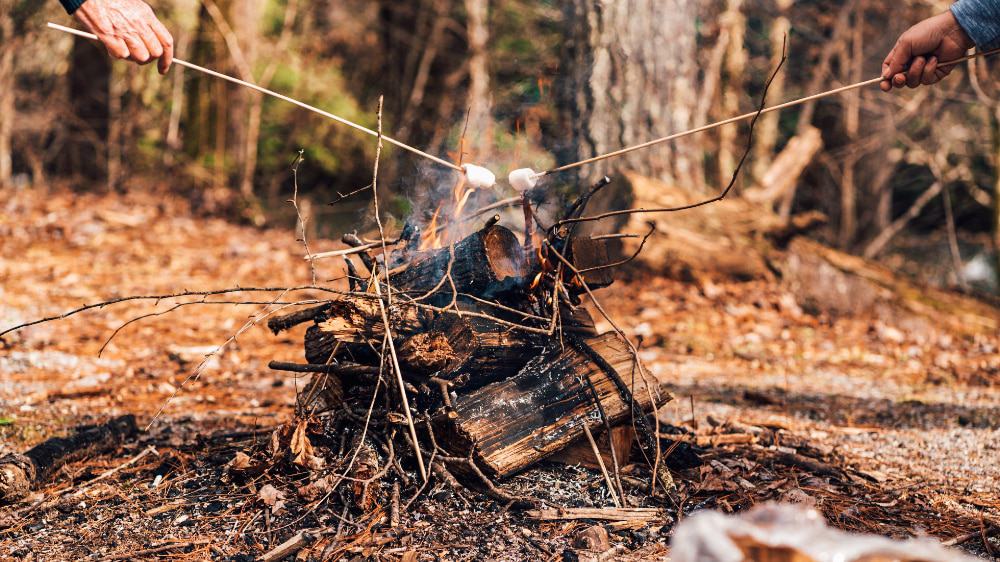 Roast your marshmallow over the fire on a skewer then put it in between the two halves of your graham cracker and chocolate sandwich. If you leave them sitting under some foil while you prepare the rest, the chocolate will melt adding to the gooey goodness!
If you want an alternative dessert, prepare some banana boats [6] beforehand and throw them into the hot coals to cook them onsite.
There are plenty of things you can eat when camping. Speak to your kids about what they would want to save any drama at the campsite.
Tip: The best way to improve your trip for next time is to talk about it. Ask your kids what they liked and what they didn't like – and WHY they felt that way.
A Word on Safety and Etiquette
When you have set up your campsite, it can be a good idea to walk the kids around what you are going to consider the boundaries within which they can explore.
For more maintained campsites, there will likely be clear demarcation, like a fence, where the campsite ends. More rugged sites might require looser boundaries using features in the environment like "don't go beyond that big tree".
Tip: Give the kids a safety whistle for them to use in case they wander beyond the campsite boundary and get lost
Whilst most of the animals and plants you encounter when camping will be harmless, some still pose a threat. Research the local area beforehand to discover any potentially harmful wildlife that you should be aware of.
For example, in the US, make sure to teach your kids how to spot dangers like poison ivy [7] to avoid any nasty rashes. In the UK, foxglove [8] is a wide-spread plant that can be poisonous when ingested causing heart problems.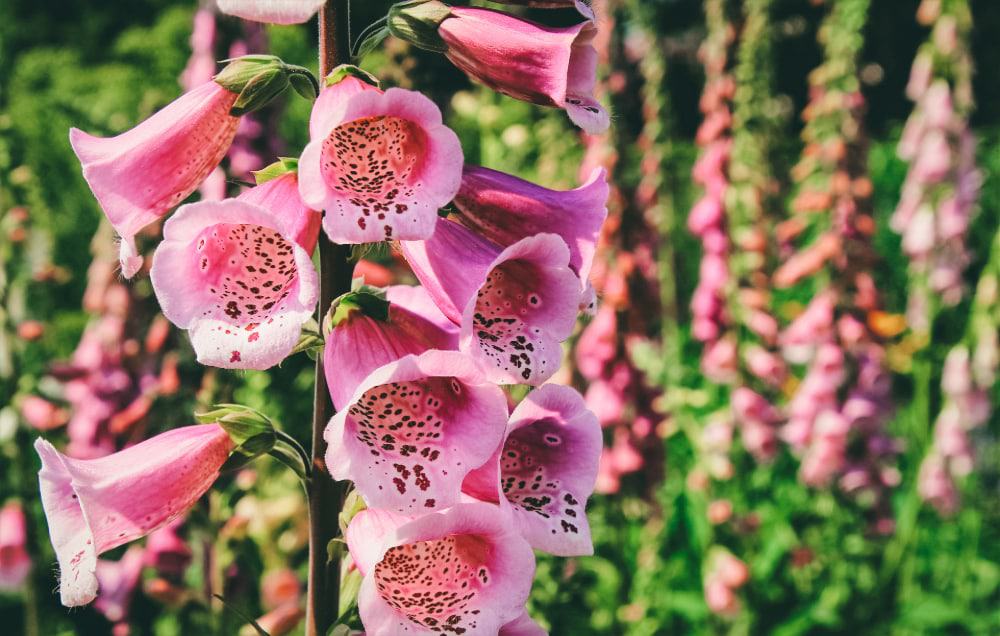 It's a good idea to lay down a "don't eat anything you find" rule. Whilst berries or mushrooms might look similar to others eaten before, they could be harmful for human consumption.
Similarly, a fixed "never try to pet a wild animal" rule might be valuable. Whilst some animals may look cute and harmless, they can be carriers of diseases. It can also be harmful for animals to interact with humans – some animals may be rejected by their parents if they have contact with humans [9].
Nearly 85% of forest fires in the US are caused by humans [10]. It's important to follow rules about campfires to ensure the safety of you, your children, and the landscape around you.
Always check the local environment allows forest fires (research state and local restrictions on open fires and tribal burn bans in certain states [11]).
Make sure your fire is COLD before leaving the campsite – when it's time to put the fire out, dump lots of water on it, then stir it with a shovel and pour more water on top.
Research has found over 80% of pediatric burns [12] caused by campfires are due to day-old campfires that are still smoldering. Only a small proportion of kids are injured by active fires.
Here are some basic rules that you should enforce as well as following proper fire safety:
Don't put anything in the fire (without adult supervision for older kids)
Do not sit on the fire ring or rocks around the campfire
Whatever you bring with you on your camping trip, make sure to take it home with you. Follow the Leave No Trace principles and educate your kids about the importance of responsible recreation.
Wrapping It All Up
There are lots of different variables to consider when planning that can make your camping trip even more daunting.
But hopefully, this guide has made it easier to approach planning. Once you decide where and when you are going camping, it gets a lot easier to start packing as well.
To begin with, go camping any time apart from winter
Consider what you need from a campsite first, then what you want
Make a personalized camping checklist to help you pack
Eat well!
References
[1] https://outdoorindustry.org/wp-content/uploads/2015/03/2017-Camping-Report__FINAL.pdf
[2] http://koa.uberflip.com/i/794160-2017-north-american-camping-report
[3] https://www.campsites.co.uk/search/walking-and-national-trail-campsites
[4] https://www.nps.gov/subjects/camping/campground.htm
[5] https://getoutside.ordnancesurvey.co.uk/guides/cooking-over-a-wood-camp-fire/
[6] https://www.freshoffthegrid.com/campfire-banana-boats/
[7] https://www.fda.gov/consumers/consumer-updates/outsmarting-poison-ivy-and-other-poisonous-plants
[8] https://www.woodlandtrust.org.uk/trees-woods-and-wildlife/plants/wild-flowers/foxglove/
[9] https://www.nps.gov/subjects/watchingwildlife/animals.htm
[10] https://www.nps.gov/articles/wildfire-causes-and-evaluation.htm
[11] https://www.epa.gov/farr/burn-bans-indian-reservations-id-or-and-wa
[12] https://academic.oup.com/jbcr/article-abstract/32/6/633/4588158?redirectedFrom=fulltext