Whether it's your first tent or an upgrade to your previous one, the best family tent for camping needs to be your home away from home. A spacious vessel to sleep and hang out in is vital to the integrity of your camping trip.
Perhaps you want a screen room, or maybe a dark room for the kids to take a daytime nap. No matter—either way, there's a tent that may suit your large capacity needs below.
If you're in a rush, the best family tents are:
Scroll right to view all products >
| | | | | | |
| --- | --- | --- | --- | --- | --- |
| | Best Overall | Best for Small Families | Best for Large or Extended Families | Best Budget Option | Best Alternative Design |
| | | | | | |
| Ranking | 1st | 2nd | 3rd | 4th | 5th |
| Rating /5 | | | | | |
| Review | The Eureka is a wonderful family tent that can provide lots of floor area for a large family. | For a small family tent, consider the Coleman Weathermaster with its built-in screen room that adds liveability. | This large 12 person tent is an excellent family tent for cousins, aunts, uncles or just a ton of siblings. | A simple 6 person tent on a budget, this is one of the more cost-effective but still high-quality family tents. | For a tent you can add more family tents on to to extend your space, consider the Crua Core. |
| | | | | | |
Which tent do we recommend?
If you don't have time just now to read our full review, then the tent we recommend for your next family camping trip is the Eureka! Copper Canyon.
It comes with lots of extra features to get you excited. The awesome mesh design will keep you cool in warm weather and there are plenty of storage options in the tent, including a gear loft.
A favorite feature of ours from the Copper Canyon was the tall walls which create lots of headroom, making it a comfortable tent for tall campers.
Best tent if you're on a budget
If you don't have cash to splash on an expensive tent, then we recommend the Coleman Sundome as a fantastic budget option for family camping.
It has a simple design with high-quality construction but is incredibly affordable. If you are looking for a first family tent but don't want to spend a fortune, this is a perfect option.
Overview of the best family tents
Best Overall
The Eureka is a wonderful family tent that can provide lots of floor area for a large family.
Pros
Separate sleeping areas or sleeping/living areas.
Vast floor space for kids to run around.
Withstands weather well for 3-season camping.
Mesh roof improves air circulation
Cons
Gets chilly, thanks to the poorly designed windows.
Steep walls can catch in the wind
The Eureka! Works wonderfully for families large and small. There's ample space inside the tent in the family tent for young kids to run around or teens to hang out without having to stoop. It's a 2 room tent which let the kids escape the parents whenever they want and adds privacy by night.
The 12 person capacity holds true if you all use a sleeping bag, but it cuts it down to eight if you go with air mattresses. Air mattresses will be a little tough to deal with every day, too, as it reduces livable space; wouldn't it be nicer to break out chairs by day to hang out?
Utilize the storage space for camping gear instead, especially if you go camping in the fall, as you'll need to bring lots of blankets. Though it withstands bad weather well, the windows attach weakly by velcro and let the cool air creep in. Consider covering them with a tarp.
Overall, this spacious tent is perfect for small families, large families, beginners, experienced campers, toddlers, kids and teens.
The large tent will keep cool in the summer as well thanks to lots of mesh features in the tent. The large mesh window on each side helps keep the temperatures cool in warm weather.
However, the larger tent walls can be an issue in intense weather. High winds can catch the near-vertical walls which help to make this such a comfortable tent. The trade off for headroom and a tall ceiling is reduced performance in the wind.
It's an all-rounder with elements that will work for the whole family.
Good solid tents. A little on the heavy side but very durable. When I was in the scouts it was pretty much the only brand we used besides canvas tents.

Product review
---
Best for Small Families
For a small family tent, consider the Coleman Weathermaster with its built-in screen room that adds liveability.
Pros
Screen room is great for pets.
Private sleeping areas.
Easy setup that kids can help with.
Cons
Lets cold air in a little too well.
Not completely weather resistant.
This WeatherMaster camping tent comes in 6 and 10 person capacities. The 6 person version is best for a family of four. Although you could extend your family size to five if you bring the dog along.
If the doggie takes up too much extra space, throw a tarp over the screen room and add a second one as a floor. Dog gets its own bedroom!
By day, the screen room makes a great place for parents to hang out, free of bugs, while the kids go play in the messy wilderness. It's also a nice covered space with a tarp overhead for the whole family to hang out and watch the sunrise or sunset.
The screen room adds a homey nature and wonderful liveability to the family camping tent. There's further livability inside the main tent, which comes with a room divider so kids and parents can sleep separately for a more private experience.
The two sleeping spaces also make it easier to heat them both. It's not the warmest 6 person tent in the world, so try to stick with summer camping. It may also have a leaking problem, so consider adding a tarp to the setup for weather protection.
---
Best for Large or Extended Families
This large 12 person tent is an excellent family tent for cousins, aunts, uncles or just a ton of siblings.
Pros
Light, airy tent.
Rooms are all the same size.
Outdoor awning lets you hang out protected from rain and direct sunlight.
Pre-attached poles for quick setup
Cons
Somewhat flimsy material.
Not a quick setup.
The Ozark Trail is an excellent camping tent for experienced and older families who may have teens with privacy concerns. Each room fits two to an air mattress or four in sleeping bags, and they're equal in size, so there'll be no discourse about who has the bigger bedroom.
The rooms are breathable, with air vents and large mesh windows that let light in and bugs out.
Outdoors, you have an awning around the size of the bedrooms for a communal usable space for hanging out in nature. A wonderful feature in family camping tents.
Please note, though—this is a great cabin tent for large, extended families with kids and teens alike, but don't extend the family to your dog. The tent material is somewhat flimsy and rips easily, so you wouldn't want an over-excited pet to shred it.
It's also not the fastest or easiest to set up, unlike the manufacturer's claims. Be sure someone in the family is up to the job.
Son took his 7 year old Ozark Trail tent to Geology field camp. It held up when other pricier tents failed. Well pitched, it is a tough little tent. He has upgraded to better, lighter tents for backpacking, but still uses the OT for car camping/field study trips.

Tent review
---
Best Budget Option
A simple 6 person tent on a budget, this is one of the more cost-effective but still high-quality family tents.
Pros
Affordable tent for families on a budget.
Easy setup.
Contains low storage pockets for easy access.
Great tent for couples with young children
Cons
Durability could be better.
Only suitable for mild conditions
If you have a smaller family, then this 6 person tent can hold parents, two kids and some outdoor gear.
It's not the most private of family camping tents, but it'll fit two queen air mattresses with minimal space left over. As there's so little room left for gear, it's a fantastic candidate for car camping.
Despite its small size, it works well and contains some desirable features like a power cord vent—great for powering a nightlight. Plus, it has a decent peak height so the kids can stand.
Its peak height is not friendly for parents, but you can't expect the world from a budget tent. Something else you won't get is extensive durability or function in harsh weather, so stick to camping in spring and summer. Customers had a leaky time camping in the rain.
The fiberglass poles also reduce the performance of this tent for family camping trips in intense weather. It is best suited to mild conditions.
Overall, it's a great, quaint 6 person family tent for a budget trip, especially for beginner campers hunting down fantastic family camping tents.
Its a great tent, especially for starting out. Sundome was my first tent and it served me well. Upgraded now but always recommend the Sundome to people starting out.

Tent review
---
Best Alternative Design
For a tent you can add more family tents on to to extend your space, consider the Crua Core.
Pros
Works in all seasons.
Lost of space under the awning.
Thick yet breathable fabric.
For a family committed to camping in all weathers, this is the best family tent that fits. It's a 4-season tent so you can take the little ones out in the snow and have the time of your life.
It's an easy six person tent and doesn't have a reduced comfort capacity like most family camping tents. However, you can add more tents in the Crua range, or attach the tent to your car, to increase the capacity if you wish.
Crua's family camping tents are tough, durable and can withstand a lot of hardship, so this is a tent that should pair well with a family who enjoys camping and are in it for the long haul. However, be warned before you purchase, they're very dark inside—they lack windows. That's great for sleeping late, but not for hanging out in the daytime.
Luckily there's a large, mostly enclosed awning you can spend time under outside of the tent. The awning also helps protect the door from snow and rainfall.
Setup is quick and the included footprint is nice. It's just tarpaulin, but it's not like weight is a concern if you're camping in this thing anyway.

Tent review
---
Best tent for your family
In general, we'd say the Eureka Copper Canyon LX 4/8/12-Person Tent is the best family tent. It has privacy that you can get rid of fast if a small child has a nightmare. It has room to run and play; its versatility is fantastic.
With that said, the Coleman WeatherMaster Tent with Screen Room also makes for a fantastic family tent, thanks to the screen room. That little room is fantastic for play and relaxation.
Deciding on a tent size for your family
The size of tent you need depends on the number of people in your family and the ages within it. For example, if you're an experienced camping family with teenagers, you may want to go double or triple the size of the family so you can accommodate their moodiness and need for privacy.
Smaller families can go for smaller tents but be warned— the claimed capacity of tents is not the same as comfort capacity. Four person tents won't sleep two adults and two kids comfortably, so be sure to get tents designed for six people instead.
The general rule is to take the size of your family and add two to the capacity of these tents.
Choosing a tent for big or small families
You want to make sure your tent is the right size for your entire group. For example, here are our suggestions for different family sizes:
In general, for bigger families or those who love space to move around, the Eureka Copper Canyon LX 4/8/12-Person Tent or the Ozark Trail tents will give your whole crew plenty of room to hang out.
If the Eureka tents are a little too big for you — you have a smaller family with one or two young kids. In that case, the best big tent is the Coleman WeatherMaster Tent with Screen Room based on a decent capacity, including the screen room.
You can fit the four of you comfortably in the two sleeping areas, with room for chilling in the screen room.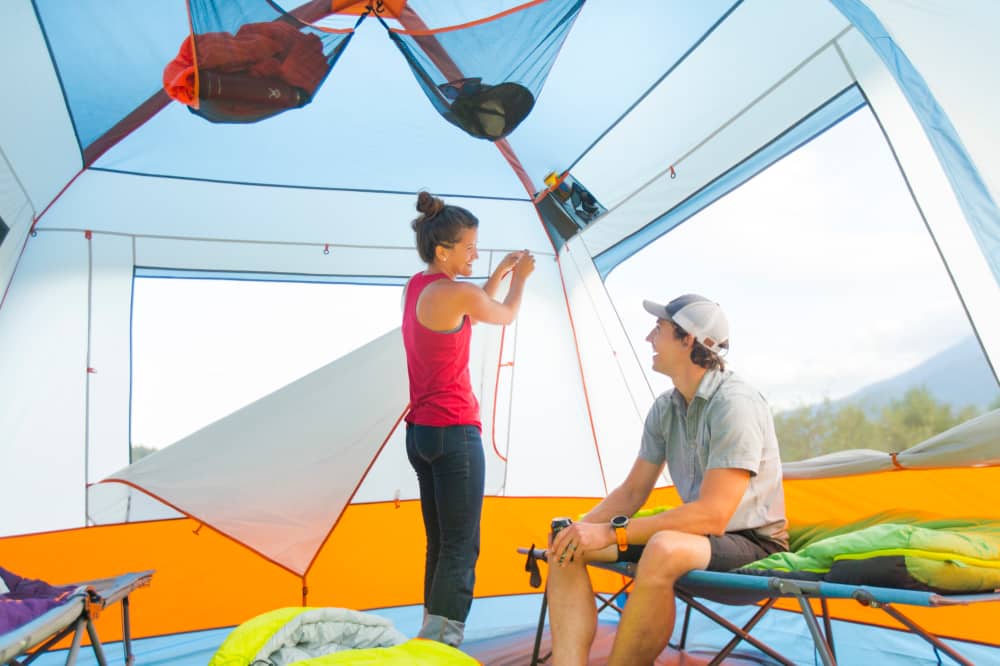 Best large family tent
The best large family tent is the Eureka Copper Canyon LX 4/8/12-Person Tent. It's a true behemoth with ample floor and ceiling space and is the most spacious tent in the review.
Despite its mammoth dimensions, it's easy to set up and features a simple design that won't be a nightmare to figure out. Great for families who want to get setup over with quickly so they can dive into fun, bonding or mooching off alone to find a phone signal as far as teens are concerned.
You can find out about the best large tent for camping.
Which Tent Is Best for Tall People?
Winner: Eureka! Copper Canyon 4/8/12 Person Tent
If you have people over 6 feet tall in your party, regardless of how many of you there are, we recommend the Eureka! Copper Canyon LX 12-Person Tent. With a 7-foot peak height, your tallest friends—well, unless you're friends with the Harlem Globetrotters—will have plenty of space thanks to the vertical walls.
With 12 and 14 feet of room when lying down, they'll have further comfort and room to stretch their legs.
Related: The Eureka Copper Canyon also ranks as one of our top tents for a tall person – so have a thought for any of the more vertically challenged campers in the group!
Which tent is the most comfortable inside?
Best for comfort: Ozark Trail 3 room 12 Person Tent
You want to make sure the whole family is comfortable spending time inside the tent. Especially if the weather might not be ideal during your weekend camping trip.
The Ozark Trail tent is a 3 room instant tent. These rooms can be used each as a private space or one room can be used as a communal area for hanging out.
The outdoor awning can also be used to store some gear outside, giving you plenty of space inside these top tents!
If you need Lots of storage options, which tent is best for you?
Best for gear storage: Coleman WeatherMaster 6 Person Tent / Eureka! Copper Canyon 4/8/12 Person Tent
The Coleman WeatherMaster tent is the tent for your family if you need somewhere for storing gear during your trip. The 6-Person model comes with a screen room which is perfect for keeping safe equipment.
There's no floor in the screen room so it's ideal for muddy or wet gear. You don't need to worry about damaging the floor or cleaning it after your family camping trips.
If anyone has smelly boots after a long day adventuring in the great outdoors, the screen room is the perfect place for storing them. You don't need to stink out the whole tent, just leave them in the screen room.
For storing personal belongings, the Eureka Copper Canyon tent comes with an excellent gear loft. It's a favorite feature of ours for keeping things out of reach of small, curious hands – essential for camping with kids!
Which tent is best for festivals?
Best for festivals: Coleman Sundome 2/3/4/6 Person Tent
If you and your family love going to festivals, you'll want something that's well suited for a weekend camping trip. You don't want something too big or awkward to carry.
The Coleman Sundome tent is perfect. It's small and low-cost but ticks all the boxes you need for family festival tents.
Which family tent is easiest to set up?
Best tent for easy setup
Best for easy set up: Coleman 2/3/4/6-Person Sundome Tent
Simple tents are the way to go as far as setup is concerned. That's why the 6-person Coleman Sundome tent comes out on top here. There are no fancy rooms to deal with; it's not one of the tallest tents in the world, meaning it's great for a simple, swift one-person setup.
Can the camping tent be set up by one person?
Best for one person set up: Any of these tents bar the Eureka Copper Canyon
It's always easier to set tents up with another person to help you. But you don't need to worry if you're left alone to pitch these tents.
The Ozark Trail tent might look intimidating given its size. But just unfold the fabric, extend the pre-attached poles to raise the tent, and voila! Your tent is standing already.
The only tent that might cause issues is the Eureka! Copper Canyon tent due to its height. If you're a short person, you might struggle to get the rainfly on.
Can Kids Help Set up These camping Tents?
Kids may struggle helping set up larger tents, but it's not a bad idea to incorporate your older kids into the set up and take down process.
Smaller tents like the Coleman Sundome tent would be better for kids to help set up. That said, kids can be very useful in setting up behemoths like the Eureka tent. It's hard to pull a rain fly across something that tall so put a kid on your shoulders, have them hold the rain fly, and pull.
Are these camping tents easy to carry?
None of these top tents are suitable for carrying long distances, like when hiking or backpacking.
They are too large and heavy to use as backpacking tents but are well suited to car camping trips.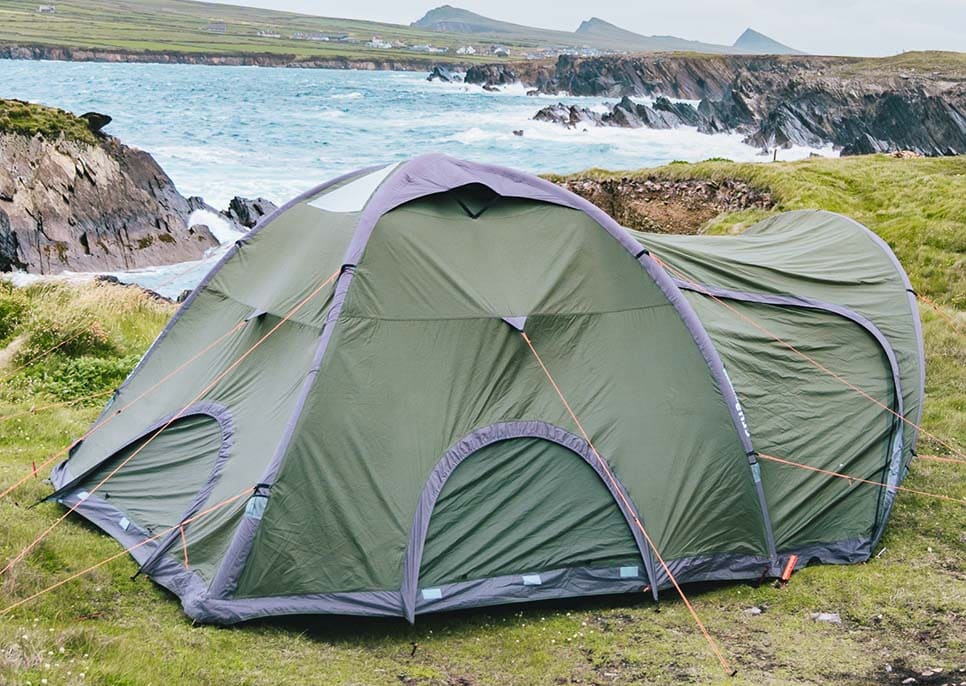 Top tent to protect your family from bad weather
Best family tent in the rain
Best for rain: Crua Core 6-Person Tent
The Crua Core is a 4-season tent, made to withstand whatever nature throws at it. It's definitely the best tent for camping in rainy areas, even if you don't take it out in winter or stormy seasons.
The extra weather protection from these top tents will keep you dry in rainy weather.
Best Camping Tent for Summer and warm Weather
On the other side of the spectrum, tents can be a nightmare in hot weather as well as rain and wind. They get far too hot, and it's horrible.
For that, we recommend the Ozark Trail 16' x 16' 12-Person Tent (one of the top 3 room tents). There's a vent in every room, and the fabric is thin, according to customers. You should be wonderfully cool in there.
The Coleman WeatherMaster Tent with Screen Room is also an excellent choice thanks to the fantastic 2 room tent setup via its screen room. It provides some shade from the unbearable sun.
Top camping tent for condensation
These tents all come with plenty of ventilation to prevent condensation becoming an issue.
Sometimes the rain or cold can lead to condensation building up in tents that don't have enough ventilation with the rain fly on. However, that's not an issue you need to worry about with these models.
Best tent for wind
Best for wind: Crua Core 6-Person Tent
Large family tents with high, near-vertical walls can sometimes struggle in the wind.
The Crua tent is the best shaped tent for dealing with high winds and is the only one we would recommend taking out into stormy climates.
The other tents will cope with mild, moderate winds but you should be wary of pushing them beyond their limits in rough weather.
Best camping tents for 3 season camping
Best for 3 season camping: Crua Core 6-Person Tent
The Crua Core tent offers the best protection all through Spring, Summer and Fall.
The other top tents will be suitable to take out in the mild conditions of Spring and Fall but they are not guaranteed to protect you in rough weather.
Other tents might perform better in hot weather, like the Eureka Copper Canyon tent, but there's no beating the Crua tent in rough weather. It comes with a mesh ceiling and large mesh windows to provide excellent ventilation.
Best camping tent for durability
Best for durability: Crua Core 6-Person Tent
The Crua Core tent is made to withstand harsh weather conditions, so it'll stand the test of time—especially if you take it out in calmer seasons. The polyester rain fly and fabric is visibly thick and sturdy, yet they remain breathable.
Frequently Asked Questions
Is Your family Tent the Right Size?
So how do you know you've chosen the right size? A six person tent is often more of a four person tent. Here are a few things to look out for:
You fit comfortably; nobody is complaining of being cramped and lacking personal space.
There's room for gear alongside all the sleepers, personal items and cots/mattresses/sleeping bags.
You have privacy via room dividers for those who desire it.
Can you fit a queen-sized airbed inside a camping tent?
You can! The Ozark Trail tent even has ample space in each room for an airbed and storing gear.
What are the benefits of multi room camping tents for families?
Tents with multiple rooms are great for family car camping. They allow you to have private space for older kids or separated storage areas to make your tent feel more homely.
Are There Any Issues With Large Camping Tents?
The main issues with large tents are:
Some campsites might not accept some of the biggest camping tents — when in doubt, rent two or more spaces.
They're heavier to travel with – they're certainly not backpacking tents!
It's difficult to attach a rain fly due to their height.
Costs more to maintain with waterproofing spray and seam seal.
What Style of Tent Is Best for Family Camping?
Dome tents are fine for family car camping, especially large ones. Young kids will be able to stand while parents crawl around, but there's no real livable space to play or socialize in dome tents.
Cabin tents have high ceilings and is usually incredibly spacious, so young kids can run and shriek, and teens can walk and swagger without complaint. Parents will be comfortable too, walking upright thanks to the comfortable headroom and straight walls that cabin style tents have.
Can You Camp With a Pet Inside the Tent?
Yes, you can camp with a pet inside these tents. Larger tents are best for pets so they have feet of space to sprawl out, unless you're bringing a very small dog.
It's not a good idea to bring cats or birds camping with you as they'll scratch and peck at the tent material and possibly damage it. Dogs are the way to go for camping with your pets, and it can be a wonderfully freeing experience for the animal.
Do Large Camping Tents Get Cold Easier?
Yes, large tents get cold easier as there's more room for the chilly air to circulate. It's also much harder to heat a large tent. Luckily, the tents above all have room dividers so you can heat the camping tent as several smaller rooms, rather than in one go.
The Best Family camping tent – verdict
One of the best family camping tents on the market has to be the Eureka! Copper Canyon LX 4/8/12-Person, as it packs a mountain-sized chunk of value into a hill-sized tent. It's a 12 person tent that works for any occasion, and three seasons of the year, making it a tent suitable for almost any occasion whether it's camping related or not.
It's true the windows could use improvement, but that's nothing a few small tarps won't fix in this family tent.
Looking for a specific size? Check out these reviews
Was this post helpful?
Let us know if you liked the post. That's the only way we can improve.