Growing up is all about making memories. Giving your kids a chance to connect with nature, experience a world out of the norm, and even just a chance to run around outdoors is what makes family camping so special.
Choosing a tent for your family can be difficult. On the one hand, the tent needs to be easy to use and full of useful features, so that you can focus on the family and not the guylines.
But on the other hand, shelter is an essential for life and if an unexpected storm hits, you need to know the tent you chose is going to keep your family safe.
There's no right choice of tent, but unfortunately there are plenty of wrong choices. So we've pulled together a list of the best family tents to help you get outside camping without needing a degree in outdoor education.
If you're in a rush, the best family tent is the Big Agnes Bunk House Tent. This tent is very spacious and extremely waterproof. It also comes with two vestibules, one of which you can turn into a big awning!
For bigger families, the best family tent is the Core 9 Person Instant Cabin Tent which comes with instant setup and a room divider to split the tent into two separate rooms.
The best family tents are:
Scroll right to view all products >
| | | | | | | | | | | | | | |
| --- | --- | --- | --- | --- | --- | --- | --- | --- | --- | --- | --- | --- | --- |
| | Best Overall | Best Big Family Tent | Best Dome Tent | Top Rated | | | | Best for Backpacking | | | | | |
| | | | | | | | | | | | | | |
| Ranking | 1st | 2nd | 3rd | 4th | 5th | 6th | 7th | 8th | 9th | 10th | 11th | 12th | 13th |
| Rating /5 | | | | | | | | | | | | | |
| Sizes | 4, 6 Person | 9 Person | 2, 4, 6 Person | 4, 6 Person | 4, 6, 8, 12 Person | 4, 6, 8 Person | 4, 6 Person | 1, 2, 3, 4 Person | 4, 6, 10 Person | 6, 8 Person | 2, 3, 4, 6 Person | 8 Person | 4-5 Person |
| Comfort & Space | 5.0/5 | 4.8/5 | 3.0/5 | 4.2/5 | 5.0/5 | 4.5/5 | 4.0/5 | 3.5/5 | 4.2/5 | 3.5/5 | 2.5/5 | 4.8/5 | 2.0 |
| Weatherproofing | 4.8/5 | 3.0/5 | 4.0/5 | 4.5/5 | 3.5/5 | 4.3/5 | 4.3/5 | 5.0/5 | 5.0/5 | 3.8/5 | 3.0/5 | 2.5/5 | 2.0 |
| Ease of Setup | 4.0/5 | 5.0/5 | 4.0/5 | 4.0/5 | 4.0/5 | 4.0/5 | 4.0/5 | 4.0/5 | 2.0/5 | 4.0/5 | 4.0/5 | 4.0/5 | 5.0 |
| Portability | 4.2/5 | 2.5/5 | 4.7/5 | 3.8/5 | 3.0/5 | 3.5/5 | 3.5/5 | 5.0/5 | 1.5/5 | 3.5/5 | 4.5/5 | 3.0/5 | 4.4 |
| Durability | 5.0/5 | 3.5/5 | 3.0/5 | 4.7/5 | 3.3/5 | 5.0/5 | 4.5/5 | 5.0/5 | 5.0/5 | 3.5/5 | 3.5/5 | 3.0/5 | 3.0 |
| Affordability | 3.5/5 | 5.0/5 | 4.5/5 | 3.5/5 | 4.5/5 | 3.5/5 | 3.5/5 | 2.0/5 | 3.5/5 | 5.0/5 | 5.0/5 | 5.0/5 | 5.0 |
| Review | A brilliant camping tent with excellent waterproofing, durability and a HUGE vestibule with an awning. | Want loads of room and an easy setup? This Core tent will suit your family perfectly. | We would always recommend upgrading to the Bunk House, but this tent packs in plenty of value. | | | | | | | | A simple 6 person tent on a budget, this is one of the more cost-effective family tents. | | |
| | | | | | | | | | | | | | |
Best Family Tents – High Quality Options
Our favourite high quality family tent is the Big Agnes Bunk House Camping Tent. It comes in 4 person and 6 person sizes to suit families of 5 or less. It comes with huge amounts of space, two large vestibules, excellent durability and great waterproofing.
If you want a slightly bigger tent, we would also recommend the Nemo Wagontop 8 Person Tent.
So what makes a high quality family tent?
These tents are super duper comfortable and absolutely filled with quality-of-life enhancing features to make your family camping trip as fun as possible. The main features range from large vestibules for keeping muddy shoes in to big awnings and screen rooms for shade during the day. The tents are also super spacious and you're able to walk around standing up inside most of these.
Smaller useful features include loads of storage pockets for keeping your camping gear in, hooks for lights, and ties for holding the doors open during the day.
The tents should also perform excellently in almost all weather conditions. Families can take these tents out in all three seasons and know that the tent will take whatever rain, wind, heat, or cold is thrown at it. This is unlike most family camping tents which are for fair weather camping only, even when they claim otherwise.
These tents also just ooze build quality. Sure, they're more expensive than your standard dome tent, but they'll last decades and, more importantly, you and your family can rely on these tents to keep you safe.
Our list of high quality family tents features a number of well-respected camping brands with a track record for excellent products and customer service, such as Big Agnes, Nemo, and REI.
---
Pros
TWO vestibules – one large, one small.
Can convert the front vestibule door into a large awning
Love that the carry bag can be worn like a backpack
The 6 person model feels ridiculously spacious
High quality, durable materials including top-of-range DAC aluminum tent poles
FULL rainfly coverage with excellent waterproofing
Double wall tent for fighting condensation
8 storage pockets on the 6 person version!
Cons
The 4 person is not tall enough for the average man to stand up in.
No mesh on the vestibules – these aren't screen rooms.
The Big Agnes Bunk House Tent is a brilliant family tent that comes in four and six person sizes.
It's the ONLY family camping tent that is both super spacious and comes with a full length rainfly to protect you from bad weather. This rainfly has a good waterproof rating of 1500mm, plenty for 3 season camping.
The Big Agnes tent is also the only big family tent that comes with two vestibules. A large vestibule at the front that can be converted into a big awning, and a smaller vestibule at the back.
It's durable as heck, using highly durable aluminum tent poles produced by the DAC brand. These are the same tent poles used in very expensive backpacking tents. Aluminum tent poles are stronger than the fiberglass poles of most cheap family tents and they're much less likely to snap half way through a night of camping.
Big Agnes have packed so many useful extras into this tent. There's storage space everywhere – two big corner bin pockets, four mesh pockets, two media pockets and even hooks to add gear lofts. The carry bag also has backpack straps which makes it much easier to lug around these big family tents.
What are this tents drawbacks? The only main drawback is its price. It's average priced for a good camping tent, but it will set you back more than a cheap $60 tent from Walmart. Frankly though, this tent is ridiculously cheap for what you get and I would not be surprised if Big Agnes raised their prices in the near future.
Overall, the Big Agnes Bunk Tent is a great family tent. We highly recommend it!
---
Pros
A very large vestibule at the front
Great, durable DAC aluminum tent poles.
The cheapest of the high-quality tents, but not by much.
Double wall construction to prevent condensation.
Four storage pockets for keeping gear.
Cons
The 6 person tent isn't as spacious as the other tents.
Vestibule doesn't have mesh doors – can't sit in it to avoid bugs during the day.
Rainfly doesn't cover the full sides of the tent and has lower waterproofing.
Feels a little less spacious than the Big Agnes.
Only one door.
The 4 person is not tall enough for the average man to stand up in.
The North Face Wawona Tent is an excellent family camping tent that, like the Big Agnes, comes in four person and six person models.
It shares a lot of the features that these other high-quality family tents have – good quality materials, decent waterproofing and plenty of space.
So why is the Big Agnes Bunk House Tent better?
On paper, the space in each tent is very similar. But standing inside them both? The Big Agnes feels bigger.
The waterproofing is good on both tents. But Big Agnes edges out the North Face Wawona with a hydrostatic head rating (waterproof rating) of 1500mm vs 1200mm.
More critically, the rainfly of the Big Agnes fully covers the tent, while the lower sides of the Wawona tent are left exposed. This is concerning in very heavy rain.
There's also just bundles more useful features in the Big Agnes Tent. You only get one door with the Wawona, which means potentially climbing over people to go to the bathroom at night. And the North Face Wawona only comes with half the number of storage pockets.
These features do make sense though, as the North Face Wawona is slightly (but not much) cheaper than the Big Agnes, so they have to cut features from somewhere.
Overall, we prefer the Big Agnes Bunk House Tent. But if you're wanting to save a small amount of money, or just prefer the feel of the Wawona, it'll still do a great job.
---
Pros
Large screen room / vestibule.
2 doors on the 6/8 person models
Spacious – plenty of floor area per person
Great quality aluminum poles and a thick, durable floor
Very waterproof and windproof materials
Windows for ventilation
Cons
The rainfly doesn't cover the bedroom, which is a bit of a let down.
Pricier than the North Face and Big Agnes tents
The Nemo Wagontop Tent comes in sizes for 4, 6 and 8 people. It's a well-made camping tent with plenty of great features to earn it a "best buy" award.
Nemo has invested well in their choice of durable materials. It comes with DAC aluminum tent poles, a nice thick tent floor, and a good 1500mm hydrostatic head rating to ensure decent waterproofing.
But speaking of waterproofing, we do feel let down by its rain fly choices. The rainfly only covers the screen porch (which is nice and big!) and doesn't cover the main bedroom.
Now this isn't as disastrous as it might be for small camping tents. You'll still get plenty of ventilation to combat condensation through the screen room mesh to the sleeping room. But it does bring the frustrating issue that most campers are familiar with – touching the inside of this single wall tent could break the surface tension of the walls and bring in water.
It's still an excellent tent overall. But it's more expensive than the Big Agnes Bunk House and doesn't come with full rainfly coverage. However, the Nemo Wagontop does go up to 8 person sizes, so this would be a great choice of camping tent for large families.
---
Pros
2 doors for easy access
2 rooms
Comfortable
Everyone apart from very tall people can stand up inside the tent
Decent material durability, although doesn't match up to some of the others.
Good waterproofing and windproofing
Double walled tent for fighting condensation
Cons
The extra room has replaced a screen room/large awning. Only comes with a small awning.
The 6 person feels a little tight on space, with less sq ft per person.
Awning is very small – no space to sit under it during the day.
Rainfly doesn't provide full coverage
The REI Co-op Wonderland Tent comes in four and six person sizes, and a design similar to a tunnel tent.
The BIG bonus with this REI tent is that it comes with two separate rooms. So if you're wanting a bit of extra privacy, this tent could be the one for you.
As with the other tents here, the REI tent is a good all round tent made from excellent quality materials and comes with great comfort features.
Where does it not quite stack up? Well it's missing any sort of screen room or vestibule and it's not roomier on the inside to make up for this. Given that it's priced similarly to these other tents, we can't help but feel that the other tents provide a better deal.
Similar to the Nemo tent, the REI Wonderland is also let down by partial coverage of its rainfly, although most of the tent is protected from rain in this case.
Who's this REI tent best for? Anyone who wants a high quality camping tent with multiple rooms! But if you like the idea of a big vestibule, you want want to look elsewhere.
---
Pros
Great glamping tent.
Very spacious and comfortable.
Made of a durable,
Canvas material is waterproof and breathable.
The only 4 season family tent. Comes with canvas insulation and a stove jack.
Steel frame and loads of guylines are good against the wind.
Mesh cover for door to stop bugs getting into the tent.
Can stand up straight, even if you're very tall.
Cons
A very heavy tent. Difficult to carry.
Slow, difficult setup with lots of guylines to stake down.
No rooms, screen room or vestibule.
Expensive.
The Whiteduck Regatta Canvas Bell Tent is the best glamping tent in this review. For those who might be out of the loop, glamping is glamorous camping. Think instagrammable moments, or the ideal way to treat a spouse.
This tent is made of thick polycotton canvas. Canvas tents are in many ways better than tents made of manufactured materials. The material provides breathability during the summer heat, insulation during the winter cold and excellent waterproofing credentials. Canvas is also very durable (borderline kid proof!).
This Whiteduck Regatta tent is also the only 4 season family tent in our review. And to top it off, this tent comes with a stove jack that you can hook a wood stove up to. This is brilliant for keeping the tent warm even when the snow starts falling.
So what's the catch?
Well, canvas tents are expensive although the Regatta might be less expensive than you expect. Canvas tents are also very heavy. To the point that you'll need two people to carry even just the carry bag. And no, kids don't count!
This tent also doesn't come with a vestibule or screened porch, which can mean missing out on a useful place to hang out in the day that isn't quite outdoors, but isn't quite inside either.
Who's it for? Anyone who wants to surprise their family with a hotel like camping trip. You could practically live in these tents.
---
Best Large Family Tent for Summer Camping
The best large family tent is the Core 9 Person Instant Cabin Tent. This tent is huge and provides great ventilation and a fast setup at a budget price.
If you're willing to spend a little more, and don't mind swapping the instant setup for a slower, conventional setup we would also recommend the Eureka Copper Canyon LX Tent which comes in 4, 6, 8 or 12 person sizes. This tent has better waterproofing than the Core tent and more useful features, like plenty of storage pockets.
What are big family tents good for?
This section covers big family tents that are built for casual car camping. That is, they're too heavy to carry long distances, but that doesn't matter if you've got the car!
These tents prioritize comfort and fun above all else. Big, spacious rooms with useful features such as multiple rooms, many storage pockets and the ability to open up the tents during the day and use them as a fun screened room to keep cool while you soak up the summer.
They're best designed for peak performance when summer camping and include loads of mesh for ventilation. However, their large straight wall, cabin shapes and prioritisation for breathability does make them less waterproof and wind resistant.
In some cases, like the Core tent, they've also added in excellent ease of use features like an "instant setup". Instant tents come with pre-attached tent poles. Set up is as simple as pulling the tent out the bag, extending the tent poles and, staking it down – no need to wrestle with tent poles to get them through fabric loops!
So who should pick a large family tent? If you're wanting a big, spacious tent that will outperform any other tent in the summer, one of these large family tents is ideal for you.
Who shouldn't pick a large family tent? If you value durability, or if you live in a wetter climate and rain is a possibility on your camping trip these large camping tents might not be with you.
Remember that shelter is essential to your survival and it's best to avoid risks. If in doubt, go with the superb Big Agnes Bunkhouse Tent instead.
---
Pros
An instant tent with quick setup!
Brilliant value for money
Can open the tent up during the day using the huge door.
Two doors so you don't have to climb over the kids to go to the bathroom.
Great space and excellent for comfort.
Strong steel tent poles.
Comes with storage pockets for stashing camping gear and flashlights.
Cons
Heavier than the Eureka and Wenzel tents.
People over 6 foot will not be able to stand up fully inside.
Poor waterproofing – for fair weather use only.
We really love the Core 9 Person Instant Cabin Tent.
Look, it's not perfect. In fact there are some situations where you'll be better suited to another tent. But what it does, it does well, and at a very reasonable price.
Firstly, this is an instant tent. This means you just have to pull the tent out of the bag and extend the pre-attached tent poles – that's it pretty much set up bar a few stakes! This instant setup lets you spend less time fiddling around with tent poles and more time with your loved ones.
Core have packed this tent full of useful comfort features. We love the room divider, which you can use to convert this tent into two separate rooms, each with their own door. You can also open up the door at the end of the tent which fully opens the side, making it brilliant for chilling out beside during the day.
It comes with plenty of storage pockets too, for keeping sunglasses, water, flashlights or any other gear you need.
I should say that the Eureka Copper Canyon LX tent is also a great large family tent. So which one should you choose?
Pick the Core Instant Cabin Tent if you're wanting fast setup and plenty of comfort at a budget price.
Pick the Eureka Cabin Tent if you're wanting slightly more comfort features, better waterproofing, and up to a 12 person size – but at a higher price.
Overall, should you get this tent? If you want a large family camping tent, yes!
---
Pros
Large centre height so tall people can walk around inside standing up.
2 room tent provides extra privacy.
Huge windows that you can open up to for a well ventilated place to hang during the day
Two doors for easy access (8/12 person versions only)
The best waterproofing of all the large family camping tents
Covered in loads of useful storage pockets and gear lofts
Cons
Conventional setup is slower than the Core tent
Pricier than the Core and Wenzel tents
Decent durability, but a shame that some of the poles are fiberglass.
The Eureka Copper Canyon LX Tent is a large cabin tent that comes in sizes for 4, 6, 8 and 12 people. This means it works wonderfully for families large and small.
There's ample space inside the tent in the family tent for toddlers to run around or adults to hang out without having to stoop. This tent is also a 2 room tent which lets the kids escape the parents whenever they want and adds privacy at night.
It's a great tent with tons of windows and mesh to keep you ventilated during the summer, and a plethora of storage pockets and gear lofts crammed EVERYWHERE.
This tent is better than the Core Instant Cabin Tent in a few ways:
It's slightly taller. So if you have tall campers in the group, they might prefer this tent.
The waterproofing is better. Those living in wetter climates might be better suited to the Eureka.
It comes with more storage pockets and gear lofts.
That being said, the tent's conventional setup is slower than the setup of the Core instant tent. And the Eureka is more expensive.
But either way, these tents are frankly neck and neck. Both are clear "best buys" in our recommendations!
---
Pros
The front room can be converted into a porch like area.
Even the tallest campers can walk around standing up.
Feels roomy, but it depends how you use the porch.
Very cheap considering the size of this tent.
Cons
Don't use this tent in bad weather!
Conventional setup is slower than the Core tent
Ventilation can feel limited and condensation is a risk with all the windows zipped up
The capacity includes people sleeping in the porch like front room.
Fiberglass tent poles are lower quality than the Core and Eureka tents.
The Wenzel Klondike is another good big family tent that comes with an unusual design. Its front porch area is HUGE.
The porch comes with closeable windows and a floor so that once it's sealed up, it can act as a second bedroom. This is a really fun feature and will fit some groups well.
However, I found that it didn't suit me well to have to turn the porch into a bedroom every night. The porch feels like a place to keep picnic food and dirty shoes, and it's a bit of a hassle having to move everything around twice a day.
The tent isn't also particularly reliable in bad weather. Although, to be fair, none of these big cabin tents are high achievers in poor weather conditions. But there are a few sacrifices on the choice of materials here.
Slightly more worryingly, with the windows closed up the tent can start to feel a bit stuffy. I would worry a little about the potential for condensation in some humid climates.
But Wenzel does provide a good tent at a low price, and the design will likely be ideal for some families.
---
Standard Dome Tents for Families
In this category we take a look at standard family tents. These are the typical dome tents you see covering most campsites.
We recommend the Kelty Wireless Tent as the best of these standard dome tents. It's the only one of the tents with a rainfly that extends all the way down the tent, providing greatly improved waterproofing.
The biggest benefit of these standard tents is their low price. They typically make a number of sacrifices to achieve this.
Mostly these dome tents use lower quality materials. Weaker and heavier fiberglass tent poles are commonly used, while build quality is often poorer and can become apparent through split stitching or rain leaking through poorly sealed seams.
But sometimes all your family needs is a cheap dome. If you're heading out for a couple of days in summer, and you know the forecast is going to be sunny and dry, this will do you fine.
Sure, they don't come with storage pockets or useful dividers to create separate bedrooms, they're typically more cramped, and they don't stand up well to heavy rain, but they have their place in the camping ecosystem.
That being said, if there is a chance you'll want to head out camping and the weather turns bad unexpectedly, please do consider spending extra to pick up a tent you can trust like the Big Agnes Bunk House Tent. It's all too easy to forget that shelter is one of the ten essentials for survival, until it's too late.
---
Pros
A FULL coverage rainfly and 1200mm hydrostatic head rating provide decent waterproofing. This is rare on these cheaper dome tents.
A small packed size that should fit easily enough into most backpacks.
Comes with a vestibule, but it's very small.
Two doors for access through either side.
The only one of these four dome tents that we actually believe is 3 season.
Cons
Set up is slower than pop up and instant tents.
Most people will only be able to stand up inside the 6 person version.
Cheap fiberglass tent poles and thin materials will limit this tent's lifespan.
The most expensive of these four dome tents.
Despite our reservations around many of these cheaper dome tents, the Kelty Wireless is a hidden gem.
It's the only one of these dome camping tents that comes with a full coverage rainfly and gives you the best chance of staying dry in a night of heavy rain and strong winds.
This is pretty rare on these cheaper dome tents. Although we would note that this is probably because this dome tent isn't quite as cheap as the others. A classic case of you get what you pay for.
For this reason, as well as a decent waterproofing rating and guyline loops, this is the only one of these dome family tents that we believe is actually a 3 season tent. Otherwise, if you want a 3 season family tent, you're best looking at our favourite – the Big Agnes Bunk House.
Should you get this tent? We'd still recommend you stretch for the Big Agnes if you can afford it. But if your budget is tighter or you just love dome tents, this is a good choice.
---
Pros
The second best of these dome tents, but at a very budget price.
Comes with a large screen room at the front – excellent for hanging out during the day.
A thick, durable floor.
Comes with a couple of storage pockets.
Cons
No waterproof cover for the screen room.
Partial coverage rainfly only.
Heavy compared to these other dome tents due to the screen room.
Conventional setup will be slower than pop up and instant tents.
Most people can only stand up tall inside the 8 person version.
Cheap fiberglass tent poles.
If you want a dome tent with a big extra, the Coleman Dome Tent has you sorted. It comes with a big screen porch at the front with a mesh covering. If bugs are a problem in your area, this means you can sit inside the screen room during the day and keep all the insects out!
Given this screen room, it's also very, very reasonably priced and it's pretty unbelievable that Coleman is making any profit at all on this tent.
Most casual campers who head out during the summer will likely enjoy this tent, and will have no major issues.
But the tent does come with downsides.
Frankly, it's waterproofing isn't great. It's not dreadful, but nor is it good. The screen room also doesn't come with a cover, so when it rains water can come into the screen room floor and get your boots and gear all wet.
Obviously, at this price the materials are pretty cheap. So you should expect this tent to last you forever.
If bad weather is possible, or you'd rather a tent that lasts, we'd highly recommend paying the extra for an outstanding tent like the Big Agnes Bunkhouse Tent.
---
Pros
Cons
Partial coverage rainfly only.
Conventional setup is slower than pop up and instant tents.
Limited centre height means there's only room to stand up in the 6 person tent.
Cheap fiberglass poles.
Rubbish waterproofing compared to the other tents in this review.
If the Coleman Evanston tent is cheap, the Coleman Sundome is an absolute steal. It's ridiculously good value for what you get.
There's also a 6 person version available which comes as a blackout tent to keep the sunlight out.
That being said, it's really best used as a very casual camping tent. This means summer camping only, with no forecasts for rain and no incoming storms. Your family isn't going to be treated to lots of snazzy storage pockets, big vestibules or sunshade awnings.
But it is what it is. An below average tent compared to all the tents in this review, but provides great value when you consider its cost.
---
Pros
An instant pop up tent with fast setup.
Lots of windows for ventilation.
Cons
This tent isn't tall enough to stand up in.
Cheap fiberglass poles and poor quality materials all round.
Rainfly is a joke and materials do not appear reliable – don't trust this tent in bad weather.
Okay, we know pop up tents are very popular, so we've included one in this list. The Moon Lence Instant Pop Up Tent wins our award of the best family pop up tent.
However, we would seriously recommend you reconsider and go for one of the other tents in this list.
Frankly, no pop up tents are good when you start looking at larger tents. Waterproofing, wind performance and durability are all poor. The rainfly on this tent is also the smallest we have ever seen and is better described as a rain hat.
If all you're wanting is a tent that is easy to set up, go for the Core 9 Person Instant Cabin Tent instead. Otherwise, we highly recommend going for a more conventional setup tent that won't fall apart while you're sleeping outdoors.
---
Best Family Backpacking Tent
The Big Agnes Copper Spur HV UL 4 Person Tent is the best family backpacking tent. This tent is very lightweight and easy to carry and super comfortable. The tent is very good in rain and wind and will keep your family safe in bad weather.
Pros
Ultralight with a tiny packed size.
Two doors, each with a vestibule.
The vestibule doors can be turned into long awnings.
Feels very roomy compared to many backpacking tents.
Best quality materials including ripstop nylon fabric and DAC aluminum tent poles.
Great performance in 3 season weather conditions. We would trust any of these other tents more.
A full coverage rainfly that extends to the ground.
Double wall tent to prevent condensation.
TONS of storage pockets and gear lofts (12 in the 4 person model).
Cons
You won't be able to stand up inside this tent.
Quite pricey. You're paying extra for super lightweight materials suitable for carrying when backpacking.
The four person model would get 2 adults and 2 kids inside at the very most. Consider getting two backpacking tents if you need more space.
The Big Agnes Copper Spur HV UL tent is one of the best respected backpacking tents on the market.
Family backpacking tents don't really exist because backpacking tents are meant to be small and light, while family tents are meant to be big. But the 4 person model of the Big Agnes Copper Spur HV UL tent is about as close as you'll come.
It's an incredible tent. Ultralight with a small packed size for fitting into your backpack. Two doors at each side of the tent so you don't have to climb over the children, EACH with its own vestibule. And in that innovative Big Agnes way, each of those vestibules converts into a large awning.
It also feels pretty roomy compared to most backpacking tents. The HV of Big Agnes Copper Spur HV UL stands for high volume. This refers to the side of the tents, which provide plenty of space.
Durability, material quality, waterproofing, windproofing and ventilation are beyond reproach. Exactly the excellent build quality that we've come to expect with all Big Agnes tents.
The only major drawback of this tent is the cost. Yes, it's pretty expensive on a per person basis compared to the other tents we've reviewed in this article. However, that's entirely because of the quality of the materials and the need to keep the weight of the tent low for backpacking.
Families with more than two kids should consider getting two moderate sized backpacking tents rather than trying to cram everyone in.
Do we recommend this tent? YES! It's not just the best backpacking tent for families, it's frankly the best backpacking tent full stop.
---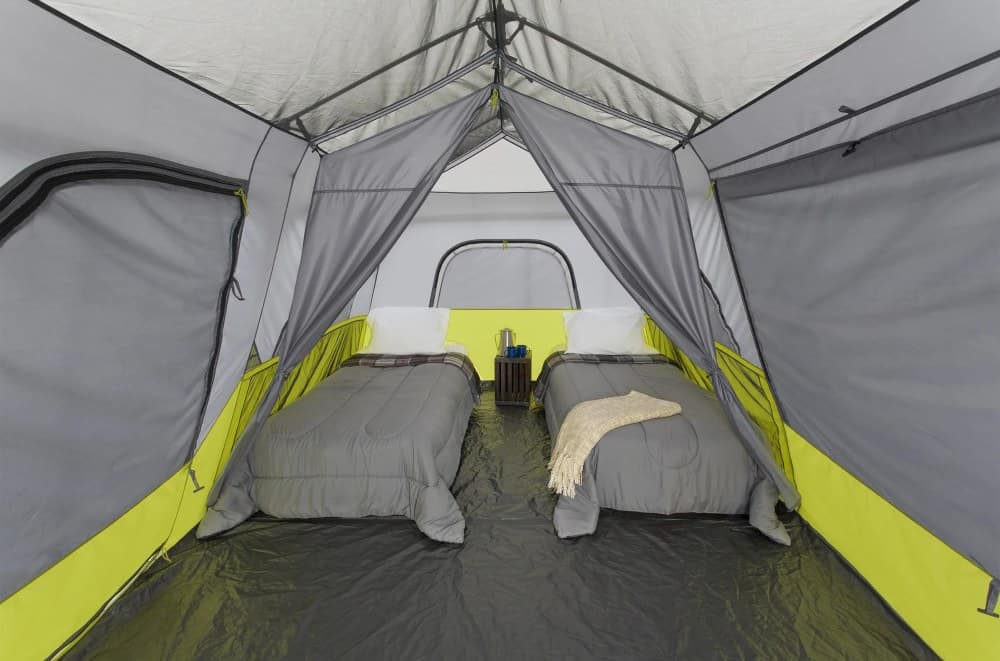 Recommendations By Family Size
It can be annoying to have to search through tents coming in dozens of sizes just to find one that fits your family. So here are our recommendations based on the size of your family.
Small families should consider a more compact tent, such as the Big Agnes Bunk House 4 Person Tent. These Big Agnes tents are unbelievably good. Insanely comfortable, excellent quality of life features and unbeatable wind and waterproofing.
The best tent for a family of 4 is the Big Agnes Bunk House 6 Person Tent. A 6 person tent is the best for a 4 person family, so that each person has room for stretching out, using sleeping pads or bringing bags into the tent.
The best tent for a family of 5 is the Big Agnes Bunk House 6 Person Tent. When it comes to family camping, safety is a priority. Big Agnes is a highly respected brand with an excellent track record for tent longevity. This tent will keep your family safe during bad weather and provide the most hassle free experience during good weather.
The best tent for a family of 6 is the Core 9 Person Instant Cabin Tent. With this many kids about, you'll want a tent with a divider so you can split the tent into two separate rooms and give each room a bit more privacy.
Room dividers are useful, but so is the ability to open up the large door at the front of this tent and transform it into a base camp during the day. It's so well kitted out that it practically feels like a house.
If you're a 6 person family and there's a chance of heavy rain when you go camping, you might want to go for the Nemo Wagontop 8 Person Tent which comes with better waterproofing credentials. It's more expensive than the Core tent, but this is reflected in the quality of the materials.
Big families that require extra large tents should consider the Eureka Copper Canyon LX 12 Person Tent. This is a brilliant tent with loads of ventilation and is bundled with copious amounts of useful features, including the 6 storage pockets and two gear lofts for keeping all your camping equipment.
This will work well for smaller families who want loads of space, or 8 person or even 10 person families.
Our Rating Criteria For Family Camping Explained
Good family tents can come in all shapes and sizes. Our criteria for the best family tents will keep your family safe in the bad weather, while ensuring you can maximize the fun on sunny days.
The criteria we have used to review these tents is as follows:
Comfort and space.
Ease of setup.
Great performance in rain, wind, hot weather and cold weather.
Durability, so that your tent lasts decades.
Portability, as you'll have to carry it to its camping spot.
Value for money – we want quality, but without having to pay an arm and a leg for it.
Comfort, space, a tent vestibule and useful extras For Families
When you're camping with the family, comfort is the top priority. There's nothing worse at night than setting up the tent and getting the sleeping bags set up, only to find that there's not enough room for all the kids.
So what makes a comfortable camping experience?
The most comfortable tents come with plenty of room. Our main metric for this is square feet of floor space per person, and the Whiteduck Regatta wins this one.
Height is also important for making a tent feel spacious. You don't want to have to stoop when moving around inside the tent and tall campers can have a particularly difficult time. Ideally, we want to see tents with headroom of 75 inches or higher.
The highest peak height is the Whiteduck Regatta, but this is a bell tent so the outer parts of the walls slope down. The real winners for height are the 6 person Big Agnes Bunk House tent, the Nemo Wagontop tent, and the Eureka Copper Canyon LX tents. Choose one of these if you have a tall person in the group.
But there's also plenty of other mission critical features for comfort camping. Big vestibules and a screened porch are good for giving you a living area during the day. We also like 2 room tents, multi room tents, room dividers, or anything that gives you a bedroom feel and some extra privacy at night.
Finally, there's some more minor features to help with livability. Multiple doors for entry and exit from the family tent, loads of storage pockets and gear lofts, as well as hooks for lanterns.
Related: You can find out more about the best large tent for camping.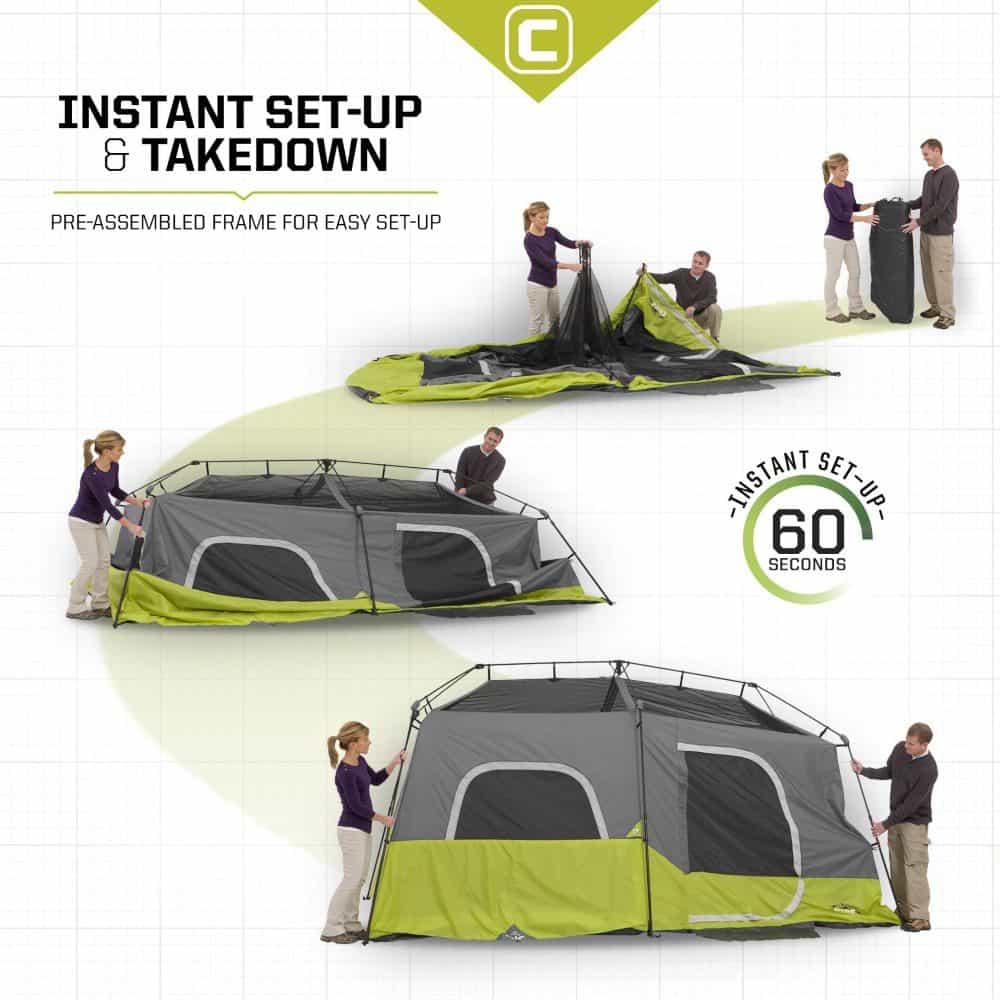 Camping tents with great Ease of set up
When you head out camping with your family, the last thing you want to have to think about is setting up your tent.
The best camping tents for an easy set up are instant tents. These tents come with telescopic tent poles that come pre-attached to the tent. That means you don't have mess around with tent poles, you just need to take the tent out of the bag and extend the poles until you feel them click into place.
The Core 9 Person Instant Tent is the best instant tent for families. It comes with a super quick set up, two rooms and all at a very reasonable price.
Even conventional set up tents can vary on whether they are easy to put up. We prefer tents that come with color coded tent poles, or loops that snap onto a tent pole, rather than having to guide the poles through fabric.
The Best Family Tent For car camping in Bad Weather
Shelter is one of the ten essentials for outdoor adventure, and the dangers from mother nature should be taken seriously. Dangers can range from light wind and rain, to worrying bad weather, and the need for full on storm proof tents.
When the rain is pouring down, you might just wish that you had bought your family a tent that was a little less "weather resistant" and a bit more "weather proof".
Casual campers who only plan on using their tent over summer will be fine with any tent on this list. If bad weather is a possibility, a good 3 season tent provides an excellent balance. 4 season tents typically have terrible ventilation for summer, but canvas tents can get around this with the breathability of the fabric.
We'll cover our criteria for how we compare tents in the rain, wind, hot weather and cold weather.
The Best Waterproof Family Tent For Rainy Days
The best waterproof family tent is the Big Agnes Bunk House tent. It comes with a full rainfly that reaches all the way to the ground. The rainfly material comes with a waterproof rating of 1500mm, which is good for a 3 season tent.
When it comes to waterproofing, we're looking for plenty of rainfly coverage, good waterproof ratings, and excellent build quality.
The best waterproof tents also need to perform reasonably well in the wind. Sagging tent walls will break the surface tension and drastically reduce the waterproofing of the tent.
The best windproof family tent (That also works in Rain)
High winds are the enemy of most cheap family tents. Wind resistant tents means plenty of guylines, an aerodynamic structure, strong materials, and an excellent build quality.
Unfortunately, most of these cost money. The best family camping tents use strong aluminum tent poles which add significant cost to the tent, but are drastically stronger and less likely to suddenly snap than cheap fiberglass poles.
Aerodynamic and family camping don't go well together either, as you want plenty of space for your family.
Our choice of the top backpacking family tent, the Big Agnes Copper Spur, of course performs well here.
But for those who are wanting a bigger tent, they'll want to rely on the plenty of guylines, top-tier DAC aluminum poles and the full rainfly of the Big Agnes Bunk House 4/6/8 person family tent. All of these serve to make this a very windproof family tent.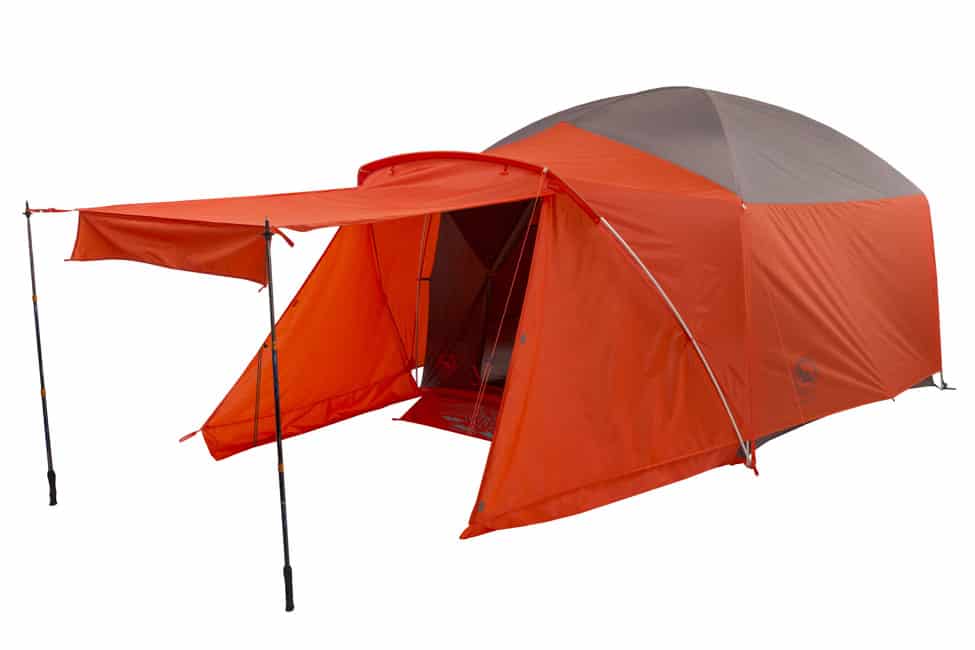 Tents for Hot Weather And Summer car camping
Hot weather can mean a lovely, sun filled camping trip, or it can mean sweaty and uncomfortable days. The solution to warm weather is always a well ventilated camping tent.
You'll want windows or vents covering the tent to bring cool air inside. These should be covered in no-see-um mesh to avoid any bugs (especially mosquitos!) getting inside.
Plenty of our favourite tents for families come with a screened porch or vestibule, with a mesh wall between the bedroom interior and the porch / vestibule. Screen room or no screen room, a nice big awning on the outside of the tent gives you a place to hang around during the day while protecting you from the sun's uv rays.
Some campers may also like a car camping tent with a blackout feature. These dark room tents block sunlight from coming in. This can help avoid the sun waking you up too early, and grouchy kids for the rest of the day.
Best Cold Weather Family Tent – 4 Season Tents
Cold weather requires serious family tents, particularly as you start getting into winter. If you're expecting relatively heavy snow or you're winter camping, you'll need a 4 season tent.
These tents typically have better weatherproofing, are made of thicker materials, and have very strong tent poles that can handle the weight of snow on top of the tent.
Some tents, such as the Whiteduck Regatta Canvas Bell Tent we have reviewed, also come with a stove jack for hot tent camping. This lets you connect a wood stove to keep you warm. The thick canvas material also means the tent is well insulated, although we would always recommend insulating with your sleeping pad and bag rather than relying on the tent.
If it's just a bit chilly, a 3 season tent is absolutely fine.
When it gets cold, moisture can collect when your cold breath hits the cold tent walls. This is the classic condensation problem that most tents require. There's only one thing that can beat it – ventilation. We like double wall tents which tent to cope with condensation slightly better.
Best tent for durability
We want our tents to last a lifetime and be one of the most durable purchases we make. But what makes a tent durable?
Good quality materials and excellent build quality are the two key factors.
For materials, thicker materials tend to perform well, and in this case polyester tents can actually outshine more expensive nylon tents used for backpacking, which prioritise being lightweight.
However, many cheaper polyester tents have, frankly, poor build quality. This can mean tears to the tent, seams that leak water, zippers that get stuck on doors, and stitching that falls apart.
This is not the case for the tents in our "high quality family camping tent" group. These are mostly polyester tents, apart from the heavy duty canvas tent, but they're incredibly sturdy and well made. They pick strong aluminum poles over cheaper fiberglass poles.
The floor is a common place for tents to develop wear and tear issues. This is particularly true if you're camping on rocky surfaces or ground with plenty of tree roots.
We always recommend picking up a footprint to place under the more expensive tents, as these will help them last considerably longer. Most of the tents in this family tent review come with optional footprints for purchase.
Best tent for portability
Portability isn't critical for most family camping as most people are car camping. Those taking their family backpacking will still want their tents to be lightweight or ultralight, however.
In general, our criteria for most family tents is that the tent bag is relatively easy to carry. We do love the Big Agnes Bunk House feature which can turn the carry bag into a backpack.
Car camping tents that provide value for money
Last but definitely not least, we want all to get the best tent possible, but at an affordable budget!
Do consider your realistic price range – under 1000, under 500, under 300 and under 200 dollars will all result in a fairly different set of options. Generally, around $500 is the sweet spot for family tents, as this is the lowest price that tents with high quality materials start becoming available.
Cheap tents can still provide a good bargain for the money, however. But of course, you sometimes get what you pay for!
FAQ
How many people can be in a family tent?
| | | |
| --- | --- | --- |
| Capacity | Tent Floor Area | Family Size |
| 4 person | 65 square feet | A family of 3 |
| 6 person | 80 square feet | A family of 4 |
| 8 person | 120 square feet | A family of 5 |
| 8 person | 160 square feet | A family of 6 |
Will All Campsites Accept Large Camping Tents?
Some campsites might not accept some of the largest camping tents. You might have to rent multiple spaces, particularly if you're bringing an RV. When in doubt, phone the campground in advance.
Can You Camp With A Dog In family Tents?
Tents that come with large vestibules are suitable for camping with a dog. Be wary of any mesh though, as a dog's claws can easily tear through. And do remember to keep the space well ventilated.
What tent size is best for a family of five?
I recommend an eight person tent for a family of 5.
Are backpacking tents good for car camping?
Backpacking tents do not make very good camping tents. The tents are very lightweight, but typically quite expensive for what you get. Family car camping tents come with a lot more room.
And the top car camping tent for families is…
The top tent in our list of the best family tents in 2023 is the Big Agnes Bunk House Tent. We highly recommend considering this tent for the sheer quality it packs in, even if you have to stretch the budget a little.
If you need to go for a bigger family tent, the Core 9 Person Instant Cabin Tent is the best family tent for families looking for a low budget, big summer tent.
Looking for a specific size? Check out these reviews
Next up: Once you've had a chance to pick up your family camping tent, get outdoors with our family camping checklist!