About us
The benefits of going outside are numerous. For some, it can help to see life from a different perspective. For others, it can help deal with stress and low mood. And for everyone, it can help rekindle our appreciation of nature.
Our mission has two core aims:
Making the outdoors accessible to all – being active in the outdoors doesn't have to be difficult or uncomfortable.
Caring for our planet – we can be active outdoors in an environmentally sustainable way, so that future generations can have the same opportunities as we do.
Our team
James has been escaping to the outdoors for as long as he can remember. This first started in family camping trips but soon turned into adventure camps and hiking through the Scottish Hebrides.

Now he has turned towards trying to make camping more comfortable and accessible.

Find out more about James
Fraser Barker
Outdoors Researcher
From early family camping trips to recent backpacking adventures, Fraser has a range of experiences to draw from.

Using his passionate knowledge of the great outdoors, he wants to make getting out there accessible for all and sustainable for generations to come.

Find out more about Fraser
James's Story
Hey! I'm James – a hobbyist camper and hiker, born and raised in Scotland.
I started this website out of a desire to reconnect to nature and have since involved my long-time friend, Fraser.
For as long as I can remember, I've enjoyed escaping to the outdoors. This first started through family camping trips but, in an attempt to find some freedom, quickly turned into adventure camps.
These adventure camps were brilliant for my former teenage self. They had climbing, abseiling, kayaking, survival tips and culminated in the ultimate survival experience – being left with two friends on a remote, uninhabited island in the Scottish Hebrides with nothing but a sleeping bag, a bivvy and a couple of tools.
You can see a picture of me a few days before one of these survival experiences, desperately needing a haircut and with no idea I would soon be hunting for a cave for shelter and foraging for thistles to create possibly the most unappetising soup possible.
However, I've things have changed. I moved to the city, I went to university, I got a job and I've changed a lot as an individual.
Long gone are my days of wrapping myself in a bivvy to keep out the torrential rain, of covering myself with skin so soft to keep out the particularly annoying Midge (an industry secret) and of waking up only to find out that my tent was very much not waterproof.
This website encapsulates my attempt to reconnect with nature but doing so in a way that doesn't leave me sodden and miserable. Equipment has come a long way since I was eating thistle soup, and being outdoors no longer needs to be uncomfortable.
James Black
Outdoors Researcher
Fraser's story
Hi!
My name's Fraser and I'm a tree-hugging, nature-loving outdoorsy guy.
Growing up in the north of Scotland, I had the great outdoors on my doorstep. As a family, we took advantage of it with trips from Loch an Eilien in the Cairngorms to Neist Point on the Isle of Skye.
I was also part of youth groups that encouraged outdoor recreation, letting me experience backpacking, hiking, canoeing, abseiling, mountain biking, and everything else the great outdoors has to offer! Seeing as James has already offered a gawky, awkward photo of himself as a teenager, I guess I should follow suit.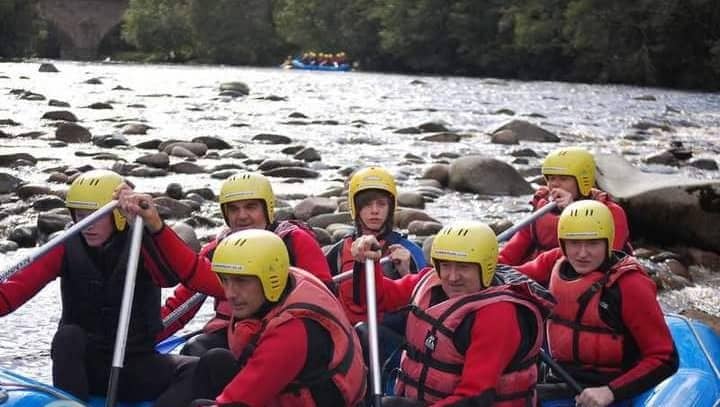 I moved to Glasgow for university in 2013 (which is where I met James!) and this summer I graduated with my Master's of Research in Criminology. Now that I'm a fully-fledged city slicker, I miss connecting with the outdoors as much. So when James offered me the chance to get involved with Wilderness Redefined I jumped at it!
I want to help make getting outdoors accessible to everyone, but I also know how important it is that we promote ethical, environmentally-friendly camping and outdoor pursuits.
Fraser Barker
Outdoors Researcher
Our Content Policy
It's really important to us that the quality of the content on this site remains excellent. While we do write a lot of the content on this site, some articles may be written by friends when I want to build on their knowledge on a specific topic. This is exactly how Fraser got involved in the site, after he was asked for help on an area of his expertise.
This will help ensure that you're always receiving the best guidance possible.
Some of our tips do include suggestions for what we think is the best gear. We do our best to get our hands on these, either for ourselves or borrowing from friends when possible. However, if we can't get my hands on the products then these suggestions may include a deep dive into online feedback.
James Black
Owner of Wilderness Redefined