Are you tired of getting changed, huddled over trying not to hit the damp roof of your tent?
Could you use more storage space when camping?
Do you yearn to stand free?
Then welcome to our best cabin tents review!
We've spent hours and hours trawling through cabin tents and we've returned with the six best options on the market in 2023.
The best cabin tents are:
The tall walls give you plenty of livable space inside the tent and often come with room dividers which makes them great for family camping.
If you're in a hurry, then we'll let you know from the outset – the CORE 9-Person Instant Cabin tent was the BEST option we looked at. With a room divider, plenty of headroom, and an awesome mesh ceiling it's a great tent for family camping.
Stick with us as we go through what makes a cabin tent a buy or bust.
Scroll right to view all products >
| | | | | | | |
| --- | --- | --- | --- | --- | --- | --- |
| | Best Overall Tent | Best Large Tent | Best for Tall Campers | Best Tent for Durability | Best Value Tent | Best Alternative Option |
| | | | | | | |
| Ranking | 1st | 2nd | 3rd | 4th | 5th | 6th |
| Rating /5 | | | | | | |
| Review | Easy, comfortable and spacious - what more do you want? | This tent is HUGE - great for big groups! | No more bumping your head of the roof in this bad boy. | If you want a tent to last a lifetime, here it is. | If you're on a budget, look no further. | And now, for something completely different... |
| | | | | | | |
After the quick product overviews, you can find more in-depth information about how we reviewed these products to find the best cabin tents.
We factored in how durable the tent was, how easy setup was, the amount of headroom it offered, and any other features the tent came with we liked.
Best cabin tents compared
Best Overall Tent
The CORE 9-Person Instant Cabin is the best cabin tent, with plenty of room, easy set-up, and great features.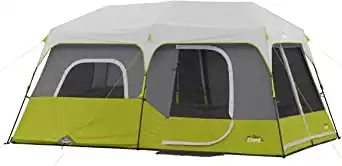 Pros
Instant setup leaves you time for relaxing

Mesh ceiling for ventilation and bedtime views

Removable divider to give you some privacy
Cons
Issues with zipper on older models
Not designed for bad weather
The CORE 9-Person Instant Cabin Tent ticks all the boxes. It's incredibly easy to set up, spacious with a detachable room divider for privacy, and is pretty durable for an instant cabin tent. This makes it a fantastic family cabin tent.
The main feature of the CORE 9-Person model that blew us away was the incredible mesh roof. This lets the hot air in the tent escape but also gives unrivaled views of the night's sky with the rainfly off.
You can lie back and gaze up at the stars from the comfort of your tent in the CORE model and share some unforgettable moments with your fellow campers.
As an instant cabin, the CORE model can be pitched very easily, in under 60 seconds according to the company. We would say it's probably more reasonable to expect set up to take about two minutes – which is still remarkably quick for a tent this size!
One of the concerning issues I came across with the CORE model was a common issue with the zipper getting caught on the cuff and jamming or damaging the material.
However, when contacted CORE said that the issue had been reported to their customer service team and has been addressed.
So if you go for this tent, be aware that models from before 2020 may have issues with the zipper but CORE says the issue is now fixed for new models.
Used a 9-person cabin tent with my brother and dad and always had plenty of room. The straight walls make it feel very spacious.

Tent review
With fantastic views from this spacious tent, it is one of the best cabin tents on the market and our favorite pick.
---
Best for Friends
For those who want optimal privacy, the Ozark Trail's three room setup should work.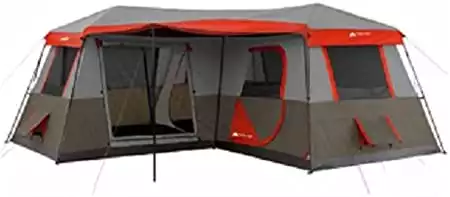 Pros
3 separate rooms for privacy
Awning for covered outdoor space
Quick pitch technology makes setup a dream
Cons
Manufacturing quality varies
Might be TOO big
Some might see this COLOSSAL camping tent as excessive, but it's great for large group camping trips.
The three separate rooms offer spacious private areas that can each be used as a bedroom thanks to the canopy attached to the front. With the canopy up, the covered area outside is the same size as each room. So you'll have plenty of space to sit in the shade!
Some campsites have regulations about how big tents can be, so be aware that might be an issue with a tent this size.
This is another instant tent with poles attached to the fabric to allow for easier pitching. This model will take slightly longer than other instant tents because of its size and shape, but it still goes up exceptionally quick.
Some users report Ozark Trail tents materials could be of higher quality, so I wouldn't expect this tent to last a lifetime. But with proper care and avoiding exposing the tent to harsh weather conditions, I would expect the Ozark Trail to last long enough to get your money's worth from it.
This tent means you can all stay together in the same tent rather than having to split up, meaning it is well-suited to large families with young children or a group of friends looking to get away together.
If you're looking for a big cabin tent with rooms to give everyone some privacy on your trip, the Ozark Trail model certainly offers that. That makes it our pick for the best cabin tent for large groups.
---
Best for 3 Season Camping
If glamping is more your thing, consider the Eureka! as it's more like a cabin than a tent and has plenty of room to hang out day and night.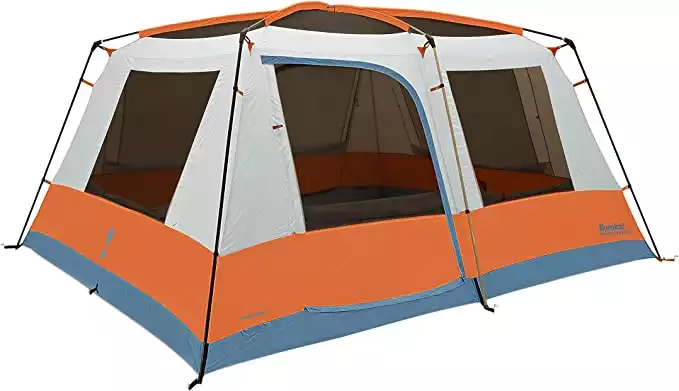 Pros
Stand up straight thanks to the headroom
Good waterproofing for light rain
Zippered E-Port for an extension cord
Cons
Weaker fiberglass poles.
Doesn't have quick pitch technology
If you want a cabin tent for the extra height but don't need much floor space, this tent is a great option. It comes in three different sizes – for 4 people, 8 people and 12 people.
Often with tents, it can be hard to see how they decided on the capacity. However, four people could sleep on the floor without feeling claustrophobic in the Eureka model. In fact, there is sufficient space for two queen-sized air beds and room to move.
This sense of space is helped by the high roof which makes the tent feel open and roomy.
With more substantial coating, this tent has a hydrostatic rating of 1200mm meaning it is classified as a waterproof cabin tent, rather than just water-resistant. Whilst this isn't going to be enough to protect you from a downpour, it will keep you dry in light rain.
However, the fiberglass poles are a mark against the Eureka tents as they are more likely to splinter and shatter, tearing the tent fabric more often than poles made of other materials like steel.
Unfortunately, this tent doesn't come with much living space, meaning it isn't great for groups of more than two. However, it could also be used as an additional tent for larger group trips that need more sleeping areas but not living space.
So for campers looking for a tent with enough space for them to stand comfortably but doesn't come with sprawling rooms, this is an excellent choice.
With fantastic views from this spacious tent, it is one of the best cabin tents on the market and our favorite pick.
---
Best Canvas Tent
A dust, wind and waterproof tent for rough weather conditions.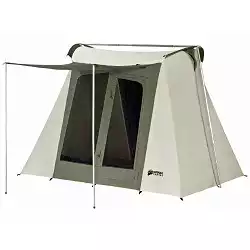 Pros
Sturdy and durable to last for years
The front canopy provides shelter
Plenty of headroom
Made from high-quality materials to last for years
Cons
Much heavier than other tents

Requires maintenance

Difficult to set up
If you're looking for something that is going to stand up to the elements better than your average cabin tent, the Kodiak Flex-Bow Canvas tent is the best cabin tent for rain and bad weather.
Canvas does need more maintenance than synthetic fabrics so make sure to care for it properly. However, the Hydra-Shield coating on their cotton duck canvas means the durable material is breathable and watertight.
Unfortunately, Kodiak doesn't provide a hydrostatic rating for this tent. This can make comparing it to the other tents listed here difficult, but you don't need to worry about this tent keeping you dry.
With the ceiling 6'6" tall, there will feel like there's plenty of space in the Kodiak model and the canvas fabric will mean you can venture out into colder climates!
However, this tent does not come with an electrical cord access vent – and whilst for some campers this won't be an issue, up to 77% of us use electric hook-ups at campsites when they are available. So if you're looking to go electric, this might not be the tent for you.
This canvas cabin tent is our pick for a durable tent that will last many camping trips.
---
Best Value Tent
If you're looking for a value cabin tent, this offering from QOMOTOP is a great option.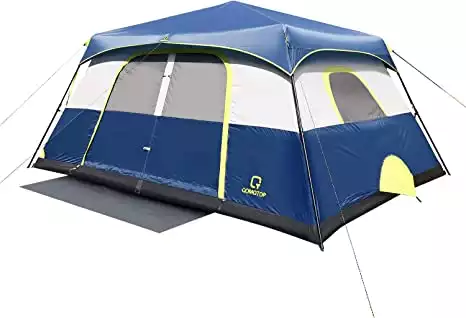 Pros
An absolute bargain

Quick setup

with fastpitch technology
Cons
Shorter roof than other tents
Poor waterproofing performance.
If you're looking for a value for money cabin tent, then the OT QOMOTOP 4-Person model is a good choice.
Like other instant cabin tents, this model can be set up quickly and efficiently like the CORE 9-Person model. Although, this is slightly less impressive as the CORE tent has more poles and is larger.
A disappointing feature of this tent is the fact that the peak height of the tent doesn't even reach five feet. One of the advantages that a cabin tent offers is roomy headspace but this QOMOTOP model doesn't hit the standard we'd expect.
This tent scored a hydrostatic rating of 600mm similar to other models on this list. But reviews from users suggest that the overall ability of this tent to keep the rain out is poorer than, for example, the CORE.
So if you're going camping in bad weather this tent should probably be avoided.
This tent does come with steel poles which are more durable than fiberglass, which is a positive for the durability of this tent. Replacing broken telescopic poles on an instant tent can be tricky and might mean sending the whole thing back to the manufacturer to be replaced.
But sturdier steel poles reduces the likelihood of this in the QOMOTOP.
At the lower end of the price range, it isn't quite as good as the other best cabin tents on this list. But for its price, it's a fantastic low-cost option. It would be a good choice for a small family looking for a first tent.
---
Alternative Option
For an alternative option, consider a set of connecting tents. They work for family and friends trips, as well as going solo.
Pros
Connectable tents offer versatility
Sturdier shape than most cabin tents.
Cons
Set up will require a lot of effort
More expensive than other tents
This is something different. The starter bundle comes with a hexagon-shaped 6-Person cabin-style tent and a 3-Person tent that can be connected to it.
You can purchase more of both tents independently to build the exact tent to meet your needs every trip. Less of the family coming this trip? Leave a 3-Person tent at home! Want to go out camping by yourself? You can use the 3-Person tents independently as well!
This is admittedly an expensive and time-consuming option but can create a system of connectable tents you can adjust for any occasion. And you can still get value from the system but you have to commit.
The separate tents give each room a feeling of privacy that makes this a good cabin tent for family camping with older kids. You can give them the independence of a whole tent of their own whilst still keeping them connected to the main body of the tent.
---
Best cabin tent for an easy set up
Easiest cabin tent to setup: CORE 9 Person Instant Cabin Tent
How easy and quick it is to set up tents is often a concern for family camping. With little kids running about (sometimes very adamant they want to help), a long and difficult setup can start the trip on a sour note.
Tip: Test before you go! Whatever tent you buy (dome tent or cabin), trial setting it up before you head out on your camping trip. Make sure the tent is in working order and you know how to use it.
By far the easiest instant tent to set up reviewed was the CORE 9-Person model which makes it one of the best choices for a family cabin tent.
With the telescopic poles attached to the fabric, the tent can be set up by one person in about two to three minutes. CORE claim that it can be done in 60 seconds (and I'm sure they've managed to do it) but being realistic it is likely to take slightly longer – but not much.
Being able to set up a cabin camping tent this size in less than three minutes is truly incredible and makes it one of the top instant tents around. It's especially great for any single adults who want to take kids camping as it can all be done by one person – even if you haven't got much experience camping before!
Can one person set up a cabin tent?
Cabin tents can be set up by one person but will often be difficult due to their size. Cabin tents often come with instant pitch technology to make them fast tents to set up.
The Ozark Trail 16' x 16' Instant Cabin is an instant tent but due to the size and shape of it, setup is a bit more difficult. It'll probably take two adults about 30 minutes to set up the first time but after that, it should get much quicker.
The QOMOTOP model, Eureka! and Coleman tents can all be set up by one person.
The Kodiak Flex-Bow Canvas model, however, is difficult to setup. Durability has been prioritized over ease of setup in this tent. Connecting some of the poles when the fabric is tense can be a struggle, so be prepared for more of a challenge with the Kodiak than other models.
You'll need at least two adults to set up this tent – particularly for some of the trickier parts like the canopy.
So if your family needs a quick and easy setup, the CORE tent is perfect. Avoid the Kodiak Flex-Bow or Coleman connecting tents if you are worried about a difficult setup.
Which Cabin is the quickest to pitch?
Fastest cabin tent setup: CORE 9-Person Instant Cabin Tent
The CORE 9-Person Instant Cabin can be set up in about a minute which makes it the quickest cabin tent to pitch that we reviewed (although pop up tents are the easiest to pitch).
Top cabin tent for easy carrying when camping
A cabin tent is often large and bulky, which can make carrying them tricky. However, they should all be fine for car camping trips.
| | | |
| --- | --- | --- |
| Tents | Capacity | Weight |
| CORE Instant Cabin Tent | 9 Person | 30.5 lbs |
| Ozark Trail 3 Room Instant Cabin Tent | 12 Person | 56.5 lbs |
| Eureka Copper Canyon Tent | 4/8/12 Person | 17.2 lbs / 31.1 lbs / 36.8 lbs |
| Kodiak Canvas Flex-Bow Canvas Tent | 4/6/8 Person | 54.5 lbs / 68 lbs / 79 lbs |
| OT QOMOTOP Instant Cabin Tent | 4/6/8/10 | 16.8 lbs / 18.9 lbs / 26.9 lbs / 30.6 lbs |
| Coleman Connectable Tents | 9+ | 44 lbs |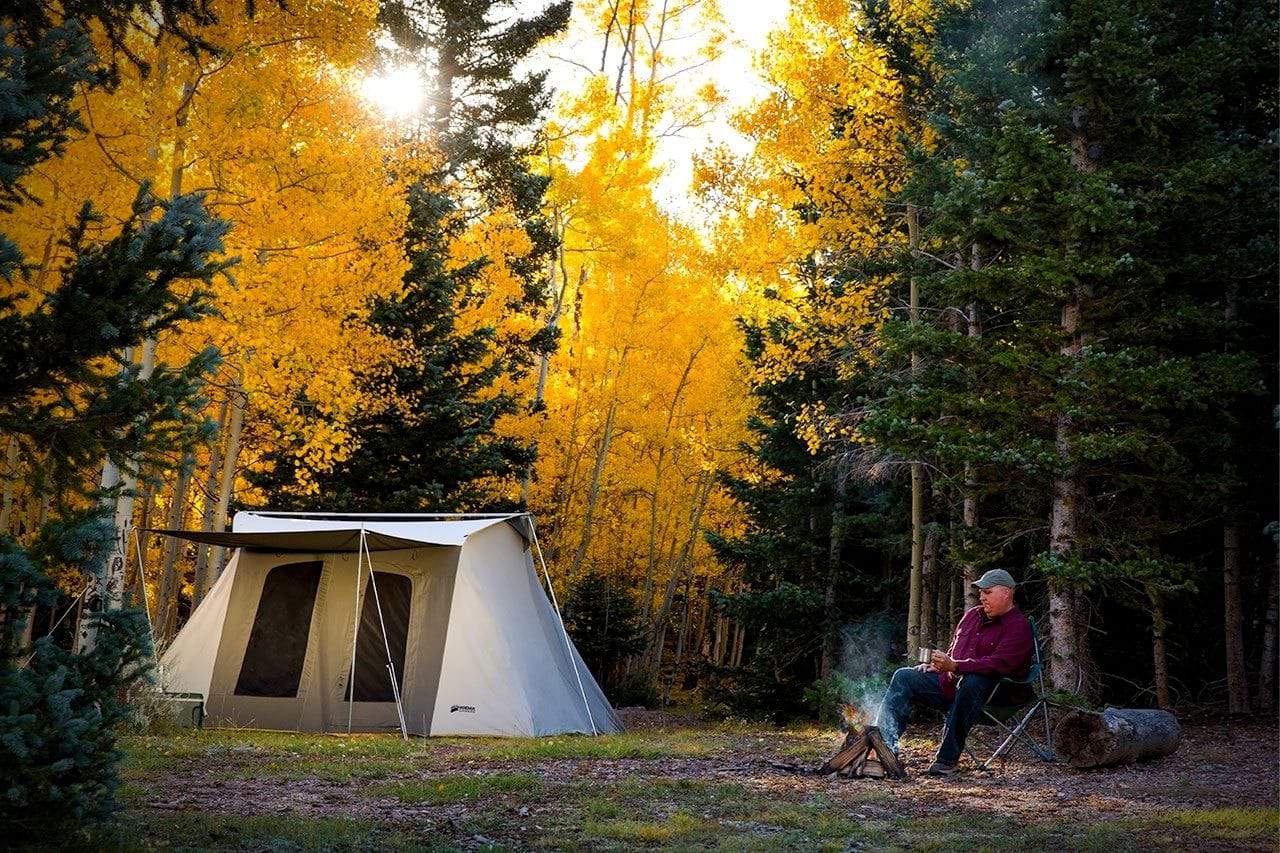 What is the top tent for your group of campers?
Cabin tents have straight walls which create more space and give the tent a higher roof. The extra living space makes family camping easier and the high ceilings make time spent in your tent more comfortable.
This is one advantage they have over dome tents when it comes to camping with a large group.
Modern models are often surprisingly easy to set up, with many instant tents on the market promising they can be set up in under two minutes.
Which cabin tent is best for 6 people?
Best cabin tent for 6 people: Ozark Trail 12-Person Instant Cabin Tent
If you've got a group of six looking for cabin tent, we recommend the Ozark Trail tent. The behemouth might be too big for some groups but the three rooms gives you so much flexibility with how you want to set up your campsite.
For us, it was the clear winner when it came to which tent would be most comfortable for six people camping in.
Best family cabin tent for taking the kids camping
Best cabin tents for family camping: Ozark Trail 12-Person Instant Cabin Tent
A large cabin tent is an ideal choice for families or large group car camping trips in good weather conditions.
The three rooms in the Ozark Trail provide privacy but it also maximizes the potential personal space that the large tent can occupy.
Excluding the use of multiple separate tents, these large tents are also the best option for privacy out of all the cabin tents reviewed. It would be a great tent for families with older kids or a group of friends who want to go camping together but also have their own area.
Fitting the awning into the design means you get a covered outdoor area the size of the rooms.
It's great for watching the kids play but staying sheltered from the sun!
For festival camping, which cabin tent is best?
Best cabin tent for festivals: CORE 9-Person Instant Cabin Tent
If you're planning to take you cabin tent to a festival then you will want a tent that you can pitch instantly, provide sufficient space for you and your gang and keep cool and fresh in the hot, delicate mornings.
For all of those reasons, we like the CORE 9-Person Instant Cabin tent for festival camping.
Will any of these top tents be comfortable to spend time inside?
Best cabin tent for indoor comfort: Eureka! Copper Canyon Tent
A key component of cabin camping tents is the extra space they give you with their taller, vertical walls.
Eureka managed to scale back a cabin tent into something more manageable for small group camping. It's ideal for couples or small families as it doesn't take up much ground space but the high roof makes the tent feel roomy and open.
For smaller groups, the front area of the tent can serve as a porch. This is great for kicking off your boots without having to trampling mud all over the sleeping bags. Or you can opt to keep it as a room and pair the tent with comfortable camping cots.
The peak height of the Eureka! unit is seven feet tall in even the smallest version of the tent which is great for taller campers.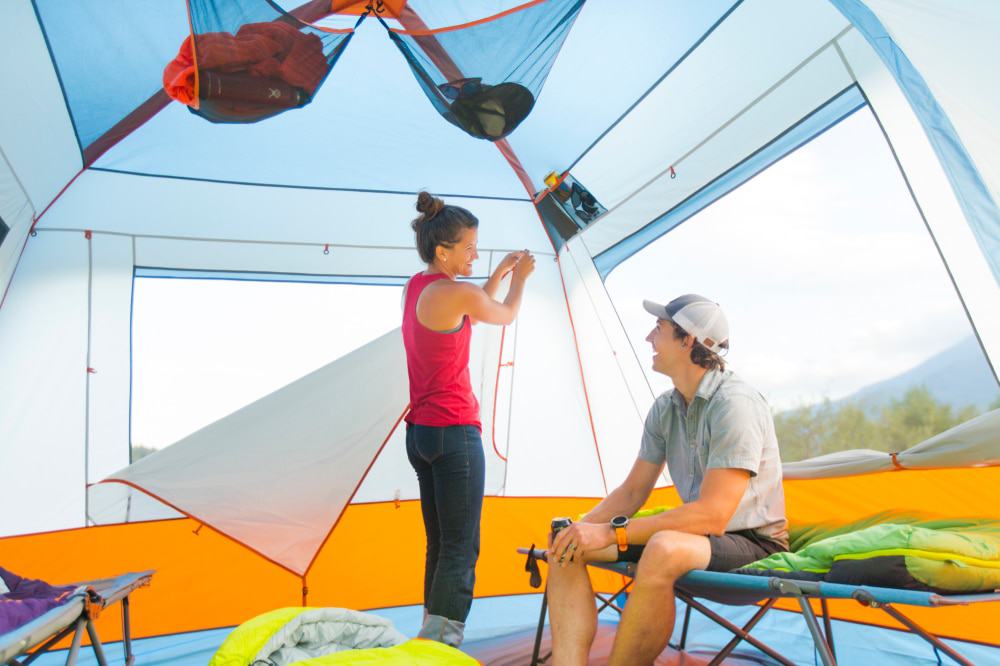 Unfortunately, the QOMOTOP is under 5′ at the center height so if you're looking for a tent with room above your head, it's probably best avoided.
Which cabin tent is best for storing your Camping Equipment?
Best cabin tent for storage: Eureka! Copper Canyon Tent
The Eureka Copper Canyon Tent comes with some nifty mesh storage pockets including a gear loft. I love a loft for gear storage, especially as someone who rolled over in their sleep before and crushed their new sunglasses…
The gear loft can be used to safely store glasses, snacks, or whatever else you are worried about getting lost in the tent (car keys, in particular, can often go wandering after a few days – I like keeping them in a gear loft for easy access and safekeeping).
It's also convenient for storing a flashlight there to use if you need to leave your tent at night.
We also liked the wall organizer in the CORE model. It comes with lots of gear pockets for keeping your tent organized during your trip.
Best multi room camping tents for privacy
Best tent with room dividers: Ozark Trail 12-Person Instant Cabin Tent
When it comes to separate rooms, you can't beat the the Ozark trail tent. It has three room dividers so that you can keep the tent open during the day and split it into three separate bedrooms in the evening.
Are any of these cabin tents good for backpacking?
A cabin tent is not ideal for backpacking. They are heavier and more awkward to carry which makes them difficult for hiking with.
Cabin tent performance in Bad Weather
Many cabin tents are not designed for use in harsh weather conditions. If you want something that is going to cope with windy conditions and the rain, you need to pick a top cabin tent with adequate weather protection. If you want protection from very bad weather, please check out our list of the best waterproof camping tents.
Best cabin tent for rain and waterproofing
The best cabin tent for rain is the Kodiak Canvas Flex-Bow tent. The overall water treatment to the Kodiak fabric with the Hydra-Shield technology means it is the most rain resistant cabin tent that we reviewed. With the canopy for cover and protective canvas, the Flex-Bow is our favorite cabin tent for camping in the rain.
Both the Ozark Trail 16' x 16' Instant Cabin Tent and the Kodiak Flex-Bow Canvas Tent come with a canopy. This is a great feature that can provide shelter from the rain. They are particularly handy to cook under if it's raining.
However, always take care and check the manufacturer's instructions if you are cooking under a canopy. Never place a campfire close enough to a tent to be covered by a canopy.
Finally, bear in mind that if you're taking the tent out in the rain then you will want to prepare in advance. Some sealer for the seams can go a long way in heavy rain and you can always check the waterproofing with a garden hose in advance. A rain fly is also a useful asset if you're expecting heavy rain.
Condensation in the rain and ventilation
Best cabin tent for condensation: CORE 9-Person Instant Cabin Tent
With the rain fly off, the CORE model has lots of ventilation as it includes a mesh ceiling. The rain fly does impact the airflow in the tent but it still should allow air circulation to prevent condensation from becoming an issue.
There are some reports that in cold weather the QOMOTOP can have issues with condensation. The mesh windows do not provide proper ventilation to allow cold air to flow into the tent and push out warm damp air.
Cabin tent performance when camping in wind
Top cabin tent for wind: Coleman Connectable Tents
A cabin tent can struggle in adverse weather conditions, especially the wind, due to their design. With tall, vertical walls they can often catch strong winds and poles can be easily bent or broken.
The unique octagon shape of the Coleman 3-Person & 6-Person Connectable Tent Bundle means that unlike other rectangular cabin tents, the wind does not catch the frame as strongly. Coleman has tested the tent in over 35 mph winds without any issues.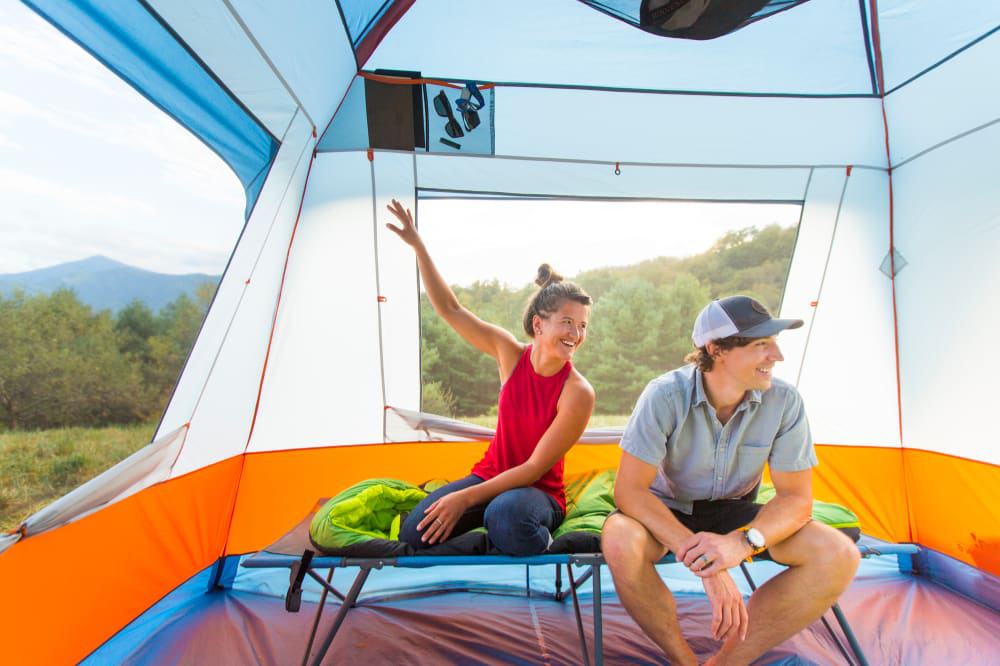 Tents for handling the heat in summer
Top cabin tent for warm weather: CORE 9-Person Instant Cabin Tent
One of the key features found on any of these top tents has to be the wonderful mesh roof on the CORE 9-Person Instant Cabin Tent. Not only does it allow hot air to escape and cool the tent on warm nights (perfect for summer camping!), but taking off the rainfly provides a breathtaking vista of the night's sky.
You and your family can lie back in your sleeping bags and look up at the stars above, without having to leave your tent.
The huge windows also help provide excellent ventilation in the tent. Whilst the CORE might not provide suitable weather protection from adverse weather conditions, the windows provide plenty of ventilation to keep your tent cool during summer nights.
The CORE is the perfect choice for camping in the summer months.
Can any of these tents be used in the winter months?
Best cabin tents for winter: Kodiak Canvas Flex-Bow
You usually shouldn't even consider taking most cabin tents out in winter. In fact, you probably should stick to fair-weather camping in a cabin tent. But the Kodiak Flex-Bow is a truly awesome tent that can handle more than you'd think.
Not only is it great for hot weather camping, but canvas is a good material for keeping safe and comfortable during winter camping as well. So if you're looking for a top cabin tent you can take in the snow, this is the only tent you should consider.
Related: Canvas tents perform great in all types of weather, but cabin tents don't. Check out our review of the best canvas bell tent to find out which tents can provide comfort and weatherproofing.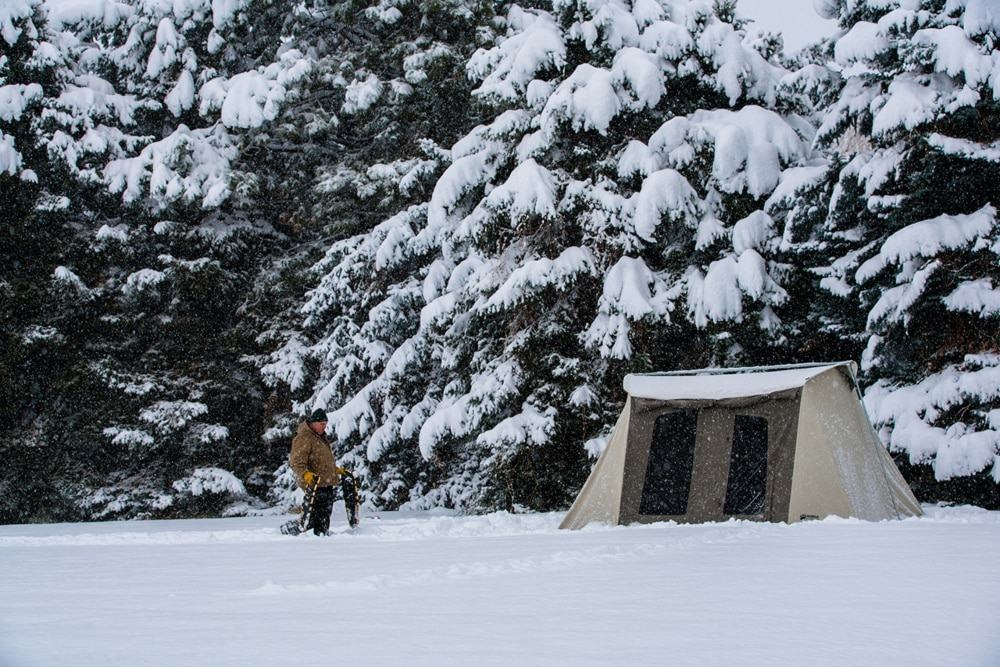 How durable are they?
Best cabin tents for durability: Kodiak Canvas Flex-Bow
We also considered how long these top tents were likely to last and how susceptible they were to damage.
The best option for a lasting tent that can handle cold weather as well as warm, is the Kodiak Flex-Bow. The cotton duck canvas features Hyrda-Shield coating which means the fabric is waterproof and breathable. Cotton canvas is also a great insulator to keep the tent warm.
Other good tents made of man-made fabrics like nylon and polyester are lighter, smaller, and typically come at a lower price. But canvas tents are thicker and more durable.
Generally, the CORE 9-Person Instant Cabin Tent did well when we reviewed how durable it was. It understandably did not offer the same levels of protection as the Kodiak which is designed for all year use.
The Ozark Trail 16' x 16' Instant Cabin Tent uses a variety of manufacturers which might be responsible for differing reviews of quality from users. It's size also means that it can be susceptible to damage in high winds.
Whilst the Eureka Copper Canyon 4 Person Tent features protective waterproofing and no-see-um mesh protection, it is let down by its fiberglass poles. Fiberglass can commonly shatter and splinter, damaging the tent fabric.
However, reviews from users suggest that the fiberglass poles do not majorly impact the durability of the tent.
Eureka has survived some crazy storms for me while other stuff flies through the air. I would spend the $80 if you have it because I do see my tent being on the small side. They're tanks though.

Tent reviews
Eureka also offers a product warranty for the lifetime of their tents (about 7-10 years) which means that they will repair any damage due to manufacturing or material defect. So if you do have an issue with broken fiberglass poles, Eureka can repair the tent for you.
The QOMOTOP Cabin Tent features more durable steel poles. Although the fabric has a hydrostatic rating of 600mm, users have reported issues with the tent not being able to cope with anything more than light rain.
So be aware that this tent might not keep you dry if the elements turn against you.
If you are looking for a tent to potentially last a lifetime, the only recommendation we can give here is the Kodiak cabin tent. The CORE and the Coleman models are also fairly durable and protective but there are concerns about the Eureka and Ozark Trails models.
Frequently asked questions on the top cabin tents
Can you fit a queen size air mattress inside these tents?
All of these top tents are large enough to fit a queen air mattress inside. The Ozark Trail unit can comfortably hold the most (it sleeps up to 12 people), with three queen airbeds able to easily fit inside the tent.
You can place one in each room and still have room to spare for storing camping gear and equipment.
What is a cabin tent?
Resembling the look of a cabin, these top tents feature almost vertical walls that create a taller ceiling than other styles like dome tents. This makes them great for taller campers or when you need some livable space when camping or glamping.
What are some useful camping gear definitions I should know?
Reviewers tip – What is a tent's hydrostatic rating and how does it stop water leaking through a tent?
Hydrostatic rating is a method for measuring how waterproof a fabric is. A Hydrostatic Rating of 1000mm can hold a cylinder full of 1000mm of water before it would leak through the fabric.
What is the best hydrostatic rating for a cabin tent when camping
The higher the rating, the more waterproof the fabric is with 1000mm being the minimum rating for a fabric to be considered waterproof.
What are telescopic tent poles and are they good for setting up tents?
Telescopic tent poles are tubes designed to slide into one another for easy storage, like how a telescope compresses itself. These poles are great for easy storage but often break easier than regular poles – and are harder to replace!
What does a tent's denier mean for the durability of camping tents?
Denier is used to determine the thickness of the fibers in the tent fabric. The higher the denier number, the stronger the fabric is and the more durable it will be. But different fabrics have different inherent properties that affect their strength, so it's not the only value to pay attention to.
Cabin tents overview – which camping tent comes top of the reviews?
So which tent tops our review of the best cabin tents? The CORE 9-Person Instant Cabin Tent is a great all-round tent and is the tent that we recommend as the top cabin tent.
The removable room divider, easy setup, and mesh ceiling all made this tent our favorite option.
But if you need a larger tent the Ozark Trails tent for 12 people is a great option. Meanwhile, the Eureka Copper Canyon 4-Person Tent is great for smaller groups who still want a high tent ceiling (great for tall people).
If you're looking for a sustainable cabin tent, the Kodiak canvas tent offers the best all year protection and durability.
And for a tent that is a bit out there, the Coleman's connecting tents are an innovative way to have a shared camping experience whilst retaining a little bit of privacy.
Next: Read our guide – Dome vs cabin tent