You totally want a tent that takes forever to assemble, don't you? Come on; it's part of the fun!
Just kidding – you want something that sets up in SECONDS which is why you're reading our best pop up tent review!
We've looked at hundreds of tents, including all sorts of quick pitch technology.
Pop up tents are great for short trips where you need an easily pitched shelter, like festivals. They're especially useful for trips when you don't want to share your tent with other people. Take your own personal pop up and steer clear of your snoring fellow campers.
So stick with us as we go through what makes these tents pop!
If you're in a rush, the best pop up tents are:
Scroll right to view all products >
| | | | | | | |
| --- | --- | --- | --- | --- | --- | --- |
| | Best Overall | Best for Families | Best Budget Option | Best for Kids | Best for Solo Camping | Best Overall |
| | | | | | | |
| Ranking | 1st | 2nd | 3rd | 4th | 5th | 6th |
| Rating /5 | | | | | | |
| Review | Pop-up this tent quickly so you can enjoy camping as soon as possible. | Fit the whole family in this behemoth pop-up | If you're camping on a budget, the Ubon keeps costs low | Teach the kids the fundamentals with this little tent | Going solo? The Reabeam is our lone camping | We LOVE this tent - but unfortunately it's now impossible to find. |
| | | | | | | |
Our best pop up tent
If you're in a rush and just want to know which tent we recommend, the Coleman Pop Up Tent is difficult to beat.
Which tent is best for campers on a budget?
If you're looking to keep a tight hold on the purse strings, the best cheap pop up tent is either the Coleman Pop-Up or Ubon Pop-Up tents.
Overview of the Best Pop-Up Tents
Best for Festivals
An inexpensive tent that's not a huge loss if it's trashed, the Coleman pop-up tent is great for festivals.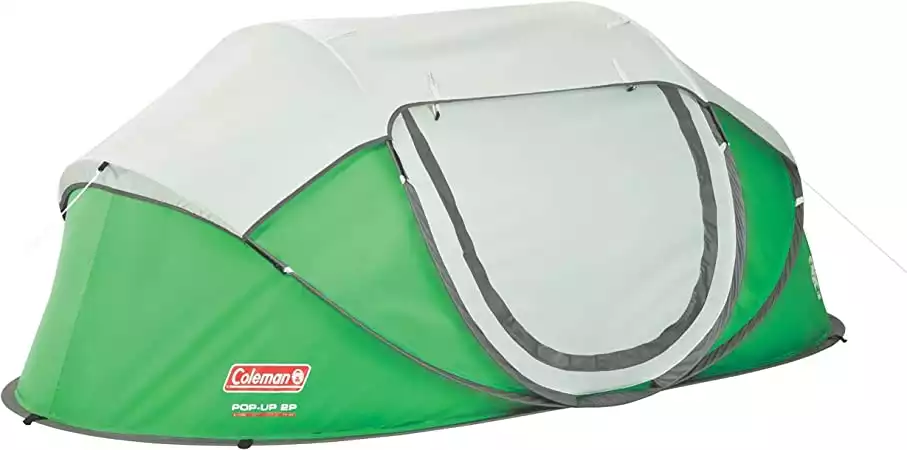 Pros
Easy on the wallet

Keeps you dry despite the low price
Cons
A nightmare to disassemble
May break when folding it down
Are you a festival goer? Worried that rambunctious partying attendees will ruin your tent? This Coleman pop-up tent may be a suitable pick for you.
The 2-person pop-up tent is almost so affordable that you can easily fit it into your festival expenses. At the same time, the tent is so inexpensive that if someone ruins it, it's not a disaster.
Despite the affordability, it's still an excellent tent. For one, the rainfly is water and fire resistant—the latter is particularly useful during festivals. You never know what those pesky attendees will get up to.
If you find the rainfly is creating too stuffy an atmosphere, you can change its position to let some ventilation into the tent. Users found that it gets incredibly hot inside the tent, despite the mesh windows. The rainfly obscures the windows, anyway.
That said, you don't want to spend too much time in this Coleman pop-up tent. It has a painfully low center height, so you'll always be on your knees. Even then, your head may brush the ceiling.
It's mostly a pop-up tent made to crawl into and fall asleep after a hard night of fun.
When morning comes, you'll want to wait a while before folding it back up if you're hungover. It's a nightmare to disassemble even with a clear head. Plus, users find that it may break if you make a mistake when folding it down.
Once finally back to its flat, transportable shape in the carrying case, you may still find the Coleman pop-up awkward to carry.
---
Best for Families
Family camping trips require a larger tent, and the Ayamaya is a great option.
Pros
No condensation buildup even in rain
Hook for a lantern is handy
Unbeatable size for a pop-up tent
Great vestibule for storage
Cons
It can be stuffy
You can only close and open the windows on the outside of the pop-up tent
If you'd rather have a pop-up tent best for use as a family, then this instant tent is more suitable. It has a larger capacity than the tents so far as it'll fit four people—two adults and two kids—nicely.
There's also room for camping gear, or perhaps a dog in the 4 person instant pop-up tent once you have it sprung effortlessly into shape. The front vestibule design is a great extra feature for storing anything you don't want in your sleeping space, and is also a nice area to sit in and watch the sunrise on some folding chairs.
Back in the sleeping area, you can store more personal items close to you, as the pop-up camping tent contains some storage pockets. These are perfect for torches, bedtime-story books and tech devices.
Although, you won't need the torches unless you plan to venture outside at night. There's a hook to hang a lantern and ward off any fears of the dark. The 4 person pop-up camping tent is made from thick fabric and doesn't let much light in at night, so the lantern is a great tool for playing shadow puppets with the kids.
Is that game too dull or childish? Then you can use the E-port to power their devices instead and let them make their own fun.
They'll need that fun if it rains during the day, anyway, as you can't have much active fun in the pop-up tent. It has a low peak height, so you're stuck on the ground for the duration of your trip's tent-time.
On the plus side, there's no condensation buildup when it rains so at least you won't be wet as you hang out in the 4 person pop-up tent.
You'll need to open the ground vents to ensure the walls stay condensation-free. Anyway, it can get mightily stuff without them.
If it's still too hot in there, you're out of luck. You'll have to get wet if you want to open the mesh windows—they only open and close from the outside. You can't open the door either, as the little awning over it only stops water running down the front of the pop-up tent. It won't deflect water angled towards the door.
---
Best Budget Option
If you're camping on a budget, consider the Ubon dome tent.
Pros
Much more spacious than anticipated
Well-ventilated to keep cool
Storage pockets are handy
Ideal as a beach tent
Cons
Tent materials used are pretty low-quality
Not suitable for all-year camping
If you're on an extreme budget, here's a pop-up tent you may like. It has all the features of a far pricer tent.
First of all, it's decently large for a pop-up tent and still lightweight. The tent doesn't have the best ceiling height, but width-wise, it has enough space to sleep two parents and a child quite comfortably.
The manufacturer states the 2–3 person pop-up tent fits a "full" bed, but by measurement's standards, the tent is an inch too narrow for a queen. However, if a solo camper wanted to bring a twin air mattress it would be a luxurious experience.
There's a hook on the ceiling to hang a lantern by night, and by day you can throw the double doors open and enjoy natural lighting and fantastic views. You can tie the door curtains up to ensure the view remains unobscured.
As you relax in the tent, you can store your personal items in the two inner pockets for easy access whenever you need them.
If you'd rather keep the doors closed so you can relax in peace, that's fine too—you'll have plenty of ventilation. The doors are insect-proof mesh and the tent fabric is thin so it's breathable, making it an ideal beach tent or for camping in the summer. However, if you take it away from the beach, you'll need to purchase some tent stakes if you want it to stay up for a while.
That said, the manufacturers state the tent works for four seasons. Unfortunately, the pop-up tent fabric is a little too thin to seal heat in for winter camping.
The zippers aren't great, though, so if you want the tent to last as long as your trip does, be gentle with them. The tent fabric can be flimsy too.
---
Best for Kids
If you require a tent for backyard camping, the Regatta is an excellent choice.
Pros
Fully waterproof fabric to keep you dry
Lantern hook for ghost stories at night
Great size for kids
Cons
Thin, weak groundsheet
Difficult to fold down
This is a fairly light tent, so it's not one to take in cold or windy conditions. It's ideal for camping in fair weather conditions and would make a perfect pop-up tent for kids to use alone, giving them some independence.
It'd also be a fantastic backyard camping tent, keeping them close to home and near warmth should it get too chilly outside.
Although, it's still safe to use the 2 person tent if it rains. Despite the thin, breathable fabric there's significant waterproofing in it. You may want to use some seam seal to improve the protection but in light rain, it's great on its own.
There's proper ventilation on the sides, so the children can still breathe during rain showers, and the fabric is thin enough to let light in. There's also internal pockets and a space to hang a lantern at night for kids who fear the dark.
Despite the ventilation, some users had issues with condensation so make sure the kids have a towel to wipe down the walls. Don't be too rough with it, as it's not the strongest fabric in the world. The groundsheet is particularly flimsy, so go shoe-free in the pop-up tent and keep the pets out.
Once the trip ends, as one user put it, you'll need "an expert at origami" to close the instant tent down again, so unfortunately, that element of the tent is far from kid-friendly.
---
Best for Solo Camping
Going solo? The Reabeam is our top pick for this activity.
Pros
Highly durable in wind.
Withstands tropical wind.
Blackout fabric for sleeping in.
Cons
A little too small for taller people.
Window vents can only be opened on the outside.
Do you prefer to go solo? This tent will keep you safe and dry, despite the low cost.
This instant tent is highly suitable for backpackers who want to sleep in after a long day of hiking. The interior is dark, blocking out the sun so you can sleep the morning away and get back to backpacking in the early afternoon.
Rebeam tested the tent's abilities in a wind tunnel and confirmed it can withstand Force 6 or 50 kilometers per hour winds, and it can handle heavy rain—it's excellent to whip out in a storm you'd rather not hike through.
It's a little bulky to carry, like many pop-up tents. This is something you'd want to suspend from your pack, or attach to the front of it so it doesn't swing against your legs.
Speaking of legs, you'll have to curl them up when you sleep, unfortunately. It's not a long single pop up tent tent—though it's 7 feet long, an average height adult found their feet touching the end of the instant tent when sleeping.
The only other downside that users mentioned is having to close and open the window vents from the outside—which can be a little annoying when it's raining or dark.
---
Best Overall
If you want a high-quality, tough tent to withstand the elements, consider the Quechua.
Pros
Spacious tent for two or three people
Weather-resistant to keep you protected
Remarkably quick and easy to pitch
Great for hot summer trips
Cons
Some users find it difficult to pack
Update: Unfortunately, this tent is now impossible to find and so we cannot recommend it any longer.
This Quechua 2 person tent is the best pop-up on the market. It's a stunning white tent, impossible to miss on your campsite, but the inside is a contrasting black. There is darkroom tech that keeps the light out so you can sleep soundly.
It's a pop-up tent made to sleep two but three could fit in the tent at a squeeze. You'll be close and intimate, but if you're a family or perhaps drunk festival attendees, this won't be much of an issue.
For festival attendees, the dark tent interior will be extra useful so you can sleep away your hangover before another day of fun. The excellent ventilation in this instant shelter is great for keeping your tent cool during those delicate mornings.
Despite the dark, stuffy nature inside the tent, there are two tent panels you can open and secure with guy lines. These work to air out the tent, and because of their angle, they shouldn't let rain in. They'll let a chill into the tent, though, so try to stick to sunny season camping.
The rest of the pop-up tent can withstand rain well, but it's especially impressive in winds. It can withstand 50 kilometers an hour, or Force 6 winds. The manufacturers tested this in wind tunnels and on turntables.
You'll only find the tent's downfall when you pack it up again in the carry bag. Whilst the ease of setup is remarkably efficient, breaking down the tent is a different story. Not only can it be difficult to get it down, but it's a little flimsy once you do.
The packing experience involves wrapping the pop-up tent up with a yellow rope. Some users found the clips used during this process broke easily. This left them dissatisfied, expecting a better quality tent for the price.
---
Which pop-up tent is easiest to set up AND take down?
Whilst the advantage of pop-up tents is their ease of setup, a common issue with pop-up tents is that they can be a hassle to get back into their carry bag. They often need to be twisted and bent in just the right way to get them to squeeze back in.
All of these tents have incredibly easy setups (it's kind of the point of pop-up tents!). The Ayamaya 4 to 6 person pop up tent is slightly harder due to it's size, but that's not a criticism of the tent. It's more of a trade-off between size and instant setup.
When it comes to packing away the tents again, the tent with the least complaints about getting it back in the carry bag is the Ubon.
It's never going to be easy to wrangle a tent into a perfect circle for storage. At the end of the day, so long as it's not nightmarish or requiring an "origami master," you can say that the pop-up folds down "easily."
Can pop-up tents be set up by one person?
Absolutely! The set up for a personal pop up tent is so easy, even a beginner will be able to manage by themselves.
You just realize the tent from its carry bag, let it fly into shape (maybe turn it over if your tent's turtling), and then stake it down!
Super easy. Super quick.
Which tent is quickest to pitch?
Winner: Quechua 2-Second 3 or 2 Person Pop Up Tent
Get the stopwatches at the ready, cause this is going to come down the milliseconds!
The Ubon will take a few seconds extra as you have to unlock the poles to set it up but other than that speed of set up comes down to the finest margins with these tents.
Whilst we thought that the Quechua was the quickest tent to set up, there really wasn't much between these tents in terms of speed.
Unless you're aiming to break any world records in pop-up tent pitching, our honest feedback about which of these tents is quickest is that it doesn't matter.
They're all SUPER quick.
Which tent is easiest to carry?
Whilst they are usually light, these tents are awkward to carry because of their disc-shaped bag. However, this can make them great for car camping as the flat disc can slide into spaces bulkier tents can't.
Some of the bags can be quite big. If you're around the 5'2 mark or under, it takes up half your body size. Give this one to the taller attendees or friends to transport on your camping trip.
Who are these tents best for?
Top pop up tent for 2 people
Winner: Quechua 2-Second Pop-Up
It probably won't come as a surprise that we recommend the Quechua Pop-Up for two people. There's plenty of space inside the tent with handy storage pockets for keeping personal belongings safe.
This top tent offers all-round value whilst being comfortable for two campers.
Top pop up tent for 4 people
Winner: Ayamaya Pop-Up Tent
The Ayamaya has to win in terms of how many people you can fit into the pop-up. Many pop-up tents you'll see are made for one or two people, three if you're lucky. You can't reasonably expect a large tent to pop up as easily as something smaller.
The Ayamaya has to win in terms of how many people you can fit into the pop-up. Many pop-up tents you'll see are made for one or two people, three if you're lucky. You can't reasonably expect a large tent to pop up as easily as something smaller.
However, the Ayamaya proves it's doable and results in an excellent tent for a family of four people.
Which tent is best for family camping?
Winner: Ayamaya Pop-Up Tent
These top pop-up tents aren't the best for long camping trips, but they can be wonderful for backyard family camping, or a weekend car camping trip.
They're one of the best options for first-timers and can be a wonderful backup if you find you enjoy camping and want to buy something better.
If you have young kids, though, you may want to stick with the pop-up for a while. They're not too expensive, so if an excited child kicks or runs into the side of the tent and damages it, it's not disastrous.
The impressive size of the Ayamaya pop up large tent makes it an excellent option for family camping. It's the largest pop up tent and big enough to hold a family of four.
Which tent is most comfortable?
Winner: Ayamaya Pop-Up Tent
If you're planning to spend a lot of time in your tent or you want something that's going to be large enough for tall campers, consider the ayamaya pop-up.
It's large enough for a small family so should be able to cope with larger campers as long as they stick to smaller groups.
The Ubon is on the smaller size and would probably be an uncomfortable tent for someone over six feet tall.
Which tent has the best storage space?
Winner: Ayamaya Pop-Up Tent
A pop-up tent with a vestibule is rare, so we were really pleased to find this nice feature on the ayamaya.
Sometimes you can feel like you're crammed into pop-up tents and have to spend the night pressed against your gear or fellow campers.
The Ayamaya gives you the option to put your extra gear and camping equipment in the vestibule and out of the way.
The best pop up for festivals?
These top pop-up tents are usually a perfect choice for festivals. However, the often also get treated as being single-use, disposable items which they aren't. Make sure you take any tent home with you after a festival.
If you want a low-cost, reliable and easy option it has to be the Coleman 2 or 4 Person Pop Up Tent for us. Get pitched right away and chill out with this great tent.
Can you take any of these tents backpacking?
Pop up tents at first appear to be great for backpacking in the sense that they're lightweight and easy to set up. One shake, a few stakes, and you can dive in and relax after a long, tiring day.
Where you may find issues with these top tents is with their bulk. Pop up tents typically fold down into thin but large circular shapes. This is fine if you can attach them to the bottom or front of your pack, but keep in mind it can be awkward when squeezing between trees or navigating through thorny brush.
The best pop up tents for bad weather
Sometimes there are freak storms even in summer, so you can't help getting caught in it. You want to be reasonably sure your tent can handle that. There are no doubts that the water-resistant Quechua is up to the job in harsher weather.
keeping the rain out of the tent in wet weather
Best waterproof pop up tent: Quechua 2-Second Pop-Up
The Quechua 2-Second Pop-Up is tested in simulated storm conditions to make sure that it is capable of facing heavy rain in tropical climates. The waterproof materials on this tent impressed us most out of all the top pop-ups.
Pop up tents don't usually offer a lot of protection and we'd recommend sticking to fair-weather camping in them. But this top option from Quechua offers some serious weatherproofing to keep you dry on your trip.
Best tent for condensation when the temperature cools
Best pop up tents for camping in cold weather: Quechua 2-Second Pop-Up & Ayamaya Pop-Up Tent
The Quechua also does well at dealing with condensation if it is raining.
The tent has great ground vents to keep the tent cool in the heat but also prevent condensation from forming when the weather outside gets chilly.
The Ayamaya tent is also excellent at preventing condensation thanks to the ground vents. The Regatta Malawi tent is disappointing vulnerable to condensation when the temperatures drop, however.
Best pop up tents for withstanding Windy Weather
Best pop up camping tent for wind: Quechua 2-Second Pop-Up
Once again, the pop-up that impressed us the most when it came to wind resistance was the Quechua tent. It can withstand strong winds of up to 30mph.
The Reabeam 1 person pop up tent also offered a surprising performance in the wind. All of their tents are also tested to the same wind speeds as Quechua tent, meaning they should be as wind resistant as the Quechua tent in heavy winds.
However, the Quechua tent is made using more durable materials that provide better long-term protection.
Best tent for handling the Summer Heat
Winner: Quechua 2-Second Pop-Up
With the Fresh & Black patented design in the Quechua 2-Second Pop-Up tent, it is great for hiding from the hot summer sun during the day. The tent can block up to 99% of the sunshine, even in broad daylight.
Combined with this are the fantastic low-ground vents which circulate in cool air to keep the tent from getting too stuffy, making it the best popup tent for a hot day.
Are any of these pop up tents suitable for winter camping?
The best pop up 4 season tent is … none!
Depsite handling a surprising amount of different weather conditions, the Quechua tent shouldn't be taken out in the winter.
None of these tents can be classified as a 4 season pop up tent. They don't offer adequate protection to keep you safe (or comfortable!) when camping in winter, so we don't advise considering even the latest pop-up tent for winter excursions.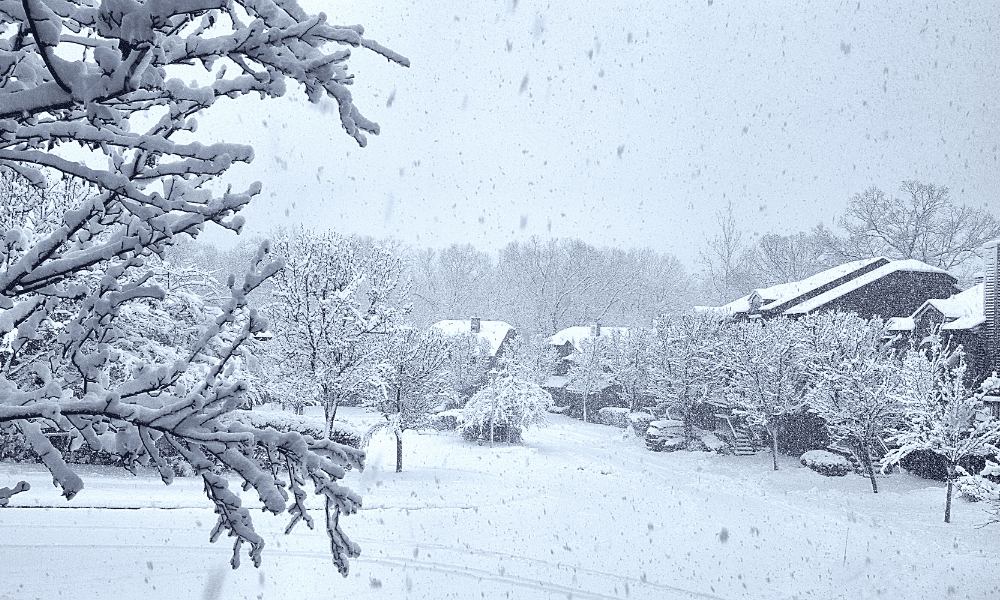 Which pop-up will last the longest?
Winner: Quechua 2-Second Instant Pop Up Tent
We'll admit that the Quechua tent comes with some flimsy clips, but besides that it's a tough pop-up tent. Tested and proven to withstand insane, Force 6 winds, you can guarantee this is a tent that'll last. It's made with high-quality materials to give you a long lifetime of use.
It may not last as long as a traditional tent, but you can expect to get three or four years of casual recreational use out of this at least. Just don't put it through too much hardship!
FAQ: Is that all you need to know?
How Does a Pop up Tent Work? 
Pop-up tents literally pop up, like one of those prank peanut cans where the snake springs out as soon as you remove the lid.
Unzip the bag, pull out the tent and with a light shake, it springs into shape. All that's left to do is stake it and deal with the rainfly, if applicable. This makes pop up tents some of the easiest tents to set up.
Due to their sudden pop-up assembly, which often happens right in your hand, these tents are usually small. If you want a large, quick setup tent, you may want to look into an instant cabin tent instead (you can check our our cabin tent reviews here).
Is a Pop-up Tent Reliable? 
Some people find that pop-up tents leak easier, and aren't great for breathability. You also can't replace the poles if they break and you need to buy a whole new tent when one breaks.
That doesn't necessarily mean their poles break more easily, though—they're typically aluminum poles or fiberglass poles, like a regular tent.
While they're cheaper and may not be as high-quality as regular tents overall, pop-up tents are reliable, especially if you treat them right. If leaks are an issue, consider waterproofing spray and seam seal.
There's not much you can do about a condensation problem other than pack a towel on your trip.
Lastly, if a pole breaks and you find you've been enjoying your tent, maybe it's time to upgrade to a more standard tent anyway.
Are There Other (non popup) Instant Set up Tents?
There are other instant set up tents, but they're not as instant as you'd think. You have to do some minor assembly work.
Instant camping tents are more or less all the same assembly-wise. They have pre-assembled poles that you slide into position and lock. All that's left to do after that is stake the tent.
Sometimes you'll also have to arrange and stake the rain fly; other times it comes as an integrated part of the overall tent. 
Arranging the rain fly is often the most difficult part of the tent, but only if the tent is tall. If it's a lower tent then it's a simple, one-person job, like assembling the rest of the pop-up tent.
Can you fit a queen sized air mattress inside these tents?
It will be a squeeze to fit queen-size air mattress in any of these tents, but you should be able to fit one inside the Quechua and Coleman pop-ups.
The 2-Person Ubon tent is too narrow for an air bed so upgrade to the 3-Person version if you want to take a blow-up bed with you.
The Best Pop Up Tents – Verdict
The best pop up tent is the Quechua 2 Second 2-Person Tent. It's a little pricer than any other of the pop-up tent on this list, sure, but it's worth it.
Withstanding high winds and snugly sleeping two, you can't expect much better from a pop-up tent. You'll be dry, safe and satisfied in the Quechua, hence its status as the best pop up tent for camping of the group.
So now you've read our pop up tent reviews, grab your favourite tent and head out camping!
Related: Going down under? Check out our list of the best pop up tents in Australia.
Next up: Once you've grabbed your pop up tent, check out our camping checklist and packing list for beginners!
Find out what the quickest tent to set up is