Setting up your campsite upon arrival can sometimes be a daunting challenge. The sooner everything is up, the sooner you can relax.
A good tent that can be set up quickly and correctly can help get your trip off to the right start.
This is why we've reviewed the best instant tents for camping to help you find the perfect one for your needs.
Instant tents can be set up in seconds, meaning they can reduce the stress of setting up your campsite. This can make them a great option for casual camping trips.
They are better for car camping rather than campsites you need to hike to. Tents that pop up are great for setting up in a matter of seconds, but their carry bag is often a large, flat circle that makes carrying them while backpacking a challenge.
Product Comparison
---
This Quechua Pop-Up goes up in seconds – which is just one reason we loved this tent
Capacity: 2 | Weight: 7.3lbs | Dimensions: 47.2" x 82.7" x 38.6" | Bag Dimensions: 25.6" x 3.5" | Doors: 1 | Power Cord Vent: No | Price: $$ | Hydrostatic Rating: >2000mm | Set Up Time: 2 Seconds
Blackout feature
Impressive durability for a pop-up
Compact
This stylish model from Quechua is our favorite pop-up tent we reviewed due to how compact and durable it is whilst being incredibly easy to set up.
One of the exciting features of this model is the Ti0²-coated (titanium dioxide) fabric which provides protection of SPF50+. It also keeps out most of the light even in broad daylight, meaning you won't be woken up by the sunlight beaming down on your tent.
If the sunlight wakes you up in the morning, this is a great option to consider. This can also be a great feature for festival camping – particularly if the night before got away from you and you need a cool, dark space to lie in while you get ready for round 2.
The tent is also very durable which is surprising for a pop-up. Quechua don't use hydrostatic ratings to indicate how waterproof their tents are, but all of their tents come with a minimum rating of 2000mm. It has been tested in showers up to 200 L of water per square meter for four hours and wind speeds of up to 30 mph.
That is about twice the levels of a European storm for four hours, so you can trust their tents should be able to stand up to a summer shower at the very least!
This tent is on the small side and would only be comfortable for single-person camping, so it might be a good option for a personal tent while camping with a group of friends.
Overall, the Quechua can handle a lot more than you would expect from a tent that pops up. The trade-off of these features and easy set-up is that the Quechua is more expensive than other pop-up models, but we think it justifies that price tag.
---
The CORE 9-Person Instant Cabin is so easy to set up, it's a great option for group camping
Capacity: 9 | Weight: 30.5lbs | Dimensions: 14' x 9' x 6'6″ | Bag Dimensions: 28" x 11.5" x 11.5" | Doors: 2 | Power Cord Vent: Yes | Price: $$ | Hydrostatic Rating: 600mm | Set Up Time: 60 Seconds
Easy tent to set up
Lots of space
Mesh roof
Room divider
Can get chilly
Stakes aren't very good
This CORE model is an excellent instant cabin tent that ticks all the boxes for us. With the telescopic poles attached to the fabric already, this tent can be set up easily in a matter of minutes. CORE even claims it can be done in 60-seconds.
An issue with instant tents that are sometimes reported is that they can be difficult to clean because of the attached poles. But you shouldn't machine wash tents and using a sponge to gently clean soiled areas is just as easy with the attached poles.
There's a spacious interior that can be separated into two by a removable divider or left as one open welcoming space. But the really exciting feature of this tent is the mesh ceiling. The stunning views of the night's sky you can enjoy in your tent with the rainfly off are remarkable.
The spacious interior can be divided into two rooms with a removable separator. With the mesh roof and the fully opening T-door at the front, the living area still feels open and large with the divider up.
With the ease of set up that comes with instant tents and the space afforded by cabin tents, the CORE 9-Person Instant Cabin Tent combines both into the perfect tent for young family trips or camping with a group of friends.
---
This sturdy and durable tent from Vango uses inflatable tent poles for a quick set up
Capacity: 5 | Weight: 17.6kg | Dimensions: 320cm x 490cm x 210cm | Bag Dimensions: 70cm x 36cm x 35cm | Doors: 1 | Power Cord Vent: Yes | Price: $$$ | Hydrostatic Rating: 6000mm | Set Up Time: <5 Minutes
Very durable
The sleeping pod can be divided
Roomy living area
Expensive
Hardest instant tent
The Vango Airbeam Odyssey is a great option for family camping. There's a spacious living area in the front and a sleeping pod that can be separated by a removable divider. The sleeping pods are also darkened to help you get a better night's sleep.
This tent is far easier to set up than a regular tent but is harder work than the other instant tents listed here, like the CORE. It takes two adults between 3-5 minutes of pumping to fully inflate the tent.
What impresses us most about this tent is the durability it offers, which is rare in instant tents. This model comes with Vango's Tension Band System – a strap that can be tightened to improve the integrity of the tent in high winds.
So if you're looking for an instant tent that you can use all year, this is a fantastic choice.
This model is pricey but with features like the Tension Band System and the dark bedrooms, the tent is certainly still value for money. Given how durable the model is, you can expect to get a lot of use out of the tent.
This tent would be great for families or for older couples who still want some space in their tent but also would like an easy setup.
---
With the spacious interior and the canopy, this pop-up tent is big enough for small family camping trips
Capacity: 4-6 | Weight: 11.6lbs | Height: 6'6" | Dimensions: 12.5' x 8.5' x 4.3" | Bag Dimensions: 34.65" x 34.65" x 1.18" | Doors: 1 | Power Cord Vent: Yes | Price: $$ | Hydrostatic Rating: 3000mm | Set Up Time: 60 Seconds
Spacious interior
Large for a pop-up
Canopy
Gets warm at night
Breaking down the tent is difficult
This large pop-up tent can fit a small family. It comes with a vestibule and living area which can help make getting ready in the mornings a little bit easier. That additional space in the tent is rare in pop-up tents designed for easy set-up.
The canopy is another fantastic feature for making this tent feel even bigger. With the gear loft and storage pockets, there's plenty of options for keeping your phone, wallet, or other valuables safe.
There were two issues we found in the tent. Firstly, whilst set up is very easy, breaking the tent down and fitting it into the bag again can be a challenge and is easier with two people.
Secondly, the ventilation in the tent is pretty poor so if you're looking for a warm-weather tent, avoid this.
Overall, this would be an ideal tent for a small family with younger kids. The setup is quick and easy meaning you can spend less time fighting tent poles into sleeves and more time playing with the kids.
---
Another instant cabin tent, this model from Ozark Trail is perfect for large group camping trips with friends or family
Capacity: 12 | Weight: 61lbs | Height: 6'6" | Dimensions: 16' x 16' x 7'8'' | Bag Dimensions: 52.5" x 14" x 12.5" | Doors: 2 | Power Cord Vent: Yes | Price: $ | Hydrostatic Rating: 600mm | Set Up Time: <2 Minutes
Huge covered outdoor space
Three massive rooms
Might be too large for some campsites
Some might see this colossal camping tent as excessive, but it's great for large group camping trips with friends. This tent means you can all stay together in the same tent rather than having to split up, making it well-suited to large families with young children as well.
The three separate rooms offer spacious private areas that can each be used as a bedroom thanks to the canopy attached to the front. With the canopy up, the covered area outside is the same size as each room. So you'll have plenty of space to sit in the shade for a living space!
Whilst this tent isn't cheap, the amount of space you get for the cost of this tent is remarkable. Given how easy the tent is to set up as well, the Ozark Trail model offers fantastic value for money.
Tents this size that are this easy to set up and available at this price are few and far between.
Some campsites have regulations about how big tents can be, so be aware that might be an issue with a tent this size. Always check before you book.
If you're looking for a big instant tent with rooms to give everyone some privacy on your trip, the Ozark Trail model certainly offers that.
---
This tent is a low-cost option that's great for festivals
Capacity: 2 | Weight: 6.31lbs | Dimensions: 14' x 9' (126ft2) | Bag Dimensions: 7'6" x 4'5" x 2'11" | Doors: 1 | Power Cord Vent: No | Price: $ | Hydrostatic Rating: 600mm | Set Up Time: <60 Seconds
A low-cost alternative
Wind responsive
No one wants to spend their time at a festival pitching a tent. So the fact that this Coleman model can pop-up in seconds is a great feature.
This tent is a cheaper option than the Quechua and that is reflected in the quality. There are reported issues with the zipper commonly getting stuck and poor ventilation so the tent can get quite warm at night. The rainfly also doesn't provide total coverage.
These are all valid issues and if the festivals you're planning to go to have unpredictable weather (like in the UK) this tent might not be the best choice.
This tent does come with a sturdy frame that is wind responsive meaning it is better able to withstand windy conditions. It also comes with two storage pockets which are great for keeping phones and other valuables safe.
FESTIVAL POP-UP TENTS ARE NOT SINGLE-USE ITEMS
In the UK, almost a quarter of a million tents were left behind at music festivals in 2019. Make sure to bring a tent that you can pack away after a weekend of partying, like this Coleman.

The impact of abandoning tents on the local and global environment is substantial as the tents add to the waste which needs to be cleared after the festival and most tents are made from synthetic materials that pollute the environment
If you're looking for a low-cost instant tent for festivals that will let you get set up and start dancing in seconds, the Coleman is a fantastic option. The tent is also pretty lightweight which is great for carrying to festival campsites – just remember to carry it away as well!
---
The CORE 9-Person Instant Cabin is the best cabin tent, with plenty of room, easy set-up and great features.
Capacity: 2 | Weight: 1.8kg | Dimensions: 78.7" x 59.1" x 43.3" | Bag Dimensions: 23.6" x 1.2" | Doors: 2 | Power Cord Vent: No | Price: $ | Hydrostatic Rating: 1500mm | Set Up Time: 3 Seconds
In terms of the price range, this tent is hard to beat.
It is available for a fraction of the price of the other tents on this list, so maybe expectations should be dropped. This model won't let you gaze at the stars from your bed or attach onto a bigger model to form the first settlements of Tent City.
It does come with the basics you will need in a small tent. Two doors for easy access, inner pockets for storage, a roof hook for a light.
However, tents in this price range almost always come with issues. This tent is actually quite small and would be tight for a tall adult so make sure that you will be comfortable with the dimensions.
The size would make it ideal for using on family camping trips as a tent for tweens. Given how easy it is to set-up as well, you can leave everything to them. Giving your kids their own tent to set-up and sleep in helps develop their personal relationship with camping.
It is not very durable or waterproof so it should be used for good weather camping in summer when wind and rain are less of a concern.
This tent would be perfect for families with older kids who want their tent for some privacy. This would be a great addition to the CORE 9-Person model to provide extra sleeping space for a lone camper.
---
Crua manage to master versatility with quick set up in their Core model
Capacity: 6 | Weight: 33lbs | Dimensions: 16' x 12' x 7.5' | Bag Dimensions: 33" x 19" x 18" | Doors: 3 | Power Cord Vent: No | Price: $$$ | Hydrostatic Rating: 5000mm | Set Up Time: <5 Minutes
High ceiling
Connectable tents
This model from Crua also offers a large family tent that can be set up in a matter of minutes.
Like the Vango, the Crua has been designed as a 3-season tent with inflatable poles, capable of standing up to the wind and the rain.
We like the fact that the Crua Core has three attachments for smaller Crua models to connect to. This is handy because the Crua Core only has one room, so additional tents can give you private dorms that are still connected to the main body of the tent.
This is great for social camping trips, with extended family or a group of friends.
It's important to point out that the doors connecting the smaller tents to the main body are quite low and small, so might be difficult to get in and out of if anyone has mobility issues.
The Crua Core doesn't come cheap. It's considerably more expensive than the Vango model but for us doesn't quite do enough to justify it. Some of the value can be regained by using the connecting tents independently for smaller trips.
If you can afford it and like the sound of connecting smaller tents, then this is a good airbeam tent alternative to the Vango.
---
FAQ
How We Decided
How quickly did it go up?
Winner: Core 9-Person Instant Cabin Tent
The first test for an instant tent is how quickly and easily it can be set up. This is the key function of an instant tent.
The CORE 9-Person Instant Cabin Tent is very simple to set up and can be comfortably done within three minutes by two adults – potentially under 60 seconds according to CORE, although this might take some practice.
Quechua market their tent as a "2-second pop-up" and while it'll take a little longer than that to get it fully set up, you can expect to have the tent up within a minute. Take it out of the bag, unhook some clasps, and let the tent pop into shape. Voila!
Camping doesn't get much easier than that. This is great for inexperienced campers who want to pitch their tent with as little drama as possible.
They can also be a good option for families to consider, particularly single-parent families who are looking for an easier set-up.
Setting up the other pop-up tents from Ayamaya and Coleman is also far easier than with regular tents. The Ayamaya model however can be difficult to break down and might need two people to get it easily packed away.
The Ubon pop-up model is also easy to set up but the value is in the ease of breaking the tent away and putting it back into the bag which can be down in under two minutes.
The concern we have is how vulnerable the materials of the tent are to the rough set up and break down of pop-up tents.
The Ozark Trail model set up is easier than would be expected from a tent its size. However, it will still be more difficult than conventionally shaped instant cabin tents so be aware that it isn't the easiest model to work with.
The airbeam models are probably the most work to set up out of all these tents but they are still a good bit easier than a regular tent. The airbeam technology is fantastic for structural security and it only takes a couple of minutes to inflate the tent fully.
You can still pitch this tent by yourself as it is so easy to use.
Once the tent is inflated, there are a few additional steps like setting up the inner sleeping pod that will take longer. But the Vango balances speed and ease of set up with all the features you would expect from a large family tent with superb skill.
The Crua Core is also deceptively easy to set up but if you want to add connecting tents to the model, it will take longer.
Overall you can't beat the speed of the CORE model when it comes to setting up a family tent. The smaller models understandably are easier and quicker to set up and the Vango Airbeam Odyssey 500 is definitely the most difficult option but is still remarkably easy and quick for a tent of its size.
How durable is it?
Winner: Vango Airbeam Odyssey
Instant tents are often not thought of as being a durable option. Because they prioritize speed of set up, they can sometimes compromise longevity in design.
For example, if a regular tent pole breaks you can often find a replacement part with relative ease. But if a pole that is attached to the fabric of the instant tent breaks, replacing it can be much harder and might even mean sending the whole tent away for repair.
The clear winner in terms of durability for us was the Vango Odyssey model. It's rare to find a 4-season instant tent, so this offering from Vango is a find. Their Tension Band System gives added support to the tent's frame in adverse conditions like strong changeable winds.
This is a great tent for areas where you can't be as reliant on good weather, like the UK. Having a sturdy tent that can be set up quickly in bad weather and protect you from the elements is a much better experience than arguing over who has the right tent pole for the right sleeve in the wind and the rain.
The Crua Core is also designed for holidays in less reliable weather in the British Isles.
Another good option for protection against the weather is the Quechua 2 Second Pop-Up. It was tested in winds of up to 30mph and under a shower of 200mm/hr (the equivalent of tropical rain). The ventilation in the model is also great, keeping you cool for a good night's sleep.
The Coleman 2-Person Pop-Up Tent and the Ayamaya 4- to 6-Person Pop-Up Tent are both less well designed for durability. Neither of them will provide the same protection from the wind and rain as the Quechua. With poorer ventilation, they can also get warm at night.
The CORE 9-Person model is not designed to stand up to the elements so offers less protection than the Vango can. But the quality of the tent should mean that it lasts a few years and gets plenty of use. Just don't expect to take it out in a storm!
The Ubon 2-Person Pop-Up is a cheap and cheerful tent that can provide an additional sleeping space, but it is not very durable. If you're going to be camping in bad weather, it might be a good idea to avoid this tent.
There are concerns about the Ozark Trail model's durability as the company uses a variety of manufacturers for their products. This keeps costs low but can mean that quality varies across their range.
The Vango Odyssey offers a tent that will go up in minutes and last through the years, keeping you warm and dry. There are good alternatives but be aware that as the price drops with instant tents, the more likely it is you will face issues with poor manufacturing and materials.
How well does it use the space?
Winner: Vango Airstream Odyssey
The CORE 9-Person model is not only an instant tent but a cabin tent as well. With its vertical walls and high ceiling, the interior of the tent is roomy and spacious. The removable room divider can portion a section of the tent to give it more privacy.
However, we prefer the Vango when it comes to using space. The ceiling in the Vango peaks at 210cm, or about 6'10" which is actually higher than the CORE model. With the tunnel shape and front canopy, you don't lose much more space through this design than a cabin tent can offer.
The only area where the tent might feel enclosed is towards the end of the sleeping pods.
The sleeping pods themselves can be split into 2-person and 3-person rooms with the toggled inner divider.
Combined with the durability of this tent, the divider is a great feature for young families. Whilst the kids are young you can all share one pod with the divider down but as they get older, you can use the divider for more privacy.
The Crua Core model uses space creatively with connectable tents available to buy and a large front porch area. However, this model is only one room, and whilst it is large, it is a disappointment that the tent doesn't come with an option to section off a bedroom.
The Ozark Trail 16' x 16' model is a behemoth of a tent. The tent's design allows for a large covered outdoor space to be created with the canopy whilst still offering three large, comfortable rooms inside.
The issue with the Ozark Trail is that some campsites do not accept tents that big.
The Ubon model is fairly small, perhaps too small to be used by a fully grown adult.
There is space inside the Quechua 2-Person Tent for two people, although it will be tight.
Features like the storage pockets help the tent feel bigger but without a vestibule, fitting two adults and their bags in this tent is going to be a real challenge.
That said, it would be a very good model for solo camping, being compact enough to not feel cavernous and spacious enough to store any equipment inside.
The Ayamaya offers a superb amount of space for a pop-up tent, which is rare. The Coleman however is a bit tight and if you are looking for a tent for more than one person, we would recommend the next size up which is a 4-person offering.
Our pick for the best instant tent when it comes to using space has to be the Vango Airbeam Odyssey. The sense of space you get standing in the living space (yes, standing in your tent!) is impressive. With comfortable sleeping pods as well, this tent is a real winner.
How expensive?
Winner: Ubon 2-Person
If you're looking for a quick, cheap tent for camping in good conditions, it's hard to see past the Ubon in terms of value it offers. This model is our pick for the best value instant tent.
There are some issues for sure. Its size and the poorer quality of materials means this tent is not a good choice for many people. However, it would be the perfect tent to take as an additional sleeping space or even potentially a storage space.
It goes up quickly and is great value for money.
The Ozark Trail model is a fantastic value for money solution for big group camping. Although the tent is more expensive, finding similar capacity tents for the price of the Ozark Trail is a stretch. Finding an instant tent with the capacity of the Ozark Trail for less money is a real challenge.
The Vango is also very good value for money in our eyes, but it is expensive. The price is justified though, with the durability that this tent offers meaning it will last a few years to get your money's worth. Vango does offer a 2-year warranty as standard on all their tents.
If you can afford the Vango, we would recommend it but it is on the higher range of tent prices.
The Crua Core is another model with a big price tag, but unfortunately, it doesn't justify it quite as well as the Vango does for us. The fact that there is only one room in the tent lets it down, but the connecting tents feature and the front porch are both positives for the Crua in this regard.
The CORE model is also well-priced, often doing a better job for less money than its competitors.
The Quechua tent is a lot more expensive than the Ubon option, although we would say it is justified in the extra price. The Quechua is of better quality and will last longer, whilst also offering features like the blackout technology in their fabric.
We rate the Quechua model highly in terms of value for money, but it is expensive compared to other similar-sized pop-up tents.
The Coleman 2-Person Pop-Up is an alternative low-cost option from a large brand but the quality of the product is not significantly better. There are still issues in the Coleman with the zipper, poor ventilation, and the rainfly not providing adequate protection.
Most of the tents chosen were reasonably priced. We did not feel like any were incapable of justifying their price tag.
But the value of the Ubon tent in providing a very low-cost, stripped back shelter means it claims the top spot in terms of value for money.
Features and Extras
Winner: Core 9-Person Instant Cabin Tent
One of the best features found on any of these tents has to be the wonderful mesh ceiling on the CORE 9-Person Instant Cabin Tent. Not only does it allow hot air to escape and cool the tent on warm summer's nights, but with the rain fly off it provides a breathtaking vista of the night's sky.
You and your family can lie back in your sleeping bags and look up at the stars above, without having to leave your tent.
The Quechua 2-Second Pop-Up comes with its blackout technology to ensure the tent blocks out 99% of the daylight so you don't have to worry about being woken by the sunlight early in the morning. It also provides protection from the sun with an SPF50+ rating.
Who doesn't like the sound of a tent that means you can have a lie-in when camping?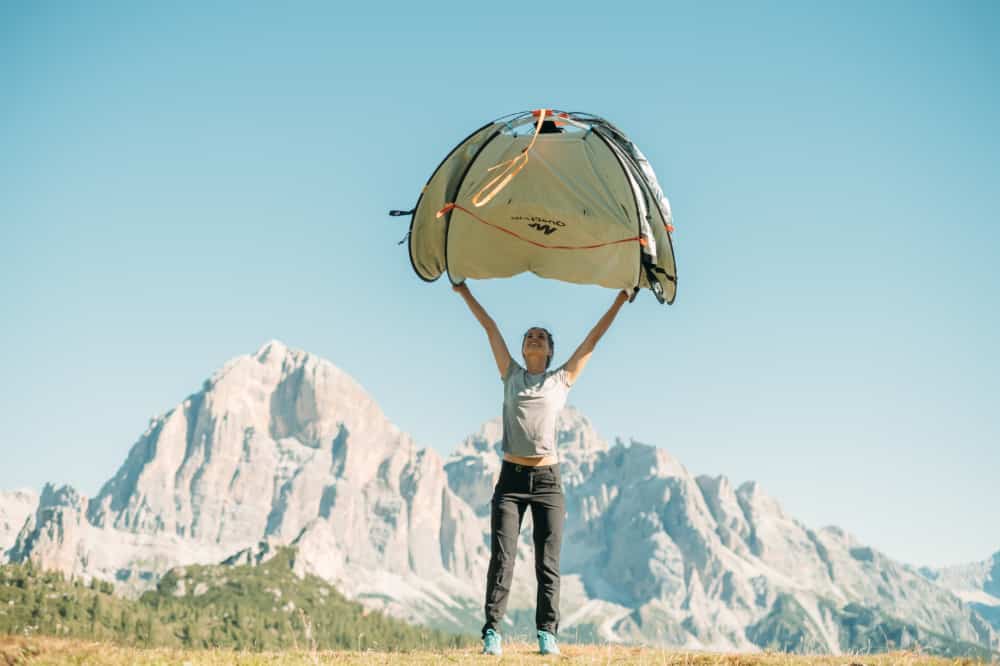 The windows and vents in the Quechua are also well positioned to keep condensation from forming. It also comes with two storage pockets inside the main body.
The Vango Airbeam Odyssey comes with some nifty features.
We appreciate those diamond clear windows that maximize the light coming in to give your living area a bright and airy feel. They make the space inside the tent feel so much bigger and give you great views of the landscape outside your tent. However, mesh windows are better for ventilation in warm weather so this feature might make your tent too warm in the summer months.
The toggled privacy curtains can be used to provide shape or privacy when you don't want to have your living space fully exposed.
The pre-attached canopy is a tremendous help for when it's raining, providing some shelter to take off dirty shoes before entering the tent.
The Odyssey also comes with all the features you'd expect to find in a tent like this, including storage pockets in the bedroom and roof hooks for lights.
The Crua Core has some nice extras like the three doors that can be used as entrances to the porch. This is great for when the weather is poor because you can pick a door that is most sheltered from the elements.
It also has the ability to add-on smaller tents which is a big plus for us, as it means that you can customize the tent to fit your needs. However, the flexibility of connecting tents doesn't come cheap and the Crua Core doesn't do enough for us to claim the title.
So all these tents had great features that helped us fall for them, but the one that really grabbed our attention was the CORE 9-Person Instant Cabin tent.
Wrapping It All Up
There are plenty of alternatives to regular tents if you want to invest in something a bit quicker.
Our pick for the best overall instant tent for families would be the Vango Airbeam Odyssey. Although other tents on this list may be set up faster and easier, the Vango can still be pitched quickly. In terms of durability and use of space, this is a great option for a family tent that will not only go up without a hitch but will last for years to come.
We also liked the CORE 9-Person model for an instant cabin option and the Quechua 2-Person as a rugged pop-up tent for single campers. The Ubon pop-up also offers great value if you are looking for a cheap, easy solution for camping in good weather conditions.