Do you need more space when your camping? Then you're in the right place! Welcome to our round up of the best large tents.
Whatever sort of large tent you need, we've got you covered. Do you need a lot of rooms for privacy? Do you need a tall tent for campers who are fed up with crouching over? Do you need a tent that will be comfy enough for the whole gang to sleep together?
Then stick with us. We've got the tent recommendation for you, whatever your needs.
So lets stop talking and get into the round up of our favorite large tents you can buy this year.
Which large tent do we recommend?
In a hurry? Our favorite overall tent was the Eureka! Copper Canyon LX.
It's a giant, reliable tent that is a great choice for family or group camping.
What about cash-strapped campers?
If getting the most bang for your buck is the key for you, then the Coleman Instant Cabin Tent is a low-cost but high-quality offering.
Product Comparison
Best Overall
For a gigantic tent with a gargantuan peak height, the Eureka! is the way to go.
Capacity: 12 | Weight: 40lbs | Dimensions: 14' (W) x 12' (L) x 7' (H) | Bag Dimensions: 11" x 29" | Doors: 1 | Power Cord Vent: Yes | Hydrostatic Head Rating: N/A | Price: $$
Pros
Two spacious rooms with an optional tent divider.
High tent ceilings.
Open and airy camping tent.
Excellent gear loft and internal pockets
Cons
Flimsy tent windows may let in water and cold air.
The Eureka! is a 12 person tent, a solid choice for large families and friend groups. It's our top rated tent in our roundup of the best family tents for camping.
It has a comfort capacity of eight to 10 people but can hold 12 if you bundle together.
Sleeping bags are your best friend in here, and you'll have plenty of room to stretch out if you utilize one. Otherwise, you'll fit four queen air mattresses, but it'll be cramped.
Make the most of the tent floor area; craft a living area in one room and cozy up in your sleeping bags together at night. You'll need to get close in the winter, as the windows attach with velcro and let wind and rain leak in.
A tarp should cover the windows with no problem, though, letting this large family tent live up to its 3-season claims.
You can take this out in all except winter and have it work wonderfully for you. The floor area ensures you have plenty of room to bring and store lots of blankets for cooler fall nights.
Regardless of when you want to take this one out, the Eureka! 12 person cabin tent will cater to your large tent needs.
---
Best for Groups
If some of your party like sleeping late, then consider this tent.
Capacity: 10 | Weight: 42lbs | Dimensions: 14' (W) x 10' (L) x 6'7" (H) | Bag Dimensions: 48.4" x 12.4" x 11.5" | Doors: 1 | Power Cord Vent: No | Hydrostatic Head Rating: N/A | Price: $$
Pros
Blackout technology.
Instant setup with pre-attached poles
Spacious interior when using sleeping bags.
Here's an instant cabin tent well-suited to a group of friends for several reasons, some of which are the pre-attached tent poles for instant setup and the 10 person tent capacity.
Friends don't want to waste time wrangling a camping tent into shape, so the instant tent aspect lets you start relaxing swiftly. The tired driver, after your trip into the wilderness, can even dive into the tent to sleep the day away in darkness, thanks to the dark room technology.
The dark room tech keeps 90 percent of sunlight out of the 10 person cabin tent, as well as reducing the heat in the tent. However, some users report condensation and clamminess.
Two room dividers add privacy for the daytime sleeper; four or five people fit in each room depending on whether you use sleeping bags or air mattresses. The cabin-style tent fits four queens in total.
I have a Coleman 6p Darkroom, and I love it. It blocks a lot of light. I can't speak to the heat in direct sunlight as it was quite cold out.

Tent review
It's a large tent, larger if you keep the floor space as clear as possible, and makes for a great place to sleep and not much more. It's so dark in the camping tent that it's not great for livability, although with the large windows and hinged door open, it will let light in if you desire.
---
Best for Small Families
Do you want to watch your kids without getting dirty? This big family tent with screen room will allow that luxury.
Capacity: 6 | Weight: 32lbs | Dimensions: 11' (W) x 9' (L) x 6'8" (H) | Bag Dimensions: 41" x 10" x 10" | Doors: 1 | Power Cord Vent: Yes | Hydrostatic Head Rating: N/A | Price: $
Pros
Screen room.
Two sleeping areas.
Hinged door.
Cons
Not the warmest tent around.
For a tent contrasting the prior, here's one with a room you can hang out in awake. The screen room of the 6 person tent lets you spend time in the great outdoors without the nuisance of bugs, thanks to the mesh screen room.
Kids love to play regardless of the dirt and bugs outside, but for parents, it's a nightmare. The screen room in the tent lets you sit and watch the kids while staying safe yourself.
Another feature that makes it excellent for small families is the hinged door for easy access. Kids often struggle with zippers, and carrying toddlers out of a regular tent door can get nightmarish.
Inside the tent, you'll find two separate rooms as sleeping areas as well as the screen room to give parents privacy at night. Overall, it's a simple, large family tent perfect for casual weekend camping trips with young kids.
This tent comes with Coleman's WeatherTec System which includes inverted seams and waterproof tent floor to keep you dry on your trip.
This tent has only one downfall: in cold weather conditions, the tent can get a little chilly.
---
Best for Large or Extended Families
If you have more relatives than you can count on one hand, this is the family camping tent for you.
Capacity: 12 | Weight: 61lbs | Dimensions: 16' (W) x 16' (L) x 6'8" (H) | Bag Dimensions: 52" x 14" x 12" | Doors: 2 | Power Cord Vent: Yes | Hydrostatic Head Rating: 600mm | Price: $$
Pros
Outdoor communal area.
Equal size rooms.
Vents in every room.
Cons
Tent material isn't great.
Not the easiest tent to set up.
For a 12 person tent that's great for large and extended families, consider the cabin tent Ozark Trail. It fits four people to a room in sleeping bags.
You could also place an air mattress in each room, but that cuts down the room's capacity from four to two per space.
Each room in the tent has its own air vent to the outside, and a closeable bug mesh window that lets the light stream in but keeps you free from outside pests. The two large doors also let the outside in, while keeping the terrors of it out.
The large outdoor awning is the same size as an interior room, so it's a truly equal, square tent that's fair to everyone.
Its outdoor tent awning area gives you a place to hang out without having the sun or light drizzle beat down on you. Unfortunately, it's not screened in, so the bugs can attack all they like out there.
If you'd rather stay inside the tent but communal during the day, don't worry. All the room dividers in the 12 person large family cabin tent roll back.
Try not to get too rowdy though, and keep away from scratchy tree branches outside. The material rips easily if you apply any amount of pressure.
On the other hand, the poles are wonderfully strong and heavy-duty, which you'll realize during setup—which will take longer than the two minutes the manufacturers claim, by the way.
---
Best Alternative Design
If your party fluctuates inside, consider this tent as it can connect to other tents in the range.
Capacity: 6 | Weight: 33lbs | Dimensions: 16' (W) x 12' (L) x 7' (H) | Bag Dimensions: 33" x 19" x 18" | Doors: 1 | Power Cord Vent: No | Hydrostatic Head Rating: 5000mm | Price: $$
Pros
4-season tent.
Large, protective awning.
Breathable material.
If you want a large tent you can take out in any weather conditions, including snow, then the Crua Core 6 person tent is your match. It's made of polyester, which is breathable and the water resistance will keep you dry.
The main tent, the Crua Core, fits six people in sleeping bags, but if the number of people in your party is higher, it attaches to several other smaller Crua tents. You could also get one of these for gear storage to maximize your floor space in the tent.
It also has ample head room, more than most large camping tents of this capacity, so you can walk around the tent with ease. This head room extends to the outside where there's a large tent awning you can spend time under.
The awning will work in rain or snow, so long as the weather isn't falling at a sharp angle.
It's a highly insulated tent with thick fabric that remains breathable, letting it withstand the extreme weather but keep you warm. It also blocks outside sound, so don't worry about the howling winds.
The only downside is how it blocks out light in the interior space. This is excellent for sleeping late, but it would be nice to have some windows for daytime use.
---
Which tent is the biggest?
Winner: Ozark Trail 3-Room Tent
The tent Ozark Trail is the biggest tent by dimensions, but keep in mind that it also includes the awning in this.
The largest tent based on floorspace is the Crua Core 6-Person which gives plenty of room to stretch out.
Avoid crouching down: the best tall tent
Winner: Eureka! Copper Canyon LX
The Eureka! is the best tent for tall campers that we reviewed. It has a peak height of seven feet. The cabin tent design means that the roof stays relatively uniform at this center height as well thanks to the vertical walls, making it great for tall campers walking around in.
The floor space is also large enough for campers to lie down comfortably without touching either end of the tent.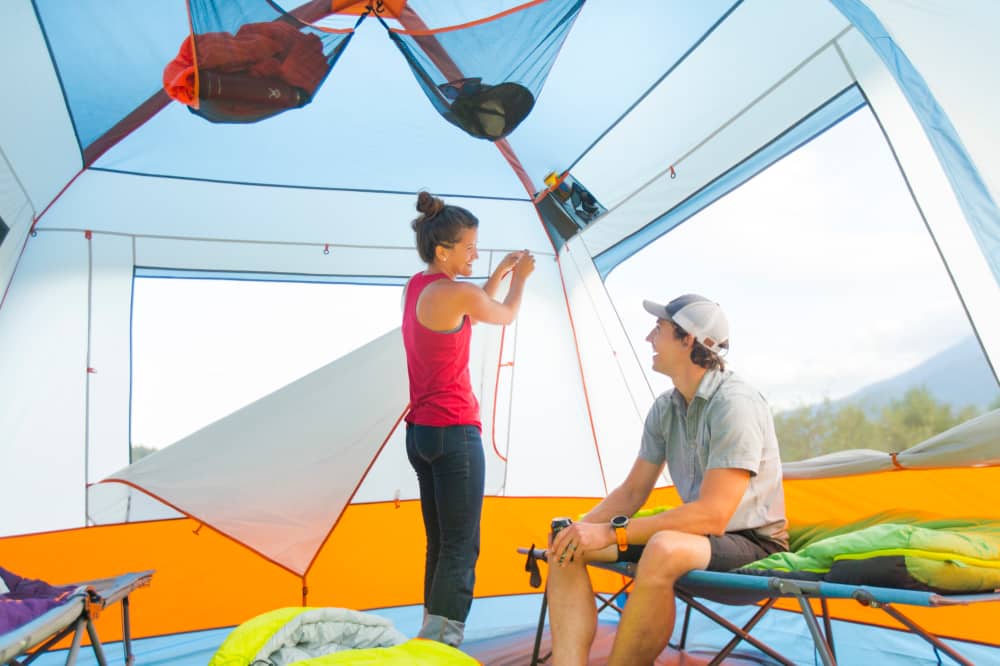 Which tent is the most comfortable?
Winner: Eureka! Copper Canyon LX
You never want to feel closed in within your tent, even large ones. Luckily, the Eureka has a large, airy feel with the room dividers open—almost like a circus tent, but smaller and without the popcorn smell. It's wonderful, and the open vibe makes the family tent seem larger than it is.
The ceiling height gives you an impressive 7 feet of space for headroom. That's tall enough for standing straight inside the tent. The near-vertical walls also mean that the tent has ample space for storing gear.
While all multi-room tents provide a sense of privacy, the Ozark Trail has to come out on top. The rooms are more like those in a cabin, with doorways to step through as you travel from room to room within the Ozark Trail.
Although some people find that three rooms can be too many. For instance, a two room tent means that the adults can stay in one room while the kids stay in another.
Which tent has the best storage options?
Winner: Coleman WeatherMaster
Looking for a tent with plenty of storage space? The Coleman WeatherMaster might be the one you're looking for.
The screen room that is increased in the 6-Person model impressed us. Since there is no floor, it is perfect for storing dirty or muddy gear and equipment. You don't have to worry about damaging the floor or cleaning the tent afterwards!
And it's a game-changer for storing any smelly boots after a long hike. No need to stink out the tent!
We were also impressed by the ample space for storage in the Eureka! Copper Canyon. The gear loft in particular was one of our favorite features. Like the Coleman WeatherMaster, the Eureka! also comes with mesh storage pockets.
Which tent is best for you?
Which tent suits your group size?
Cabin tents are the best for big groups as they have mostly straight walls and ample ceiling center height. This lets you maximize the floor space, making use of every last corner in the tent.
For small crews who still want a lot of space inside their tent, the Eureka! Copper Canyon and Coleman Instant Cabin tents are both available in smaller capacities. They're great for a couple or three campers.
For bigger groups, the Crua or the Coleman WeatherMaster are good choices. They both come with lots of space for sleeping campers and room to store extra gear as well.
The Ozark Trail 12-Person 3-Room tent is great for larger groups who want some privacy and individual rooms. If all being together in the same room is more important than privacy, the larger Eureka! or Coleman Instant Cabin tent models are wonderful for groups.
Which tent is best for family camping trips?
Winner: Coleman WeatherMaster & Ozark Trail 3-Room Tent
The screen room in the Coleman WeatherMaster makes it a great tent for family camping. Parents can sit in their sheltered, bug-free zone and still watch as the kids play outdoors.
The Ozark Trail's rooms makes it a good choice for family camping with older kids or extended families. It still lets campers have a little bit of privacy on their trip.
Both tents come with an electrical cord access port which lets you run an extension cable into the tent. This is a nice feature which lets you charge devices for the entire family the night before your journey home.
If you've taken a long road trip to get to your campsite, you'll really appreciate being juiced up for the return journey.
Which tent is best for group camping?
Winner: Coleman Instant Cabin
The Coleman Instant Cabin Tent comes with Dark Room technology which means you won't be woken at the crack of dawn. If you're planning to spend your trip chatting until the early hours of the morning, this is a great choice.
Out of these large tents, which is easiest to set up?
Winner: Coleman Instant Cabin with Dark Room
You can't beat an instant cabin tent when it comes to set up speed. Although it's not its main appeal, the rapid setup that this dark room tent brings is nothing to ignore. The pre-attached poles make setup super quick.
Most of these large family camping tents are easy to set up relatively quickly, even if not instantly. The only one you'll have any real difficulties with is the Ozark Trail.
Can one person set up all these tents?
It's always easier to set up a tent with another pair of helping hands but if you are left alone, most of these tents are easy to set up thanks to their intuitive instant designs.
The hardest part of setting these tents up is getting the rainfly on. This can be a real challenge if you're short (if you are, why do you need a tall tent? Are you planning to practice juggling or something?).
Are these tents easy to carry?
Although these tents are easy to carry to your campsite if you are car camping, they would be terrible for backpacking. They are heavy and awkward to carry so are best suited to car camping trips.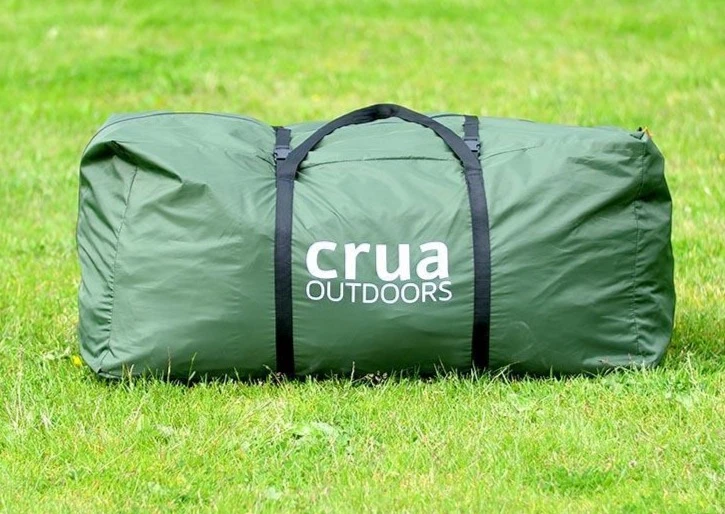 Battling the weather
You're going to need a tent with enough weather protection features to make sure you have a dry, warm and safe camping experience. So which of these tents will keep you protected in bad weather?
Keeping you dry in rainy weather
Winner: Crua Core
The Crua Core is designed to cope with camping in Ireland and Britain so comes with fantastic waterproof protection. It will keep you dry in heavy rain better than most tents and certainly better than the tents on this list.
It comes with impressive extra weather protection features like the super water resistant polyester fabric which has a hydrostatic head rating of 5000mm.
The cabin tents use a lot of mesh for large windows which is great for ventilation but can make them susceptible to leaking in the rain, even in moderate rain.
Condensation in the rain or cold
Winner: Eureka! Copper Canyon LX
The only tent that we found complaints about condensation inside was the Coleman Instant Cabin. With the rain fly on and the windows closed, it can get clammy quickly.
It's best suited for fair-weather camping when you can leave the rain fly off for most of your trip.
The large mesh windows in the Eureka and the mesh ceiling help to improve the ventilation by letting cool air into the tent and pushing warm, damp air out.
Protection from Windy Weather
Winner: Crua Core
Larger tents can often get caught in the wind and the boxy, cabin-shaped design of most of these tents means they are often susceptible to breaking in stormy weather.
The Crua was once again the best tent for dealing with the wind thanks to it's superior quality.
The inflatable structure is great for windy conditions as the tent poles won't bend and shatter like fiberglass poles can. You can use the tent stakes to peg down the Core and keep it stable in as the wind blows.
Which tent is best for 3-season use?
Winner: Crua Core
The Crua Core is water-resistant, snow-resistant and UV-resistant, meaning it's the most weatherproof tent of the group. It's the only 4-season family camping tent, and customers say it does its job well.
For summer camping trips, the Eureka Copper Canyon provides excellent ventilation. The mesh design, including a mesh roof, gives the tent enhanced ventilation to keep cool as things heat up outside your tent.
The Coleman Instant Cabin comes with darkroom technology which is great for if you're heading to a music festival. The darkroom technology keeps the tent sheltered from the sun's heat and light, letting you sleep in.
Will It Last?
Winner: Crua Core
As it's made to resist extreme weather, the Crua Core is extremely durable in general. It's a tent that's built to last and will withstand almost anything you throw at it—just don't go out of your way to show it hardship.
Plus Crua tents all come with a two-year warranty against any defects in materials or workmanship. So you can be reassured that you're covered for at least two years with the Core.
Eureka offer a limited lifetime warranty for their Copper Canyon tent, as they do for all their camping tents. This warranty also covers against manufacturing defects.
Frequently Asked Questions
Which tent can you fit the most queen airbeds in?
You can comfortably fit three queen airbeds inside the Eureka! and the Ozark Trail tents. You can put on in each of the rooms in the Ozark Trail and still have extra space leftover for storing camping gear.
Can you take any of these tents backpacking?
They're all too large, heavy and awkward to carry so we're afraid not! If you are planning a backpacking trip with lots of campers, you are better to buy a few smaller tents rather than sharing one large one.
How To Get the Most livable Space From a Tent
Large camping tents may seem spacious, but once you and your outdoor gear get in there, they shrink considerably. Here are a few tips on how to get the most space out of your tent:
Use sleeping bags that roll up small in the tent.
Store some of your gear in the car or in a separate small tent.
Use furniture that folds flat in the tent.
Pile your gear strategically, so it takes vertical height and not floor space.
Avoid air mattresses and camp beds with large groups; they take up too much space.
What Are the Advantages of a Large Tent?
The main advantage of a large tent is that you can bring bigger parties and have plenty of space to store your gear. But if you travel light with few people, there are further advantages:
You can have dedicated sleeping and living areas in the tent.
If you intend to camp for a long time, you can bring more permanent furniture.
They're versatile—they work for throwing parties in the rain.
Large tents usually have high ceilings, and are among some of the best tents for tall people.
What Are the Potential Issues?
Large tents aren't all fun and games. First of all, they're much harder to assemble thanks to their mammoth peak height and width. It may also be difficult to find that much flat, debris-free land when camping out in the wild.
Then we have campsites—they might not accept large tents.
If you're unsure if they'll be okay with your family tent, call up and provide dimensions, so you don't show up and get disappointed. Or, consider booking two neighboring spaces to ensure there's room for your massive vessel.
How Easy Is It to Stay Warm in Large Tents?
There's a lot of room for air circulation to keep you cool in large tents. You'll need to shut the windows and doors and attach the rain fly to keep as much warm air in as possible.
If there are any room dividers, put those up too. It's easier to warm the individual, smaller spaces than the huge tent overall. The Ozark Trail is a good tent for this since its rooms are so separate, this makes it one of the best three room tents.
The Final Verdict
The best large camping tent has to be the Eureka! Copper Canyon LX 12-Person. It's large with high ceilings making it highly accommodating, with enough space to store gear and sleep. The multiple rooms provide excellent livability, too.
On top of that, it's a 3-season tent which ensures you can camp in all weather and still have a wonderful time. It's truly one of the best large camping tents on the market.