You're keen to get out into the great outdoors, and you know your tent is the most critical but the most expensive part of your camping kit. There is lots of conflicting information about tent poles out there, the type, the need, the weight, the flexibility. It's all very confusing.
What tent poles do you go with? Tried and tested tent poles or the new and innovative ones? What are the pros and cons of each? How do I know what type of tent poles I need for my tent?
In this article, we've done the research to find the best tent pole material in the confusing world of tent poles. We've compared them against each other in attributes and situations so you can work out what will suit you the best.
If you want a good all-rounder tent pole material, the best one is aluminum. These types of poles are flexible, durable, cheap, and available in most tent styles.
There are many other options depending on your type of camping and your camping environment. Except for the extremes, aluminum poles will work well in pretty much any situation.
| | | | | | | |
| --- | --- | --- | --- | --- | --- | --- |
| Tent Pole Material | Weight | Strength | Price | Durability | Flexibility | Total |
| Aluminum Alloys | 3/5 | 4/5 | 4/5 | 4/5 | 3/5 | 3.6/5⭐ |
| Fiberglass | 3/5 | 3/5 | 5/5⭐ | 3/5 | 3/5 | 3.4/5 |
| Composite | 5/5⭐ | 4/5 | 1/5 | 3/5 | 4/5 | 3.4/5 |
| Steel Poles | 1/5 | 5/5⭐ | 4/5 | 5/5⭐ | 1/5 | 3.2/5 |
| Carbon Fiber | 4/5 | 4/5 | 1/5 | 3/5 | 2/5 | 2.8/5 |
| Air Beams | N/A part of the tent | 3/5 | 2/5 | 3/5 | 5/5⭐ | N/A |
Each tent pole material has pros and cons as well as strengths and weaknesses. They all perform really well for the situation they were designed for.
Even though aluminum doesn't shine in any particular area, it is a great all-rounder for nearly every situation. Hence its prevalence in the tent pole world!
Related: Looking for a big tent which comes with plenty of privacy? Check out our guide to the best 3 room camping tent.
Want to find out more about the best tent poles? Read on!
1. Aluminum Tent Poles
Lightweight, strong and flexible, and durable in most weather conditions aluminum poles are found in many of the upper-mid to high-end tents that are both light and expensive.
In strong winds and harsh weather, aluminum poles are able to withstand the movement giving your tent stability without breaking.
They have some of the best strength-to-weight ratios and they can be as flexible as they need to be. Aluminum tent poles create larger spans to give bigger spaces in large family tents
DAC (Dongah Aluminum Corporation of Korea) and Easton are known to produce the best quality lightweight aluminum alloy poles. DAC created the featherlight tent poles that decreased the weight of an average pole by 15%.
Pros
Lightweight
Strong
Bends but does not break so easily.
Repairable in the field.
Quite flexible across longer expanses
Cons
Usually expensive.
Corrodes easily near the sea
2. Fiberglass Tent Poles
Fiberglass is heavier than aluminum but lighter than steel and is best when you're looking for a strong-but-cheap option for your tent poles.
Fiberglass is best used for casual summer camping trips and smaller, personal tents instead of large tents where you need flexibility and affordability together.
Fiberglass does not perform well in cold temperatures. It can splinter or shatter in freezing temperatures when under pressure making it strictly a warmer weather tent pole option.
Pros
Inexpensive
Easy to produce.
Do not easily corrode.
Quite strong
Cheapest poles available
Cons
Fiberglass needs careful handling and it is less durable.
Not as strong as aluminum.
They are made thicker and therefore are a bit heavier.
Fiberglass poles tend to shatter and snap under strain in the cold.
After a lot of use, the surface may become rough and develop splinters which makes them hard to thread through the tent's sleeves.
3. Carbon fiber tent poles
Carbon fiber tent poles are the best material you can get a tent pole in! They are the strongest, most durable, and lightest tent poles available.
Mostly used by professionals who are hiking, backpacking, or camping in extreme temperatures as well as ultra backpackers who want to minimize the weight they are carrying over days of arduous trekking.
The main drawback is the cost. You will pay up to 50% more for a tent with carbon fiber tent poles than one with metal tent poles.
They are the best combination for an extremely strong, durable, and lightweight tentpole. It's perfect for personal camping tents and smaller spaces, but extremely pricey for larger tents.
Carbon fiber holds up well in extreme temperatures, does not corrode, however, they don't hold up well in terms of flexibility.
If you set up your tent where the high wind is a problem, the rigid structure of carbon fiber poles might not withstand the amount of wind a more flexible pole can.
Pros
Ultra-lightweight.
Ultra-strong.
Look great
Cons
Expensive.
Not as flexible as other poles under the same conditions.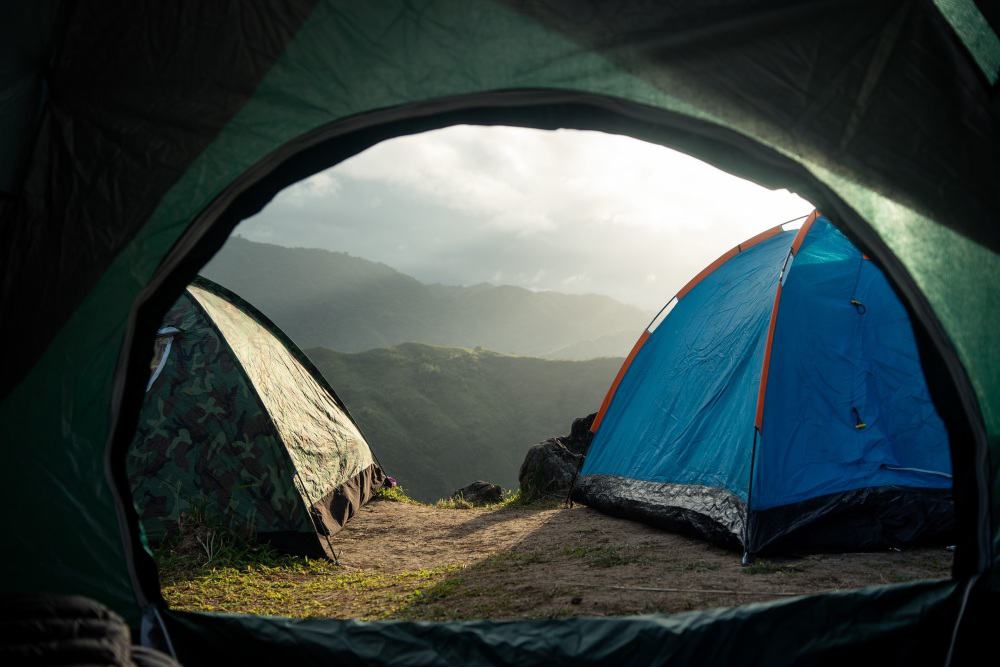 4. Steel Tent Poles
Steel makes the strongest and most durable heavy-duty tent poles out there. But steel is heavy and hard to carry around compared to aluminum tent poles.
Steel poles are best for car camping tents, and ridged cabin tents where people use heavy-duty canvas as a canopy. Steel poles are perfect for a long-term campsite or if you want to live in your tent.
When strength and rigidity are what matters most steel tent poles are your best bet.
These poles will not bend easily, so they hold up against heavy canvas and decent winds, but this makes steel tent poles the heaviest option out there.
Steel will rust easily so stainless steel is a better option but is expensive.
Pros
Strength.
Cheap.
Rigidity.
Cons
Steel rusts.
Heavy.
Only suitable for car camping.
Can rust if not stainless steel.
Might need two people to set up.
5. Composite Tent Poles
A composite uses two or more different materials mixed together, in order to make a pole that has the benefits of both materials.
These poles definitely have a polyester resin or epoxy resin material in them but the other components seem to be a trade secret.
Composite poles have superior flexibility and breakage compared to aluminum tent poles as they have superior tensile strength across the span.
These types of tent poles are extremely strong and lightweight and are similar to aluminum but more flexible and resistant to breakage. However, composite poles are much more expensive.
Pros
Strong
Light
Flexible
Durable
Cons
Quite expensive
Not available in every type of tent
Might flex too much under a snow load or high winds
6. Air beams
Air beams as tent poles are perhaps the most unusual tent pole material to consider. You normally find them in inflatable tents. Traditionally they have been a gimmick but now that the big brand tent companies have seen their advantages, the quality and range are worth looking into.
Their main claim to fame is that they are incredibly flexible and allow the tent to cope with really windy conditions when the tent is staked and guy lined properly.
These tents have surprisingly good stability in changeable winds. These tents don't resist the wind, they move with it and then restore their shape instantly when the pressure drops. This makes them totally different from any rigid pole on the market.
Air beam tent poles don't usually "break" but they can get punctures. Reputable tents come with a puncture repair kit so you can repair the beams in the field.
Whilst these tent "poles" aren't prone to rust or corrosion, it's important to maintain your tent by storing it correctly.
Pros
Very easy setup.
Relatively strong.
Very flexible.
No chance of rust or corrosion.
Can be repaired in the field.
Cons
Can puncture or leak.
More expensive than other tents.
"Poles" not easily replaced.
The tent pole material that will suit you best is the one that will do what you need it to do in your camping situation. Each tent pole material has pros and cons as well as strengths and weaknesses to consider.
If you are thinking of getting into camping in extreme situations, then get the poles that will do the job and keep the tent up.
If you are camping in campgrounds from your car in summer, then there are plenty of cheaper and perfectly suited options to choose from.
All tent poles perform really well in the situation they were designed for. Even though aluminum doesn't shine in any particular area, it is a great all-rounder for nearly every situation. Hence its prevalence in the tent pole world!
Happy camping 😊
Next up: Proper tent setup requires effective use of guy lines. Check out our guide – what is a guy line?