Fed up with faffing around with tent poles and guylines but not sure if an instant tent is for you? Read on to find out what the benefits of an instant tent are, and what hidden drawbacks you might find only after you've bought one.
What is an instant tent?
Instant tents are tents that are designed to be set up quickly and easily. The tent set up typically takes less than a minute and instant tents can be set up by yourself. Instant tents come with pre-attached tent poles which saves you having to loop the tent poles through the fabric loops.
Most instant tents, also sometimes known as easy set up tents, are characterised by their telescopic tent poles. These are tent poles that you can extend like a telescope to fully pitch the tent. The set up process is therefore as easy as pie as you just need to lay down the tent, extend the tent poles and peg the tent stakes.
Pop-up instant tents instead have spring loaded tent poles and a pop up tent is the easiest tent to set up by yourself. Setup is as simple as taking the tent out of its bag and throwing it on the ground. The springs then force the tent to pop into shape and you simply need to stake the tent. Setup can therefore take just a handful of seconds.
Why use an instant tent?
Let's be frank, most people don't go camping for the thrill of setting up their tent.
If you're looking to do some casual car camping and don't want to have to faff around with looping poles through hoops while trying not to fall over into the tent, then instant tents may be right for you.
We also recommend instant tents to anyone who is going to a festival, to beginner campers and as starter tents for the kids.
They won't win any awards for camping in bad weather or rough terrain but they're cheap, they're cheerful and they're easy.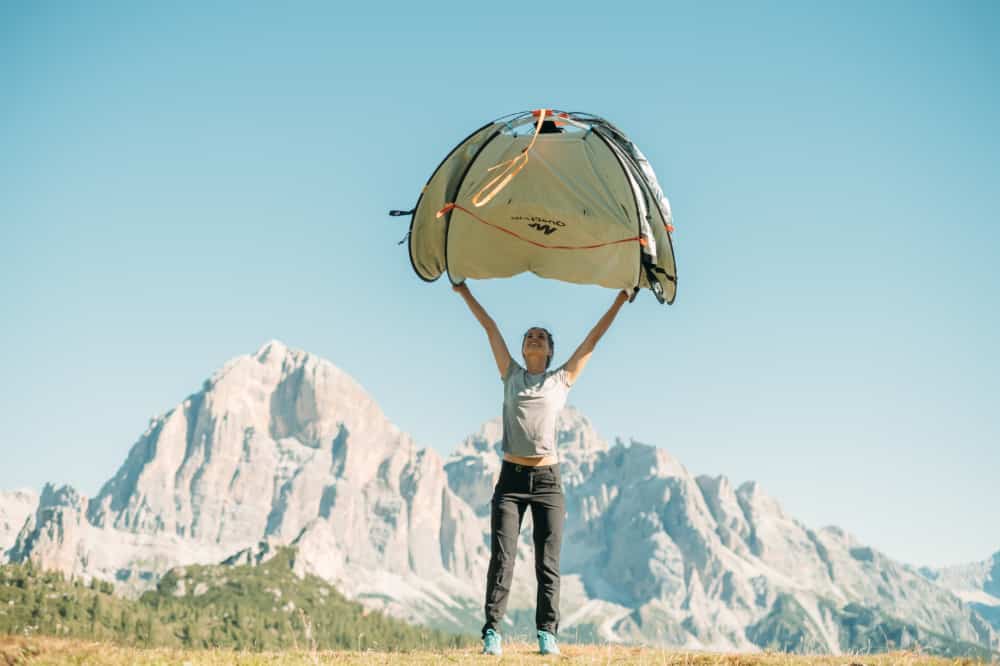 What types of instant tents are there?
As explained above, there are two types of instant tents in terms of setup – instant tents and pop up instant tents. The difference here being that all pop-up tents are instant tents, but not all instant tents are pop up tents. An instant tent is only defined as a pop up tent if it springs (or 'pops') into shape when you throw it on the floor.
Pop up tents have an even faster set up than regular instant tents. However, taking down pop up tents requires bending the tent in very specific directions and can be difficult compared to simply retracting the poles of a regular instant tent.
You can also get instant tents in multiple shapes. The main two shapes are instant dome tents and instant cabin tents.
Dome tents are the classic tent shape, with the walls curving up to a single point at the top of the tent. This shape is excellent for encouraging the rain and wind to work around the tent, as well as being lighter and more portable than other tent shapes.
Cabin tents are a great choice for families or those who want a home away from home. They have straight walls to create a large boxy shape. Typically you can stand up straight in cabin tents and have plenty of room for storing gear or staying indoors if it's raining outside. However, the straight walls are not aerodynamic and cabin tents are typically 2 season (i.e. fair weather camping only).
How do instant tents perform in the rain and wind?
Mostly, not great.
Instant tents are typically targeted at the casual camping market and therefore prioritise low cost tent pole and wall materials over weather performance. They're all perform fine in fair weather and light rain showers, but don't expect instant tents to hold up in very heavy rain or wind.
If you're worried about a downpour leaving you sodden and miserable in the middle of a night then I'll let you know a little secret…. rainfly, rainfly, rainfly!
A rainfly is a sheet that you place over your tent which comes with a higher waterproof rating (the industry term is hydrostatic head rating). Any rain that lands on the rainfly will run down the sides without ever reaching your tent.
On top of this, the rain coverage of the rain fly allows the tent manufacturer to include mesh windows and walls on the tent itself. This significantly improves ventilation in the tent and helps you avoid the secret camping killer – condensation. No more will you accidentally touch the wall of the tent and end up with an indoor shower.
So do check if your instant tent comes with a rainfly before purchasing it, many instant tents don't.
How durable are instant tents?
Instant tents are durable enough if you're using them infrequently for casual camping. However, cheaper materials are prioritised in manufacturing and so you shouldn't expect these tents to last forever – similar to cheap regular setup tents.
In particular, tent poles can break and this presents a problem for instant or instant pop up tents as these come pre-attached. Some brands of instant tents have built in ways to replace your tent poles but the vast majority do not – this means throwing out the whole tent.
So in a sense, the biggest durability issue with instant tents is not the tent poles being prone to breaking, but the inability to repair the tent.
There are a few tips to help extend the lifespan of any tent however.
Firstly, pick up a cheap tent footprint. This is a plastic tarp that goes under the tent. Most people believe these are used for additional waterproofing, but in fact its to avoid the tears and rips on the floor of the tent that can easily arise from a stray root or rock.
Secondly, always fully dry the tent before putting it back in the bag and keep it clean. Tents can get smelly fast…
Thirdly, if you find the waterproofing on the tent is starting to go, pick up some waterproofing spray. I'm a fan of the Kiwi sprays. It can be applied in a matter of a few hours and can significantly improve any leaks.
FAQ
Are instant tents freestanding?
Yes, instant tents are freestanding. That is, instant tents can be picked up and moved to a better camping spot without having to completely put down the tent. You just have to unstake an instant tent and it's ready to go wherever you want it.
If you want to know more about freestanding vs non-freestanding tents, check out our article what is a freestanding tent?
Are instant tents expensive?
Typically the price of an instant up tent is similar to a conventional tent of a similar quality. Do note though that instant tents are targeted at casual camping users and so tent manufacturers prioritise cheaper materials. So instant tents will not match up to the very expensive conventional setup tents out there.
What is a pop up tent?
Find out more about pop up tents in our article what is a pop up tent?