"Gee, I wish this tent was harder to pitch!" – no one, ever.
Whether you're a total newbie or a veteran camper, chances are that the promise of an easier camping tent to set up sounds appealing.
If you need something to get set up quickly on family trips when you've got your hands full with the kids or if you want a backpacking tent that can be up in seconds after a long trek, we've got you covered.
We've reviewed a range of instant tents that you can set up by yourself, so read on to find out which tent is the easiest tent to set up!
The Easiest Tent to Set Up
The easiest tents to set up by yourself are:
The CORE 9-Person Instant Cabin is a fantastic, roomy tent that can be set up by one person easily. If you're looking for a car camping tent for fair-weather trips, this is a great choice.
A quick tent on a budget
If you want to get the most bang for your buck without emptying your wallet, the Coleman Sundome is a great value for money tent. It's a low-cost but high-quality tent for beginners.
Whilst it doesn't come with an instant pitch design, it is very simple and intuitive to set up.
Scroll right to view all products >
| | | | | | | | | |
| --- | --- | --- | --- | --- | --- | --- | --- | --- |
| | Best Overall Tent | Best For Backpacking | Reliable Instant Cabin Tent | Best For Small Trips | Best Budget Family Tent | Best For Relaxing Trips | Best Budget Option | Best Alternative Option |
| | | | | | | | | |
| Ranking | 1st | 2nd | 3rd | 4th | 5th | 6th | 7th | 8th |
| Rating /5 | | | | | | | | |
| Review | The CORE 9-Person Instant Cabin is the best cabin tent, with plenty of room, easy set-up, and great features. | A versatile tent that can be pitched in seconds. | This Coleman tent comes with plenty of family friendly features, but isn't particularly waterproof. | This pop-up tent is serious stuff. | This is a great budget instant cabin tent for families, although check the tent for defects before going camping. | Comes with a screen room for added storage and bug-free time. | If you're on a budget and have a festival to attend or are new to camping, consider the Coleman Sundome to introduce you to the camping world. | For a setup that's a little different, this roomy tent from Vango uses innovative air pole technology. |
| | | | | | | | | |
Reviews of The easiest tents to set up
Best Overall Tent
The CORE 9-Person Instant Cabin is the best cabin tent, with plenty of room, easy set-up, and great features.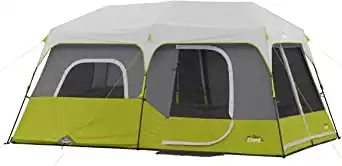 Pros
Detachable room divider for privacy
Mesh ceiling for great views
Tall tent provides good amount of headspace
Cons
Can get chilly in cold weather
Whether you're planning a trip with a group of friends or you've been bold enough to volunteer to take kids camping by yourself, don't panic. The CORE 9-Person Instant Cabin Tent offers plenty of room for your trip making it the easiest tent to set up for group trips.
Setting up a tent this size might look like a challenge, especially compared to the pop-up models – but it's actually quite easy.
With the telescope poles attached to the fabric, it's just a case of unfolding the tent and then extending the poles. The poles can easily be done one at a time so it can be set up by a person on their own.
Like the TETON Quick Tent, the CORE cabin tent comes with a mesh ceiling which, with the rainfly off, gives breathtaking views of the night's sky from inside your tent. Combined with the T-shaped door at the front, this tent feels roomy and spacious.
There are handy internal storage pockets in the spacious tent as well for keeping valuables safe.
A downside is the lack of sleeping areas this tent has. This could mean with the kids sleeping in the room, you might get relegated to sleeping in the living area. But the curtains can be toggled to cover the windows, giving you some privacy.
Instant cabin tents are not designed for all-weather camping so be aware that this CORE cabin tent is intended for fair weather conditions in the summer. In strong winds, the cabin shape of the tent will catch.
---
Best For Backpacking
A versatile tent that can be pitched in seconds.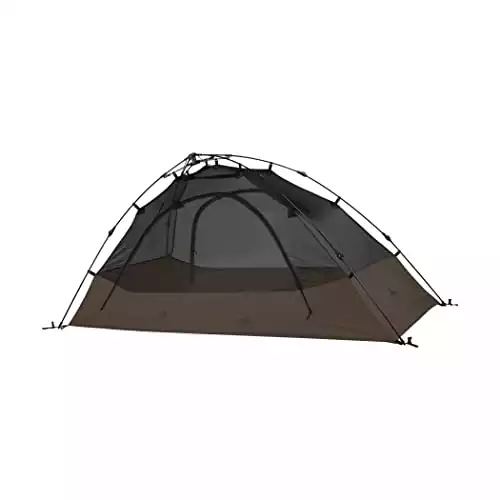 Pros
Quickest non-pop-up tent
Suitable for different types of camping trips
Mesh roof for great views
Cons
Not ultralight for backpacking
Tall campers might want something bigger
The TETON instant tent is our pick for the easiest tent to set up by yourself for backpacking.
This is one of the easiest camping tents to set up we've seen, which is remarkable from a lightweight backpacking model that doesn't cost the world. You just unfold the tent, lock the pre-attached poles in place and pull the tent up into place.
Your tent will be set up in seconds. Anyone who has spent a long day hiking will know the sinking feeling you sometimes get when you realise you still need to set up your tent. With the TETON, in less than 60 seconds you can relax knowing your tent is set up.
Breaking the tent down is also very easy and the tent can be back in the carry bag in less than 2 minutes.
The rainfly that comes with the tent has a hydrostatic rating of 1200mm, which means it is considered waterproof rather than just water resistant.
However, there is also an elite rainfly that can be purchased for the tent which provides extra protection and can reach the ground if you use this tent on a cot.
Which brings us to another key feature of this tent – you can buy the TETON cot to go with it, raising your tent off the ground. This is great for keeping the tent warm and dry but also means that you have storage under the tent, adding to the gear loft which provides overhead storage.
It can also be easier to get in and out of the tent once it's raised rather for people with mobility issues.
Without the cot, the TETON tent is fairly lightweight and sets up in seconds making it a great tent for backpacking. With the cot, the tent is also comfortable enough to be used for car camping.
The final thing we loved about this tent was the mostly mesh interior which means on dry nights you can leave the rainfly off and stare up at the stars from your tent.
It is not an ultra-lightweight tent, so there will be lighter options available but unless weight is a priority for you, the TETON instant tent will be fine. Tall people may also find the tent a tad small, but for most campers, it should be fine.
---
Reliable Instant Cabin
Coleman's instant tents are a top pick for an effortless setup in a matter of seconds. This 10-person straight wall cabin tent is large enough for four mattresses and has windows all around for ventilation. However, beware if you live in a rainy climate.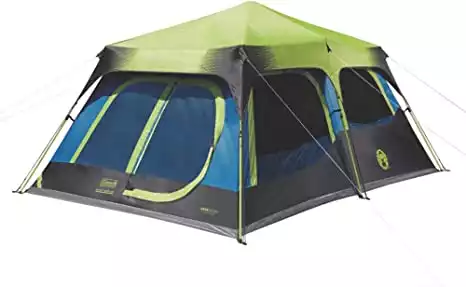 Pros
Instant set up with telescopic tent poles
Loads of zippered windows for summer ventilation
Spacious with plenty of room to spread out
Good use of storage pockets for keeping gear safe
Cons
Fair weather camping only – poor performance in rain
Won't hold up to extreme winds
Integrated rainfly, which means condensation issues during bad weather
This Coleman cabin tent with instant setup in 60 seconds is a solid offering from Coleman targeted at casual car campers. It comes in 4 person, 6 person and 10 person capacities with the latter including dark room technology. This blocks out sunlight which lets the kids sleep in a little later during the summer.
This Coleman tent is an instant tent which definitely makes it an easy up camping tent. Simply take this instant tent out of the tent bag and extend the telescoping tent poles to set it up.
It comes with bundles of family friendly features. We love how much room these instant cabin tents have on the interior. Even the four person version feels like its own distinct space. And Coleman are great at including storage pockets to keep your flashlights, sunglasses and other gear handy.
However, compared to some of the other tents on the list, this instant cabin tent is not particularly waterproof.
Coleman makes a point of not publishing the hydrostatic head ratings (i.e. waterproof ratings) of their tents. And while these waterproof ratings aren't always completely accurate, this instant camping tent will not hold up in heavy rain.
The 4 person and 6 person tents come with no separate rainfly, only an "integrated" one. This can be a bit of a nightmare when the polyester walls start letting in water and, if you choose to zip up all the open windows, the lack of ventilation leads to condensation issues.
So for those in warmer climates, this easy instant tent is a fantastic family friendly tent. But if you live in a rainy climate, for instance the south east USA or the UK, we recommend checking out one of the other instant tents in this review.
---
Best For Small Trips
This pop-up tent is serious stuff.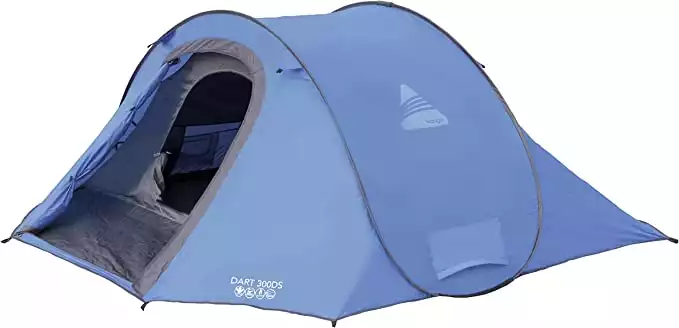 Pros
Oversized carry bag for easy storage
High-quality materials make this pop-up durable
Comes with a vestibule
The 3-person Dart model from Vango would be a great choice for young couples looking for a tent with fast setup and sturdy shelter for sleeping in, but not living in – for example, it's great for taking to festivals.
This easy pop up tent comes with some big features, like the built-in vestibule at the front of the tent. This is great for storing your gear. Or you can use the space to take off dirty shoes and clothes before getting in the tent.
It's a pop up tent which means that set up is as simple as taking the tent out of the bag, watching it pop into shape and then staking it down. The super simple pop up set up makes this tent the easiest tent to put up.
Inside the tent there is a hook for a lantern on the ceiling and inner storage pockets as you would expect to find. The sleeping area is protected by Vango's blackout technology which keeps the inside of the tent dark even in the sunlight.
There is also a sewn-in groundsheet that prevents water and bugs from getting into the durable tent. This is a rare feature in pop up camping tents, and something that really impressed us with the Vango Dart.
Vango tents are designed to withstand rainy weather conditions. The fabric on the Dart has been treated to the same high standards giving it a hydrostatic rating of 3000mm.
The carry bag that comes with the tent is slightly oversized to make packing the tent away even easier. This makes the Dart not only one of the easiest tents on the market to set up, but to put away as well.
This can be a God-send at the end of a long weekend at a festival. No one wants to fight to get their tent back into their bag in the morning after.
The tent does come with fibreglass poles which are more likely to shatter and splinter, damaging the fabric of the tent. Vango do not cover pole breakages or damage from pole breakages under their warranty so if this does happen, you might be left without a tent.
Overall, the Vango is superb value for money and is the easiest tent to set up for small camping trips, like festivals and weekend adventures.
---
Best Budget Family Tent
If you're looking for a value cabin tent, this offering from QOMOTOP is a great option. Although make sure to check the tent for defects before going camping.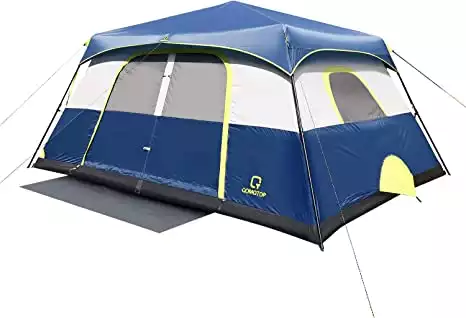 Pros
A very cheap instant tent
Fast setup in 1 minute
Storage bags in the walls
Included rainfly to combat bad weather
8P & 10P tents have a room divider for privacy
Cons
Putting it down is difficult without instructions
Reports of poor quality control & tents arriving broken
Seams need additional waterproofing
The OT QOMOTOP instant tent is a cheap and cheerful cabin tent that comes in 4 person, 6 person, 8 person and 10 person sizes.
It's hard not to compare the QOMOTOP tent to the Coleman instant cabin tent as, on paper, these tents are very similar. Both are instant tents which claim to be set up in 1 minute or less and both are roomy cabin tents with a good amount of space for the family.
The QOMOTOP tent is a great instant tent for families. There is loads of space on the interior if you're wanting to set up queen sized air mattresses or keep your gear inside. The tent also features air vents on the roof and ground vents which can help bring in cool air during summer.
And the tent comes with both storage pockets on the walls AND a gear loft in the ceiling. We love gear lofts for keeping things out of the way. No more tripping over your equipment when you're going for a midnight bathroom break!
The 8 person and 10 person versions of this easy set up tent come with a room divider. This can be drawn across the interior of the tent to create two separate rooms at night and give some additional privacy – a great feature for families.
This instant tent also comes with an additional rainfly which will help take care of most weather issues. However, it should be noted that the waterproof seams on this tent are not actually so waterproof. You may want to pick up some waterproofing spray (we like the Kiwi sprays) to give the seams more defence against the rain.
Finally, while this tent beats out many of its more expensive competitors – including the Coleman instant cabin tent – it does fall short in quality control. Many people report receiving damaged tents and end up having to return them.
If you are in a rush to buy a tent before a camping trip, then this tent may not be for you. As ever – make sure to practice setting up your tent before you get to the campsite!
---
Best 8-Person Tent with Screen Room
Comes with a screen room for added storage and bug-free time.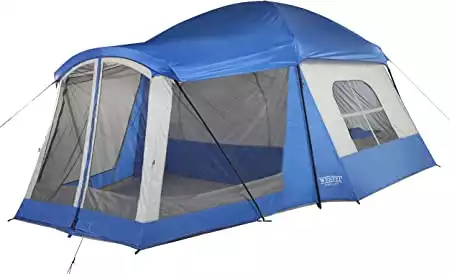 Pros
Screen room
Mesh ceiling for ventilation
Cons
Struggles in windy conditions
Longer setup time
This tent isn't an instant tent, but it's still one of the easiest tents to set up.
The real value of this tent is found in the screen room. Separated from the main area of the tent, the screen room could be used as an extra sleeping area if needed but it is also a fantastic living space.
There's enough room for a couple of camping chairs and a table if you want to sit in your porch to eat, safely protected from bugs by the mesh windows. This tent also comes with a mesh ceiling, although it is less impressive than the CORE cabin tent.
The roof of the screen room isn't very tall, so you probably won't be able to stand comfortably in there – but the sleeping area is definitely tall enough for most people to stand in.
It's a shame the tent doesn't come with an additional guy rope in the middle to secure the tent in windy conditions. The tent can flap in the wind but for the most part will stay secure.
With the rain fly, the tent can sometimes get hot inside but the excellent ventilation system in the Wenzel helps to keep it cool most of the time.
This would be a good tent for couples who want a nice amount of space when they're camping to sprawl out and relax. Whilst it is not the easiest tent to set up, it is still very easy and worth the added effort for the reward of that screen room.
---
Best Budget Option
If you're on a budget and have a festival to attend or are new to camping, consider the Coleman Sundome to introduce you to the camping world.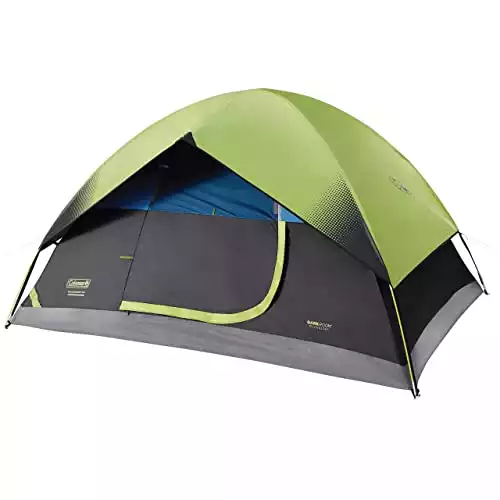 Pros
Incredible value
Excellent ventilation
Simple design
The Coleman Sundome might not be the quickest tent to pitch on the market but it is very easy and can be done by one person in about 5 minutes. Veteran campers might be able to do it even quicker.
Two simple, identical poles are painlessly assembled and the tip is eased into the ring to attach the poles to the tent. Then the pole clips attached to the fabric hook onto the pole, lifting the fabric and giving the tent shape.
Taking it back down and getting it in the carry bag again is just as easy.
Thanks to its affordable price, the Coleman Sundome Tent is a popular beginner's tent. But the tent is budget in price only. Coleman have been manufacturing outdoor equipment for over a century and their experience shines through in this model.
Whilst the zippers snag occasionally and the poles are made from fiberglass, these are minor cost-saving measures that overall didn't ruin the experience of the Sundome for us.
Like most Coleman tents, the Sundome comes with their WeatherTec System to provide protection from rain and wind. This includes inverted seams and welded floors. Coleman say their tents are tested in simulated storms of up to 35mph winds.
However, the rain fly only covers the top section of the tent, protecting the exposed mesh openings. It is not designed for use in heavy showers and might even let some water seep in during light showers.
Whilst the Coleman might struggle in bad weather, the proper ventilation in the tent makes it a good choice for hot summer nights, as it allows air to move through the tent.
If you're looking for an inexpensive, easy tent to let you get out and enjoy the great outdoors, banking on the Coleman Sundown is a good place to start. It's not the perfect tent and I'd hesitate to recommend it for avid campers but it's a great introduction to camping!
This model comes in a range of sizes, although we have only reviewed the 2-Person tent it appears that the quality across all sizes is consistent. If you like the sound of this Coleman but want a little more space, then consider getting the 3-person Sundome tent instead. If you're looking for more information, you can read our Coleman Sundome 2-Person Tent Review.
---
Best Alternative Option
For a setup that's a little different, this roomy tent from Vango uses innovative air pole technology.
Pros
Three-season ready to head out from Spring until Fall
The sleeping pod can be divided
Roomy living area
Cons
Expensive
Might be a lot of effort to pump up for some campers
The Vango Airbeam Odyssey is a great for family camping. There's a spacious living area in the front and a sleeping pod that can be separated by a removable divider.
This tent is still far easier to set up than traditional tents would be but is harder work than the other instant tents listed here. It takes two adults between 3-5 minutes of pumping to fully inflate the tent.
What impresses us most about this 3-season tent is the durability it offers, which is rare in instant tents. This model comes with Vango's Tension Band System – a strap that can be tightened to improve the integrity of the tent in high winds.
The waterproof materials provides excellent protection from rainy conditions in the Vango.
So if you're looking for an instant tent that you can use all year, this is a fantastic choice.
This model is pricey but with key features like the Tension Band System and the dark bedrooms, the tent is certainly still value for money. Given how durable the model is as well, you can expect to get a lot of use out of the tent.
---
Which tent was easiest to pitch?
Each tent is different, but modern tents are far more convenient to pitch than they ever have been. Quick pitch technologies mean that set up has been optimized to allow for set up in seconds.
The Vango Dart Pop-Up Tent has a very easy set up but as is often the problem with pop-up tents, breaking it down and folding it away after use can be difficult.
The other offering from Vango we reviewed, the Odyssey tent, was harder than the Dart tent and the TETON instant tent to set up but thanks to the airbeam technology, it was still impressively easy. Although, due to its size the setup may be more difficult in strong winds.
Whilst the tent would be easier to set up with help, it should be doable for confident campers who are looking for something a little different.
The CORE 9 Person Cabin Instant Tent comes with pre-attached telescoping poles which means that setting up the tent is hassle-free. You don't need to struggle with getting poles into sleeves – just unfold the tent and extend the poles.
You don't need to worry about setting up the CORE cabin tent because of its height. Although it stands 6' 6" at the peak, the expanding poles mean you don't have to struggle to reach over the tent. However, it might be a struggle to get the removable rainfly on by yourself if you are short.
The Coleman, unfortunately, does not come with instant technology that makes set up a breeze, but it's still pretty easy. Any newbies don't need to be put off pitching this tent, it is just as easy as the other models.
What fast pitch technology provides the quickest set up? (Instant vs pop up tent vs best of the rest)
There are different kinds of quick pitch technology designed to make set up easy.
Instant tents come with the poles attached to the fabric for a quick setup. A popup tent comes in a disc-shaped bag and pops out into shape. Airbeam tents use inflatable poles to support the structure.
These styles of camping tents will not be appropriate for every camping trip and often it comes down to personal preference as to which is the easiest tent to set up.
Pop-up tents, for example, are very easy to pitch as they just pop up and need to be staked down. But some people find the difficulty of fitting pop-up tents back into their carry bag makes them overall more difficult than instant camping tents.
Top instant tents
Three of the tents in our roundup are some of the best instant tents on the market. These include:
These quick tents are all excellent. The two smaller tents would work well for couples or solo camping. The larger CORE is an instant cabin tent. An instant cabin provides more headroom and is an excellent choice for families.
Are all of these tents easy to set up alone?
Whilst the Wenzel Klondike Tent wasn't the best of the tents we reviewed for ease of setup, for traditional tents it is still doable for one person. However, if you don't have experience camping before and setting up tents, make sure to practice setting up and breaking down the Klondike before you take it out for a trip. As ever, if you can ask for a helping hand then it's much easier to set up together.
All the other tents should be manageable with one camper.
Are these tents easy to carry?
The easiest tent to carry is the TETON Sports Vista instant tent, which is light enough that you can take it backpacking.
The other tents are too heavy or awkward to carry for backpacking but would be fine for car camping.
Who are these instant setup tents for?
Which tent is best for 4 people?
The easiest 4 person tent to set up is the Vango Odyssey Air 500 Villa Tent. There is enough privacy in this tent for two couples or families with older kids with a sleeping area that can be split into two pods,
The living area provides some space for storage and hanging out if the weather turns bad.
If you aren't worried about the wind or the rain on your trip, the CORE 9 Person Cabin Instant Tent would be a roomy alternative to the Vango that would give you and your crew ample space for a weekend of camping fun.
Which tent should you get for family camping?
Winner: CORE 9-Person Cabin Instant Tent & Vango Odyssey Air 500 Villa Tent
The CORE 9 Person Cabin Instant Tent also comes with a mesh ceiling that allows you to enjoy the star-speckled sky above your head. We love that you can gaze up at planets and constellations with the family from the comfort of your bed in the CORE.
The CORE also comes with two doors, including a t-shaped door at the front which opens to make the space inside the tent feel roomy and welcoming – especially with the rain fly off.
The Vango Odyssey Villa 500 easy set up tent is also great for family camping thanks to the separated living area and sleeping pods. The Diamond Clear windows are also helpful for watching the kids play outside from the shelter of the tent.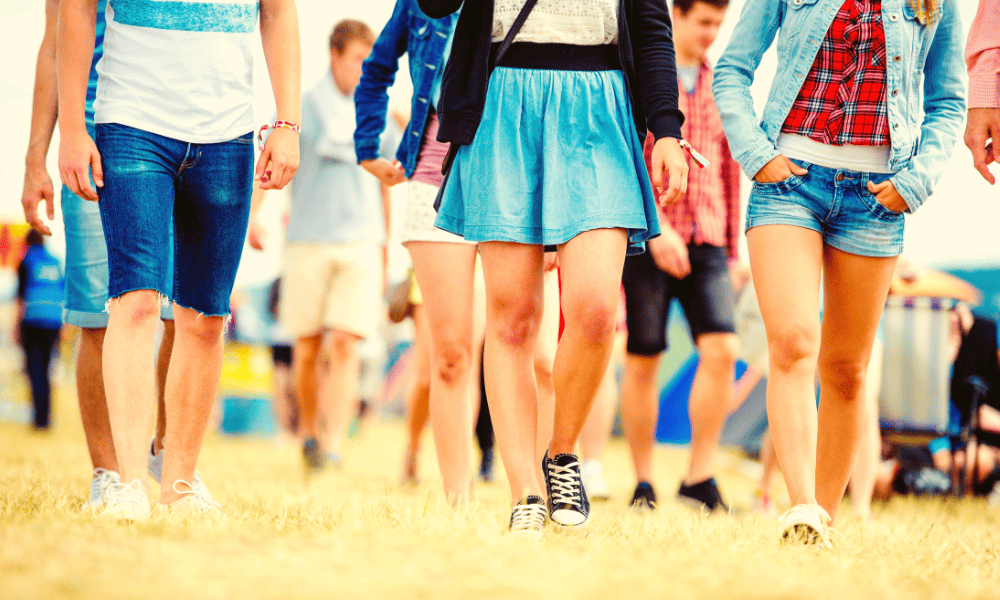 Which camping tent is the best value for money?
Winner: Coleman Sundome Tent
In terms of value, there was one clear winner that we reviewed. The Coleman Sundome may not be the best overall camping tent available, but for beginners looking to get started, it offers a reliable budget option.
It's a great tent, especially for starting out. The sundome was my first tent and it served me well. Upgraded now but always recommend the sundome to people starting out.

Tent review
There is evidence of some cost-cutting efforts like the rain fly that only covers the top of the tent and the fiberglass poles but these are common issues found on lower price tents.
The TETON Sports Vista instant setup tent also offers incredible value for money in a different way. The 1-person tent is lightweight enough to be used for backpacking through the summer but can also be combined with the elite rain fly and the cot to make a cold weather camping shelter.
The Vango Dart is also reasonably priced for the quality it offers. A durable 3-person tent that will keep you safe from the elements, the Dart hasn't sacrificed high quality for speed with its pop-up setup.
With a higher price tag, the Vango is more of an investment than the Sundome. But the key features you get with the model are enough to justify the cost for us.
The Wenzel does slightly worse than the CORE 9-Person instant cabin tent when it comes to value. The CORE instant setup tent is wonderfully easy to setup and the mesh ceiling offers a key feature to rival the screen room in the Wenzel.
Overall, we feel the CORE instant setup tent does slightly more to justify its price tag than the Wenzel. But both of them are worth their value in our eyes.
The Sundome tent from Coleman did best in terms of value for money for us, offering an affordable and easily pitched entry for many to try their hand at camping.
What if you're looking for a festival tent?
Winner: Coleman Sundome Tent & Vango Dart 300 Tent
If you're looking to do some festival camping, we recommend either the Coleman Sundome or the Vango Dart.
The Sundome is a value-for-money tent that will tick all the boxes you need from a festival tent. And it won't leave you checking over your shoulder all weekend to make sure it's not been damaged.
Alternatively, the Vango pop-up design means it can be set up instantly, allowing you more time to relax and chill out. It also comes with dark room technology to keep out the daylight (great for hungover mornings!).
Which of these tents is best for backpacking? (packed size and weight)
Winner: TETON Sports Vista Instant Tent
The easiest tent that you could take backpacking we reviewed was the TETON Sports Vista instant tent.
All of the other tents would be too large and heavy for backpacking.
Which tent is most comfortable? (size and space)
Winner: Wenzel Klondike Tent with Screen Room
When it comes to comfort, we really like the Wenzel Klondike. With a center height of 6′ 6″, taller campers won't have to strain their neck to avoid hitting the roof in the Wenzel. The CORE cabin tent and Vango Odyssey are also good options for taller campers thanks to their peak height.
Whilst a mesh ceiling might give you fantastic overhead views, the screen room that comes with the Wenzel will let you take in the sights around your campsite from the comfort of your tent.
The living area in the Vango also makes it a very comfortable tent.
What sort of storage options do these tents come with?
The Vango Dart also comes with a built in vestibule (rare for pop-up tents) and inner storage pockets, which helps keep your camping gear stored safely. The oversized carry bag is the final extra we love about this tent, it makes packing everything away so much easier.
The Vango Odyssey and Wenzel Klondike both come with plenty of storage space thanks to their multi-room design.
What styles of tent are easiest/hardest to put up?
If you asked someone to draw you a tent, chances are they're going to scribble down something that resembles an A-frame design or a ridge tent.
These tents often consist of thick canvas over horizontal tent poles that is supported by two vertical tent poles at each end. Their stability comes from well-placed guylines. These tents are not easy to set up alone and require skill to pitch well.
Dome tents are the most common type, with flexible tent poles anchored into the corners of the dome. These models are often fairly intuitive to set up and often smaller models will be easily set up by one person.
Tunnel tents are great for larger groups but can be more difficult to pitch alone, especially in wind due to the structure's shape.
Teepee tents and bell tents are quick to pitch thanks to their central tent pole which supports the shelter. Stake the teepee or bell tent into the ground, then lift the central tent pole before pegging down the guy ropes to secure the structure in place.
Instant cabin tents are some of the easiest tents on the market to pitch by yourself as they can be up in seconds. Regular cabin tents however are a bit more tricky and might be complicated for pitching by yourself due to their height.
There's no hard rule that certain styles of tent will be easier or harder to pitch than another because there is so much variance within each style.
However, dome tents are generally the easiest style to set up alone whilst ridge, tunnel, and cabin tents can all be more difficult for solo set up.
Performance of quick setup tents in Bad Weather
A lot of people looking for an easy tent to set up might be new to camping. For these people, making sure the tent is not only easy to set up but durable enough that you don't have to be overly delicate to avoid damaging the tent will be essential.
Will any of these tents be suitable to take out in extreme weather conditions?
Which tents can handle heavy rain?
Winner: Vango Dart 300 Tent & Vango Odyssey Air 500 Villa Tent
Vango tents often come with high-quality weather protection to prevent heavy rain from ruining your trip. The Dart and the Odyssey both meet the high standards we expect from Vango's highly water-resistant 3-season tents.
They both have a hydrostatic rating of 3000mm, being designed as a 3-season tent in the UK.
Although it's not the most waterproof tent available, it appears that the Wenzel Klondike has enough water resistance to protect you in showers but it might struggle in stormy weather.
The CORE instant cabin tent does not have good water resistance. Intended for good weather camping, the instant cabin tent might have issues with leaking in wet weather. But generally, the quality of the tent should be enough to ensure it lasts for a few years to get your value from it.
Will condensation be an issue?
Whilst the mesh roof in the CORE instant cabin tent provides excellent ventilation when the rain fly is off, unfortunately with it on, it impacts the airflow. This could lead to condensation if the tent is full but unless you are maximizing the capacity in the CORE cabin tent, it should be fine.
Quick setup tents which can Stand strong in gusty weather – wind resistance
Winner: Vango Odyssey Air 500 Villa Tent
The Odyssey easy set up tent also comes with Vango's Tension Band System technology to provide added stability in windy conditions. Vango's air poles are tested to higher pressure ratings than is achievable using the hand pump with the tent so you don't need to worry about over inflating them.
The Wenzel Klondike has been designed to provide as much stability as possible in moderate winds. The dome shape improves how aerodynamic the tent is and features like the zipper allowing the rear vent to be closed and not flap in the wind are a great bonus.
A potential issue with the Dart is the fiberglass poles that come with the tent which are more likely to shatter and splinter damaging the fabric than steel or aluminum poles.
Vango doesn't cover this in their warranty as well so be warned that if this is an issue you have with the tent, you won't be entitled to a replacement.
The CORE 9-Person instant cabin tent suffers from common issues with durability associated with cabin tents. Their large, boxy shape means they can easily be caught in the wind, and sometimes in prioritizing instant set up, manufacturers can trade off speed for quality.
Keeping cool in Warmer Weather
Winner: CORE Instant Cabin Tent
The benefit of a mesh roof is clear in summer camping as it provides proper ventilation to keep you cool inside the tent.
The CORE instant cabin tent and TETON instant tent both come with mesh roofs that let hot air escape and keep the tent cool.
Can you take any of these tents out in winter?
None of these tents are appropriate for winter camping. They will not provide enough protection to make sure you have a safe or enjoyable trip.
Which tent will last the longest? (Material and durability)
Winner: Vango Odyssey Air 500 Villa Tent
I just got the Wenzel last week. Spent a night in the backyard during a stormy night, no leaks, and the tent held up great. The floor does need a good seam seal, but it's not a big deal, in my opinion, just a little damp on the edges where the stake loops are sewed in. The screened-in area is really nice, and pretty much why I got this tent. The quality seems pretty good from what I can tell, but I am just getting into this. I will be taking it out camping two nights this weekend.

You might check out the Coleman Weathermaster. It's similar to the Wenzel, but in the end, I chose the Wenzel.

Product review
Sometimes pop-up tents like the Dart can be vulnerable to tearing when being packed away. With the Dart's oversized carry bag, you don't have to struggle to squeeze the tent away again.
It can sometimes be concerning when tents come with the poles attached as if they break it can be difficult to repair them. However, the TETON instant tent poles appear sturdy enough that this shouldn't be an issue.
And if they do break on your trip, you'll be just as out of luck as you would have been if they were regular tent poles, anyway.
Out of all the tents we reviewed, the Coleman felt like it was made with the least durable material. The small rain fly doesn't cover the full tent and there may be issues with parts like the zipper or the fiberglass poles.
But this isn't surprising as the Sundome is a value tent, great for introducing people to camping without breaking the bank. Understandably, there are issues with durability associated with it.
FAQ: What else should you know?
Can you fit a queen-size air mattress inside?
You shouldn't have an issue fitting queen size beds in most of these tents. In fact, even the pop-up Dart should be large enough to fit one in.
The TETON Sports Vista instant tent might be a struggle and if you are able to fit the air mattress in, you probably won't have much room for storing gear. We recommend opting for a roll mat instead.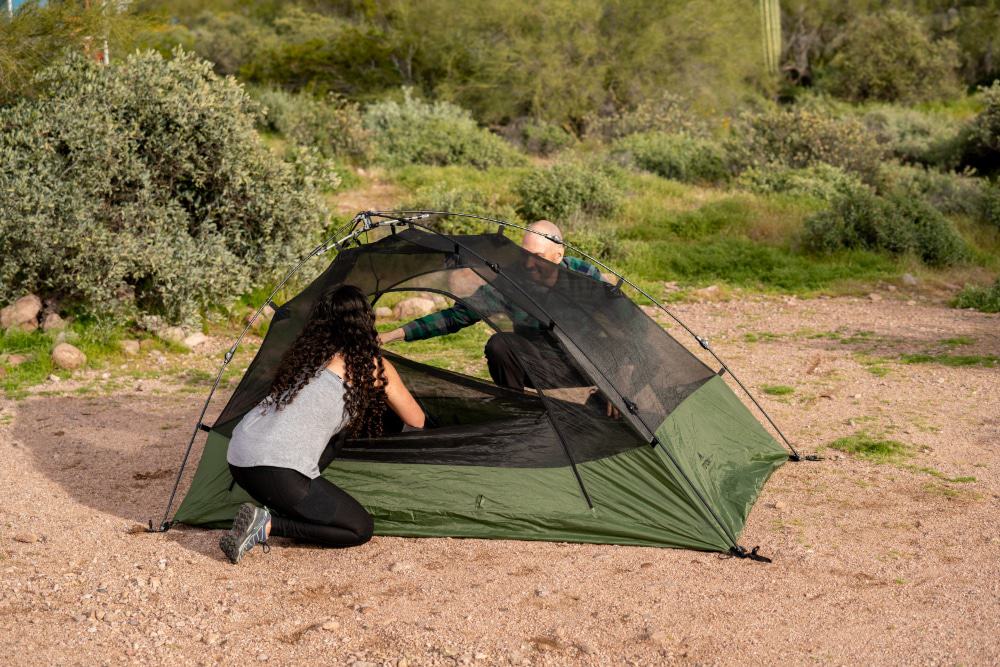 What is an instant camping tent?
In contrast to standard tents, which can take twice as long to setup, instant tents can be setup in minutes (or even seconds). Instant tents have telescopic poles which must be unfolded and then lifted to raise the tent.
What is an air tent?
Instead of traditional tent poles, air tents use inflatable poles fixed to the lining of the tent. This tent type is easier to setup than standard tents, but they take the more work than instant tents since they must be inflated by hand.
What is a pop-up tent?
Pop-up tents are normally packed in a disc-shaped bag and can unfold and "pop" into form when released from the bag. After the tent has popped into form, stake it down to hold it in place to prevent it from flying away.
For more info on the advantages and disadvantages of pop-up tents, check out our article what is a pop-up tent?
What is a cabin tent?
These tents have almost vertical tent walls that build a higher ceiling than other types like dome tents, giving them a cabin-type appearance. This makes these types of tents ideal for taller campers or those that use additional interior floor space when camping.
How can I make the setup easier?
The most important thing you can do to ensure an easy setup is practising at home before you head out on your trip. It doesn't matter what tent you have, making sure you know how to set it up and break it down before you get to your campsite is going to make things a lot easier.
This is important for making sure that the tent doesn't have any tears or holes in it which can sometimes happen with new tents. Manufacturers will often be more than happy to replace broken items but make sure you leave plenty of time between testing your tent and leaving for your trip in case you have to send the tent for repair or replacement.
You can also help yourself by keeping the instructions! Some tents thankfully come with the instructions attached to the carry bag like the Coleman Sundome but not all do so be careful not to lose them – especially if you don't regularly go camping and pitch your tent.
If you think there's a chance you could be setting up your tent in heavy rain, bring a lightweight tarp to setup above where you plan to pitch your tent. This will let you pitch your tent in relatively dry conditions. This can be a big help in not only keeping the tent dry but your spirits up.
If you're facing heavy wind when pitching your tent, try to place your tent so the lowest and narrowest parts of the tent are facing into the wind and pitch at an angle to the wind. This allows the force of the wind to be spread more evenly across the tent. It is much easier to ask others to help pitch the tent together when it's windy.
Finally, leave yourself plenty of time to set your tent up whenever possible. The last thing you want to do is try to setup a new tent in the dark. Make sure you start your journey to your campsite early enough to allow for any diversions on the way.
Should I consider a canvas tent material for weather resistance?
Canvas type tents are brilliant in variable and harsh weather conditions. The insultation of the cotton material keeps these tents warm in the winter and cool in the summer, and they are particularly good at withstanding heavy rain.
However, this material is heavy and can be very awkward to put up. If you're looking for a quick set up tent, we'd recommend avoiding canvas.
The final say on instant set up tents
This guide has shown you a number of tents that are easy to put up by yourself to make your next trip effortless.
The TETON Sports Vista instant tent is the easiest tent for backpacking on the market – and is also great for cot camping, which is a rare find.
The Core 9 Person Cabin Instant Tent and the Vango Airbeam Odyssey Air 500 Villa Tent would be great for camping with groups. The Wenzel Klondike tent could be used by a group, but the best use of it will be from couples who want a bit more space for their trip.
The Coleman Sundome Tent is a fantastic value tent that is easy to set up, offering a pain-free introduction to camping for any newbies feeling a bit overwhelmed. For those looking for something a bit more substantial, the Vango Dart tent is great for campers of all backgrounds.