Ever been frustrated by heavy, cumbersome camping chairs that seem to take the joy out of your outdoor adventures? Well, the KAMUI camping chair might just be your answer.
Lightweight, easy to set up, and surprisingly comfy, this chair doesn't break the bank either.
I tested the KAMUI and found it easy to set up, light, and surprisingly comfy. This chair doesn't break the bank, either.
However, if extreme comfort over portability is your priority, you might want to look elsewhere. Curious to know more? Stick with us as we delve deeper into its features in our Kamui camping chair review.
To see the Kamui chair's latest price, click the button below!
Our verdict on the Kamui Camping Chair
The KAMUI camping chair is lightweight, portable, comfortable and easy to set up. Most of all, it does this at a highly affordable price. You could spend double or triple the price for similar camping chairs.
However, consider if these lightweight chairs are suitable for you. They balance portability and comfort, but the larger, heavier traditional camping chairs will be more comfortable for sitting in over extended periods and certainly more comfortable for anyone who struggles to get in or out of a low chair.
Overall, the KAMUI provides excellent value for money and wins our "Great Value" award.
My ratings:
Portability and weight: 8/10
Ease of setup: 8/10
Comfort and stability: 7/10
Durability: 8/10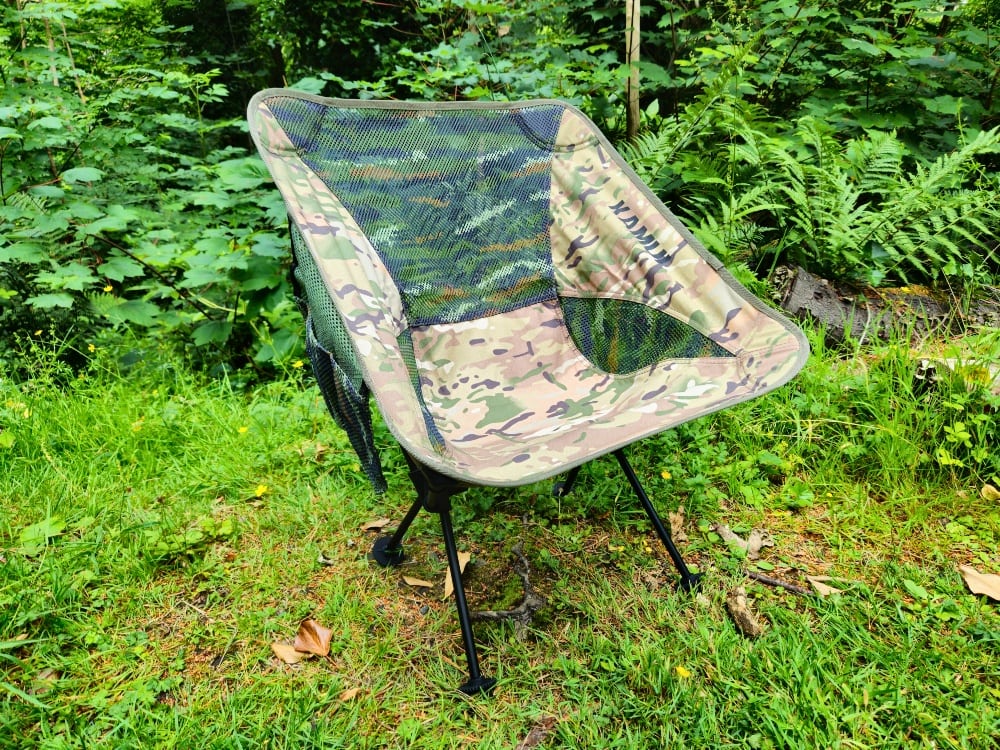 Our lightweight camping chair review criteria
I tested the Kamui camping chair using four main criteria.
Portability and weight are both critical for these types of lightweight camping chairs. They should be able to fit inside a backpack and also be as light as possible so that lugging them around on a hike isn't too cumbersome.
Portability might be your priority if you expect to do a lot of hiking before setting up camp.
Camping chairs should be easy to set up. We'll already have to set up a tent when we camp, so we don't want anything that adds too much extra setup time.
Camping chairs should provide comfort and stability. I recognise that these sorts of lightweight camping chairs will never be as comfortable as an armchair at home or some conventional, heavy camping chairs. But, accounting for the trade-offs in comfort that lightweight chairs require, these chairs should still be more comfortable than sitting on the ground or a tree stump.
If you're a more casual camper and don't plan on too much hiking, comfort will probably be top of your list.
We want any camping chair we buy to be durable and stand the test of time. No falling apart on the first few camping trips, thank you very much.
There are a few less essential extras, such as how the chair performs in the weather, the ease of cleaning the chair and the warranty.
Finally, I don't score products based on their price since everyone has a different budget and different expectations, but I do cover my thoughts on the value for money the chair provides.
[8/10] Portability and weight
How much does the Kamui camping chair weigh? Measuring with my scales, I found that the chair weighs 978g, including the carry bag and all components. You can shave an extra 44g off by leaving the carry bag shoulder strap at home.
With the strap left out, the Kamui is lighter than the pricier Helinox Chair One, which comes in at 964g. Although the even more expensive Helinox Chair Zero does beat both, weighing only 510g.
The Kamui camping chair also comes with a generously sized carry bag that will fit all the chair components without too much struggle. This carry bag is a little bigger than the Helinox chairs, so bear this in mind if backpack space is a significant issue.
When I measured the Kamui bag, I found the length to be 36cm, bang on the same as the Helinox chair bags. But the diameter was more like 13.8cm relaxed or 11.7cm crushed down, compared to the Helinox's 10cm. These dimensions are better than I was expecting given Kamui's measurements – which don't account for the extra space in the bag left for easy packing that can easily crush down.
The bag has a loop on each end which could help connect the chair to the outside of a backpack or a bike if you're planning some bikepacking.
Finally, the bag has a shoulder strap to clip onto the loops. The shoulder strap is an excellent addition if you want to carry a bunch of these from the back of the car to your campsite. Personally, I think I'll leave the strap at home and just bring the chair in my backpack.
Overall, the Kamui is a very lightweight, portable camping chair that will be light enough for almost everyone. If you're on a desperate ultralight mission to cut every gram, you could save 454g by choosing the Helinox Chair Zero, but you'll have to be willing to pay more than three times the price of the Kamui.
Pros
Very lightweight at only 978g
It easily fits into a backpack
The spacious carry bag easily fits the chair components
Optional strap to carry the chair over your shoulder
Cons
Long-distance, weight-conscious hikers may feel the carry bag takes up too much space.
[8/10] Ease of setup
If you're used to conventional camping chairs that simply fold out, these lightweight chairs require a little extra setup.
The Kamui sets up like most of these chairs:
Take the poles and seat fabric out of the carry bag
Snap the poles into place
Put the poles through the four loops in the seat fabric.
We're helped along by the elastic shock cord running through all the poles, which means you only have to untangle them before they snap into place. It's then relatively simple to guide these poles into the two loops at the top of the fabric.
Where I found setting up more of a struggle is putting the poles into the two loops at the bottom of the fabric. The final poles help create tension in the material, which turns it into a seat. But, on the first setup, the fabric isn't used to this manoeuvring, and you may have to use a little muscle to finish the job.
To be fair to Kamui, they include a leaflet mentioning this in the carry bag and point out that the fabric will adjust over time (and it does). Adults should be fine, but children may need help until the material relaxes.
One minor annoyance is that it can take a few seconds to work out which loops are the top and bottom loops. In my first attempt setting the chair up, I accidentally set the seat the wrong way up.
Retrospectively, the seat pocket was the wrong way up, which makes me a little embarrassed. But, thankfully, I've seen other chairs on the market that include a "this way up" sign on the back, so I'm not the only person to fail this intelligence test. Perhaps the Kamui chair could have done with a "this way down" label on the bottom, which could give setup instructions without everyone seeing a big ugly label when it's set up.
In general, setting up the Kamui chair is very quick and straightforward. After you've set the chair up once, the next setup should take less than a minute.
Pros
Setup takes less than a minute
Elastic shock cord running through the poles makes setup a breeze
Cons
Bit of a fight with the tensioned poles on the first setup
Seat fabric could do with a "this way up" sign
[7/10] Comfort and stability
The comfort of these lightweight camping chairs is typically between sitting on a tree stump and a conventional camping chair.
If you want the ultimate comfort, I would recommend a conventional camping chair with a high back and seat position. But it wouldn't be fair to judge these lightweight camping chairs on that basis. Sacrifices are necessary if you want camping chairs that don't require a large car to transport them to your camping spot.
This begs the question, who are these lightweight camping chairs best suited to?
Personally, I like them as they are far more comfortable than sitting on a tree stump or the ground, but they also fit in my backpack. They provide some comfort and plenty of portability compared to a conventional camping chair's decent comfort but near-no portability.
The Kamui chair is the same. It has a very low seated position which means it definitely isn't built for people who struggle with knee issues or for very tall people who might find their knees beside their faces. The Kamui is also not for babies. These chairs can easily tip over if a child gets too energetic.
Chair comfort
The Kamui is reasonably comfortable to sit in, either with your legs close to the chair, stretched out or crossed.
When you sit in it, the fabric tensions, and this gives your arms a bit of support. Not as much as armrests, but it does take some of the weight.
Generally, I would mark it down as significantly more comfortable than sitting on a tree stump or the grass, but you would probably get a bit antsy after a couple of hours. It certainly doesn't have the back support you would get from an armchair at home, but that is part of the trade-off with these lighter chairs.
I'm a fairly big chap, but I would say that people with larger bums might struggle with the chair. These lightweight chairs don't provide much seating room, so if you are big-bottomed, I would recommend opting for a more traditional camping chair style.
Stability – will you end up flat on your face?
Another factor that affects comfort is the stability of the chair. The Kamui follows the same structural design as most of these lightweight chairs – two pairs of legs crossing in an X shape, a bar connecting the legs, and the tension of the fabric keeping you in place.
It's perhaps unsurprising to see that it suffers from some of the typical stability issues these sorts of chairs have.
Leaning forwards or to the side to pick something up feels fine. But leaning too far back may result in a rather comedic backward roll (beware, deep sleepers!). And leaning forwards diagonally similarly makes the chair feel a little unstable.
There is a bit of side-to-side rocking, but I don't see this as a negative. The tensioning of the fabric makes it feel like you're sitting in a little hammock, so I didn't find this sideways movement was any sort of instability.
All in all, this is a pretty common issue with these lightweight chairs, so I have been careful in my ratings not to unfairly compare the Kamui to the stability of a conventional camping chair. But if you've found a lightweight camping chair that doesn't have a degree of instability, please let me know in the comments – I'd love to try it out!
A really unique feature of the Kamui chair is its wide disc feet. Circular plastic rings have been added to the ends of each chair leg, making the legs less likely to sink into wet ground.
I think this is a brilliant feature for Kamui to have added on, given how common a complaint this issue is with other lightweight camping chairs. Some people have found it such an issue that they have taken to puncturing tennis balls and attaching them to the ends of the legs.
The chair is anti-sink, yes. But I would still expect a degree of sinking if you're on soft sand. There is only so much that the feet can do, after all.
Other comfort features
I loved the mesh pocket on the side of the Kamui camping chair. This provides a great place to keep a bottle of water, phone, book or sunglasses. Most lightweight camping chairs have no storage pockets, so this is a nice touch.
Personally, I found the Kamui camping chair to be comfortable, given the trade-offs necessary to make the chair portable. The anti-sink feet and the mesh pocket help the Kamui camping chair stand out amongst many competitors.
Pros:
Feels much more comfortable than sitting on the grass or tree trunks
Wide disc feet help the chair avoid sinking into the wet ground
Mesh storage pocket lets you hold your book or a drink
Cons:
Some instability leaning backwards or diagonally
Sitting for long periods will be more comfortable in conventional camping chairs
[8/10] Durability
The Kamui chair is made of a few materials. The legs are made of aluminium, a lightweight material with plenty of strength. The canvas is a robust cordura fabric, and the remainder is mesh. However, the circular feet at the ends of the legs are plastic, so these are potential points of failure down the road.
Another potential point of failure is the pole connectors connecting the upper and lower poles. These connectors are made of plastic, a less durable material than the aluminium legs. To be fair to Kamui, the more expensive Helinox chairs also use plastic in the connectors.
I'll certainly keep an eye on these connectors for the long term and report any issues.
The build quality overall is pretty good. There are a few loose threads around the stitching, but there are no obvious places for a likely tear.
I'm going to be updating this review over time to report back on any durability issues. So far, I've not heard of many durability issues reported by others.
Kamui states that the chair has a capacity of up to 100kg. This is less than some competitor chairs although I suspect that Kamui may just be more conservative on their estimates here, given the structural similarities between the different chairs.
These lightweight camping chairs do look quite fragile when you first set them up, but looks can be deceiving. While I'm still holding onto my pandemic weight, I weigh just under 100kg, and the chair felt absolutely fine when I was testing it.
Pros
Lightweight but strong aluminium poles
Durable, 500 denier fabric
Feels much more robust than it looks
Cons
Some loose threads around the stitching
A capacity of 100kg is lower than other chairs
Pole connectors are made of plastic
Other factors to consider
I tested the Kamui chair out in the rain and found that water does collect on the fabric seat. The rather large droplets are starting to form on the fabric in the image below. This could quickly turn into a pool of water in a downpour.
Granted, it's hard to know what Kamui can do without compromising the strength of the fabric where you sit. But you should be aware that leaving this chair outside will make the material very wet, and it does take a couple of hours to dry.
The mesh on the back of the chair does an excellent job of ventilating your back. I found this to be helpful after a long, sticky hike where a fabric back would likely make you feel uncomfortably sweaty.
Now, all things used outdoors eventually get covered in mud. I reached out to KAMUI about whether you can clean the chair. The answer is yes, and it sounds pretty straightforward.
KAMUI recommends cleaning the chair immediately after it gets stained or dirty to make the cleaning easier. You can use a sponge or cloth with some dishwashing soap and water to gently scrub away the stains and then rinse the chair off thoroughly. The chair should then be dried in the sun before putting it away to avoid any mould issues.
All KAMUI products sold in the UK and US come with a one-year limited warranty from the date of purchase, so if there are any defects, you should be able to receive a full replacement chair. You can find out more details about Kamui's warranty on their website.
Pros
Mesh back makes summer camping more comfortable
Easy to clean
Mesh back means more comfort in the heat
One year warranty
Cons
Rain pools on the seat of the chair
Value for money
The purchase price of the Kamui camping chair when I first received it (June 2023) was £39.
Lightweight camping chairs start from about £30 and run up to over £150, meaning the Kamui camping chair is priced towards the budget end.
The Helinox Chair One is around the same weight, with a slightly smaller packed size, no storage pocket, and no anti-sink feet, but slightly better quality materials at the pole joints. The Helinox Chair One costs a whopping £100 from most high street retailers. The lighter Helinox Chair Zero costs about £135!
Given my positive experience with the Kamui Camping Chair, I'm pleasantly surprised with how much value for money these deliver. Unless you're part of the ultralight wild camping community, I think the Kamui chairs will hit the sweet spot for most.
Pros
Brilliant value for money compared to market-leading chairs.
Close performance to chairs more than double the price.
Cons
Lighter camping chairs exist, but you'll have to pay significantly more.
Price comparison
Differences between variants
The chair only comes in one size, but Kamui offers it in green or camo colours.
Alternative camping chairs compared
Overall, the Kamui camping chair provides excellent value for money. There aren't any other camping chairs I currently recommend over it unless you're very into ultralight wild camping.
If you're desperate to shave a few hundred extra grams and are willing to pay three times the price of the Kamui potentially, you may want to consider the Helinox Chair Zero.
Below I've laid out some alternative camping chairs available in the UK. I haven't yet reviewed these, but let me know in the comments if you're keen to see reviews of any in particular!
Helinox Chair One
The Helinox One Chair is often held up as the gold standard to beat in lightweight hiking and camping chairs. In part because Helinox drove much of the initial innovation in this space forward and is the most established light chair brand.
The Helinox One Chair comes in at a very similar weight to the Kamui. The Helinox chair has the same general design, with aluminium legs and plastic leg connectors.
The main advantages of the Helinox One Chair over the Kamui chair are the extra weight capacity, up to 145 kg, and the slightly smaller stuff sack. Helinox also has a good reputation for build quality.
Otherwise, there are several drawbacks. There is no side pocket, anti-sink feet, or shoulder strap.
The most common complaints are about the chair sinking into the ground. You can buy accessories to cover each of these missing features, but they'll add £70 to the total cost of the chair.
And this comes to the main drawback of the Helinox Chair One – it's more than double the price of the Kamui chair. Throw in the accessories, and the Kamui chair is more than four times cheaper.
Would I recommend the Helinox Chair One? Yes, I actually would. It's an excellent chair with a sterling reputation. But if you're at all price-conscious, I suggest you consider the Kamui chair a great alternative.
You can check the latest price of the Helinox Chair One here.
Helinox Chair Zero
The Helinox Chair Zero has a few advantages over the Kamui. Firstly, it's incredibly light at just 510 grams. Secondly, it has a smaller packed size. Thirdly, the Helinox Zero holds up to 120kg.
This makes the Helinox Chair Zero a worthy consideration for ultralight hikers who want to shave off any grams possible.
However, these advantages come at a significant cost – both for your wallet and in terms of features.
The weight savings have, in part, been made by reducing the height of the legs. This places you even closer to the ground. This might not be ideal if you have longer legs or struggle to get out of a chair.
Similarly to the Helinox One, the Helinox Zero has no pocket, anti-sink feet, or shoulder strap.
And finally, the base Helinox Chair Zero is more than triple the price of the Kamui chair. Adding in the ball feet, cup holder, and shoulder strap accessories take the Helinox Chair Zero to over five times the cost of the Kamui.
I would probably only recommend the Helinox Chair Zero to someone very serious about lightweight hiking or if money was no object. A great chair – but not designed for more casual campers.
You can check the latest price of the Helinox Chair Zero here.
Sportneer Camping Chair
The Sportneer Camping Chair has a similar design to the Helinox and Kamui chairs but comes in at the very budget end of the market. At the time of the review, it was £7 cheaper than the Kamui.
Beyond the price, it also boasts a weight limit of up to 150kg. But, to be honest, all of these chairs are so structurally similar that it's difficult to know if these stated capacities should really differ so much.
I really like the convenient loops at the parts of the fabric that you slot the poles into. These loops make it easier to slot in the poles without bashing a pole into your finger while you're tensioning the fabric.
Its carry bag is also smaller than the Kamui, also I spoke earlier about Kamui generously sizing their carry bag which makes packing the chair away a little easier.
The Sportneer chair doesn't have a shoulder strap, anti-sink feet or side pocket. And, while I've not tested it myself, others have raised concerns about its comfort and sturdiness.
Finally, I'm not a fan of the colour scheme, but this is subjective.
In summary, I suggest the Sportneer if you are very budget constrained. But you get quite a bit more bang for your buck with the Kamui chair for very little extra cost.
You can check the latest price of the Sportneer Camping Chair here.
Review updates
05 July 2023: Review published.
Kamui camping chair tech specs
| | |
| --- | --- |
| Technical Specification | Measurement |
| Weight | 978g |
| Carry bag size | 36cm x 13.8cm |
| Carry bag size (compressed) | 36cm x 11.7cm |
| Height | 65cm |
| Seat width at the narrowest point | 29cm |
| Seat width at widest point | 53.5cm |
| Height to front of the seat | 34cm |
| Seat depth | 47cm |
| Feet diameter | 4.5cm |
| Max capacity | 100kg |
| Colours | Camo or green |
Materials:
7075 aluminium poles
500 denier cordura fabric
Testing notes
Just a heads up, the scores I've changed in this review will probably change over time for several reasons.
Firstly, I'll regularly update this review as I take it on more and more camping trips.
Secondly, I want to buy a whole bunch of camping chairs at some point and test them all at once. If this is something that you're interested in, let me know in the comments!
Despite this, I've had an excellent experience with the Kamui camping chair, so unless there are any durability disasters, I don't expect the overall message of this review to change.
What's in the box?
Kamui includes chair legs, seat fabric, a carry bag, a shoulder strap and an instructions leaflet.
Final thoughts on the Kamui chair
The Kamui camping chair held up well to my testing. From my experience, I recommend the chair given the excellent value for money it provides.
Let me know if you have any questions by posting in the comments below!
Explore our other Kamui reviews here.