If you're heading to the mountains, the coast or Burning Man, you'll need a tent that can handle harsh winds. Sometimes, you'll also need it to endure low temperatures, torrential rains and dust. We looked in-depth to find the best tent for wind and evaluated the top tents on how well they held up in windy conditions.
The best tents for wind are:
Scroll right to view all products >
| | | | | | |
| --- | --- | --- | --- | --- | --- |
| | Best Overall | Best Weatherproof Tent | Best for Backpacking | Best Budget Option | No longer available |
| | | | | | |
| Ranking | 1st | 2nd | 3rd | 4th | 5th |
| Rating /5 | | | | | |
| Review | Tough enough to stand up in strong winds, but light enough that you'll hardly notice it in your backpack, the MSR really impressed us | No matter the weather, the Kodiak will keep you sheltered from the elements | This option from Big Agnes is ultra-light and ultra-strong, and comes with vestibules to store your gear. | Simple, yet reliable - the Lynx is an ideal model for campers who want to keep costs down | With space for the whole family and the patented Tension Band System, the Vango is an excellent tent |
| | | | | | |
Quick Recommendation
Maybe you've just watched your tent blow away on the top of a hill and you're desperately searching for a replacement. We get it if you don't want to stick around for the full review and if you just want a quick summary of our advice, here it is:
Our editor's choice for the best overall tent is the MSR Hubba Hubba NX 2-Person tent that's excellent for backpacking. Our second-best pick is the amazingly tough Kodiak Flex-Bow Canvas Deluxe 4/6/8-Person Tent. Third, we picked the Vango Odyssey Deluxe 800 that has room for the entire family.
So whichever of those tents sounds best suited to your needs, go ahead and get your hands on it!
For campers looking to save some dough
If you're just starting out camping, the costs to head out on your first trip can get pretty steep fairly quickly. So if you need a tent that is low-cost but still strong enough in the wind, we recommend the ALPS Lynx.
Reviews of the Best Tents for Wind
Best Overall
Our favorite tent for backpacking in windy conditions, this model is lightweight and designed to resist breaking in fierce winds
Pros
Easton Syclone Poles designed for rough winds.
Two vestibules for your gear.
Great waterproofing.
Low weight for backpacking.
This 2-person tent is our top pick for tents in windy conditions. It's a little pricey, but it's ideal for backpacking thanks to its low weight and its made-to-last features.
This tent has Easton Syclone Poles that resist breaking even in fierce winds. The waterproofing is also top-notch, so you'll likely sleep dry even in heavier rains.
It's also spacious enough for two people to sleep in comfortably. The vestibules on both sides allow you to store your gear outside the sleeping area to save room. And with doors on both sides, you won't have to crawl over the other person to get out in the morning.
While campers generally have had a good experience with this tent in the wind, remember that the poles are thin. This keeps the tent more lightweight, but you'll have to be a little careful when setting up.
---
Best Weatherproof Tent
A tent that will stand up to wind, rain, snow and sand, the Kodiak Flex-Bow is comfortable and can last a lifetime.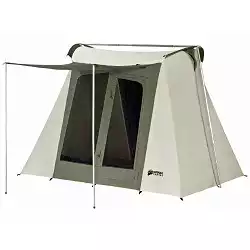 Pros
Tough steel poles.
Completely waterproof canvas.
Amazingly durable.
High ceiling.
Doors and large windows on both sides.
Cons
Heavy weight.
High price.
If you're looking for a tent that lasts a lifetime and can take any weather, Kodiak's canvas tent Flex-Bow is a good option. It's an amazingly comfortable and protective tent that stands up to wind, rain, sunshine and dust.
This tent is large enough for a family or a group of friends, and its tall center height makes it great for taller campers. It features large doors with no-see-um mesh windows on both sides, so you get some privacy if you have other campers nearby. There's also an awning at the front that you can use to get some cover from the elements.
On the downside, this is a more considerable investment, so it might not be for everyone's budget. But on the other hand, you likely won't have to buy another tent for decades.
Also, keep in mind that this tent is heavy. It's definitely a car camping tent, but you'll also need some help with the setup.
---
Best for Families
The Vango Odyssey is the right pick in cold and wet areas. It also includes private sleeping pods and a separate living area, making it perfect for families and groups.
Pros
Tunnel design with room separation for privacy.
Endures high winds well.
Sewn-in groundsheet for extra protection from water.
Large tents can be more vulnerable to wind, but the Vango Odyssey is both durable and comfortable with a large group. It comes with the Vango TBS II Tension Band System to endure strong winds. The tunnel shape is also lower to the ground, which helps keep the tent protected.
We recommend this 8-person tent, especially if you're wind camping in regions with cold and rainy summers. It's excellent for keeping you dry and protected from the wind, but it's not as versatile for warm weather and winter use as the Kodiak. The sewn-in groundsheet adds an extra layer of protection from the rain.
The room dividers inside the tent give you more privacy if you're out in the wilderness with friends. It's also handy for separating a living area from the bedrooms, which comes in handy for families with older kids.
Keep in mind that this 8-person tent is fairly large and heavy, so it's definitely most suitable for car camping.
---
Best For Backpacking
This option from Big Agnes is ultra-light and ultra-strong, and comes with vestibules to store your gear.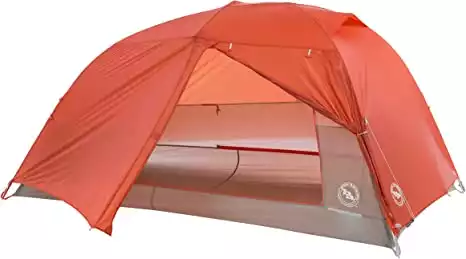 Pros
Ultra lightweight for backpacking.
Strong against high wind and rain.
Awning-style vestibule.
Media pockets and port.
Cons
Pricey.
Small, not ideal for longer periods.
The Big Agnes Copper Spur HV UL is a fantastic option for campers looking for a serious backpacking tent. Thanks to the top-notch fabric and poles, the 1-person size weighs only 2.4 pounds. And it's designed to withstand harsh, windy conditions, even in alpine settings.
And for such a lightweight tent, it packs a ton of useful features, from double doors for ventilation to the vestibules on both sides. They're ideal for storing gear, but also for keeping snow and rain away from your door. And in heated conditions, they adapt well to protecting you from the sun.
As a negative, this camping tent is definitely more for those who go on shorter trips. Even the largest, 3-person size is barely big enough for two people, and the low ceiling gets tiring over time. And the ultralight technology elevates the price, so it's a sizable investment.
---
Best Budget Option
The Lynx is an ideal tent for campers who want to keep costs down but want to do some light backpacking. The design is simple, and the materials are high-quality, so it's reliable even in storms.
Pros
Gear loft and storage pockets inside.
Simple dome setup.
Plenty of headroom.
Vestibule for your gear.
Affordable price.
Cons
Tough to get in and out.
Not for heavy backpacking.
The Alps Mountaineering Lynx 4-person tent is a great option if you're looking for a reliable tent that's not too heavy to carry with you. It's pretty affordable, but it can also withstand some winds if things get rough when backpacking.
This camping tent comes with a traditional dome-style setup that takes about 10 minutes for one person. It also comes with a gear loft and storage pockets to keep your personal items in order when you're out. And there's enough headroom to sit inside when the weather's not great.
What customers love is that this tent also includes a vestibule for keeping your dirty boots and other gear. Some comment that it's tough to get in and out because of the zippers and vestibule, but the experiences are generally positive.
---
What to know when buying a tent for high winds
If you're still not sure which one is the right waterproof tent for you, check out these criteria.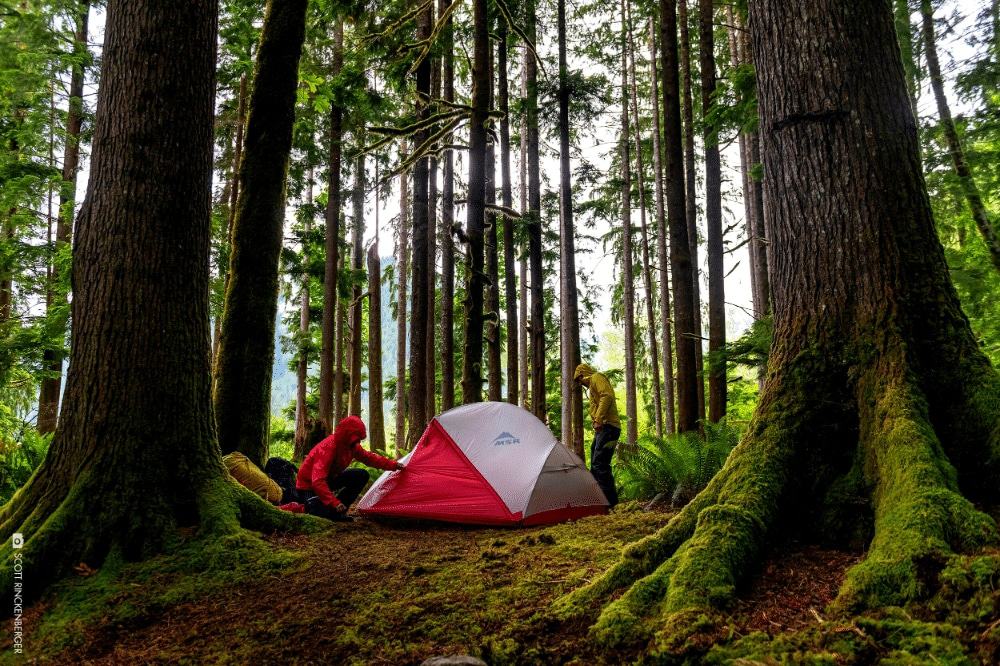 Best Tent for Windy Weather
Winner: MSR Hubba Hubba NX 2-Person Tent
The best tent for high winds overall is the MSR Hubba Hubba NX 2-person tent. It's appropriate for hiking in the wilderness, even in the mountains, thanks to its super-resistant poles. And it's easy to pitch in high wind because the tent attaches quickly to the poles with hooks.
If you're looking for a wind-resistant tent, look for double-walled tents. A good rain fly that's tied down with guy lines has much more resistance to stop strong wind than one layer of fabric. Also, pay attention to the quality of the zippers because you don't want to let the wind inside the tent.
Another thing that influences the wind resistance of a tent is its size. Smaller, lower tents are generally more wind-resistant than larger ones because there's less fabric for the wind to catch.
Best Tent for Rain and Wind
The best tent for rain and wind is the Kodiak Flex-Bow Canvas Deluxe 8-Person Tent.
When you've got weather conditions with cold temperatures, wind and rain, you'll need some extra protection. You'll generally find the best waterproofing in canvas tents, such as the Kodiak Flex-Bow tent. While thick nylon or polyester tents can also endure rain, canvas bell tents are much thicker and more waterproof. These tents are also a great tent for cold weather while remaining breathable which can help you avoid condensation.
If you're looking for a good waterproof tent but don't want a heavy canvas tent, make sure your pick is otherwise appropriate for rain. The Vango Odyssey Deluxe 800 tent is a great waterproof pick with a high 5000 mm hydrostatic head rating.
A good, full-coverage rain fly, bathtub-style floors and tapered or welded seams are key for keeping you dry in wet weather conditions. You can also treat the waterproof tent seams with some sealant before going out to err on the safe side.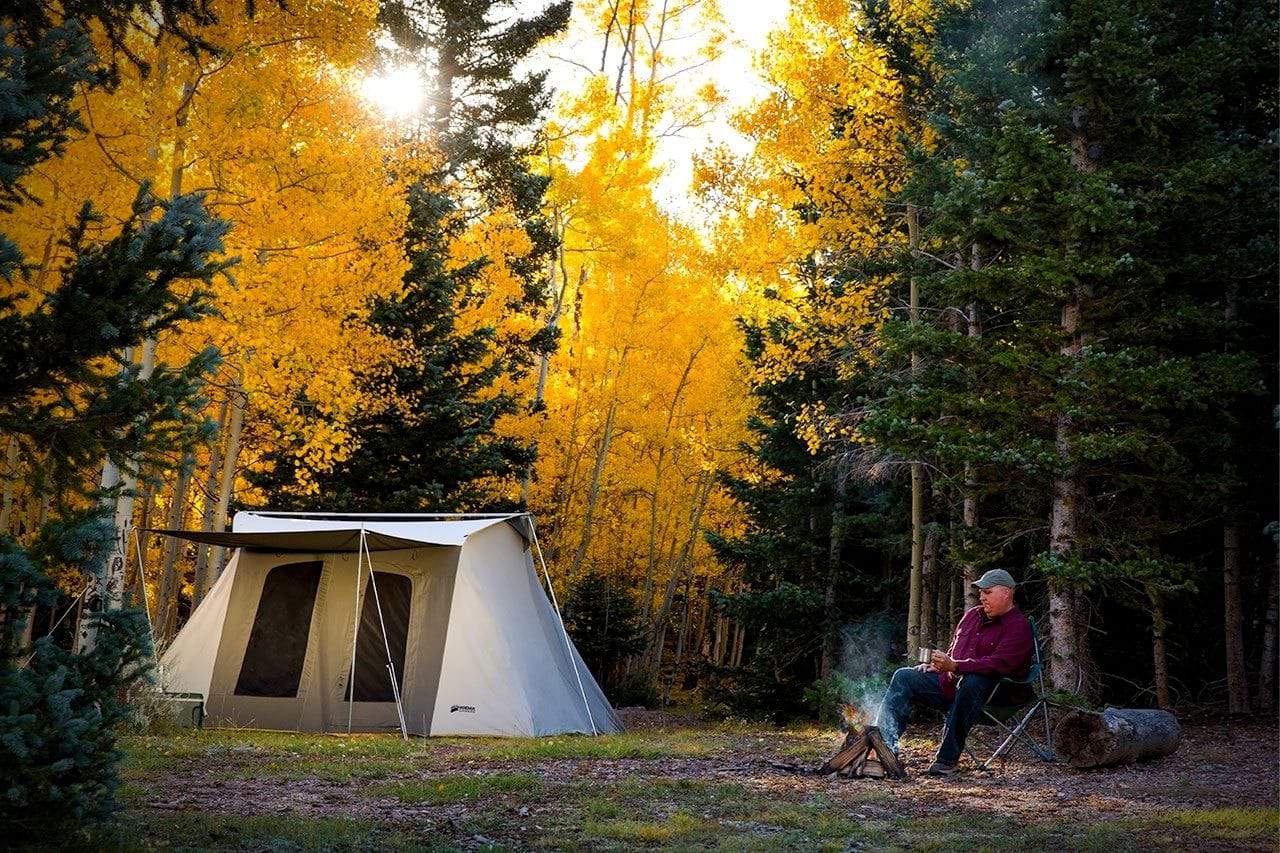 Tent durability and life expectancy
Winner: Kodiak Flex-Bow Canvas Deluxe 4/6/8-Person Tent
All these tents are well-made and will likely last you longer in high winds than any budget tent. But the Kodiak tent is the most likely to last you a lifetime if you take good care of it. Canvas tents can gather some mold, and steel poles may rust. So if you do end up in the rain, make sure to always dry out your waterproof tent before storing it.
If you want a durable, lightweight tent that can cope in strong winds, we recommend checking out tents made from strong nylon with aluminum poles. These tents are a little more expensive than those made from polyester and fiberglass, but they tend to be more durable. And fiberglass and aluminum tent poles don't gather debilitating rust like steel does.
Easiest Tent To Set up in the Wind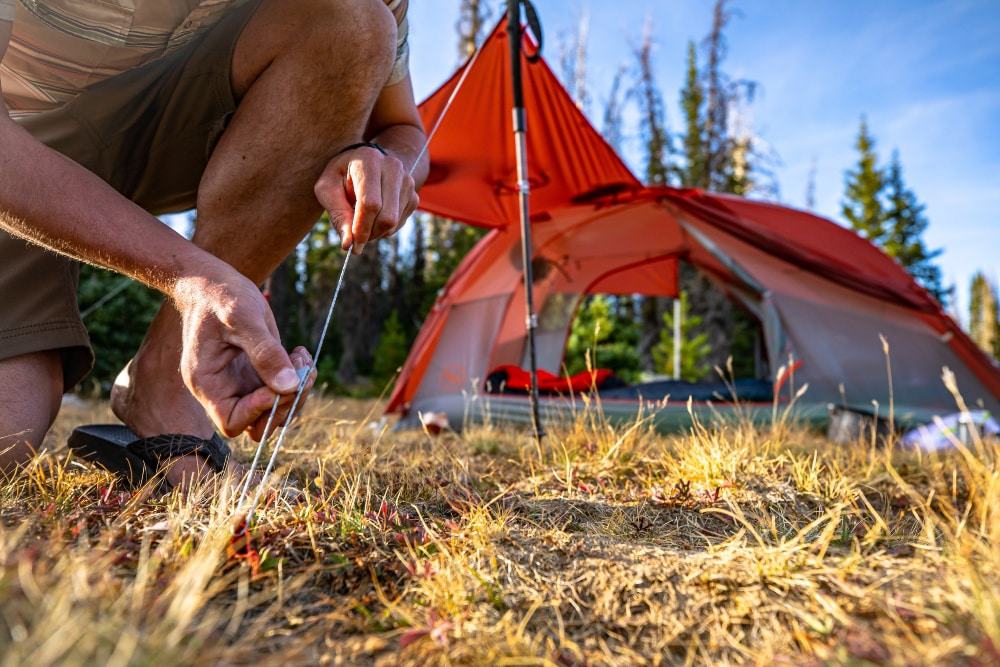 Setting up in the wind: a nightmare or a dream?
Winner: Big Agnes Copper Spur 1/2/3/4-Person HV UL Tent
Setting up a tent in high wind can be tough because the wind will catch the fabric. What you'll want is for the setup to be as quick and straightforward as possible. The Big Agnes Copper Spur HV UL tent is a good example. It's a small tent, so you don't have too much fabric, and the setup is simple.
One person setup: coping when camping alone
Winner: MSR Hubba Hubba tent
The Hubba Hubba comes with an innovative pole design which might take some getting used to, so new campers should be warned they might not find this the easiest tent to set up at first.
However, once the basics of the MSR have been mastered, the tent is a dream to set up, even for campers by themselves.
Other tents like the Vango are much more challenging for one person, and would be very difficult to set up in heavy winds.
Hiding From the Wind: Which Tent Is Best for Spending Time Inside?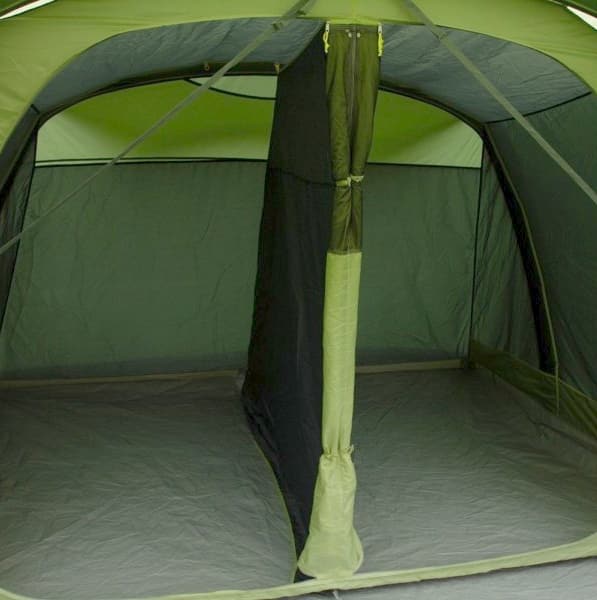 Is Your Tent the Right Size?
When you're looking for tents to protect you from strong winds, remember that the capacity that a tent lists is the maximum capacity of people they can fit. This is not the same as comfort capacity.
For example, 8 people tents may have a comfort capacity of five people, and 4 people tents can be the ideal size for a couple. Also, remember to plan room for your gear in the tent, especially if you're going backpacking.
If you're going out camping with a group of people, we recommend looking into tents that come with multiple rooms or room dividers. These tents give you a little more privacy from other campers, and they're ideal for a family with big kids who sometimes need some time alone.
Best camping Tent for Families and Groups
Winner: Vango Odyssey Deluxe 800 Tent
For a group or family looking for wind-proof tents, we love the Vango Odyssey Deluxe camping tent because of its room dividers and smart layout. You can keep your camping tent's living space separate from the sleeping space, or use the extra room for storing gear.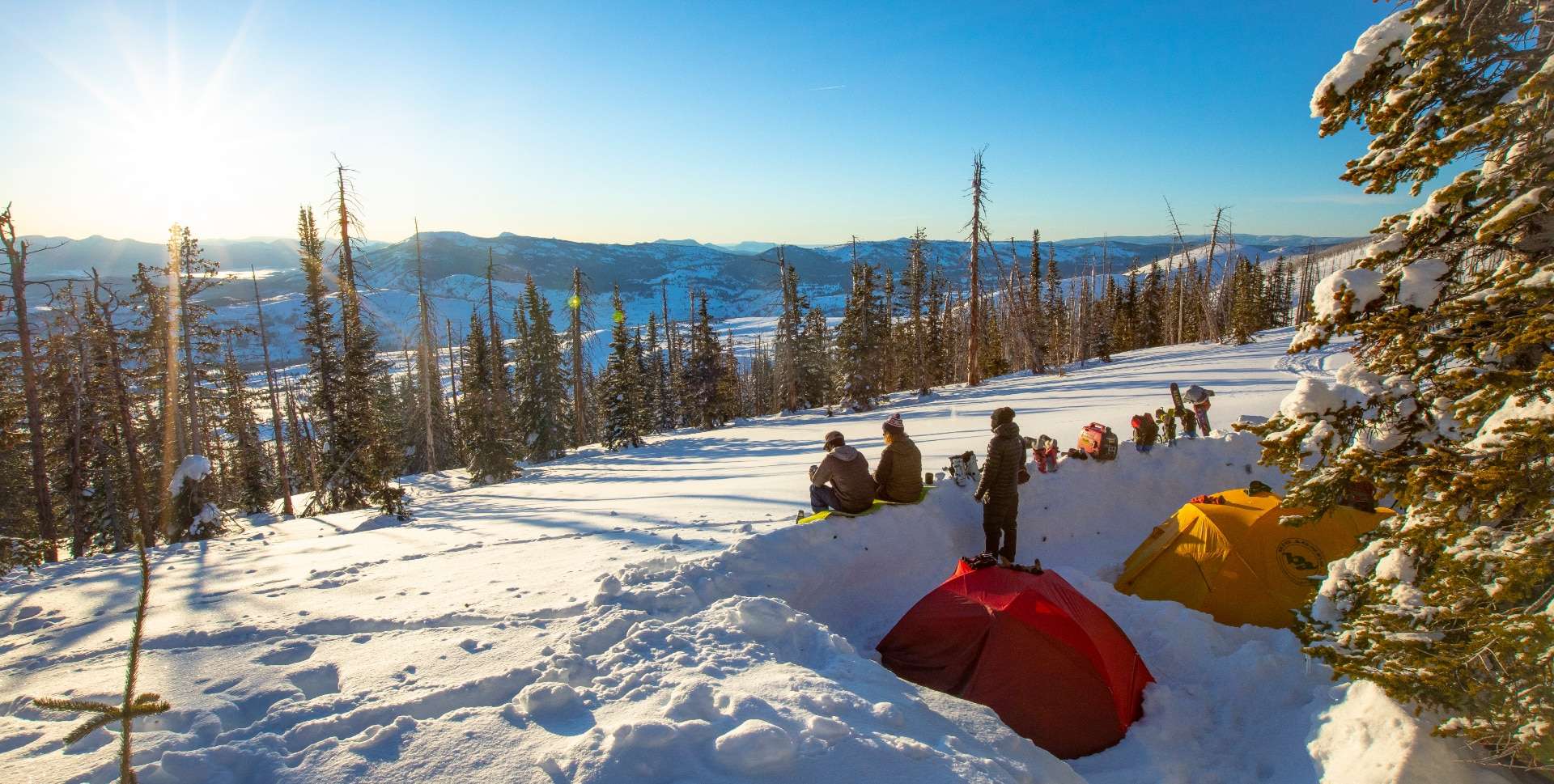 Best Tent for backpacking
Winner: Big Agnes Copper Spur 1/2/3/4-Person HV UL Tent
For solo backpacking, there's no beating the ultralight Big Agnes Copper Spur HV UL tent. It's so lightweight and small you'll hardly notice you're carrying a tent at all. And thanks to its small size and shape, it tolerates wind well.
But if you're backpacking with another person, the MSR Hubba Hubba NX tent is the right tent for a windy weather conditions. It's slightly bigger, and the tent poles are amazingly durable in rough winds.
Which tent is best for festivals?
Winner: Kodiak Flex-Bow
If you're planning a trip to Burning Man, or another music festival in a desert, then you need to prepare for windy conditions. Wind in desert climates means that a lot of sand and dust can be whipped into the air and into your tent.
We recommend the Kodiak Flex-Bow for music festivals that are accessible by car – but the weight of the Kodiak means if you have to trek to the campsite, by the time you get there you might be exhausted for the rest of the weekend. It's seriously heavy!
For something more lightweight, the MSR is comfortable, protective and will stand strong in the wind. Plus, the ventilation helps keep it cool in desert environments.
Which Tent Is Best for Tall People?
Winner: Kodiak Flex-Bow
In general, if you're tall, you'll want to look for camping tents with vertical walls, especially for longer stays. The Kodiak Flex-Bow Canvas Deluxe 4/6/8-Person Tent has a peak height of 6'6", making it ideal for tall campers.
Bear in mind that tall vertical walls on tents are also poor in the wind. So if you're expecting particularly strong winds, consider looking at tents that are a little more snug.
Consider the Storage Options of these tents
Winner: Vango Odyssey
If you're backpacking, remember to think about where you're storing your gear. A tent vestibule is a great idea for placing your backpack if you're otherwise short on space.
When you're going car camping, you don't necessarily need to keep all your gear inside tents. But, it's helpful to have your personal items like glasses and phones at hand. Storage pockets on the inside walls of camping tents or a gear loft on the top of the tent can come in handy.
The Vango as the biggest tent comes with plenty of storage options, including the bedroom pods which can be used as a private storage space.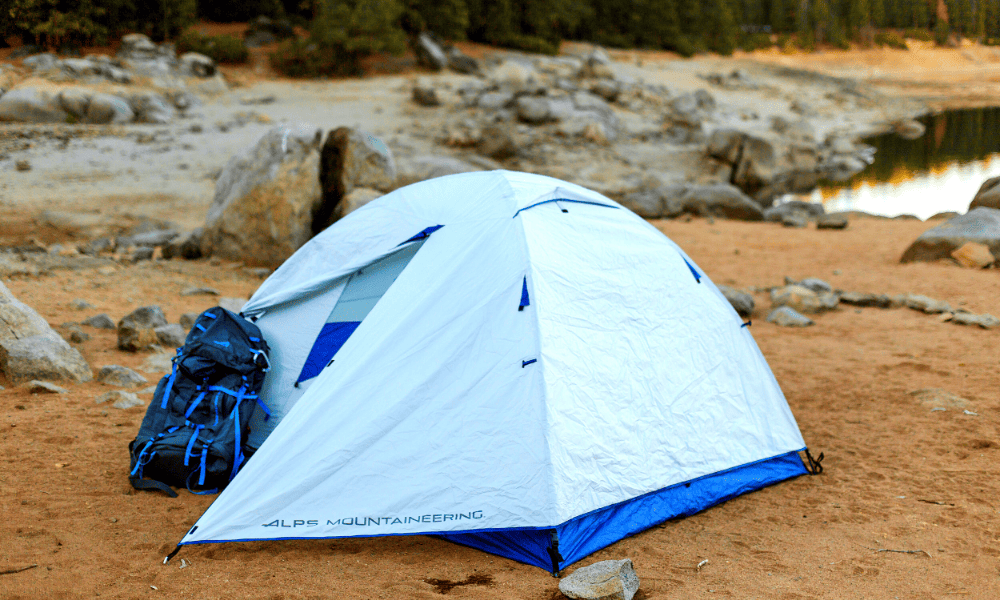 FAQ
How To Pitch camping Tents in moderate Winds
To help your camping tent more resistant to moderate winds, you can set the tent so that the lowest side is against the wind. This will offer more protection. Just keep in mind that wind direction in a storm can change quickly, so the correct direction can change.
How To Secure camping Tents in High Winds and rain
The most important thing to secure your tent in high winds is to keep the guy lines tight, so there's no fabric flapping. Sometimes in high winds and soft soil, tent stakes are not reliable, so it helps to tie the guy lines to rocks or trees to secure them. You can also use a tarp to protect the fabric, but this will impede airflow and might cause condensation inside tents.
What's the strongest Wind camping Tents Can Face?
Most common camping tents can endure winds of about 30 to 35 mph without getting damaged. However, some extra-tough tents have been designed to withstand high winds up to 60 mph.
The best tent for windy conditions – The verdict
The best tent for high winds in our review is the MSR Hubba Hubba NX 2-person backpacking tent. The second of the best tents for windy conditions, thanks to its toughness, is the Kodiak Flex-Bow Canvas Deluxe Tent. As the third option, ideal for families, we picked the roomy and comfortable Vango Odyssey Deluxe 800 Tent.
And if you're looking for something a little different, check our our reviews of desert tents and best tents for hot weather and summer.
Next up: Are gale force winds on their way? Find out how much wind can a tent withstand.