Welcome to our roundup of the five best 10 person tents!
We've spent hours searching for the best 10 person tent for any need. Hundreds of tents have been whittled down to just this list of the cream of the crop.
These tents are great for camping trips when you need a little extra room. If you're planning longer trips, then you want a tent that isn't going to feel cramped. And if you've got a lot of fellow campers coming, then you're obviously going to need room for everyone to sleep!
So stick with us as we go through what makes these tents perfect for your trip.
Quick recommendation
Are you too busy to go over exactly why we think each of these tents is great? That's fine, here's our quick summary of our favorite pick.
The Coleman WeatherMaster is a great all-rounder that is an ideal choice for families who are new to camping. It's super easy to setup and spacious inside. There are weatherproofing that make this tent good for going out in the milder months of Spring and Fall as well, give you even more bang for your buck.
If you've ever been camping in the rain, you'll know how much it can put a dampener on your trip (literally!) if you have a leaky or cramped tent. You want something spacious you can take out no matter the weather. This Coleman tent is excellent for those reasons.
Looking to maximize your savings?
When it comes to value, the Coleman WeatherMaster wins again. It's available at a reasonable price and offers plenty of features to justify its cost.
As an investment, the TETON Sports Sierra Canvas tent offers fantastic value for moeny. The initial cost for canvas tents is often higher but their longer lifetime means that they are usually a cost-effective solution in the long run.
The Best 10-Person Tents Compared
Best Overall
Capacity: 10 | Weight: 31lbs | Dimensions: 9' (W) x 17' (L) x 6'8" (H) | Doors: 2 | E-port: Yes | Hydrostatic Head Rating: N/A | Price: $
Pros
Affordable price makes this tent a bargain
Comes with room dividers
Hinged door at the front
Plenty of ventilation
Enough room for three queen-sized air mattresses
Cons
Not the most durable tent
May have some leakage in storms
Coleman is a top brand for quality tents of all shapes and sizes that don't break the bank. This 10-person WeatherMaster is one of the brand's best products for all-weather family car camping in the summer. It's our top pick for beginner campers and those who want to save a little money on their purchase.
Design
This Coleman tent has ample space for three queen-sized mattresses, and it comes with removable dividers that are ideal for both families and groups of friends.
The tent also has room separation, which helps give couples a little privacy. With families, it can come in useful for separating children when they're fighting. The tent is so big you can easily send each one of your bickering kids to opposite ends of the tent.
The floor space is 17 x 9 feet, big enough for three queen-sized mattresses. As for the center height, it's 6 feet 8 inches, which usually fits even the tallest adults.
Hinged Door
The Coleman Weathermaster 10 person tent has one really smart feature for families with small kids: a hinged door at the front with velcro. This allows you to exit without using your hands, which is useful when carrying things. The door has a pole inside, so it automatically closes behind you without letting bugs inside the tent.
Weatherproofing
This tent is ideal for yearly family camping trips with mostly nice weather, but it has enough protection to handle light rain. We don't recommend this tent for cold or humid conditions or as a 10-man tent for camping year-round.
Note that this WeatherMaster tent is not 100 percent waterproof. The floors are welded, and the seams are designed to be leak-free in normal rain, but if you happen to get in the middle of a big storm, you may experience some leakage. You can treat the seams with a sealant, but it's not guaranteed to be completely water-free.
Still, our opinion is that the rainfly generally protects you well from the elements, especially considering this is a budget tent. When the weather is good enough to take the fly off, you'll benefit from the added ventilation from the mesh ceiling.
Coleman's tent poles, on the other hand, are strong and designed to withstand winds of up to 35 mph without getting damaged.
Who Is This Tent For?
This 10-person modified dome tent is a great first tent for families getting into camping or groups of friends going out to enjoy the wilderness. As a budget 10-man tent, it's also a great option for festivals with a bigger group of friends. This way, you won't risk putting all your money in a tent that may get destroyed by partying festival-goers.
---
Most Durable
Capacity: 10 | Weight: 55.5lbs | Dimensions: 12' (W) x 12' (L) x 8' 4" (H) | Bag Dimensions: 39" x 11" x 9" | Doors: 1 | Power Cord Vent: Yes | Hydrostatic Head Rating: N/A | Price: $$$
Pros
Removable floor for extra ventilation
Super tough fabric will last for years
Waterproof canvas
Cons
Heavy to carry
Difficult to setup alone
If you're considering going out in colder climates with a larger group and your budget isn't too limited, this waterproof ten-person camping tent is a great option.
It's fully made of canvas, which is a breathable but durable material. It keeps you warm and dry even in harsh conditions. It will also last you longer without breakage, so if you're looking to make a serious long-term investment, this spacious tent might be the right pick for you.
Design
The tent has a bell-style design, which means you have a sturdy steel pole in the middle holding up the tent. The floor space is 12 feet all around, so the tent is big. However, the round shape and pole in the middle mean you won't be able to use every square inch for mattresses.
You can also remove the zip-off floor and use it as a canopy when needed. This makes it a fun and durable option as a heavy-duty backyard tent for your kids to play in. It can also help you clean up the tent in the middle of longer trips, especially if you're in dusty environments.
This tent has extra-wide doors for getting your gear inside, but because of the bell design they're low. The ceiling height is 8 feet 4 inches, but most adults will have to duck to get inside the tent and whenever they're not close to the center.
Setup
With a big canvas tent like this, you might need an extra pair of hands. Technically, this is a one-person job, but pushing the center pole up and carrying the tent around camp requires some serious upper body strength.
Material
Canvas tents are amazingly durable and waterproof. The quality material keeps you dry, but at the same time allows for better natural ventilation and doesn't build up heat as synthetic fabrics do.
Note that the canvas adds to the weight of the tent, which, at 55 pounds, is at the high end of our review. Synthetic materials, while thinner and not as durable, are easier to carry and set up than a big canvas tent like this.
Still, the sturdy canvas will likely last for years and years. If your goal is finding a high-quality tent that will be in use several times a year and even for decades, this could be a great investment.
---
Easiest Setup
Capacity: 8 | Weight: 42lbs | Dimensions: 14' (W) x 10' (L) x 6' 7″ (H) | Bag Dimensions: | Doors: 1 | Power Cord Vent: No | Hydrostatic Head Rating: N/A | Price: $
Pros
Super fast setup
Dark interior for resting
Spacious for four air mattresses
Cons
Large and heavy to carry
Might struggle in harsh weather
Instant tents like this 10-person straight wall cabin tent from Coleman are the ideal option for people who don't want to waste a minute too long setting up camp. They're great for quick weekend getaways, festivals and parents of small kids who only have their hands free for seconds at a time.
Setup
The design behind these instant cabin tents is super simple, and the company promises a 60-second setup. Just spread the Coleman instant cabin 10-person tent on the ground, lift and pop the telescoping poles into place, and you're done.
Together with the rainfly and securing the camping 10 person cabin tent onto the ground, it will take a little longer—but the whole thing is still a matter of minutes.
Design
The floor space of this 10 person cabin style tent is 10 x 14 feet, and the internal height is 6 feet 7 inches, which is plenty to stand up. There's a room-separation screen in the middle for extra privacy when camping with a group of friends. It fits four queen-sized mattresses if you cram them really tight.
On the downside, while all 10 person camping tents are large, these kinds of instant tents are even bigger to carry around. Even for car camping, they occupy a large chunk of your trunk space. You'll need to factor this into your space calculations, especially if you're traveling in only one car with your family.
Weatherproofing
The instant pop-up tent comes with a rainfly and Coleman's standard Weathertec system, which includes welded corners and inverted seams that prevent water from entering. Still, it's not made for heavy rain, and an additional sealant treatment can be a lifesaver.
The poles are strong and can generally endure the wind well, but the instant setup design does feature parts that may become vulnerable in the long run. The poles are thicker and stronger than those of a typical dome-style tent, but there are lots of hinges and moving parts that aren't fully confidence-inducing.
Features
This tent includes Coleman's super handy hinged doors that self-close, making them ideal for hands-free exits. They also protect the tent from filling up with bugs when camping with forgetful kids.
Another key feature of this tent is its dark room technology that blocks up to 90 percent of sunlight entering the tent. This will keep your 10-person dark rest instant cabin tent darker when sleeping. It also helps the tent remain cool because those first rays of sunshine can really heat up the atmosphere inside.
Overall, while Coleman tents may not last you a decade of frequent use, they are affordable and offer good value for their price. What they're not for, generally, is heavy storms or cold weather. This is why we recommend this dark resist instant cabin tent for mostly summertime use.
---
Best Screen Room
Capacity: 10 | Weight: 41lbs | Dimensions: 14' (W) x 10' (L) x 7′ (H) | Bag Dimensions: 16" x 30" | Doors: 2 | Power Cord Vent: Yes | Hydrostatic Head Rating: N/A | Price: $
Pros
Instant setup leaves more time for relaxing
Screen room for bug-free outdoor time
Room divider gives added privacy
Cons
Thin fabric is sometimes vulnerable
Heavy to carry
The CORE 10-person straight wall tent has a cabin design and instant setup, but it also comes with a screen room at the front. This type of design is ideal if you're camping with dogs or small kids who love to play around in the dirt, so you can change your kids from their muddy clothes before entering the tent.
You can also use the screen room to let your dogs sleep in, or for eating and sitting around at night without bugs eating you alive.
Size
The floor space of this XL family cabin tent is 14 x 14.5 feet, but the measurement includes the screen room. The sleeping room space is 10 x 14 feet, which is enough for a couple of queen-sized mattresses with room to spare on the sides for your gear.
The central height is 7 feet, comfortable to walk in even for tall campers.
One potential downside is that this tent is quite sizable when packed into the carry bag included. It weighs about 41 pounds, so it's not for carrying around more than a couple of feet from your car.
Light and Ventilation
This XL family cabin tent comes with a rainfly, but if you're experiencing nice weather, you can remove it to expose the mesh ceiling to see the stars and add some more ventilation. There are also vents at ground level to keep the tent cool when sleeping.
If you love sleeping late when camping, this 10-person instant cabin tent may not be the right one for you. It's bright inside, even with the rainfly on, so you'll likely wake up with the first rays of sunshine.
With small kids that wake up at the crack of dawn anyway, this might not be a problem, but with friend groups that stay up late, it can get taxing.
Weatherproofing
This tent generally protects you well against the rain, but some customers have had negative experiences in storms. This is not a fully waterproof tent, so there's always a chance you'll get some leakage. Still, it's not the most common experience among users, and most were happy about their tent keeping them dry in rough weather.
Setup
The instant setup is nearly as fast on this tent as with the Coleman 10-person instant cabin tent, with the additional time it takes to put up the screen room. Overall, it shouldn't take you much longer than a couple of minutes, and a few more to attach the rainfly and secure the tent. It's best to do it between two people to keep the tent stable.
The material is also thin and susceptible to breakage if you're not careful when setting it up. Most customers haven't had a problem with it, but there are some experiences of possible holes when tearing the fabric.
Features
Apart from the screen room, there's another removable room divider inside the tent if you want a little more personal privacy. One key feature of the Core 10 person tent with straight-wall design is that there are doors on each side, so you don't have to crawl over another person to get out in the morning.
This makes this tent with screen room an ideal tent for couples, groups of friends and families with little kids with different sleep schedules.
---
Best 3-Season Tent
Capacity: 10 | Weight: 27lbs | Dimensions: 18' (W) x 10' (L) x 6' 9" (H) | Bag Dimensions: | Doors: 1 | Power Cord Vent: Yes | Hydrostatic Head Rating: 2500 mm | Price: $$
Pros
Ideal for cold and rainy weather
First three air beds with room to spare
Anti-fungus treated floors
Tough fiberglass poles
Cons
Poor ventilation with the rainfly on
If your family is into camping through the spring and fall seasons, or you have to deal with an unpredictable climate, this NTK Larami GT 10p tent is an ideal buy. With silver-coated flooring and water-resistant fabric, it's protective against the most common weather surprises on your trip.
Weatherproofing
The fabric of this 10-man tent has a 2500mm hydrostatic rating, which refers to the amount of water it's able to endure at pressure without letting it through. A rating of 2500 is generally enough for most common weather conditions.
The thermal silver floors are designed to keep the tent warm, and they have an anti-fungal treatment so the fabric doesn't rot even if you camp in humid conditions. Another crucial feature of the floor is its bathtub-like construction with high edges to prevent water from getting inside.
Windy storms are another threat to your camping experience, especially when you go out in the more unstable spring and summer weather. The NanoFlex fiberglass poles are strong, but they also come with a lifetime warranty in case of bending.
Ventilation
If the weather is fine enough to take off the rainfly, you can enjoy the improved ventilation of the mesh ceiling and windows. You can even watch the stars at night with the kids or when enjoying a glass of wine with friends while still keeping the mosquitoes out.
As a negative, with the rainfly on, you'll lose the mesh windows, and the tent only has one window on the door. In hot and humid weather, the lack of ventilation can get uncomfortable.
Design
This tent has a long, tube-like design and comes with a detachable room divider. In one of the corners close to the floor, this tent also has an electrical cord access point, so you can get your cables in easily. Other than that, there aren't many extra features, which is common in this price range.
Size
The 10×18 feet of floor space and a center height of 6 feet and 9 inches guarantee enough room to fit in three queen airbeds and two twin-sized ones on the sides.
This roughly translates to eight adults sleeping inside when crammed really tight. If you're sleeping on the ground and using all your floor space, you can theoretically squeeze in 10 people.
Setup
As for assembly, this tent is relatively easy to manage. At the center, you'll find a traditional dome-tent shape with two long, crossing poles. There are two shorter poles holding up both ends of the tent, and they're color-coded to easily separate them from the center poles.
Overall, it's an easy setup that should take you about half an hour, but we recommend you do it between at least two people to speed it up.
---
Which tent meets your needs?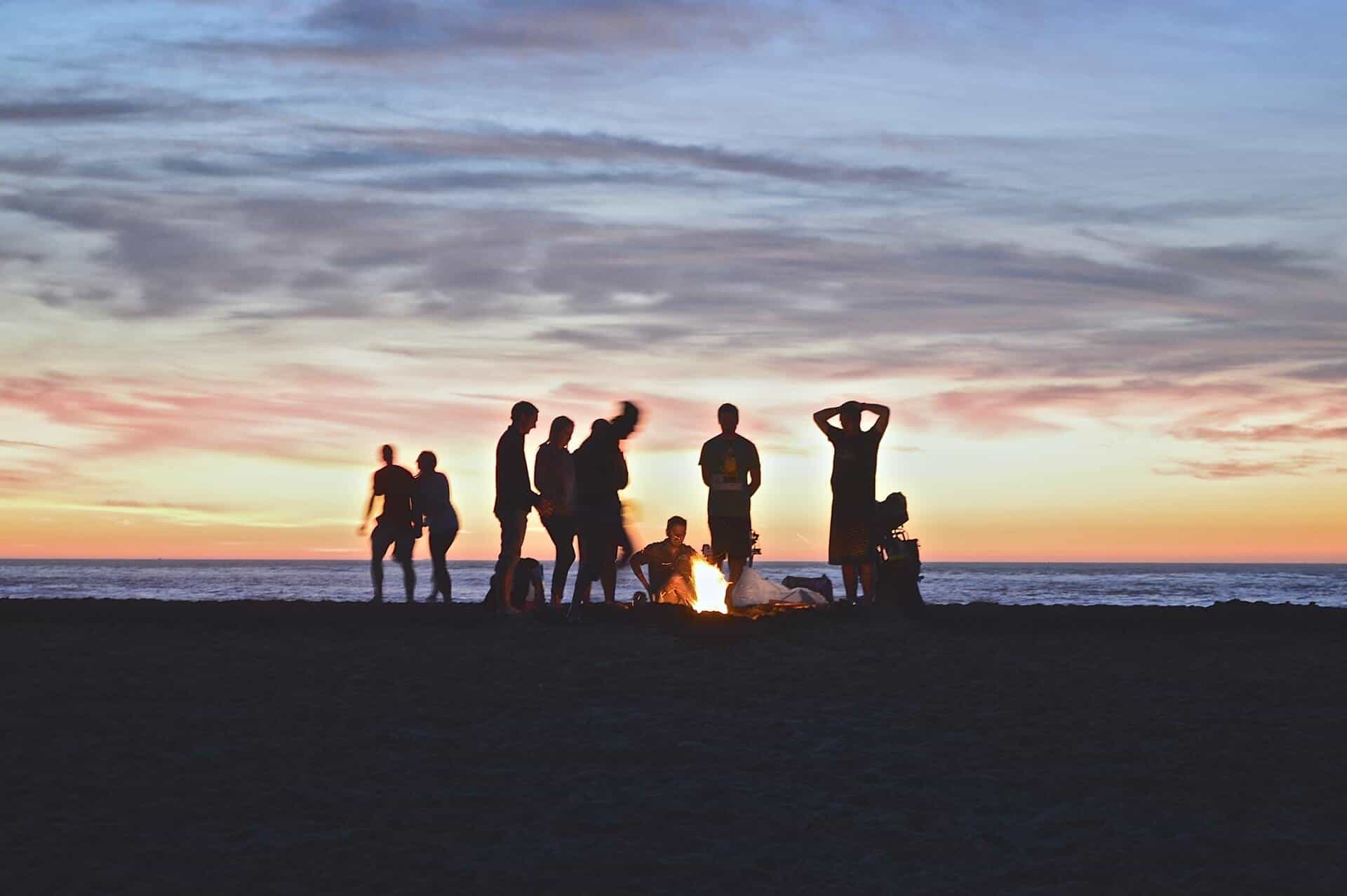 Which of these tents is best for ten people?
Winner: Coleman 10-Person Instant Cabin Tent.
The size and design are key factors when you're shopping for a tent for 10 people. It's not enough to have a tent that's large enough. You'll also want the design to be smart, so the tent doesn't get annoying after a couple of days of living in it.
Whilst the Instant Cabin from Coleman might not offer much personal space for ten campers, it does offer the best out of the tents we reviewed.
A high ceiling and floor will allow you to walk inside the tent, and big doors make it easier to enter and exit with your gear. It's also much more comfortable when you have enough room to walk inside your tent, even if you have a couple of air mattresses.
All of the tents in this category have a wide floor space that's able to accommodate from three to four queen air mattresses. The Coleman 10-Person Instant Cabin Tent is one example of a tent that fits four air mattresses with room to spare.
Perhaps what's most important to you is room separation. This can come in handy when you'll be camping with a group of friends. You'll be able to give men and women separate spaces to sleep and change their clothes. A separate screen room, like the one in the CORE 10-Person Instant cabin tent, can also be useful.
Which tent would be the perfect choice for family camping?
Winner: CORE Instant Cabin Tent with Screen Room
We LOVE screen rooms.
They're so handy for a bug-free space that you can lounge around in. It also provide some shelter from the sun. You can send the kids off to play and watch them from the comfort of your tent porch.
And when they return covered in mud, you've got a sheltered area to get them cleaned up so they don't take ALL the dirt from the great outdoors into your tent.
The CORE is a fantastic choice for a family camping tent.
If you're going to a festival, which of these tents needs to be in your bag?
Winner: Coleman Instant Cabin Tent
It had to be, right? The Instant Cabin tent comes with dark room technology which prevents heat and light from getting into the tent, letting you have a longer sleep in the morning. Who doesn't like the sound of that after a long night of dancing?
When you factor in the instant pitch technology which means you don't have to waste hours fitting with poles to get the tent setup, it's the clear winner for festivals. And the low-cost means you won't have heart palpitations every time someone drunkenly staggers past your tent.
Which tent is most comfortable?
Winner: CORE Instant Cabin Tent with Screen Room
Once again, the screen room lifts this tent up to being even more special. The screen room gives you an area for hanging out that is separate from the sleeping area. There's also a removable divider for even more privacy inside the tent.
Looking for a tent with lots of storage Space?
Winner: CORE Instant Cabin Tent with Screen Room & NTK Larmai GT
With a room divider inside and the screen room, the CORE has extra space that could be used to safely store camping gear or equipment for other activities.
The NTK Larami GT features internal storage pockets, gear loft, and a hook on the roof to hang a flashlight. This will help you keep your small personal items, cell phones, and books off the floor and neatly organized.
The Coleman tents also come with gear pockets for personal belongings.
Setup: Easy or Not?
Can these tents be set up by one person?
Winner: Coleman 10-Person Instant Cabin Tent.
Ease of assembly is key to starting off your summer camping trip on the right foot. Nobody wants to spend hours on setup or have to figure out complicated instructions.
Some of the tents are 'instant' models that only take a minute or two to put up, so they clearly take the prize in this category. Other models, like the typical dome designs by Coleman, will take a bit more time. Still, all of these tents can be put up by one person, especially if you have the strength to carry them.
The toughest to set up is the Teton Sports Sierra, so we wouldn't recommend it if this is the most important aspect of your tent decision. The mechanism isn't that tough, but the sheer weight of the material can make it hard to manage. The peak height is also quite tall which can make things difficult.
Which tent is quickest to pitch?
Winner: Coleman Instant Cabin Tent & CORE Instant Cabin Tent with Screen Room
Although the CORE is also an instant cabin tent with quick pitch technology, the Coleman just edges passed in speed due to the extra screen room in the CORE.
But we're talking about a matter of seconds, so don't worry about which is better out of these tents. They're both fantastic.
Are these tents easy to carry?
Whilst these tents are all easy to carry if you're going car camping, they will not be good for backpacking.
They are too heavy and awkward for backpacking. If you have a big group planning a backpacking trip, then you are better getting lots of small tents rather than one big one.
bad Weather Protection
Which of these tents can stand up to harsh weather conditions and which ones are better suited to fair weather camping?
Keeping dry: how's the rain protection?
Winner: Teton Sports Sierra.
Unless you're camping in the desert, you're likely to experience rainfall at one point or another of your trip. A good tent with top rainfly and well-built seams and floors generally keep you safe and dry in light rain, even if the tent is not rated as completely waterproof.
The best 10 person tents for water-resistance in our review are the Teton Sports Sierra and NTK Larami GT. If you know you're camping in cold and possibly rainy weather and want to be sure you'll remain dry through the night, these are your top picks.
Coleman tent models such as the WeatherMaster are generally water-resistant and good for light rain, but they'll likely need some sealant in the seams to withstand heavy storms.
Circulating the air and condensation
Winner: NTK Larami GT
Designed to deal with tropical climates in South America, the NTK has excellent ventilation to help circulate cool air into the tent and push damp, warm air out even when it's raining.
The Coleman WeatherMaster also comes with angled windows which are superb ventilators in the rain. They let cool air to move into the tent whilst also stopping rain from coming in.
Some of these tents include an electric access port or e-cable port that allows power to be brought into the tent for AC units. The TETON has an electric cable port to help keep you cool in the summer.
standing strong in the wind
Winner: NTK Larami GT
With the NanoFlex fiberglass poles, this tent is capable of withstanding windy weather. And if you do run into a problem with the tent in the wind, NTK offer a lifetime warranty on their poles in case of bending in the wind.
So if you need a tent that will stand up tough in the wind, this is a great option. Even if the wind prevails in the end (it sometimes happens, we aren't quite smart enough to totally overcome the weather yet!) you can replace the poles that are damaged and still get use out of the tent.
The Coleman WeatherMaster is tested in winds up to 35mph which is excellent. However, the angled windows are sometimes an issue in strong, horizontal rain as it can then come through the mesh windows.
Cooling off in the summer sun
Winner: Coleman Instant Cabin Tent
With the Dark Room Technology to block light and heat from getting inside the tent, this is a great option for camping in Summer. You can take the rain fly off in the even and let the mesh ceiling provide ventilation to keep the tent cool on warm nights.
warming up on winter nights
Winner: TETON Sports Sierra
There's only one tent that we would consider taking out in winter and it's the canvas TETON.
Canvas insulates heat better in winter, meaning your tent should do a better job of keeping warm as the temperature outside cools. There are also two stove jacks, meaning you can safely bring a stove into your tent to keep warm.
The other tents do not offer enough protection for you to have an enjoyable or safe camping trip in Winter.
Longevity: Will these tents last a lifetime?
Winner: TETON Sports Sierra
It's not even close. Canvas is such a sturdy and durable fabric, we're pretty confident that this tent from TETON will last the longest out of all of these models. If you want a tent that will last for decades, this is the one to go for.
Frequently Asked Questions
Do these tents have hinged doors?
Hinged doors offer easy access to your tent. Zippers can sometimes get caught and damage the tent.
Both Coleman tents in our review feature the company's smart, half-moon-shaped hinged doors. These doors have both a zipper and a velcro, and the frame has a pole inside to close the door behind you.
The CORE also has hinged doors.
are these Tents Good Value For the Investment?
Tents come in all sizes and for all budgets, and a cheaper tent likely won't last you as long as one with a higher price tag. Still, what's important is that the price is right for the quality.
Among our low-budget models, we went for widely loved brands like Coleman, and quality tents that generally last a couple of years with occasional use. The WeatherMaster is a low-cost tent that offers high-quality performance.
In a high-end model that can easily double or triple the price, we opted for super tough quality that's expected to last decades, even in heavy-duty use.
The TETON is an excellent investment that will last for years to come.
can a queen air bed fit inside these tents?
Yes! There's plenty of room in each of these tents for two or three queen size air mattresses.
The Winner
We picked the Coleman WeatherMaster 10-Person Tent as the best 10 person tent for our review.
Ultimately, the choice of a tent comes down to value. While all these tents are great buys, this one has the right combination of an affordable price together with quality and smart features.
The tent is excellent for beginner campers, families taking longer trips and large groups of friends taking some time off to head to the wilderness in the summer. If you're looking for an instant tent, one for fall weather or to last you a lifetime, check out the other options on our list!
Looking for a different capacity?​
We've got you covered. You can see our reviews of the best tents for other sizes here:
Other 10 person tent reviews