You love your partner and you love camping. What better thing is there to do on a weekend than put the two of them together for a romantic camping trip?
Whether you're wondering about creating a romantic campsite or going on a camping date, check out our FREE romantic camping ideas and tips.
We've got ideas about fairy lights, glamping, couples activities, romantic foods, campfires and even suggest clothes optional swimming. Read on to find out more!
Related: Don't just read – take action and get camping! If you need some gear to get started, check out our reviews of the best 6 person camping tent.
1. Make your romantic camping trip an unexpected surprise!
Romance is about engaging all the senses and creating an intentionally romantic ambiance. Romantic camping is comfortable, sensuous, indulgent, and languid. Setting the scene and making it much more luxurious than your usual trips, creating the promise of days (and nights) of romance!
Two things that really make your camping trip more romantic are surprise and anticipation. You can tell your partner what you're planning, especially if they don't like surprises but once they are there you can leave little surprises in various places around the campsite to delight them when they find them.
2. Go glamping! Yes, it's very romantic!
Never camped before? Don't have the right gear for a romantic camping weekend? Then spend the money and lash out with an all-inclusive, already set up, romantic glamping campsite. There are a lot of these glamorous camping sites around these days and maybe it's time you tried one out and made someone's day (and night) by taking your loved one on a romantic glamping holiday. Book it tonight!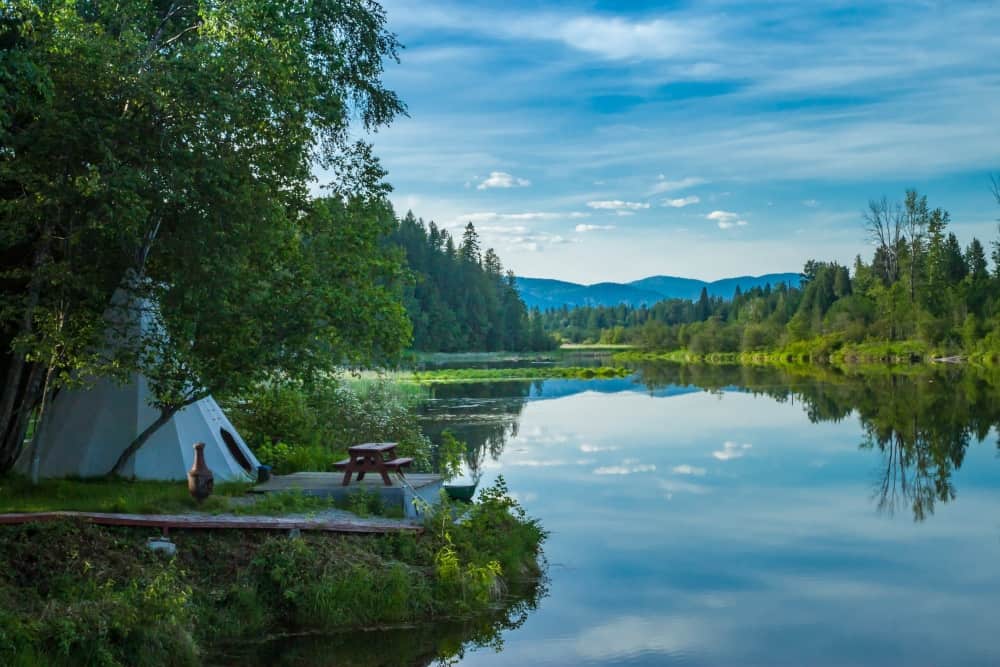 3. Find secluded camping spots
Find a spot where you can be alone but close enough to the car to be able to take all the romantic extras with you. Unless you are both avid backcountry hikers, what you are aiming for is somewhere not too far off the beaten track where man-handling all the luxuries to the campsite is easy enough to do single-handedly.
4. Pick a campsite with a romantic ambiance
Pick a beautiful place to camp. A big part of the experience is visual so pick a place with a view or a place that has lots of trees, a stream, feels secluded, or is appealing to you because of the environment. Make sure it's not anywhere near other campers. Mum and Dad yelling at the kids all day in the campsite next door is going to ruin any chance of creating a romantic atmosphere.
5. Make the camping tent a romantic haven
Go for a nice roomy tent. (You never know what you'll need the space for) and deck it out with a nice big mattress, loads of blankets, and plenty of pillows. Make it inviting and feel luxurious.
A few battery-powered lanterns or a string of (already charged) solar or battery-powered fairy lights around the tent entrance or even up the ceiling will add the right amount of romantic lighting. You can also put them in the trees around the campsite so you can look at them from the campfire and your tent. Add fairy lights to a mosquito net around a rug piled with pillows and blankets.
Consider using Mason jars or bottles with solar-powered lights inside which look lovely around a campsite as well.
And for the creative romantic, put the fairy lights in the shape of a heart on the ground, inside the tent, or even in the trees to show how you feel!
6. Get romantic by the light of the campfire
Plan on having a fire, not necessarily for cooking on, but for the ambiance and enchantment. Remember, everyone looks good in the firelight, and loved ones, even more so!
Depending on where you are and how practical it is, the campfire that can be seen from inside the tent allows you to enjoy the romantic lighting once you jump into bed!
Keep things even cozier around the fire by bringing blankets, warm drinks, pillows and camp chairs with you to create a romantic feel.
Try a novelty fire item called Mystical Fire.™ It's a small packet that costs only a few dollars online and will change the colors of your campsite flame. Simply throw a packet or two or three on the fire and watch the new colors that Mystical Flame will create for you for the next hour or so. Talk about doing something different that your partner will remember forever!
Related: Check out our couples camping checklist for packing tips!
7. Take along seating for romantic campsites
You'll want to spend lots of time talking (tip for the guys, talking into the night is romantic for girls) so get some comfortable chairs, rugs mats, pillows, and blankets and set up a lovely little place that you two can spend hours in, talking and looking into each other's eyes. Make it so comfortable you never want to leave.
8. Create a romantic camping atmosphere with the sounds of love (and a speaker)
Bring along a small speaker so you can relax to your favorite tunes by the fire. Create a playlist of the songs that let your partner know how you feel or one that you know will delight them because it's filled with their personal favorites.
Download romantic songs before you leave in case there's no reception and spend the evening deciding together, which one will be your forever song!
9. Pay attention to each other
Give the greatest gift of all. Your time and attention. Prepare for a trip where your main focus is the comfort and well-being of your partner. Showing you care so much to make this camping trip special will deepen the relationship.
10. Do some stargazing together
Before you leave, google your partner's name and see if there is a star named after them and see if you can find it in your night sky. Get a star map and see if you can find the constellations that are famous in your part of the world.
And if you can't? Make them up! Romance is about creating memories and special times together that no one else knows about.
11. Show you care with a three course meal
Romantic camping trips involve effort. The meals are meant to be a notch above your usual trip, so pull out all the stops and create a simple three-course meal to show you care. Pre-prepare your meals at home so you can enjoy a gourmet meal, even in the bush.
Bring along an easy-to-put-together cold starter or appetizer that you can enjoy without any fuss. Mini Antipasto skewers, cheese platters with fresh fruit and champagne with strawberries are all easy, and impressive.
A main course that involves the fire can be fun. Sausages on a stick, baked potatoes, grilled steak, or a slow-cooked stew are all great contenders.
And dessert? Well, S'mores must be the easiest camping dessert ever but there are plenty of others like fresh strawberries dipped in chocolate, cook a dessert in a Pie Iron or even try campfire banana boats. Sooo good!
12. Serve aphrodisiac foods!
Even if aphrodisiac foods don't actually work, they are symbolic of your desires and are definitely worth bringing along. You can express your yearning for your partner with traditional erotic foods such as asparagus in hollandaise sauce, chocolate-covered strawberries, figs, oysters, watermelon, and honey. It's up to you how you use them!
13. Bring something fun to drink at the campsite
Assuming you are of legal age, bring along a few adult drinks to enjoy around the fire at night. Toast each other and make compliments each time you sip your champagne, wine, hot toddy, or even cup of tea. Saying nice things about each other will boost your endorphins, and who knows where that will lead ????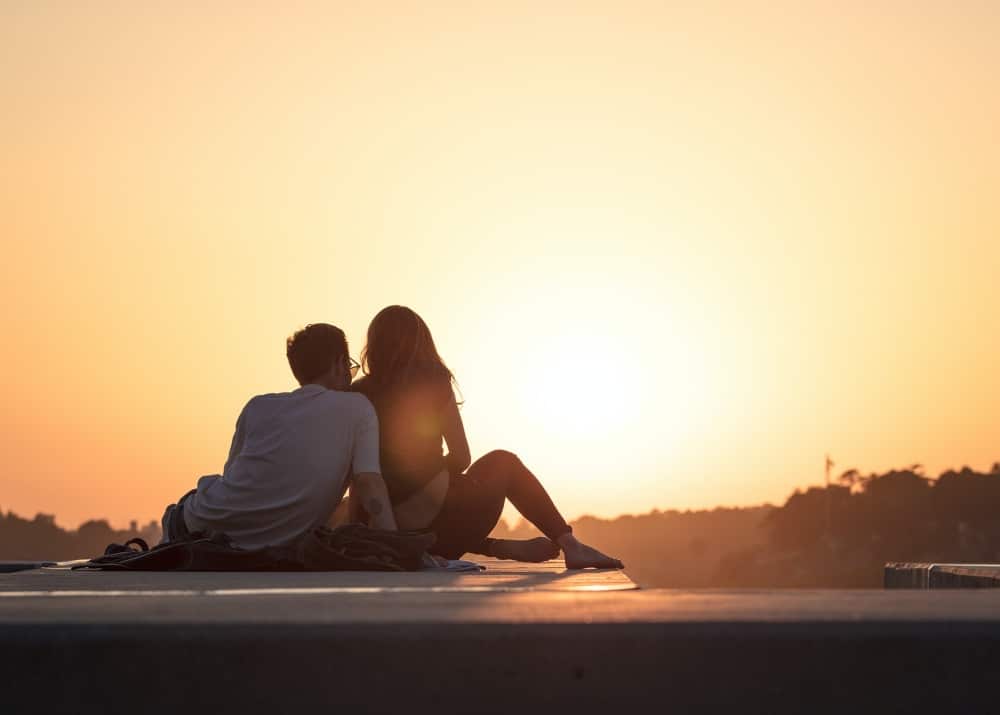 14. Have a sunset or sunrise picnic
Pack some delectables that are a bit more special than your usual afternoon snack and find a place facing West to watch the sunset below the horizon. A glass of bubbles, a blanket, and a view. Simple, but very romantic! Or alternatively, watch the sunrise from your tent or get up and find a vantage spot and watch the new day dawn with a steaming cup of tea or coffee.
15. Share a romantic wilderness picnic
Go on a walk or hike to a beautiful spot and take a special lunch or snack with you. Find a spot where you can spread out your special nibbles and enjoy a leisurely moment reveling in each other's company with more luxurious things to eat than the usual hiking fare. It shows you cared enough to do something special. Don't forget the picnic blanket!
16. Connect with your partner without wifi
Reconnect or create new connections by leaving the wifi off and spending time gazing at each other and not at your screen. Use your phone's camera to capture these special times but wait till your heading home before sharing it with the world.
17. Go swimming – clothes optional!
If you find a secluded campsite, and it has a river, lake, or beach nearby, swimming or just relaxing at the water's edge, is a romantic way to spend a lazy afternoon. If it's safe and you are both good swimmers, consider an after-dark dip!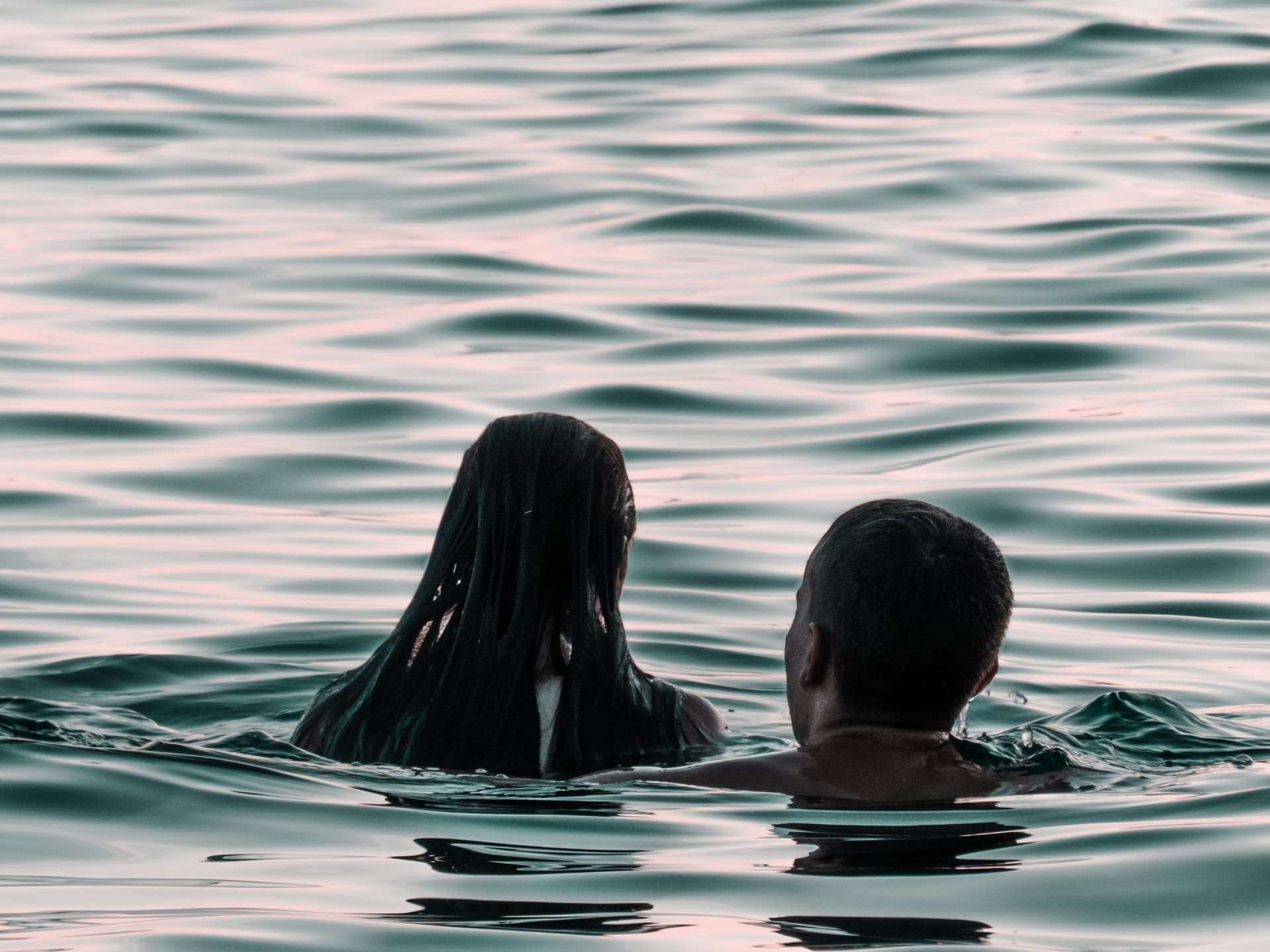 18. Try a couples hammock for camping
Just hanging out together, snoozing, reading, or chatting is another perfect opportunity to bond with each other. Being comfortable in each other's company is a nice way to spend some time. Make up stories to amuse each other about the shapes you find in the clouds on a hot afternoon. Remember a blanket and a couple of pillows – and maybe a glass of wine!
19. Play camp games with each other
Bring along some fun and fast games from your childhood or ones that make you laugh now. Laughing together is a great way to bond! You might find it fun to engage in highly competitive games that release a bit of adrenaline and keep you both laughing!
Examples of couples camping games to turn up the romance
One word, one answer. Start with a word, any word!
The 36 questions game, based on an academic study to learn about each other.
Twenty questions. Think of a famous person, and then the other person has twenty "yes" or "no" questions to guess the answer.
20. Serenade your partner with your musical abilities
Pack your guitar, harmonica or just sing to your lover by the fire, on the edge of a lake, or on the summit of a hill. Create a really romantic moment that will be remembered for years to come.
21. Go on a moonlight walk
Try a romantic walk by moonlight, starlight, or even torchlight and explore your camping area and enjoy the closeness of being the only people in your little world. Hold hands. The lack of light enhances your other senses and can create an intimacy that you won't find in the same spot at midday!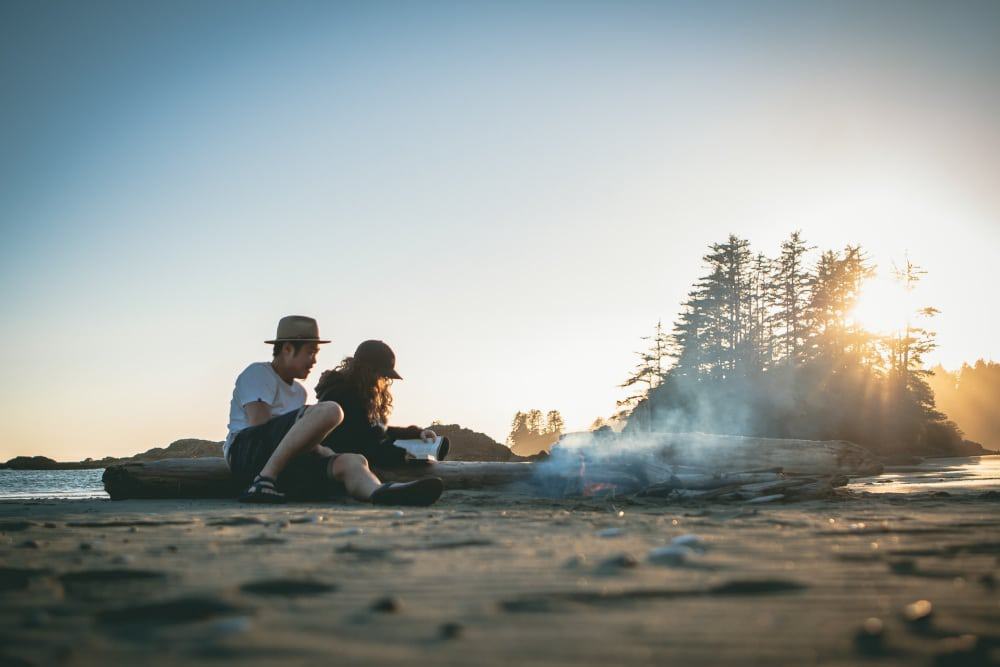 Romance tips and ideas – the final word
Romantic camping for couples is all about taking the time and effort to make things special. Go all out and make it a fun weekend for you both while creating memories and deepening the bonds between you. Try a romantic weekend if you've never done it before, or think about penciling it in for the next Valentine's Day!
Happy Camping!
Next up: Is your tent starting to leak? Find out how to waterproof the floor of your tent.