An army marches on its stomach, which can also be said about campers. The better fed they are, the better their disposition, sense of humor, and general mood is. It's a good thing to have plenty of food on a camp, and as most people will tell you, spending time outdoors makes most people hungrier than usual!
It's one thing to bring all that food to keep your army of campers going, and it's another to pack and cook it all. So what do you need in a camp kitchen? Will you need all the things you have at home? Will you need a coffee maker? No, and Yes! A camp kitchen is about getting back to basics and letting the fresh air and appetites add flavor and seasoning to your dishes.
A camp kitchen checklist can be as straightforward or elaborate as you want it to be. It depends on what kind of cook you are and what type of holiday you need.
We've looked into what you will need for a weekend camping trip with family, friends, or just as a couple and we've made you a camp kitchen checklist of the essentials you will need, plus some optional extras, so you can channel your inner outdoor chef if you're in the mood!
Related: Looking for an insect free place to have your meal? Try setting up a screen tent over your camping chairs and tables. Find out more in our review of the best screen house tents.
Preparation
Large plastic bin for putting all your kitchen kit in

Fold up table or collapsible cook station

Can opener, corkscrew, bottle openers

Cutting boards

Knives

Large bowl

Foil, plastic wrap, and paper towel

Add new
Optional Extras:
Whisk (for making pancakes!)

Pot holder or pot lifter

Multi tool

Grater

Add new
Cooking
Portable camping stove and or campfire materials

Extra stove fuel, lighters, matches, firewood, firelighters

Cooking pots

Frying pans

Stovetop kettle

Cooking utensils (Wooden spoons, tongs, flippers, spatula, serving spoons)

Marshmallow cooking sticks!

Coffee maker

Add new
Optional Extras
Grill rack for the fire

Dutch oven

Metal skewers

Pot lids

Fire gloves

Add new
Food Storage
Cooler with ice or ice packs

Large drinking water container with drinking water or a water purification system

Plastic food containers

Resealable plastic bags suitable for food storage

Add new
Optional Extras
Plastic camping egg cartons

Add new
Washing & Cleaning Up
Wide basin or bucket for dishwashing

Biodegradable detergent, scrubber, dishcloth, and tea towels

Dish rack if there's a few of you to clean up after

Clothesline and pegs for drying dishcloths and tea towels on

Rubbish bin/bags

Dustpan and brush

Add new
Optional Extras:
Dining Area
Camp table

Table cloth for dodgy picnic tables

Camp chairs

Serving plates and bowls if you have a large group

Plates and bowls – one for each person

Cutlery – one for each person

Cups/mugs and teaspoons!

Tarp or shelter for rain or sunshade

Add new
Optional Extras:
Lantern – warm white bulb. Cold white attracts more bugs!

Tablecloth pegs in case of a breeze

Insect repellent

Add new
Food
Breakfast, lunch, dinner, snacks and drinks for each meal for the time you are away.

Add new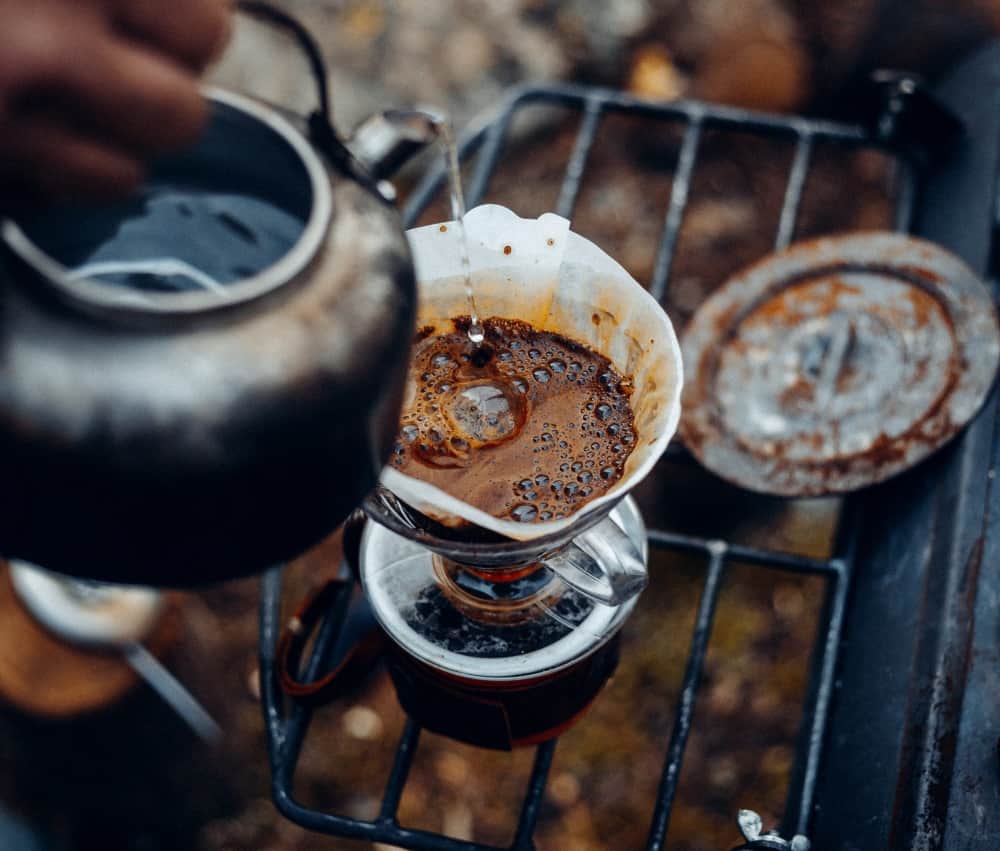 Hints, tips, and hacks for setting up your first camp kitchen
Set up
Set up a dedicated space for food prep and cooking. You don't want to have to clear away everything off the picnic table every time you want to eat, play cards or spread out some other activity.
Put your camp kitchen away from a high-traffic area but close to where you'll be eating.
Keep a set of "camping cooking gear" in a box so you don't ding your good home stuff or leave anything behind if you think camping will become a regular thing.
Use kitchen items from home or grab some from a second-hand shop to create your camping kitchen with, in the beginning.
Cast iron can be hefty to use, especially if you are crouching at a fire.
Cleaning up
Keep the insects and animals out of your food by closing up food containers immediately, keeping trash away from the cooking area, and cleaning up dishes after eating.
Only bring one set of utensils for each person and get them to wash it up after each meal to cut down on work and the need for storage space.
Wash up as soon as you have finished the meal, so your plates aren't covered in bugs or taken clean away by raccoons!
Planning
Choose simple meals until you have the hang of what you will need. It also cuts down on the amount of stuff you'll need to bring.
Plan a one-pot or one-pan meal for the nights when you need a break too!
A decent cooler will make your camping trip better!
Setting up a camp kitchen need not be complicated but done right will set you up for a great weekend car camping. If you are unfamiliar with camp cooking, try using your gear at home one night to really get a feel for how different cooking on a camp stove or fire is going to be for you.
As long as you have somewhere comfortable, warm, and dry to sleep and plenty of food to eat, you'll probably survive most events on your camping trip. Pre-planning your meals, making a menu, and checking it against a camping kitchen checklist will go a long way to making sure the cook has a great time away too!
Happy Camping! 😊
Back one: Screen houses are ideal for eating your camping meals inside. But what is a screen house tent exactly?
Next up: Going camping? Check. Got your camping equipment? Check. Got your food? … oops! Find out what to bring in our camping food checklist.