Are you sick of being eaten alive by bugs as you try to eat your dinner? Do you want to sit outside in the evening without being swarmed by creepy-crawlies?
Then you're in the right place! Welcome to our best screen house review!
Growing up in Scotland we know how annoying midges (or no-see-ums) can be. They can ruin a camping trip if you're not prepared for them.
So stick with us as we go over what makes these tents so great.
If you're in a rush, the best screen houses for camping are:
Scroll right to view all products >
| | | | | | | | | |
| --- | --- | --- | --- | --- | --- | --- | --- | --- |
| | Best Overall | Best Budget Screen Tent | Best Portable Screen Tent | | | | | Best Camping Alternative |
| | | | | | | | | |
| Ranking | 1st | 2nd | 3rd | 4th | 5th | 6th | 7th | 8th |
| Rating /5 | | | | | | | | |
| Review | The most trustable screen tent for when the weather turns and packed full of useful features. A fantastic all rounder. | Cheaper than the Clam and still very good, but setup is harder and wind and rain performance is poorer. | Small and it won't win any awards but it's cheap, super light and you can easily fit it in the car. | For a place to cook bug-free, the YDYL screen house is a safe, applicable option. | If you need a screen house that springs into action instantly, the Alvantor works well. | If you already have a frame and just need the bug mesh walls, this budget option may be right for you. | If you're deathly afraid of bugs, consider this one person pop up to sleep in atop your cot. | For a tent with an included screen room, consider the Coleman WeatherMaster. |
| | | | | | | | | |
Quick screen tent recommendation
If you don't have time to go through exactly how we decided on our favorite screen house, that's fine. Here's our quick recommendation.
If you need a screen house that will be good in variable weather and keep you sheltered from the bugs, the Clam Quick Set Escape Screen House is a fantastic option.
It has an easy assembly, is large enough to fit over pre-installed picnic tables or grills and has a high ceiling which means you can relax a little when cooking. It also comes with attachable walls and floor so that you can adapt the tent as needed.
Best screen tent for great value for money
The Coleman Screened Canopy Tent is a great option for campers on a budget who want many of the features of the Clam screen house without the cost. It doesn't come with the super useful retractable walls nor does it come with a floor but it's still one of the best screen houses on the market.
Overview of the best screen tents
Pros
Easy set up in around 2 mins using pre-attached poles
Water-resistant and will handle light rain
Collapsible side panels to open up the tent
Tall center height of 7 feet 10 inches provides room for standing
Includes stakes for added wind resistance
Retractable side panels for blocking wind and rain (only on tan models)
No-see-um mesh to keep the bugs away
Tie ups to secure to doors open
One of very few screen houses to come with an attachable floor
Cons
On the pricier side

Only comes with one door
Packed size is quite long so make sure you have space in the car
The Clam Quick Set Escape tent is an excellent screen house for groups and earns our award of the best screen tent.
It comes in four sizes, ranging from small (6×6 ft) to extra large (12.5×12.5 ft). Do note that only the tan-colored "pavilion" edition comes with retractable side panels.
What sets this tent apart is the sheer amount of valuable features. For example, the tan-colored versions of the tent is a screen house with rain panels. These panels can be rolled down the side to create walls. These are excellent for when the wind starts picking up, rain starts falling, or the temperature gets a little cold. You'll be hard-pressed to find many other screen houses with this feature.
It's also one of the very few screen houses to come with an attachable floor. You can leave this off if you've brought a picnic table inside or attach it to the tent if you want to walk around in your socks.
It also comes with tie-ups around the door which you can use to hold the doors open. It's a simple feature and makes a huge difference when you're constantly popping in and out of the tent, but many cheaper screen houses lack this.
Its other features are those more typically seen in screen houses, but the Clam Quick Set screen house just does a better job.
It includes stakes to secure the tent when the wind starts picking up. And the tent is water-resistant enough to hold up to light rain. It isn't built to stand up to heavier rain though (no screen houses are). So if you're expecting heavy rain, I would recommend using some waterproofing spray and potentially bringing a spare tarp to cover it with.
The main drawback of this tent is the price. It's certainly more expensive than the other screen houses here, although this reflects the tent's sheer quality. It also only comes with one door, which can become an issue if you have family constantly entering and leaving the tent.
If these issues are enough to put you off the tent, you may prefer the more budget Coleman Screened Canopy Tent below.
However, if you want to buy the best screen tent on the market, the Clam Quick-Set Escape is the tent to go for.
---
Pros
Very roomy and comfortable
Two doors for easy access
Screen can be detached to turn it into a canopy
Screen covers whole of roof and will handle light rain
Includes stakes and guylines for added wind resistance
Tie ups to secure to doors open
50+ UPF protection from suns rays
Cons
Set up is a little more involved and takes around 3-5 minutes
This screen house is heavy but the carry bag comes with wheels
No floor
No side panels
The Coleman Screened Canopy Tent is a strong contender in our list of screen houses. However, it just doesn't quite match up to the Clam screen house to take the title spot.
Starting with the advantages – what does it do better than the Clam Quick-Set screen house?
I liked that the screen housecomes with two doors. If you want a multi-use tent, you can also choose to remove the screen, which leaves behind a simple canopy tent.
It's also cheaper than the Clam screen house. Although I feel that this is because it has fewer useful features.
It doesn't come with a floor, for instance. Nor does it have retractable side panels to wall up the screen house when the weather starts turning. Setting up the screen house is also more difficult and requires a three-step process, compared to the Clam tent which comes pre-attached and ready to pop up.
However, it does offer some of the same features as the Clam. For example, both tents have 50+ UV protection from the sun and have a full-length roof for weather protection. They're also both rain resistant, even if not fully waterproof.
So if you want a tent that might not be the best on the market but does provide excellent value for money, the Coleman Screened Canopy Tent is a top choice.
---
Pros
By far the most portable tent, weighing only 17 pounds
Comes with two large doors for easy access
Set up takes only a minute
7 foot height gives plenty of room for standing up
Cons
Narrow roof leaves the edges of the tent open to the suns rays
Fairly small compared to other screen houses
Sloped edges can make the tent feel a little claustrophobic
No hooks to secure the doors open
No floor
No side panels
The Coleman Instant Screenhouse is a slightly different offering from the other screen houses so far. This screen house focuses on portability and makes a useful car camping addition for those who are already bringing quite a lot of camping gear.
This Coleman screen house comes in at a light 17 pounds which packs down into a reasonably small carry bag (included). And before you ask – yes, it will fit most campground picnic tables inside.
Similar to the other Coleman screen house, it comes with two large doors, and it also comes with plenty of headroom for walking about in. On top of this, the pre-attached instant tent poles help you set up this screen house in around a minute and without having to find any setup instructions.
However, we would only recommend this instant screen house for those looking for a super portable option. This screen house doesn't compare to the quality of the Clam.
The angled structure leaves quite a narrow roof. This means that anyone sitting towards the edge of the instant screen house will get damp during rain and sunburnt on a hot day. It can also leave the screen house feeling a little claustrophobic.
It also misses many of the features that make the Clam screen house so brilliant. There are no hooks to hold open the doors. There are no attachable floors for times when you're wanting a more tent-like experience. And there are no retractable side walls for when the weather conditions change.
The Coleman Instant Screenhouse provides a cheap, no-frills, portable screen house that you can throw up for a bit of shade and a barrier between you and the bugs.
---
For a place to cook bug-free, the YDYL screen house is a safe, applicable option.
Pros
Large enough to place over a pre-installed grill or picnic table.
Wide door for moving furniture in and out.
Easy assembly.
Cost-effective.
High ceiling makes it fantastic to cook in.
Cons
Doesn't withstand wind.
The stakes are short.
No floor.
Let's say you and your family have the perfect tent, you're in a prime location and the view is second to none. It's dinner time and… there are flies on your burgers and wasps chasing down your honey-mustard dressing.
The YDYL screen house is an excellent solution for your camping weekend trips.
The canopy tent fits six to eight people, plus there's ample interior space to place a fold-out table and a few chairs. Put a portable gas grill on the table, and you're ready to cook.
The ample peak height ensures there's no way a spark could set the place alight, and there's plenty of room for smoke to rise and escape through the polyester ceiling. If you're looking to cook in an instant screen house, those are the features you're looking for!
Some quick tips to keep in mind for safety when cooking in screen houses:
High ceilings, wide ground space.
Avoid open flames as much as possible.
Place a flame retardant mat under the grill or stove.
You also have the option of assembling it around a camping stove. They're tailor-made for camping trips and should pose minimal safety threats, but still keep precautions—including around a cooking device's smoke output.
The large door that opens to the width of the screen house will also help you get the smoke out if needed. However, it also closes up and keeps you safe from bugs and other pests.
It has no floor, so if you're not using a portable grill, you could easily assemble this around a pre-installed grill on the campsite. It's even large enough to assemble around a built-in picnic table, and its shape allows for it, too.
Found this screen house to be sturdy and durable during our 30 day camping road trip. It was big enough for every picnic tables we encountered. Highly recommended!

Reviewer
Being rectangular and assembled from corner poles, there's nothing to get in your way when placing it around or over an object. Just ensure there's soft ground nearby to stake it, and you'll be fine.
However, the stakes are a little short, so consider replacing them. Customers found they popped out of the ground easily, and they won't withstand wind at all. Some found that even a light breeze can have the screen house folding in, so consider staying in calm areas and camping in breeze-free weather.
---
If you need a screen house that springs into action instantly, the Alvantor works well.
Pros
Easy one-person assembly.
Can be placed on top of pools or hot tubs.
Plenty of room to stretch your legs.
Light enough to lift and place on top of furniture.
For an instant screen house that's highly versatile and easy to set up, the Alvanator works well. It's a simple pop-up style screen house that requires no stakes, yet it shouldn't blow over in the wind. Its rounded shape helps it stay stable.
There are also guylines and stakes to use if you end up in heavily windy conditions, but they're not integral to its instant setup.
You can use this screen house in a range of situations. Place it over the picnic area on a campsite, set it over a bench or furniture you bring, you could even place it over a kiddie pool or hot tub should the campsite have these features. The pop-up portable 6 sided hub gazebo is large and round, and the bottom sits on top of things well.
The two large doors ensure you always have an easy passage in and out of the tent, no matter where you place it.
Its large four to six adult capacity makes it an excellent family screen house. Two kids and two adults have some legroom to stretch out and relax, communicate well and have some fun. You can easily fit a table in it so you can set up card or board games, undisturbed by bugs, harsh sunlight and wind.
The fun doesn't stop at camping. The Alvantor screen house room is a wonderful pop-up to place over your backyard furniture if you want some UV protection, rain protection or to keep bugs away—screen houses are ideal tools if you don't have a porch.
Love the ease of set-up and the size of this screen tent. Getting it back in the bag is another story. I was afraid to push and twist too hard fearing it might break. It's a bit complicated to fold back up and I'm thinking next time I'm going to leave it in a larger loop and not put it back in the bag. All in all though, well made and easy set-up.

Review
The only downside is taking it down. It only takes a little force to get it up—a 75-year-old female customer states she had no problems with that part of it.
However, smaller people found it difficult to fold down again. It offers some resistance, with some customers needing their entire body weight to get it to shut down.
Utilize your partner if camping as a family—and if you're the only adult, you may want to hunt down other campers and ask for their assistance.
---
If you already have a frame and just need the bug mesh walls, this budget option may be right for you.
Pros
Available at an affordable price
Light and easy to transport.
Fits any standard 10 by 10 foot slanted canopy.
Cons
No way to stake it down, so it may blow over in the wind.
Poles sold separately.
If you're looking for a budget screen house you can assemble quickly, the Quest is an excellent tool. It's nothing fancy—perfect for people who don't care about extravagance, but very much care if there are bugs in their face or food.
The Quest canopy tent comes with a wide door you can utilize for putting furniture through or having your kids run in and out with ease. You can use the screen house with the curtains swept back or pulled right, so you have some or total protection.
However, there's one downside to this budget buy. It doesn't come with poles so you'll need to purchase the frame separately. If you already own a 10 by 10 slanted leg canopy, it'll fit that with no issues.
This is also the screen house to choose if you want to move it around easily. Say, the sun shifts, or you'd like to take your relaxation over to the picnic area.
Camping aside, this would also be a great screen tent to take to a festival. Its inexpensive nature means it's not such a tragedy if your fellow festival-goers tear it down in their drunken antics. Plus if the frame lives and the net dies, you can replace the latter without the former.
Nice set up, just don't let water build up on it. It will not hold up very well.

Screen house review
It's an all-around versatile screen house you can use on many occasions, just don't expect the world from a screen tent of this reasonable price—you won't find fancy features like 2x double-thick fabric, or a waterproof roof.
You also can't stake it down so it'll fall over in windy conditions, and the mesh isn't the strongest around.
---
If you're deathly afraid of bugs, consider this one person pop up to sleep in atop your cot.
Pros
Flat when folded, so it fits in a tent with ease.
Great for kids.
Fits on top of a cot.
Affordable even on the tightest of budgets.
Provides extra protection from bugs with the attached floor
Cons
The zippers sometimes stick.
Difficult to fold down.
Short peak height makes it uncomfortable for tall campers
Not much floor space for sleeping
Is the screen house more for your kids, not for you? This one will suffice. It's small and simple but efficient and would make a wonderful den for a pair of toddlers to play in without getting dirty. It's also great for kids who want to hunker down and do some coloring or drawing during your camping experience.
This screen room is the first of our picks with a floor (and is the best screen tent with floor), making it an excellent tool to stop the little ones playing in the mud and dust. It would also suit a backpacker who's taking a break for a few minutes and wants a camping shelter from nature.
You can throw it up on a whim with the easy setup. Once up, the floor zips to the netting to prevent crawling critters as well as flying ones.
You could also use this as additional protection inside your main tent for someone with a harsh fear of bugs and spiders.
Let's say you're a budget camper and you really can't afford to upgrade your old, worn tent. Alas, your old tent is always leaking and letting in the terrifying flying machines.
Pop up the screen tent, slide your sleeping bag inside and you're safe. It's more cost-effective than a whole new mesh tent. It even fits on top of camping cots.
It won't even take up much room when you're done using it. It won't fit in your luggage, but it folds down flat and is extremely light for easy transportation.
That said, it's an annoyance to get the folding right. The manufacturer repeatedly states you'll need to watch the fold-down demo videos multiple times to get it right.
A bit tricky to fold up. But after looking at the supplied instructions carefully, I was able to fold it. I haven't attempted the folding option to make it smaller. But for my son on his Scout trips, the larger size is not an issue since this will be trailered along with all the other gear a typical Troop takes! Some of the other boys were envious of the copious amount of room he had inside. It did overhang a standard cot a little on the sides, but it didn't seem to bother him at all.

Product review
The doors with zippers can also be a pain at times, so watch out.
---
Best Camping Alternative
For a tent with an included screen room, consider the Coleman WeatherMaster.
Pros
Cost-effective.
Separate sleeping areas.
Hinge-style door.
Perhaps having to get both a family tent and a screen tent doesn't sound fun for you. What about a camping tent with a screen room instead? You fill two needs with one product that's great for small families with two young children, and perhaps a dog.
Avail of the two sleeping areas inside by night, and when day comes, move into the screen room for some fresh air and stunning views.
One standout element, other than this being a canopy tent with a screen room, of course, is its fantastic door. If you decide you want to brave the wild outdoors, after all, it's easy. The door is on hinges so kids can run in and out with ease. Plus, it's great for carrying toddlers through.
Neither the screen room nor the sleeping area is great for cooking, though, if that's what you're looking for. The screen room has a relatively low ceiling so it'd be risky to whip out a grill in case it spits and sparks.
But if you have a small hot plate? That'd work. There's a power cord vent in the tent that'll let you power it so you can cook up or heat some small dishes that way, and get some hot food into you to contrast the chill in the tent.
See, that's the downfall of the Coleman screened canopy tent. It's wonderful on warmer summer nights but if you camp in spring or fall, you'll feel quite a chill.
I'll second the weather master, been using it for car camping through the last 3 seasons and it's been awesome. One modification I made for the screen room is that before I put the fly on I'll take 2 medium size tarps and bind them to each other with 2 long (5-6 ft) bungees and have them drape along the outside of the screen room. Then I stake the back corners of the tarps into the ground adjacent to the second set of poles back.

Review
---
Top screen tents by situation
the best family screen house
Winner: Clam Quick-Set Escape Screen Tent
If you want a screen house which can fit all the family then there's one option that stands out above the rest. The Clam Quick-Set Escape is a great screen tent that is easy to use and comes with all the features you'll need.
It comes in plenty of different sizes to tailor to your family. Its attachable floors and retractable walls make it brilliantly versatile for picnic tables, play areas, and as an outdoor living room. It's also the only big screen tent that can close up its walls when the weather suddenly changes.
Top screen house for a picnic table
Winner: Clam Quick-Set Escape Screen Tent
This was a close call. The Alvantor Screen House and the Coleman tents are also excellent choices for picnics. They are all large enough to be set up around pre-installed picnic benches.
We decided to go for the Clam screen house because of it's easy setup and the option to purchase different sizes to fit your picnic table.
Comparatively, the Alvantor screen house is also fairly decent with a high roof design. This is great for making the mesh tent feel spacious when you're sat underneath its roof.
The YDYL screen house is also tall enough for most campers and the slightly lighter weight makes it easier to carry to your picnic site. The peak height of the YDYL screen house is 6′ 9″ whilst the center height of the Alvantor is 7′.
All of these screen houses are great options for a usable space for family picnics.
Which screen tent is good for cooking?
Winner: YDYL Screen House
You can cook in any large pop-up screen houses, but the YDYL screen house is wonderfully tall and wide, with plenty of space to fit the family around a table. It's also large enough to fit around any pre-installed grills at your campsite.
This makes the YDYL the best contender for cooking and ranks it near to the best screen house house for camping.
There's even additional space for a picnic table in the screen house as well. You can go from grill to table without having to risk running the gauntlet of insects waiting to pounce when you leave your screen house.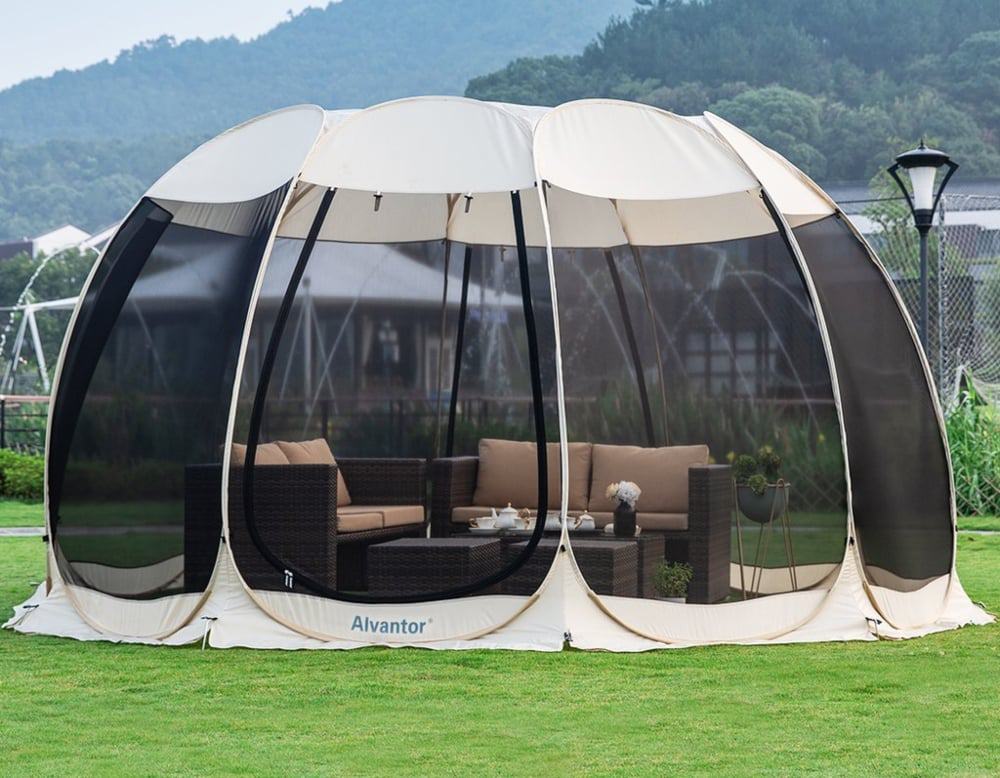 Which screen houses have the best storage space?
Winner: Alvantor Screen House
If you need extra space for storing extra gear or equipment, this screen house from Alvantor is the one to go for. It's large enough that you can easily fit all of your gear inside and still have room to stand freely inside.
The quick pitch setup is also perfect for when you don't want to waste time setting up a second tent.
Which screen houses offer the best protection from bugs?
Winner: SansBug 1-Person Pop Up
The SansBug 1-Person Pop Up screened shelter offers the most protection from insects. As it's the only one with a floor, you're safe from crawling and burrowing critters. However, it's a little on the small side for most peoples' needs.
This portable shelter will keep the bugs at bay during your outdoor experience.
Related: Looking to take your pup camping? Find out what the best dog camping tents are.
Best screen house shelter for bad weather
The screen shelters for camping above offer premium-quality protection and use bug mesh that keeps even the tiniest of critters out. We'll be looking at how versatile that protection is and how capable it is at dealing with rough weather conditions.
screen tents for hot weather
Winner: Coleman WeatherMaster
Screen houses offer little protection from the sun due to their mesh walls. The ceiling provides some shelter, but it's often not enough.
The tent that offers the most protection from the sun is the Coleman WeatherMaster. Because the Coleman is made of regular synthetic material and only the screen room is made from mesh.
Related: Looking for a camping tent that comes with a screen? Check out our reviews of the best tent with a screen room.
Standing strong in windy weather: Which screen tents can you trust in wind?
Winner: Alvantor Screen House
The clear winner was the Alvantor for us. Some other screen houses like the YDYL struggle in windy conditions but the Alvantor screen house comes with additional features like guylines and stakes for you to secure it in strong winds.
The wall design of the Alvantor screenhouse improves its performance in wind. Most other screenhouses come with vertical walls which are vulnerable to catching in the wind. However, the curved walls in this screenhouse is a better shape for wind resistance.
None of these products will hold up for very long against a storm, but the Alvantor comes with some handy extras to improve the stability of this screenhouse in the wind.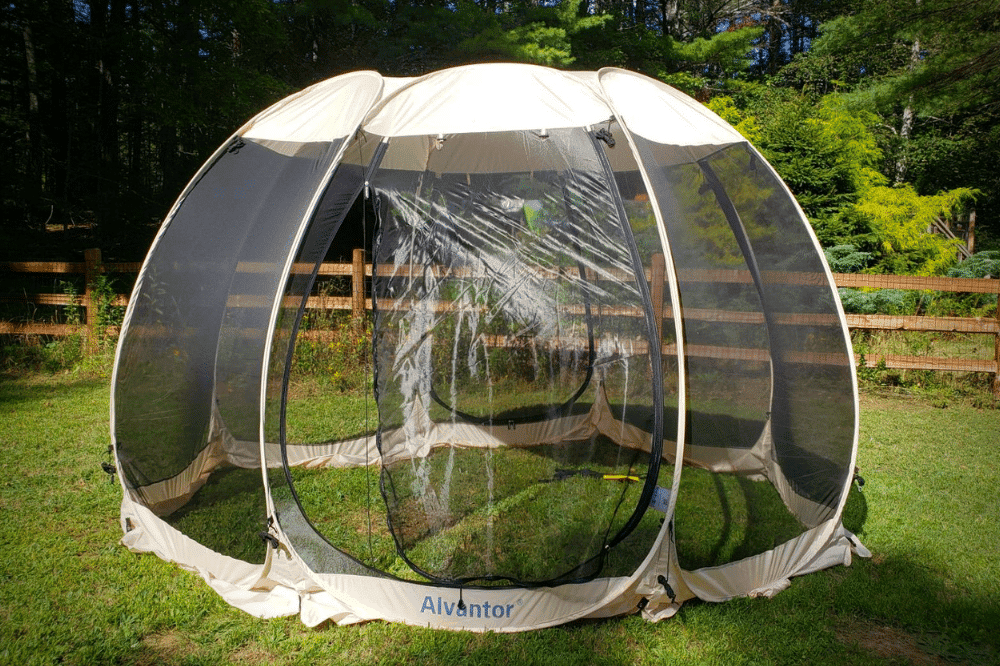 Waterproof screen tents to protect your from the rain
Winner: Alvantor Screenhouse
Screen houses aren't ideal for rainy weather. The mesh walls means that they can often let water in and offer little in the way of water resistance.
However, for light rains, the Alvantor waterproof screen tent is a great choice. It offers some mild protection from rainy conditions which can be good for passing showers. The speed of setup is why we awarded this screenhouse the best waterproofing rating.
The screenhouse can spring into action and provide some light protection to shelter you in the rain. After you feel a few drops, you can get this one up and over you before the shower really starts.
The Coleman WeatherMaster is also a great choice for wet weather camping thanks to it's water-resistant roof. It comes with water repellent fabric as well as the mesh screen room to provide shelter from light rains.
Top 3 Season screen tent
Winner: Coleman WeatherMaster
The screen walls in these tents means they can get chilly quick in cold weather.
The only tent that we'd consider taking out in the harsher months of Spring and Fall, this Coleman is the only tent that we can claim to be suitable for three seasons.
Whilst it still might struggle in stronger winds or heavy rain, the Coleman is more protective than the camping screen tents on this list.
Related: Fancy a camping screen tent to stargaze but want to go camping instead? Check out the best camping tent for star gazing.
Best screen house for durability
Winner: YDYL Screen House
Screen house tents aren't often made from the most durable material so don't expect them to last for decades like canvas.
But the YDYL screenhouse offers the most durable option out of these screen tents. Customers have found that it's a strong enough screenhouse to withstand fairly regular use in Summer.
Easiest screen house shelter to set up
Can a screened canopy tent be set up by just one person?
Winner: Alvantor Screen House
Screen tents are easier to setup when you have an extra pair of helping hands but that's not always the case. So which screenhouse should you go for if you're going to be setting it up alone?
Given that a 75-year-old can set up the Alvantor on her own, we have to say this is one of the best screen tents for camping as far as setup is concerned. We wish it were as easy to take down, though!
The SansBug is also super easy to pitch thanks to the instant pop-up design. Setup time is a matter of seconds with this tent. And the Coleman instant tents are an excellent choice too.
Which screenhouse is easiest to carry?
Winner: Quest Mesh Screen Tent
Due to the fact this screenhouse doesn't come with poles, it's the lightest option available on this list. That makes it super easy to carry, regardless of where you're going.
The Alvantor comes in a handy carry bag that makes it easy for taking car camping as well.
Screen house tent Frequently Asked Questions
What Is a Screen House / tent?
Screen tents (or screen house) is a tent-style shelter that's entirely mesh. It's basically a see-through tent that'll be no good in heavy rain or snow, but is wonderful at keeping bugs out of your face as you hang out during the day. It also offers some shade and UV protection.
Depending on the size, these beauties are great for sitting in a circle and playing a game with family, having beers with friends, fully enclosed in mesh.
Can you cook in a screen house?
You can cook in screen tents, but be wise about it. Choose a screenhouse that's tall and wide. You need room for the smoke to curl upwards and escape, and sides far away enough that any spitting or sparking doesn't reach them.
That's for cooking with a grill, though. You can cook using a hot plate in a small screen tent if you wish.
Which screen house offers the most protection? 
The Alvantor Screen House offers the most protection if we look at it that way. You can use it at home, out camping and even place it on top of round pools and hot tubs with no issues. The corners sit tightly against the sides of the tub without cutting off any of your pool space.
That said, the SansBug 1-Person Pop Up offers more protection as far as bugs are concerned. As it's the only one with a tarp floor, you're safe from crawling and burrowing critters. You can sleep in this pop up tent to keep the insects at bay.
However, it's a little on the small side for most peoples' needs.
Does a Screen house shelter offer sun protection? 
Screen tents offer some sun protection, but the sun's UV rays can still reach you—especially on sweltering days.
You can most definitely get a sunburn through screenhouses—you can even get one through the thin fabric of regular tents. Always wear sunscreen and sun hats if you wish to protect your face further. Screen tents may make you feel cooler, but it's not your saving grace from sun-related ailments.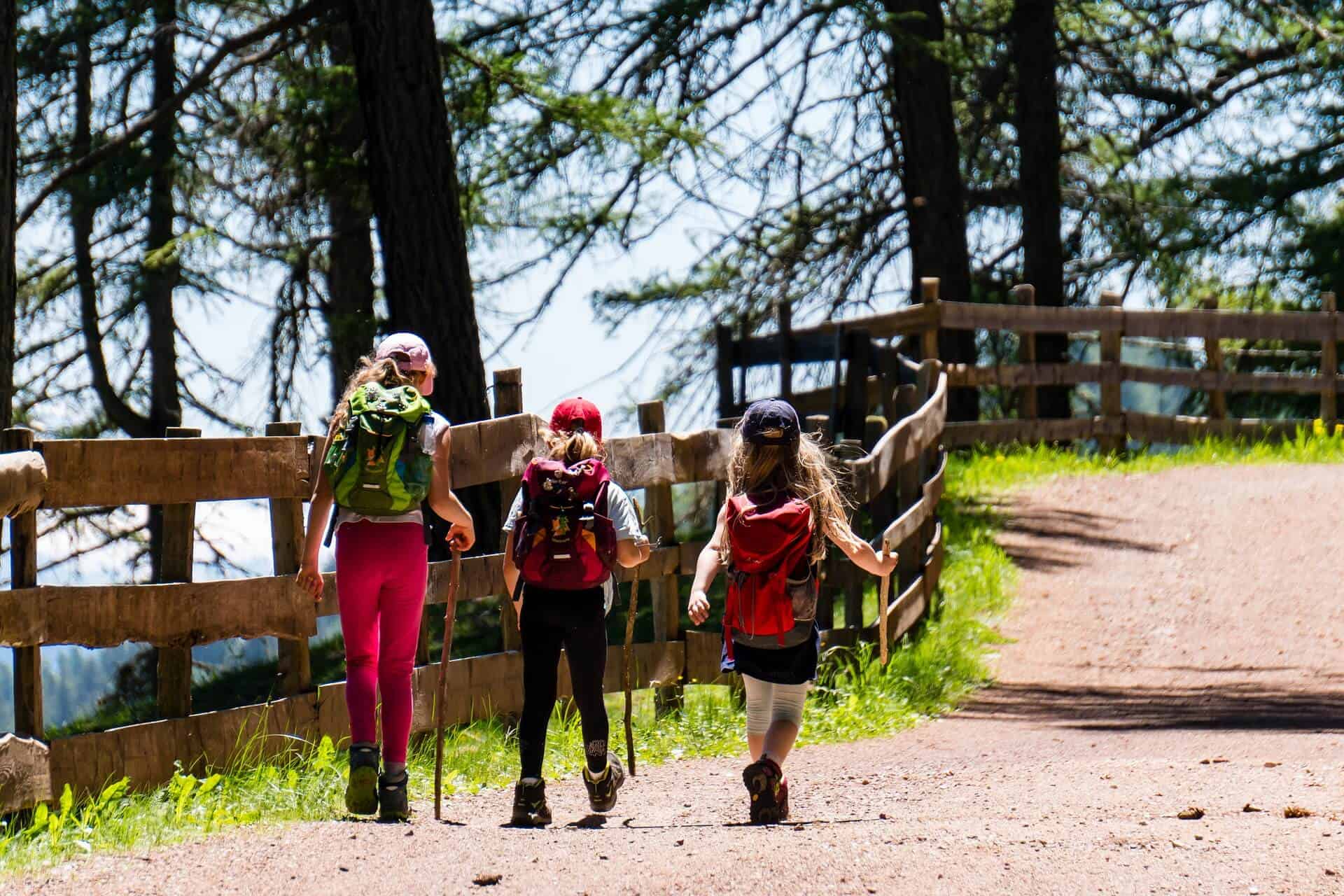 The Final Screening – the best screen tent for camping
The YDYL Screen House is the best instant screen house of this group. The screen tent is tall and wide, highly versatile, great for cooking and hanging out in alike. It's relatively portable on a calm day, but on a windy one you'll need to stake it in—don't forget to replace those stakes with long, sturdy metal ones.
If you'd rather a rounded tent you can use while camping as well as at home, the next best is the Alvantor Screen House. It's a wonderful, round shape, doesn't blow over easily and it can sit on top of furniture and hot tubs with no issues. All around a high versatile instant screen house.
Next up: Looking to cook on your camping trip? Make sure to follow safe food procedures to avoid food poisoning. Check out our guide on how to keep food cold when camping outdoors.