The Thermarest Neoair XLite NXT (2023) is the latest iteration of Thermarest's somewhat legendary NeoAir XLite sleeping pad.
Used by backpackers, thru-hikers and general camping enthusiasts the world over, do Thermarest's changes to its famous yellow mat justify the NXT's hefty price tag?
Keep reading our Thermarest NeoAir XLite NXT review to find out!
Check the latest prices for the Thermarest NeoAir XLite NXT using the links in the table below.
Our Verdict on the Thermarest NeoAir XLite NXT
The Thermarest NeoAir XLite NXT is fantastic. It solves the only real problem that previous iterations of the NeoAir XLite suffered from (namely, that moving about on it sounded akin to violently rustling newspapers together) whilst still maintaining all of the features which have made previous versions so appealing.
It's comfortable, easy to inflate, lightweight, easily packable, and comes in a very fetching bright yellow colour that'll surely make you the envy of all of your friends.
From this regular camper's perspective, it's a worthy recipient of a Best Buy award.
Pros
Comfort
Versatility
Durability
Great insulation
Much quieter than previous versions
Different sizes
Cons
Price
Potentially confusing name – be careful when choosing models
Who is the Thermarest NeoAir XLite NXT For?
✅ To put it simply: most people
✅ Back sleepers
✅ Side sleepers
✅ Thru-hikers
✅ People who camp and hike regularly
❌ Pricey option for irregular campers
❌ Car campers
Our Sleeping Mat Review Criteria
My review ratings for the Thermarest NeoAir XLite NXT are as follows:
Comfort – 8/10
Ease of Setup – 9/10
Portability – 9/10
Insulation – 9/10
Durability – 8/10
[8/10] Comfort
The Thermarest Neoair XLite NXT is comfortable. It's very slightly thicker than its previous iterations, and is a delight to sleep on.
Thermarest's clever double-locking "Winglock" valve also allows you complete control over how much air you'd like in the pad – with no danger of your fetching new yellow bed slowly deflating throughout the night.
Whether you choose to inflate the pad to its full tautness or whether you'd like to sink into the baffles a little bit more, then – the Thermarest NeoAir NXT will cradle you well. I've found that keeping a little bit of "give" in the pad leads to the most comfortable night's sleep – but that's just a personal preference, and it's best to figure out what works for you.
I tend to alternate between side sleeping and back sleeping, and I've never had any trouble sleeping on any version of the NeoAir over the years.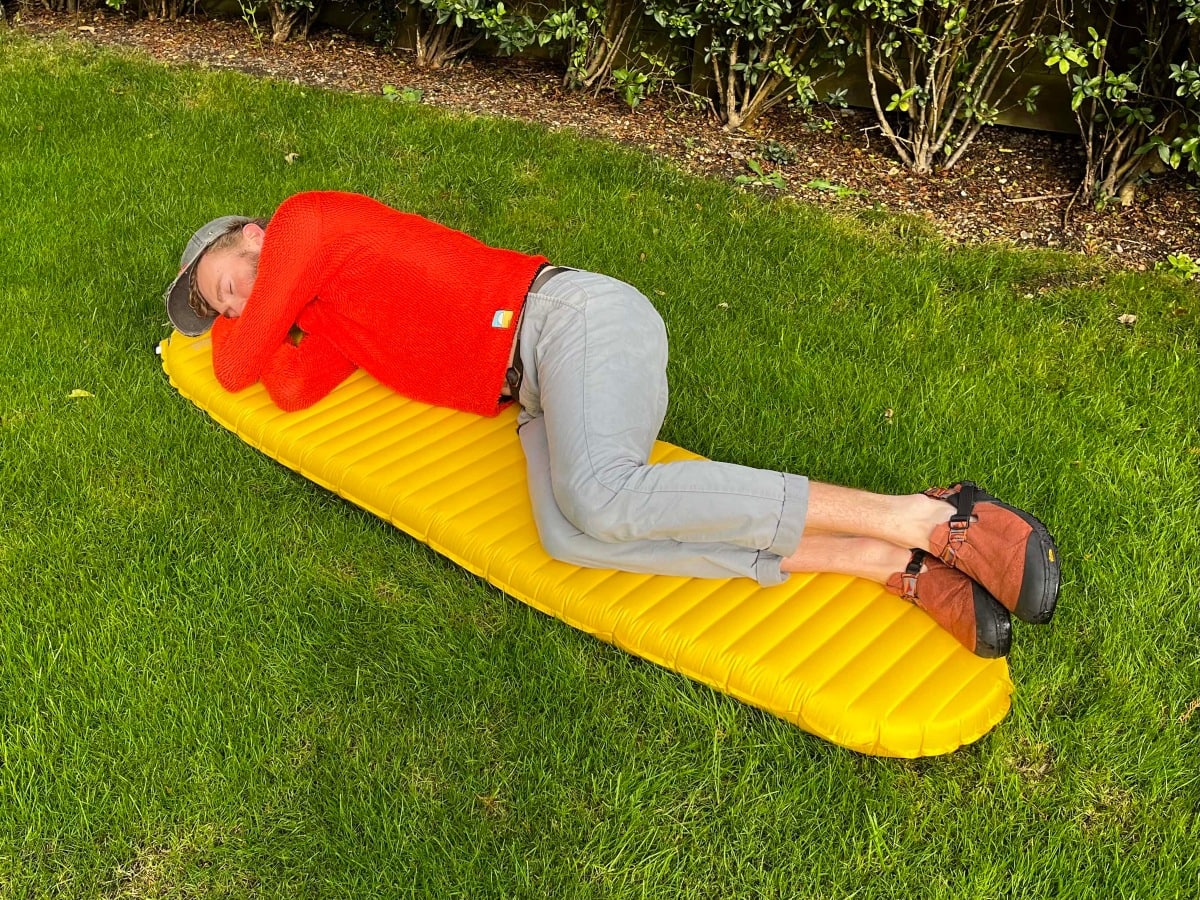 Also, although 'quietness' isn't usually a part of the criteria for a sleeping pad, it's definitely worth mentioning here.
With previous versions of the Thermarest NeoAir XLite, one slight movement on the pad and the whole thing would rustle about violently. Thanks to some clever restructuring of the internals of the pad, the newspaper-esque effect of previous versions has been erased almost entirely on the NXT. According to Thermarest, the NeoAir XLite NXT is up to 83% quieter than its predecessors.
No more crinkling, no more problems.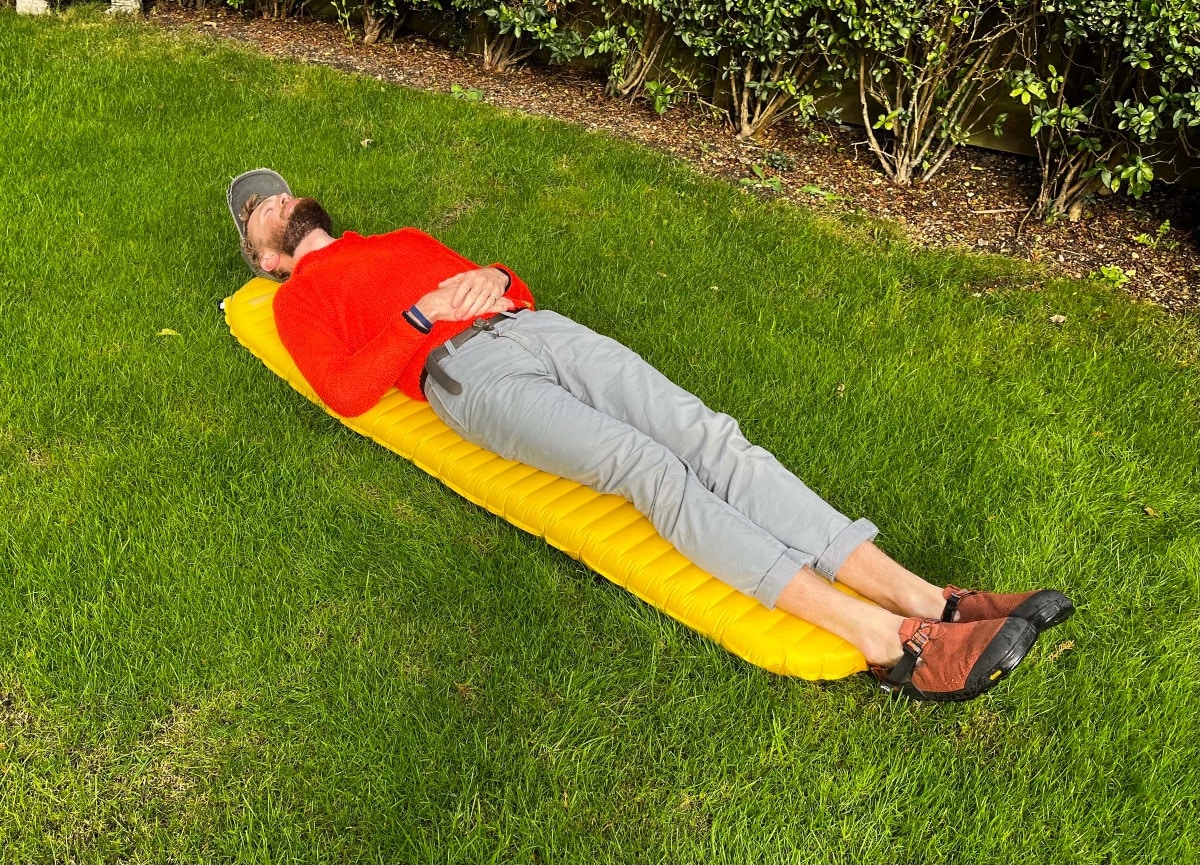 Finally, just a note on sizing. I'm 6ft, and tested the regular length version of the NXT – which is about the same height as I am – and I did find my feet dangling off the end of the pad as I endeavoured to keep my head fully supported. Knowing this, I definitely could've done with the extra length of the "large" version (196cm/6ft 4in).
[9/10] Ease of setup
Inflating the pad
The Thermarest NeoAir XLite NXT is very easy to inflate. It's not a self-inflating pad, so there's some work to be done – but in only 25 breaths and about 45 seconds my NXT was fully inflated.
The way in which the Winglock valve works is also pretty clever. The twisting "wings" on the side of the main valve act as something of a double lock, preventing any air loss from the valve when you're in between breaths. If you're getting a little short of breath, then, you can take a break and your pad will stay inflated.
Additionally, if you don't feel like blowing air directly into the Thermarest NeoAir XLite NXT (doing this over extended periods of time can actually lead to mould building up inside the pad), there's a pump sack included when you buy it.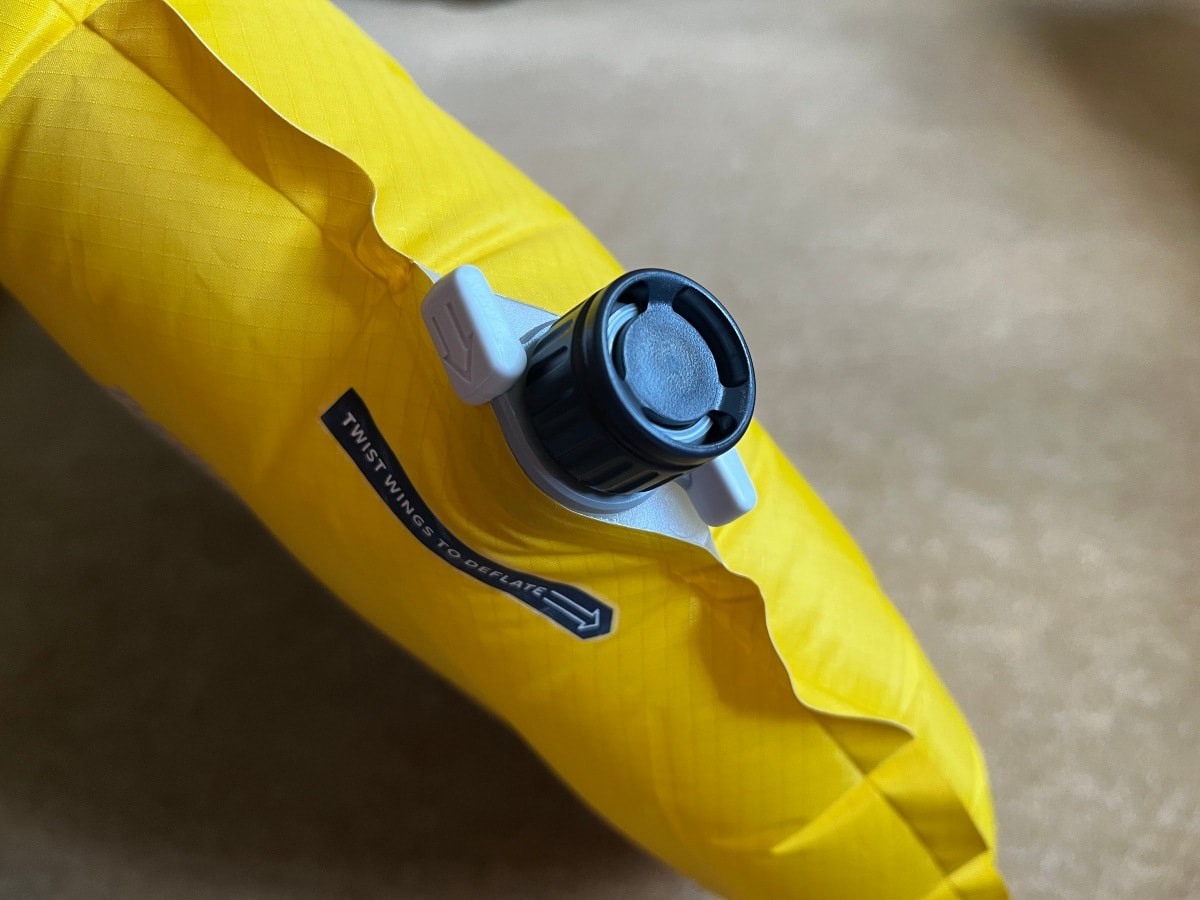 Deflating the pad
It's also important to note here that the Thermarest NeoAir XLite NXT is just as easy to pack down as it is to set up.
I've found that the best way of deflating the pad is to twist both nozzles on the Winglock valve at the top of the pad whilst still lying on it. The weight of your body will push the air out much faster than if you tried rolling all of it out (though you'll need to do that just to get the last remaining pockets out of the pad before rolling it away).
All told, it took me 45 seconds to fully inflate the Thermarest NeoAir XLite NXT, and about 90 seconds to fully deflate it. Not bad, right!
[9/10] Portability
In its regular length, the Thermarest NeoAir XLite NXT boasts a best-in-class weight of 370 grams, and folds up to about the same size as a Nalgene-style water bottle.
Finding a space in your pack for the pad, then, shouldn't be too difficult. And if you're struggling to find space inside the main body of the pack for it, it's small enough to fit in the water bottle pockets of some backpacks alongside a 1 litre water bottle.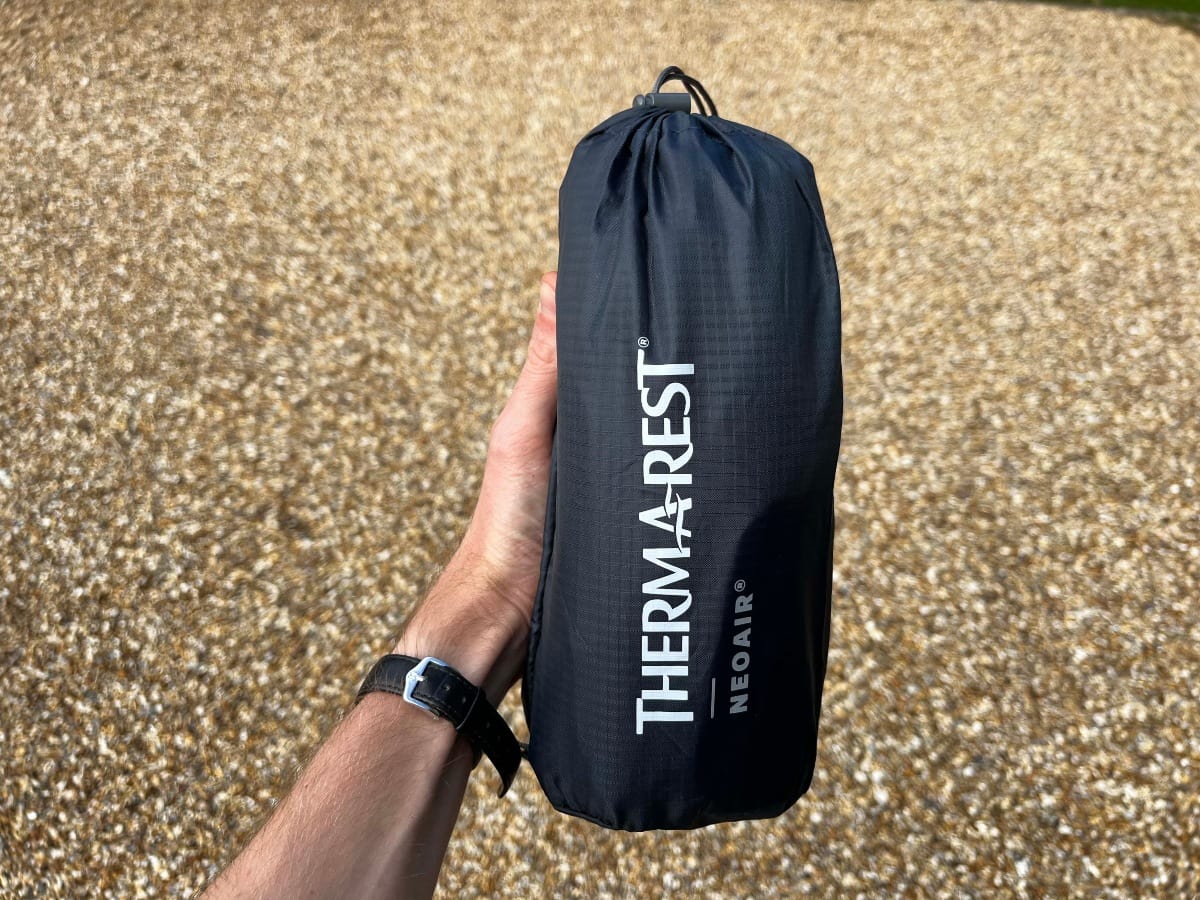 As a user of a frameless ultralight backpack, I actually use my Thermarest NeoAir XLite NXT as something of a frame for the pack itself. To do this, I fold the pad into thirds (once all of the air is rolled out), and slot it vertically in the back of the main body of the backpack.
This technique could be applied to any backpack, so if you're still struggling for space, give it a try.
[9/10] Insulation
The importance of a good sleeping pad can be overlooked in terms of having a warm night's sleep. It doesn't matter if you've got a lovely warm sleeping bag; if you're not getting insulation between your body and the ground, you'll be cold.
Luckily, insulation is yet another place where the Thermarest NeoAir XLite NXT excels.
The insulation of sleeping pads is measured in "r-value". The higher the R-value, the better insulation you get.
With an r-value of 4.5, the Thermarest NeoAir XLite NXT not only slightly increases its r-value from is previous generation, but also beats that of its closest competitor: the Nemo Tensor
Thermarest state that with its r-value of 4.5, the NXT would still be comfortable for a night's winter camping. Although I'm sure this is true, I'd probably want to opt for the slightly warmer Thermarest NeoAir Xtherm NXT if I were to head out camping in the snow.
I tested the Thermarest NeoAir XLite NXT on a somewhat autumnal night's wild camping in the South Downs, and stayed toasty warm all night.
[8/10] Durability
I've used two previous iterations of the Thermarest NeoAir XLite since 2016, and they only started to develop very slow leaks after being deployed for over 120 nights – each.
I haven't used the NeoAir XLite NXT for anywhere near that amount of time (yet) – but as the NXT is actually very slightly thicker than those previous versions, I can't see there being any durability issues to be concerned about.
Very occasionally, I have seen instances on other people's NeoAir XLites where the air baffles have split, resulting in a large bulge on the affected area (about the size of a party balloon) and rendering the pad essentially unusable.
I must stress, however, that this issue is few and far between, and I've only ever seen it happen twice in over seven years-worth of hiking around other people on long-distance trails.
It's worth mentioning, obviously, that the NeoAir XLite NXT is an ultralight sleeping pad – so it's not bombproof. It won't take well to being dragged around on the ground unprotected, so always remember to use some kind of groundsheet underneath the pad when using it. If you're camping in a tent, its inbuilt floor will do the job.
Alternatively, if you've chosen to spend a night simply out under the stars, you can buy ground sheets on their own.
On the whole, the Thermarest NeoAir XLite has always proved durable beyond belief for me (I once used one as a lilo on a windy lake in Oregon) – and I can't imagine the new NXT version being any different.
Value for money
There's no getting around it – the Thermarest NeoAir XLite NXT is expensive. At the time of this review (September 2023), REI price the regular-sized version of the NXT around $210.
The Thermarest NeoAir XLite NXT is, therefore, considerably more expensive than the other inflatable sleeping pads we've tested on this site – but it's also designed with a more ultralight-style of hiking in mind.
Also, think of it this way.
If you snag the NXT for $210 and use it for over a hundred nights (which it's more than capable of doing), you've not only got yourself a tremendously comfortable, durable, versatile and lightweight sleeping pad – but you'll be sleeping on your comfy yellow throne for the equivalent of only $2.10/night.
The nearest competitor to the Thermarest NeoAir XLite NXT is the Nemo Tensor, the prices of which tend to hover between $140 and $180 at REI.
Though these are indeed a little lower than that of the NXT, the weight savings, versatility, comfort and durability of the Thermarest puts it in a league of its own – and it's a product I wouldn't hesitate to recommend to most people looking for a comfortable night's sleep outside.
Price Comparison
Final Thoughts
The Thermarest NeoAir XLite NXT is a very well thought-out piece of equipment. Not only does it maintain all the great aspects of the previous versions, but it also solves the only real problem which the previous versions suffered from – the crinkliness.
Sure, it's quite expensive – but if you're looking for a pad that'll keep you going for many nights out on the ground, I can't recommend the Thermarest NeoAir XLite NXT enough.
Happy camping!
References
Thermarest, 2023. "Thermarest NeoAir XLite NXT Sleeping Pad" (accessed September 2023), available from:
https://www.thermarest.com/ie/sleeping-pads/fast-and-light/neoair-xlite-nxt-sleeping-pad/neoair-xlite-nxt-eu.html