Navigating the great outdoors can be a daunting task when your base layer fails to provide the comfort, durability, and temperature control you need. It's not just about discomfort, a subpar base layer can even pose health risks and affect your performance.
Enter the Montane Primino 140 t-shirt, a potential game-changer for outdoor enthusiasts.
Our Montane Primino 140 review dives into how this high-performing base layer may just be the solution to enhance your outdoor experience, keeping you comfortable and ready for whatever Mother Nature throws your way.
You can check the latest prices for the Montane Primino 140 using the links in the table below:
Note that I tested the short sleeve version, but you can also find it in a long sleeve model.
Our Verdict on the Montane Primino 140
I'm very impressed with the Montane Primino 140 t-shirt.
It's very comfortable and provides loads of flexibility but really it's the temperature regulation and sweat management that is second to none. It doesn't smell at all after hiking for several days straight without washing it.
I'm so impressed from testing it, in fact, that the Primino is now my go-to base layer for all my hiking and camping.
Now, it is on the pricier end of base layers and certainly won't be for hikers on a very tight budget. But this is one of those cases where I do think it's really worth paying extra.
In my experience, some cheaper merino wool base layers are just too itchy and the fully synthetic ones can sometimes stink after just a day of hiking. The Primino is comparatively just … worry free.
In terms of fit, the Primino is quite a tailored, tight fit. I'm a little more round than I want to be so I went one size up and I'm glad I did.
My review ratings for the Primino are:
Comfort: 10/10
Cold weather performance: 8/10
Hot weather performance: 10/10
Durability: 7/10
The performance of the Montane Primino 140 easily places it in our list of "Best Buy" products.
Who is the Montane Primino for?
✅ Hikers
✅ Backpackers
✅ Ultralight backpackers
✅ Campers
✅ Runners
❌ People on a tight budget
Our base layer review criteria
I've spent the past couple of months testing the Montane Primino.
My criteria for reviewing base layers includes:
Comfort including any itchiness with wool products.
Cold weather performance and warmth.
Hot weather performance, particularly capturing breathability and how it deals with sweat.
Durability and general quality of materials.
I also provide my thoughts later on how much value for money I think the Montane Primino 140 t-shirt provides, although this is very subjective so I don't provide a rating.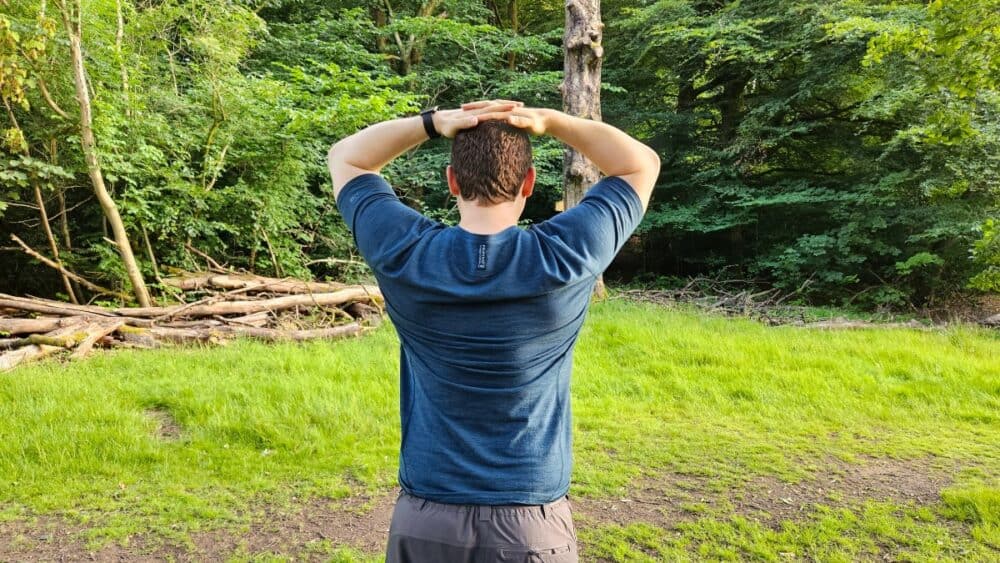 [10/10] Comfort
The Montane Primino 140 is a base layer that doesn't just sit well on your body, it feels very comfortable and soft too.
I did experience a slight itchiness when I first tried it on. This sensation lasts just for a few seconds, then it's total comfort all the way. Even the label, which can often be a source of discomfort, is not itchy.
The secret to the Primino 140's comfort is its innovative design. It uses flatlock seams, a smart design choice that significantly reduces the chafing often caused by seams. This means you can wear your Montane Primino all day without worrying about skin irritation.
Another standout feature of the Montane Primino 140 is the articulated arms. These are designed to ensure that the sleeve doesn't ride up even when your arm is fully outstretched. This is particularly useful if you're an active person who moves a lot.
Here's another thing worth noting: the Montane Primino 140 is quite fitted. This is a common trait with most base layers. But if you're not a fan of tight fits, you might want to consider opting for a size up. It's a small adjustment that can make a big difference to your comfort.
Now, let's talk about weight. Weighing in at a mere 130g, the Montane Primino 140 is incredibly lightweight. This makes it perfect for those who enjoy outdoor activities and need a base layer that won't weigh them down.
The Montane Primino 140 is also easy to layer under other clothing (but probably not over). You can comfortably wear it under another base layer without feeling bulky or restricted. This makes it a versatile piece that can be adapted to suit different weather conditions.
Summing up, the Montane Primino 140 is a well-thought-out base layer that combines comfort, practical design, and versatility. It's not just about the technical specs, it's about how these features can enhance your experience, whether you're out for a run, climbing a mountain or simply going about your day. Remember, the key to a great base layer is not just how well it fits, but how well it fits into your lifestyle.
Pros:
Very comfortable
Doesn't itch unlike some cheaper wool products
Flatlock seams to reduce chafing
Sewn in label to reduce chafing
Articulated arms for extra arm flexibility
Very lightweight at only 130g
Cons:
Very tailored fit, so might want to go a size up if you're a little round at the waist.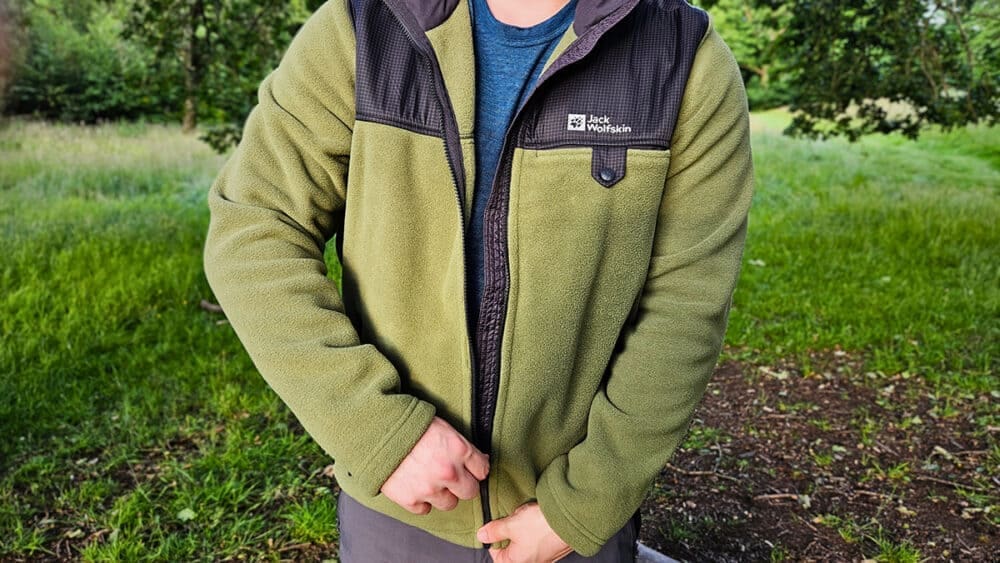 [8/10] Cold weather performance
In my testing, the Montane Primino 140 base layer has done a sterling job for me, especially when it comes to temperature control. The secret is its 50% merino wool content. This provides just the right amount of warmth when the temperature takes a nosedive.
However, if you're planning to use it in colder temperatures, I'd recommend opting for the long-sleeve version – it just gives that bit of extra coverage.
But what if you're facing off against some seriously cold weather? Well, in my experience with the Montane Primino 140, it's very warm for the weight. But in very cold weather it's worth doubling up on base layers for that extra warmth. Some people even wear the short sleeve Primino t-shirt underneath the long sleeve version which offers a great deal of flexibility.
The Montane Primino 140's blend of merino wool is crucial here. It's not just about staying warm but also about how this base layer regulates your body temperature, providing that much-needed balance, especially in challenging weather conditions.
All in all, the Montane Primino 140 has proved to be a solid choice for me. It's versatile, comfortable, and above all, warm when it matters the most. However, I'd say it's essential to consider layering up if you're going to be out in colder temperatures. After all, there's no such thing as bad weather, only inappropriate clothing!
Pros:
Excellent at keeping you warm in colder weather.
Merino wool is a natural insulator.
Doesn't make you too warm when you're very active.
Cons:
Warm given its weight but very cold weather will make you want to double up or use something heavier.
[10/10] Hot weather performance
The Montane Primino 140 is a real game changer when it comes to breathability and temperature control, especially in hot weather. This t-shirt has you covered against overheating and sweating.
Its moisture-wicking ability is great, whisking that sweat away from your skin to the outer surface of the t-shirt where it evaporates more easily. This keeps you dry and reduces chafing, a major step up from a cotton t-shirt.
One of the standout features of the Primino is that it's naturally odor resistant, thanks to the merino wool. In my testing, I found it stayed fresh even after half a dozen uses without washing. This means you can save space in your backpack and possibly even save money in the long run by not having to buy several base layers for one trip.
Montane also boasts UPF 50+ protection from the sun with the Primino's fabric, a handy bonus for those of us prone to t-shirt tan lines. As someone who has had the stripes of a t-shirt burnt onto them before, I'm happy knowing that I won't be rocking that look again.
In summary, the Montane Primino 140 ticks all the boxes for a base layer: breathable, moisture wicking, odor resistant and with added sun protection. It's difficult to identify any drawbacks in hot weather.
Pros:
Excellent moisture wicking and temperature regulation makes sweating and chafing less of an issue
Naturally odor resistant which means several wears before it needs washing
UPF 50+ protection from the sun
Cons:
[7/10] Durability
The Montane Primino 140 looks very well made and I could tell how high quality the t-shirt is when I rubbed it between my fingers. The seams are good, with no loose threads in sight.
Made of 50% merino wool and 50% polyester, it gives you a feel of stretchy fabric that can easily adapt to your movements. That's a big plus in my book, as flexibility means less likelihood of tears from sudden movements.
I also noticed it's received a lot of love from other users, which is promising.
However, I've found that it might be a tad fragile when confronted with the constant rubbing of backpacking shoulder or waist straps. If you're not layering up, this could be an issue.
And, after putting it through its paces, I've noticed some pilling, those annoying little fluffy balls that pop up with friction. It's nothing a fabric shaver won't fix, but it's something to keep in mind if you want it to look fresh off the rack.
And let's talk about washing. With its wool content, you have to tread carefully. The label suggests a forty-degree wash at a slow speed, and forget about tumble drying – it's a sure-fire way to deform the wool.
But if you run into problems, Montane's customer service has a solid reputation to fall back on. They've got a 4.8 out of 5 rating on Trustpilot, which speaks volumes. Plus, all their products come with a lifetime guarantee against manufacturing faults. Just remember, this doesn't cover typical wear and tear.
So, to wrap things up, the Montane Primino 140 is a high-quality, flexible t-shirt, but it might need a little TLC. Despite being prone to some pilling, I've found it to be a reliable option for the outdoors, as long as you treat it well.
Pros:
Very well made using high quality materials.
Stretchable fabric provides plenty of flexibility.
Great feedback and a highly respected brand.
Lifetime guarantee against manufacturing faults.
Cons:
Some piling around backpack straps which may wear through eventually.
No tumble drying thanks to its merino wool fabric.
What else should you know?
The color of the t shirt is as it's pictured online and it does look very stylish in person.
Value for money
You can definitely get cheaper base layers out there and, if you're on a very tight budget, you might want to prioritize better walking boots, trousers and a rain jacket over a high quality base layer.
The Montane Primino 140 is pricier than many other base layers and is certainly at the premium end of the market. From my testing, I think Montane have packed in a lot of quality to this product which justifies the price.
Do also consider that the anti-smell and anti-sweat features mean you'll likely be able to wear this base layer for a few days in a row without smelling too much. This might actually make a merino wool base layer more cost effective if you would otherwise have to buy several synthetic base layers.
Price comparison
At the time of first testing the Montane Primino 140 t-shirt (June 2023), it cost me £45 (~$60) to buy.
Review updates
01 August 2023: Review first published.
Wrapping up our Montane Primino review
My main thoughts finishing up my Montane Primino 140 review are overwhelmingly positive. These base layers have performed well on all the tests.
Yes, the Montane Primino t shirt is pricier than others on the market. But in my view you are paying extra for quality. The Primino has now become the default base layer I wear when I head out hiking and camping.
Happy camping! 🙂