I HATE the feeling of going to sleep on a camping mattress only to wake up in the middle of the night when it's completely deflated.
Thankfully camping mattresses have come a long way and these days a 3 am wakeup is not required.
Kamui offers a camping mattress that is fairly thick and reasonably priced. So armed with the Kamui sleeping pad and the OEX Traverse 2.5 sleeping pad, I headed out with my tent to try these out.
Spoilers – one of these products is great value for money. The other could well lead to a disaster of a night.
So how does the Kamui perform? Find out in our Kamui self inflating sleeping pad review below!
To see the Kamui chair's latest price, click the button below:
Overall verdict on the Kamui Camping Mattress
The Kamui sleeping pad sits somewhere between a typical sleeping pad, the sort you would take on a backpacking trip, and a camping mattress.
It's too heavy for backpacking, so I would put it under the "camping mattress" category rather than "sleeping pad".
I would class this as more akin to a camping mattress rather than a sleeping pad. That is, expect something that is bulkier, heavier but much more comfortable than the kind of thing you would take backpacking.
If you're looking for something in the middle ground that does fairly well on a budget, the Kamui pad will likely serve you well.
I'm looking forward to doing more of a head-to-head test against other pads soon, but I have put it up against the OEX Traverse 2.5 and the Kamui pad was MILES better.
For that reason, the Kamui gets itself a "Great value" award.
My ratings are as follows:
Comfort: 7/10
Ease of setup: 10/10
Portability: 6/10
Insulation: 8/10
Durability: 6/10
Who is the Kamui Sleeping Pad for?
The Kamui camping mattress works well for:
✅ Casual campers
✅ Families
✅ Car campers
✅ Glampers
✅ Festival goers
✅ Side sleepers
✅ Back sleepers
I would not recommend it for:
❌ Backpackers
❌ Hiking far to a camping spot
Our camping mattress review criteria
[7/10] Comfort
The Kamui camping mattress combines air with foam into what is a pretty comfortable mat. The foam inside helps contribute to what feels like a less bouncy and more stable camping mat than a number of the air-only mats out there.
The key test was placing a bunch of rocks and sticks underneath the mattress. This is where the other sleeping pad we tested, the OEX Traverse 2.5 sleeping mat, failed miserably. There was a night and day difference with the Kamui sleeping pad – I literally couldn't feel any of it underneath.This is likely thanks to both the 2 inch (5 cm) thickness as well as the foam interior.
Sleeping on this also didn't give me a sticky back like some of the very cheap camping mattresses out there.
I liked how firm the mattress could get. I personally love a firm mattress. But you can also use the nozzle on the side to easily let just a little air out and soften the mattress up if you wish.
There are a couple of drawbacks though. My sleeping bag did slip and slide on the fabric somewhat. It would be nice to have a rougher texture on the mattress to stop this happening.
And if you're used to sleeping on big inflatable mattresses at home, the Kamui is definitely not as wide as those. It's certainly much wider than many of the lightweight sleeping mattresses, but don't expect to have loads of room to spread out.
I did love the buttons along the side of the Kamui sleeping mattress. These let you connect as many other Kamui pads as you want – so you can essentially make one giant bed. This could be a great option for couples if you want the flexibility of being able to choose between single mattresses for solo camping and double mattresses when you're out together.
One of the big questions with all camping mattresses is will it deflate overnight? I didn't experience this at all with the Kamui. It held up remarkably well, even after several days.
Pros:
Very comfortable – I couldn't feel twigs or rocks underneath.
Thick enough to be good for side sleeping.
Didn't feel super bouncy.
Didn't give me a very sticky back when sleeping.
Buttons on the side to attach multiple sleeping pads together
Big enough for reasonably tall people.
Didn't see much loss of air over time.
Vent can be adjusted to let a little air out if you prefer a softer mattress.
Not too noisy when moving about.
Cons:
Sleeping bag slips around a bit
Not as wide as many camping mattresses
[10/10] Ease of setup
Setup is one of the areas that the Kamui sleeping pad excels as a self-inflating mattress. All you have to do is open the air nozzle and throw it on the ground. After five minutes or so, it has inflated itself to about 80% full. If you want a firmer mattress, you only need to blow through the nozzle a few more times.
This saves TONS of effort and you'll no longer come out of the tent looking like you've run a marathon.
I tested the Kamui's self-inflating features against the OEX Traverse 2.5 and it was significantly better.
Beware that many self-inflating mattresses need to be set up for a night before going camping to spend some time being inflated after sitting in a warehouse for a while. The self-inflation feature won't work properly until the second time. The Kamui is no different. You'll have to do this every time after storing it away for a while.
One draw back of the Kamui is all the foam inside takes a bit more squishing to get the air out when you're packing it away. It's one of those pads that you'll have to put your weight on as you're rolling it up.
Pros:
Self-inflating mattress – and it actually works!
Inflates fairly quickly on its own.
Setup is very easy and intuitive.
Cons:
Due to its self-inflation feature, it takes a bit of effort to roll back up.
No pump sack, although the self-inflation gets you about 80% of the way there.
[6/10] Portability
Comparing the Kamui pad to other camping mattresses, it's a little bit more lightweight than some other foam and air pads, but heavier than the air only mattresses. No surprise that the foam element makes these mattresses much heavier.
Compare it to the HI-GEAR Dream 5 Sleeping Pad, for example, which comes in at 2 kg and a packed size of 68 cm x 16 cm. The Kamui is a little less wide and long, but comes in at 1.6 kg and a packed size of 19 cm x 63.5 cm.
It's great to see it less heavy but the packed size is really quite standard. For a reference, when I was testing the size in my 60L backpack, it ran the full height of the backpack.
The score I've given the Kamui reflects:
It isn't as light as an air only camping mattress.
It's lighter than some similarly sized pads.
It has a very average packed size.
All of this is assuming that you aren't trying to take it out backpacking or hiking very far, since it shouldn't really be used for that.
Pros:
Lighter than some equivalently sized camping mattresses.
Cons:
Heavier and bigger than a sleeping pad. This is for car camping only.
Packed size is fairly typical.
[8/10] Insulation
The Kamui sleeping pad has an r-value of 5.7. This means that the pad's insulation is rated for four season weather, although not extreme cold.
My experience of the Kamui's insulation was very positive. I couldn't feel any cold coming up through the ground. And the r-value is a bit higher than a number of comparable camping mattresses out there.
Pros:
R value of 5.7 means good insulation
I couldn't feel any cold coming up through the ground
Cons:
Not for taking out in extreme cold temperatures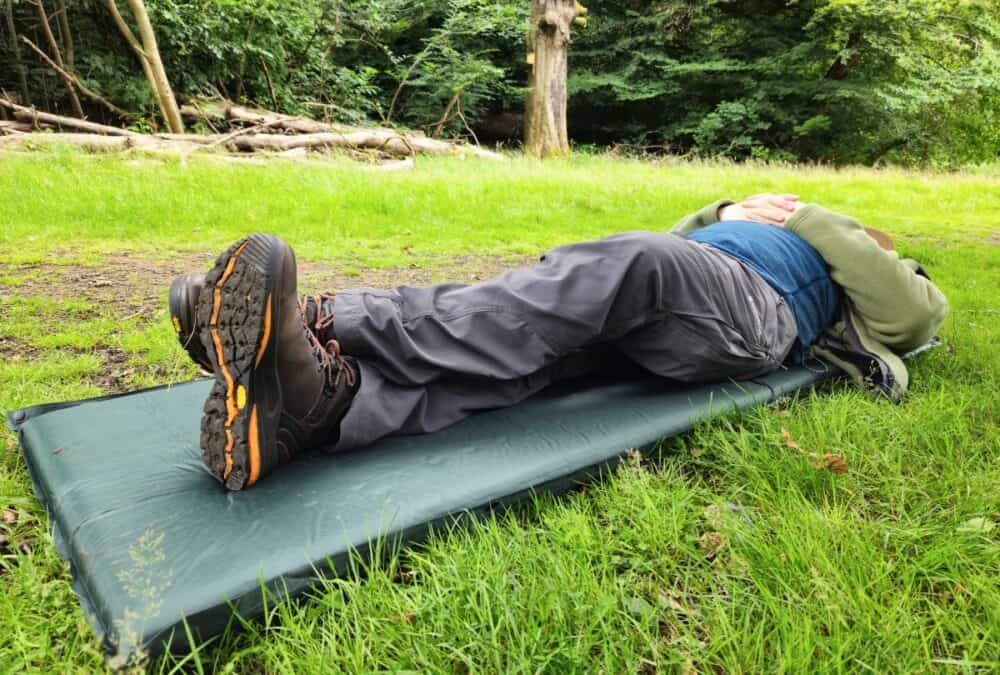 [6/10] Durability
My Kamui pad felt well made and sturdy. I can imagine it taking quite a lot of use over the years without getting damaged.
From my perspective, I've seen no issues with durability. But I have deducted some marks because I've seen that some other people have had issues in the past. For example, a giant air bubble forming on the sleeping pad after inflating it for the first time or some people finding it deflates over time.
Now all inflatable sleeping pads do have these issues. Requiring air pressure means sleeping pads are just one of those products that are less durable than, say, a classic foam pad.
Thankfully, Kamui is good at offering replacements and provides a one-year warranty. But do let me know in the comments if you have any issues as I'm actively monitoring the durability.
Pros:
Materials seem good quality when touched
I've had no issues yet
Warranty
Cons:
Some reports from others of issues
Value for money
At the time of this review, the Kamui sleeping pad was retailing at $48 / £39.
This is reasonably well priced. Similar pads can retail up to 40% more than this, particularly if you head to a high street store. However, at this price range there are quite a few alternatives online.
I would say the Kamui is a pretty good buy given the price, but not a must buy.
Price comparison
Review updates
01 August 2023: Review published.
Final thoughts on the Kamui sleeping Pad
To sum up my Kamui sleeping pad review, I thought the pad was pretty good. In my testing, I found it pretty comfortable, although not as comfortable as giant inflatable mattresses. In general, the Kamui provides good value for what it is.