Backpacking – getting into the great outdoors with everything you need to eat, drink, sleep in, shelter under, and survive with! Sounds like a hell of an adventure!
But being a bit of a newbie to these sorts of things, you're not 100% sure what you will need to stay happy, healthy, dry, blister-free, and well-fed on your trip. Congratulations! You've come to the right place! We've got a checklist for backpackers thinking about Ultralight adventures that will get you started on what you'll need to take with you when you venture into walking trails that you're dreaming about tackling.
In general, the more remote the area you are traveling to and the more bad weather you are expecting, the more it will impact your backpack load. You will need more clothing and rainproof gear if things are going to get wet or cold. You'll also need a lot more food and water, the longer you will be away for as well.
The key to a successful backpacking trip is to plan and use a checklist so you don't forget any backpacking essentials. Use our editable and printable backpacking checklist to plan your next adventure!
Backpacking Tents And Shelter
Lightweight tent and rainfly

Stakes/pegs

Mallet (or a rock)

Footprint (optional for ultralight crowd)

Add new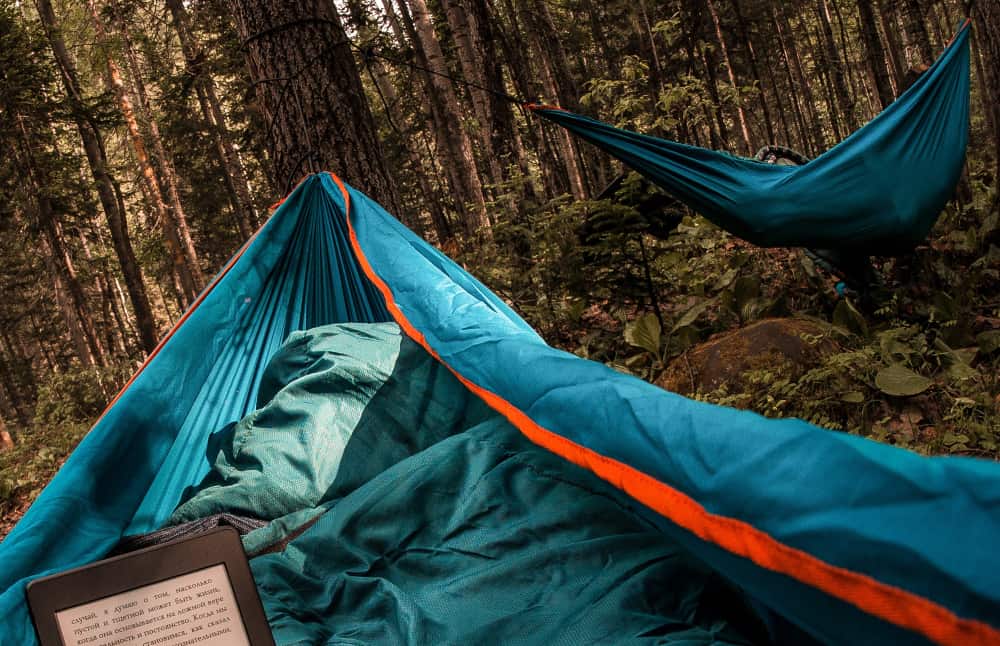 A Hammock with a rain fly and bug net is a viable alternative to a tent when you are hiking. It's often lighter and can be set up easily in bush camping areas. It's not so good on open plains and tree-less environments though…
The standard tent footprint can be replaced with a thinner one cut from plastic sheeting or ditched entirely depending on the ground you will be putting your tent up on to reduce weight even further.
Sleeping Bags, Pads And Other Gear
15-20° Lightweight sleeping bag

Sleeping bag liner

Stuff sack to keep your sleeping bag dry

Sleeping pad

Inflatable pillow

Add new
Backpacks and Walking Packing List
40-65 liter internal frame backpack

Hiking pole (Can double as a tent pole too)

Guide book for your thru trail

Boots and / or trail runners

Add new
Cooking Gear
Canister camping stove

Extra stove fuel, lighter

Firestarter – just in case

Cooking pot

Spoon

Multi-tool or Swiss Army knife

Dishcloth

Water purification system

Resealable plastic bags for food storage

Stuff sack for food

Add new
Eating And Drinking
Multi-use cup/bowl/mug/pot (One item to use for everything)

Knife and spoon

Water bottle

Water bladder

Add new
Wet weather protection To Stay Dry Backpacking
Rain and wind jacket

Waterproof pack cover

Add new
Outdoor Clothing
Wool or synthetic base layer – that you literally won't take off

Fleece or down mid-layer

Insulating jacket, top layer, down or synthetic

1x Hiking bottoms. Synthetic

1x Rain and wind jacket

1x Rain pants – check your guide to see if you'll need them on your trail

2x underwear, 1x sports bra

3x Merino Wool Socks (one for camp, two for walking)

Woolen gloves, if it will be cold

Beanie. Merino or synthetic

Plastic bag for dirty/wet clothes

Stuff sack to keep camp clothes dry

Camp clothes: Wool polyester or synthetic leggings and a spare top

Camp shoes/sandals to give your feet a break

Add new
You might want to bring a spare pair of thick socks for cold nights.
Toiletries Packing List
Toothbrush

Toothpaste

Antibacterial soap

Small quick-dry towel

Hairbrush

Toilet paper

Toilet trowel

Medications

Waterless hand sanitizer

Anti-chafe

Add new
First Aid Kit
Antiseptic wipes

Antibiotic cream

Gauze pads

Ibuprofen or preferred painkiller

Anti-diarrhea tablets

Antihistamine

Sewing needle with dental floss for thread

Blister tape

Duct tape (works as a bandage, splint, covering)

Add new
Personal Protection
Sunglasses

Insect repellent

Sunscreen

Chapstick or lip balm

GPS subscription

Add new
Tent Lighting And Flashlights
Headlamp

Spare Batteries

Add new
Luxuries
Smartphone/phone case and power bank

Notebook and pencils (pencils write on wet-ish paper)

Downloaded books, star charts, and field guides

Camera

Deck of cards

Add new
Useful things For Backpacking
Watch

Parachute cord

Emergency beacon

Tent pole repair

Compass or navigation device

Credit card/cash/Identification

Bear Spray

Head Net

Whistle to attract attention

Add new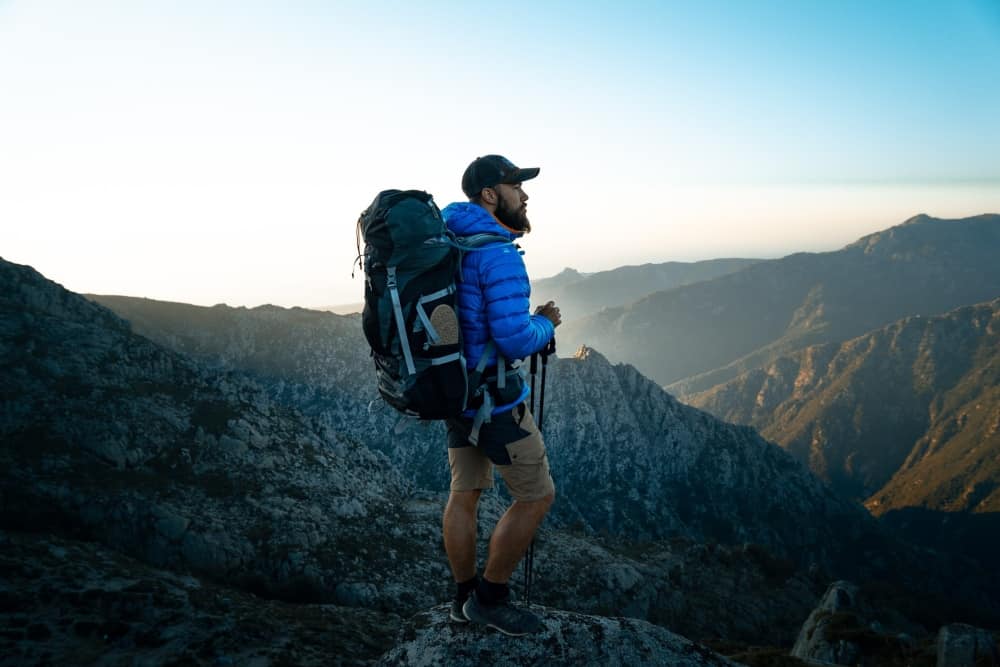 Backpacking Food ideas and suggestions
Breakfast: Pancakes, granola, dried fruits, protein bar, instant hot cereal, powdered scrambled eggs, tortillas, cereals, coffee
Lunch: Crackers, pouch tuna, salami, noodles, pita or tortillas
Dinner: Dehydrated dinners, instant mashed potato, instant noodles, falafel mix, instant rice, soups, dehydrated chicken or beef, mac and cheese, dehydrated risotto, pasta
Snacks: Energy bars, jerky, hard cheeses, nuts, dehydrated or freeze-dried fruit, pretzels, protein bar, peanut butter
Dessert: Chocolate bar, lollies, crumbles, pancakes, protein bars, marshmallows!
Suggested backpacking food list
| | | | | | |
| --- | --- | --- | --- | --- | --- |
| Meal | Day 1 | Day 2 | Day 3 | Day 4 | Day 5 |
| Breakfast | Eat at the trailhead | Granola and fruit | Pancakes | Scrambled eggs in a tortilla | Oats and dried fruit soaked over night |
| Lunch | Fresh sandwich | Pita with tuna | Crackers with cheese and Salami | Instant noodles & poached salmon | Instant rice and dehydrated veggies |
| Snack | Fresh fruit | Nuts | Pretzels | Dehydrated fruit | Jerky |
| Dinner | One pot meal | One pot meal | One pot meal | One pot meal | At home or on the road home |
| Dessert | Chocolate bar | Boiled lollies | M&M's | Gummy bears | Ice cream from your freezer! |
Tips, Hints, and Hacks for first-time backpackers
Aim for 2500-3500 calories a day in food. Lightweight but calorie-dense foods are what you're looking to carry with you.
Bring food you actually like. Don't try new food while you are tired and need the energy. Great time for breaking out your favorite comfort foods.
Plan your meals – don't bring random food and try to make it last.
Bring a variety of foods to keep you interested and a balance of fresh, dried, salty, sweet as well as carbs, fats, and proteins.
Fresh and heavy foods are best eaten on the first few nights of your trip.
Shelf-stable foods are what you are looking to take with you. You might have to take them out of the box before you pack them though.
Always pack an extra day's food – just in case.
And a few other things to think about before leaving home
It's a good idea to make sure you have any permits, directions, and contact details printed before you leave just in case your phone is out of range when you get to the trailhead. A paper-based map of the trail or a downloaded copy is going to be handy if phone coverage is patchy where you are planning to walk.
Always check the weather forecast before you leave. And if it's an area that's new to you it's a good idea to know what the fire ban status of the area is, and what dangerous animals or toxic plants you may encounter on your hike.
Always leave with a full tank of gas in the car, and remember to tell someone exactly where you are going and when you'll be back. Leave an itinerary with a friend and one under the front seat in your car too!
Relax and enjoy the experience – you'll remember the first time you went on a backpacking trip forever!
Stay safe! Happy Camping 😊
Next up: Looking for a specific length of trip? Check out our backpacking checklist 3 day trip.