So you want to take camping to a whole new level and try hiking and trekking for a week or so. It's a great idea and you'll have lots of fun and learn a heap of things about yourself – BUT it's very different from car camping.
You'll need to ditch lots of stuff that you can carry in a car and lighten the load as much as you can so that you have the essentials and don't want to put too much pressure on your feet and knees with an unnecessarily heavy load.
So what exactly will you need on your first week-long hiking trip and what can you ditch? We have compiled a list of what you will need for the week along with hints, tips and suggestions for people attempting a 7 day backpacking trip for the first time.
Check out what you will and won't need in our 7-day backpacking checklist!
Shelter
Lightest tent, poles, and rainfly

Stakes/pegs

Mallet or rock

A extra tarp for sun/rain if needed

Add new
Are you facing analysis paralysis in choosing your tent and just want a fun few days of camping? Check our our guide to great small 2 person tents.
Sleeping
15-20° Lightest sleeping bag

Inflatable sleeping pad

Stuff sack to keep your sleeping bag dry

Add new
Walking
Hiking or trekking poles

Boots and / or trail runners

40-65 liter internal frame backpack

Permits

Add new
Cooking & Eating
1x Cooking pot

1x Spoon or spork

Multi-Tool incl knife

Canister camping stove

Extra stove fuel, lighter

2x firestarters – just in case

Resealable plastic bags for food storage

Stuff sack for food

Water bottle or bladder (personal preference)

Bear bag/canister (if required by park regulations)

Dishcloth

Water purification system

Add new
Wet weather protection
Rain and wind jacket

Waterproof pack cover

Add new
Clothing
Wool or synthetic base layer – that you literally won't take off

Long-sleeved mid-layer

1x Hiking bottoms. Synthetic

Insulating jacket, top layer, down or synthetic

1x Rain pants – check your guide to see if you'll need them on your trail

1x Rain and wind jacket

Woolen gloves, if it will be cold

Beanie. Merino or synthetic

2x underwear, 1x sports bra

3x Socks

Plastic bag for dirty/wet clothes

Stuff sack to keep camp clothes dry.

Camp clothes: Wool polyester or synthetic leggings and a spare top

Camp shoes/sandals to give your feet a break

Add new
Take merino wool socks if you can. One for camp, two for walking and, if you want, an additional thick pair of socks for cold nights.
Toiletries
Toilet paper and ziplock to carry out used paper

Toilet trowel

Fold up toothbrush

Sample size toothpaste

Antibacterial soap

Medications

Waterless hand sanitizer

Small quick-dry towel

Hairbrush

Anti-chafe

Add new
First Aid Kit
Gauze pads

Duct tape (works as a bandage, splint, covering)

Antibiotic cream

Painkiller

Anti-diarrhea tablets

Antihistamine

Sewing needle with dental floss for thread

Blister tape

Add new
Personal Protection
Sunscreen

Chapstick or lip balm

Sunglasses

Insect repellent

GPS subscription

Add new
Lighting
Headlamp

Spare Battery

Add new
Luxuries
Smartphone in a protective phone case and power bank

Download a guide to your walking area

Downloaded books, star charts, and field guides

Notebook and pencils (pencils write on wet-ish paper)

Camera

Add new
Useful things
Compass or navigation device

Credit card/cash/Identification

Watch

Parachute cord

Emergency beacon

Tent pole repair

Add new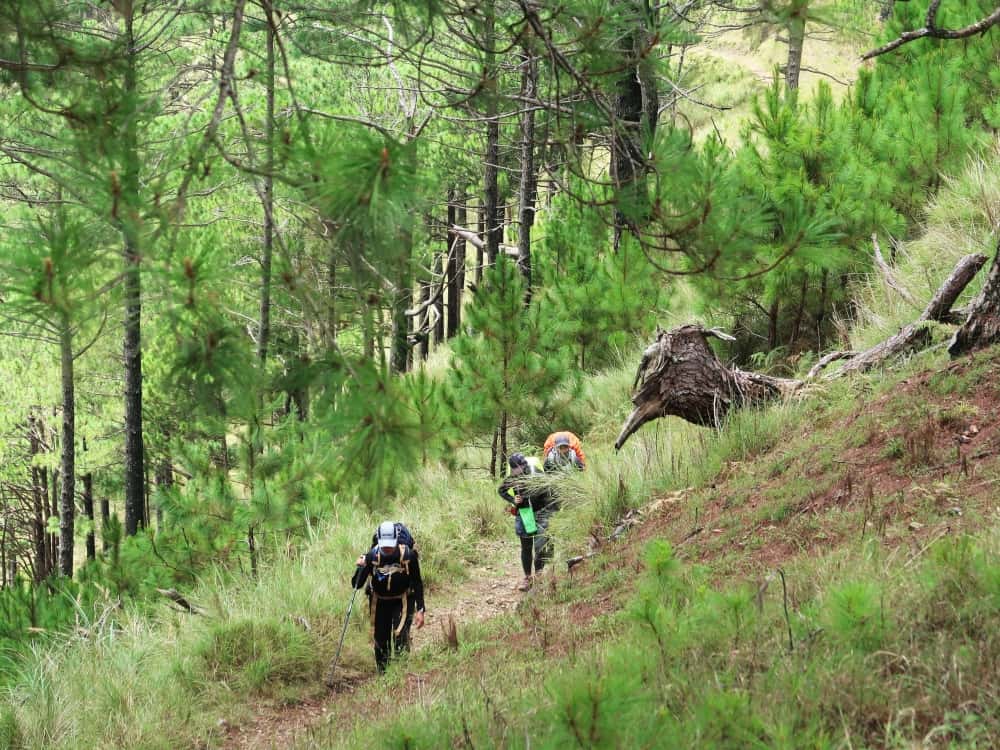 Hints, tips, and hacks for first time 7 day backpackers
Packing
Use a list. Don't forget any of the essential things that you will need.
The big four that weigh the most and take up the most room are your backpack, tent, sleeping bag, and sleeping pad. These are the items to cut the most weight from by getting the lightest ones you can.
Think about using a hammock with a rain fly and bug net, a Bivy or a Tarp setup rather than a tent to save even more weight.
If the ground is soft enough, you may be able to leave the tent footprint behind.
Don't take too many clothes. It's a typical beginner's miscalculation. Embrace the dirt and save your back, knees, and feet. A warm base layer, two sets of alternate hiking clothes, and a dry, warm set for camp are all you will need. Truly.
Get a pack that fits you properly. Seven days is a long time to be uncomfortable…
Ziploc bags are your backpacking friend. They keep items dry and waterproof and can retain the smell of used toilet paper and food scraps really well as well. Don't skimp on the quality of a ziplock bag!
Pack the lightest gear first (yes, Your sleeping bag goes on the bottom) and keep the heavy gear towards the top of your pack close to your body to keep your balance when walking rough terrain.
Food
Eat your heaviest foods first. Your neck, back, and shoulders will thank you as the days roll on!
Plan your meals. Don't take random food and try to create meals from what you bring along. You can get away with that when you are car camping and can bring food "just in case," but out in the backcountry, you need to have enough good high calorie food each day.
Bring a treat to look forward to each day. A chocolate bar, some boiled lollies, and a few gummy bears can make all the difference to your mood!
Use your cooking pot as a mug, cup, plate, and bowl to save weight and space.
A long-handled spoon and a knife will be all you need to open packets, cut things up, stir and eat with. Don't bring a whole dinner set of cutlery. Let as many things as you can multi-task or have multiple uses.
Clothing
Always wear shoes that have already been broken in. A week's hiking trip is not the place to test or break in new shoes.
A pro tip: Waterproof boots and shoes take a lot longer to dry out than non-waterproof footwear does once you get it wet in a creek or river..
Cotton is not the best material for hiking. It absorbs moisture, doesn't wick away from the skin, and is a poor insulator. It also retains odors really well… Go with woolen or synthetic hiking clothes for durability, warmth, and performance.
Walking
Drink as much as you can at every opportunity. Water is heavy and best carried in your stomach than on your back.
Make sure you are fit enough before you leave by training with your (full) backpack and boots so you know what needs adjusting.
If you rely on electronics for maps, cameras, navigation, etc, bring along a power pack to recharge it.
A seven-day backpacking trip is a fantastic trip to plan and actually finish. The sense of accomplishment on completing a week of living off your back is just incredible and can up your self-confidence no end. But the devil is in the detail, so make sure you plan and prepare for these types of trips and don't attempt them on a whim.
Pack and repack. Check and recheck. You don't want to be out on your first night without food, water, matches, or a tent! Make sure you are fit enough and have used everything you are taking with you before you leave. Don't wait until it's dark and raining and you're wet and hungry to figure out how to use that brand new camp stove!
The more often you do multi-night hikes, the more you will know what works for you and what doesn't. You'll be able to know what gear you need for your level of comfort and what your body can handle. The best way to make decisions about gear is to use it in the field!
This list has been compiled to give you an idea of how much (or how little) you will need to do these 7 day backpacking hikes and to start you thinking about planning and working towards knocking over one of your own first-week long hiking trips!
Happy Hiking!😊
Next up: Looking for a shorter trip? Check out our 3 day backpacking checklist.
Next up: How do all the different types of tent poles stack up? Find out in our guide to aluminum vs fiberglass tent pole comparison.