If you want to amp up your outdoor camping experience, get yourself a screen house tent.
Like regular tents, a screen house shelters you from the rain, shades you from the sun, and protects your belongings. But It's more than just that.
In this article, we'll discuss everything you need to know about screen house tents. What is a screen tent, and is it worth it? Let's find out!
Related: Looking for a screen house? Find out what the best screen house for camping is.
What Is a Screen House Tent?
As the name suggests, screen house tents, also known as shade tents or dining shelters, are tent-like enclosures with see-through walls. As such, these tents allow you to view the natural world without the nuisance of mosquitos and other bugs.
Screen house tents are designed in a variety of ways. Some are made with plastic screen walls, while others are made with mesh walls. While mostly used for summer seasons, they can also be utilized in rainy or snowy seasons with the right gear.
What Is a Screen House Used For?
Screen house tents are designed to provide shade, protect you from the rain, and keep insects out, allowing you to enjoy the outside world without the constricting four walls of a regular tent. They're basically portable, waterproof living rooms.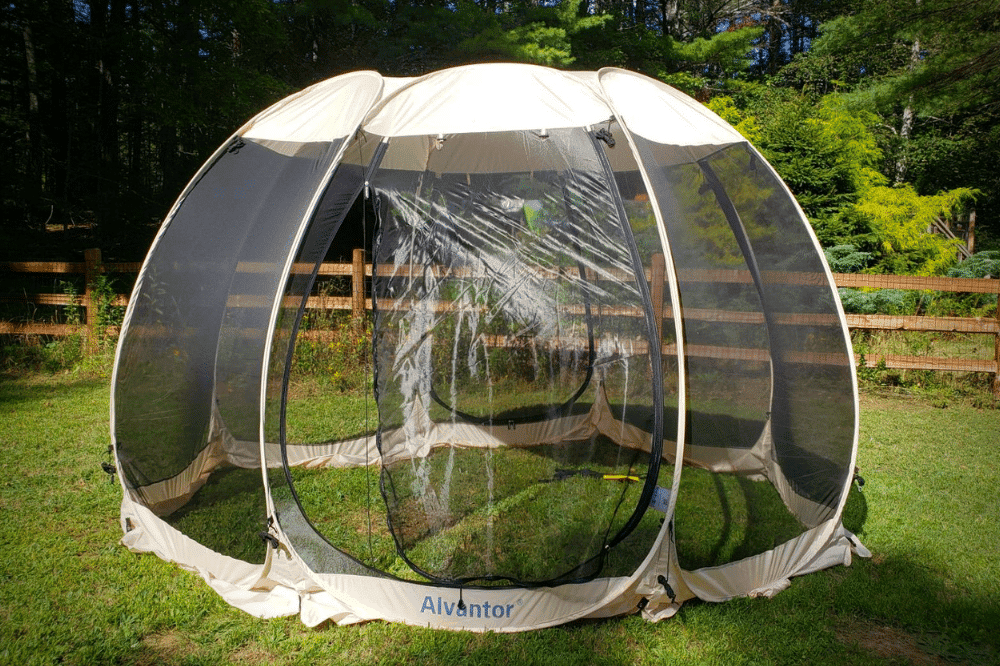 Here are some of the best uses of screen houses:
Great for Picnics
Screen house tents allow you to enjoy your food without being pestered by annoying insects. Since they're fairly large, you're given a decent amount of space for a full-sized picnic table.
Avoid Bugs When Camping
Bugs are arguably the most annoying part of camping. They cause sleepless nights and leave infuriatingly itchy bites that can ruin anyone's day.
Luckily, bugs aren't an issue with screen house tents. They're a refuge from mosquitoes and other insects trying to disturb the peace of camping. Since they're see-through, you can look up at the stars and enjoy nature as-is without the buzzing and biting of insects.
Sun Protection
Most screen house tents are designed with UV-glare screen shields and solid roofs, protecting you from the heat and glare of the sun. Some even feature fold-out awnings, further extending the shade provided by the structure.
Light Rain Cover
Screen houses, particularly those made of plastic structures, provide decent coverage from the rain.
With these tents, you can watch the rain without getting wet.
For increased weather resistance, most screen houses have waterproof seams.
Are Screen Houses Waterproof?
Screen houses are made with waterproof materials to keep the rain out during unexpected downpours.
The roof covers the whole body of the screen house, protecting inhabitants from the rain.
Can You Sleep in a Screen House?
Technically, yes, you can sleep in a screen house. If your sleeping tent is unbearably warm, you'll find relief sleeping in this tent.
With that said, it's not the best place to sleep in because it doesn't offer privacy or protection against light.
Can You Cook in a Screen Tent?
One of the many advantages of screen tents is ventilation. Unlike regular tents, you can cook inside a screen house tent without filling it up with smoke.
However, you need to apply proper safety hazards while cooking inside a screen tent.
Most screen tents are made from polyester or polyethylene, which can melt and even ignite into flames exposed to too much heat.
Furthermore, the burning gas could permanently stain your ceiling.
Although possible, it's best to leave the cooking outside to prevent any fire-related accidents from occurring.
Conclusion
Screen house tents provide a safe place for lounging, eating, and enjoying the company of friends and family members.
Since they're made with the same material similarly used in mosquito nets, they protect you from annoying insects.
This way, you can enjoy nature as-is without risking insect bites.
Next up: Want to make cooking easier next time you're out camping? Set up a camp kitchen! Find out how with our camp kitchen checklist.