So you're thinking about buying a backpacking tent? Or maybe you've been out camping a few times and are ready to upgrade to something a little more legit?
In either case, you may have heard mention of "double wall tents" and started wondering what all the fuss is about.
Wonder no more – in this blog post, we cover everything you need to know about double wall tents, including what they are, how they work and why they might be right for you. Stay tuned!
Related: If you're in the market for a huge tent, you don't have to settle for a single-walled one. Check out our guide to the best 12 person tents.
What is a double wall tent and how does it work?
A double wall tent is a tent with two walls. A double wall tent has an outer layer (the rainfly) and an inner mesh tent. The rainfly makes the tent waterproof but it is not breathable while the inner tent is not waterproof but provides ventilation.
What is a double skin tent?
A double skin tent is just another name for a double wall tent.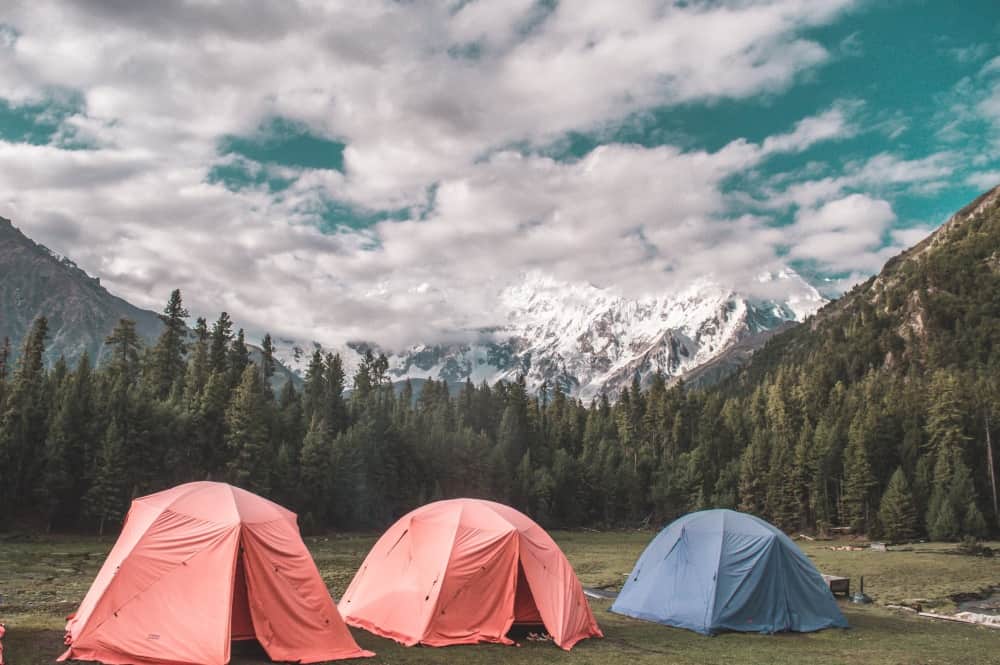 What are the advantages of using a double wall tent?
The advantages of a double wall tent are that it provides privacy and protection from rain. The double-wall design also keeps the bugs out while letting fresh air come in.
With single wall tents, there's always a risk that any gear touching the tent wall will break the surface tension and let in water. If you've ever had the displeasure of waking up in a pool of water, you'll want to try your best to avoid this.
The design of the double wall tent means that you only touch the mesh sides, avoiding any rain leaking in.
Making sure your tent is staked down properly is important to keep you and your gear dry. In addition, make sure to tension the rainfly correctly – it may need adjusting after setup. This process is more fiddly with double-walled tents, which require more staking and guy lines.
What are the disadvantages of a double wall tent?
The disadvantages of a double wall tent are that it is heavier and bulkier than other types of tents. It is also slightly more expensive to buy and takes longer to set up (especially in the wind).
When is it best to use a double-wall tent
Double-wall tents work best in humid environments where it's typically raining. They're also great if you need extra space for gear storage and you're worried about touching the side of the tent.
Single-wall models work best in dry and cold environments. Some ultralight backpackers also prefer single wall tents due to their lightweight nature.
Conclusion
Double-wall tents are a great choice for anyone that lives in a humid environment, as they're less likely to have condensation issues than single-wall tents in these conditions.
Although they are heavier and take longer to set up than other types of tents, the benefits of using a double wall tent definitely outweigh the disadvantages for most people. The major exception here is ultralight backpackers, where every pound counts.
Next up: Are you finding yourself getting a little chilly in your tent? Find out how to make your tent warmer in five simple steps.
Or perhaps you're still considering a single wall tent? Check out our guide to what is a single wall tent?
Was this post helpful?
Let us know if you liked the post. That's the only way we can improve.