You really want to go camping outdoors for the weekend as a couple or as a family with the kids AND have a good time but it's a completely new experience for you. You don't want to be one of those people who leave home wondering, "Did I pack everything?" So sensibly, you are looking for a weekend camping equipment list!
Most car camping sites have space for your car, a place to pitch a tent, maybe a picnic table and sometimes even a bathroom, So there's no reason to be uncomfortable on a weekend camping trip.
We've got a list of the essential things you will need as well as the things that could be handy on your weekend camping trip. We've divided the weekend camping checklist into easy sections for you to tackle each camping gear category in one hit.
We can have you packed and ready to go in a couple of hours! Add and remove items from our editable and printable list depending on how you choose to camp and let's get packing!
Sleeping Packing List
Tent, poles, stakes/pegs, mallet, rainfly, or tarp

Groundsheet, footprint, or tarp

Sleeping bag, sleeping pad, air mattress, sheets, blankets

Pillow

Add new
Related: Looking for a great family tent? Check out our reviews of the best 8 person camping tent.
Kitchen Gear List
Camp table

Camp chairs

Tarp or shelter

Portable camping stove or campfire materials

Extra stove fuel, lighters, matches, firewood, firelighters

Cooking pots and pans

Large bowl

Stovetop kettle

Cooking utensils (Wooden spoons, tongs, flippers, spatula)

Can opener, corkscrew, bottle openers

Cutting board and knives

Cooler with ice or ice packs

Rubbish bin/bags

Bucket/Basin for dishwashing, scrubber, detergent, tea towels, dishcloth

Large drinking water container with potable water or water purification system

Food containers and resealable plastic bags for food storage

Foil and paper towel

Marshmallow cooking sticks

Dustpan and brush for cleaning out your tent

Add new
Eating And Drinking
Plates and bowls

Knives, forks, and spoons

Mugs and water cups

Wine glasses

Water bottles

Food

Add new
Wet weather protection To Keep Dry While You Camp
Tarp, poles, ropes, stakes

Rain jackets

Clothesline and pegs

Add new
Clothing And Footwear Suitable For Hiking
Bag for clean clothes

Quick-drying suitable outdoor clothing for the season

Suitable nightwear

Sun protection (Hats, sunglasses, sun shirts)

Trekking boots, water shoes, slip-on shoes

Socks

Swimming gear (swimsuit, towel)

Plastic bag for dirty/wet clothes

Add new
Toiletries Packing List
Toothbrush & toothpaste

Deodorant

Soap, shampoo

Quick-dry towel

Hairbrush

Shaver

Toilet paper

Medications

First aid kit

Insect repellent

Sunscreen

Chapstick or lip balm

Reading glasses/contact lenses

Toilet shovel – just in case

Waterless hand sanitizer

Baby wipes

Add new
Camp Lights and Lighting
Lanterns

Candles, matches

Headlamps

Rechargeable torches

Flashlights

Spare Batteries

Portable solar panel for recharging

Add new
Camping Activities and Entertainment
Field guides, star charts, and books

Binoculars

Notebook and pencils (pencils write on wet-ish paper)

Music player, Bluetooth speakers, phone, tablet, etc

Musical instrument

Ball, frisbee

Watercrafts

Hammock

Camera

Fishing gear, bait, license

Deck of cards, jigsaw, board games

Small pack for day hiking

Add new
Useful things For Camping On A Weekend
Phone charger

Watch or clock

Ropes – thick and thin

Multi-tool/Pocket knife/Scissors

Duct Tape

Extra guy ropes

Bungy/shock cords

Tent pole repair

Hammer/saw/axe

Compass or navigation device

Reflective blanket

Mosquito net

Credit card/cash/Identification

Repair kits for tent, tarps, water toys, blow-up mattresses

Bear spray for errant bears. Also works well on unwanted human intruders

Whistle

Add new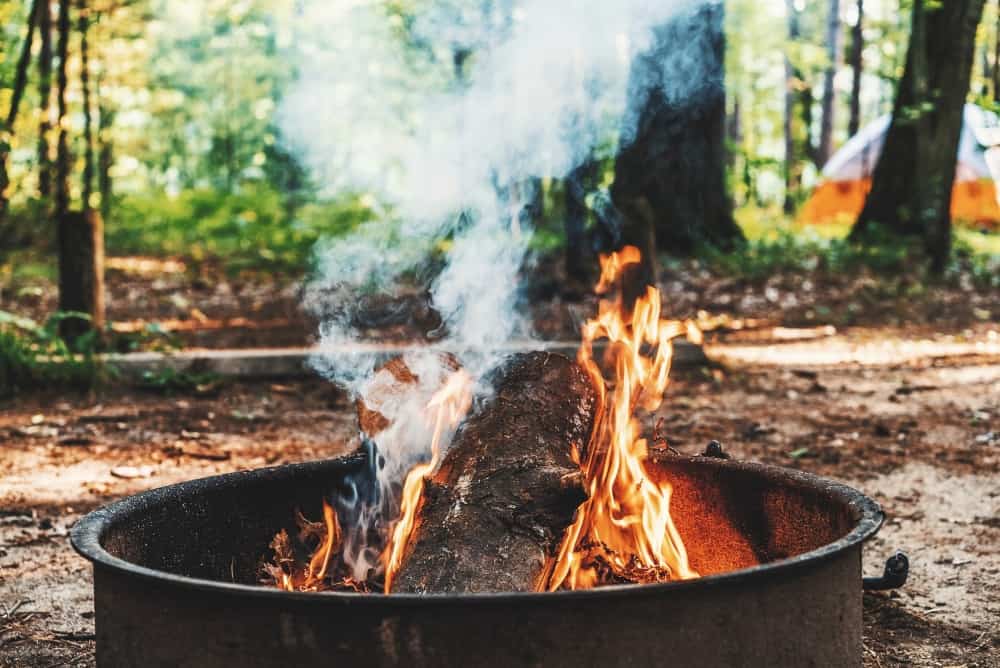 Weekend camping hacks and tips for first-time campers
Use a checklist to pack with. It's hard to track what you're packing for the first few trips without a list.
Check your campsite on Google Earth to see exactly what's there
Once you have all the basic camping gear you think you'll need, get a large box to store it all in to keep it all dry and together.
If you have the room, take a few extra sets of clothes. Keeping clean is hard when you camp outside with campfires, creeks, and outdoor cooking!
Plan ALL your meals before you leave. Keep them simple and prep as many as you can to save room and time.
Use recent Trip Advisor and Yelp reviews to see what other campers thought and wished they knew before they arrived.
Talk to other campers while you are there and check out how they do things and why. There's always something new to see and learn!
Check where the nearest stores to your campsite are before you leave, just in case you do forget something.
Remember to respect the quiet hours if there are other campers nearby.
Buy perishable groceries as close to the campsite as possible.
Make sure your campsite is close to the things you plan to do – hiking, backpacking, fishing, swimming, kayaking.
Bring lots of rubbish bags but don't attract animals by leaving them outside overnight.
For a romantic weekend camping experience for couples, look into Glamping… Glamorous camping is fun too!
And a few things to do before you Go Camping
If you think phone reception might be patchy, take a paper-based map of where you are planning to camp with you so that you can actually get there!
It's a really good idea to make sure you have the booking number, the access code, address, phone, direction, and a printed confirmation with you when you arrive, just in case your electronics let you down…
Always leave the home with a full tank of gas in the car and remember to tell someone exactly where you are going and when you'll be back. Maybe email them your plans and campsite address. It's basic camping security in case things go pear-shaped.
It's also a good idea to know what the weather is going to do while you are away and what dangerous animals or toxic plants you might find in your camping area. Knowing the fire status of the area you are going to might be relevant as well.
Stay safe!
Happy Camping 😊
What's next?
Going cabin camping? Check out our cabin camping packing checklist. Or if you're going camping a little later in the year, see our fall camping checklist.