Fed up with wrestling bulky camping chairs? Don't I know it!
Welcome to the lighter side of camping with my review of the best lightweight camping chairs in the UK.
I've put these chairs through the wringer – from high peaks to breezy coastlines – all to help you reclaim the fun (and some storage space) in your outdoor expeditions. Whether you're a seasoned hiker or just looking to enjoy a festival with minimal fuss, these chairs have got you covered.
Grab your map, strap on your backpack, and let's embark on this journey to find the perfect lightweight camping chair for your next outdoor adventure.
Best lightweight camping chair overall
The Helinox Chair Zero bears several advantages when compared to the other lightweight camping chairs in this review. It boasts an impressive feather-light weight of just 510 grams. It also has a more compact packed size which will make it easier to fit into your backpack.
Given these qualities, the Helinox Chair Zero seems an ideal candidate for ultralight hikers keen on reducing their gear weight as much as feasible. Expect to shave about 400 grams off compared to the other chairs.
Yet, these benefits come with a considerable price – both monetary and feature-wise.
The reduction in weight has partially been achieved by trimming the length of the legs, resulting in a chair that sits closer to the ground. This may not be optimal if you are tall or find it challenging to stand from a low-seated position.
Much like its sibling, the Helinox One, the Helinox Zero doesn't have a pocket, anti-sink feet, or a shoulder strap.
Lastly, the baseline price of the Helinox Chair Zero is over three times that of budget lightweight chairs like the Kamui chair. If you decide to include accessories like ball feet, a cup holder, and a shoulder strap, the Helinox Chair Zero becomes more than five times pricier than the Kamui.
In light of this, I would most likely recommend the Helinox Chair Zero only to those deeply committed to lightweight hiking or if budgetary constraints were not a factor. It's an excellent chair, but it seems not particularly designed with the casual camper in mind.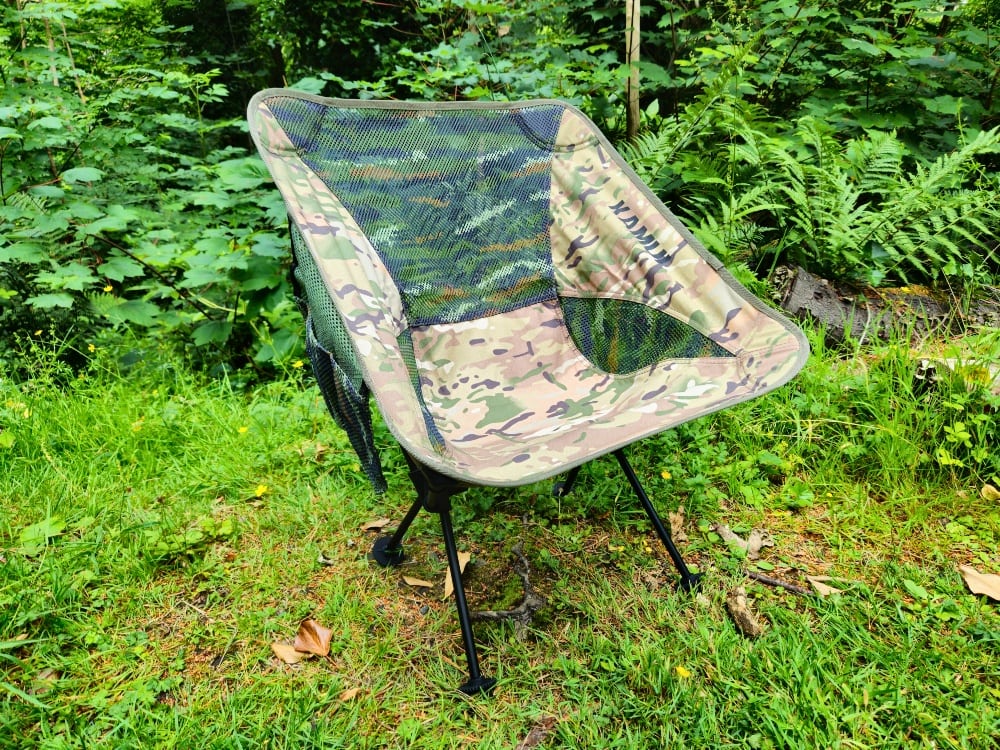 Best budget lightweight camping chair
If you've had enough of hauling a bulky camping chair around, say hello to the Kamui camping chair. This little lightweight wonder tips the scales at only 978g, making it an effortless travel companion.
If you're going super ultralight, you can go lighter. But the Kamui chair does score a home run with a perfect blend of weight, comfort, and price.
You can check out the Kamui Camping Chair's latest price here.
Setting up the Kamui camping chair is pretty straightforward, although the first time might involve some wrestling with the fabric until it has stretched out. Once you've got the hang of it, you'll have it up and ready in under a minute.
The chair offers a decent level of comfort, giving you a better seat than any tree stump or patch of ground. All of these lightweight camping chairs won't give you the back support of a more traditional camping chair though, but they're certainly better than nothing. One issue I had testing the Kamui chair is that if you lean very far back, the chair does tip – so be wary if you are a deep sleeper.
The Kamui chair has an X-shaped leg design that's typical of lightweight camping chairs. It might wobble a bit if you lean back too far, but wide disc feet stop you from sinking into soggy ground – a big plus that isn't found on any other lightweight camping chairs.
Speaking of unique features, the Kamui camping chair also comes with a handy mesh pocket which you can use to keep a book or bottle in.
When it comes to durability, the Kamui puts on a decent show. It's got sturdy, light aluminium legs and robust cordura fabric. Although I'm keeping an eye on the plastic connectors to see how they hold up over the long term.
If you're on the larger side, this chair might not be for you. It has a maximum weight capacity of 100kg which is less than some of its competitors – although given their similar design I think Kamui might just be more conservative with their estimates. Despite this, larger bottoms won't fit into many of the lightweight camping chairs.
When I tested the Kamui Camping Chair it was priced at only £39. Frankly, this is an absolute bargain for the features and quality you're getting.
In a nutshell, if you're after a lightweight, portable, easy-to-set-up, reasonably comfortable, and durable camping chair, the Kamui is a brilliant bet. It's got some nifty features and it won't burn a hole in your pocket. Sounds like a winner to us!
You can read the rest of my Kamui camping chair review here.
My ratings:
Portability and weight: 8/10
Ease of setup: 8/10
Comfort and stability: 7/10
Durability: 8/10
Tech specs: Weight: 978g | Carry bag size: 36cm x 13.8cm | Carry bag size (compressed): 36cm x 11.7cm | Height: 65cm | Height to seat: 34cm | Max capacity: 100kg | Colours: Camo or green.
Great lightweight camping chair but pricey
The Helinox One Chair is frequently regarded as the benchmark of excellence in the world of lightweight hiking and camping chairs. This is largely thanks to the pioneering innovations that Helinox introduced in this sector, making it the leading brand of lightweight camping chairs.
The Helinox One Chair is quite similar in weight and size specifications to the Kamui and Sportneer camping chairs. All of these camping chairs sport a standard X-shaped design with aluminium legs and plastic connectors for the legs.
The Helinox One Chair's main superiority over the Kamui chair lies in its greater weight capacity, capable of supporting up to 145 kg, and its marginally smaller stuff sack. Helinox also has a long-standing reputation for its top-notch build quality, whereas the challenger brands are less known.
But the Helinox chair does have a few shortcomings. The Helinox One Chair lacks a side pocket, anti-sink feet, and a shoulder strap – all of which come bundled with the very reasonably priced Kamui chair.
The most frequent criticism is that the chair tends to sink into the ground. While you can purchase accessories to supplement each of these absent features, you will increase the total cost of the chair by approximately £70 (accurate to the date of this review).
This brings us to the primary disadvantage of the Helinox Chair One – it costs over twice as much as the Kamui chair. When factoring in the cost of accessories, the Kamui chair ends up being over four times less expensive.
So, would I advocate for the Helinox Chair One? I would. It's a top-quality chair with a strong reputation. However, for those who are mindful of their budget, I'd recommend giving the Kamui lightweight camping chair serious consideration as an alternative.
Cheapest lightweight camping chair
The Sportneer Camping Chair shares a similar design ethos with the Helinox and Kamui chairs but is positioned at the more economical end of the spectrum. At the time of my review, it was priced £7 lower than the Kamui chair.
Apart from its affordability, the Sportneer chair also claims a weight capacity of up to 150kg. Honestly, since all these chairs share such similar structural designs, it's a bit challenging to confirm if their reported capacities should vary so much.
What I particularly appreciate about the Sportneer chairs are the handy loops at the fabric sections where the poles are inserted. These loops simplify the process of slotting in the poles without the risk of catching a finger as you're stretching the fabric.
The Sportneer chair's carry bag is a bit smaller than that of the Kamui camping chair, although I mentioned earlier that the more generous sizing of Kamui's carry bag makes it easier to pack away the chair.
However, the Sportneer chair lacks a shoulder strap, anti-sink feet, and a side pocket. And although I haven't personally tested its comfort and durability, others have expressed doubts about these aspects.
As a final point, I must admit I'm not a huge fan of its colour scheme, but this is completely subjective and you may think differently!
Overall, the Sportneer chair might be a suitable option if you're on a tight budget. But I would recommend investing a little more in the Kamui chair to get more value for your money.
Review updates
May: Testing begins for the Kamui camping chair.
05 July 2023: Lightweight camping chair review first published.
Let me know in the comments if you want me to test any lightweight camping chair in particular!