What's the difference between single and doubled walled tents? When would you use one and not the other? Check out why here!
The main difference between a single wall tent and a double wall tent is essentially the number of layers each has been constructed with. Double wall tents have a breathable inner tent covered with a waterproof rainfly. The single wall tent has just one layer of material that does the job of both layers of the double wall tent.
Related: Looking for a tent that won't leave you drenched? Check out our review of the best tent for heavy rain.
Want to find out more about our single wall vs double wall tent comparison? Read on!
What is a Single Wall Tent?
Single-walled tents have just a single layer sheltering you from the outside world. They are made of fabric that is both water-resistant and breathable and is thicker than usual tent material. This type of material gives water a chance to evaporate as well as being reasonably waterproof.
The main advantage of single wall tents is their lighter weight and packability. They have a smaller footprint than most double wall tents and can be pitched in a more cramped camping situation.
They are made from many layers of modern materials that are laminated together or a single layer that is still breathable and waterproof in most situations. Downpours that go on for days will defeat all single walled tents at some point.
Mesh is usually included in the design to keep the insects out and to help evaporate any water that forms.
A high-quality single wall tent will keep you warm in the snow and dry in intermittent rain and are best in areas where the air is expected to be dry. If the weather is likely to be unpredictable, then maybe a double wall tent is better for you!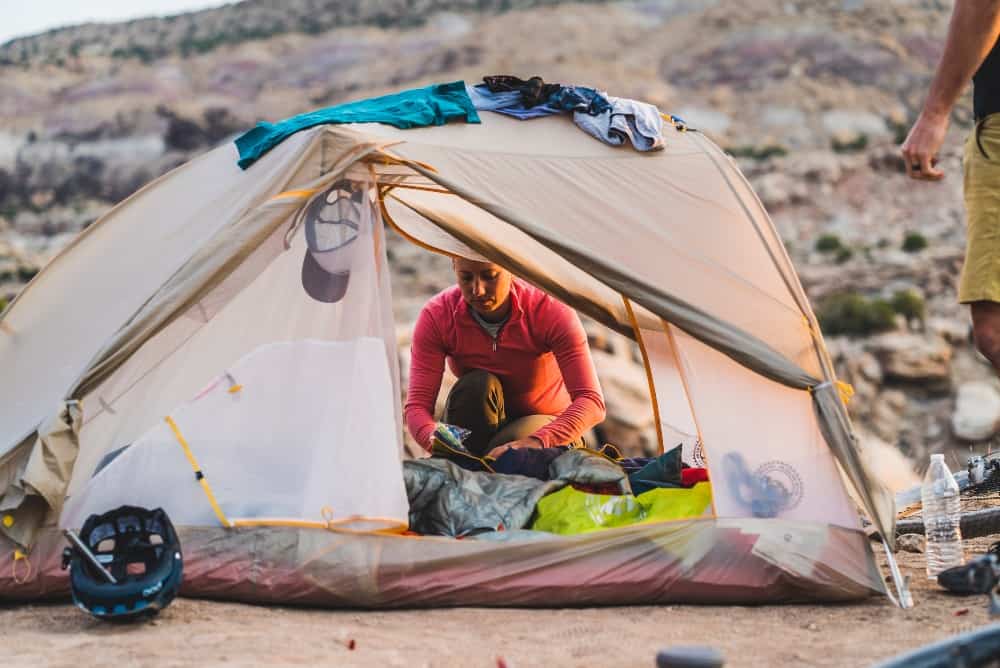 What is a Double Wall Tent?
A double walled tent is exactly what its name suggests. It's a tent that consists of two layers. The inner tent and the rainfly. When pitched correctly, an air gap is created between them that lets the air circulate and evaporates any water that may form on the walls or collected there from the rain.
The inner tent layer is the breathable component allowing air to circulate and dry up any moisture that forms. The outer tent layer is called the fly and it is a waterproof layer that stops the rain from getting into the tent in the first place.
When the tent layers are put up together, you get the best of both breathability and waterproofing.
These camping tents will also keep you drier in a storm for longer as the rain has to get through two layers, not one. If you are expecting rain, always take the fly!
Single wall vs double-wall tents side by side comparison
| | | |
| --- | --- | --- |
| Comparison criteria | Single wall tent | Double wall tent |
| Waterproofing | 4/5 | 5/5 🏆 |
| Condensation | 3/5 | 5/5 🏆 |
| Weight | 5/5 🏆 | 4/5 |
| Ease of set up | 5/5 🏆 | 4/5 |
| Space inside | 3/5 | 5/5 🏆 |
| Overall rating | 4/5 🏆 | 3.5/5 |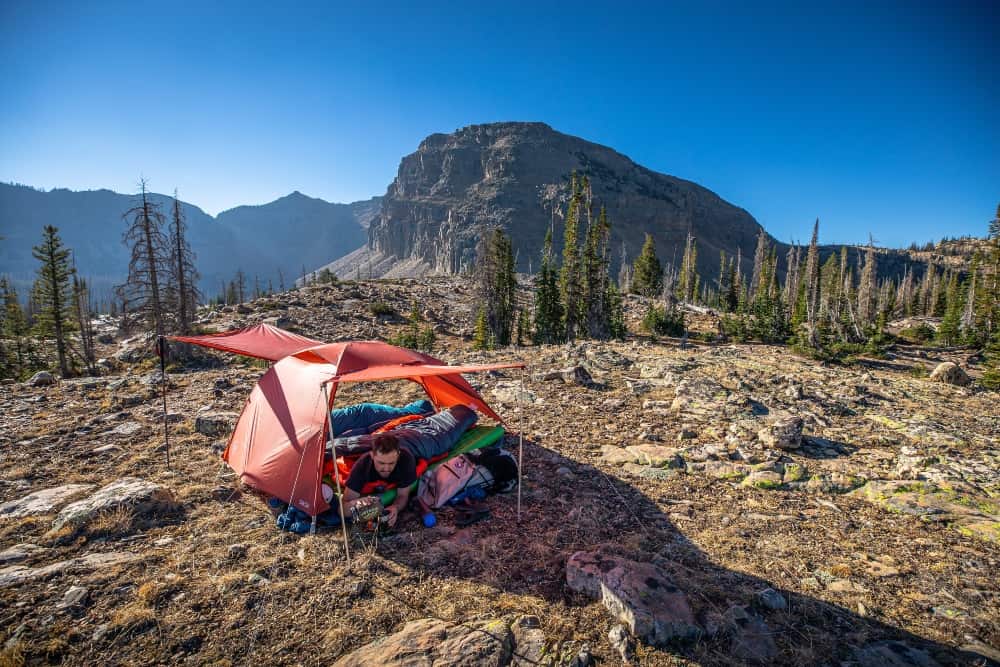 Single-Wall Tent Pros
Simple set up
Lightweight
Quick set up
Best when it's dry and cold
Compact
Often cheaper as there is less material
Quicker dry time
Single Wall Tent Cons
Less space
Condensation more likely
Needs extra venting to stay dry
Not as waterproof
Can be drafty or cold with vents open
Not usually freestanding
Double-Wall Tents Pros
Stays drier better
More storage for you and your gear
Best if it's raining or humid
Guy ropes keep the tent stable in the wind
Interior poles give better support
Most models are freestanding
Most models have a vestibule for storage
Usually Free standing
Can be 4 seasons – warmer in winter
Double Wall Tents Cons
Weightier than a comparable single wall tent
Only waterproof if the fly is not touching the tent
Takes longer to set up
More complicated to assemble
Often more expensive
Bulkier when packed up
Poles are unique to each tent
Who Should Choose a Single-Wall Tent for camping?
Single wall tents are most popular with people who want to carry as little weight as possible. These tents are great for backpacking, climbing, ultra back backing, hiking, mountaineering, and thru-hikers all want to carry the most lightweight gear available.
People who are planning on doing their camping in dry cool areas where condensation is not expected should choose single wall tents.
Tarp tents are a type of single wall tent that can be the simplest backpacking tent you take with you when you know the weather will be fine, just in case!
Who Should Choose a Double Wall Tent?
Double walled tents are great for hiking, climbing, travelers with a car or a bicycle.
These tents are also great for those who know they will need a good shelter for camping in wetter or humid situations where condensation can be expected.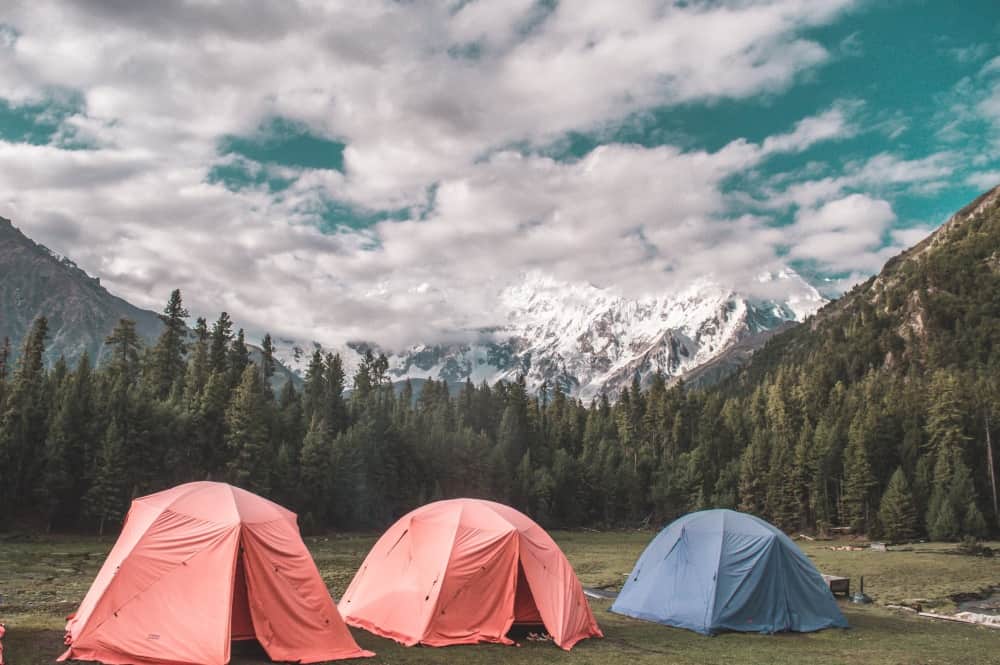 Tents FAQ
Are double wall tents warmer than single-wall tents?
Double-walled tents are warmer because the air layer between the two layers acts as insulation making the tents cooler in the summer and warmer in the cold.
Are single wall tents lighter than double wall tents?
Single-walled tents are lighter because there is a lot less material to carry around. If you can put up your single wall tent with your hiking poles rather than carrying the tent poles with you, you can save even more weight.
What is a single skin tent?
A single skin tent is just another name for single wall tents. Similarly, a double skin tent is just another name for double-wall tents.
How do I stop condensation in a single-wall tent?
To keep condensation to a minimum, always keep the air flowing in the tent by leaving as many tent doors and windows open to keep the inside and outside temperatures as close as possible. Use the ventilation holes and flaps to keep the air flowing.
There are advantages and disadvantages of single vs double wall tents. Have a good think about how you intend to use the tent and make your decision based on how well a tent copes with your weather conditions, how much weight you want to carry and how much personal space you need.
Get the tent that will serve your purposes and look forward to a good night's sleep and be as comfortable in your tent as you can!
Happy Camping! 😊
Next up: Find out how much water you should bring backpacking.