When you're out on the trail all day or about to settle down for the night, you need a stove you can rely on. It should be compact, lightweight and highly functional, with enough fuel efficiency to last for the duration of your trip.
The Jetboil MiniMo is an excellent stove system that may be up to the job—let's examine it in-depth and see if it's what you're looking for in this Jetboil MiniMo camping stove review.
The Jetboil MiniMo is an excellent combined system for cooking, complete with pot and lid. It's lightweight but could be lighter, easy to carry and cooks a liter of liquid or food at a time.
The top features of the Jetboil MiniMo include:
Integrated cooking system.
Quick boil time.
Simmer control for cooking.
Push button ignitor.
Compatible with separate attachments.
About the Product
Tech Specs
Fuel Use: Liquified petroleum gas | Dimensions: 5" (W) x 5" (L) x 5.5" (H) | Weight: 1.2lbs | Material: Stainless steel | Price: $$
Who's It For?
The Jetboil MiniMo camping stove is an excellent tool for backpackers and hikers alike. Its lightweight nature makes it ideal for taking with you on the trail.
The Jetboil MiniMo is a steady, durable stove with lots of features you'll find desirable no matter what you're doing on your trip. The Jetboil MiniMo makes coffee, heats soup and is highly reliable and fuel-efficient, so you have nothing to worry about there.
The MiniMo is for people who want to venture outdoors, as it performs well even in moderate winds, according to customers.
It's also for people who are careful with their gear, as some customers discovered the burners are quite flimsy. Keep that in mind and try not to bang the MiniMo against anything as you hike to your desired location.
Other than that, there are no significant flaws, and the MiniMo can work for solo backpackers and pairs alike. The liter-capacity pot holds plenty of liquid, food and anything else you wish to heat up.
Features and Benefits
If you've decided you're the Jetboil's target audience, then you can get to work seeing if this is the camping stove for you. There are plenty of high points that make the stove a desirable asset.
Durability: What Can It Withstand?
Customers found the stove durable for the most part, apart from the burners, which were a little flimsy. With some care and a gentle touch, the burners should last as long as the rest of the MiniMo.
Size: How Much Can It Heat?
The MiniMo holds about a liter of liquid, which is great for brewing coffee and tea or making soup. After this, you can transfer it to a thermos and keep it warm for hours, meaning you only have to cook once or twice a day.
Solids-wise, it cooks enough for one or two, depending on what type of food you cook and the portion sizes you choose.
Weight: Light Enough to Carry?
Even with the insulated metal handles, at 1.2 pounds or 14.2 ounces, this is an incredibly lightweight stove. It's easy to carry and won't add much weight to an already hefty pack.
Of course, it'll be heavier with fuel, but even then, the fuel consumption is low, so you don't need to bring a full fuel canister if you calculate how long you'll be using the stove ahead of time.
Fuel Efficiency
Jetboil claims that this canister stove is highly fuel-efficient, using about a third of the fuel that most stoves of this style use.
Users found this partly true and feel the fuel efficiency could be better.
The MiniMo backpacking stove takes approximately 0.3 ounces of liquified petroleum gas from the integrated canister when bringing a liter of thin liquid to the boil. Compared to some other stove systems on the market, it's not the most fuel-efficient in the world, but it's certainly not bad.
Features: Any Desirable Features in the Stove?
Integrated Cooking System
An integrated cooking system means that the stove comes with its own attachable cooking cup, as well as the burner head and fuel canister. This is an excellent feature, meaning you don't have to purchase a separate pot to cook your meals and heat your liquids in.
This system makes the stove slightly heavier than some others available, but it's still wonderfully lightweight.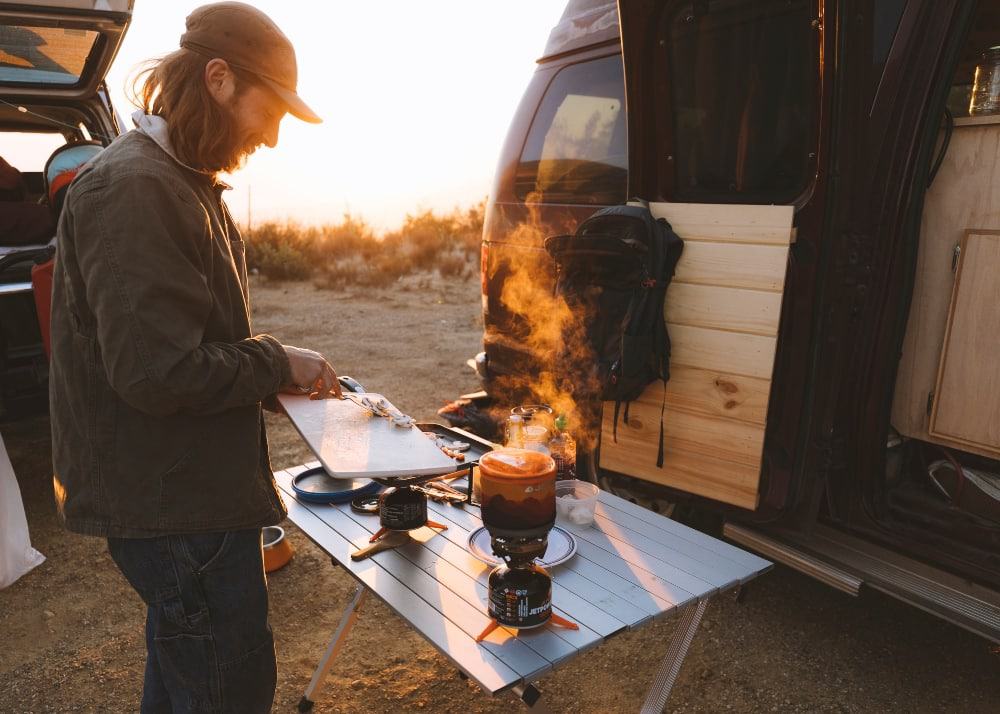 Speed of Boiling and Simmer Control
Users report that the stove has incredible boil times—under two minutes for half a liter of water, under calm conditions. Many customers state that this is faster than most, if not all, of the other stoves they've tested.
Once the water is boiling, users also found it easy to keep it simmering at the desired temperature with ease. They appreciated this ability for cooking.
Pot and Lid
The MiniMo comes with its own pot and lid, so you won't need to buy your own. The pot is designed to reduce boil times and be simple to eat out of, too.
You can also pour out of the pot as it has a spout, great for cooking pasta or emptying out excess boiling water.
Customers found the pouring ability fantastically simple and had no complaints about leaks with or without the lid on.
Ignitor
The Jetboil comes with a handy piezo ignitor, so with one click, you've got a flame.
With that said, push ignitors can wear out with time, shortening the lifespan of your camping stove. You could take it to an engineer for repair, though, which is okay, but you have to factor it into your budget.
Are you willing to make two or three trips to get the button fixed and pay for it, rather than buying a new stove?
It may be worth keeping the push ignitor in check, as the button makes it much easier to light the stove in windy conditions. Customers had no problems keeping it lit, despite semi-forceful gusts.
Users also found the flame-control easy and incredibly precise.
French Press Attachment Compatibility
Any coffee lover will know the pain of drinking instant coffee—or worse, cooking coffee grounds and getting a mouthful of them when taking a drink.
Luckily, there's a french press attachment that's compatible with the MiniMo, in the grande size. This is an excellent feature, and many stoves don't have this compatibility.
Customer Feedback: What Are Users Saying?
It's all well and good to describe customer experiences while listing features. Let's see how real people feel about the MiniMo.
I have a Minimo and I really like it. It is definitely easy to use for simmering pasta and such.

Review
This user compliments the stove's ease of use, enjoying the stove for cooking.
I can't argue with how fast and efficient that thing brings water to a boil! It's like a … well … a jet.

Review
This user also had great things to say about the MiniMo, finding it fast and efficient despite other peoples' opinions.
Frequently Asked Questions
Do You Need To Use a Specialist Pot for This Stove?
You don't need to use a specialist pot for this stove, you use the pot that comes with it. Users found the included pot and lid highly reliable to cook in and use as a bowl for eating and drinking.
How Do You Light This Stove?
Lighting this stove is easy. There's a small ignite button that works instantly, even in the wind.
Ignite buttons don't last forever and will wear out with time, but it's certainly worth it, according to customers. The button gave them no issues and worked better than having to manually light the stove.
What Fuel Does This Stove Use?
The stove uses liquified petroleum gas, a highly flammable substance usually used for cooking gear and heating equipment. It's pretty standard as far as fuels for camping stoves go, though you may find some that favor propane instead.
Is This Stove Good for Backpacking?
Yes, this stove is good for backpacking. It's small and light, although some customers feel it could be lighter.
Regardless of the system weight, the stove won't take up much room in your pack and if it doesn't fit, it's easy to carry by hand. You could also carry it in a smaller, separate pack with a few food and drink options you plan on using it with.
Is Jetboil a Reliable Brand?
Customers feel that Jetboil is a reliable brand, creating efficient and value-packed products. The products typically boast a lengthy lifespan, give or take a few of their parts—for example, the impending doom of the ignite button.
Alternatives
If this Jetboil MiniMo camping stove review showed you that you dislike the product, you might prefer one of these three alternatives:
Jetboil Zip
If you want something more cost-effective with no frills, consider this stove instead. From the same reliable company, it's slightly slower than other Jetboil models but can boil water and provide the basics for backpackers and hikers in need.
Basic option.
Reliable for boiling water.
No piezo igniter.
Check its latest price here.
MSR Windburner
Customers found the MiniMo most efficient in calm conditions, so if you want something that works in the wind, the MSR does well. It comes with a pot and lid as well as a refillable fuel tank—it's a little bulky and slower than the MiniMo, but it's great for windy weather walking.
Better performance in cold and windy weather.
Includes pot and lid, and refillable fuel tank.
Bulky.
Check its latest price here.
Soto Windmaster
The Soto Windmaster is a great budget pick if you don't like the Jetboil Zip option above. It doesn't come with a pot or lid, but its flexible burner head can accommodate cookware of many sizes.
It's a reliable little stove with great heat output and is quite efficient at boiling, thanks to its genius design.
Lightweight.
Reliable.
Efficient fuel burning.
Check its latest price here.
Jetboil MiniMo: Final Verdict
The Jetboil MiniMo is one of the best camping stoves on the market and stands out for its quick boil time, simmer control and easy to use ignition.
While the ignite button may eventually wear out, and it's heavier than some of its competitors, there's no denying the value in this little stove. Hopefully, this Jetboil MiniMo review has helped you see that.
Check its latest price here.
See our other camping stove reviews