So, you want to camp and it's cold outside. You know that lighting a fire in your tent will likely end in tears (and third-degree burns) but you don't want to freeze, Grizzly Adams style either.
So what options remain? You can simply wear a few more clothes, get into heat proofing your tent, heat up the air in the tent and even in extremis, put up your tent over your earth damped fire.
Whether you're working out how to heat a tent easily or you're wanting to warm your tent for free, check out our list of the best safe heating strategies in 2022.
It's chilly – preparing to stay warm at night in your tent
It pays to pack a few warm clothes even if it's a balmy spring you're having so far. Mother Nature has a habit of knowing that you've only packed your swimmers and a thin but ultra-trendy t'shirt for this camping trip and she's likely to show you who's the boss if you don't pack properly!
Layering clothes for chilly weather
Don't wait to get cold before putting on a pair of warm pants and a long sleeve jumper. You'll be grateful if you do need them. It's cheap insurance and you can leave them in your bag if the weather stays good.
Cost: Free
Heat Provided: 🔥🔥
Keep your head and extremities warm at night
A woolen beanie, gloves and socks will complete your long sleeved ensemble if the weather changes from chilly to cold unexpectedly.
Cost: Free
Heat Provided: 🔥
Pack a spare blanket
Maybe bring an extra blanket if you have room for one. Layers are a really good way of trapping body heat and insulating you from the cold air. Woolen blankets stay warm, even if they get damp.
Cost: (Almost) Free
Heat Provided: 🔥🔥
Use heat reflective blankets
Grab one or more of those silver heat reflective blankets. You can use it to wrap yourself in, put it under your sleeping bag or even line the tent with it, depending on just how chilly it is. It doesn't take up much room but could literally be a life saver if things go pear shaped!
Cost: $
Heat Provided: 🔥
It's really quite cold – staying toasty in a tent when it's frosty outside
So you already know it's going to be pretty cold when you get to your campsite. You like camping in the off season and you don't mind the cold too much. You'll be nice and toasty if you take some of these tips on board!
Pick a well insulated sleeping bag
Upgrade your sleeping bag to the rating that suits the lowest temps that are likely for your part of the world at that time of the year. You can always throw it off if it's too hot but it's almost impossible to get warm once you wake up cold.
Sleeping bag ratings estimate how well a sleeping bag can hold its warmth in cold temperatures. Two ratings are typically included – a comfort rating and a lower limit rating.
If you like to be warm when you sleep then you should use the comfort rating. Most women's sleeping bags use the comfort rating due to physiological differences. And if you're a warm sleeper then you should look at the lower limit rating.
| | |
| --- | --- |
| Weather Conditions | Temperature Rating (Fahrenheit) |
| Summer | 30 degrees and higher |
| Spring / Fall | 15 to 30 degrees |
| Winter | 15 degrees and below |
A 41F – 50F (+5C to +10C) sleeping bag is intended as a summer covering. It is about as warm as sleeping with just a light blanket or a sheet.
A 32F (0C) degree bag is great for most situations but is not intended to be used in the snow or a frosty night – it's the same as having a normal blanket on your bed at home.
A 23F-14F (-5 to -10) degree bag is considered a winter bag for typical climates – it should be comparable to having fuzzy sheets and an extra blanket or two on your bed.
Get an inner sleeping bag and even a foot warming bag if you're not sure just how cold you will be. Being warm at night is one of the most important things you need to prepare for on a cold camping trip. It's better to be safe than hypothermic.
Cost: $$ – $$$
Heat Provided: 🔥🔥🔥🔥
Wear thermal underwear
Start simple. Wear warm, dry, pajamas or clothes to bed or put on some long underwear and embrace your inner "Little House on the Prairie" style. Not always an Instagram-able moment but who cares when you're cold? Some of the modern thermal underwear is light and comfortable (and very Instagram-able) and really will make a difference to your toasty-ness.
Cost: $$
Heat Provided: 🔥🔥🔥
Keep your hands, feet and head warm
Don't forget the super back-to-basics, and put on some woolen socks, a beanie, and even gloves and wear them to bed for extra snugness. You can lose a lot of heat through your head so it's important to keep it covered when it's cold.
Cost: Free
Heat Provided: 🔥🔥
Get your metabolism fired up
Eat a decent meal before you go to bed as your metabolism will run faster and keep you warmer. Keep a high-calorie bit of food next to the bed in case you wake up cold and need to munch on that to turn your metabolism back on.
You could also do a few star jumps or run on the spot for a few minutes and warm yourself up before you hit the sack as well!
Cost: Free
Heat Provided: 🔥🔥🔥
Upgrade the heat proofing in your tent
Use one of those silver heat reflective blankets to line your tent and upgrade the heatproofing. Pop in some duct tape to attach it to the inside of your tent. It will reflect your body heat back down onto you rather than letting it escape out of the tent.
Cost: $
Heat Provided: 🔥
Use a smaller tent in Winter
Smaller tents have less space and therefore will be quicker and easier to heat. Smaller is warmer when camping in Winter.
Cost: $$
Heat Provided: 🔥🔥
Related: Looking for a tent that holds up in the cold? Check out our list of the best 4 season tents for winter camping.
Use a hot water bottle
If you've insulated the tent, worn your longest underwear to bed, and are in an Antarctic rated sleeping bag – there are still things, like a hot water bottle, that you can take to bed to keep you warmer if none of this has worked so far.
It's easy enough to improvise one by pouring hot water into a metal water bottle and wrapping it in a piece of clothing so it doesn't burn you and stays warmer if you didn't think to pack one or dont have the room. Make sure it doesn't leak before you put it in your sleeping bag.
Cost: Free
Heat Provided: 🔥🔥
Heat the inside of your sleeping bag with handwarmers
Catalytic hand warmers are small packets that can be stored until you need them in the bottom of your pack. When it's just too cold and you need a bit of a heat boost, simply take one out, shake it up and place the packet in your sleeping bag to warm up your extremities.
Cost: $
Heat Provided: 🔥
Don't sleep alone!
A partner in the tent will usually warm things up (especially if you fancy them) but even if it's not that kind of a camping trip, the more bodies you can pack into the tent, the warmer it will be, just from body heat alone.
Maybe you are camping by yourself? Pop your canine friends on the foot of your bed and use the warmth of their bodies for a heated blanket experience.
Cost: Free
Heat Provided: 🔥🔥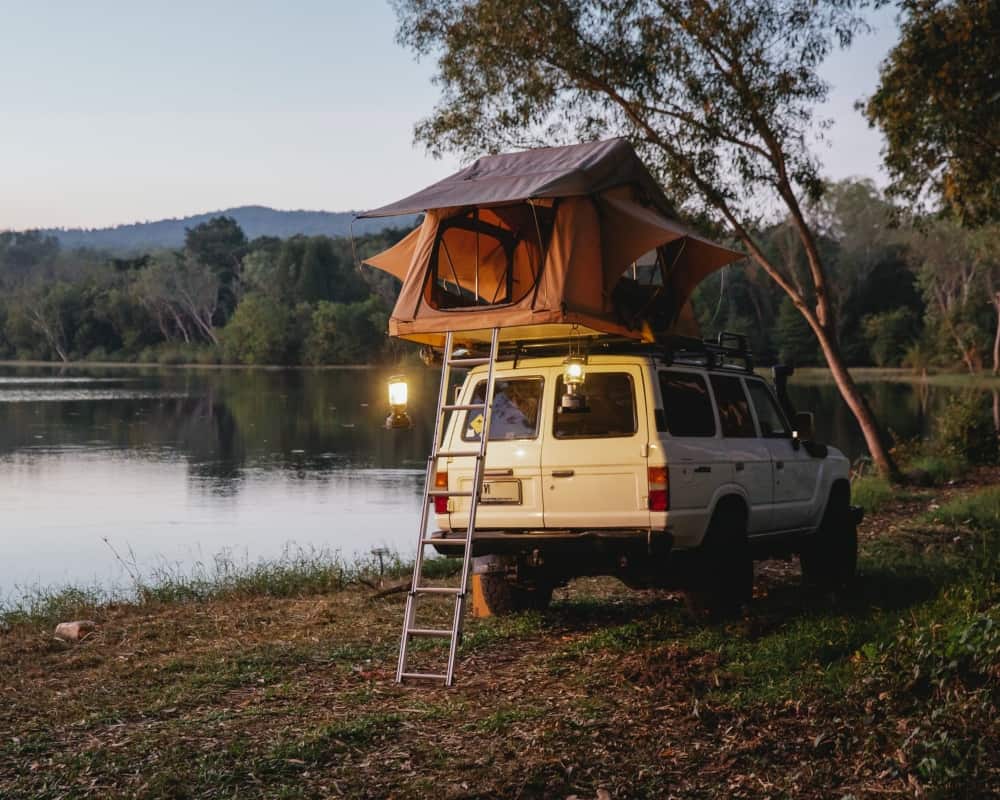 Get off the ground
Get yourself off the cold ground. Use a camping cot to put a bit of space between you and the ground. Sleeping pads, an extra blanket, the heat reflecting blanket or a tarp are all good options, as are a thick bed of dry pine needles or leaves if you didn't bring anything else.
Cost: $$
Heat Provided: 🔥🔥
PRO TIP: Don't use an air mattress to keep warm. It won't work. The air inside will always be the same temperature as the surrounding air, and if that's cold, then you'll be cold. If you still want an air mattress, place one of those heat-reflective blankets, silver side up, on the top of the air mattress. Simple, but it works!
It's bloody freezing – more advanced measures for staying warm in your tent
So you know it's going to be colder than cold when you pitch your tent and you want to be out there experiencing all that Mother Nature offers, including the beauty of a snow capped mountain, icy rivers and frost covered fields. Naturally, your mother thinks you are mad but that's just how you are wired. Let's go with that and see how we can help you!
Get the right clothing for your weather conditions
If you're serious about camping in the cold, get the right clothing. Find the gear that's light, moisture wicking, wear layers and importantly, make sure it's DRY when you wear it to bed. Cold has different definitions depending on where you live. Bali freezing is a bit warmer than Canada cold, so make sure you dress for your kind of cold!
Cost: $$ – $$$
Heat Provided: 🔥🔥
Heat the ground using electric blankets
Check out heated camp carpets and electric blankets too, but probably only useful for people traveling where there is electricity or carrying a camping generator. Also, don't pitch the tent in a hollow, that's where all the cold air collects. Get a good 50m up the slope.
Cost: $$-$$$
Heat Provided: 🔥🔥
Heating the ground using fire
Campfires can get HOT. Some people pitch the tent on the hot earth of the extinguished cooking fire and use the heat from below to warm up their tent. I'm sure we don't have to spell out the issues that could arise from this if you don't do it right…
Cost: Free
Heat Provided: 🔥
Heating the air with hot stones
You can stay warm in a tent on a cold night by heating the air. Some people bring hot stones from beside the fire into the tent to warm up the air as well – but the rock needs to be pretty big, and hot to make this worth it. Turn them regularly by the fire side (not in it) until they are almost too hot to touch before you bring them into the tent
If you do try this heating method, put the stones in a metal pot on a hard surface so they are stable and won't melt your tent, or mark anything with soot. You need to lay them out around the tent to radiate their heat evenly. They do go colder quicker than hot water bottles though.
If you have a number of fist sized stones, you can heat them up until they are almost too hot to touch as above, wrap them in woolen socks and pop them in your sleeping bag to prewarm it.
Cost: Free
Heat Provided: 🔥
Use a tent heater
There are four other more conventional and less sooty ways of heating the air in a tent – we can use tent heaters.
Electricity
Electric heaters only work if you are camping near a power outlet or the heater is connected to a solar or battery system. There are radiator, blow, and halogen camping heaters to consider if electricity is available.
Gas/propane/butane
These systems MUST have ventilation in the tent so dangerous levels of carbon monoxide don't build up. Get one that is approved for indoor/tent use, has a built-in low oxygen detector and an auto shut off.
Catalytic
A heater that uses natural gas to fuel a chemical reaction that produces heat. Find one that doesn't produce carbon monoxide and always ventilate the tent.
Flame
If your tent has a built-in flue, then a wood-burning stove is a real option for you. Candle heaters are a small, light and cheap alternative to wood burners, but there is always a risk with flame in a tent…
Cost: $-$$$
Heat Provided: 🔥🔥🔥🔥
Safety First!
If you are heating the air in your tent, a carbon monoxide detector, a timer and a tilt shut off on the heaters are pretty essential. It would be safest to warm the air, settle in for the night and turn off all types of heaters before you fall asleep.
Carrying tent heaters when you're backpacking or camping
For those who enjoy car camping in a campground with a powered site, electricity makes the most sense to heat your tent with. Weight and size are less of a consideration for this kind of camping.
People who are trekking a long way with backpacks to set up their campsite need to balance weight and size against convenience and heat output. The smaller gas canisters heaters, catalytic and candle heaters might be the better options in this situation.
If you are a 4×4 wheel drive camper who is setting up for a week or so and you're taking a generator or solar array with you, then you can choose electric heaters, or save the power for something else and use (tent-safe!) gas heaters inside the tent. If you have a large tent with a wood stove flue flap included, then a wood fired heating system and all its other uses like drying clothes and cooking food could be the right choice for you.
Wrapping it up
So hopefully, by now, you know how to heat a tent safely. With all the options on offer, you might end up with slightly different camping setups for different seasons and weather. Which gives you a great reason to go camping again and try them out!
Happy Camping 🙂
Next up: Love backpacking but hate carrying round a big backpack? Try going ultralight with our ultralight backpacking packing list.