Summer beckons, and we answer, venturing into the great outdoors. It's a delight until the heat turns our tent into a pizza oven. Sure, it saves us the trouble of building a campfire or hooking up the portable stove to rustle up dinner. But oven-tents are terrible for a good night's sleep, with or without the anchovies.
Wondering how to cool a tent without electricity? Thankfully, we have some hacks.
Use a summer tent
Use a battery powered fan
Use a canvas tent
Use a tent with lots of ventilation
Remove the rainfly
Set out some ice
Be mindful of where you pitch your tent
Use a space blanket over your tent
Knock down your tent
Create a towel air conditioner
Place a tarp at least 2 feet up
Sleep in a wet cotton t-shirt
Put thick blankets under your tent
Use a mesh camp cot
Avoid your tent
1. Use A Summer Tent
The top tip to keeping a tent cool is to use one made for hot weather. These summer tents are built to beat the heat. But that doesn't mean flimsy. For example, the Kodiak Flex-Bow has steel poles to allow it to stand tall against hot summer winds. It also has doors on either side to allow for excellent cross-ventilation.
2. Use A Battery Powered Fan
Battery-powered camping fans technically use electricity. But it is portable electricity. Nor does battery-powered have to mean tiny, with only a whisper of a breeze. Check out the Greek Aire Rechargeable Floor Fan for up to 20 hours of quality, metal-blade, generated wind.
If that's too big for your camping style, there is the Tahoe Trails Portable Camping Lantern that doubles as a ceiling fan. That's right; it's like a treadmill for moths: they'll fly against the breeze in their attempts to reach the light. Meanwhile, you get some entertainment and a break from the heat.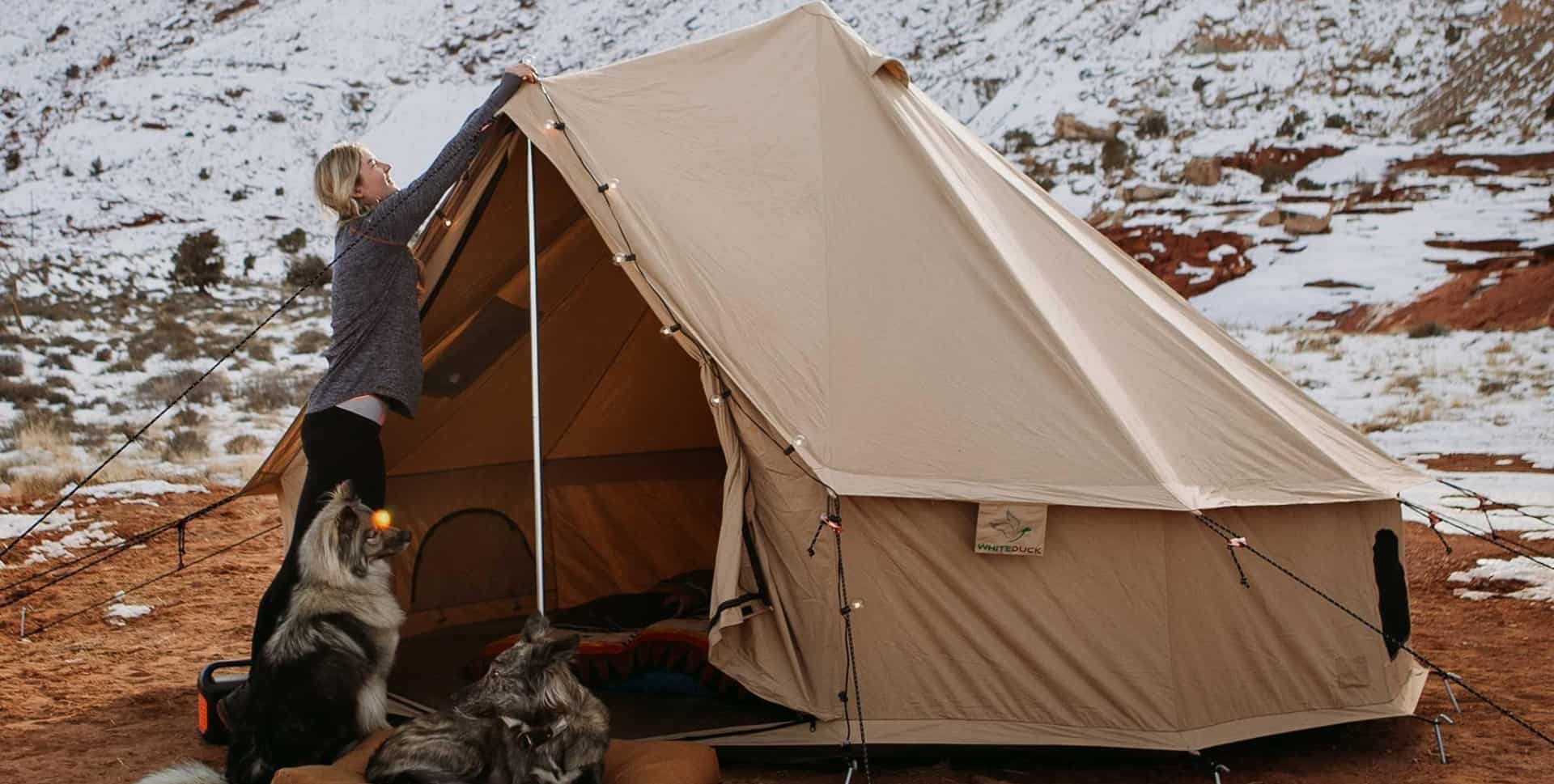 3. Use A Canvas Tent
Canvas is a top beat-the-heat tent material. It was pushed aside for nylon due to its weight. But if you're not backpacking, the extra pounds can be worth it. Canvas is a breathable material that keeps you warm in winter and cool in the summer.
An excellent example is the Whiteduck Regatta Canvas Tent made from their "dynaduck" UV resistant and water repellent fabric. It is strong, with double-stitched seams, has a heat-resistant canvas roof that blocks the sun, and has massive mesh doors and windows to allow proper ventilation and views.
4. Use A Tent With Lots Of Ventilation
One of the keys to keeping a tent cool is ventilation. Create a cross breeze by opening window panels and the door. Or look for tents mostly made of mesh under their rainfly, often affectionally known as "stargazing tents."
For example, the Kelty Late Start is simply a mesh "keep mosquitos out" dome once the rainfly is removed.
A one-person option is the ALPS Mountaineering Lynx, which has a mesh "star gazing" roof panel while providing some privacy on the sides. But the privacy sides can result in a stuffy tent on a hot day.
Lastly, if you have cash and want durable luxury, the Copper Spur HV combines ventilation, shade, and LED battery-operated nightlights.
5. Remove The Rainfly
A rainfly is a brilliant insulator and protects your tent from rain. But if you need to let some hot air out, take the rainfly off. The tent can then thoroughly ventilate and rid itself of excess heat. This detail is especially crucial if you are using water to keep cool, such as going to bed with a wet head. You don't want the rainfly sheet holding the moisture in and creating a sauna.
6. Set Out Some Ice
Setting out ice in your tent can help cool it down. This takes some planning, as making ice without electricity in the middle of summer pretty much requires the skills of a magician. But if you have the luxury of space to bring a cooler of ice to use for cooling more than your food, hurrah.
Other methods involve bringing refrozen bottles of water. For example, instead of a hot water bottle, put a frozen one under your sheet when going to bed. It is definitely going to bring the temperature down.
7. Be Mindful Of Where You Pitch Your Tent
Where you pitch your tent has a massive influence on how much you feel the heat. Areas close to water, such as a river or stream, will feel cooler than large stretches of sand. Try to figure out the direction of the breeze and angle your tent, so it blows through doors or windows.
Look for the shadiest spots to pitch. Remember, the sun moves, so aim for a patch that is shaded during the hottest parts of the day.
8. Use A Space Blanket Over Your Tent
Wrapping your tent in a space blanket, rescue blankets, giant tinfoil blankets, or reflective blankets are all ways to look like you've joined a cult.
Of course, you could also tell your fellow campers that you're aiming to win the Guinness Book of World Records for the largest casserole. (Warning, you'll then have to listen to sighs of disappointment that evening when you do not unveil a giant lasagna.)
But yes, reflect that sun away from your tent to keep it cool. If you are not keen to look like you've brought your great-grandmother's tinfoil collection on vacation, consider using a reflective tarp as a shade cloth. Then it will just look like you brought the roof of your garage. Also, bring sunglasses.
9. Knock Down Your Tent
A broiling tent is due to the stuffy air trapped inside, baking in the sun. Essentially, you're creating a hot air balloon with no place to go. So eliminate the heat trap chamber by knocking down the tent during the day. With it collapsed, there is no massive air bubble being superheated.

Once the sun has gone down, strap on your head torch and put the tent back up. Now the only air inside it will be the same as the temperature of the outdoors. Which, depending on the weather, could still be pretty warm. But at least it isn't hotter than being outside.
10. Create a Towel Air Conditioner
You can create an air-conditioning effect by using a wet towel. However, this works best in dry heat. Humid weather is so sticky and damp that it renders this trick fairly useless. Also, it helps if you have a breeze or a battery-operated fan.
To create the AC, you take a thin towel, a sheet, or a piece of canvas, wet it, ring it out, then hang it up in the door of your tent. The air blows through the wet towel and creates an aircon effect. Once the towel is dry, rewet it.
11. Sleep On Your Bag
When it's stuffy and hot, abandon the sleeping bag. It could act as some extra cushion between you and the ground. Or just roll it up and use it as a pillow. If you are the sort that struggles to sleep without something covering you, bring along a thin sheet or use a sleeping bag liner on its own.
12. Place A Tarp At Least 2 Feet Up
While the rainfly acts as unnecessary insulation, putting up a tarp can act as a portable shade. However, as your goal is to stay cool, you must ensure the tarp is at least 2-feet above the tent so that you don't create an insulating heat pocket. Otherwise, you might as well have left the rainfly up.
If you are concerned about ventilation (fair enough), you can use a gardener's shade cloth.
13. Sleep In A Wet Cotton T-Shirt
Anyone who regularly hikes knows the motto: cotton kills. But sometimes you need to court death to beat the heat. Thus, host your very own wet t-shirt contents and sleep in it. (Don't sleep on top of your sleeping bag if you do this.)
The moisture from the shirt will keep you cool and gradually evaporate. It also smells better than sweating like a wooly mammoth trapped in Florida. Well, provided the t-shirt was clean before you soaked it. If you're using one that's a bit whiffy, you're going to stink.
14. Put Thick Blankets Under Your Tent
The ground can sometimes radiate heat like a baked brick. Thus, if you find yourself camping at such a place, place thick blankets on the ground before pitching your tent. The blankets will shield you from the unfortunate warmth. The blankets will also cushion your back and bones from sharp rocks and pokey ground-bumps.
15. Use A Mesh Camp Cot
Sleeping up off the ground is cooler, thanks to good old air circulation. You can increase the ventilation factor by investing in a mesh camp cot.
For example, the Therm-a-Rest Mesh Cot gets you off the ground and uses breathable mesh fabric. It is lightweight, only 3.57lbs, so you can even take it backpacking. In addition, it uses a bow frame design, so no bars are running under your back.
Another option is the Extremus Mission Mountain Camping Cot, which holds up to 310lbs despite only weighing 4.4lbs. It comes with three fabrics, including a breathable mesh for summer camping. You can switch to the silver-coated Oxford fabric in colder months, which reduces heat loss and blocks out moisture.
16. Avoid Your Tent
If all else fails, don't sleep in your tent. Instead, drag your camp cot outside or set up a hammock and look at the stars. If you like the feeling of having something over you, pitch the rainfly or a tarp without the tent. Tell the kids that you're going to camp like real cowboys and cowgirls and spending the night around the (extinguished) campfire.