Glamping is the perfect way to start your outdoor camping life if you don't have the gear and want to dip your toe into the great outdoors. With glamping, you get the best of both worlds, a home away from home with all the conveniences and luxuries AND a glorious location!
It sounds wonderful but you are not sure what's involved and what you need to take. We've looked into the glamping world and come up with a glamping checklist to make sure you don't forget anything and are ready to pack for a great time!
Glamping is the perfect start for a family or couples who want the benefits of camping, like being in nature, cooking s'mores on an outdoor fire, and hiking day trips without the hassle of setting up a tent, forgetting to pack utensils, and sleeping on an air mattress with a hole in it.
Go glamping! It's fun, easy and if you follow our packing list, read our hints and tips, you won't forget anything essential and you can relax knowing that all you have to do now, is get there! So what are the best things to take glamping?
Sleeping Packing List
Possibly some linen or a sleeping bag – check your booking

Your favorite cant-sleep-without pillow!

Add new
Related: Looking for a big tent that will help turn camping into glamping? Check out our favourite big camping tents.
Kitchen Glamping Kit
It should all be there – but check your booking for details

Cooler/Ice to keep food in when transporting to site

Second cooler for drinks!

Lots of plastic bags for food, rubbish, and wet clothes.

Foil for cooking dinner on the fire

Add new
Eating
Again, all this should be there!

Personal water bottles for hiking trips

Food for breakfast, lunch, dinner, and snacks!

Marshmallows and S'mores ingrediants!

Add new
Wet weather protection – Staying Dry While you Camp!
Rain jackets

Waterproof hooded poncho

Add new
Clothing and Footwear To Bring
Bag for clean clothes

Quick-drying suitable outdoor clothing for the season

Layers if you aren't sure about the temperature

Suitable nightwear

Sun protection (Hats, sunglasses, sun shirts)

Snow protection (Jackets, boots, thermal underwear)

Cold weather protection (Hats, gloves, scarves)

Swimming gear (swimsuit, towel)

Trekking boots, water shoes, slip-on shoes

Socks

Plastic bag for taking dirty/wet clothes home

Add new
Toiletries Packing List
Toothbrush & toothpaste

Deodorant

Soap, shampoo

Quick-dry towel

Hairbrush

Shaver

Toilet paper

Medications

First aid kit

Insect repellent

Sunscreen

Chapstick or lip balm

Reading glasses/contact lenses

Makeup

Waterless hand sanitizer

Baby wipes

Add new
Glamping Tent Lighting
Lanterns for outdoor dining and ambiance

Battery-powered fairy lights for lighting the dinner table

Headlamps for night walks

Portable solar panel or batteries for recharging if off-grid

Add new
Camping Entertainment
Field guides, star charts, and books

Binoculars

Notebook and pencils (pencils write on wet-ish paper)

Music player, Bluetooth speakers, phone, tablet, etc

Musical instrument

Art supplies

Novels, magazines, reading materials

Ball, frisbee

Watercrafts

Hammock

Camera

Fishing gear, bait, license

Deck of cards, Jigsaw, board games

Day pack for short hikes

Add new
Useful things For Glamping
Phone charger

Watch or clock

Rope – thick and thin for clotheslines or hanging lanterns

Multi-tool/Pocket knife/Scissors

Compass or navigation device for hiking

Mosquito net

Credit card/cash/Identification

Repair kits for water toys, blow-up mattresses

Bear spray for errant bears also works well on unwanted human intruders

Whistle for attracting attention in an emergency

Add new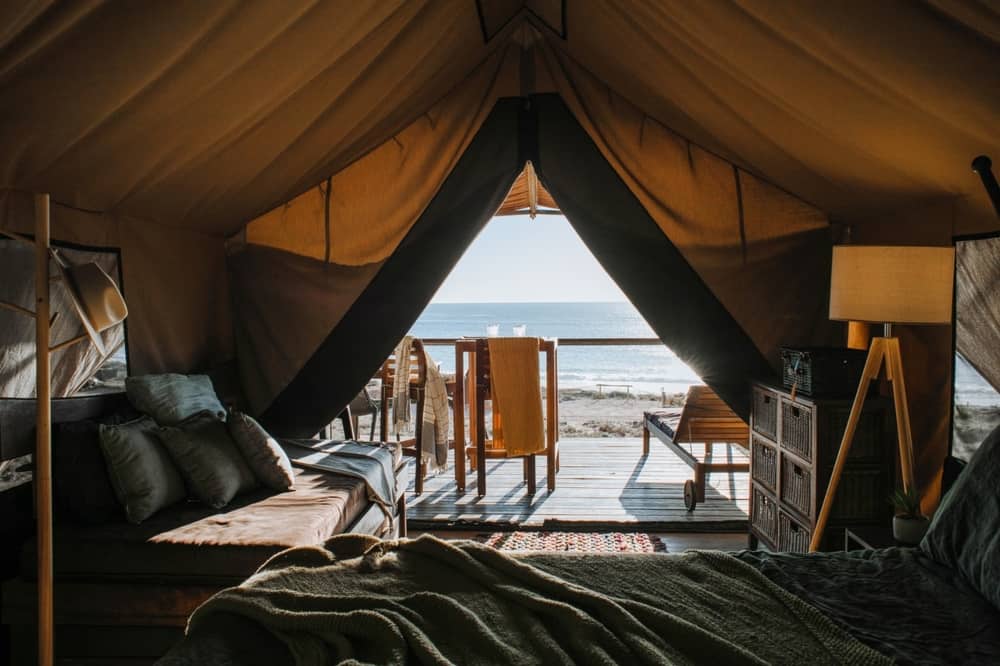 Hints and Tips for first time Glamping Campers
Early Planning For Your Camping Trip
Plan early and book a site as soon as you see it. The good ones go quickly.
Check the website. Do your research. Make sure you know if you are off-grid, have a bathroom, and how far your car will be parked from your accommodation.
Really look at online images of the campsite and inside the tent so you know what to expect. Glamping tents can vary a lot from place to palace and you don't want to make assumptions. True glamping is a structure with a floor and is weatherproof.
Check Yelp and Google reviews for info on what other people thought about the campsite and what experiences they had. Reviews less than six months old will be the most useful.
Checking Your Glamping Tent
Check on your electricity status. Some places have it. Some don't.
Check on what appliances are available. Not all sites are equal in this area.
If the kitchen looks a bit sparse, check the location of the nearest restaurant.
Glamping tents should still have a proper bed or something very close to them.
Glamping is about ambiance and romance, not roughing it, so bring all your little luxury items and conveniences. Look for the Wow factor when you are booking!
A Few Extra Tips To Make Glamping Even More Glamorous!
Bring warm clothes and a few outdoor blankets if you plan to sit outside at night.
Plan your meals and prep as many of them as you can before you leave.
Throw in a few fold-up chairs so you can sit in different places if the benches are fixed into the ground.
Bring wine in a box to reduce the chance of broken bottles. Cans are also a smash-free option for soft drinks and beer. They are lighter when you take them home too!
A huge umbrella is great for BBQing in the rain and for getting to and from the bathrooms.
Bring a hammock to laze away a day in with a book, a blanket, and a glass of your favorite tipple!
Check that your site allows pets before you bring Fido or Felix!
And a few things to do before you leave
If you think phone reception might be patchy, take a paper-based map of where you are planning to go glamping with you so that you can actually get there!
It's a really good idea to make sure you have the booking number, the access code, address, phone, direction, and a printed confirmation with you when you arrive, just in case your electronics do let you down…
Always leave the home with a full tank of gas in the car and remember to tell someone exactly where you are going and when you'll be back. Maybe email them your plans and campsite address. It's basic camping security in case things go pear-shaped.
It's also a good idea to know what the weather is going to do while you are away and what dangerous animals or toxic plants you might find in your camping area. Knowing the fire status of the area you are going to might be relevant if you were planning on an outdoor campfire as well.
Stay safe!
Happy Glamping! 😊
Back one: Looking to go car camping but want to go back to the basics? Check out our minimalist car camping checklist.
Next up: Want to buy a tent but you don't want it to fall apart after a year? What makes a tent last a lifetime? Find out in our guide – how long do tents last?