The best part of going camping is spending hours setting up a tent, right?
Just kidding, welcome to our review of the fastest tent to set up!
We've looked a HUNDREDS of tents, including all sorts of quick pitch technology from pop-up to instant and even airbeam tents.
Tents that can be setup fast are great option for family camping trips when you need to get your shelter ready ASAP. It's also handy for social trips with friends when you just want to get the tent setup so you can spend more timing relaxing with your pals.
Still with us as we run through the benefits and costs of these tents to decide which one is the ideal choice for you.
Scroll right to view all products >
| | | | | | | |
| --- | --- | --- | --- | --- | --- | --- |
| | Best Pop-Up Tent | Best for Friends | Best for Solo Camping | Best for Backpacking | Best for Big Groups | Best Budget Option |
| | | | | | | |
| Ranking | 1st | 2nd | 3rd | 4th | 5th | 6th |
| Rating /5 | | | | | | |
| Review | A quality, waterproof pop-up tent with fully dark interiors | An instant cabin tent with pre-attached poles for set up in 60 seconds | This versatile tent has a super quick set up and great mesh body | High-quality and ultralight, a great backpacking tent | Massive home away from home for your gang when camping | A super low-budget tent for solo campers that features a quick-pitch option |
| | | | | | | |
Reviews of the Fastest Tents on the Market 2021
Best Pop-Up Tent
Quechua Pop Up Tent (2/3 Person)
A quality, waterproof pop-up tent with fully dark interiors and fantastic ventilation. More expensive than other pop-up tents, but worth the price.
Capacity: 2 | Weight: 6.8lbs | Dimensions: 3'11" (W) x 6'10" (L) x 3'2" (H) | Bag Dimensions: 26" x 2.8" | Doors: 1 | Power Cord Vent: No | Hydrostatic Head Rating: 2000mm | Price: $$
Pros
Quality water and windproofing for rain storms
Completely dark interiors let you sleep in
Great ventilation keeps the tent cool
Pop-up tent with the fastest possible setup
Cons
Carry bag is an uncomfortable shape
Tight interior space for two or more campers
This tent from Quechua is a little pricier than many other pop-up tent options of its size, but we think your investment is definitely worth it. It's not too heavy to carry for short distances, the quality is great and the setup is a breeze.
Best of all, it has incredible ventilation, and Quechua's Fresh and Black technology keeps the interiors dark and cool. This makes it the perfect tent for when you want to sleep in, whether you're at a festival or camping with friends.
The pop-up tent is also durable and stress-tested to handle rough weather conditions. The low design and tough fiberglass poles withstand heavy winds of up to 30 miles per hour without damage.
The fabric has a 2000 mm hydrostatic head rating, which should be enough to handle tropical-type heavy rain without leakage. Customers who bought this camping tent are generally happy with the weatherproofing. The pop-up tent also has two panels on both sides for maximum ventilation, so you'll also be able to let air inside.
Pop-up tents open on their own when you take them out of the bag, but getting them back in the bag takes some learning. When you've got the technique figured out, it only takes a minute to fold it. The main negative is that the carry bag is big and round, so it's a little uncomfortable to carry with you.
Another con of this tent is that the 2-person size is too small for two people to sleep in comfortably, especially if you're carrying camping gear. It might be a nice option for those who are going out with friends but want their own tent, or for solo car camping.
---
Best for Friends
Core 9 Person Instant Cabin Tent
A 9-person instant cabin tent with telescopic, pre-attached poles that allow for set up in 60 seconds. It features wide windows and doors and a mesh roof for amazing ventilation.
Capacity: 9 | Weight: 27.6lbs | Dimensions: 14' (W) x 9' (L) x 6'5" (H) | Bag Dimensions: 4' x 11.5" x 11.5" | Doors: 2 | Power Cord Vent: Yes | Hydrostatic Head Rating: 600mm | Price: $
Pros
Mesh ceiling for amazing ventilation
Plenty of room to use as a family tent
Comfortable to use as a 6-person instant camping tent
Big door for easy access
Detatchable room divider gives some privacy in the tent
Cons
The stakes can break in rough winds
This 9-person instant cabin tent from Core has telescopic poles that give it a quick set up. Core claims it can be done in 60 seconds, but it'll likely take you a little longer, especially on the first try. Still, it's among the fastest instant cabin tent models on the market.
You have enough room inside for two queen-sized air mattresses, and the maximum capacity is nine people. We recommend this instant design tent for camping with a family or group of friends, but for a maximum of six adults to be comfortable. You'll have some room for socializing, but the removable divider gives you some privacy.
The cabin style structure of the CORE makes it an excellent choice for tall campers. The peak height inside the CORE is 6′ 6″ which makes it a good choice for tall campers.
Customers love the spacious interiors and large doors that allow you to go in and out with ease. The 9-person instant cabin tent has big mesh windows all over, as well as a mesh roof for late-night stargazing. If you camp in bad weather, you can put on the rain fly to block some of the rain.
Note that it's not a full-coverage rain fly, so this 9-person instant cabin tent won't give you the best protection against a storm with heavy, sideways rainfall. The poles aren't the strongest, either, and include some moving parts and hinges that aren't the most durable against strong wind.
Another extra feature we loved in the CORE was the mesh wall organizer, which is super handy for storing your personal belongings safely during your camping adventure.
---
Best for Solo Camping
TETON Sports Instant Tent (1/2 Person)
This 2-person tent has a super quick set up with pre-attached poles that snap on in a matter of minutes. You can use this dome tent with a Teton cot for a more comfortable 'glamping' experience.
Capacity: 2 | Weight: 6.6lbs | Dimensions: 5' (W) x 6'10" (L) x 3'5" (H) | Bag Dimensions: 2'9" x 7" x 7" | Doors: 2 | Power Cord Vent: No | Hydrostatic Head Rating: 1200mm | Price: $$
Pros
Mesh walls and roof for extra ventilation
Pre-attached poles for easy setup
Versatile tent for camping with a cot
Doors on both sides
Cons
Small for two adults; better for one person
The rain fly doesn't cover the tent completely
This 2-person tent comes with pre-attached poles that lock into place in a matter of seconds. It's our top pick for those who go solo camping, especially if you tend to make short weekend getaways in your car. With a quick camping tent like this one, you won't waste your nature exploring time putting up the tent.
It's also versatile, and you can use it with a cot bed to raise it off the ground. If you pick this option, Teton also offers an extra-large rain fly that extends all the way to the ground with the cot. This way, you get some more storage space underneath the tent.
The rain fly that comes with the camping tent has a 1200mm hydrostatic head rating, so it's enough to handle most rain. However, some customers do comment on the rain fly not being big enough and some water leaking from the corners.
On a dry night, you can take off the rain fly and fall asleep looking at the stars through the full-mesh interior tent.
If you're camping with someone else, you won't have to crawl over them to get out, thanks to the doors on both sides. Another handy feature is the gear loft on the roof to keep your personal items.
---
Best for Backpacking
Big Agnes Copper Spur HV UL Tent (1/2/3/4 Person)
This high-quality 3-person tent from Big Agnes is not cheap, but the ultralight design and overall quality are worth the investment. The awning-type vestibules on both sides add protected space outside.
Capacity: 3 | Weight: 3.1lbs | Dimensions: 5'10" (W) x 7'5" (L) x 3'7" (H) | Bag Dimensions: 19.5" x 6" | Doors: 2 | Power Cord Vent: Yes | Hydrostatic Head Rating: 1200mm | Price: $$$
Pros
Ultralight camping tent for backpacking
Great for 3-season use, even in harsh weather
Vestibules on both sides
Big enough for two people
Lots of storage pockets inside
Cons
Very expensive compared to basic tents
If you're looking for a backpacking tent full of features for maximum comfort, we recommend this one. It's an ultralight tent that's big enough for two people to sleep in comfortably, and it has wide doors with awning-style vestibules on both sides.
The vestibules are handy for extending your living space to the outdoors, giving you shade from the sun. It's great for sitting around, as well as cooking outside if it's raining.
The center height inside the Big Agnes is 40″ which is pretty good for an ultralight backpacking dome tent, however, it will mean that you will spend a lot of time hunched over in this tent.
If you buy the additional footprint, you'll be able to protect the tent floor and use the fast fly pitch option. This allows you to set up the interior with the fly already in place, which is terrific if you're pitching the tent in extreme weather.
The tent also includes an electricity port for your cables and plenty of large pockets along the bottom and the ceiling for your personal items.
This tent is not for those campers who are trying to save, as it's quite pricey. But it's a great tent with lots of useful features. Not to mention the ultralow weight that makes it an amazing backpacking tent.
---
Best for Big Groups
Capacity: 12 | Weight: 55 pounds | Dimensions: 16' (W) x 16' (L) x 6'2" (H) | Bag Dimensions: 4'4" x 12" x 12" | Doors: 2 | Power Cord Vent: No | Hydrostatic Head Rating: N/A | Price: $$
Pros
Spacious tent to fit three queen mattresses.
Three separate rooms for privacy
Massive awning for shelter outside
Cons
Can be too big for some campsites
If you're heading out with a large group, this L-shaped instant cabin is an excellent option as it's the largest tent we've included in this review.
It has a massive interior space and a large awning at the door for hanging out when it's raining. It also has two room dividers to maintain privacy when you're camping with friends.
You can use the three parts of the cabin tent as separate bedrooms if you're camping with a bigger group of friends. The center part is slightly smaller than the rest, so you can also use this ample space for eating, socializing or gear storage.
The peak height of this cabin tent is 6'10" so if you want to something with plenty of head space, the Ozark Trail is an excellent choice.
Despite the unconventional shape of this roomy tent, it's easy to set up in less than 2 minutes. The poles are pre-attached, and you just have to snap them into place.
This instant design tent isn't cheap, but considering it can replace three smaller camping tents, it's an excellent investment. We recommend it especially for longer vacations if you want some extra comfort and plenty of space. If you're planning a road trip that'll have you moving camp every couple of days, this one will save you some precious time.
The only negative is that it's so massive that you might have some trouble finding enough level ground to pitch it. Plan your camping experience beforehand and make sure you're going to a campsite that'll have room for a massive tent like this one.
---
Best Budget Option
Capacity: 2 | Weight: 5.5 pounds | Dimensions: 4'5" (W) x 7'5" (L) x 3'7" (H) | Bag Dimensions: 16.5" x 5.5" x 5.5" | Doors: 2 | Power Cord Vent: No. | Hydrostatic Head Rating: 5000mm | Price: $
Pros
Setup only takes three minutes
Available at an affordable price

Great weather protection

for the value
Doors and vestibules on both sides
Cons
Poles are thin and may break during setup
Ventilation with rain fly isn't the best
This affordable tent is a great budget all-around model that adapts well to hiking and 3-season weather. It's easy to set up in about 3 minutes once you've figured it out. If you're a more extreme backpacker, there's a quick-pitch option with only the rain fly and a footprint that keeps your pack lighter. And it's available at a reasonable price!
The hydrostatic head rating of this tent is 5000mm, which is something difficult to find in a tent of such an incredible price. It generally holds up well in rough weather, both rain and wind. However, the poles aren't the toughest, so you'll have to be careful during setup not to snap them.
The interior tent has full-mesh walls and roof for admiring the great outdoors and providing enhanced ventilation. If you have to put on the rain fly, you'll get in some air from the vents at ceiling level. There are no vents at the floor level, and the openings are small, so it can get heated in the summer.
The 2-person size is relatively small, and you'll be seriously cramped if you take it out on a trip with two adults and outdoor gear. The two doors and vestibules do add a little more space, but we recommend it more for solo backpackers. It's also great to give you some privacy when you're out with a larger group.
The peak height of the tent body is 43″, which is fairly tall for dome-style tents.
---
Which tent was easiest to setup?
Can these tents be setup by one person?
All of these tents can be pitched by one person, although it's always easier to set up a tent with an extra pair of helping hands.
The Ozark Trail and CORE tents might be a little trickier to setup. If you are short, you might struggle to get the rainfly over the top of the tent.
But one person can still set those tents up alone, it just might take a lot longer than you would like.
Are these tents difficult to carry?
The Big Agnes Copper Spur is definitely the easiest tent to carry that we looked at but the TETON and Bessport tents are both also possible to bring on backpacking trips.
All the other tents are only suitable for car camping.
Which is the fastest tent to set up?
Winner: Quechua 2 Second 2-Person Tent
There's no way to beat a pop-up tent if what you prioritize is the speed of setup. The Quechua pop-up tent couldn't get any easier, as it just opens on its own when you take the tent out of the bag.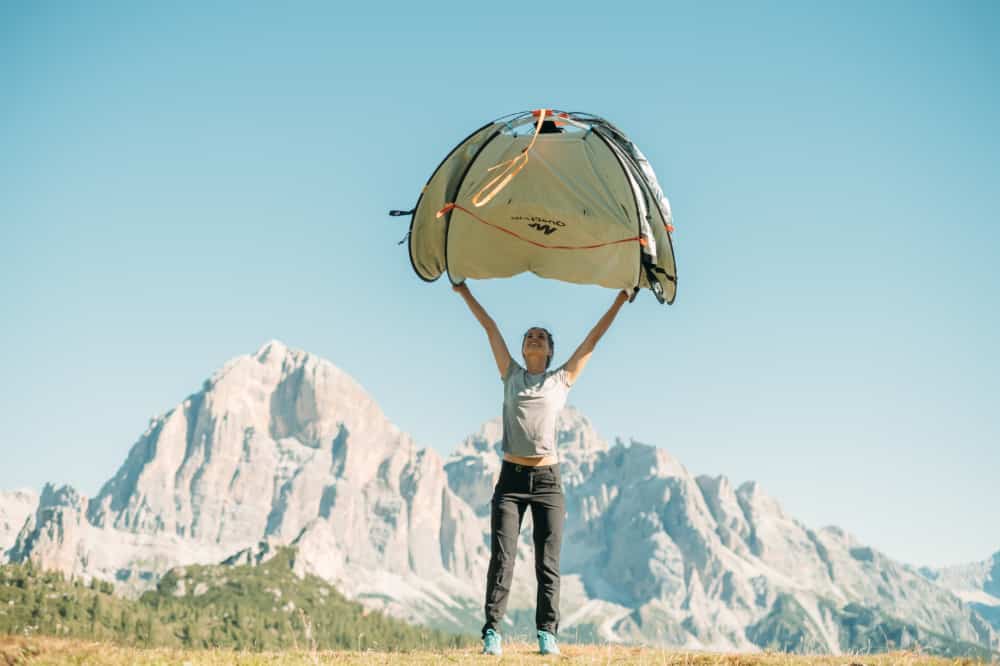 If you're looking for something lighter or easier to keep with you for backpacking, we recommend the Big Agnes tent. For large groups or as a family camping tent, the CORE 9 Person is the best instant cabin tent option with a super speedy setup.
Who are these tents for?
Which tent is best for family camping?
Winner: Ozark Trail 12-Person Tent
By far the best tent for families, this 12-person behemoth from Ozark Trail has three rooms with loads of space. It's great for giving everyone a little bit of privacy whilst camping.
The outdoor awning is also fantastic for providing some sheltered extra space.
which tent is best for festivals?
Winner: Quechua 2 Second Pop-Up Tent
With the dark interior keeping the tent sheltered from light and heat, it's a great tent for sleeping off long nights of partying even when the sun is shining. The excellent ventilation keeps the tent fresh as well.
It's super quick to setup as well, which means you can pop it up and get stuck in to your weekend of partying!
Which tent is best for backpacking?
Winner: Big Agnes Copper Spur UL 3-Person Tent
If you're planning a backpacking trip, you'll need a lightweight tent that won't take up much space in your gear. We recommend the Big Agnes if your budget isn't too tight, due to its ultralight design that won't weigh you down.
Which tent is most comfortable?
Winner: Ozark Trail 12-Person Tent
The amount of floor space you should prioritize depends on what your plan is for your camping trip. If you're going out with the whole family or a big group, we highly recommend going for a massive cabin tent like the Ozark Trail. It has enough room for three queen-sized air mattresses and two room dividers inside for privacy.
It also has the tallest center height of the tents for camping we reviewed thanks to the vertical walls. The 3-room tent also has plenty of space to lie down for a good nights sleep.
For a slightly more moderate tent size, the CORE 9 Person Instant Cabin Tent is our pick. It's still a great size for a family, but you won't have as much trouble finding a spot for it at the campsite. For a couple, the Quechua pop-up tent is usually spacious enough.
The Big Agnes is very comfortable for backpacking trips, but also comes with key features like an e-cable port. The power cord access port lets you run an electrical cord into the tent to charge devices if your campsite has an electrical hookup.
which tent has the best storage?
Winner: Ozark Trail 12-Person Tent & Big Agnes Copper Spur
Both of these tents really impressed us with their storage options.
The Ozark Trail has three rooms, one of which can easily be used for storing lots of gear. That's great for trips where you're planning to take a lot with you, but don't need enough sleeping space for 12 people.
The outdoor awning is also superb for creating a sheltered area for storage as well.
The Big Agnes is a lightweight tent that comes with two vestibules. This are great for making your tent feel much bigger than it is. Use one as your entrance and one side for storage or both sides can be used as doors if two people are staying inside the tent.
There are internal loops for attaching a gear loft to the Big Agnes, which is a popular feature for keeping your personal belongings stored safely. However, you have to buy the attachment for the gear loft separately.
How do these tents cope with different weather?
Are any of these tents suitable for extreme weather conditions? Or should you stick to warmer weather and mild weather conditions in these tents?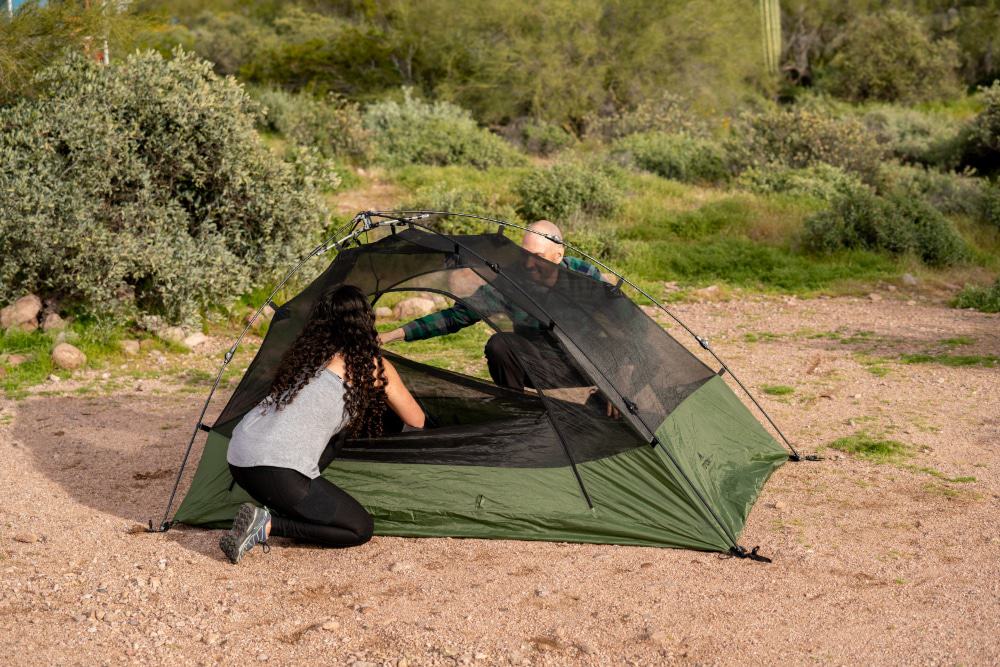 Keeping the rain off your back
Winner: Quechua 2-Second Pop-Up
In simulated rain storm conditions, the Quechua 2-Second Pop Up is checked to make sure it is prepared to face heavy rain in tropical climates.
Typically pop-up tents offer little cover and we will suggest that you camp in good weather using one. But this Quechua gives you some severe weather resistance to keep you dry throughout your journey.
Preventing condensation buildup
Winner: Quechua 2-Second Pop-Up & CORE 9-Person Instant Cabin
The Quechua can even handle condensation well if it rains.
The tent has excellent ground vents to keep the tent cool as the temperature rises but also to avoid condensation when the night air starts to cool.
With the rain fly off, thanks to the mesh ceiling the CORE model has lots of ventilation. The rain fly affects the ventilation in the tent but should still disperse well in order to avoid a condensation issue.
The massive mesh windows in the CORE also help with ventilation.
Standing strong in windy conditions
Winner: Quechua 2-Second Pop-Up
The Quechua is also tested in winds of up to 30mph. Use the tent stakes to secure the guylines for stability in windy weather. The fiberglass poles will provide a stable structure in mild weather conditions.
Unlike the CORE and Ozark Trail cabin tents, the shape of this tent body is not vulnerable to catching in the wind.
Keeping Cool in Summer
Winner: CORE 9-Person Instant Cabin & Quechua 2-Second Pop-Up
The magnificent mesh roof on the Core 9-speed Instant Cabin Tent must be one of the best features in all of these tents. Not only does heat escape from the airy tent and keep you cool in warm summer evenings, but it also offers a stunning view of the evening sky with the rain fly.
Without leaving your bed, you will lay down with your family in their sleeping bags and gaze at the stars overhead.
The 2-second Quechua pop-up is equipped with its blackout technology to guarantee that 99 percent of the daylight blocks the tent, meaning you don't have to think about being woken early in the morning. The SPF50+ rating also offers protection from the sun.
Are these tents suitable for winter?
We're afraid not! These tents aren't suited for winter camping. None of these tents are made from heavy-duty materials like cotton canvas which are good for winter camping.
The Big Agnes is the best weather resistant tent overall but is still only a three-season tent.
Which tent is the most durable?
Winner: Big Agnes Copper Spur
If you want a quality tent that will last, look to the high-quality Big Agnes model. It comes with lightweight but durable materials to ensure you can get a few years of adventure out of this tent at least.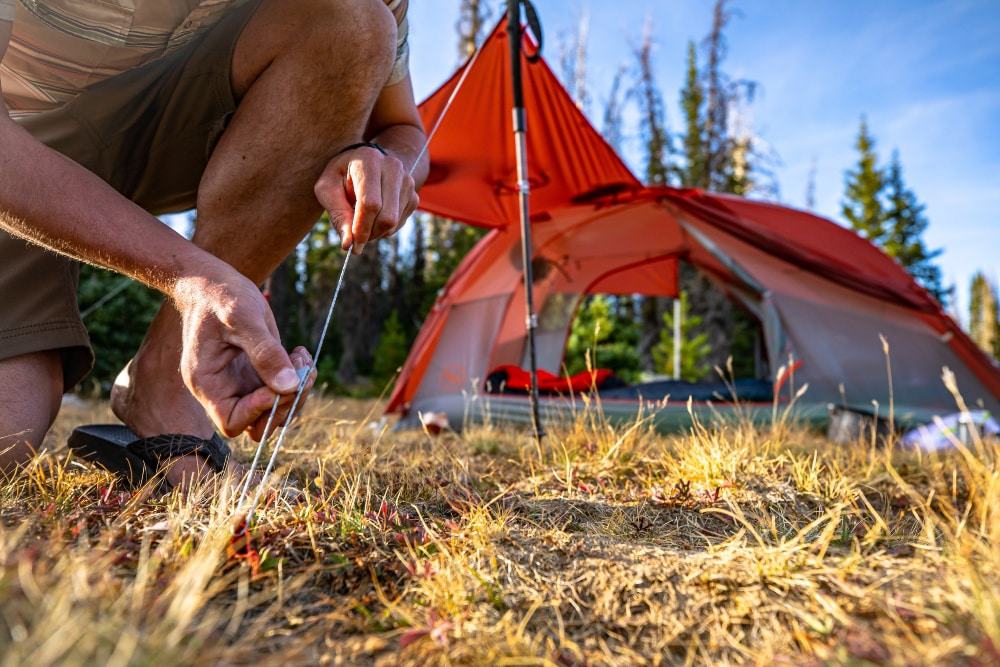 Big Anges recommend that you buy the additional footprint to provide even more protection for your tent and extend its life even more.
Which tent is the Best Value for money?
Winner: Quechua 2 Second 2-Person Tent
There are some amazing contenders in the value category, and all these tents are good purchases for different needs. A 12-person tent will usually be more expensive than a 2-person one. Ultralight technology and other extra features will also add to the price tag.
When picking the best tent in the value category, we again went with the Quechua pop-up tent, since it's such a well-built product.
The Bessport Paraiso 2-Person Tent is another solid choice if you don't want to spend a fortune on your tent. It's still amazingly good quality
FAQs
What Types of Fast-Pitch Tents Can You Get?
There are generally two types of fast-pitch tents you can buy, pop-up tents and instant tents.
Pop-Up Tents
Pop-up tents are the fastest tents to set up. They're already assembled, with all the extra-bendy poles already inside the tent sleeves, and packed into a round package.
You simply need to take the pop-up tent out of the bag, and, as the name implies, it pops open. Then, you can move the pop-up tent wherever you want and stake it to the ground.
Sometimes, you'll need to attach a separate rain fly to a pop-up tent, which can take a little longer. Still, the whole operation shouldn't take you much longer than a couple of minutes.
The downside of pop-up tents is that if they're not heavy-duty and the rain fly can be just a little too loose. This means you might get water inside your pop-up tent if it rains. Another possible negative is that the carry bags tend to be uncomfortable to carry because the pop-up design folds into a large, round package.
Instant Tents
Instant tent models have designs with pre-attached, telescoping poles. The setup is simple, just spread the tent on the ground, extend and snap the poles into place. Then, you'll need to secure the tent into the ground and possibly attach a rain fly.
These types of tents do consume a lot of space. Unlike with your ultralight and small backpacking tents, you can't squeeze a lot of air out of a tent with pre-attached poles.
However, an instant cabin-style tent usually has straight walls, which makes it higher and more comfortable for tall people.
One possible problem is the multiple hinges that can become vulnerable in extreme weather. If it's really windy, an instant tent's poles can break more easily than traditional dome-type tents.
Are Faster Tents Easier To Set up and Put Away?
Fast tents are generally easier to assemble and pack away. You won't have to sort out tent poles, attach them and pass them through sleeves. However, you'll still need to spend a couple of minutes staking your tent to the ground and making sure your rain fly is taut.
How To Make Tent Set up Faster
The most important thing to speed up your tent set up is practicing before you head out. Many traditional and instant tent models only take a couple of minutes to set up once you've got the idea. But it will likely take a bit of time to figure it out, so try it before heading out into the wilderness.
Also, make sure you've got everything in the bag before you leave home. It's easy to leave out stakes, poles or a footprint when you're packing for a vacation.
Another thing that can speed up your setup is making sure you've packed your tent in a smart way. Keep all the stakes and poles together and sorted, so you don't spend time looking for them.
Can you fit a queen-sized air mattress inside?
You will be able to comfortably fit queen size beds inside the CORE and Ozark Trail cabin tents but might struggle with the smaller ones.
The Big Agnes and Quechua should be big enough for one queen size mattress but the TETON and Bessport will not be suitable for sleeping on an airbed.
Can All These Tents Be Set up by One Person?
All the tents in our review can be set up by one person, but some are easier than others. The bigger instant tents especially will take less time to assemble if you've got two sets of hands.
If you know you're going to be tight on time, check out the Quechua 2-second tent. It's by far the easiest and fastest to set up, since it doesn't actually require any work from you to put up.
The Winner
We picked the Quechua 2 Second 2-Person Tent as the fastest tent to set up. A tent just doesn't get any easier than this one to set up—just take it out of the bag, and it pops up!
This tent also has some fantastic features, including mesh pockets and fully dark interiors. You'll be able to sleep late in the morning because the fabric keeps the tent nice and cool.
Keep in mind that this tent sleeps two people comfortably, so if you need a bigger tent, check out the other options on our list!
Was this post helpful?
Let us know if you liked the post. That's the only way we can improve.