Looking for a new tent but cant decide on a dome tent vs cabin tent? The wrong choice here could leave you wet and cold in the middle of the night or result in a screaming match between the kids.
We cover the pros and cons of dome tents and cabin tents, and which one is right for your situation. Read on to ensure you have a pain free vacation.
Looking for a family friendly camping experience? Check out our guide to the best cabin tent.
What Is A Dome Tent?
Dome tents are the most common type of tent. They are typically made up of flexible poles that meet at the top of the tent, leading to a dome shape. Dome tents are most often used by backpackers and small groups of campers.
That being said, there are some exceptions to this rule with some dome tents being suitable for families. And given the popularity of dome tents, there's a lot of variety. From the casual camper's Coleman sundome tent to the avid backpacker's Alps Mountaineering Lynx tent.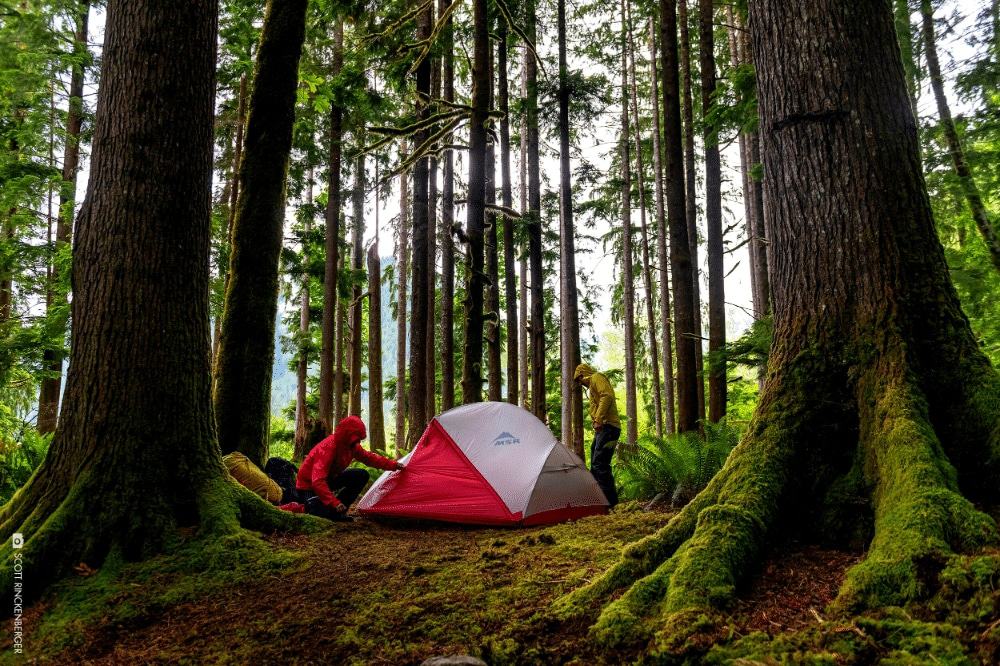 Dome tent performance in rain and wind
The advantage of the dome shape comes to the fore when you're experiencing windy and rainy conditions. The slopes of the tent help to push the wind around the tent while rain runs down the sides rather than pooling on the top and eventually leaking in to your tent.
The performance in weather is a major advantage over the boxy shapes of cabin tents. It's quite hard to find truly 3 season cabin tents, while dome tents (albeit typically modified) are even used on expeditions to Mount Everest.
Space in dome tents
While the shape of the dome makes it difficult to sleep right at the low hanging edges of the tent, this space can be used efficiently to store your other camping and backpacking gear. Some dome tents, particularly those targeted at backpackers, also come with vestibules on the front to give you additional storage room for gear.
Do be careful if you are stacking your gear against the walls though. Tent waterproofing is made up of the hydrostatic head ratings (read – material waterproof rating) and surface tension. Touching the tent wall breaks the surface tension and results in your tent waterproofing relying completely on the hydrostatic rating. In tents with hydrostatic head ratings that are too low to cope with the rain at the time, this will result in water leaking in to the tent. Try positioning your gear just away from the walls of the tent if you're worried about waking up with sodden clothes.
Portability and weight of dome tents
The weight of dome tents can vary hugely between the tent brand.
Casual camping tents tend to prioritise ease of setup. Often they come as a single unit with polyester walls and occasionally an additional rainfly for the top of the tent. The tent poles are typically made of fiberglass. Fiberglass poles are cheap to manufacture and are perfectly fine for casual camping situations.
Backpacking tents instead prioritise low weight and performance in bad weather. The main body of the tent is typically fully mesh and lightweight, while the waterproofing comes by attaching a full length rain fly around the tent. The tent poles of backpacking tents are typically aluminum. Aluminum is lighter than fiberglass and considerably stronger, however it does come with a price tag.
All in all, dome tents tend to be lighter than cabin tents purely because less fabric and tent poles are required to create the shape. If the dome tent is a backpacking tent, this can be considerably lighter than cabin tents.
Ease of setup for a dome tent
Dome tents are typically very easy to setup. The curve of the tent allows you to easily reach every point of the tent, unlike large cabin tents.
However, instant and pop up type tents are also available for both cabin tents and dome tents and this will matter more than the shape of the tent itself.
Instant tents come with the poles preattached, so all you need to do to set these up is get the tent out of the tent bag and extend the poles. Often these can be set up in less than a minute.
Pop up tents are even easier to set up. Pop up tents are tents that have been preassembled and placed in a tent bag. Think of these tents as loaded like a spring. Once you open the tent bag and place the tent down, the tent pops up into shape.
Typically dome tents are easy to set up and can be setup by one person.
What Is A Cabin Tent?
Cabin tents are straight walled tents that have a boxy, cabin shaped look. Cabin tents are most often used by casual campers and are favourites for family summer camping.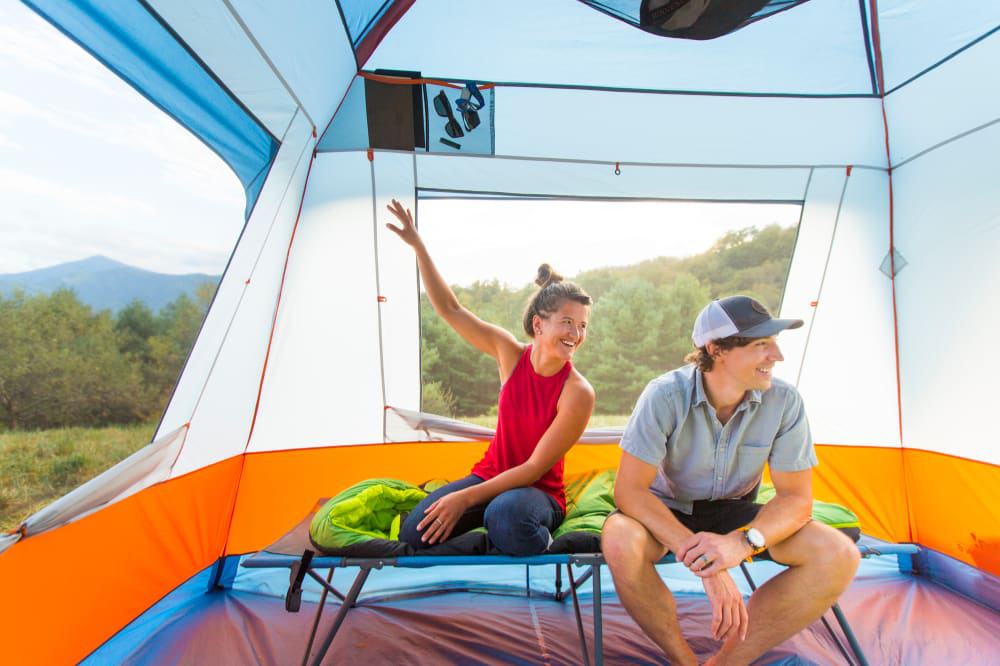 Space in cabin tents
Cabin tents have LOADS of room.
The straight walls of cabin tents mean that you have room all the way up to the edge of the tent, and reduces the claustrophic feeling of a dome tent pointing inwards. You can usually fit several queen sized air beds and have plenty of room for storing gear.
On top of this, some cabin tents come with room dividers which can be used to separate the interior of the tent into two or three rooms. While any chatting will still carry through these dividers, the separating rooms can be wonderful for giving the family some privacy at night.
Cabin tents are typically very tall with plenty of headroom which allows campers to stand up straight while they're walking around the tent. This makes them an ideal break from the outdoors if it starts raining. The whole family can come into the tent and play games without feeling packed in like sardines.
The maximum capacity of cabin tents is much larger than dome tents, with plenty of 12 person and even larger cabin tents on the market.
Cabin tent set up
As cabin tents are for casual campers, they are typically pretty easy to set up and often come as instant cabin tents with telescopic poles (preattached poles that you extend like a telescope to set up the tent). Again though, the choice of whether the tent is standard, instant or pop up will matter more than the overall shape of the tent.
One thing to bear in mind is that cabin tents can come in large sizes and these can need more than one person to set them up. This is particularly true when you start getting to 8 person tents and bigger.
Are cabin tents good in the rain and wind?
Not especially.
Their large box like shape is the opposite of aerodynamic which means the walls can collapse in with very strong winds. And often the cheap but cheerful casual camping vibe means that these tents come with lower hydrostatic head ratings which cant handle heavy rain.
As a result, cabin tents are typically two season tents. This means that they hold up well in fair weather and light rain showers.
If you're based in a particular wet part of the world, like south east USA or the UK, you may want to consider modified cabin tents which are designed to handle slightly stronger rainfall. I particularly like the modified cabin tents and tunnel tents offered by Vango which are shaped to be slightly more aerodynamic and also come with excellent waterproofing.
Cabin tent weight and portability – how easy are they to carry?
Cabin tents are definitely not good for backpacking and only really suit car camping trips.
The large amount of materials required make them heavy, and the fact that they typically fit more people makes them even heavier. Their popularity in casual car camping users also results in cost cutting and cheaper but heavier materials used.
Price of dome Tents vs cabin tents
Cabin tents require more materials to produce and this typically means that they're more expensive than casual dome tents of the same size. Although this can change markedly if you're looking at backpacking dome tents – these are often a multiple of the price of casual tents.
Dome Tent vs cabin tent Comparison
If you want to know how dome tents compare to cabin tents, see our comparison table below. Some of these ratings depend on the tent chosen – in particular when you're looking at weather protection.
| | | |
| --- | --- | --- |
| Feature | Dome tents | Cabin tents |
| Family use | Average | Great |
| Backpacking use | Average to Great | Poor |
| Space | Average | Great |
| Set up | Great | Average to Great |
| Weight | Light to Medium | Heavy |
| Weather protection | Poor to Great | Poor |
| Center height | Small to Medium | Tall |
| Price | Low to High | Moderate |
| Storage | Poor to Moderate | Moderate to Great |
FAQ
Is a cabin tent or a dome tent better for tall people?
If you're tall and only wanting to do some casual camping, you should definitely consider a cabin tent. They are considerably taller and roomier than dome tents given that the sides of the ceiling don't slope downwards.
Some dome tents are taller than others, however you won't be able to find many that you can stand up in.
Related: Interested in cabin tents? Find out more in our guide: Are cabin tents good?
Which tent is better for families?
Cabin tents are great for families. They have plenty of room, shelter from light rain and often come with room dividers for added privacy. On top of this, it's not uncommon for cabin tents to include plenty of storage pockets and handy gear lofts for storing your gear in the ceiling.
Dome tents can be perfectly fine more often than not. However, the fairly cramped in nature can sometimes lead to nerves fraying and tears after a few days.