Welcome to our CORE 6 Person Instant Cabin Tent review!
We've looked at HUNDREDS of tents and contemplated what makes a cabin tent perfect.
The CORE is quick to pitch and has plenty of mesh for an open and fresh design. But does all this mesh cause a problem in the rain?
Is this tent everything we had hoped it would be? Let's find out!
Is the tent a good buy?
Don't have time to go through all the ins and outs? No worries! Here's our quick recommendation.
It's a great instant cabin design tent for casual summer camping trips. Although it lacks a vestibule and doesn't have extra space for storing larger items, it's great for car camping. The ease of setup is fantastic for leaving you more time to relax and enjoy your time.
The big bones of this tent is that it can be pitched in 60 seconds according to CORE. That's remarkable and we were hesitant to believe them at first. But we've seen so many first time campers say they managed to do it in about 60 seconds, we've got to hand it to them.
This instant tent can be ready in under a minute, rather than the usual five to ten minutes. That's basically like time travelling to give you the most time possible in your tent.
Is the CORE tent good value for money?
If you're on a tight budget and you need a low-cost bargain to help with costs for your trip, then this probably isn't the tent for you. It isn't the cheapest tent available. Those campers might want to take a look at the Coleman Instant Cabin tents.
But it is not an expensive tent. It's available at a reasonable price and comes with a bunch of nice features to justify the price. Check out the cost to see if this instant tent is in your price range.
The instant setup is the key feature of this tent but smaller bonuses like the huge wall organizer are great finds in this tent.
Fitting in: does the CORE come with enough space?
The CORE instant cabin tent is 11 x 9 feet with a peak height of 6 feet—so how well will it go for your group?
What size of group does this six person instant cabin tent suit best?
This 6 person tent is best for a group or family of four. As it fits two queen air mattresses, you could have parents on one and two kids on the other. You could bring a small to medium-sized dog without issues, too.
Is It a Roomy Tent for 6 people?
Unfortunately, this six person instant cabin tent is not comfortable for six people unless you're children, or just very small. Six people will be shoulder to shoulder, and though it's doable, it's not wonderful.
As a rule of thumb for comfortable camping, it's best to take the size of the tent and subtract two.
Is the tent An unbeatable option for family camping?
The CORE 6 person instant tent is good for a small family. That is, families with one or two young children who won't care that there's no privacy within it.
The electricity port is great for bringing a power cord into your tent. The electricity connection port is great for juicing up devices before the long car journey home (and keeping the family happy).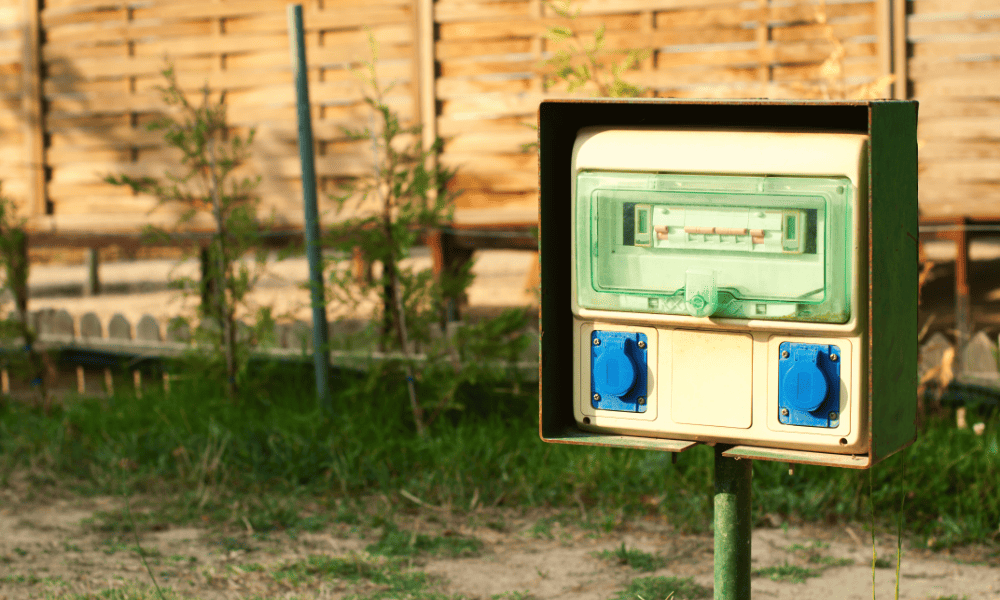 Save yourself from the drama of tears of boredom on the drive home after a successful camping trip by getting everyone's devices ready the night before.
There's ample space in this family camping tent for a small family but for bigger families, look for a larger tent.
Is It good for backpacking and hiking?
The CORE 6 person instant tent is slightly too big for backpacking and hiking. The size of the cabin tent means that the pack weight is too much for you to carry and pass between you.
When you stop for a rest, the cabin tent sets up quickly, so it's good for backpacking and hiking in that regard. But we still don't recommend taking it on your next backpacking trip!
Is It a good tent for tall people?
The CORE 6 person instant cabin tent isn't great for tall people. Its center height is only 6 feet, so anyone 6 feet tall and above will struggle to stand tall in the tent.
This is disappointing because size is usually a feature of good cabin tents. It's typical for that they offer a tall enough peak height for comfortable headroom.
Is there storage space for camping gear or equipment?
There's not much internal space for gear storage if you set up air mattresses or cots in the CORE. If you're using sleeping bags you roll up by day; then there's more.
There is, however, a wall organizer for personal items like phones, water bottles, books, climbing gear or any other gear. These are mesh pockets found on one of the vertical walls. This CORE review is fairly distinct in this regard. Wall organizers feel like a really innovative storage option to keep things tidy on your family camping trip and can make up for the smaller size.
As well as the internal storage pockets, this cabin tent comes with a gear loft which is great for family camping. It's handy for keeping things out of reach of little arms!
How many rooms does it have?
The CORE instant cabin tent only has one room, but this isn't unusual in a review of a cabin tent of its size. Have a look at the 9 person CORE tent if you're needing multiple rooms for privacy. A drawback of missing out on a screened room is that kids wont have a specific place to put their muddy shoes.
How is the weather resistance?
How does the CORE cope with harsh weather conditions? Will strong winds cause it to crumble? Will a downpour leave you soaked or does the water repellent fabric keep you dry?
Waterproofing and rain protection
This 6 person instant cabin tent doesn't have the best hydrostatic head rating at 600mm. 1000mm considered the minimum for an effective waterproof rating for a quality tent. Above 1000mm is better—so in this part of the review, the CORE isn't doing so well.
Luckily customers feel the removable rain fly does an excellent job of keeping water out in light rains, despite the cabin tent not being fully waterproof. The Core H20 block technology seams are also heat-sealed to keep water out. Finally, there's an awning that keeps the rain off the door.
The tent floor is also welded to the cabin tent walls, so you won't find any leaks there, either—not even when you open the large adjustable ground vent, which lets air but not moisture in.
Many camping tents claim similar features and still have a considerable problem with leaks, though—but not this one. When customers complain about this cabin tent, it's rarely about rain, more about how they dislike the zippers or it's too well-ventilated.
Some customers do say there were some minor leaks in heavy rain. It'd be worth investing in a tarp to help your rainfly. Plus, waterproofing spray never hurt camping tents!
Is condensation a problem in cold or rainy weather?
Condensation is absolutely not a problem you'll have in this cabin tent. The mesh ceiling works well to let cool air in even under the rainfly. There are two large floor vents you can open, too. The adjustable ventilation system is FANTASTIC for dealing with condensation.
The ground vents will bring cold air up through the cabin tent and push the warm, damp air out of the mesh roof to provide proper ventilation.
The only moisture entering your camping tents will (hopefully not) be potential leaks—which, as we said, are preventable via tarp and waterproofing spray.
There are mesh windows that work well when the rainfly is off, too. You'll never have to worry about condensation in this cabin tent.
Is there wind protection?
This sturdy tent's guylines are strong, so long as you stake them well. The materials are also strong, but that's a story for another section.
Combining sturdy poles and tough guylines makes this cabin tent well able to withstand winds. Customers note that it sways quite badly in the wind, but it doesn't collapse.
A handful of users experienced their camping tents folding in during windy conditions, but they're in the extreme minority. Given everyone else's lack of issues, we theorize that those customers didn't stake their tents correctly.
Be warned—although this 6 person instant cabin tent can withstand wind, can you? The mesh ceiling works far too well, and some customers found themselves shivering in their sleeping bags on windy nights.
Performance in summer and winter
Holding up in the heat
In the heat, this 6 person tent can keep you cool. There's a ton of excellent ventilation, plus there's a power cord vent in the corner, so you don't have to venture out into the hot sun. Bring electricity to you, kick back and relax in the cabin tent until it gets cooler in the evening.
The mesh material used in the roof and windows is ideal for keeping your camping tent cool in during the summer.
Although, even then, it might get too hot for you, so consider the darkroom version of these camping tents. It keeps the heat out slightly better and blocks the sun's light, which is excellent for sleeping in.
Withstanding the cold
The cold is where these tents fails in our review. It's dubbed a three-season cabin tent, so it should work in all seasons except winter—but we can't recommend it for anything but summer based on customer feedback. They say it's too well-ventilated for sealing heat in unless the outside is also very warm.
How durable are these tents and will they last long?
As far as durability goes, this is a tough instant tent. It's strong, tough and able to withstand a lot. It's not made of anything special—it's one of your typical polyester tents with telescoping steel poles. It's the craftsmanship that makes the CORE tents stand out.
Customers enjoy the steel poles as they feel they're superior to fiberglass—which is true much of the time. Fiberglass poles are bendier and snap more easily, and don't even get us started on aluminum.
Users found no trouble with the stitching or any of the areas where the poles and material attach. Pre-attached frames can be vulnerable to damage in winds but there was no evidence of this being an issue that we could find for the CORE. All around, a wonderfully durable cabin tent for the price.
The only downfall is the tent stakes. They're small and not very tough—we suggest you may want to buy larger ones.
Overall we were impressed with how durable this instant tent is. Plus, CORE offers a one-year warranty on all their products – including this instant cabin tent. However, the limited warranty doesn't cover damage from inclement weather conditions (including wind, rain, or hail).
Is it easy to carry these tents?
This instant tent weighs 24.5 pounds when packed, so it's not the lightest thing in the world, but it has handles and you can easily swap arms, or carry it on your back vertically.
It folds down to reasonable packed dimensions of 8.25 by 8.25 by 48 inches long. That 48 might give you some trouble unless you carry it vertically or give yourself a wide berth in front and behind you.
How easy is it to set up and take down?
The CORE six-person cabin tent may be instant, but it's not freestanding. It still needs to be staked out to hold its shape and will collapse in the wind if the tent stakes aren't in. Since it's not freestanding, is it still easy to wrangle?
How to set up CORE tents
Setup is simple. There are no instructions, but it's fairly self-explanatory for instant tents. If you are struggling then downloading instructional videos in advance can be useful.
Unfold the cabin tent into a rectangle.
Extend the legs until they click.
Stake the tent using the tent pegs, including the guylines attached to the adjustable air intake vent.
Place the rainfly and attach it to the tent poles—it clicks into place, then you tie it on, too.
How to take down the tent
Remove the rainfly.
Unstake the tent gear.
Push the buttons on the telescopic poles so you can pull the legs back down—the tent should collapse in on itself.
Flatten the cabin tent, then bend the legs into the center.
Fold the camping tent into the center, between each leg.
Hold the corners together, tucking excess material into the center between them.
Stuff the tent gear back into the carry bag.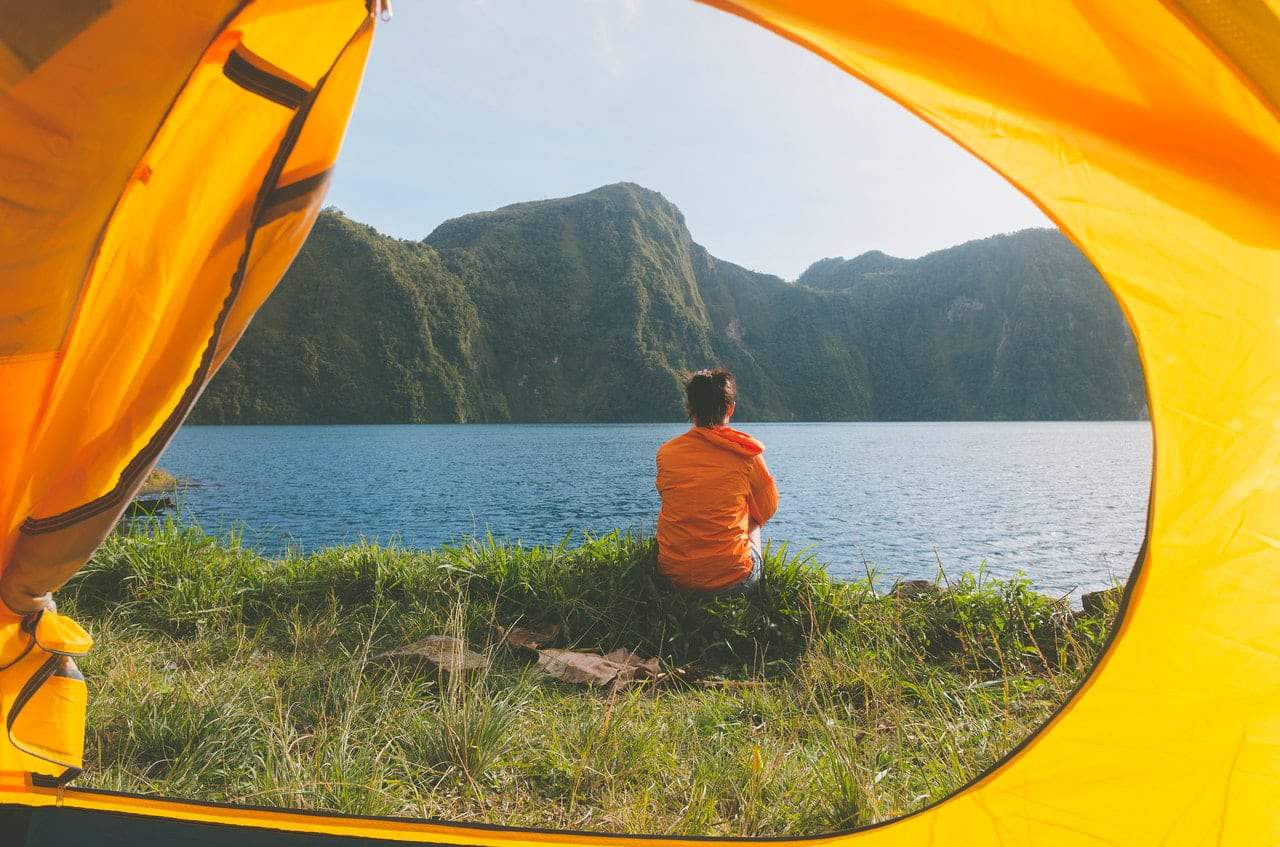 Can you set up this outdoor cabin camping tent on your own?
You can set this top instant tent up on your own, though the piece of paper that comes with it says it'll take two people. Those experienced in camping will find that it is easy and takes less than five minutes.
The takedown is more difficult. Sometimes it takes two people to stuff the instant tent into the bag. The cabin tent holds lots of air, so try to get as much of it out as possible when folding the four corners vertical and stuffing the tent fabric into the center.
The process is difficult to describe—but once you get the camping tent, you'll get the gist when doing it.
There are easier options for camping tents that you can pitch alone.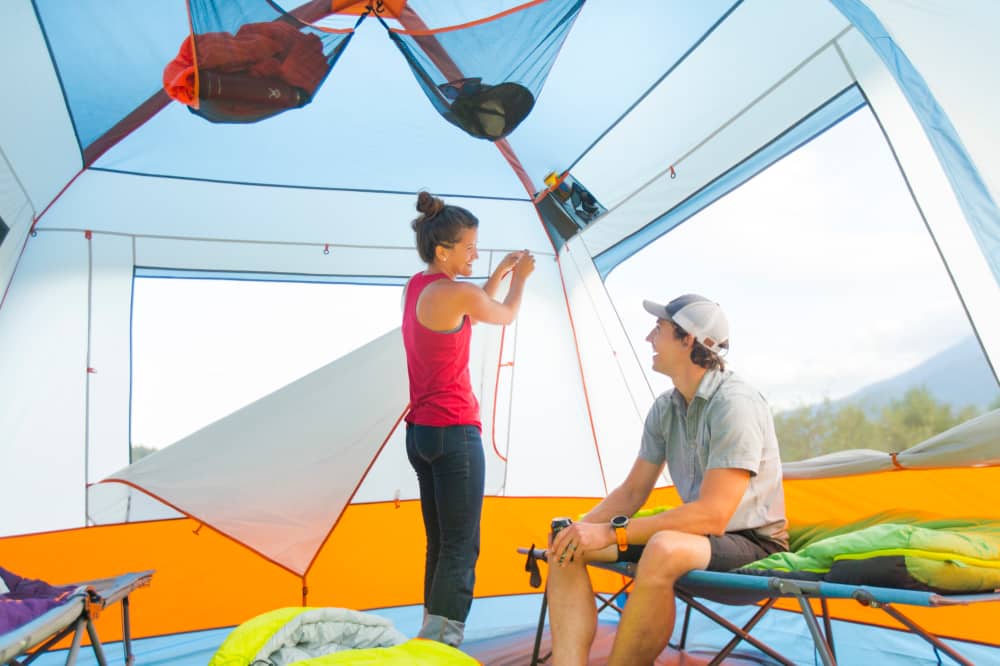 Alternative tents to the CORE 6 person instant cabin tent
Don't think this 6 person instant cabin tent is for you? No problem. Here are three more camping tents to consider.
Related: For more tents, check out our reviews of the best 6-person tent.
Coleman WeatherMaster 6 person tent with screen room
Do you like the fact that the CORE has an awning but wish it were bigger? The Coleman WeatherMaster has a screen room that is great for liveability and storing gear. Keep in mind, this tent's sleeping space is smaller than the CORE's, and users say it's a leakier camping tent. You can look at our Coleman Weathermaster 6 person tent review or check out its price below.
ALPS Mountaineering Meramac 6 person tent
Do you need camping tents fit for winter camping? This tall dome tent is great at sealing in heat and has a wonderfully durable rainfly. It's a little pricier than the CORE and doesn't have the popping green and gray color, but it is still a good call in our opinion.
Eureka! Copper Canyon LX 4 / 8 / 12 person tent review
Tall family? No problem. This cabin tent has a tall center height of 7 feet and is well over 6 feet tall everywhere else. Perfect for the 6-feet and above family members. Although it's pricier than the CORE and not instant, it does fit 6 people comfortably.
You may also be interested in our Coleman Steel Creek 6 person tent review.
CORE 6 person instant cabin tent review – final thoughts
This CORE 6 person instant cabin tent review has shown that it is a great summer camping tent that works well for couples, small families and friend groups. It's well-ventilated, has excellent additional features and it's well worth the money. It's close to a 5 star review from us!