Small families, groups of friends seeking an escape, there are many people in need of a spacious and easy tent.
Regardless of your grouping, all you want is a better trip—I don't care about the fancy stuff when spending time with people I love, do you?
Let's put the Coleman Montana 6 person tent under review and see if it holds up.
The Coleman Montana 6 person tent is an excellent family tent for sleeping and waiting out the rain. It's nothing fancy; it's affordable, simple, and good for a few friends who want to kick back and have fun.
About the Product
Who's It For?
The Coleman Montana tent isn't for fancy socialization or elite camping trips. It goes back to basics with a focus on togetherness, making it a fantastic tent for small families or groups of friends with lots of beers and little care for privacy.
All you want is a tent for sleeping; everything else you can handle in the great outdoors.
The Coleman Montana 6-people occupancy tent can easily provide that, remaining suitable for beginner campers. However, the tent won't displease any regular campers in your friend group either.
All in all, the tent is effective and high-quality, but nothing fancy.
Features and Benefits
Durability: How Long Will the Tent Last?
Although you can't expect gold on a bronze budget, you're still getting silver.
The Coleman Montana 6 person tent won't last forever, but we can still give it a glowing review in the short term.
One customer took this tent out and got caught up in an unexpected storm with winds described as "tornado-like."
A couple of tent poles came out of place but remained undamaged. The tent fabric held up against sharp lashing rain, although some water got under the rainfly and leaked through.
You can combat the leaks no problem using waterproofing spray. Also consider some seam seal to be safe—that may have been where the water leaked in, you never know.
And, if there's a possibility that you'll get caught in rain, a tarp goes a long way to help your rainfly.
Size: Spacious For 6?
The Coleman Montana tent is smaller than some six people tents on the market, but it can still fit six people. That said, it won't be as comfortable as it would be for fewer.
Removing one camper from the six-person limit can create some extra comfort and room for gear. Bringing it down to four people in the tent is ideal, though.
That leaves you room for parents and two small children, or a friend group of four who don't mind sleeping in close quarters.
Coleman Montana is spacious enough for two queen sized mattresses, making four people the perfect occupancy in our opinion.
You could supplement the extra space in the capacity for six with a beloved family pet if you like—but bear in mind they won't have much room to run around, so make it a lazy pet.
Parents over 5'8 won't have much room to stand around either, so be careful of that. Avoid thick-soled shoes and get your knees ready to bend in this tent.
Setup: Simple or Suffering?
Families with small children and friends who just want to have a good time don't want to spend hours setting up their tent.
The Coleman Montana tent for 6 is far from an instant cabin tent, but the setup shouldn't take more than 15 minutes, and that's with an inexperienced solo-camper.
If there are any former scouts or current campers in your group, the tent setup should fly by. Make it a group effort to shave off more minutes.
The part people found the trickiest to deal with was the rainfly. That's why working together to set up the tent is key!
Features: What Extras Do You Get?
This is a simple tent in comparison to, say, the Coleman Elite Weathermaster 6 person tent. There are no fancy features to play with, but there are a few elements that improve your camping experience.
Angled Windows
Ventilation is vital anywhere, only becoming more so the more people you pack in your tent. Especially if those people have beers and snacks, or a dog who went for an impromptu swim.
Tent windows are usually mesh and provide plenty of ventilation but are at risk of letting rain in.
With the Coleman Montana 6 occupancy tent, you get to worry less about that. Unless some violent 35 mph winds turn your tent upside down, it's almost impossible for rain to lash against the angled windows. And we already know the tent stays staked in tornado-like winds, so you're pretty safe.
E-port
Many a Coleman tent is advertised as having an e-port but not all do. Fortunately, customer comments assure us that's not the case with the Coleman Montana 6 person tent.
An e-port is an excellent feature, letting you lower lights, laptops, or a radio to give your kids comfort and entertainment. It also lets you add some ambient (or totally rockin') music if this is a friend-group trip.
Ensure you have an outdoor extension cable and a car adapter, or a generator in your car. You don't want to drain your car battery for the sake of fun in your Montana tent.
Door Awning
Although the Montana tent has angled windows, the window in the door doesn't share that positioning.
Luckily, the rainfly included with the Coleman Montana tent includes a door awning.
While it's still possible for the rain to beat down on the tent door, the awning reduces the likelihood.
The awning also provides an excellent place to pin a tarp to. Rather than covering the door and trapping yourselves in, the tarp would hang over the door, and you could lift it if you needed to exit the tent.
Storage Pockets
Something important in a smaller but large-capacity tent is storage. You're in close quarters, not everyone can stand tall, so it's easy to get clumsy and stomp on someone's phone, or worse, a beloved teddy bear.
There are expandable net storage pockets low to the ground in the tent, accessible from your mattress. That's where you can keep your personal belongings you may need at night or early in the morning.
Social Proof
Is this just a biased review with a made-up story about tornado-like weather survival, or can the customers back it up? You be the judge of how this Montana tent holds up.
I can't complain. We stayed dry after one of the worst storms I've EVER been though (and not just camping, but in all my life).

Set up was simple and quick. After just 2 hours of having the tent set up, a horrible storm rolled through the campsite and immediately started raining and hailing out of nowhere. Hail ranged from pea-sized to just larger than marble/nickel sized. The wind was a steady 35 mph with gusts up to 65 + mph. The storm lasted for 30 min and left just as it came. With all the rain came a river that passed right through where our tent was.

After the storm, we assessed the damage. The 2 side poles that expand both the wings came out of place, which leads to the rain fly having too much slack letting in minimal water through the mesh roof. However (not expecting a near tornado) we had only used 5 of the 7 tie-downs on the rain fly. I feel like if we were to have used the 2 rear side tie-downs we probably would have been safe from any moisture coming in. And with 3-4 in of water flowing briskly through our site I have to say I am quite pleased that NONE of the water came into our tent.

Overall, really great tent….and the video testing weather conditions, very accurate!
Here's the customer who had the terrible weather experience but was safe and dry in the tent. Very impressive for a budget buy.
This was really pretty easy to put together took about 30 minutes the first time. It is really very intuitive and the instructions are sewn into the storage bag. I was able to put a large cot and a twin sized air mattress inside plus a large duffel bag and a tote with food stuff in it and there was just enough room to move about to get dressed and we had a light shower for 30 minutes and no leaks, a big plus was the floor is one piece about 4 inches up the walls so it will not flood also.Lots of vents so plenty of air flow.
This customer praised the easy setup—excellent for anyone wanting to get the dull part over with so you can move on to bonding and relaxing.
We like this tent, it is a easy set up, it looks nice and is roomy. The worst part about it is the windows, they are too high and small. You can't wake up, open a window, and enjoy the view. Because they are small the ventilation isn't great, unless you take off the rain guard. And your little accessory holders are really high as well. Overall though it is a great tent for the price.
This customer found the tent good but didn't enjoy the angled tent windows of the Montana. Despite their design being for keeping the rain out, this is a fair critique. I must admit I love an open window in the morning.
Alternatives
If the Coleman Montana tent doesn't seem like your perfect match, consider another tent from our picks:
Coleman 6-Person Instant Cabin Tent
If the 6 person Coleman Montana tent's 15-minute assembly is still too much for you, consider putting an instant cabin under review. This model pops up in 60 seconds, letting you get to the spacious interior quickly.
This isn't a tent made to withstand harsh weather, though, and its reasonable price should make up for that.
As opposed to the Montana, this tent has:
Faster setup.
Less weatherproofing.
Higher center height.
Larger windows.
Check it out here.
Wenzel 8-Person Klondike Tent
This tent provides more privacy if that's ever a concern and has more room to fill out your camping party. That's fantastic if you go camping with more friends, or another small family.
A standout of the tent is the screen room, which allows for separate socialization and sleeping areas.
This tent has the following as opposed to the Coleman Montana:
A screen room.
Room to sleep two more.
Larger windows.
T-style door.
Take a look here.
Kodiak Flex-Bow Canvas Tent Deluxe
If you're a serious camper and want to make this a weekly or monthly thing, you may want to look for a more deluxe tent than a Coleman Montana. A tent like the Montana is durable in the short run, but for infrequent use.
This tent is made from a more durable canvas that's breakable but water tight. It's also larger despite the same advertised occupancy, and you can use it year-round.
It differs from the Coleman Montana:
Pricier.
More head room.
Larger.
Sturdier.
Two doors.
No windows; mesh doors.
See it here.
Frequently Asked Questions
Is the Coleman Montana Tent Waterproof?
Yes, the Coleman Montana is waterproof, but applying a waterproofing treatment will make it withstand rain for longer.
Is This a Good Tent for Six People?
This is an excellent 6 person tent and will fit six in at a squeeze. It's better with a party of four.
Is It Easy to Carry?
With a weight less than 20 pounds, this is a lightweight tent that comes with a 2-foot carry bag.
How to Setup the Coleman Montana
Spread the tent on a flat surface and stake it.
Assemble the poles.
Slide the poles into the continuous pole sleeves on the tent.
Gently apply pressure to the poles until they arch.
Place frame clips along the tent's edge.
Stretch out the tent until it forms a taut shape.
Attach the rainfly.
What's the Difference Between This Model and the Coleman Elite Montana?
The Coleman Elite Montana is a larger tent equipped with an LED light.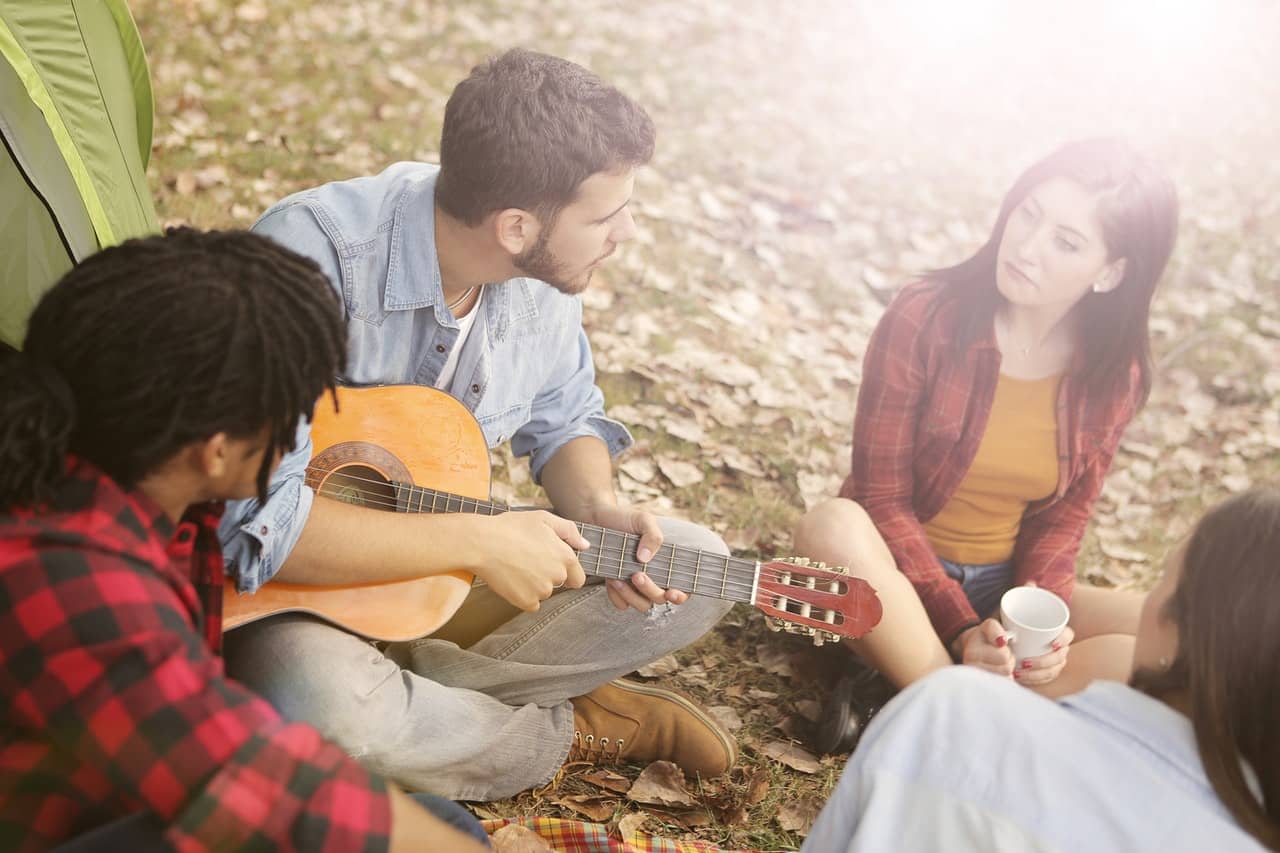 Final Thoughts
The Coleman Montana 6 person tent is excellent for small families and friend groups seeking a good time. It's not mad for a luxury vacation or a nature-lover's week in the woods. Closeness, bonding and fun-lovers are its target audience.
It's an excellent tent for the price, and it may not last a decade of frequent use, but 10 years of once-yearly trips is doable for sure. Keep the pointers in this review in mind, and you should have an excellent trip.