If you're looking for a Coleman Montana 6 Person Tent review, pull up a chair and get settled in, because we've got everything you need right here!
We've looked at hundreds of camping tents including a wide range of Coleman's most popular tents. We know what makes a tent a bargain or bust.
If the thought of spending a weekend crouched over in a dome tent is making your head hurt, the Montana 6 can offer a much more comfortable experience without complicating things.
So why not put your feet up as we get stuck into the nitty-gritty of what makes this tent special for camping trips.
Do we recommend the Coleman Montana?
Don't have time to stick around with us for the full review? That's fine! Here's our recommendation summary: if you want an affordable, basic tent but don't like the shape of dome tents, the six person montana is the one for you.
The modified dome structure expands the tent, giving it a taller and more level peak height.
The angled windows of the six person montana improve circulation when it's raining and the extended door awning at the front also provides shelter to keep dry as you take off muddy boots before heading into your tent.
When I was younger, I remember standing in the rain underneath my Dad's jacket as he fought to untie the laces on my dirty hiking boots before I got in the tent. I bet he wished he had a tent with an awning like this!
Is it good value?
Coleman manufactures reliable tents at affordable prices and the Montana is no exception. For a group that needs to cut costs, this tent is very reasonably priced.
Finding a 6 person camping tent that offers better value for money than the six person montana is a real challenge. Check out the price to see if this is the tent for you.
Does the Coleman montana have enough space for your needs?
The Coleman Montana tent isn't for fancy socialization or elite camping trips. It goes back to basics with a focus on togetherness, making it a fantastic tent for small families or groups of friends with lots of beers and little care for privacy.
All you want is a tent for sleeping; everything else you can handle in the great outdoors.
The Coleman Montana 6 man tent can easily provide that, remaining suitable for beginner campers. However, the tent won't displease any regular campers in your friend group either.
With a maximum height of 5′ 8″, this tent isn't going to be tall enough for a lot of campers. However, for most people they should be able to move comfortably around the six person Montana without touching the ceiling.
All in all, the six person montana is effective and high-quality, but nothing fancy.
Size: Spacious For 6?
The Coleman Montana tent is smaller than some six people tents on the market, but it can still fit six people. That said, the montana won't be comfortable with six.
Removing one camper from the six-person limit can create some extra comfort and room for gear. Bringing it down to four people in the montana is ideal, though.
That leaves you room for parents and two small children, or a friend group of four who don't mind sleeping in close quarters.
You could supplement the extra space in the six person montana with a beloved family pet if you like—but bear in mind they won't have much room to run around, so make it a lazy pet.
Parents over 5'8 won't have much room to stand around either, so be careful of that. Avoid thick-soled shoes and get your knees ready to bend in this tent.
Is it good for backpacking and hiking?
The Coleman Montana 6 is too large and heavy to take backpacking. If you are backpacking with a large group, it is better to take smaller and lightweight tents.
Is it good for family camping?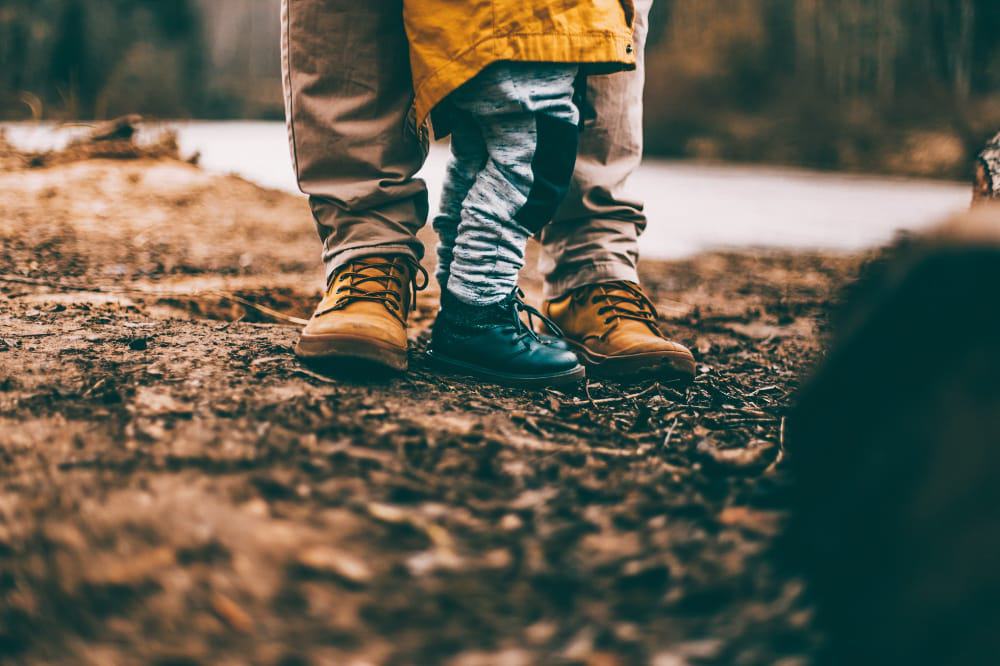 Whilst it might not be a tent you want to take trekking into the wilderness, the Coleman Montana 6 person camping tent is great for family camping trips. Four people is the comfort capacity, so if your family is bigger than that consider upgrading to the 8 Person model instead.
Features like the front awning are great for providing a covered area parents can sit under to watch kids play. The E-Port also allows campers to run a power cord into their tent if the campsite has electric hookups. You can use the power to charge any devices you've brought – which can be especially useful before the long car journey home after your trip.
Overall, the six person montana is a good choice for families, with some handy features to elevate your next camping trip to a new level.
Storage Options
Something important in a smaller but large-capacity tent is storage. You're in close quarters, not everyone can stand tall, so it's easy to get clumsy and stomp on someone's phone, or worse, a beloved teddy bear.
There are expandable net storage pockets low to the ground in the tent, accessible from your mattress. That's where you can keep your personal belongings you may need at night or early in the morning.
The Coleman montana 6 doesn't come with a vestibule, but it does come with a front awning covering the door. This can be a handy place for storing gear like smelly hiking boots after a long day, rather than bringing them inside the tent.
However, obviously, you'll need to make sure that if it does start raining, your boots don't get soaked.
Overall, this camping tent could use more storage space for bags and other gear.
Weather resistance of the Coleman Montana 6
Is the Coleman Montana Tent Waterproof?
The six person Coleman Montana does provide rain protection but applying a waterproofing treatment will make it withstand rain for longer.
I can't complain. We stayed dry after one of the worst storms I've EVER been though (and not just camping, but in all my life).

Tent reviews
Coleman doesn't provide hydrostatic head ratings for their camping tents. We noticed other reviews listing ratings and decided to reach out to Coleman who confirmed those figures were incorrect.
Instead of a hydrostatic head rating test, Coleman put their camping tents through in-house testing of simulated rainstorms with winds of up to 35mph.
This makes it hard to compare the Coleman range of camping tents with other brands, and makes it difficult for us to say whether it will definitely keep you, your tent and your gear dry or not.
Door Awning
Although the six person Montana tent has angled windows, the window in the door doesn't share that positioning.
Luckily, the rain fly included with the six person Coleman Montana tent includes a door awning.
While it's still possible for the rain to beat down on the tent door, the awning reduces the likelihood.
The awning also provides an excellent place to pin a tarp to. Rather than covering the door and trapping yourselves in, the tarp would hang over the door, and you could lift it if you needed to exit the camping tent.
The extended door awning really improves the wet weather performance of this tent. It might still be an issue in harsh weather conditions, but the canopy provides some coverage and protection in light wind and rain.
Is condensation a problem in the rain or cold?
Condensation isn't an issue in this camping tent thanks to the ventilation features that it comes with. Coleman's Comfort System allows airflow in the tent to bring cold air in through the cool-air vents and push the damp, warm air out through the mesh ceiling and windows.
Even with the rainfly on, there's not a noticeable difference in the airflow. It doesn't block the mesh roof to prevent warm, damp air from escaping and condensation building on the walls.
Angled Windows
Ventilation is vital anywhere, only becoming more so the more people you pack in your camping tent. Especially if those people have beers and snacks, or a dog who went for an impromptu swim.
Camping tent windows are usually mesh and provide plenty of ventilation but are at risk of letting rain in.
With the Coleman six person Montana tent, you get to worry less about that. Unless some violent 35 mph winds turn your tent upside down, it's almost impossible for rain to lash against the angled windows. And we already know the tent stays staked in tornado-like winds, so you're pretty safe.
Protection from the wind
Whilst Coleman claims they test all of their tents in winds of up to 35mph, there are mixed reports about how well the six person Montana can stand up in the wind. Campers who upgraded their tent pegs to more expensive, heavy-duty stakes found that the tent performed well with these stakes.
This camping tent comes with their wind-strong frame, which utilizes fiberglass and steel poles to provide a stronger, more wind-resistant structure.
The consensus from users seems to be that this 6-Person model is better at surviving strong winds than the larger 8-Person version.
We'd still be cautious taking this camping tent out in windy conditions. It is not designed to cope with extreme weather conditions so it's best suited for fair-weather trips with light winds.
Handling the Summer heat
Thanks to the mesh ceiling, the ventilation and airflow in this tent keeps it cool during summer as the temperatures start to rise.
That should make this an excellent option for summer camping, right?
However, if you are looking for a camping tent that can REALLY block out the heat and the sun on the hottest summer days, maybe consider looking for a model that comes with Dark Room Technology.
Withstanding the cold in Winter
This camping tent is on the weaker end of the 3-season spectrum, so we definitely would not recommend taking it out for winter camping. It won't provide enough protection from the cold, wind or snow to make sure you have an enjoyable – or safe – trip.
Durability: How Long Will the Tent Last?
Although you can't expect gold on a bronze budget, you're still getting silver.
The Coleman Montana six person camping tent won't last forever, but we can still give it a glowing review in the short term.
One customer took this tent out and got caught up in an unexpected storm with winds described as "tornado-like."
A couple of tent poles came out of place but remained undamaged. The tent fabric held up against sharp lashing rain, although some water got under the rainfly and leaked through.
The flysheet and walls are made from polyester and use the Coleman WeatherTec System to keep you dry. The tent floor is made from a rugged polyethylene material that is waterproof. You don't need to worry about water seeping in through the floor.
You can improve the weather resistance of this camping tent using waterproofing spray and seam sealer.
Although the Montana 6 comes with inverted seams, you might also consider some seam sealer to be safe. That may have been where the water leaked in, you never know.
And, if there's a possibility that you'll get caught in rain, a tarp goes a long way to help your rainfly.
Setup: Simple or Suffering?
Families with small children and friends who just want to have a good time don't want to spend hours setting up their camping tent.
The Coleman Montana tent for 6 is far from an instant cabin tent, but the setup shouldn't take more than 15 minutes, and that's with an inexperienced solo-camper.
This was really pretty easy to put together took about 30 minutes the first time. It is really very intuitive and the instructions are sewn into the storage bag.

Camping product reviews
If there are any former scouts or current campers in your group, the camping tent setup should fly by. Make it a group effort to shave off more minutes.
The part people found the trickiest to deal with was the rainfly. That's why working together to set up the tent is key!
How to Setup the Coleman Montana 6 person tent
Spread the camping tent on a flat surface and stake it.
Assemble the poles.
Slide the poles into the continuous pole sleeves on the camping tent.
Gently apply pressure to the poles until they arch.
Place frame clips along the tent's edge.
Stretch out the camping tent until it forms a taut shape.
Attach the rainfly.
If you're struggling then watching videos can be a great way to visualize the set up.
Can you setup the Montana on your own?
Since this is a big camping tent, it would be easier to put up for two people. Don't panic if only one person in your group knows how to pitch a camping tent. You should manage fine.
To be frank, some campers say they've had other tents that were easier to put up. The setup is by no means the main draw of this tent but you should be aware that there are other tents that might be easier to pitch.
Is it Easy to Carry?
With a weight of fewer than 20 pounds, this is a lightweight car camping tent that comes with a 2-foot carry bag. It would not be easy for carrying long distances.
The packed size is just about 26.3 x 8.6 x 8.4 inches (67 x 22 x 21 cm) which won't take up much room in your trunk, so you don't have to worry about squeeze it in with your camping gear.
Frequently Asked Questions
Can you fit a queen-sized air mattress inside?
The Coleman Montana's tent body is spacious enough for two queen size air beds, making four people the perfect occupancy in our opinion.
What is an E-Port?
An e-port is an electrical access port that allows a power cable to be run into the tent.
It is an excellent feature, letting you lower lights, laptops, or a radio to give your kids comfort and entertainment. It also lets you add some ambient (or totally rockin') music if this is a friend-group trip.
Ensure you have an outdoor extension cable and a car adapter, or a generator in your car. You don't want to drain your car battery for the sake of fun in your six person Montana tent.
Is This a Good Tent for Six People?
This is an excellent six person camping tent and will fit six in at a squeeze. It's better with a party of four.
What's the Difference Between This Model and the Coleman Elite Montana?
The Coleman Elite Montana is a larger tent equipped with a battery-powered LED light system. You can read more in our full review of the Coleman 8 person Elite Montana.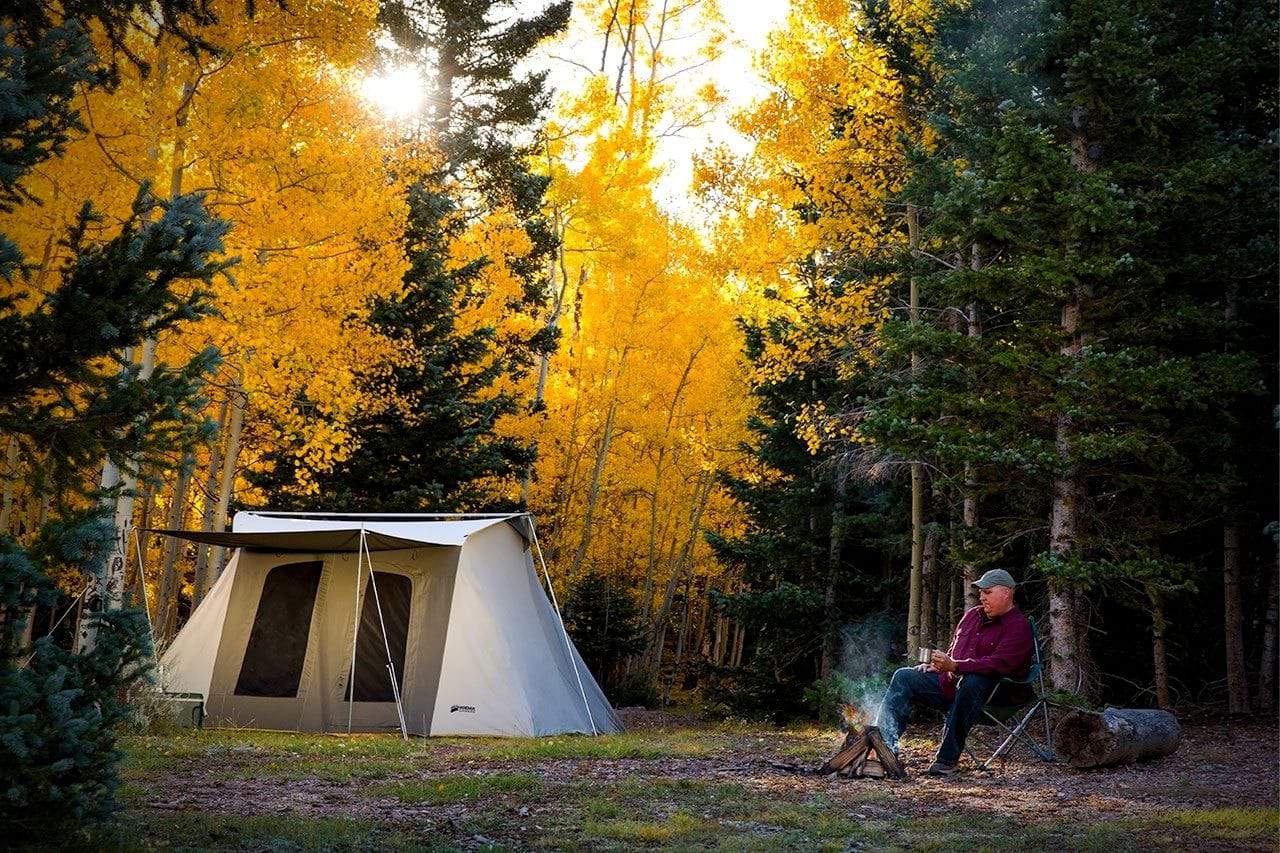 Alternative tents
If the Coleman Montana tent doesn't seem like your perfect match, consider one of the camping tents from our reviews below.
Related: For more tents, check out our reviews of the best 6 person camping tent.
Coleman 6 Person Instant Cabin Tent
If the six person Coleman montana tent's 15-minute set up is still too much for you, consider putting an instant cabin under review. This camping tent pops up in 60 seconds, letting you get to the spacious interior quickly.
This isn't a camping tent made to withstand harsh weather, though, and its reasonable price should make up for that.
As opposed to the six person Montana dome tent, this tent has:
Faster setup.
Less weatherproofing.
Higher center height.
Larger windows.
You can look at our Coleman 6 person instant cabin tent review or check out its price below.
Wenzel Klondike 8 Person camping Tent
This camping tent provides more privacy if that's ever a concern and has more room to fill out your camping party. That's fantastic if you go camping with more friends, or another small family.
A standout of the camping tent is the screen room, which allows for separate socialization and sleeping areas.
This camping tent has the following as opposed to the Coleman Montana dome tent:
A screen room.
Eight person
Larger windows.
T-style door.
Kodiak Flex-Bow 8 person Canvas Tent Deluxe
If you're a serious camper and want to make this a weekly or monthly thing, you may want to look for a more deluxe camping tent than a Coleman Montana. A dome tent like the six person Montana tent is durable in the short run, but for infrequent use.
This camping tent is made from a more durable canvas that's breakable but water tight. It's also larger despite the same advertised occupancy, and you can use it year-round.
It differs from the Coleman Montana:
Pricier.
More head room.
Larger.
Sturdier.
Two doors.
No windows; mesh doors.
You may also be interested in our Coleman Elite Sundome 6 person tent review.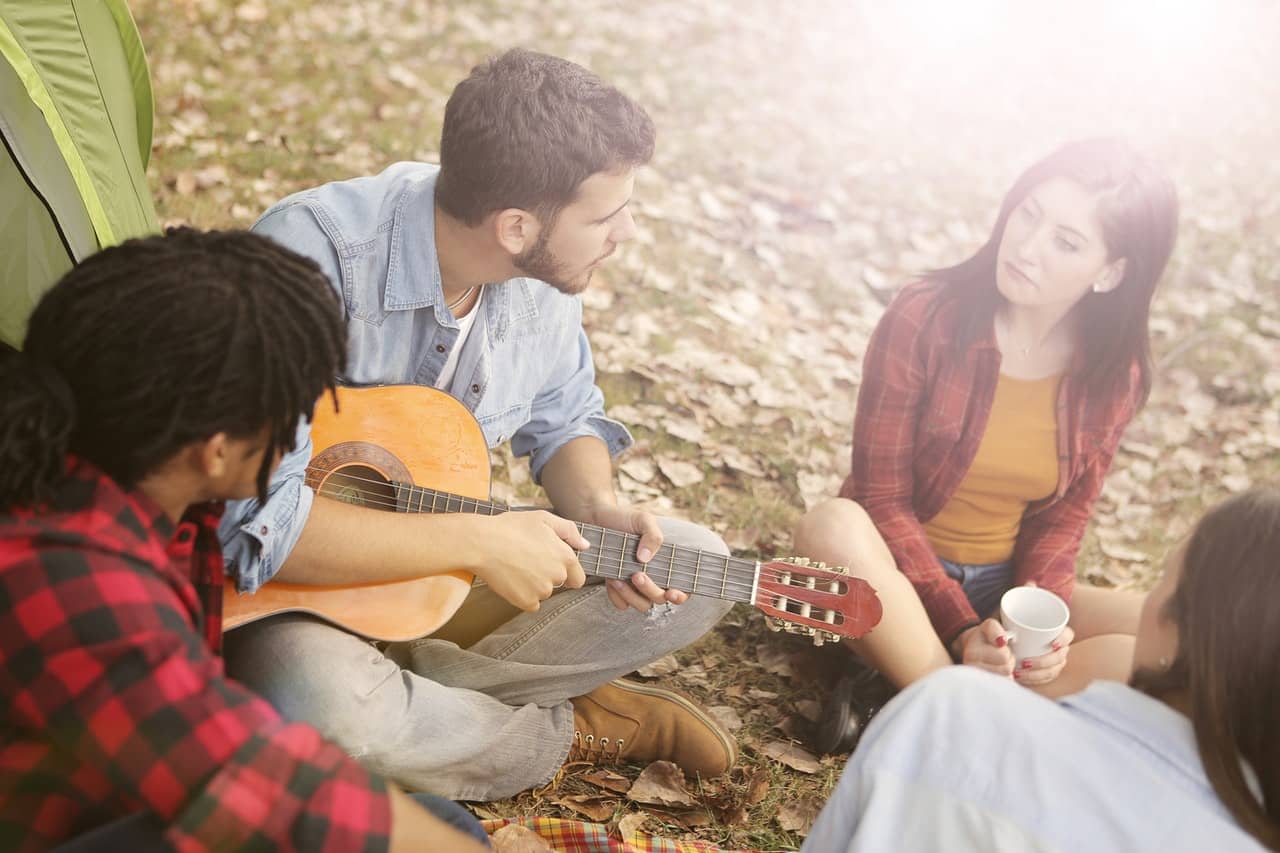 Coleman montana 6 person tent – review verdict
The Coleman montana six person tent is excellent for small families and friend groups seeking a good time. It's not mad for a luxury vacation or a nature-lover's week in the woods. Closeness, bonding and fun-lovers are its target audience.
It's an excellent dome tent for the price and deserves it's 4 stars. It may not last a decade of frequent use, but 10 years of once-yearly trips is doable for sure. Keep the pointers in this review in mind, and you should have an excellent trip.