Are you looking for a large tent for a family camping trip with kids or vacations in the wilderness with a group of friends, but don't know where to start? If cyou're not experienced in camping, you may need some extra help knowing what to prioritize. And how many people really fit in an 8 person tent? 
The Coleman Montana Elite 8 is a lighted tent with a maximum capacity of 8 people. We recommend it for campers looking for a large tent for car camping with a family or a small group of friends. It's water-resistant, relatively simple to set up and has some smart additions such as a hinged door and a lighting system.
Read on for our Coleman Elite Montana 8 person tent review, with all the details and specifications you need before you make the investment.
About the Product
Who's It For?
This is an 8 person tent, which means you can theoretically fit eight people inside the tent. However, the tent size always refers to the maximum capacity of the tent, which is not all that comfortable.
There's enough room to fit in three queen size mattresses, two at each end and one in the middle. We do recommend keeping the middle space unoccupied if possible. This will give you some more room to keep your gear inside the tent, eat or hang out inside when it's raining.
It's also better for moving around the tent—if you squeeze in three mattresses, your floor space will be non-existent.
The center height is 6 feet 2 inches at the tallest spot. It's tall enough for most adults to stand up in the middle without crouching, which is ideal on a longer trip. At the ends, though, you'll have to stoop a little.
The Elite Montana 8 is ideal for:
A small family of two adults and two to three kids.
Two couples with a dog.
One or two couples with several small children.
A group of friends of up to six people, four being the best number.
One thing to note is that the tent folds into a square that's quite sizable. It's definitely not the type of light tent to keep with you when hiking longer distances. This is a tent for comfortable camping, not ultra-high performance.
The Elite Montana is also not ideal if you need privacy. There are no room separations, so you'll do better with it on a trip with close friends or family than with newer acquaintances.
Features and Benefits
Here are some of the star features of the Coleman Elite Montana.
Hinged Door: Getting In and Out
The Coleman Elite Montana features a half-moon shaped door in the middle for easy access. The zipper on the hinged door opens fully, and the door awning is large, but it can be small at the bottom for people with mobility issues.
The best part about the door is that it's rigid and closes automatically, with three velcro straps to secure it.
Ventilation: Does It Get Hot Inside?
This model includes a mesh roof that not only allows for plenty of airflow but also lets you see the stars on your camping trip. If you're not using the rainfly, you'll get more air, but you'll let in more sunshine in the morning. Of course, if you put on the rainfly, you'll lose some of this ventilation but keep yourself more shaded and protected if it rains.
You can still keep a couple of the angled windows open at each end of the tent to let in some air while keeping the rain out.
The tent also has a floor vent to let in some cool air throughout the night. This helps regulate the temperature inside and keeps you comfortable when sharing the space with other people. And when you're cool, you'll sleep much better.
Some users did comment that the tent gets hot with the first rays of sunshine. Other users loved the ventilation and said it remains cool, so we believe it's a matter of weather. In relatively mild climates, the tent appears to work well.
Putting It Up: Can You Do It On Your Own?
This is a typical dome tent, only large enough for a family. If you've ever gone camping before, you'll probably know your way around these types of tents already.
Between two people, putting it up shouldn't take much longer than 15 minutes. You'll be able to hold both ends of the pole to make sure they don't slip out. If it's just one person setting up camp, it might take a little longer, but overall it's a straightforward process.
The color-coded and snag-free continuous pole sleeves make your job a lot easier. You'll know exactly which pole goes where, and they won't get stuck on the fabric when you're passing them through. The pin-and-ring design is easy to figure out, even if you're not used to camping.
Storage: How Convenient Is It?
The poles and stakes come with individual bags that help you keep everything nicely organized. We do have to warn you that after getting the tent out of the bag, it's not easy to fit back inside.
This tent is ideal for car camping, not for backpacking. The full package will occupy quite a lot of space in your car, so you'll need to figure that into your luggage calculations.
Smart Features: Lighting System and E-port
The Coleman Elite Montana 8 person tent comes with a built-in LED lighting system. It has an LED light in the center that provides up to 100 lumens of illumination, which is enough to see what you're doing in any situation.
And there's a light switch at the door, which makes stumbling inside in the night much easier.
If you're traveling with small children who go to sleep earlier, 100 lumens is enough to wake everybody up, but the light also has low settings for 42 and 5 lumens.
This model also has an e-port in the corner so you can bring your electric appliances to the tent.
Weatherproofing: Can It Handle a Shower?
Unless you're camping in Southern California, a little rain is likely to surprise you at some point during your trip. To keep the humidity out, the Coleman Montana 8 Elite tent includes a WeatherTec system with patented welded floors and inverted seams.
When you put on the rain cover, you'll stay protected from the elements. The angled windows at both ends give you some air while letting rain fall off.
All Coleman tents are designed to withstand winds of up to 35 mph. Some users of this model commented on having some bending in their poles after heavier storms, but it generally holds up well.
Social Proof
We scoured the internet for opinions of other users to give you the best possible review, and here's what people thought of the tent.
For anyone who has not tried them — those hinged doors are INCREDIBLE.
We have a serious tent for interior camping and a massive Coleman for car camping. Having a hinged door which closes itself and doesn't always need to be zipped is so helpful. We camp with a 2 year old and a 6 week old so the no-hands exit/entrance is a massive boon.
The hinged door makes getting inside the tent effortless even when your hands are full. This is one of the favorite features of the Elite Montana 8 for Internet users.
It's not really a screen door, but more of a hinged door. A lot of Coleman tents have them now, and they're really handy. The door is a half-circle with poles inside to keep it rigid so it's easy to open. They use velcro pads to keep the door closed, though those don't always catch, and aren't great if it's windy. But you can also zip them up like a normal tent, so it's the best of both worlds. Most sites selling them should have a video that demonstrates how it works.
The door of the Montana Elite also has poles inside, which help keep it closed and the bugs outside. This is a useful feature, especially when you have kids running around, going in and out of the tent.
Yeah, the Montana 8 is a great family tent, and very reasonably priced for the quality. I just sold mine (literally 3 days ago) to some friends of mine for use with their two young kids and dog. I really think it'll be the ideal tent for them until their kids are well into their teens, and even later if it lasts that long.

The interior is huge, and it's 6'2″ at the tallest point, so most people can stand up straight inside. It's pretty easy to set up too. It has a nice rainfly so you don't have to stand out in the rain to take off your shoes and stuff. There's even a more expensive version with self-rolling windows and embedded LED lights.
Another top feature of the Coleman Montana 8 is the wide floor size of 16 x 7 ft that fits 3 queen-sized air mattresses, and the height that's enough for an adult.
Alternatives
Coleman 8-Person Instant Cabin Tent
This cabin tent for 8 people from Coleman is a little more expensive than the Elite Montana and lacks some of the special features. Where it does beat the Montana is in the super short setup time and the possibility to open all the walls for full ventilation.
Putting up the tent shouldn't take more than a minute or two; just spread the tent, clip the poles and you're done! You can fit two queen size beds inside, so we would recommend this tent for no more than five people.
As opposed to the Elite Montana, this tent has:
Higher center height.
Less space for sleeping.
More ventilation. 
Check it out here.
Wenzel Klondike 8-Person Tent
If you're on a budget, this tent for 8 people is a viable option. It may not be the most durable tent, but it's a good option to keep at hand if you're camping with friends or family. It can handle light rain, but it's not the right pick for extra humid conditions.
The setup of the tent, with two separate rooms, is ideal for two couples or a group of friends. It's also comfortable for keeping one side for sleeping and the other for storing gear, eating or just spending time. The mesh windows and roof keep your tent ventilated and comfortable.
This tent has the following as opposed to the Coleman:
A screen room.
Mesh windows and ceiling.
Taller ceiling.
T-style door.
Take a look here.
TETON Sports Mesa Canvas 8-Person Tent
If you're willing to spend some extra, this canvas tent from Teton is an amazing investment. It's extra tough and sturdy, and likely to keep water out even in hard rain. The setup is easy, and the door is extra wide to allow for simple hauling of your gear inside and outside the tent.
If you're looking for a large tent to last you for years or for camping out for long stretches of time, this might be the one for you.
It differs from the Coleman Montana:
Sturdier.
More waterproof.
Plenty of storage.
Long-lasting canvas.
See it here.
Frequently Asked Questions
Is the Coleman Elite Montana Tent Waterproof?
The Coleman Elite Montana is not completely waterproof. The WeatherTec system with welded floors makes the tent water-resistant, and it holds up well in normal conditions.
There are reports of leakage in hard rain, so if you're expecting rough conditions, you may want to invest in a fully waterproof tent or invest in waterproofing spray, an extra tarp and seam seal.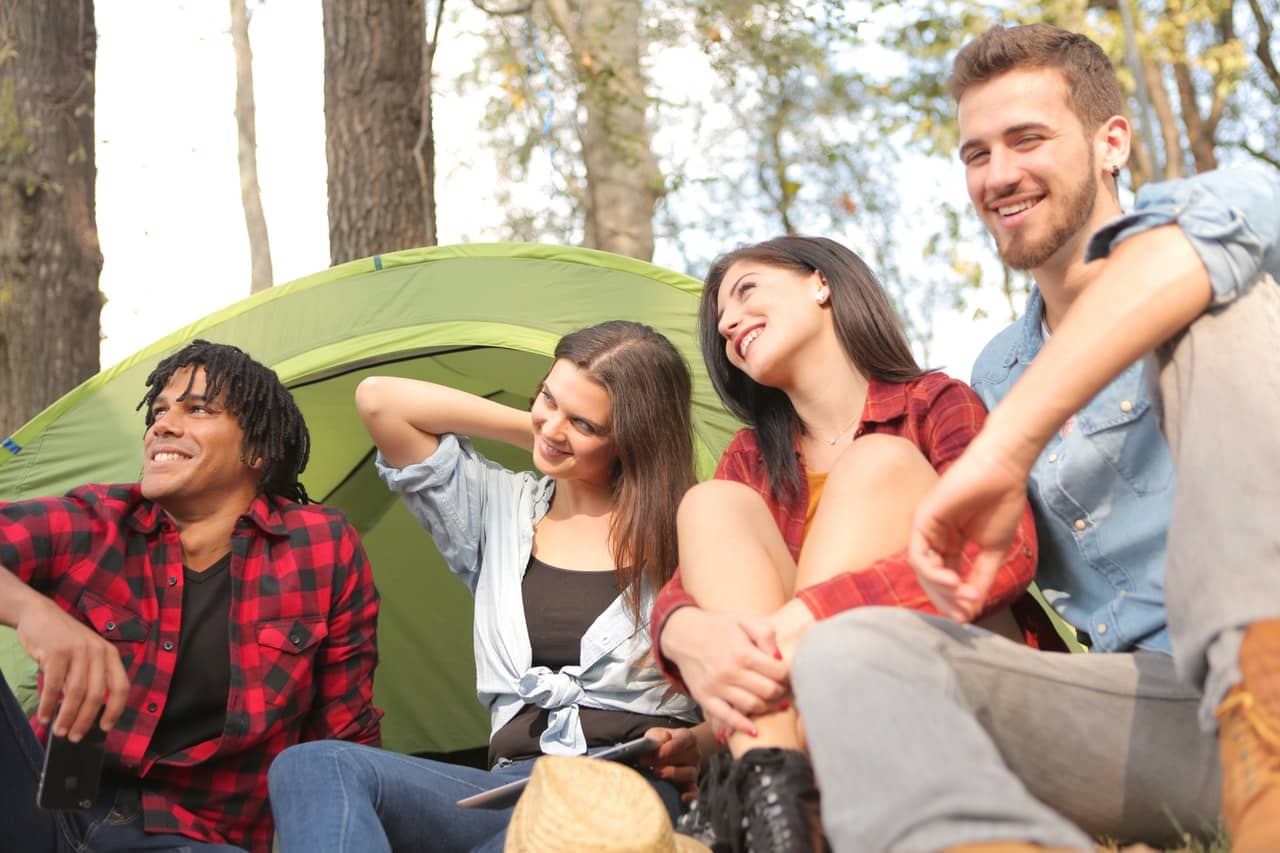 Is This a Good Tent for Eight People?
We wouldn't recommend this tent for eight adults unless you're in an emergency. It's technically possible to cram eight people inside the tent, but you'll be much more comfortable with five or six.
Is It Easy To Carry?
The Coleman Elite Montana tent isn't a tent you'll want to carry on your back for long stretches. It's not a backpacking tent, because the 25-pound weight will be heavy for just one person. If you're going to carry a tent when hiking, we recommend going for a couple of smaller tents and dividing them between the carriers.
How To Setup the Coleman Elite Montana
Even though the Coleman Elite Montana is large, it's quite easy to set up, and not different from any other large tent. Here's how you do it.
Spread the tent on the ground. Make sure you've got a level spot without big rocks or roots that could make the floor uncomfortable.
Secure the tent to the ground with the stakes.
Separate the longer tent poles for the center dome of the tent. Unfold them and pass them through the sleeves.
Unfold the shorter poles for each end of the tent and pass them through the sleeves.
Twist one of the big center poles to lift the tent and attach each end of the pole to the tent. Repeat on the other side and with the short poles.
If you want to attach the rainfly, pass the rainfly pole through the sleeve and drape the fabric over the tent.
Attach the rainfly pole's ends into the pins on both sides of the door, forming the vestibule arch.
Secure the lines on all sides, keeping them taut.
What's the Difference Between This Model and the Regular Coleman Montana 8-Person?
The difference between the regular Coleman Montana 8 Person tent and the Elite version is in the smart details the latter offers. The LED light, the auto-roll windows and the vents by the floor to allow airflow are all extra features of the Elite tent.
Conclusion
So, you've made it through our Coleman Elite Montana 8 person tent review, but you're still unsure? Let's go through the important points.
While this is technically an 8 person tent if filled to capacity, we don't recommend it. This model is ideal for camping trips for a family, a small group of friends or two couples.
The Weathertec system with inverted seams makes the tent water-resistant even in rough conditions, and the poles can handle hard winds. The color-coded sleeves make it easy to put it together.
The tent comes with some smart additions, like auto-roll windows, an LED light with a light switch and a door that closes automatically. Overall, it's a smart buy that won't break the bank.