Sometimes, the perfect weekend weather comes along, and you just want to get out of the city as fast as possible to enjoy the outdoors. Instant tents are the ideal solution for those moments. You won't waste a minute of your short time in the wilderness when you have a tent you can put up in a matter of minutes.
We decided to review the Coleman instant 4-person cabin tent. Its main attraction is the instant setup that usually doesn't take longer than a minute. That makes it great for quick getaways, backyard camping with kids or whenever the weather calls for you to spend your day outside.
But is it any good? Check out our Coleman 4-person instant cabin tent review and see for yourself!
Presenting the Product
Who Is the Coleman 4-Person Instant Cabin Tent For?
The Coleman instant cabin tent is truly fast to set up and a low-budget option. This is why we recommend it to those campers looking for an easy option for their first tent.
It doesn't come with a rainfly, so this tent is essentially made from a single layer of fabric. It's not the right option if you're camping for several days in unpredictable weather. If a storm comes by, you may end up sleeping in a puddle of water.
The tent does have an affordable price, so it's an excellent option to have around the house if you take lots of one-night trips with your other half or friends. This way, you don't have to waste your time setting up the tent, and you can get straight to enjoying the wilderness.
The maximum capacity of this tent is four people, but we recommend it for two. Also, note that the center height is only 4 feet 11 inches, so adults will likely have to duck if they want to spend time inside.
This is a little disappointing, as the appeal of an instant cabin tent is often the height they offer, allowing taller campers to stand comfortably inside. 
Suppose you have kids and are looking for a fun place to play in the backyard—this model's ideal for that. You can be outdoors, play games or build a pillow fort without being in the blazing sunshine all day.
This is also an ideal product for those who are new to camping. If you just want something easy for occasional use, this could be the perfect alternative for you.
The 4-person Coleman instant tent is ideal for:
One-night getaways in mostly warm, dry climates.
Kids play in the backyard.
Two adults and a small child or dog.
Campers who spend more time outside than inside.
A short camping trip with friends.
People who are new to camping.
Features and Benefits
Durability: Will It Last?
One positive aspect of the small size of this tent is that it will provide more protection from the wind than a bigger model. Some larger models might provide comfort for camping over longer stretches, but they are more prone to get their poles twisted in high winds.
Coleman tents are also designed to endure winds of 35 mph, so this model is a good purchase for windy conditions.
The Coleman instant tent has sturdy steel poles that are tougher than many other types of poles, but they do have lots of moving parts that may prove to be vulnerable. If you get in the middle of a serious storm, the hinges at the top corners of the poles don't feel too sturdy. The same goes for the middle part of the telescoping poles and the center of the roof.
Size: How Many People Really Fit?
The size is technically big enough to call this a 4-person tent, but the interior doesn't have a lot of room to be comfortable with that many people. We recommend this tent for a maximum of two adults and a small child or pet. Any more than that will make your trip crowded and uncomfortable.
The interior floor dimensions are 8 x 7 ft, so you can just about squeeze in a queen-size mattress. You won't have much room for anything else, but it's usually enough for one or two nights of camping. There are storage pockets under one of the windows so you can keep your small personal items at hand.
Setup: How Easy Is It?
The star feature of this tent is its instant, easy setup. The poles are pre-attached to the fabric, so the setup is as easy as laying the tent on the ground and extending the steel poles.
This is by far the best feature of the Coleman instant 4-person tent. No time wasted fighting a difficult setup—you get straight back to enjoying your time outside.
Waterproofing: Will It Stay Dry?
Coleman tents come with their WeatherTec system, with inverted seams and welded floors, to help keep water out. However, note that this particular tent doesn't come with a separate rainfly.
The manufacturer claims that it comes with an integrated vented rainfly, but this just refers to a water-resistant treatment on the fabric. At the top, there is a sturdier layer of fabric with air vents.
It does provide protection from rain getting inside, but an effective rainfly usually does more to keep you and your belongings dry. Most users reported no issues, but some have experienced leakage. If heavy rain surprises you in the middle of the night in this camping tent, you might get wet.
The bonus of not having a rain fly is that not battling with another layer of fabric adds to the instant setup. If you do want some extra weather protection, though, we recommend getting a separate tarp to cover yourself in case of a storm. You can also buy some sealant to apply to the seams to keep the rain out.
Ventilation: How Hot Does It Get?
The large windows of this 4-person cabin tent make it a comfortable place to sleep, even during hot summer nights. There are also air vents at the top that provide some ventilation during the night.
The upper vents and windows maintain a cool temperature inside, ensuring there's airflow. However, more vents at the bottom would be an improvement, since the tent can become a little stuffy with more than two campers.
Storage: Does It Take Up a Lot of Space?
Every tent has its pros and cons. If you want a tent that's extremely quick and easy to set up, it occupies a little more space when folded than a tent with smaller poles.
The dimensions of an instant tent are better designed for car camping than a backpacking trip that requires you to carry tents around while you hike to your camping spot.
The good news is that the carry bag is expandable, meaning you don't have to struggle to squeeze the tent fabric as small as possible when packing.
Value: Is It Worth Your Money?
This model comes with a low price tag and an instant setup, which is enough to convince many camping enthusiasts. The truth is this tent likely won't last you for decades, but it's definitely a good investment for friend and family camping trips a few times a year.
Unless you get the occasional faulty product, which happens every now and then with any brand, we do think these Coleman tents are worth your money.
Social Proof
We searched the internet to find the real opinions of people who have used this tent. Here are some of the comments we found from Coleman Instant Cabin Tent users.
My parents bought the 14 x 10 instant tent, and that thing goes up and down in literally a minute. Having grown up with a really old Eureka tent from the 70's that took at least 30 – 45 minutes to set up prior to this, it is an absolute joy to set this thing up.
I got a 10×14 Coleman Instant up this year and it literally took 10 minutes to set up the first time without reading the directions and about 2 minutes to take down. It was very spacious (fit an xlarge cot, twin air mattress, dog bed, and still had room). Only about $150 on Amazon.
The feature that makes users love this model the most is the ease of setup. Even on the first try, it will take no longer than 10 minutes, and often a fraction of that time.
Do note that the instant mechanism makes them quite big and bulky compared to other types of tents. They also have long steel poles that are heavy.
I have the Coleman tent and it's great. Setup and takedown are quick and simple, maybe about two minutes each, and I can comfortably fit two queen sized air mattresses with room to spare.
We have the coleman instant and it's a HOOT. Setup time is cut down dramatically since the tent goes up so easily. It's also real roomy–best tent we've ever owned.
Alternatives
Coleman Sundome 4-Person Tent
This low-cost option has a dome-shaped design, ideal for beginners and those who want a more traditional dome setup. This model is also from Coleman, and while it's not quite as quick to set up as the instant tent, it's overall a very user-friendly option.
Like most Coleman products, this model is also affordable, but it's even lower-priced than the instant version.
It differs from the Coleman instant tent in these ways:
Lower price.
Takes slightly longer to set up.
Has a separate rainfly.
Has an e-port.
You can check it out here.
Ayamaya 4–6 Person Pop Up Tent
If you truly don't want to use even a minute to set up your tent, a pop-up might be the right option. This model is large enough for a family camping trip and has a vestibule area by the door with room to keep your gear or pets separate from the sleeping space.
The price is slightly higher than the Coleman tent, but the Ayamaya tent comes with a double layer that keeps you dry if a storm surprises you.
As opposed to the Coleman instant model, this one has:
A zero-effort setup.
Double-layer fabric for weather protection.
A vestibule area.
Check out this model here.
Eureka Copper Canyon 4-Person Tent
For those looking for a tent that's high enough to stand in, this Eureka Copper Canyon 4-person tent is a durable, quality purchase. With a center height of 7 feet, the tent is ideal for tall adults who don't want to crouch whenever they enter.
The size and design are otherwise very similar to the Coleman model for four people, with one door and windows on all sides.
Note that this option is in a different price range but will likely last you for years.
Compared to the Coleman instant model, this one has:
A more durable quality.
7-feet of interior height.
An e-port.
A rainfly.
You can see more here.
Frequently Asked Questions
Is the Coleman 4-Person Instant Cabin Tent Waterproof?
This Coleman model is not fully waterproof and doesn't even include a separate rain fly. Some users report rain getting inside, but it does usually hold up against the elements in fair to good weather.
Is This a Good Tent for Four People?
We don't recommend this product as a four-person tent unless you want to be packed in like sardines. Four people is the maximum capacity you can fit in, but we recommend using the tent with two adults for a more comfortable experience.
Is It Easy To Carry?
Carrying this Coleman instant tent is not impossible, but the bag is quite big and heavy—about 18 pounds and 48 inches in length. For those looking for tents to carry for longer, for example, when backpacking, we recommend dome-type tents. They can fit in a smaller space and usually have lighter poles.
But this tent is easy enough to carry for car camping trips, which is what it is designed for.
How To Setup the Coleman 4-Person Instant Cabin Tent
The setup of these instant tents is just about as easy as it gets, and one person can manage it alone.
Take the tent out of the storage bag and spread it on the ground.
Pop up the telescoping poles.
Stake the tent to the ground to make sure it stays put.
Enjoy your time out camping!
To pack it back into the storage bag, it'll be easier with another person's help to squeeze the air out, but it's possible to do it on your own.
Can You Fit a Queen-Sized Air Mattress in This Tent?
Yes, there is room to fit a queen-sized mattress inside. However, it will take up nearly all of your floor space, so you won't have much space for storing your gear. This is another feature of the tent that makes us recommend it for car camping. You can store your gear inside your car, where it's also protected from the rain.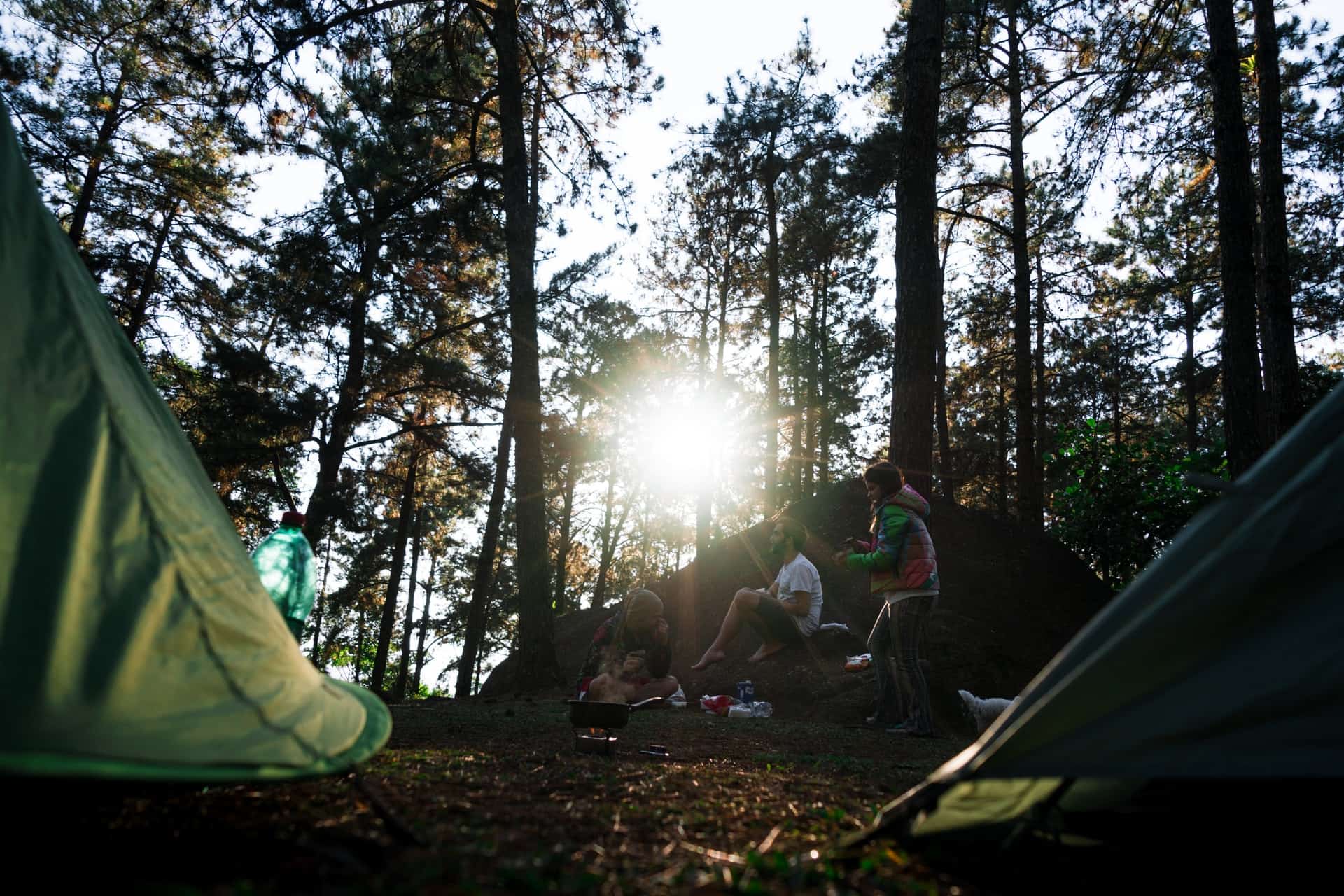 The Takeaway
Let's sum up the Coleman 4-Person Instant Cabin Tent review. It's a good option for those who don't want to waste a minute when in the wilderness. This tent is quick and easy to set up and handy for a quick trip for small families, couples or friends.
If you're looking for a big tent to fit the whole family or spend a longer time camping, we recommend going for another option. This product is great with a maximum of two adults and a pet or a small child.
Coleman's WeatherTec system with inverted seams keeps water out well in most conditions, but this model doesn't have a separate rain fly. The fly is integrated, which can make it less reliable in heavy rain.