Welcome to our Coleman 4 Person Instant Cabin tent review!
We've put in the hours, haunched over at our desks, reading HUNDREDS of tent reviews so you don't have to.
If you want a tent that can get setup instantly, then you're in the right place. This tent can be pitched in a matter of SECONDS, giving you more time to enjoy your trip.
But how well does this Coleman tent cope with the trade-off between fast-pitch technology and durability? Should you be worried about this tent collapsing in the middle of the night?
Is the Coleman 4-person instant cabin tent a good buy?
This is a great tent if you're priotity is relaxing and enjoying your camping trip. If you want to spend a few hours fighting with poles and sleeves, look elsewhere. But leave it at home for when it's raining.
The set of setup is one of the key features of this affordable tent. It also comes with excellent ventilation which keeps the tent cool.
However, without the additional rain fly for this tent, those ventilation features will cause leakages in the rain.
Wait… ADDITIONAL rain fly?
Yeah, we know. That brings us to our next point…
Is it worth your money?
Okay, so we literally JUST described this tent as affordable… But it isn't going to be good value for everyone, so pay attention to this.
This tent is available at a reasonable price that can leave you with a bunch of savings you can use to invest in other camping equipment.
Or you could end up blowing it all on buying the additional rainfly because you didn't realize there wasn't one included with the tent.
We want to make it clear – in our view, a tent not having a rain fly is dumb. This is not behavior we usually want to reward with a good recommendation.
So… it isn't good value, right?
Well, if you don't need a rain fly (and given who this tent should appeal to, that might be the case) then it's an absolute BARGAIN.
But check the overall cost with the additional rain fly if you're planning to head out in anything other than clear blue skies.
Space in the Coleman instant cabin tent
The Coleman instant cabin tent is truly fast to set up and a low-budget option. This is why we recommend it to those campers looking for an easy option for their first tent.
The floor size is 7′ by 8′ giving you a total space of 56 feet squared.
Can it really hold four campers?
While the maximum capacity of this four person tent is four people, we recommend it for two. It is a decent sized tent, but if you have four campers upgrading to at least a 6-person tent will give you more livable space for a comfortable trip.
Also, note that the center height is only 4 feet 11 inches. Unlike tall tents with higher roofs, in this instant cabin adults will likely have to duck if they want to spend time inside.
This is a little disappointing, as the appeal of an instant cabin tent is often the height they offer, allowing taller campers to stand comfortably inside.
The 4-person Coleman instant tent is ideal for:
One-night getaways in mostly warm, dry climates.
Kids play in the backyard.
Two adults and a small child or dog.
Campers who spend more time outside than inside.
A short outdoor adventure with friends.
People who are new to camping.
The size is technically big enough to call this a 4-person tent, but the interior doesn't have a lot of room to be comfortable with that many people. We recommend this tent for a maximum of two adults and a small child or pet. Any more than that will make your trip crowded and uncomfortable.
Is this a good tent for backpacking?
Every tent has its pros and cons. If you want a tent that's extremely quick and easy to set up, it probably will have a larger packed size than other family camping tents.
The dimensions of an instant tent are better designed for car camping than a backpacking trip that requires you to carry tents around while you hike to your camping spot.
The tent weight is also too heavy to carry when backpacking.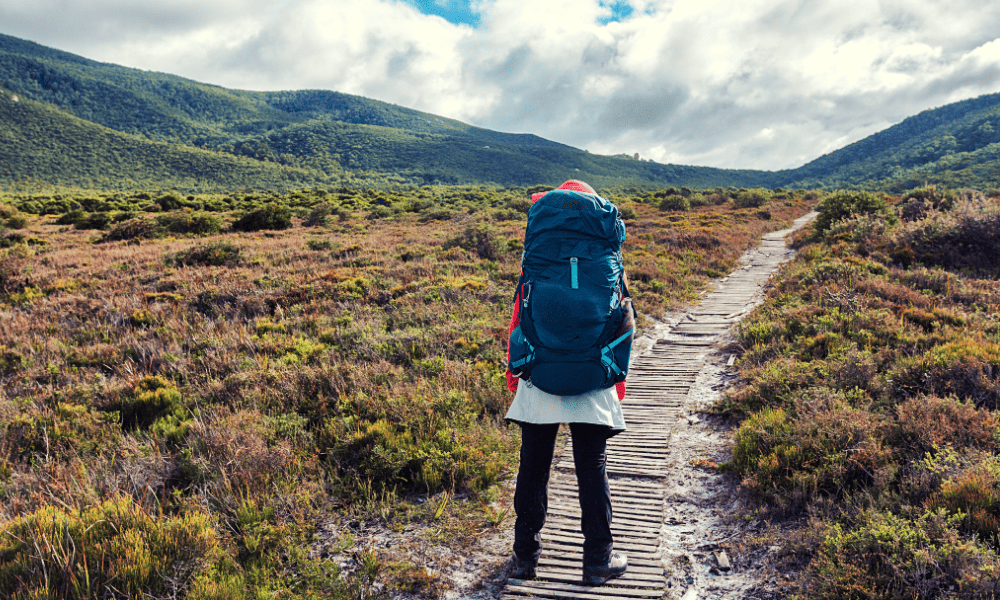 Is this a good tent for family camping?
Thanks to the speed of set up, this is an ideal tent for fair-weather family camping trips. It can be pitched quickly, without a hassle, giving you more time to relax and enjoy vacation time with the family.
It's a great budget pick for families if they are comfortable with the floor size for sleeping space.
However, for most families, we would recommend upgrading to the 6-person tent to give yourself a little more space.
What are the storage options inside the Coleman instant tent?
There are storage pockets under one of the windows so you can keep your small personal items at hand. These mesh pockets have ample storage for small items and valuables that you want to keep safe but accessible.
Unfortunately, this tent does not come with a vestibule so all gear will have to be stored inside the main body of the tent. This might be a problem if you're bringing lots of gear.
A spacious vestibule would have given extra storage space but would have also slow down the tent's quick setup process. If extra space for gear is important for your tent, maybe avoid this car-camping tent.
How does it hold up in bad weather?
The waterproof design of this tent is pretty poor with lots of mesh letting water in without the rain fly on. We'd recommend sticking to weekend camping trips in dry and warm weather.
Even with the rain fly, this tent is best suited to light showers rather than heavy storms.
Waterproofing: Will It Stay Dry?
Coleman tents come with their WeatherTec system, with inverted seams and welded floors, to help keep water out. However, note that this particular tent DOES NOT come with a separate rainfly.
So this tent is essentially made with a single-layer design. It's not the right option if you're camping for several days in unpredictable weather. If a storm comes by, you may end up sleeping in a puddle of water.
The manufacturer claims that it comes with an integrated vented rainfly, but this just refers to a water-resistant treatment on the fabric. At the top, there is a sturdier layer of fabric with air vents.
It does provide some extra protection from rain getting inside, but an effective rainfly usually does more to keep you and your belongings dry.
The large mesh windows (which feel more like mesh walls with the rain fly off) will be vulnerable to letting water in during even light rains.
Most users reported no issues, but some have experienced leakage. If heavy rain surprises you in the middle of the night in this camping tent, you might get wet.
The bonus of not having a rain fly is that not battling with another layer of fabric adds to the instant setup.
If you do want some extra weather protection, though, we recommend getting a separate tarp to cover yourself in case of a storm. You can also buy some sealant to apply to the seams to keep the rain out.
Is condensation a problem in the rain or cold?
The decent ventilation system provided by the mesh design in this tent is significantly impacted by the rainfly and roof vents that have to be closed in the rain.
Condensation can build up on rainy nights and campers have reported waking up to dampness inside their tent.
This is a potential answer to the rain fly question about why it wasn't included.
How good is the wind protection?
Coleman test all of their tents in simulated storm conditions to see how they hold up to the wind and the rain. During these tests, the tent are exposed to 35mph winds.
The advantage of this cabin tent having a smaller peak height is that there is less material to catch in the wind. When staked down properly and using reflective guy lines, this tent should be able to withstand moderate winds.
However, we wouldn't recommend taking this tent out in strong winds because the shape does mean it will be vulnerable to damage.
Dome designs without vertical walls are usually better for wind-resistance.
Keeping cool in the hot summer's sun
The large windows of this 4-person cabin tent make it a comfortable place to sleep, even during hot summer nights. There are also air vents at the top that provide some ventilation during the night.
The upper vents and windows maintain a cool temperature inside, ensuring there's airflow.This helps the tent during warm weather trips.
However, more vents at the bottom would be an improvement, since the tent can become a little stuffy with more than two campers.
Would this tent be good for a chill winter camping trip?
This tent is not suitable to take camping in winter. It is a three-season tent that is best suited to fair-weather camping during summer and the milder months of spring and fall.
How long can you expect this tent to last?
The Coleman instant tent has sturdy steel poles that are tougher than many other types of poles, but they do have lots of moving parts that may prove to be vulnerable.
If you get in the middle of a serious storm, the hinges at the top corners of the pre-assembled poles don't feel too sturdy. The same goes for the middle part of the telescoping poles and the center of the roof.
This tent won't last a lifetime and will be susceptible to damage in extreme conditions. But if cared for properly and used occasionally, you and your crew should get plenty of summers from this tent.
Ease of setup
The star feature of this tent is its instant, easy setup process. The poles are pre-attached to the fabric, so the express setup is as easy as laying the tent on the ground and extending the steel poles.
We have the Coleman instant and it's a HOOT. Setup time is cut down dramatically since the tent goes up so easily. It's also real roomy – the best tent we've ever owned.

Review
This is by far the best feature of the Coleman instant 4-person tent. No time wasted fighting a difficult setup—you get straight back to enjoying your time outside.
Do note that the instant mechanism makes them quite big and bulky compared to other types of tents. They also have long steel poles that are heavy.
How to setup the Coleman 4 person instant cabin tent
The setup of these instant tents is just about as easy as it gets, and one person can manage it alone.
Take the entire tent out of the expandable carry bag and spread it on the ground.
Pop up the pre-attached poles.
Stake each corner of the tent to the ground to make sure it stays put.
Enjoy your time on your camping adventure!
To pack it back into the storage bag, it'll be easier with another person's help to squeeze the air out, but it's possible to do it on your own.
Can you set the tent up alone?
As will all tents, it's easier to set the Coleman Instant Cabin but with some helping hands. You can still manage to set up this tent by yourself however thanks to the instant setup feature.
The 4-Person model is the easiest Instant Cabin to set up alone because you can still get the rainfly on fairly easily – as long as you're not under five feet tall. The other, taller models can be trickier.
I have the Coleman tent and it's great. Setup and takedown are quick and simple, maybe about two minutes each, and I can comfortably fit two queen sized air mattresses with room to spare.

Consumer review
Is it easy to carry?
Carrying this Coleman instant tent is not impossible, but the bag is quite big and heavy—about 18 pounds and 48 inches in length. For those looking for tents to carry for longer, for example, when backpacking, we recommend dome-type tents. They can fit in a smaller space and usually have lighter poles.
But this tent is easy enough to carry for car camping trips, which is what it is designed for.
The good news is that the carry bag is expandable, meaning you don't have to struggle to squeeze the tent fabric as small as possible when packing.
The rip strips attached to the carry bag also help make the packed size smaller, making it easier to pack the tent into the car.
FAQs: what might you have missed?
Can you fit a queen size air mattress inside?
Yes, there is room to fit a queen size mattress inside. However, it will take up nearly all of your floor space, so you won't have much space for storing your gear.
This is another feature of the tent that makes us recommend it for car camping.
You can store your gear inside your car, where it's also protected from the rain, giving you more space for queen size beds.
Is the Coleman 4-person instant cabin tent waterproof? 
This Coleman model is not fully waterproof and doesn't even include a separate rain fly. Some users report rain getting inside, but it does usually hold up against the elements in fair to good weather. 
Is this a good tent for four people?
Four people is the maximum capacity you can fit in, but we recommend using the tent with two adults for a more comfortable experience.
We don't recommend this product as a four-person tent unless you want to be packed in like sardines.
What's the advantage of cabin tents?
With steep walls, cabin-style tents have a high and fairly uniform ceiling height. This makes them much more comfortable for tall campers who have to crouch in dome tents with sloped walls.
Alternatives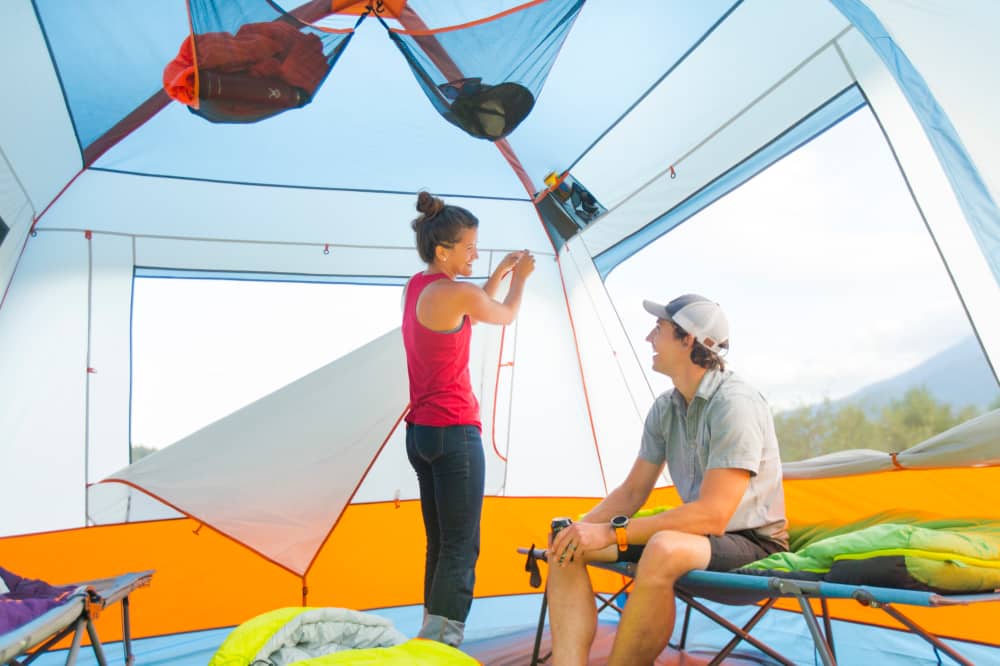 Coleman Sundome 4-Person Tent
This 4-person dome tent an ideal budget pick for beginners and those who want a more traditional dome setup. for beginners and those who want a more traditional dome setup. This model is also from Coleman, and while it's not quite as quick to set up as the instant tent, it's overall a very user-friendly option.
Like most Coleman products, this model is also affordable, but it's even lower-priced than the instant version.
It differs from the Coleman instant tent in these ways:
Affordable price.
Takes slightly longer to set up.
Has a separate rainfly.
Has an e-port.
You can look at our Coleman sundome 4 person tent review or check its price below.
Ayamaya 4–6 Person Pop Up Tent
If you truly don't want to use even a minute to set up your tent, a pop-up might be the right option. This model is large enough for a family camping trip and has a vestibule area by the door with room to keep your gear or pets separate from the sleeping space.
The price is slightly higher than the Coleman tent, but the Ayamaya tent comes with a double layer that keeps you dry if a storm surprises you.
As opposed to the Coleman instant model, this one has:
A zero-effort setup.
Double-layer fabric for weather protection.
A vestibule area.
Eureka Copper Canyon 4-Person Tent
For those looking for a tent that's high enough to stand in, this Eureka Copper Canyon 4-person tent is a durable, quality purchase. With a uniform ceiling height of 7 feet, the tent is ideal for tall adults who don't want to crouch whenever they enter.
The size and design are otherwise very similar to the Coleman model for four people, with one door and windows on all sides.
Note that this option is in a different price range but will likely last you for years.
Compared to the Coleman instant model, this one has:
A more durable quality.
7-feet of peak height.
An e-port.
A rainfly.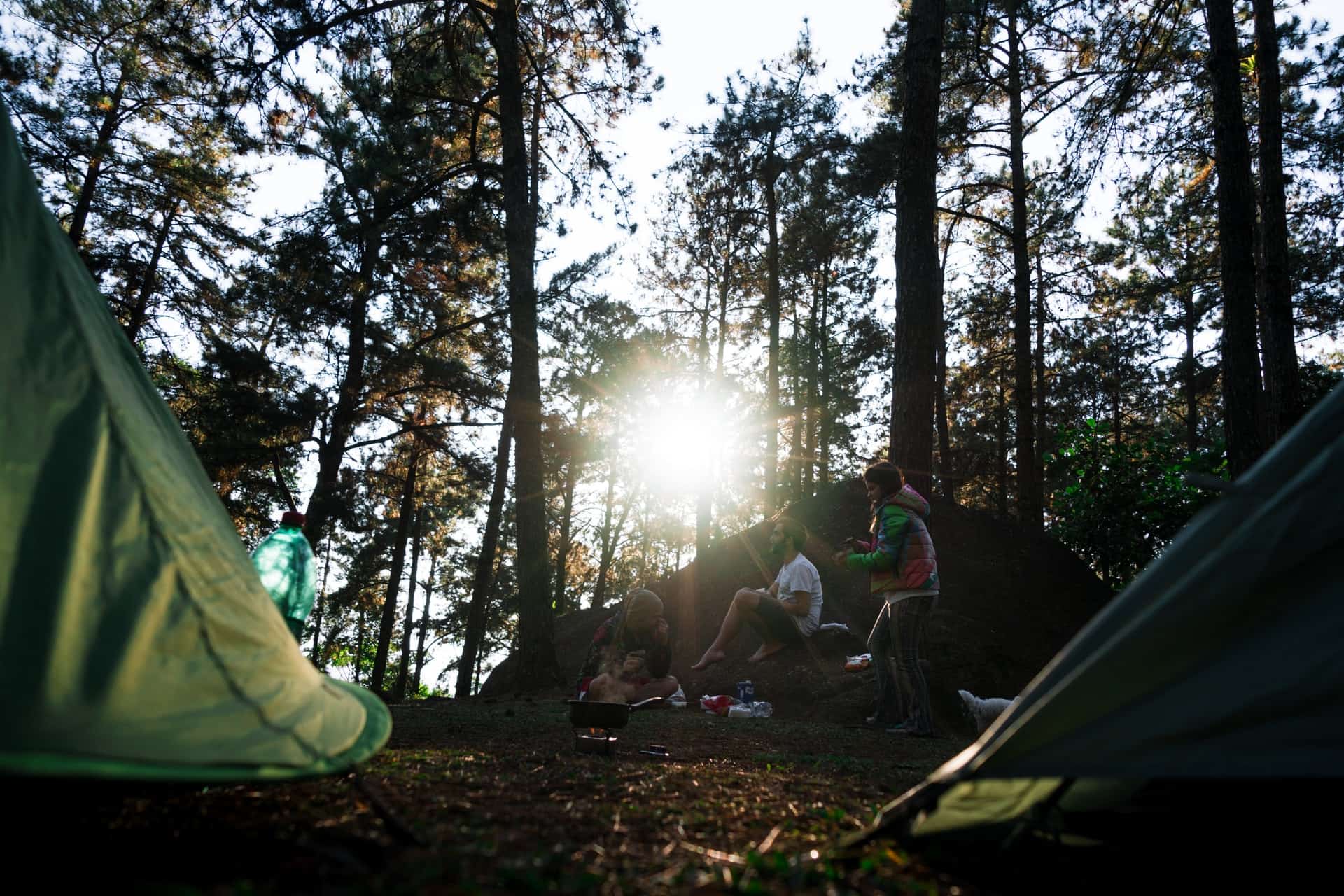 The takeaway
Let's sum up the Coleman 4-Person Instant Cabin Tent review. It's a good option for those who don't want to waste a minute when in the wilderness. This tent is quick and easy to set up and handy for a quick trip for small families, couples or friends.
If you're looking for a big tent to fit the whole family or spend a longer time camping, we recommend going for another option. This product is great with a maximum of two adults and a pet or a small child.
Coleman's WeatherTec system with inverted seams keeps water out well in most conditions, but this model doesn't have a separate rain fly. The fly is integrated, which can make it less reliable in heavy rain.