Welcome to our Coleman 10 Person Instant Cabin Tent review!
After looking at EVERY detail for HUNDREDS of tents, we're ready to give you everything you need to know about this tent.
We'll cover who it's for, why we loved the instant setup and what you need to be wary of with this cabin-style tent.
So why waste more time hanging around? Let's get our teeth into this review together!
Is the Coleman Instant Cabin 10-Person Tent a good buy?
Don't have time to stick around? This is our favorite Instant Cabin model from Coleman, far surpassing the smaller versions. It's a FANTASTIC tent for fair-weather weekend camping trips with a group of up to around six people.
The Dark Room Technology really helps to make this a versatile tent, capable of handling the hot summer sun.
We love the extra space that you get in this tent, including the peak height of 6′ 7″ which should be tall enough for most campers to stand.
But what we REALLY love about this tent is that it COMES WITH THE RAIN FLY INCLUDED!
If you haven't read our reviews of the smaller sizes, you might be confused as to why this is such a big deal.
The smaller tents didn't include the rain fly which had to be bought separately. Obviously, a tent without a rain fly is severely limited in what weather conditions it is going to be suitable for.
So we're relieved to see that Coleman have included one on this super 10-person tent.
Is it good value for money?
This tent isn't just bigger than the other instant cabins, it also comes with extra features and add-ons (like that rain fly…) which mean it is more costly than other tents.
For a 10-person size, this is still an affordable tent although it doesn't offer the same bargain savings as the other models.
We feel that this tent does enough to justify its price tag and we'd rather buy a tent with a rain fly which we can use more often than a tent without which is cheaper. Check out the price and see if it's the right tent for you.
If you don't need something this big, only want to take it out a couple of times a year, and will avoid the rain at all costs, then you can save some dough dropping down to a smaller size.
Space in the Coleman instant cabin tent
This spacious tent from Coleman is an excellent option for big families and large groups of friends. As a result, it is one of the best 10 person tents for camping going.
You have several situations where this type of tent would be most suitable:
Large family reunions while camping.
If you have lots of kids or are taking your kids and their friends on a weekend camping trip.
A siblings/cousins/close friends camping trip.
Festivals for large friend groups—you don't mind sleeping in close quarters with casual friends when there's good music and a ton of beer, right?
Fitting everyone in: enough room for 10?
The tent can fit 10 people comfortably if they're all kids—leaving the adults free to have their own private tents.
Consider packing eight people into this tent if you want a more comfortable experience. Eight adults fit in it quite well, but it'll be extra roomy if half or more are kids.
The center height at 6'7" is ideal for any taller camper who doesn't want to spend their weekend crouching down because there's not enough headroom.
Coleman says you can fit 4 queen air mattresses in the Coleman Instant Cabin tent. We don't see how that's possible given that it's only 14 x 10 ft. A standard queen mattress is 5 feet wide, and queen size air mattresses like the SoundAsleep are just below that width, fitting three mattresses in, not four.
Six people fit neatly across these three mattresses, with two on their own singles at the foot of the queens.
Removeable room divider
There's a removable divider separating one (or two, according to Coleman) air mattress from the other two. With one mattress behind the divider curtains, it's the perfect spot for parents to sleep away from the kids.
It's also a handy feature for groups sleeping together. One half can go to the girls in the group and the other to the boys, or however else you want to split the space to create some privacy and comfort.
Is this a good tent for backpacking and hiking?
It can be tempting to take a tent with a larger capacity backpacking if you are heading out with a big group, but it's not a good idea. Tent this big are too heavy and awkward to carry on a backpacking trip.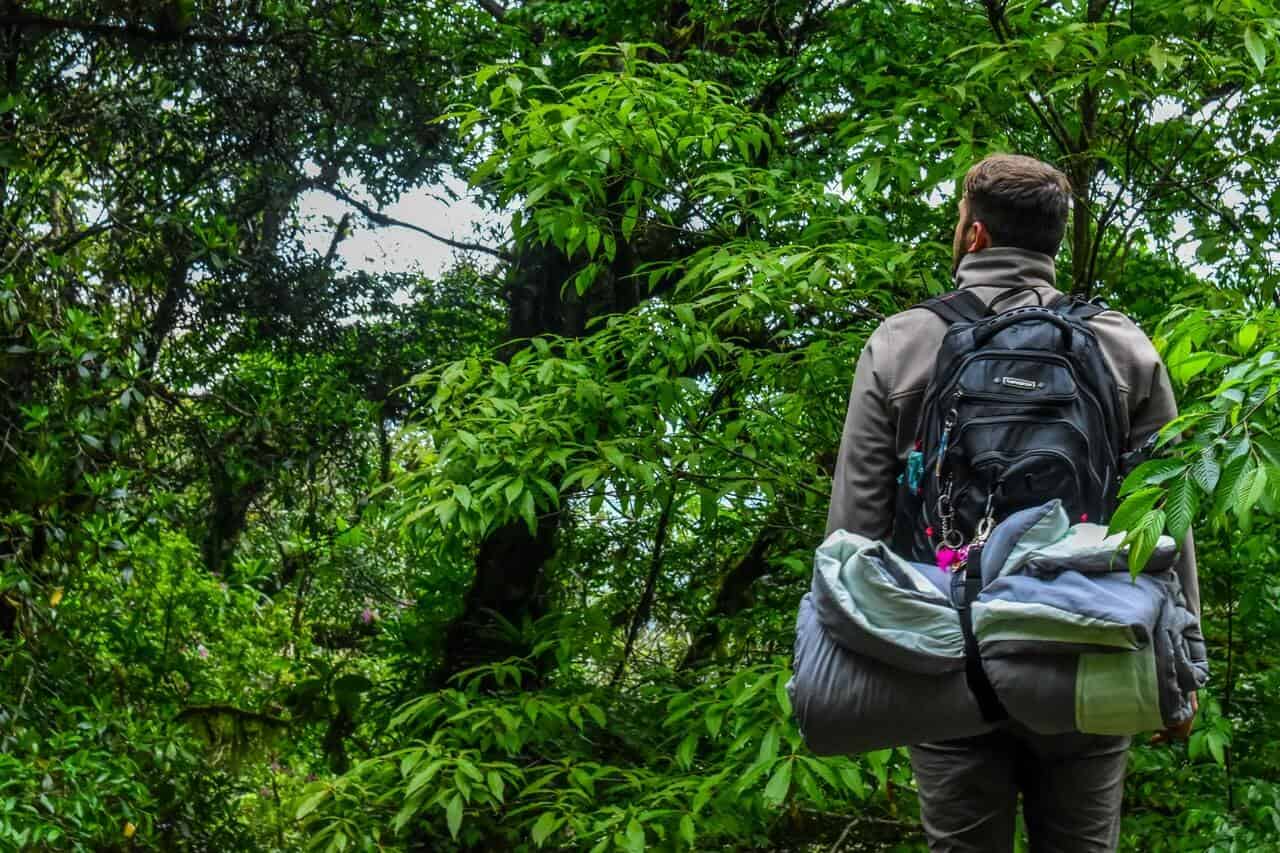 We do not recommend the Coleman Instant Cabin tent for backpacking.
Is this a good tent for family camping?
Whilst it is too heavy and awkward for backpacking, it's a great tent for car camping with the family.
This is a great tent for fair-weather family camping during summer and the mild months of spring and fall. It is simple to set up which leaves you plenty of time to relax and enjoy your vacation.
The room divider on the 10-person model makes it better for family camping with teens or older kids who want their own space.
Storage space for gear
Like most modern tents, this Instant Cabin comes with mesh storage pockets for keeping small valuables accessible and safe inside the tent. The last thing you want is a clumsy foot to come down on your glasses!
Unfortunately, there isn't a vestibule for gear storage with this tent so you'll need to keep all your equipment inside the main tent with you.
At least with the 10-person model you can use the room divider to make the tent feel less crowded.
How does it hold up to the weather?
This 10 person tent offers more weather protection for bad weather days than the smaller models. However, it is still only really suited to dry, warm weather camping trips.
Is the Coleman 10 Person Instant Cabin Tent Waterproof?
All tents are waterproof to an extent, but this is not one of the best for it. Despite the WeatherTec system, you'll need an extra tarp and some waterproofing treatment to try and keep dry in heavy rain.
Customers regularly had complaints about the performance in wet weather camping. The lack of rain protection means that features like the mesh windows leak water easily.
Once seam-sealed, the tent by itself is waterproof enough for a standard afternoon thunderstorm. For prolonged rain, you WILL need the rainfly. When fully staked out, it does a fine job of standing up to the wind.

Review
Protection from the Wind
As part of their quality assurance, Coleman test their tents in simulated storms of up to 35mph which should be plenty for casual camping when the weather isn't too harsh. I would be hesitant about taking this tent out in strong winds, though.
Due to the high, vertical walls of the cabin tent, the wind can catch the sides of the tent. It's important to stake out the tent properly and use the guylines if you're camping in windy weather.
The pre-attached frame is also vulnerable to damage in high winds. Telescoping poles are more likely to break in gusty weather than regular poles.
Handling the heat in summer nights
The excellent ventilation thanks to the mesh design and ground vents the Coleman 10 person tent keeps the tent cool during hot nights and days. But it isn't the only feature that helps keep this tent from heating up.
Where some people value the sunlight in the morning, others want to sleep away a hangover. Or, they want to put their kids down for a nap in the middle of the day.
The windows and doors have covers, so you can block out sunlight, letting you sleep for as long as you want*, any time of day.
*Fellow campers permitting, of course.
Black attracts the sun. Won't the tent be scorching hot with the dark room technology? Luckily not.
With the ventilation covered, you'd think the place would get stuffy too. Yet again, no.
The dark room tech is so effective that when it attracts the sun, the heat stays on the outside and reduces warmth buildup inside the tent by 10 percent, according to Coleman
Condensation: wet outside, damp inside?
During rainy nights, you'll need to attach the rainfly and close the windows to stop water from coming in. This significantly impacts the ventilation, which is usually good and can cause issues of dampness from condensation in the tent.
Proper ventilation is important in a tent and the mesh design helps bring cold air into the tent and push warm, damp air out. However, the rain fly does reduce the excellent ventilation and can cause condensation to build.
Withstanding the Winter Cold
Please do NOT try to take this tent out winter camping. It doesn't offer enough protection to ensure you will have an enjoyable or safe trip.
It's best to stick to summer and the more mild spring and fall months when camping in the Instant Cabin from Coleman.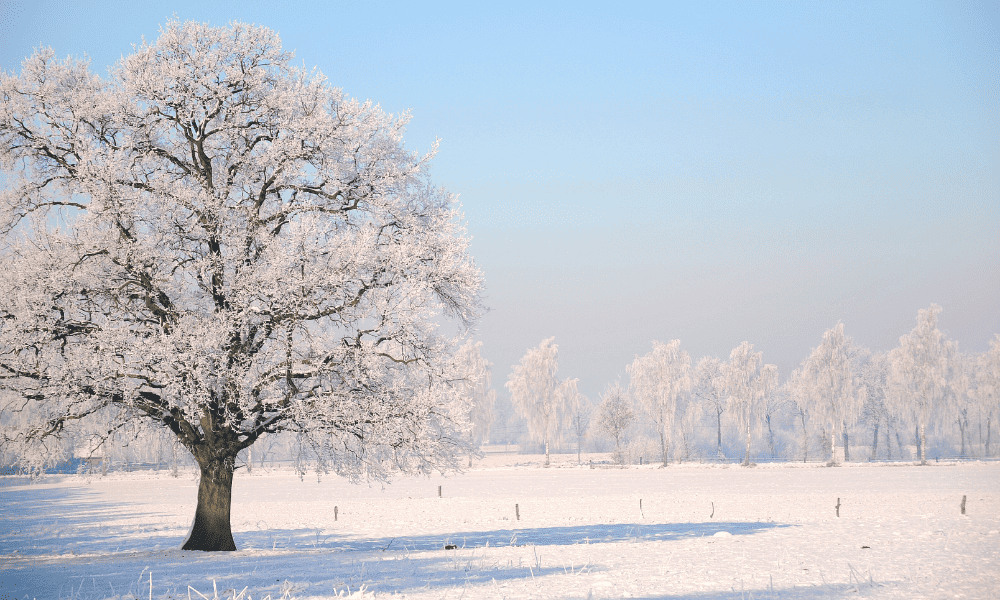 Durability: Can It Withstand the Ruckus?
I suggested this tent for kid-based trips and friends attending festivals, but can it withstand that?
Signs point to yes. Oh, and it can withstand some heavy wind and rain, I suppose, but that's secondary to the dangers above.
The pre-attached poles are pretty sturdy, steel and strong—although some customers had issues with them arriving broken, so be sure to contact the manufacturer in this instance.
Customers who had their tent arrive intact say they hold up very well, including a customer who's used the tent in all conditions.
That same customer found the tent fabric heavier than any other tent they've owned, which was a compliment. This double thick fabric should withstand a few bumps—from kids, festival-goers or light wind and rain.
However, the fabric tends to trap heat in, which causes condensation to build up on the tent floor. Bring a towel if you take the tent out in considerable warmth because those patented welded floors made to keep moisture out also keep it in.
Instant tents are no better or worse than any other tents on the reliability front, but they do have a downside.
When a regular camping tent pole breaks, you can replace the pole easily. If a pre-attached pole in an instant tent breaks, the whole tent is closed for business, and you need to replace it or look for a new tent.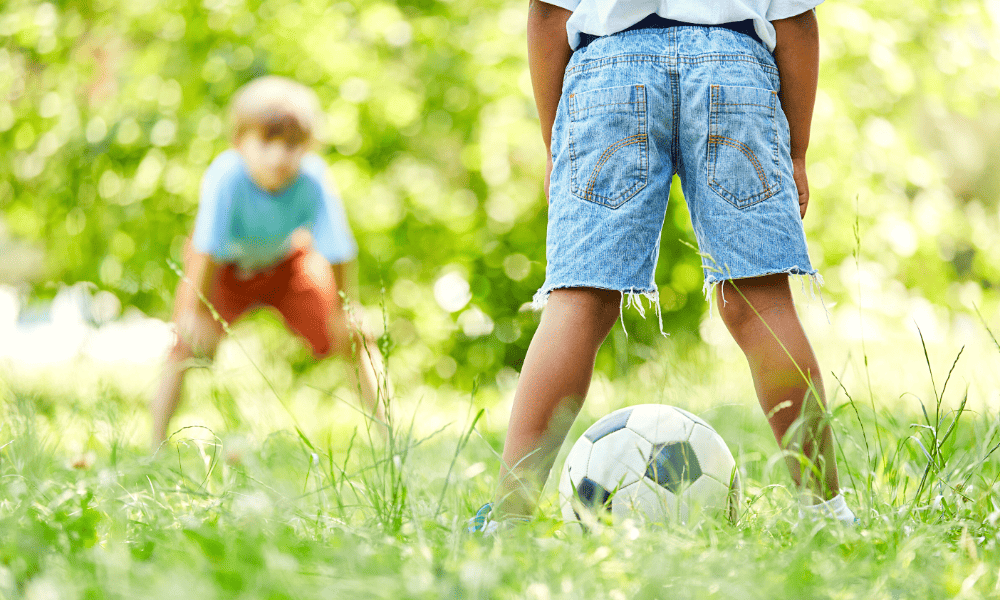 How was the setup process?
It's the kind of tent you can toss-up in a hurry before going off to have fun; be that fun diving headfirst into festival culture (Burning Man anyone?) or chasing the kids into the woods to hunt for firewood.
The ease of setup is a big selling point for this tent.
With one person, you can setup in minutes at most and that's not an empty promise like some assembly-time suggestions tend to be.
I now have an instant style cabin tent from coleman that's 9×12 or 9×13 that I can literally set up (no stakes no rainfly) within 30 seconds. Plus it's pretty big, I'm just shy of 6'4 and can stand up in the center and just lean a bit on the sides.

Product review
How to Setup the Coleman 10-Person Instant Cabin Tent
This is quite a lengthy camping tent, so we recommend two people set it up. It's easily done solo, too, due to the instant setup.
Unpack the tent and find the center.
Pull the center until the tent starts to form a spider-shape.
Extend the legs once the center is at maximum height; wait for a click.
Using the tent stakes, peg each corner into the ground
There's no need to stake the rainfly, as that's integrated into the tent's overall construction.
Can one person set it up?
This tent is so easy to setup that one person can manage, and that one person could be a child! Okay, maybe it would have to be a pretty tall child…
Realistically, the setup is better done with two or more adults.
To get the camping tent set up ultra-efficiently, consider a party of four setting it up: one person for each leg. That way, you get a stake each and a pole each, and you really can get this up in about 60 seconds.
Is It Easy to Carry?
This tent comes with a carry bag you can use as a large backpack or more easily carry by hand. Fair warning, it's pretty heavy, so you may want to hold the carry bag between two of you or park close to your campsite.
Frequently Asked Questions
What's the advantage of a hinged door?
Something you see in fancier Coleman tents is a hinged door—it's reminiscent of a real cabin. It lets you step in and out of the tent with ease.
Do kids want to handle a frustrating zip every time they want to get in and out of the tent? Probably not.
Now think of taking the Coleman instant cabin tent to a festival. Do you want to handle zippers after a drink or three? Neither do I.
At the front, it might look like double doors leading into the tent but it's just a single hinged door with a large window beside it.
Is this tent good for 10 people?
This is a good tent for 10 people who don't mind crashing close together and being a little cramped. For optimum comfort, reduce the size of your party to eight, and you should be fine.
How many queen air beds can you fit inside this tent?
Coleman says four, math says three, and customers have varying opinions. As a rule, you can be sure of three queen air mattresses inside the tent, and if you can fit an extra queen airbed in, you're incredibly fortunate.
What's the advantage of cabin tents?
Cabin tents usually come with amble headroom which tall campers will appreciate. This is thanks to the steep straight walls.
Alternatives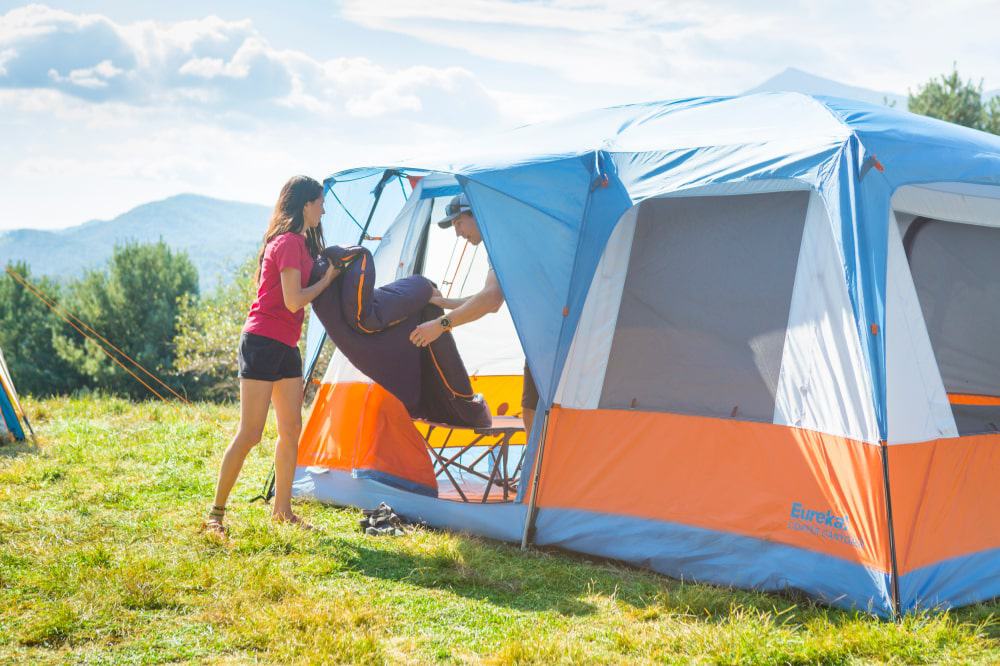 If you're looking for something more upscale or larger, consider these alternatives to this Coleman instant cabin tent:
Eureka Copper Canyon 12-Person Tent
Names can be misleading as 10-capacity doesn't mean 10-comfortable. Here's a larger tent for your party; it'll sleep two more people comfortably.
It differs from the Coleman instant cabin tent:
Pricier.
2 feet wider on one site.
Fits two more people.
No instant setup.
Premium construction.
CORE 9-Person Instant Cabin Tent
If stargazing is your thing, consider this CORE tent. It sleeps one less than the Coleman cabin tent but features a mesh ceiling and a sturdier construction than the tent in our main review.
It's:
Less spacious than Coleman.
Stronger than Coleman.
Perfect for stargazing.
Great for using electronics; there's an e-port.
Coleman Montana 8-Person Tent
If you have fewer people in your party and need something ultra-cheap, consider the Coleman Montana 8 person tent. It comfortably sleeps six, eight at a strength, and has the same hinged door as the tent under review.
But it has:
A better rainfly.
Superior ventilation.
A longer setup.
You may also be interested in our Coleman WeatherMaster 10 person tent review.
Final Thoughts: Instant Gratification?
Overall, this Coleman instant cabin tent is perfect for festivals and large families with lots of kids on casual camping trips. It'll pop up fast and leave you satisfied but not overjoyed.
It's not the best tent in the world, but it's certainly spacious enough to hold all your little ones/drunken friends (same thing?) and gear while providing a shielded shelter for sunlight slumber.
Check out all our reviews of the best Coleman tents.