Camping with a BABY? Can it be done? Should it be done? Do people actually do it?
Yup – they do! Experienced campers barely miss a weekend when the baby comes along and regular camping families pick up the camping routine again once things settle down and take their young kids and babies away on camping trips – making it look quite easy.
And it can be! If you're organized and most importantly, have the right attitude, then camping with a baby is just about taking some specific extra baby things along with the usual essential camping gear, with you!
We've created a comprehensive packing list for camping and added in a lot of things for you to consider when planning a camping trip with a baby. Check out our camping with a baby checklist below!
Sleeping
Tent, poles, stakes/pegs, mallet, rainfly, or tarp

Groundsheet, footprint, or tarp

Sleeping bag, sheets, blankets

Sleeping pads or air mattresses

Pillows

Doormat to go in front of tents

Baby special sleep things

Portable cot or safe place for baby to sleep

Blackout cover for the cot so they sleep longer

Portable baby camera or monitor

Night light for the baby camera

Add new
Related: Need a tent that can fit the whole family? Check out our list of the best family tents for car camping.
Kitchen
Camp table

Camp chairs

Tarp or shelter

Portable camping stove or campfire materials

Extra stove fuel, lighters, matches, firewood, firelighters

Cooking pots and pans

Large bowl

Stovetop kettle

Cooking utensils (Wooden spoons, tongs, flippers, spatula)

Can opener, corkscrew, bottle openers

Cutting board and knives

Cooler with ice or ice packs

Rubbish bin/bags

Bucket for dishwashing, scrubber, detergent, tea towels, dishcloth

Large drinking water container with potable water or water purification system

Food containers and resealable plastic bags for food storage

Foil and paper towel

Marshmallow cooking sticks

Dustpan and brush

Add new
Eating
Plates and bowls

Knives, forks, and spoons

Mugs and water cups

Wine glasses!

Water bottles

Bottles, sterilizing equipment, formula, or breast pump

Bibs

Bowls and spoons for solids

Baby food

Breastfeeding chair for Mom!

Add new
Wet weather protection
Tarp, poles, ropes, stakes

Rain jackets or waterproof hooded ponchos

Clothes pegs and clothesline

Add new
Clothing & Footwear
Bag for clean clothes

Quick-drying suitable outdoor clothing for the season

Suitable nightwear

Sun protection (Hats, sunglasses, sun shirts)

Snow protection (Jackets, boots, thermal underwear)

Cold weather protection (Hats, gloves, scarves)

Trekking boots, water shoes, slip-on shoes

Socks

Swimming gear (swimsuit, towel)

Plastic bags for dirty/wet clothes

Usual baby bag item but lots and lots more of them

Extra warm baby clothes

Swimming diapers

Two-piece PJs if you will have to change a diaper at night!

Baby sun hat

Add new
Toiletries
Medications

First aid kit

Baby-specific painkillers and medications

Baby-friendly insect repellent

Baby sunscreen

Stop itch cream or antihistamine cream

Chapstick or lip balm

Reading glasses/contact lenses

Toilet shovel

Big collapsible bucket to bathe your baby in

Waterless hand sanitizer

Baby wipes, washcloths and towels

Extra diapers and used diaper bags

Baby change mat

Teething ring and gel

Diaper cream

Add new
Lighting
Lanterns

Candles

Matches/lighter

Headlamps

Rechargeable torches

Flashlights

Spare Batteries

Portable solar panel for recharging

Add new
Entertainment
Field guides, star charts, and books

Binoculars

Notebook and pencils (pencils write on wet-ish paper)

Music player, Bluetooth speakers, phone, tablet, etc

Musical instrument

Ball, frisbee

Watercrafts

Hammock

Camera

Fishing gear, bait, license

Deck of cards, Jigsaw, board games

Day pack for short hikes

Baby carrier or backpack

Trail-friendly stroller

Pacifier, clip, and case

Playpen and blankets for outdoor playtime

Special toys

Add new
Useful extras
Phone charger

Watch or clock

Rope – thick and thin for a clothesline

Multi-tool/Pocket knife/Scissors

Duct Tape

Extra guy ropes

Bungee/shock cords

Tent pole repair

Hammer/saw/axe

Compass or navigation device

Reflective blanket

Mosquito net

Credit card/cash/Identification

Repair kits for tent, tarps, water toys, blow-up mattresses

Bear spray for errant bears also works well on unwanted human intruders

Whistle for attracting attention

Add new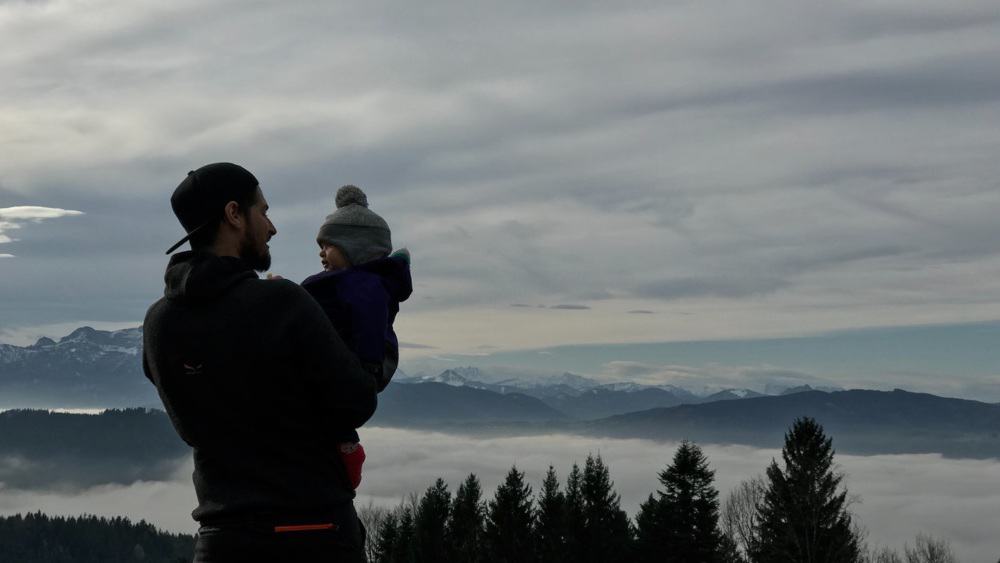 Hacks, tips, and hints for first-time baby campers
Your frame of mind will make or break a camping trip with a baby. Pack your positivity and accept it will be a very different trip from usual!
The hardest part of camping with a baby is deciding to step outside your comfort zone and doing it!
Don't mess around with waterborne pathogens and a baby. Invest in a water sterilization system or bring water from home that you know is safe.
Think about a bigger tent. These small people and all their gear can take up a lot of room!
It's best to start with car camping or even glamping when you have a baby until you are all comfortable and confident with the process.
Start small and keep your first trip to one or two nights.
Stuffed toys can get really dirty really quickly. Go for plastic or washable toys or just let them play with the sticks, rocks, and leaves that they find!
Don't travel too far from home, just in case things aren't going well for the first few trips.
Go for one-pot meals to keep things simple at mealtimes.
Embrace the mess! There's a hot bath and shower waiting for you all at home!
Find a campsite without too many neighbors, especially if you aren't sure if bub will sleep through the night.
Get a really good baby carrier if you are planning on doing some hiking so you and the baby are both comfortable.
A playpen can be a lifesaver when you are setting up or packing down so you know exactly where the baby is when you take your eyes off them for a few minutes.
Choose campsites with some amenities until you are comfortable about what you and the baby can cope with on a camping trip.
Camping babies turn into camping toddlers and then camping children and it just gets easier and easier every time!
And a few things to do before you leave
Always leave with a full tank of gas in the car and remember to tell someone exactly where you are going and when you'll be back. Leave a printed copy of your itinerary with someone you trust.
It's also a good idea to know what the weather is going to do while you are away, what the fire ban status of the area is so you know if you can have a campfire, and what dangerous animals or toxic plants you may encounter in your camping area.
It's a good idea to make sure you have the campsite booking number, address, phone, direction, and a printed confirmation with you. A paper-based map is going to be handy if phone coverage is patchy where you are planning to camp too.
Stay safe!
Happy Camping 😊
Back one: Bringing a toddler too? See our camping with a toddler packing list.
Next up: Heading camping while it's wet? See our camping in the rain packing list.