Welcome to our Bushnell Shield Series 6 Person Instant Cabin Tent review!
We've looked at HUNDREDS of tents, including loads of instant cabin tents so we know what to look for.
This tent can be pitched in seconds which we expected but still shocked us with some totally innovative features like the handy flashlight holder at the front of the tent.
So stick around as well go through all the need-to-knows about this tent!
Is this Bushnell tent a good buy?
Don't have time to hang about? That's fine – here's our quick recommendation for busy campers who just want to know if this tent is any good or not.
This tent stands above other instant cabin tents thanks to the front awning and handy storage system of mesh pockets throughout the tent. It's great for hot summer camping and the calm weather conditions in the milder months of spring and fall.
Although, this isn't our favourite instant cabin tent we've reviewed, it still is impressive and offers a lot of value to campers.
So if you're looking for an affordable tent that is easy to pitch and offers plenty of space, this Bushnell is a good option.
Is the Bushnell Shield Series instant cabin tent good value for money?
So this six person tent is affordable, but is it good value?
It depends on what your priorities are but generally, we think this tent is good value for money. You can check out the price now to decide for yourself.
If you want to get the most bang for your buck from a six-person cabin tent, the Coleman Instant Cabin tent might be a better choice.
Fitting in: does the Bushnell Shield Series 6 come with enough space?
The Bushnell Shield series 6 person camping tent is 11 by 9 feet with a 6-foot peak height. That's a great size if you're planning to visit National Parks because their campsite dimensions are usually 12 by 12 feet, giving you some wiggle room when pitching.
Let's examine what that means for your group in this cabin tent.
What group sizes can this tent fit?
This tent can fit up to six people, but it's best for groups with a four person capacity and below.
Think of it like this—the average adult male shoulder width is 16.1 inches, or just over a foot. Let's make that a nice, round 16.5 inches, so he has some space.
Six adult men then take up 99 inches, laying side to side, which is 8.25 feet. There's some extra wiggle room there for larger men.
Therefore, a group of six adult men can fit in just fine. If you account for women (14.4 average shoulder width) and children, there's even more room.
But note that:
You'll still have very little wiggle room.
People will have to sleep side by side.
You're sleeping on the ground—wasting ceiling height; you can fit beds in here.
There's no privacy divider.
Based on that criteria, while groups of six fit, groups of six may not be comfortable in this tent. It's best for smaller groups.
Will 6 people fit comfortably?
To us, comfort is having some personal space. If your definition is sleeping shoulder to shoulder in sleeping bags, then by all means, six people can fit in this tent comfortably!
If you'd rather have some room to stretch out, then the tent's comfort capacity is four. Adding further comfort, four is the number of people who can sleep in this tent on air mattresses. It fits two queens, but you'll only have a foot of space between them.
Is this a family tent?
This is an excellent choice for a family camping tent. Size-wise, it can fit a family of four. It could also fit a family of six, but that's two parents and four kids for best results. The smaller the campers, the more room you'll have!
For the most comfort, stick to your little two parents, two kids or one parent and three kids combo.
Is it good for backpackers and hikers?
The main thing stopping backpackers and hikers from going out with this tent is the weight. This tent is not a good choice for campers heading into the wilderness because it is heavy and bulky to carry.
If you can get over that and share the burden, then it's an excellent tent for a group of backpackers and hikers. If the weather is good, you don't even need to stake it!
Will tall people struggle?
Tall people won't have the best time in this tent. Its peak height is 6 feet, which isn't enough for taller people.
People camping with tall friends in their party should really be looking at a height with a minimum height of 6 feet and 5 inches.
Are there plenty of storage options in the tent?
This tent has a good deal of extra storage. There's a gear loft for large luggage, held with sturdy nets and some internal storage pockets for you to keep your personal items and light luggage. There's also 3 feet of space to store gear at the end of any air beds you place down.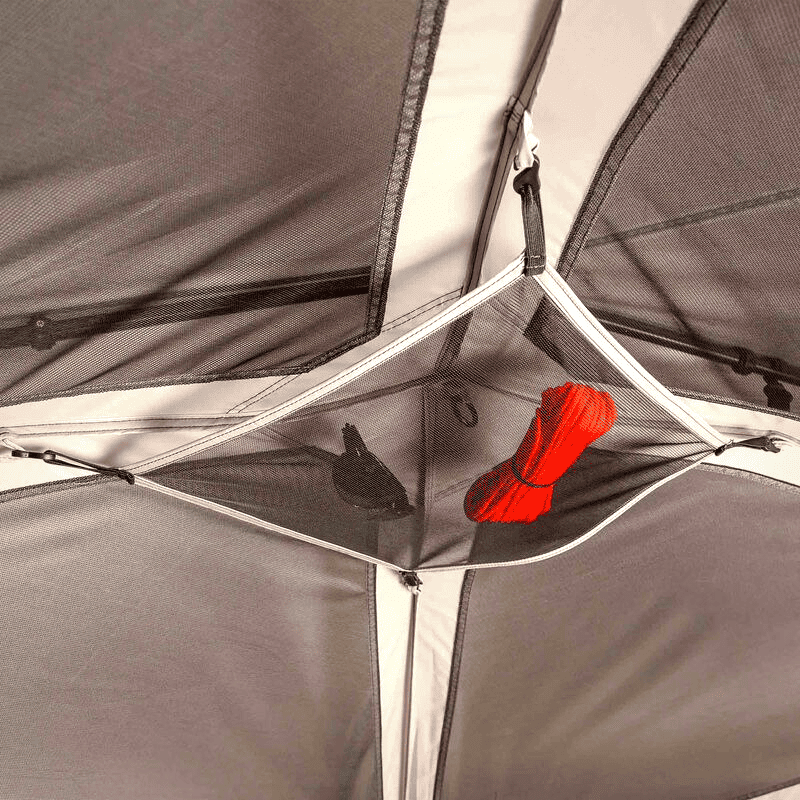 One of the distinctive and stand-out features of this tent was the special flashlight storage at the front. It's perfect for keeping a light handy to shine a path to the toilet in the darkness of night.
The external storage elements gives you lots of storage space underneath the awning as well, great for keeping anything you might need close to hand.
However, some users find the pockets for storage too high to use easily. The internal storage features are closer to ceiling height than ground level, which makes accessing them when lying down difficult.
The gear loft is also high up, making it inaccessible when lying down.
The reason for this storage design appears to be that customers were complaining of leaks around the seams near the pockets, so Bushnell raised them higher to provide more rainfly protection for them.
Speaking of rain…
Can it survive bad weather?
How well does this Bushnell tent cope with rainy conditions? Will it crumble in the wind or does condensation build up without proper ventilation?
Is it waterproof?
The Bushnell isn't waterproof, but it's water-resistant with a hydrostatic head rating of 600mm.
The majority of people experienced no leaking, but a minority found leaks around the window and door seams. Some found it also leaked around the corners. We assume they meant the top corners, as the tub flooring would keep lower leaks at bay.
Users with better experiences found that there was only an ounce of water in the tent after six hours of rain.
It's best to make that no ounces. So consider getting yourself a waterproofing spray, and we feel you'll almost definitely need seam seal, too. This should improve the waterproof rating of your tent to make it better suited for light rain.
Is condensation a problem?
Users had no issues with condensation in the Bushnell 6 person tent. There is excellent ventilation provided by five large mesh windows, two of which are in the door, and an adjustable ground vent.
The rainfly doesn't cover the windows, letting the mesh create open airflow while you're inside. There are shields for the windows to stop rain from getting through them, though.
The proper ventilation in this tent prevents condensation building in the rain because the enhanced ventilation system isn't impacted by the rainfly.
But because of the size of the rainfly, in wet weather it can be susceptible to leaking rain water and still leaving you damp inside.
Does it withstand heavy wind?
This tent is freestanding, so you can set it up without staking it down to use it. You'd think this would make the tent unstable, but many users found it holds up even when there is lots of wind.
The rain fly gives it some additional stability from the wind by design. It needs to be staked to function, and if staked tightly enough, it can hold the tent down with it.
However, we don't recommend taking this tent out in harsh winds. Instant tent poles, because they are attached, if damaged can be difficult to replace.
Telescopic poles, like the ones used in this tent, are sometimes susceptible to damage in harsh winds.
Performance in different outdoor weather
Hot weather performance
This tent is equipped with Heat Shield Technology that's made to keep you cool when the sun is beating down. The reflective coating on the underside of the rain fly should block the sun's UV rays and keep the tent cool.
Users report that the weather shield doesn't work as well as it should, but it's okay, and they didn't overheat or feel like they were suffocating.
Some users recommend you bring a portable air conditioner if camping in extremely warm conditions. It will provide plenty of ventilation to keep you cool if the tent doesn't.
The floor vent at the back can be used as an AC port.
Cold weather performance
Despite the heat shield's design, users found it doesn't get too cold in the tent. They recommend you bring a heater and incredibly warm sleeping bags for fall camping and perhaps in spring.
Neither campers nor the manufacturers recommend you take this tent out in winter. It's strictly a three-season tent.
Will this outdoor tent last?
The Bushnell Shield series 6 instant cabin tent has steel poles, making it incredibly sturdy, with the poles unlikely to fail. Steel poles are unwavering and much more durable than something like aluminum or even fiberglass.
As it's a top instant tent, you also won't be pushing the poles around too much, so user error is unlikely to harm them.
Material-wise, the manufacturers state that it's tougher than most tents. Some users state it "feels like higher quality materials." However, they don't say the same about the floor of the product.
You may wish to place several tarps or footprints under your tent. One person camped on a rough surface with a tarp beneath it, but the bottom of the tent was still torn in several places.
One of the things we loved about the durability of this tent was the heavy-duty reflective zipper. The inverted-T zipper design can be opened with one hand. That's really convenient to stop you struggling in the dark. You can pull the reflective zipper of the product with one hand and hold a flashlight with the other.
Is it easy to carry these Coleman tents?
The tent weighs 27.4 pounds which is hefty, but it's manageable. If there are multiple people in your party, it'd be best to swap this product back and forth if you're walking a great distance. The best way to transport this tent is in the car.
You won't have too much trouble carrying the tent shape-wise, though. The tent folds down into a packed size of a 48-inch strip that's 8 inches by 9 inches in thickness.
Is it easy to get up and down?
These tents are easy to assemble—that's no shock; it's an instant cabin tent, after all. The tent is also easy to take down, although it can be more difficult than pitching it. This higher difficulty doesn't impact most people's views of this tent though.
The tent is even more easy to assemble if you're not using the rainfly. The freestanding design means you can click the legs into place, and it's ready for you to dive in. If you are struggling to pitch the tent then looking at a video can help visualize the setup.
setting up the Octagon tents
Open the 6 man tent out and check that you have all the parts.
Slide the pre-attached poles into position until they click.
Place the rainfly over the tent and attach the extra pole.
Use the tent stakes to peg down the rainfly out.
Taking down these tents
Unstake, take down and fold up the rainfly, remembering to remove the awning pole.
Press the yellow button on the tent's legs to slide them back into a smaller shape.
Fold the tent in on itself, into the position it was in before you unfolded it.
With the corners meeting in the middle and excess fabric tucked in, stuff the tent back into its carry bag.
Can you set up these camping tents solo?
You can absolutely set this six person camping tent up and take it down by yourself. Users say it takes longer than doing it with a partner, but compared to a traditional tent it's a breeze. It takes five minutes or less, where some quick-pitch traditional tents take a minimum of 15.
For other tents that are easier to set up by yourself, we've written a roundup of the best options.
FAQs: Instant Cabin Tent Review
What is the benefit of an E-Cable Port for accessories?
An e-cable port will let you bring in a power cable into the camping tent as long as there is an electrical hook-up at your campsite. It's great for charging devices before the long car journey home!
How many queen size air mattresses can you fit in this tent?
According to Bushnell you can only fit one queen size mattress in these 6 man tents which is a little disappointing.
If you want to have two or more queen size beds on your trip, consider different tents to this.
Related: For more tents, check out our 6 person tent reviews.
Alternatives to consider
Coleman WeatherMaster 6-person tent with screen toom
If you like the sound of the Bushnell shield series instant cabin tent awning that the rainfly supplies, consider one with a whole screen room. It not only protects your tent's door from rain, but it's a great place to hang out on sunny days without bugs getting in your face.
Check out our full Coleman Weathermaster 6 person tent review or check its price below.
Ayamaya pop up 4-6 person tent
Is this instant cabin not instant enough for you? The Ayamaya camping tent is a pop-up that fits four to six people. It is super easy to set up – even easier than the Bushnell tents. Just open the bag, shake the fabric out and it's assembled.
NTK Indy GT XL Six person tent
Are the leaks your issue? The NTK Indy GT camping tent is a prime contender for keeping the rain at bay. The hydrostatic head rating of this product is high enough to make it waterproof, and the awning is large enough for you to sit outside during rain.
If your budget is a little higher, you may also be interested in our Coleman Elite Weathermaster 6 person tent review.
bushnell shield series 6 person instant cabin tent – the verdict
The Bushnell Shield series 6 instant cabin tent is an excellent buy, packed full of value. It's decently water-repellent, spacious enough for six but better for four, and withstands winds despite the freestanding design.
It can handle hot and cold weather, is well-ventilated and is a breeze to set up and take down. Overall, it's a tent we'd highly recommend, and it has few flaws.