If you're fed up with tents that are too small for you and your crew, then you're in the right place. Welcome to our review of the biggest camping tent!
We've looked at all types of tent designs. We've looked at the largest tents that let you stand tall without bumping your head on the roof and tents that could house a small army. Hours of research have gone into creating this best of the best list.
An overcrowded tent can mean poor sleep and cranky campers in the morning after. Making sure there's room for everyone to toss and turn at night helps keep everyone happy.
So stick with us as we go through the ins and outs of the extra-large camping tents that we've chosen for you.
If you're in a rush, the biggest camping tents are:
Core 12 Person Instant Cabin Tent – Best big tent overall
Coleman Camping Tent with Instant Setup, 4/6/8/10 Person – Best big blackout tent
DANCHEL Canvas Bell Tent – Best all season big tent
Scroll right to view all products >
| | | | | | | | |
| --- | --- | --- | --- | --- | --- | --- | --- |
| | Best Overall Big Tent | Best for Winter | Best Big Blackout Tent | No longer available | No longer available | No longer available | No longer available |
| | | | | | | | |
| Ranking | 1st | 2nd | 3rd | 4th | 5th | 6th | 7th |
| Rating /5 | | | | | | | |
| Review | An excellent casual camping tent with two room dividers, plenty of storage pockets and easy setup. | There's nothing better for camping in winter than a warm canvas tent. | A blackout interior makes the Coleman Cabin Tent excellent for sleeping in on sunny days. | If you want a tent where your family has privacy but can commune during the day, the Vango is excellent. | The Ozark Trail's dark rest feature is fantastic for combating a hangover. | This ultra-private 3-room Ozark Trail is excellent for extended families. | With three sleeping pods and a living area, this tent is a fantastic tool for camping groups. |
| | | | | | | | |
Reviews of the Biggest Tents for Camping
Which big tent do we recommend for camping?
Don't have time to stick around? That's fine – if you just want to take our word and go, we recommend you buy the Core 12 Person Instant Cabin Tent.
It's a twelve person tent but large enough to be comfortable for eight campers and has room left over for plenty of camping gear.
Whether you need a family tent with a long lifetime of use or something for keeping all your friends under one roof it's a fantastic option.
For campers on a budget, which tent should they go for?
If you haven't got a lot of cash to splash, the three-room Core 12 Person Instant Cabin Tent is a good budget option. It's affordable but ticks all the boxes you need for a big tent. And yes – that means it wins our overall recommendation and best tent on a budget!
Best big tent overall
Best Overall
If you want a tent with an easy setup and a light, the CORE has both.
Pros
Plenty of room for the whole family
Mesh ceiling provides great views
Instant setup is easy for a tent this big
Two room dividers
Cons
Can be vulnerable to strong winds
The CORE 12 Person Instant Cabin Tent stands out as a top choice for families and groups, offering ample space and the convenience of instant setup. Designed with family road trips and lengthy camping adventures in mind, this tent ensures quick and effortless pitching, allowing campers to relax and dive straight into the camping experience upon arrival.
Featuring a spacious floor plan, it comfortably fits three queen size air mattresses, accommodating up to twelve people. This proves especially useful for larger families or groups with children.
If you're one to appreciate the night sky, the large mesh windows and ceiling design lets you stargaze, offering a celestial experience without leaving the comfort of your shelter. On the practical side, the tent is equipped with storage pockets and a gear loft, ensuring essential items are always within reach.
With the ability to function as a single room or be divided into three separate rooms using removable dividers, campers can toggle between privacy and open communal space. This adaptability, combined with the two-door entrance system, adds a touch of luxury to your camping experience. The tent's tall ceiling height ensures ample headroom, eliminating the feeling of being cramped.
While its vast array of features, like the ground vent and H2O block technology, boost its appeal, it's essential to be aware of its limitations. The tent is a cabin shape and so isn't suitable in strong winds and rain.
In summary, the CORE 12 Person Instant Cabin Tent is ideal for those seeking a balance between space, convenience, and affordability. Whether you're planning a family camping trip or heading out with a group of friends, this tent promises a memorable experience.
---
Best big blackout tent
Best Big Blackout Tent
After an instant, effortless setup this large tent will provide plenty of space for your group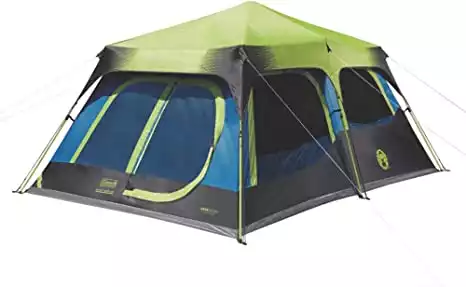 Pros
Quick setup
Dark, roomy interior for resting
Spacious enough for four air mattresses
Cons
Heavy to carry
Will struggle in bad weather
The Coleman Camping Tent with Instant Setup is an embodiment of convenience and simplicity, ideal for those who desire a quick camping experience without the intricate tent assembly. It's especially suitable for weekend getaways, festivals, or families with little ones always on the move.
Promising an almost unbelievable 60-second setup, this tent utilizes a user-friendly design where you just spread out the tent, pop the telescoping poles, and voilà! Your shelter stands tall. Though adding the rainfly and ground securing takes a bit longer, the entire process remains impressively swift.
Boasting a spacious floor plan with an internal height of 6 feet 7 inches, it's roomy enough for most to stand. Its size can comfortably fit four queen-sized air mattresses. A room-separation screen adds an element of privacy, which can be handy when camping with friends or family. However, its size means it's considerably large and heavy to transport, making it more suitable for car camping rather than trekking.
While the tent incorporates Coleman's Weathertec system with features like welded corners and inverted seams to prevent water ingress, it's not designed for heavy rain. The thick poles can withstand wind to some extent, but their hinged, instant setup design might raise concerns about long-term durability, especially in extreme conditions.
One of the tent's notable features is Coleman's hinged doors, ideal for hands-free movement and keeping those pesky bugs at bay. Moreover, the dark room technology in the larger tent variant is a blessing, blocking up to 90% of sunlight, ensuring a cool interior and a restful environment during the early sunny hours.
The Coleman Camping Tent is a blend of convenience and family-friendly features, perfect for fair-weather camping. Its quick setup and spacious interiors make it an attractive option. However, its limited weather resistance means it's more suited for summer escapades and areas with predictable weather. Given its affordable price point, it offers good value, but those venturing into more challenging climates might want to explore other options.
---
Best large tent for all year camping
Best for All-Year Camping
There's nothing better for camping in winter than a warm canvas tent.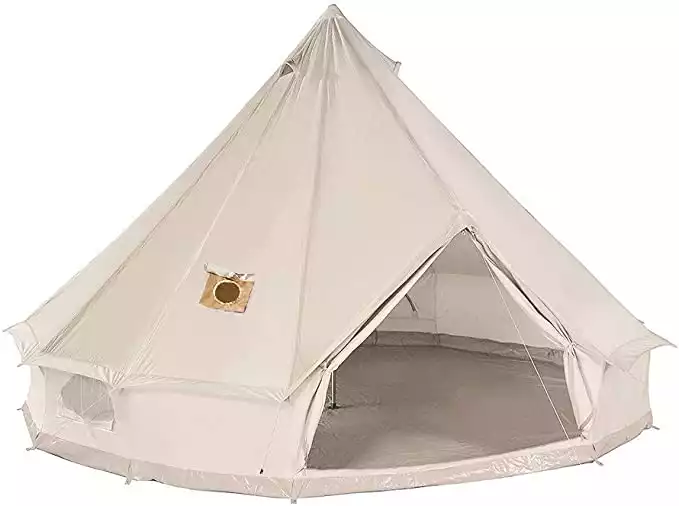 Pros
Long-lasting, durable tent
Wonderful peak height is great for tall campers
Double stove jacks mean you can take it out in winter
Cons
It lacks ventilation
High initial cost might put off some campers
You can't do much better than a canvas tent when it comes to heavy-duty camping. It's a tough, sturdy tent material surpassing even the Vango, so it's guaranteed to last. Plus, it's easy to mend the tent if it rips or wears down, and the stakes and poles are heavy-duty steel and replaceable.
This sturdy Danchell tent is also incredibly large—20 feet in diameter, with a ceiling height that gradually increases and peaks around the center like a teepee tent. It would be smart to assemble your gear and sleeping bags/pads around the low tent walls at the edges, leaving the tall tent center for your living space.
However, this is a tent best suited to relatives, as despite the ample space, there's no privacy inside the tent. Theoretically, you could commission a privacy curtain room divider and have it installed in the tent if you wish to camp with a friend group and want to split the tent in two.
There are two stove jacks in the tent, so you'd get one each to keep warm on a winter camping trip. And again, being a canvas tent, it's simple to add another jack in a more convenient spot.
You could also use the jacks in the tent as ventilation as that's something else the tent lacks. However, ground vents are better in rain and wind in tents. You could have those put in too, but it would be much better if a camping tent of this quality came with them pre-installed.
---
Best big tunnel tent
No longer available
A massive 8-man outdoor tent for families who want to camp from spring to fall
Pros
Helps keep sunlight at bay
Spacious living area for hanging out

Excellent weatherproofing to protect you from the elements

Brilliant sleeping pods for privacy
Handy storage pockets in bedrooms
Cons
Not suitable for use with air mattresses with room dividers down
Not the most ventilated tent
The Vango is a wonderfully large family tent, but if you're looking for spacious sleeping areas in a tent, look elsewhere. This reliable tent is mostly living space, with two neat sleeping pods at each end.
Each tent pod fits four campers in sleeping bags; it'd be fantastic for two small families wanting to sleep separately.
Unfortunately, the room divider in each pod makes it difficult to use the family tunnel tent with air mattresses. If you want to downsize your party, then mattresses won't eat up your space.
When day hits, there's plenty of space for you to commune in the main body of the tent, in rain or shine.
This 8 person tent is waterproof and flame resistant, so no matter how wet it gets outside, that incredible tent material is impenetrable. The tent won't even let in a chill, as it seals the heat beneath it. This may cause some condensation on the tent walls, though, as the tent isn't the most ventilated tent in the world.
However, that's a small price to pay for the Vango's immense durability and strength under strain—an excellent quality in large family camping tents.
Another area you'll find won't let heat escape or water in is the tent windows. Most tents have closable mesh windows, but the Vango's are PVC. They're entirely clear, so they let light stream into the tent when uncovered, with no chance of anything leaking in or out through them.
Plus, they come with blackout coverts for night and morning time in the tent.
The Tension Band System in the tent adds further strength to the structure, helping it resist wind. The bands form triangles that add rigidity to the bend in the tent's poles, so the tent can resist wind in more directions than most.
Clearly, the tent can withstand any storms fall camping brings. You may even be able to venture out in winter, though it'll be a little chilly—perhaps just stick to the three seasons with this tent.
All in all, it's a tough, large tent that anyone could find use in.
---
No longer available
The Ozark Trail's dark rest feature is fantastic for sleeping off a hangover.
Pros
Comfortable to spend lots of time inside

Dark room system is ideal for hangovers

and sleeping in
Skylight mesh roof, great for stargazers
Cons
Weak material is vulnerable
Doesn't withstand harsh weather or storms
Camping with a friend group is fantastic until sunrise, when one of you wants to jump up and go fishing while the rest sleep off hangovers in the tent. In this instance, you should look into a dark rest instant cabin tent with multiple rooms.
This Ozark Trail 20 by 10 is a 12 person instant cabin tent with its capacity spread across three rooms. Every room in the tent is fitted with Darkroom technology tech so no evil morning sun can leak in. The center tent room has two large doors, so this is where the fisherman should sleep with the hungover campers in the rooms on either end of the tent.
If you want to be really cruel, whip off the rain fly and ceiling panels to let the sun in through the skylight mesh roof of the tent—a fantastic inclusion for stargazers, but not for morning-haters sharing the tent.
Once everyone is awake and alert—by cruel or natural means—it's a tent with plenty of liveability. The tent Ozark Trail 20 by 10 fits four queen air mattresses, but if you choose to use sleeping bags, instead there's space to walk around and perhaps set up some foldaway furniture. The interior of the tent makes a great hangout space in the daytime when the weather is bad.
You should have no leakage issues under the 190T coated polyester tent fabric, and the steel and fiberglass poles withstand wind well.
With that said, it'll withstand tame wind and light rain, but customers found the tent falls apart in thunderstorms. They also found the fabric a little flimsy, so try not to let anything scratch it.
Overall, the tent withstands a moderate beating, but you'll need a different tent for extreme weather.
---
No longer available
This ultra-private 3-room Ozark Trail is excellent for extended families.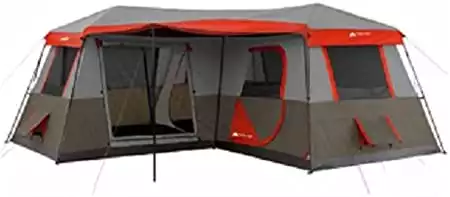 Pros
Equal size sleeping areas and awning
Large sheltered communal area outdoors
Wonderful ventilation in each private room
Inexpensive tent offers great value for money
Cons
The material may rip
Might be too large for some campsites
Where the last camping tent lacked privacy and ventilation, this cabin tent Ozark Trail has more than enough for your needs.
The 3-room tent has ample space for larger families with like the three 8′ by 8′ foot rooms, each with its own window and vent. The tent rooms are separated by doors that roll back, but leave part of a wall still separating the separate spaces.
It's not difficult to assemble the 12 person cabin tent thanks to the instant nature of this 3-room cabin tent. The pre-attached poles make it easy – just fold it out and pop it up. Voila!
This Ozark Trail extra-large family tent is wonderful for extended families—it sleeps four to a room in sleeping bags, so you could split the kids by age group and have the parents in one room.
Similarly, you could put all the kids in one room in the tent and two sets of parents sleeping separately if camping with another family. Aunts and uncles and their kids, perhaps?
By day, you can all bond under the tent awning. The tent awning is included in the tent's overall 16 by 16 foot size and is a wonderful area to sit in the shade, or protected from light drizzle, watching nature. It's also great for parents to sit under and watch kids play around the campsite.
If the weather isn't permitting, you can all retire inside the 3-room tent and throw back the doors to hang out. You'll still feel mildly separated, but you'll be able to hear and see each other from your separate rooms. Then you can wait out the storm—it's a decently tough 12 person tent when it comes to weather.
This tent comes with an electrical cord access vent which lets you run an extension cord into the 3-room tent. You can charge devices or power some lights if the weather forces you to spent time inside.
Unfortunately, it's not as tough when there's direct impact involved, so don't play rough and stay away from trees with swaying blankets. One light swipe against the family tent, and you've got an enormous rip in the camping tent, which is unfortunate given its sturdiness overall.
---
No longer available
With three sleeping pods and a living area, this tent is a fantastic tool for camping groups.
Pros
Plenty of space for spending time inside
Private sleeping areas with a shared living area
Highly ventilated and strong weatherproofing
Cons
Tricky setup for one or two campers
If privacy is your group's main concern, this is the camping tent you want. The three sleeping pods in the large family tent make keeping to yourself easy. If you have a friend group made up of two couples and four singles, you'll love this camping tent—two of the sleeping pods sleep two, and one sleeps four.
For families, it's a great way to sleep with two sets of parents and pack the kids together.
You could also make use of the large living space between the sleeping pods if you want to fit more campers with further privacy. However, it's best used as a living area with some fold-out furniture so you can hang out, letting the sun stream in through the three mesh-covered doors.
Even when it's not sunny, it's still an excellent large tent to take out, any time of year. Rainy? That's fine, it's weatherproof. Too hot? It's flame-resistant and well-ventilated, with large vents in every room.
The vents slope down, so there's no chance of rain leaking in when it's stormy. Plus, the steel and fiberglass poles are plenty strong to deal with stormy winds.
Before you take it out in the rainy season, though, consider using some seam seal on the central seam. Users found it tends to leak in that area. Some feel it could do with some extra stitching there, too.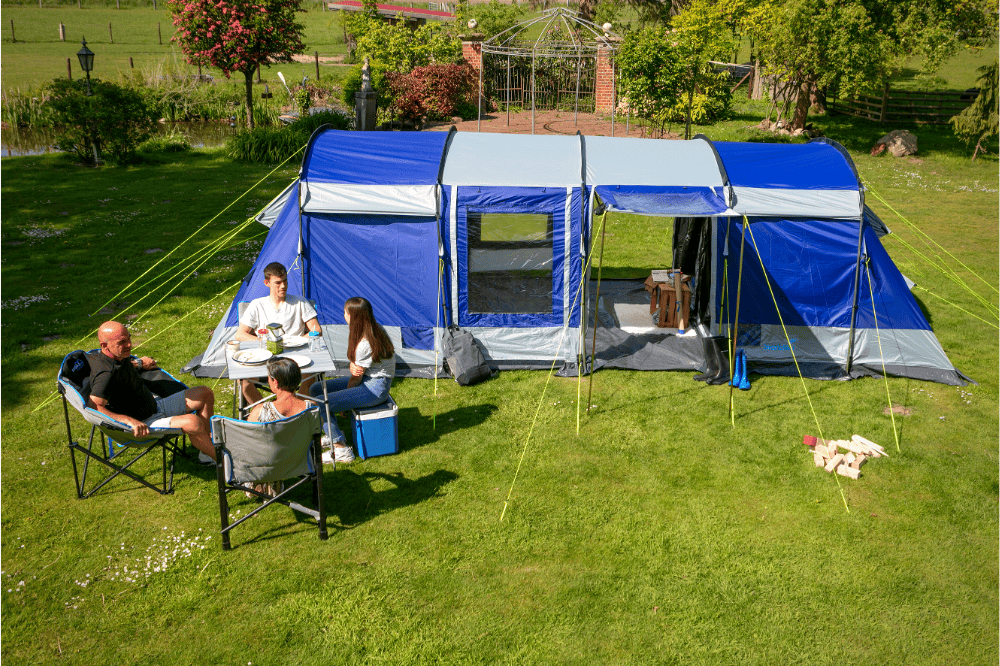 Which tent is biggest?
Winner: Skandika Montana 8-10 Person Tent
Tents say one thing on the packaging, but it's another story when you're all inside. You can sleep well when adhering to the max capacity, but cutting the numbers often makes it a superior comfort experience.
That said, the Skandika tent advertises an 8–10 person capacity, but if you utilize the living area, you'll find many more people.
All three sleeping areas offer enough space by themselves, though, and the advertised capacity matches the comfort one.
Which tent is the most comfortable?
Winner: Vango Odyssey 800 8 Person Tent
The Vango family tent is the biggest camping tent in terms of living area, wide and spacious in the center, while the sleeping pods sit at either end of the camping tent. It'd make a fantastic extra space to set out some furniture or create a clearing to serve as a dance floor for a group of friends with some beers and not a care in the world.
For families, it'd be a wonderful area to set up some games and other bonding activities.
Best big family tent
Winner: Ozark Trail 3-Room Instant 12 Person Cabin Tent
Both the Skandika tent and Vango tent come with sleeping pods that can be used for storing equipment or gear rather than snoozing campers. There are also conveniently placed storage pockets inside the bedrooms for personal belongings.
But we really liked the Ozark Trail 3-Room Instant Cabin Tent (it's a great 3 room cabin tent). Two of the rooms have doors which can make it easy to get gear in and out of the tent.
Which tent is the largest? Comparison of floor dimensions and height
The tent with the tallest peak height that we reviewed was the DANCHEL Canvas Bell Tent. The center stands at over 11 feet tall but it slopes towards the walls, meaning it might not be the best option for tall campers.
The sleeping pods in the Vango tent are slightly larger than in the Skandika tent which is good if you've got a pick group and need as much private space as possible.
Which tent is best for you?
Which tent is best for your group?
The Ozark Trail 3-Room Instant Tent is a great large tent for less than six campers. You can split two or three campers per room and still have a storage area and outdoor covered space for hanging out.
If there are between six and eight campers coming on your trip then the Vango Odyssey 8 Person Tent will give you a comfortable shelter.
It's actually big enough for larger groups as well but the separate sleeping pods and living area make this great for smaller groups who need their own space.
For larger groups, the Ozark Trail 12-Person Instant Tent with Dark Rest technology is large enough that you can all fit in together. It might be a squeeze and there might not be much privacy, but at leas you'll all be together!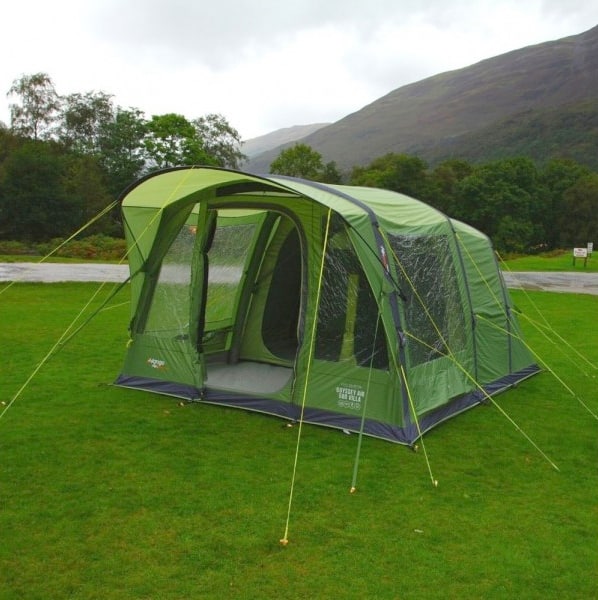 Which tent is best for family camping?
Winner: Vango Odyssey 800 8 Person Tent
We like the Vango Odyssey tent for family camping trips. The durability and separate sleeping pods mean that the tent will last through the years and offer privacy for the kids as they get older as well.
And that middle living area is great for family bonding. Play some games and hang out if the weather takes a turn.
Which camping tent is best for Music festivals?
Winner: Ozark Trail Instant 12 Person Cabin Tent with Dark Room
If you're thinking more Burning Man than family man, the Ozark Trail Instant Tent with Dark Room would be our choice for a tent to take to a festival.
Sometimes a tent is just a tent, but little design choices or extra features can make a great tent stand out in a sea of adequate and good.
In this case, the larger Ozark Trail tent out of our picks stands out thanks to its dark rest feature inside the tent. It's fantastic for friends with hangovers.
The Dark Room tech will keep your tent cool and stop the harsh light of day disturbing your much-needed rest after a long night of partying.
This small standout feature makes a world of difference despite its apparent simplicity.
set up: Which tents are easiest?
Most of the time, big camping tents aren't difficult to set up, and many are instant family cabin tents. The peak height of the tent body will be the main issue as you struggle to wrangle the rainfly across the high roof.
Tents on the market with multiple wholly separate rooms, like the 16 by 16 Ozark Trail tent, also pose difficulties as there are more pieces to fit together, like a jigsaw puzzle.
Can a big camping tent be setup alone?
Winner: Ozark Trail 12 Person Dark Rest Instant Tent
Large tents aren't the best for setting up alone, but an instant cabin makes it so much easier. The larger Ozark Trail tent of our picks is great for that—you can't go wrong with an instant cabin tent for setup.
Despite its bulk, it's a simple Ozark Trail tent. It's a uniform shape and while you can turn it into a two room tent with its room dividers, they are basic sheets. So there's nothing complex to work around.
You may struggle with the Ozark Trail tent's rainfly due to its ceiling height, but outside of that, it's an easy family cabin tent to tackle solo.
Are these tents easy to carry?
None of these camping tents are particularly easy to carry. They are large and heavy, but not enough of an issue to cause concern for car camping.
The DANCHEL tent is the heaviest tent due to its canvas material but is still manageable for short distances.
How do these biggest camping tents handle bad weather?
Winner: Vango Odyssey 800 8 Person Tent
The Vango tent can handle unexpected weather of your camping trip, unless it's snowing as it won't keep the heat in well enough. Their Tension Band System and waterproofing technology will provide extra weather protection to keep you safe and dry.
Speaking of heat, if you happen to get caught up in a forest fire, you'll be safe to gather your gear in your tent. The tent is flame resistant, giving you time to assemble your things before you make your escape.
Which camping tent is best for keeping you dry in heavy rain?
Winner: Vango Odyssey 800 8 Person Tent
The most waterproof tent was the Vango Odyssey 800 tent. It's designed to be waterproof enough to deal with the Scottish Summer, so you know it's ready for a downpour!
Even in rough weather, the excellent weather protection features in the Vango tent will keep you dry. The Diamond Clear Windows are a brilliant example of the weather protection features Vango tents offer.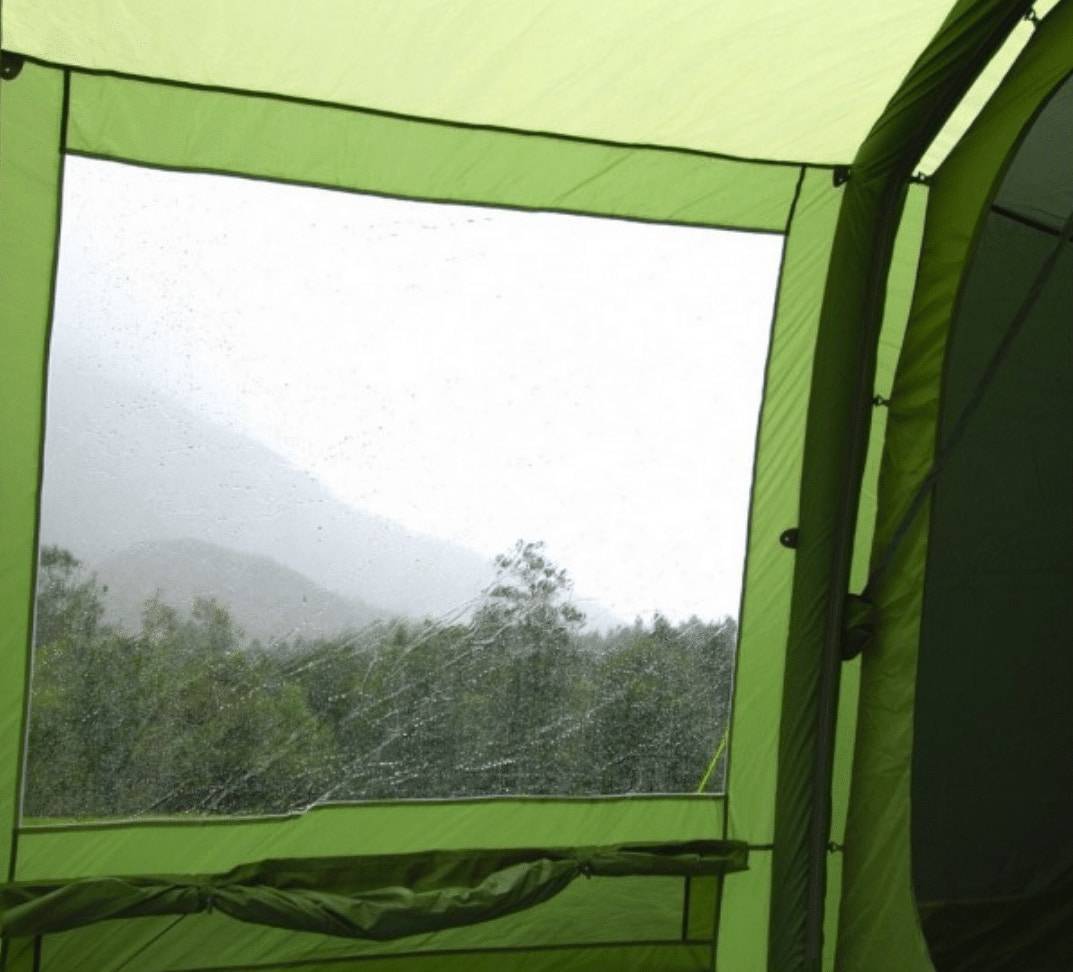 The huge windows are great for letting in lots of light without risking rain getting in your tent.
If it does rain, is condensation an issue?
All of these camping tents should have enough ventilation to cope with condensation even if it's raining or cold.
In warm weather, the ventilation keeps the tents cool as well. The large mesh windows in the Ozark Trail tents helps circulate air through the tents.
Will these tents stand up to the wind?
Winner: Vango Odyssey 800 8 Person Tent
The Vango tent comes with a patented Tension Band System to strengthen the structure and resist heavy winds. It's one of the strongest tents in the wind we've reviewed, which is incredible from an extra-large tent like this.
This is a great feature for a big tent to have because they can often get caught in the wind. Cabin style tents with vertical walls, in particular, can have issues in the wind. The poles can sometimes break in heavy winds with tall walls.
Once broken, pre-attached poles like on the Ozark Trail Instant Cabin 3-Room tent often cannot be repaired.
So maybe think twice about taking the rest of the camping tents other than the Vango tent out in a gusty storm. If you're heading into windy conditions, the Vango tent is the way to go.
Are these tents suitable for 3 season camping?
Winner: DANCHEL Canvas 4/5/6/8 Person Bell Tent
These tents are a mix of being fantastic all-weather shelters and fair-weather only models.
The Vango tent and the DANCHEL tent are both great for taking out from Spring until Fall and the weather resistance of the DANCHEL tent can even handle winter camping.
However, the other models are less able to deal with bad weather. They can be taken out in Spring and Fall when the weather is milder but aren't always going to be able to keep you dry, warm, and comfortable.
Which camping tent is the most durable?
Winner: DANCHEL Canvas 4/5/6/8 Person Bell Tent
Let's say you camp as a yearly family reunion trip, or you're just total outdoor enthusiasts. You don't want a camping tent that'll work for an annual outing or two and then die. Or worse, it works for two outings in one year, and next year you have to buy a whole new setup.
There's no chance of frequent replacement with the Danchel tent. Canvas tents last an age, and they're easy to repair if broken, ensuring you get fantastic use out of them.
We were less impressed with the Ozark Trail 3-Room Tent. The pre-attached poles are vulnerable to damage in windy weather, cutting down the life expectancy of this tent.
FAQs: What else do you need to know about big tents?
What Are the Advantages of Using Big family Tents?
Besides luxury and comfort, large camping tents have several advantages over smaller ones.
There's room to socialize in the tent if weather conditions are poor.
Plenty of sleeping space in the tent for people who like to stretch out.
These tents are tall, so you can walk, run, jump and dance.
Room for fold-out furniture in the tent.
Lots of space in the tent for gear storage.
Private sleeping areas, as many of large family tents have multiple rooms.
What Are the Disadvantages of Using a Big camping tent?
One disadvantage of using big tents is setup. They're tall tents, so it'll be difficult to get the rainfly on and fully extend the poles. Setting these behemoths up is easier with two people, and best if one can sit on the other's shoulders for a better grasp on the rainfly.
The other disadvantage is that campsites may not accept large tents—you could get around this by booking two neighboring spaces, but even then, they may not be okay with it.
When camping in the wilderness away from a site, it may be difficult to find a clearing big enough to set the massive tent up, too.
What's the benefit of a multi room camping tent?
Multi-room tents give you the added benefit of privacy on your camping trip. This might be important if you're camping with teenage kids or a group of couples who want their own space. They're a great option for family camping trips.
Can you fit a queensized airbeds in these camping tents?
Can you take any of these camping tents backpacking?
Afraid not! They're all too heavy and awkward to carry as a backpacking tent. If you've got a large group, you are better off getting lots of smaller tents than sharing a big one.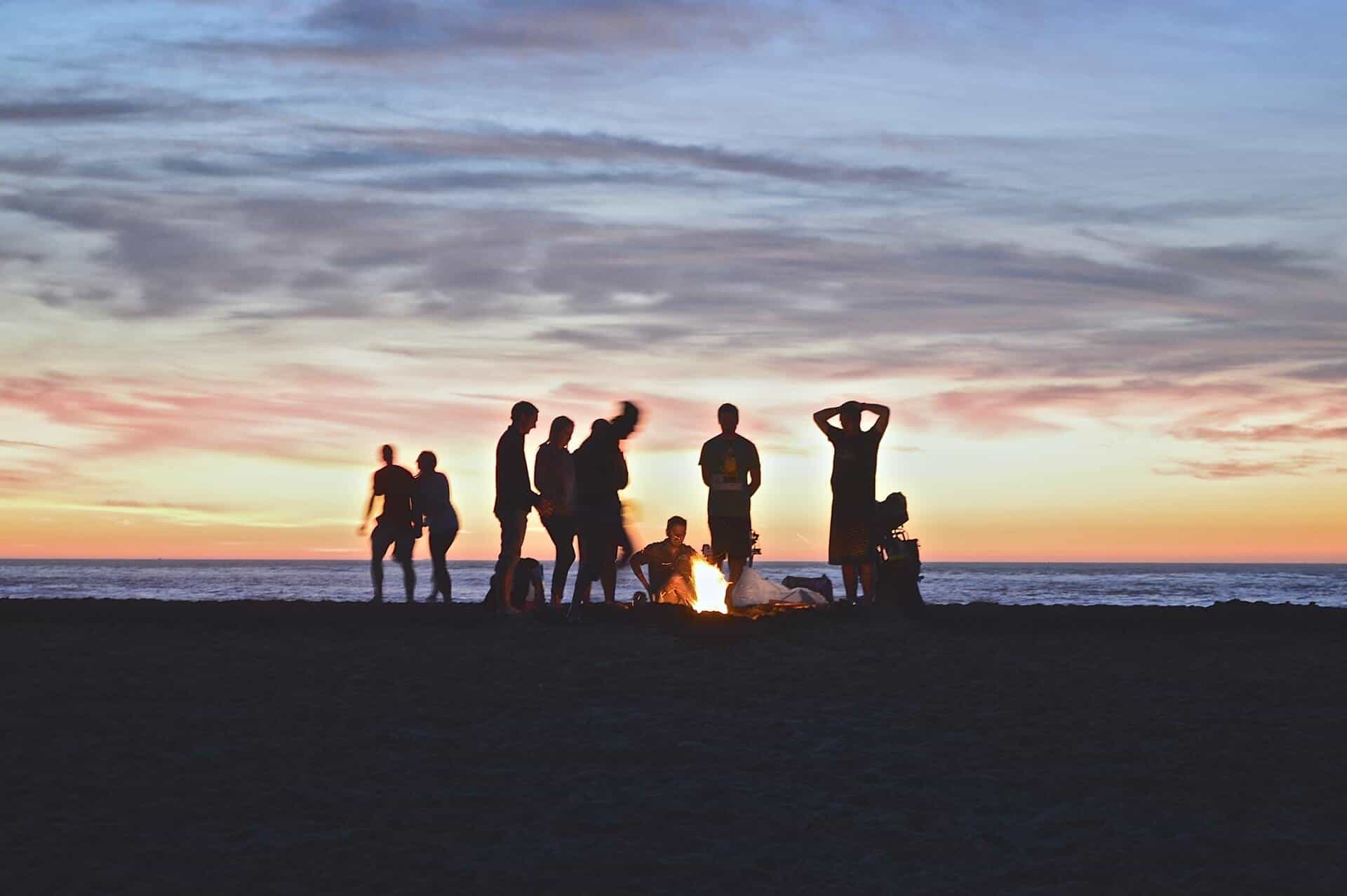 The big blowout – top camping tents
The best biggest camping tent and family camping tent is the Vango Odyssey 800 8 Person Tent. It's large and livable, but the sleeping pods are spacious enough to sleep two people on either end of the camping tent. On top of that, it's wonderfully durable and can withstand almost all types of weather conditions.
Although it's not the most ventilated large camping tent in the world and you can't use queensize air mattresses inside the tent sleeping area, it's still one that families and friends alike will enjoy. It's by far the most versatile tent of the bunch.
Looking for a specific size of big tent? Check out these reviews