The Big Agnes Copper Spur HV UL1 is a brilliant solo backpacking tent that comes with loads of space and excellent weatherproofing.
The Copper Spur is an ultralight tent that has reached the pinnacle of how light a tent can get, without cutting out useful features like easy setup and plenty of storage space.
The tent earns my Editor's Choice award, demonstrating the sheer amount of quality that Big Agnes have packed into their product.
You can check its price here.
However, I would recommend most people go for the two person model instead, the Big Agnes Copper Spur HV UL2 – check its latest price here.
Why? Read the rest of our Big Agnes Copper Spur HV UL1 review to find out!
Rating
Weight and Packed Size (30%): 9.5 88/100
Comfort and Space (25%): 9.5 60/100
Weather Protection (25%): 9.5 85/100
Durability (10%): 9.5 70/100
Ease of Setup (10%): 9.5 85/100
Overall: 9.5 78/100
Who is the Copper Spur HV UL1 tent for?
The Big Agnes Copper Spur HV UL1 is designed for solo backpackers, especially those looking for a well-built tent using top quality materials.
This tent also works well for the ultralight crowd. But super ultralight backpackers (you know who you are!) might prefer to go for a more extreme lightweight cottage brand tent, like the Durston X-Mid 1 … if it ever comes back in stock. I definitely do NOT recommend a super ultralight tent for most people though.
This tent also isn't for casual summer camping or heading to festivals. There are cheaper options out there (such as the Kelty Wireless) that will do the job just fine.
So if you're a backpacker, you're in the right place!
Should I buy the Big Agnes Copper Spur HV UL1?
In my opinion, the Big Agnes Copper Spur HV UL1 is currently the best one person backpacking tent.
It's massively more spacious than most of its competitors, easy to set up, comes with tons of storage pockets, and excels in every category. The one drawback is that it is quite pricey, but at least it is clearly oozing quality.
Would I recommend buying this tent? I think most people would be very happy with it.
But, frankly, I would recommend getting the two person model instead, the Big Agnes Copper Spur HV UL2. Double the doors, double the vestibules and extra space – all without adding too much to the weight or price.
Pros
Very spacious inside
Durable, high-quality build
Lightweight and small packed size
Door can be converted into an awning with a hiking pole
Easy setup
Loads of storage space
Good performance in wind and rain
Cons
Not as lightweight as semi-freestanding or cottage brand tents
Quite expensive
Thin materials might not be for everyone
Our rating criteria
This tent is rated using my 3 season backpacking tent rating criteria. The weights for each criteria can be found in the brackets.
The rating criteria is:
Weight & Packed Size (30%)
Comfort & Space (25%)
Weather Protection (25%)
Durability (10%)
Ease of Setup (10%)
I haven't included price in this criteria as this is highly dependent on your budget.
Weight and packed size
Weight
The Big Agnes Copper Spur HV UL1 is an ultralight tent with a small packed size. Its trail weight is 2 lbs 2 oz and the full packaged weight comes in at 2 lbs 6 oz.
Are there lighter tents out there? Yes. The Nemo Hornet 1P and the Big Agnes Fly Creek HV UL1 are 8 and 7 ounces lighter, respectively.
But it's almost impossible to go lighter than the Copper Spur HV UL1 without taking away features.
The Nemo Hornet and Big Agnes Fly Creek are lighter due to their semi-freestanding design which means you have to stake the ends of the tent down to keep the tent upright. As I'll cover later this has some other major setup disadvantages too.
These semi-freestanding tents tend to have a much more sloped shape to the tent, whereas the Big Agnes Copper Spur HV UL1 has a much more spacious, boxy shape.
Other super ultralight tents may choose to swap the double walled design of the Copper Spur in favor of a lighter, single walled design. But single walled tents can be poorly ventilated and can suffer from condensation issues.
The Big Agnes Copper Spur HV UL1 is as light as you can get without sacrificing space, easy setup or comfort.
For those who do want to go ultralight occasionally, the Big Agnes Copper Spur tent does have a fast fly setup. This setup means you can leave the tent body at home and simply use the rainfly, tent poles and footprint.
The fast fly weight is as little as 1lb 5oz, although it is quite a barebones setup and you'll have to purchase the footprint separately.
The Nemo Dragonfly 1 Person Tent does technically come in at a whole one ounce lighter. But these weights will have a margin of error. The impact of tiny differences in fabric cuts or waterproofing applications mean that these tents effectively have the same trail weight.
Looking at the packed size, which includes extras such as the stuff sack, tent poles, guylines and so on, the Copper Spur actually comes in four ounces lighter than the Dragonfly.
The chart above compares the minimum trail weight of leading backpacking tents. The actual weight of the tent will probably be closer to the packaged weight (2 lb 10 oz).
But I prefer using minimum weight to compare tents as the definition is fairly standardized across the industry, i.e. only the tent body, rainfly and tent poles should be included.
Packed size
The Big Agnes Copper Spur has a very small packed size, measuring only 17.5 inches by 5.5 inches. This is plenty small for packing down in any backpack.
One of the annoying things about comparing the packed sizes of tents is that some choose length, while others choose a thick packed size. To try and account for this, I've calculated the volume of the packed size in the chart below.
Try not to take small differences too seriously though. Small differences can disappear in practice and your choice over how tightly you compress a tent, or what you choose to bring will matter more.
There's a general pattern that the cheaper tents have a bulkier packed size than ultralight tents such as the Hornet, Fly Creek, Dragonfly or Copper Spur. Tents with hubbed poles can also be a little more unwieldy for packing away, but the difference is often minor.
Comfort, space and livability
How spacious does the tent feel?
The Copper Spur absolutely EXCELS at space.
Big Agnes have cared so much about making this tent as spacious as possible that they've even put it in the product name. "HV" stands for high volume, and refers to the roomy feel inside the tent.
This space is created using the pre-bent hubbed tent poles that create a slightly more boxy shape than a traditional tent. Traditional tents have a single peak, with a strong slope to the ground. The Copper Spur instead has a much more gentle slope, giving you plenty more vertical space running all the way along the tent.
The tent also comes with a cross pole at the top of the tent pointing horizontally. This helps bring the sides of the tent out at the top.
These features make the Copper Spur feel very comfortable compared to its competitors. You're much less likely to feel claustrophobic when you're stuck inside during bad weather.
The Copper Spur has a tall center height (38 inches), taller than the majority of backpacking tents but is an inch or two shorter than some of the leading competitors. Don't be fooled by center height measurements though, the shape of the tent is typically more important.
As the image below shows, there is SIGNIFICANTLY more space in the Big Agnes Copper Spur HV UL than many other backpacking tents.
Fairly tall people will be able to sit up inside and move about freely inside this tent, even if you're sitting on a tent pad. If you're very tall though, you might benefit from the extra headroom that comes with 2 person tents.
And this brings us to a wider point…
The 2 person model of the Copper Spur feels significantly more spacious than all of these tents, and only weighs 9 ounces more.
This will be a recurring theme in this article. In my view, unless you're in the hardcore ultralight crowd or are planning a thru-hike, many solo backpackers will feel happier with a two person tent than a one person tent.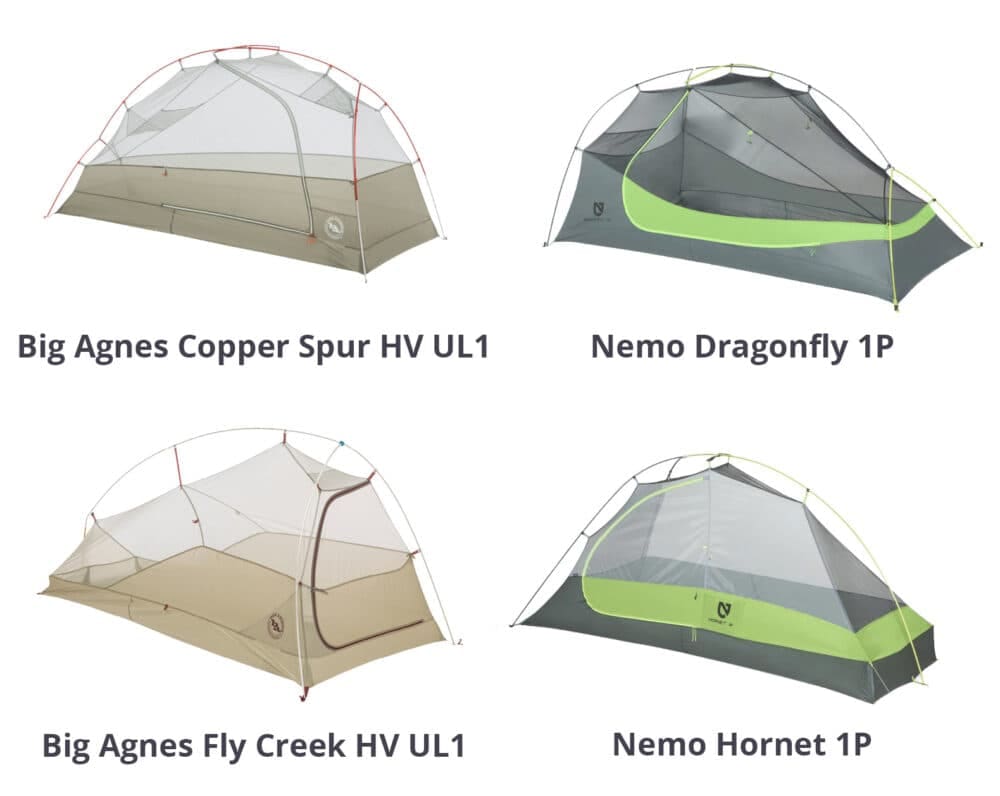 Floor area
The Big Agnes Copper Spur HV UL1 has a floor area of 20 ft2. This is about standard for top tier one person backpacking tents.
The Nemo Hornet tent's floor space is about 20% larger than the Copper Spur. And the Copper Spur has around 20% more floor area than the MSR Hubba Hubba 1.
Floor area metrics don't necessarily reflect how it feels though, and the Copper Spur doesn't feel 20% smaller than the Hornet. Frankly, it feels bigger.
Something to bear in mind with many of these ultralight tents is that the manufacturers will do anything to reduce their weight. Most come with a wider end for your head and a narrower end for your feet.
I would say that the Copper Spur tent's narrow end does feel quite small. You may need to consider using a mummy shaped sleeping pad rather than a rectangular shaped one.
And again, the space in these one person tents is absolutely dwarfed by the two person model of the Copper Spur. Remember, there's only a nine ounce difference in the weight… 😉
Sleeping area length – for all the tall backpackers
Backpacking is one of the times in my life where I'm happy to be average height. But for all of you folk that won the genetic lottery, I know how much of a struggle it can be to find a good tent!
I've included a table below of the length of each of these tents. Bear in mind that, unless you sleep with your feet at a perfect 90 degree angle and your head against the inner tent mesh, you'll probably need a good few extra inches above your height to fit comfortably.
Finally, Big Agnes has thought ahead and has created a "Long" version of the Copper Spur. This only comes in two and three person models, but provides a length of 8 feet from head to toe.
Big tent vestibules
There's more to a comfortable tent than just sleeping space. You'll want vestibules to store your gear and muddy boots, storage pockets and gear lofts to keep water bottles and headlamps, and you'll even want the time in your tent to make you feel happy.
First comes first, the Big Agnes Copper Spur HV UL1 comes with a vestibule, as does any respectable backpacking tent.
But not all vestibules are created equally. When you're trying to cram a backpack in, size matters.
The Big Agnes Copper Spur HV UL1 (I'm tired of typing out the full name – but you'll see why in a minute!) has a 9.5 ft2 vestibule.
This compares favorably to many other one person backpacking tents, and is only a little smaller than that of the Alps Mountaineering Lynx, Nemo Dragonfly, and REI Passage tents.
However, the Copper Spur comes with a feature that none of the other tents do. Using hiking poles, you can prop the vestibule door open and turn the door into a large awning.
This looks very cool and can provide plenty of shade during the day. I don't think all backpackers would use this feature though, so do consider your own personal preferences here. And of course, you'll have to bring your hiking poles.
So, here comes the nine ounce question! Why do I STILL think you should choose the Copper Spur HV UL2 instead of the UL1?
The 2 person Copper Spur comes with two doors, one of each side of the tent. It also comes with two vestibules, doubling the amount of space you have for storing equipment. Pretty good for only an extra nine ounces!
Other comfort features
Big Agnes tents are typically really good at including storage space, and the Copper Spur HV UL1 is no exception.
This tent comes with 3 interior mesh pockets, a media pocket and a HUGE bin pocket. The bin pocket is fantastic for drying out wet clothes or stuffing a jumper to wear for later.
There's also loops placed around the tent so that you can add a gear loft (sold separately, of course) or hang a headlamp.
Frankly, it's difficult to find any other tents with as much storage space as the Big Agnes Copper Spur.
A commonly overlooked feature of a tent is its color.
Lighter colored tents typically let in more light which can make it feel more comfortable to hang out inside the tent if it's pouring outside. They also make it more difficult to lose your tent.
However, those who are stealth camping might prefer to go for a green or brown colored tent to blend in with the background.
Either way, the Copper Spur comes in orange or olive green, although it can be difficult to find the green in stock.
Weather protection
Shelter is one of the ten essentials for a reason – mother nature should not be messed with. So how does the Big Agnes Copper Spur face up to rain, wind and hot summer days?
Seasonality
The Copper Spur is a 3 season tent. This makes it ideal for most weather spanning Spring to Fall. This also means that the tent isn't made to handle very strong winds, intense storms, or heavy snow.
For all of these, you'll want a 4 season tent or even a mountaineering tent. But newbies beware – a 4 season tent is not better and, for almost everyone, 3 season tents perform much better.
Four season tents are heavier, perform poorly in summer, can have condensation issues in humid weather, and are expensive.
So all of this is to say, do make sure to match your tent to the weather.
Rain and wind
The Big Agnes Copper Spur HV UL1 performs very well in rain and wind.
It has a rainfly that provides full coverage of the tent (unlike the Nemo Hornet!), a 1200mm hydrostatic head rating (plenty for 3 seasons), sealed seams, a flap covering the rainfly zipper, and a bathtub floor which stops water, dust and mud coming in under the rainfly and into the tent body.
You can also use a fast fly setup with this tent. This means you can pitch the rainfly first before setting up the inner tent body to avoid it getting wet in the rain. Some people like this feature, but others find it a little fiddly crouching inside the rainfly and trying to set up the inner body.
Do bear in mind that this tent, like most ultralight 3 season tents, isn't set up for extremely intense wind or rain. You should still consider the positioning of your tent when setting it up, and aim to camp in a site that is relatively protected.
For weather that is starting to get a little rougher, say towards the end of Fall, tents from brands like Hilleberg do great. But you will pay for this in price, weight and summer condensation.
Ventilation and condensation
The Copper Spur is a double walled tent which comes with an outer rainfly, and an inner mesh tent. Double wall tents are brilliant for warm weather and reduce the chances of you waking up with water dripping on you from inside the tent.
Cool air can easily travel in at the bottom of the rainfly and flow up the side of the inner tent. Along with the rainfly vent that can be propped open, there's plenty of ventilation in this tent.
This means that condensation is unlikely, and when it does happen the water should run down the sides of the tent.
Thankfully you're not exposed to unwelcome breezes in colder weather as the material of the bathtub floor at the bottom of the inner tent blocks the air from directly blowing in.
If you've brought trekking poles, you can also set up the tent's awning on a hot and still night.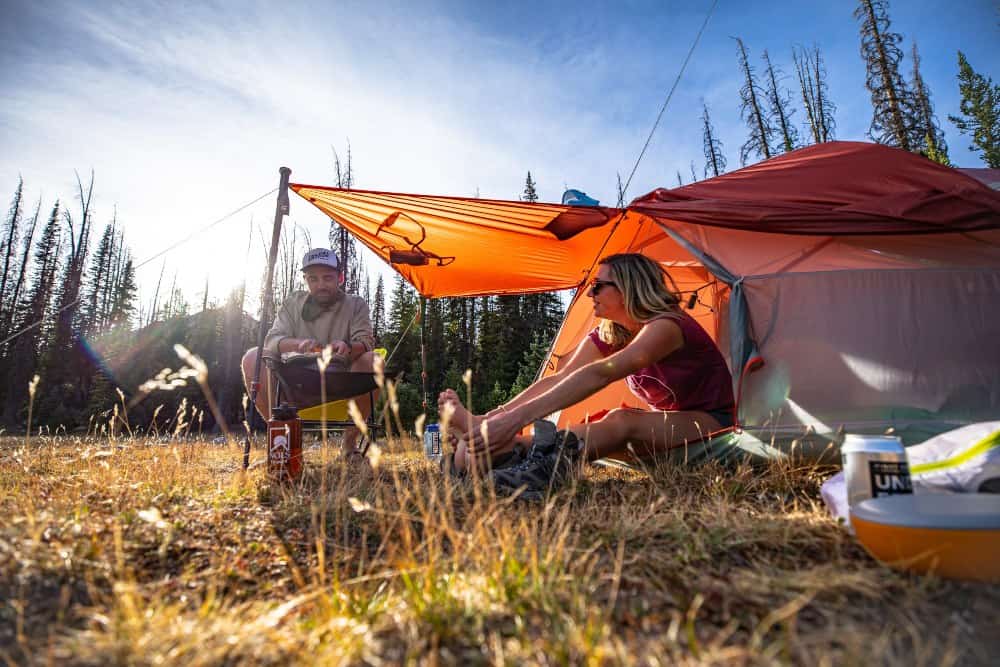 Durability
We all want our tents to last a lifetime, but tent manufacturers face a lot of trade-offs when designing their tents.
Overall, the Big Agnes Copper Spur HV UL1 is a very durable tent. With a caveat… for an ultralight tent.
For materials, the Copper Spur ticks all the boxes.
It comes with best-in-class DAC Featherlite NSL/NFL aluminum tent poles. These are super strong, very lightweight and not all backpacking tents come with aluminum poles of this quality.
The rainfly, floor and non-mesh part of the tent body are all made of ripstop nylon with a mixed 15D and 20D denier.
Nylon is the standard backpacking tent material which comes with decent strength with a very low weight. While ripstop refers to the fabric weave which helps protect against big tears in the nylon. Ripstop nylon is pretty standard in the more expensive backpacking tents.
But here is where the caveat comes in. Nylon is a thin material and there is a point when a tent's material gets so thin that you start feeling uncomfortable when using the tent, for fear of ripping it.
This very much depends on your own limits. Personally, I think the Copper Spur provides a great balance between durability and weight.
However, some people prefer a tent that is a little more rugged and are happy to carry the extra weight that comes with it.
If this is you, heavier, cheaper, and thicker polyester backpacking tents such as North Face Stormbreak or the Alps Mountaineering Lynx might be more up your street.
One of the commonly used metrics to compare the durability of tent materials is the fabric denier, where a higher denier means a stronger material.
However, it's less commonly known that this metric only applies for comparisons of the same fabric and weave. So you shouldn't compare ripstop nylon to polyester, or ripstop nylon to standard nylon.
On the face of it, the Copper Spur HV UL1 sits somewhere between the MSR Hubba Hubba 1P and the Nemo Hornet 1P in terms of denier.
However, the Big Agnes uses a double-ripstop weave which can make this denier comparison a little unreliable, and likely makes the Copper Spur stronger than it looks.
| Tent | Rainfly Denier | Floor Denier |
| --- | --- | --- |
| MSR Hubba Hubba 1P | 20 | 20 |
| Big Agnes Copper Spur HV UL1 | 15-20 | 15-20 |
| NEMO Dragonfly 1P | 15 | 20 |
| NEMO Hornet 1P | 10 | 15 |
Either way, all of these tents are definitely not dog proof without putting a blanket down.
And if you plan on camping on ground that might have rocks, tree roots or anything spikey, you'll either want to buy the footprint or DIY a footprint by cutting out a bit of Tyvek.
Another common point of failure with tents is the zipper. This was a particularly common problem with the older Big Agnes Copper Spur HV UL tents, so be wary of picking up used versions that aren't relatively new.
Thankfully, Big Agnes has swapped out the zipper for a dual zipper system. This spreads the force and feels much more sturdy. I've not heard of any zipper problems since this change has been made.
Finally, a very minor point but the Copper Spur's carry bag material is very thin. You'll almost certainly see some wear and tear on this bag over time.
This doesn't affect the performance of the tent at all, but you might need to replace the compression sack after a few years. As ever, this is due to prioritizing a low weight.
Ease of setup
The Copper Spur has a quick setup thanks to its hubbed pole design and color coded tent corners which make it easy to work out which pole goes where.
Once you've set up the tent poles you can then hook the inner body to the poles using pole clips. Clips are much easier to use than pole sleeves, although sleeves can provide a more equal force distribution that makes for a slightly stronger pitch.
The real biggie, and I promised earlier in the review that I would talk about this, is that the Copper Spur is a freestanding tent. When you're going ultralight, the "freestanding" or "not-freestanding" question comes up.
Freestanding tents stand up by themselves without having to stake out the tent. This is great for tough terrain which is difficult to stake, such as rocky terrain. It's also great for repositioning a tent without having to go through most of the setup again.
Freestanding tents are also easier to set up, although there isn't too much difference once you've got used to setting your tent up.
Overall, the Big Agnes Copper Spur HV UL1 is very easy to set up and, once you're used to it, setup should take less than a couple of minutes.
That's not to say it can compare with the speed of instant tents or pop up tents, but these are definitely not suitable for backpacking.
Price
The price of the Copper Spur is probably its biggest drawback.
The price can vary a little, so it's best to check its latest price here.
Generally, it definitely sits at the more expensive end of the backpacking market. This is definitely backed up by quality though.
But if you're a beginner backpacker or on a strict budget, the Copper Spur might not be ideal. Do remember that you'll probably want the footprint (at additional cost) and maybe even a gear loft (not needed for the Copper Spur in my view).
And while the tent does come with 7 stakes, by my count you'll want an extra 3 to be able to fully stake out the tent and its awning.
If you're working to a limited budget, I'd recommend checking out the Alps Mountaineering Lynx 1 Person Tent, or the North Face Stormbreak 1 Person Tent.
Other versions of the Big Agnes Copper Spur
Bigger versions
The Big Agnes Copper Spur HV UL also comes in two, three, four, and five person sizes. Personally, I love the balance of the 2 and 3 person sizes.
You can check out my reviews of the other sizes:
Big Agnes Copper Hotel HV UL
If you want a MUCH bigger vestibule, you might be interested in the Big Agnes Copper Hotel HV UL rainfly.
Do note that this ISN'T a tent, it's just a rainfly accessory for the Copper Spur.
The vestibule is truly huge and would work well for keeping a dog, but it is pretty pricey for just a rainfly.
Big Agnes Copper Spur HV UL mtnGLO
This is the Copper Spur but with a set of battery powered LED lights. The mtnGLO version of the tent comes in gray, which some people might prefer. Or you can carry on with your standard Copper Spur and just buy the mtnGLO attachment.
The Copper Spur mtnGLO comes in one, two and three person sizes.
Big Agnes Copper Spur HV UL Bikepack
For any avid tourers, there is a Big Agnes Copper Spur HV UL1 Bikepack tent. This also comes in two person and three person models.
This is pretty similar to the standard Copper Spur but packs down into a carry bag that can be strapped to your bicycle handlebars or other parts of the bike frame.
Big Agnes Copper Spur HV UL Long
This is the Copper Spur built for tall people. It only comes in two and three person sizes.
As a comparison, the two person Copper Spur Long model is 8 inches longer and three inches higher than the standard model.
Big Agnes Copper Spur Platinum
The Big Agnes Copper Spur Platinum comes in two and three person sizes and is even lighter than the Copper Spur HV UL.
How have they achieved this? By removing features.
As I said earlier in this review, the Copper Spur HV UL is pretty much as light as a tent can get without compromising heavily on features. But for those who love going ultralight, the Platinum version removes the big bin pocket, lowers the height of the bathtub floor, and is made of even thinner materials.
It's a step too far in compromising durability for me, but to each their own!
Alternative tents
The Big Agnes Copper Spur HV UL1 is an excellent tent, but frankly I think most people would be happier with the Copper Spur HV UL2.
It's more spacious, taller, and comes with two doors and two vestibules. Yes, it costs more and weighs a little more. But, despite its higher cost, the UL2 feels like it has a little more bang for your buck.
The Nemo Dragonfly 1 Person Tent is also very similar to the Copper Spur and would make a great replacement at a similar price point.
Finally, if the Copper Spur is too expensive, consider the Alps Mountaineering Lynx 1 Person Tent, or the North Face Stormbreak 1 Person Tent. Both are great tents but do lack a lot of the features that make the Copper Spur lightweight, spacious and comfortable.
FAQ
Is the Big Agnes Copper Spur waterproof?
The Big Agnes Copper Spur is fully waterproof. The tent comes with a full length rainfly made out of ripstop nylon. The material is coated and has a 1200mm waterproof rating.
Is a Big Agnes worth the money?
Big Agnes tents are worth the money. The tents are made with great materials and an excellent build quality. However, I wouldn't recommend Big Agnes tents for backyard or beginner camping.
Is Big Agnes a good tent brand?
Big Agnes is a great tent brand that makes high-quality tents. It has an excellent reputation among backpackers and campers. Big Agnes also provides good customer service.
Are Big Agnes tents made in the USA?
Big Agnes tents are made in China. The company is based in Colorado, USA. Currently, almost all backpacking tents are made in China due to lower manufacturing costs.
What does HV stand for with a tent?
HV stands for high volume. High volume refers to the spacious feel of a tent created by pre-bent tent poles.
Wrapping up the review
Thanks for reading my review of the Big Agnes Copper Spur HV UL1!
Overall, the Copper Spur is a great tent and the best one person backpacking tent going. However, if you're willing to take a little extra weight, I'd recommend going for the 2 person version instead.