When you're out in the wilderness, you still need to eat, and cold soup and power bars can only last so long before they get boring. As a backpacker, you deserve a warm drink and hot meal at the end of a long day.
But also as a backpacker, your pack already weighs a ton. You need something light enough to carry without noticing it's there. Enter an ultralight backpacking stove.
In a rush? The best ultralight stove on the market is the MSR Pocket Rocket Stove.
The best ultralight stoves are:
Scroll right to view all products >
| | | | | | | |
| --- | --- | --- | --- | --- | --- | --- |
| | Best Overall | Best Wind Resistance | Most Convenient Option | Fast Boil Time | Best Lightweight Option | Best Budget Option |
| | | | | | | |
| Ranking | 1st | 2nd | 3rd | 4th | 5th | 6th |
| Rating /5 | | | | | | |
| Review | The MSR PocketRocket is perfect for someone who needs a stove that's ultralight, durable and full of value. | If you're heading out in the wind, then the Windburner is the only stove that can handle the job. | For someone looking for an entire cooking system, the Jetboil MiniMo has it all. | If you're all about the speed, then this is the stove to beat. | The Snow Peak is the stove that's ultralight but can handle the challenges of the outdoors. | If you're on an extreme budget, consider the BRS. |
| | | | | | | |
Reviews of the Best Ultralight Backpacking Stoves
Best Overall Ultralight Stove
The MSR PocketRocket is perfect for someone who needs a stove that's ultralight, durable and full of value.
Pros
Folds down small.
Compatible with most pots.
Arrives with a carry case.
Extremely light.
Boils quickly.
Cons
Fuel leakage.
Not the most fuel-efficient.
Weight: 0.16lbs | Packed Size: 2" x 2" x 3" | Boil Time (1L): 3.5 minutes | Ignition Type: Manual | Fuel Used: Liquefied Petroleum Gas | Cost: $
We're starting off with the lightest of the light, with a price that won't make your wallet as light as the backpacking stove. This ultra-compact little stove folds down tiny and fits in any pack, inside the included protective case. The fuel canister will be slightly larger to carry, and you will have to purchase the fuel separately.
Once you have both the stove and fuel canister, you're good to get boiling water.
The stove boils a liter of water in 3.5 minutes, which isn't the fastest in the world or even on our list, but it's fantastic for such a small, light stove.
The stove doesn't have to stay small, though, as you can extend the burners to push them closer together to accommodate whatever pot you bring. That's a sure sign of a best backpacking stove for someone with lots of gear already owned.
It's not an integrated cooking system, so you will need to bring your own cookware. Luckily it fits cookware of most sizes, and you don't need specialized gear. Check the cookware against the burners for size before heading out, and you'll be fine. There's also an MSR pot available that folds down to match the stove.
You can use the Pocket Rocket stove in the wind, too; it's not the most wind-resistant, but it's better than some on the market. It may be difficult to light in the wind, though, as you have to do it manually.
Once lit, users found it cooks food well, with great simmer control. This gives you a little more flexibility with meal planning when you're on the trail. However, users do note that the fuel efficiency isn't the best and that there's significant fuel leakage when attaching the stove to the canister.
---
Best Ultralight Stove in the Wind
If you're heading out in the wind, then the Windburner is the only stove that can handle the job.
Pros
Integrated cooking system.
Best backpacking stove for the wind.
Easy to light.
Works with other MSR products.
Cons
Leaky fuel.
Flimsy handle.
Fuel sold separately.
Weight: 0.95lbs | Packed Size: 4.5" x 8.3" x 4.5" | Boil Time (1L): 4.5 minutes | Ignition Type: Manual | Fuel Used: Liquefied Petroleum Gas | Cost: $$
The MSR Windburner is an integrated, efficient stove system that comes with a handle for easy drinking. You can eat out of the pot, too, despite how it looks like a mug.
The Windburner isn't as compact as the stove above, and it's definitely heavier, but these elements may be worth it based on its wind performance. If you camp in the mountains or live in a windy area in general, this is the stove to pick.
Customers say the stove kept the flame going regardless of the weather. This is likely down to how the flame is mostly covered thanks to the stove's build. They also found it easy to light, which you have to do manually.
Users found the stove overall easy to use and liked that it can pair with other MSR gear like the coffee press, skillet and hanging kit—you don't have to stick to the provided pot, despite it being an integrated cooking system. Customers enjoyed the variability.
Although they didn't love having to buy the fuel separately or that the handle on the pot feels flimsy. They also found that fuel leaks when you're trying to connect it to the stove.
---
Most Convenient Ultralight Stove
For someone looking for an entire cooking system, the Jetboil MiniMo has it all.
Pros
Highly convenient.
Comes with a foot stand for a gas canister.
Compatible with a French press attachment.
Fast boil times.
Great fuel efficiency.
Cons
Simmering blackens the bottom of the pot.
Heavier than desirable.
Only compatible with Minimo gear.
Weight: 1.2lbs | Packed Size: 5" x 5" x 5.5" | Boil Time (1L): 4.5 minutes (H) | Ignition Type: Piezo | Fuel Used: Liquefied Petroleum Gas | Cost: $
If you didn't like the integrated stove pick above, then consider the Jetboil MiniMo. This one is a little heavier. In fact, it's heavier than we'd like, but its convenience outweighs that.
Not only is this an integrated cooking system, meaning it comes with a 1-liter capacity pot, but it has feet for extra stability. You can cook on any ground, though flat is best, and it'll even do a decent job in the wind—but not as good as the Windburner.
However, it's better than the Windburner ignition-wise. It comes with a button piezo igniter, so you press it, and you've got a flame. Customers find that it works every time, although they fear that the button will eventually wear out.
The rest of the stove is sturdy, so it shouldn't be too hard to get the button fixed while the rest of the piece stands strong.
Jetboil MiniMo's compatible accessories also stand strong. Customers liked that the included pot is made for a low spoon angle, but they loved that it's compatible with the Jetboil Grande size French press. They found it great for making real coffee on the go, and could drink right out of the pot.
Although, they didn't love that you can only cook and boil using Minimo compatible pieces, and not all cookware.
Speaking of, boil times impressed customers, although they comment that there are faster models out there. They also love the sturdy handle and simmer control, but warn you to be careful as lower temperatures tend to blacken the bottom of the pot.
People feel the fuel efficiency makes up for anywhere else it falls flat, though. One customer only used a single gas canister on a four-day trip.
---
Best Ultralight Stove with a Fast Boil Time
If you're all about the speed, then this is the stove to beat.
Pros
Handle.
Extremely quick boiling.
Insulated jug.
Jug tells you when your drink is cooling.
Cons
Jug may melt to the stove.
Weight: 0.82lbs | Packed Size: 4.1" x 4.1" x 7.1" | Boil Time (1L): 100 seconds | Ignition Type: Push-button piezo | Fuel Used: Liquefied Petroleum Gas | Cost: $$
For the same convenience and brand as the pick above, consider the Jetboil Flash. It's incredibly similar to the Minimo, only it offers more for a lower price.
Like the MiniMo, the pot/jug holds a liter, but it's taller and narrower. This makes it easier to fit in a backpack, but it's not the best for eating out of. The handle on the side designates it best for drinking from, though.
The 100 second boiling time also makes it great to bring water to a boil water and drink beverages quickly. Even better, it's a push-button piezo ignitor so you don't need to struggle there. Just push, wait just over a minute, and carry on. You can carry the drink in the jug, and it'll stay warm because the jug is well-insulated.
Jetboil's jug exterior color changes depending on the heat, too, so you're sure to know when you should hurry and drink your beverage.
Customers love that it's compatible with a coffee press attachment, and despite its height, they didn't think it was too difficult to eat from. However, they did note that eventually, the jug melts to the stove.
---
Best Lightweight Stove
The Snow Peak is the stove that's ultralight but can handle the challenges of the outdoors.
Pros
Decently fast boiling.
Incredibly lightweight.
No difficult features to deal with.
Cons
Not the best backpacking stove for cooking.
Weight: 0.12lbs | Packed Size: 4.9" x 4.9" x 3" | Boil Time (1L): 5 minutes | Ignition Type: Manual | Fuel Used: Liquefied Petroleum Gas | Cost: $
Although it's not the most compact option, the Snow Peak LiteMax is one of the lightest stoves we've come across. Although we should warn you, that's before you attach the gas and place a pot on it.
This little stove is light but tough, with its foldable arms offering some decent wind protection, though the Windburner is far better for actual windy conditions.
Users found that nothing much stood out about the stove besides it being the lightest one they'd found. However, they report that the stove boils quickly and were satisfied with that. Although they state it's best used to boil water, not cooking, as it slows down considerably when you try to adjust the flame.
All in all, users are satisfied but not overly ecstatic about this product.
---
Best Budget Ultralight Stove
If you're on an extreme budget, consider the BRS.
Pros
Cost-effective.
Works with most pots.
Lightweight.
Cons
Slow boiling.
Flame position isn't great.
Weight: 0.07 pounds | Packed Size: 1.18" x 1.97" x 0.98" | Boil Time (1L): 6 minutes | Ignition Type: Manual | Fuel Used: Liquefied Petroleum Gas1 | Cost: $
If you just want something simple that gets the job done, then this is the one for you. It's extremely good value for money, wonderfully compact and lightweight and is a total no-frills option.
This stove provides a stable flame with smooth adjustments, great for simmering water and cooking food. Despite its small size, it can heat large pots and sturdily fits on a gas tank, which is not included.
Its small size does mean longer boil times, though. It boils half a liter of water in just under 3 minutes, but that can vary depending on the weather around your camp or break site.
Some users feel that the BSR isn't well-built and that the flame is wasted when boiling water. It shoots out either side of whatever pot it's in, not doing much heating, more so just displacing itself because it has nowhere to go.
Other users feel the stove is cheaply made, but it works well for the price.
---
Frequently Asked Questions
What To Look for in a Backpacking Stove?
There are lots of things to look for in the best backpacking stove that are highly variable and unique to your circumstances. Instead, we'll focus on two universal aspects of these canister stoves.
Weight
Ideally, you want to keep the weight under a pound. Some liquid fuel stoves are slightly above this, and that's fine, but those best backpacking stoves are usually integrated systems with some add-ons.
Under a pound is fine for most liquid fuel stoves with liquid fuel and pot included, though—but how much under a pound is debatable. Some weigh less than half a pound, which makes those around 0.95 pounds seem huge when they too are very light.
While the lighter, the better is true, so long as the stove doesn't weigh you down, then it's a fine weight.
Fuel Type
Fuels for the best backpacking stoves tend to be all gases over solid fuel, but what type of gas is an important consideration when it comes to stove fuel type. Liquid petroleum gas is common, widely available and not too expensive, and is made of a mix of propane, butane and similar substances. It's light, convenient and easy to use.
What Are the Different Types of Camping Stoves?
There are two main features in a camping stove that can change between systems.
Integrated Canister Stoves
Naturally, you need some kind of pot for boiling water and cooking in. With many canister stoves, you have to buy this separately and almost any canister stove will work, but with integrated stoves, it's all included.
The canister stove comes with a special pot made to fit the stove, which often comes with a lid and may have other features like a spout, handle, or measurements along it.
Which canister stove is better is up to you, but integrated canister stoves often work better as the shape of the pot is directly made for functionality on the shape of the stove.
Ignition Type
There are lots of ways you can ignite a best backpacking stove, but we're focusing on the two most common and simplified: manual and push button.
Manual ignition usually has some of the gas escaping once you switch it on. You use a lighter of some kind to get the flame going.
There are also best backpacking stoves that ignite via a button, which is convenient at first, but buttons eventually wear out. The ignite button usually activates a piezo ignition, which in itself will rarely wear out so you can get the button itself fixed if something goes wrong.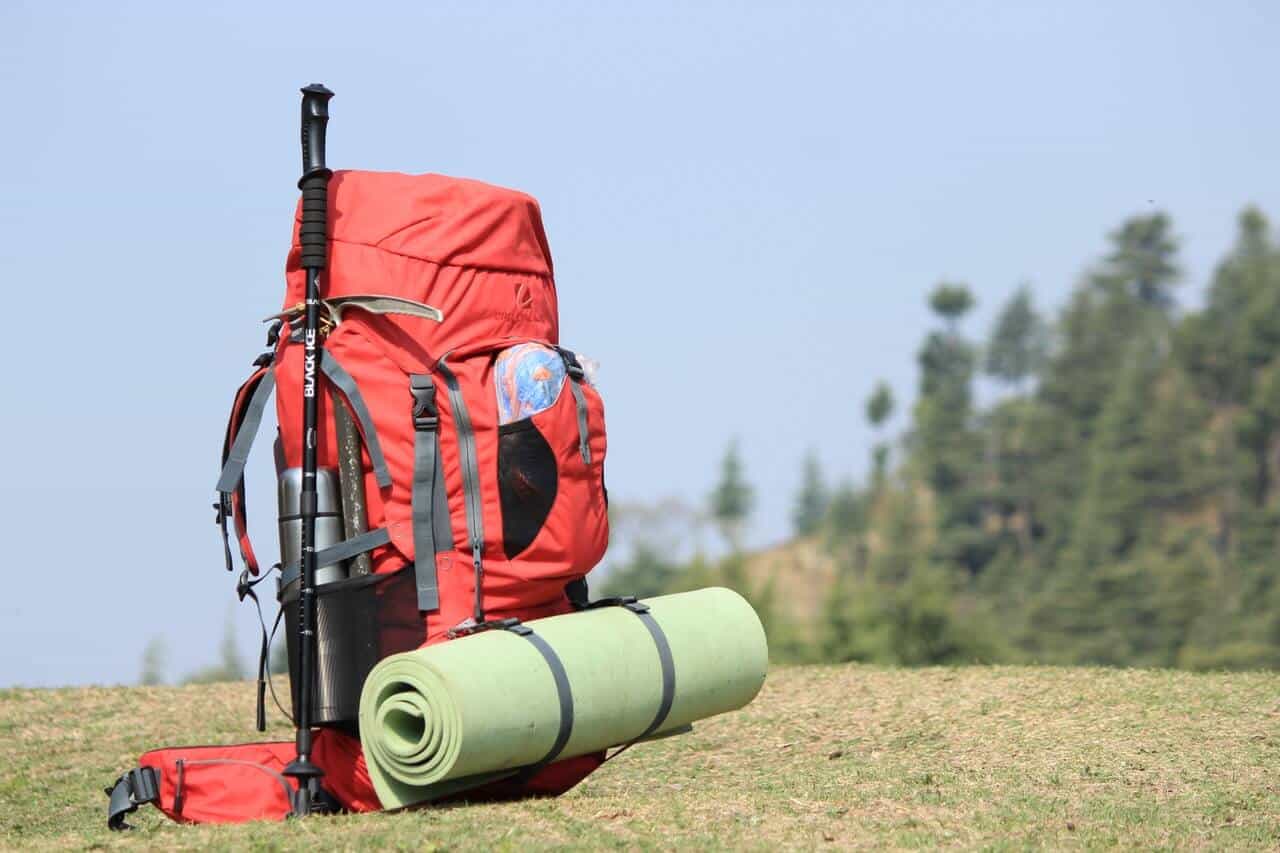 Do You Need a Stove for Backpacking?
You don't need a stove for backpacking, but it's certainly helpful. A flask can only keep heated beverages hot for so long, and you need something to eat on your trip and it'd be nice to have a hot meal. While you could light a campfire, it's much easier to bring a portable camping stove.
Just remember while using a stove to let it cool entirely before packing it again. As well as that, if possible, you should bring some additional water to rinse your cookware out after use. You don't want food remnants in it when you want to boil water for a drink.
Which Stove Is Best for Cooking at Altitudes?
A stove with a converted flame that can resist wind and the thin air is great for cooking at high altitudes. The MSR Windburner is an excellent pick for this scenario based on its proficiency in the wind.
Are Backpacking Stoves Easy To Clean?
The best backpacking stoves are easy to clean. When it's cool, a cloth and soapy water can clean the entire exterior with no problem. If the packing stove has a grate covering parts of the inside, you can remove it and wipe it down the same way as the interior.
For the pots of integrated backpacking stoves, you can wash them like any other cookware. They're simple to clean but will be more difficult if you let food sit in them for a while. In these instances, it's best to soak them as soon as you get home from your camping trip.
How Do You Measure the Fuel Efficiency of a Stove?
The simplest way to measure the liquid fuel efficiency of your portable camping stove is by doing tests at home.
Start with a full fuel canister, weigh it, and take away the weight of the stated volume of fuel inside. You need to know how much the fuel canister itself weighs so you can take it out of the equation.
Next, boil some water. When done, weigh the stove again and calculate how much has been used based on the new weight. How much fuel was used will help you determine the stove's fuel efficiently.
Here's what we could find out about the stoves above:
How We Decided
How Light Is It?
Winner: Snow Peak LiteMax
The Snow Peak is the highest-quality light stove on this list and is perfect for those with heavy packs who don't want to add much more weight to them.
With that said, it's not the best light option on the list. You'll find much more value in the MSR PocketRocket, especially since it comes in an easy carry case that you can slip into your pocket.
When choosing between these two light options, consider whether being compact is important to you in an ultralight backpacking stove. We feel that light and compact go hand in hand, so the easier something is to transport, the better it is.
How's the Fuel Efficiency?
Winner: Jetboil MiniMo
We don't know too much about the fuel efficiency of the products above as there haven't been any official or comparable tests on them. However, based on customer feedback, we can determine that the Minimo is highly efficient and is a favorite to beat.
The rest of the liquid fuel stove models on this list have similar fuel efficiency to the MiniMo, though, so regardless of what you choose, you're not missing out on anything.
Alongside the fuel efficiency, the MiniMo doesn't take as long to boil as some of the other stoves on the list, so therefore you'll likely use less fuel per boil. Although if we're judging stoves based on how fast they boil, take a look at the next heading.
What's the Boil Time?
Winner: Jetboil Flash
You can't beat the Jetboil Flash. Flash in the name, flash in the time it takes to boil. In only 100 seconds, that's a minute and 40 seconds—half what some of the other stove systems take, and way more than half for others.
If you're not too fussed about cooking and just need a hot drink now, then this is the one to pick. You won't have to stop for long, and as soon as it boils, you're back on the trail, hot drink in the mug with a handle.
However, be sure to let the stove cool completely before packing it back up—so although it may be tempting to boil and bolt, at least sit down for a minute or two before you do.
How's the Value For Money?
Winner: MSR PocketRocket
None of these stoves have bad value, but based on its convenience, we have to say the Pocket Rocket. It's small, fits in your pocket and it's highly affordable.
The MSR PocketRocket easily resembles the cheaper options on the list, for example, our budget pick. It's the build quality and compatibility that make it stand out from the crowd.
This is a sturdy little backpacking stove, and even more value comes in the form of the case that fits right in your pocket and doesn't add much extra weight to the stove.
The Best Ultralight Camping Stove
The best ultralight backpacking stove is the MSR PocketRocket. It's our top pick as it's impeccably light and compact. It fits in the carry case, in your pocket, in a travel mug, anywhere it's easy and convenient to store. It's definitely the best stove available for the purpose: backpacking, hiking and similar activities.
While there are faster, more fuel-efficient and more feature-filled stoves on the list, they just can't beat the backpacking compatibility of the PocketRocket.
See our camping stove reviews