Welcome to our review of the best truck tent for camping this year!
Whilst we might not be experts about trucks, we know what we're talking about when it comes to tents. We've looked at all sorts of truck tents and decided on these four as the best of the best.
If you want to make the most of your truck on a road trip, why not sprawl out under the shelter of a tent in the truck bed. If you've got the space for it, now you just need the tent.
So hop along for the ride as we cover everything you need to know about these truck tents.
In a rush? The best truck bed tents are:
Scroll right to view all products >
| | | | | |
| --- | --- | --- | --- | --- |
| | Best Overall | Most Versatile Option | Best for Group Trips | Best for Big Trucks |
| | | | | |
| Ranking | 1st | 2nd | 3rd | 4th |
| Rating /5 | | | | |
| Review | If you want a tough canvas tent to withstand the winter, the Kodiak will do nicely. | Sometimes you travel with a group, so if you want a tent that can expand to accommodate, this one works. | The Sportz Avalanche has an excellent awning you can hang out in, perfect for group trips. | If you have a hefty pickup, this tent is ready to fit. |
| | | | | |
Quick recommendation – Best truck tents for camping
Are you in a hurry to drive off into the sunset with the best tent we found? Don't want to stick around to find out why it's so great? That's fine!
Overall, the Kodiak Canvas Truck Bed Tent impressed us the most. It's super durable and able to withstand some pretty harsh weather.
Value for Money
When it comes to value for money, it's hard to beat the Rightline Gear Truck Tent. It's more affordable than the Kodiak truck tent for new campers.
However, the Kodiak tent is also excellent value for money. The tent is will last for years, giving you enough use to get your money's worth. But it isn't a budget-friendly option for campers in a truck trying to save some dough.
the best truck tents compared
Best Overall
If you want a tough canvas tent to withstand the winter, the Kodiak will do nicely.
Pros
Tough, weatherproof canvas
Tall campers will appreciate the peak height
Lots of windows and vents
Protected doorway in case of rain
Cons
Difficult setup
You may need to replace the C-clamps
There's no sturdier fabric for a tent than a heavy-duty canvas, so consider this truck bed tent. There's very little chance it'll rip and almost no chance it'll leak.
Canvas is also a durable material that ensures you stay warm when camping in winter—but it's breathable, too. Don't count out the 100% cotton duck canvas for summertime.
If the naturally breathable element of canvas isn't enough in your opinion, there are also vents on the tent for additional airflow for you and a potential partner sleeping in the truck.
The fine mesh windows will also help let some air in, while keeping the bugs out. You can open the windows if you're still baked in the truck.
You can easily escape the tent for a while to avail yourself of fresh air through the large D-shaped door. Or, if you're warm and it's raining, you could potentially open the truck tent door anyway as it's got a small awning to keep the rain away.
Try to stay inside when it's windy, though. The truck tent's steel poles are tough enough to withstand the wind, so you'll stay protected. The only extreme weather you're not safe from is snow, as it's not sturdy enough to withstand buildup.
For the most part, snow will run right off the truck tent as it's designed like a tunnel. This is to maximize ceiling space, which gives you 5 feet of headroom. You could easily assemble a chair and sit under the tall ceiling, but it's not quite high enough for you to walk around.
The truck tent's high ceiling height and unique pole design make it not so easy to set up, though, so watch out for that. Setup is easier with two people, but even then, it's not the simplest tent to erect in the world.
Some people found they needed to buy larger C-clamps for setup, too, but it depends on your truck.
---
Most Versatile Option
Sometimes you travel with a group, so if you want a tent that can expand to accommodate, this one works.
Pros
Sewn-in full floor.
High ceiling height for sitting and some walking around.
Large awning to relax under.
Cab access window.
Cons
Not great for heavy rain.
Unpleasant setup.
This brand has many truck tents, like the Napier Backroadz truck tent, but the Sportz truck tent is by far their most premium model, according to the public.
The truck tent proves itself premium with its use of sturdy fiberglass poles in its setup and its large awning. The poles ensure it withstands wind where the awning keeps water from dripping into the bed of your truck when you open the door.
The awning also makes a wonderful place for you and your road trip partner to sit and watch the sunrise or take a break in the afternoon in the shade. It'd be a great place to hang out and chat with other campers as you all stop for the night, with a cooler of beers and some stories to get you through.
Once you get inside the Sportz truck tent, no matter the season, it's well equipped to deal with your needs. The tough nylon keeps out drizzle and moderate rain, but it won't do well under harsh showers. Meanwhile, the windows allow for plenty of air flow should you go truck bed camping in summer.
Zippers allow all the windows to open and close so you can let in as much or as little air as you like. You don't have to open them all the way.
One of the windows isn't for ventilation, but for your truck cab, letting you reach inside to grab any gear you're storing in there. You can also reach through and fire up the radio or do anything else your heart desires.
Cab access aside, there's plenty of room in the bed to store your camping gear if you'd prefer. You can stand a backpack tall under the 5'8 ceiling height, which is tall enough for short people to stand up under.
Average and tall people will be able to set up a chair and sit down inside the tent or get around on their knees on the sewn-in floor with plenty of headroom to spare.
If you need more room outside of height, the truck tent offers an add-on so you can extend your tent to the ground, although it's sold separately. The add-on sleeps two additional people for fun camping experiences.
I stayed in Taos NM for three nights, the tent held up really well to the wind and light snow. It was cozy in the 0 degree sleeping bag, no heat or anything overnight. I'm adding reflective insulation for my trip this weekend, should be able to keep it in the 60s with my little propane heater.

Tent review
Overall it's a pretty good truck tent if you don't count setup, which can be a pain.
---
Best for Group Trips
The Sportz Avalanche has an excellent awning you can hang out in, perfect for group trips.
Pros
Well-ventilated tent.
Tons of lighting options.
Large awning makes a great extra space to hangout.
Cons
Incredibly difficult tent setup.
If you'd like another premium truck tent from Sportz, consider the Avalanche tent. It's almost as tall as the truck tent above, but there are several notable differences.
One difference is the awning, which is an improvement on the last. It measures 6 by 6 feet and is raised, so any rain will run down and off of it, away from your tent's entrance. The awning makes this truck tent great for group road trips, so you can all hang out under it when you stop.
It's great to spend time under in rain or shine as it's nearly impenetrable, as is the truck tent. The mesh windows are a little flimsier than the rest of the truck tent, but the rainfly hides them well.
When it's sunny, the two mesh windows and rear access panel add excellent ventilation while keeping things private. They're tinted dark, so you can't see through them. There's further ventilation in the truck tent besides the windows, though.
These aren't the only two windows you'll find in the truck tent. There are two near the floor that allows the truck's cargo lights to stream in. You can also see into the cab and access lighting that way—both great options if you don't want to use the tent's internal storage pockets for torches.
However, there's a hook lantern holder from at the top of the tent if you'd prefer that.
I have a Napier tent as well. Works awesome for summer and early fall. It's perfect for me and the wife when we're hauling my ATV. ATV rolls out, tent goes in, wife unloads the backseat of the truck while I go riding.

Tent review
It's a great tent for staying lit up and hanging out. Though it's still just a 2P tent, so the hangouts should stay only in the daytime—so long as you get it set up by night. Some users found the setup so difficult that it took two hours—even with the color-coded fiberglass poles.
---
Best for Big Trucks
If you have a hefty pickup, this tent is ready to fit.
Pros
Mesh ceiling.
Easy setup.
Comes in various sizes.
Cons
Weak seams.
Flimsy material.
If you're looking for a full-size truck tent that's perfect for couples, here's one you may like. The Rightline Gear tent is nothing fancy and not one you'll be able to stand up in, but its mesh ceiling makes it perfect for stargazing from your air mattress.
On colder nights, you can equip the rainfly and stay warm, but make sure you have lots of blankets on the bed of your truck as the tent lacks a floor. On the one hand, you can take the truck bed tent down without moving your gear, but on the other, those pickup truck beds can get cold.
Speaking of setup, unlike the others, the Rightline Gear full-size tent is easy to assemble. The color-coded poles and pockets help a ton, with users saying it was neither confusing nor difficult to figure out.
Unfortunately, though they were impressed by the setup, they weren't as pleased with the tent's quality.
Although it's decent and will protect you from rain, the tent is thin, and they say it feels flimsy. You want to be sure this tent will fit your truck without too much stretch to avoid straining the material. This is the biggest size of this Rightline Gear truck tent, so if it doesn't fit your truck bed, you're out of luck with the brand.
The weakness extends to the tent seams, which some users found started to come undone after only three uses. Consider having the tent seams reinforced by a professional.
I have a tent for a 5′ Tacoma bed and the fit is extremely tight. It definitely wouldn't work on a bed even a couple inches larger.

It's a Rightline tent, not sure about other brands. It works well for what it is, but I'm tired of emptying the gear out of the bed every time I want to sleep. Going to be upgrading to a RTT tent soon.

Reviewer
---
Our rating criteria for a great truck tent
Comfortable Truck Tents
Truck tents
Space and height are the two biggest things that make truck tents so comfortable. As long as you have a decent-sized truck bed, the tent will be spacious, and you'll be able to enjoy the views from your giant blow-up mattress out the back of your truck while enjoying a coffee in bed.
Some truck tents are tall enough for shorter people to stand up in which makes it easier to get changed and to move things around inside.
Windows that can be half or quarter zippered will allow you to adjust the temperature inside the truck tent. These are fantastic whether it's hot or cold.
We love it when the manufacturer creates loops or hooks in the roof for lamps and fans that allow you to read at night and keep the air moving.
Waterproof and windproof truck bed tents
High-quality truck tents that are made with strong waterproof stitching, have seam seals and a fly that drains rain off the side are what you are looking for in a waterproof and windproof truck tent.
If you are expecting wind or rain, it pays to go for heavy-duty canvas with a protected doorway. Truck tents with steel poles that keep the tent walls taut will make sure the water rolls straight off the curved sides and doesn't pool on the roof and potentially seep through to your nice warm bed.
You need a high waterproof rating for your tent. The hydrostatic head ratings should preferably be above 1500 to keep light or moderate rain out. Once you've got that, quality is the next most important factor in weatherproofing your tent.
A waterproof truck tent will have seam sealing, strong stitching, and well-positioned poles and ropes that keep your tent taut. Waterproof zips on doors and windows will give you the option of switching between waterproofing and ventilation.
A waterproof truck tent will have an awning to help with the protection just in front of the tent so you can have a rain-free spot to keep things dry and to allow you to take off shoes and jackets before you get inside the truck tent.
Ventilation to avoid the summer heat
It's great to get outdoors in summer but if your truck bed is in the baking heat you will be pretty uncomfortable. Park in the shade if you can and open all the windows.
Comfortable truck tents that have windows or vents on opposite sides to create a cross breeze through the truck tent. Make sure they all unzip from the inside and have mesh to let the breeze in but keep the bugs out! Open the door as well.
A rechargeable fan might be the answer to getting the air to move inside your truck tent and remember, go for a lighter color truck tent that reflects the light if you know you'll be in places with a lot of sunshine and not a lot of shade.
Easy to set up
Camping is only fun if you can get the tent up nice and easily. Grappling with a complicated tent or not being able to understand the instructions is no way to start a camping trip. So truck tents that are straightforward or come with easy-to-understand instructions are a great start.
It needs to have high-quality parts – Clips that don't snap, velcro, tent pegs that don't bend, and zips that are waterproof and just work. Broken parts don't make a good start to a camping trip.
Some truck tents are much harder to set up than a normal ground tent so make sure you get other features that make the time spent setting it up well worth it.
Good value for money
A truck tent that is good value for money is one that has lots of features that you like and will use for your hard-earned cash. We like a design that will keep you warm, dry, and comfortable inside your truck tent no matter the weather.
We like features such as meshed windows, a high roof, and vents to control airflow and condensation. Steel poles are strong and long-lasting that give you good bang for your buck.
Waterproofing like seam sealing, waterproof zips, and a design that sends rain straight off the edge of your truck instead of pooling on the roof or getting into the truck base are qualities we like to see.
We enjoy the ease of reaching into the cab for items if the tent truck has an opening in it to reach through the cab's back window too!
Durability for years of camping
Get a tent truck that will last as long as you plan to have the truck. Get high-quality tent fabric, seam seals, a waterproof rainfly, and branded parts that have a good reputation if you plan to have your truck for a long time!
To make a truck tent last longer, make sure it has repairable parts like tent poles and stakes and that you waterproof it every few years and store it folded and dry. Wet tents will go moldy and rot overwinter in a cupboard in the garage.
Durability is directly linked to quality. The more you pay, often the more quality you should get and the longer your truck tent will last if you look after it.
We like branded replaceable parts, tough tent fabric, and a high waterproof rating. These are all signs of quality and mean your truck tent should last longer.
Who are these truck bed tents for?
What size of pick ups do these truck tents fit?
These pickup tents are available in a wide variety of sizes to fit your truck. However, here's an overview of the trucks the models we reviewed were compatible with.
| Tent | Trucks |
| --- | --- |
| Kodiak Canvas Truck Bed Tent | Toyota Tacoma, Nissan Frontier, Chevy Colorado, Dodge Dakota and Ford Ranger |
| Napier Outdoor Sportz 2 Person Truck Bed Tent | Chevy Colorado, Ford Ranger, GMC Canyon, Nissan Frontier, Toyota Tundra, Toyota Tacoma |
| Sportz Avalanche Truck 2 Person Tent III | Chevrolet Avalanche and Cadillac Escalade |
| Rightline Gear Full Size 2 Person Truck Bed Tent | Chevy Silverado, Dodge Ram, Ford F-Series, GMC Sierra, Nissan Titan and Toyota Tundra |
If none of these tents fit in your truck, check out the different size options to see if other tents fit your truck's size bed.
Are these top tents good for family camping in a truck?
Unfortunately, truck tents don't make good family camping tents. All of the truck tents we reviewed had a two person capacity. They are too small for family camping.
However, they would be an excellent choice if you needed a sheltered area to store gear. They are roomy enough that you can leave plenty of gear in the truck tent, where it will keep dry.
These tents don't offer enough additional storage space for the quantity of gear that family camping requires. We'd recommend looking for a standard tent with a larger gear capacity for family tents.
Top tent for Couples in a truck
Winner: Rightline Gear Full Sized Truck Tent
A road trip can be a wonderful thing for couples, especially one where you end up camping out under the stars. The Rightline tent makes this possible by providing a mesh ceiling, giving you an almost unobstructed sky view and this is a distinctive feature in these reviews.
Plus, lacking a floor means you'll have to cuddle up under a ton of blankets, which just adds to the overall mood. It's a great tent for two people to use on a romantic trip.
Top tent for festivals
Winner: Napier Sportz 2-Person Truck Tent
If you're looking for a portable party pad, truck tents can be a good option for festival camping. The easy cab access in the Napier Sportz 2-Person Truck Tent makes it an ideal choice for festivals.
You can use the cab access to charge devices like phones or cameras overnight in preparation for the next day. You don't need to worry about running out of juice thanks to the cab access.
Related: Napier produce a number of excellent tents for different vehicles. If you've got a minivan, check out our review of the best minivan tent for camping.
Which tent is easiest to setup?
Truck tents are often more difficult to setup than regular tents. In fact, most of these tents come with a difficult setup.
Can a truck bed tent be set up by one person?
Winner: Rightline Gear Full Size Truck Tent
At the end of a long day of driving, you don't want to deal with a long, difficult setup. Unfortunately, installation is difficult for most of these truck tents.
The Rightline tent is the only tent that's set up isn't a challenge. Users report that set up takes about 30 minutes the first time and isn't confusing, but as time goes on, they got it down to seven minutes. You won't find much better set up than that with most truck tents; they're not exactly instant pop-up cabin tents.
The color-coded pole and sleeve system helps speed up the simple set up process for this type of tent.
Will any of these top truck bed tents scratch your truck?
If used incorrectly or if you use the wrong size, then yes, truck bed tents can damage your truck. The rest of the time, you can put them up and take them down without damaging your truck.
Be careful with the tent clips and avoid scratching your paint job, and you should have no issues.
Related: If you've got an SUV or CUV, check out our guide to the best SUV tents.
Are these truck bed tents easy to store in a truck?
These truck tents are all small enough to be easily stored and packed into the truck for car camping trips. They'd be too heavy and bulky to be backpacking tents – but we've got to wonder why you're taking a truck tent backpacking…
These truck tents are easily packed into the truck for your trip and can be securely stored out of way when you aren't using the tents.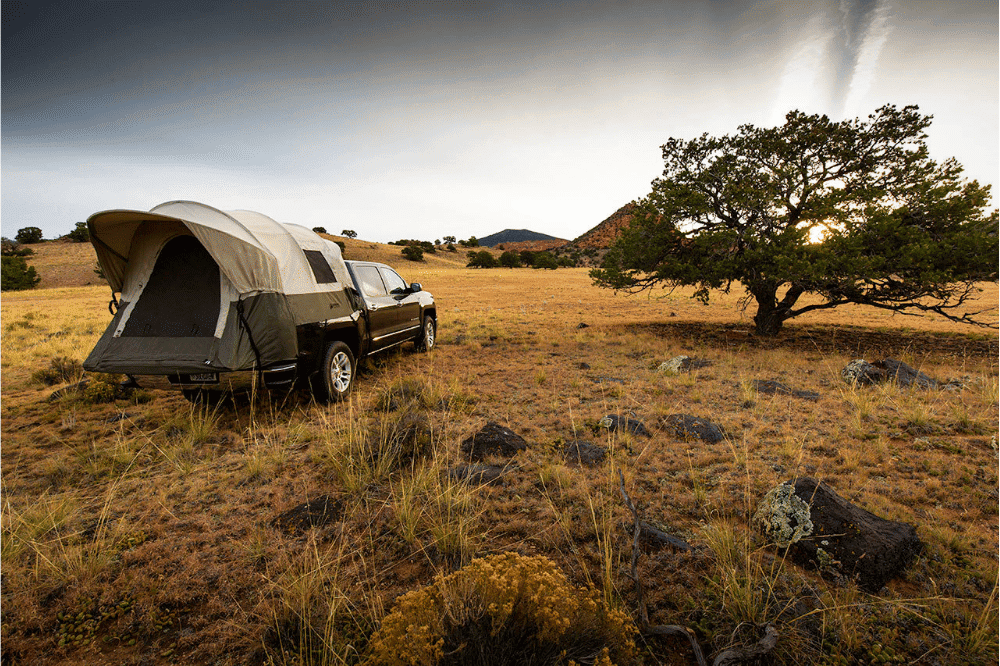 Which tent performs best in bad weather?
The best tent for Waterproofing and protection Against rain
Winner: Kodiak Canvas Truck Bed Tent
All of these tents should keep you dry in light rain. However, in bad weather conditions, you will need something a little more durable.
That's why we've gone for the Kodiak Canvas Truck Bed Tent. We'll save you some time here as well and say you can expect that tent to pop up a LOT in this section.
These Kodiak tents are made using high-quality materials which is extremely durable and has awesome weatherproofing features. Kodiak Canvas tents come with their premium Hydra-Shield technology. They claim you should be able to stay completely dry inside these tents, even through a downpour in rainy weather.
However, canvas tents first needs to be soaked to allow the fabric to expand and fill the needle holes made when manufacturing the tents. Pitch these tents in your backyard and spray it with a hose, then leave them to dry. Your fabric should now be ready to keep you dry.
Over the lifetime of these tents, waterproofing can weaken. Kodiak recommends getting silicone-based waterproofing spray like the Kiwi Camp Dry to treat any affected leaky areas on the tent.
King of condensation: Which truck bed tent is the best for keeping you dry?
Winner: Sportz Avalanche Tent
These truck bed tents come with plenty of ventilation to cycle air through the tents. The mesh windows are great for letting warm, damp air escape and the vents bring in cool air from closer to the ground.
The optimal ventilation is not impacted by the rainfly so you can expect these truck bed tents to stay dry even if it's raining outside.
Which truck bed tent is best for standing up in strong winds?
Winner: Napier Sportz 2-Person Tent
The sturdy shock-corded fiberglass poles are well reviewed by customers who found that these tents were impressive at dealing with strong winds.
In windy weather and light rain, the Napier tent will be fine. However, in heavy rains we'd recommend the Kodiak Canvas Truck Bed Tent. The durable canvas of this tent is better at dealing with harsh weather.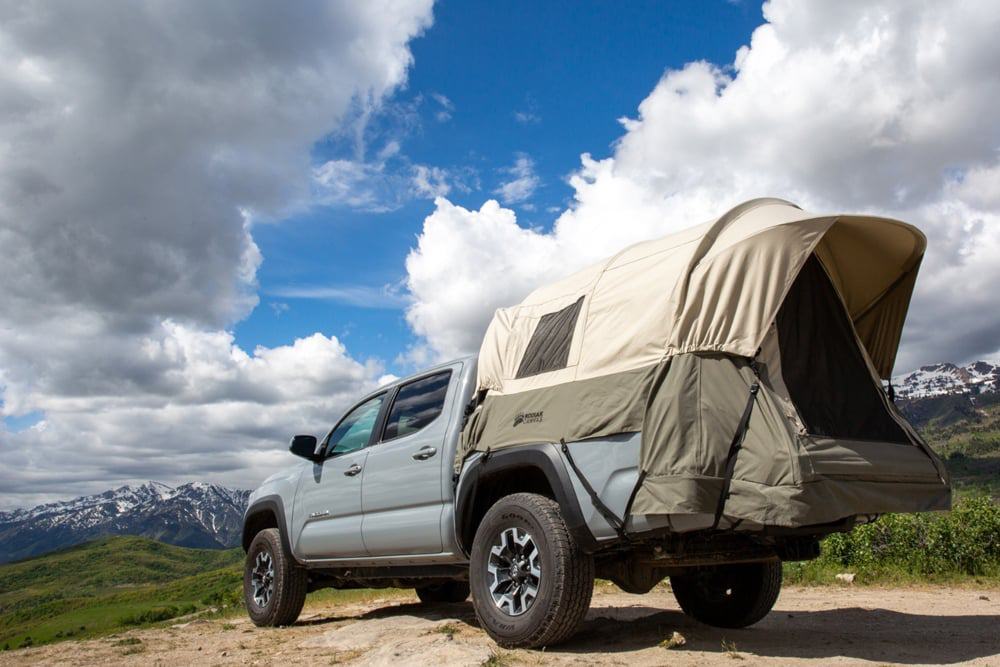 Which truck tent is best for keeping cool in warm weather?
Winner: Kodiak Canvas Truck Bed Tent
Canvas isn't just a great material for protecting you from the cold and damp. It is also great for summer time as well.
The insulation in canvas materials means that the inside of your tent is protected from the sun and is cooler than synthetic tents. In hot weather, the Kodiak canvas can keep your tent cool inside.
The floorless design of these truck bed tents means that the metal truck bed can get cold as temperatures chill. Consider getting insulating truck bed air mattresses that offers extra protection for winter camping.
Which tent is best for winter camping in a truck?
Winner: Kodiak Canvas Truck Bed Tent
This tent is great for winter for the same reasons that canvas materials are great for summer. The insulation helps to keep the inside of the tent warmer as the temperature outside starts to drop.
The cold weather doesn't stop you from camping in this quality tent.
The best truck bed tents for durability
Winner: Kodiak Canvas Truck Bed Tent
If you want a tent that will last for years, there's only one tent you should consider. If you want to go far, go with a canvas tent! It will outlast the other truck bed tents and give you a long enough lifetime to justify the higher initial cost.
Canvas materials are sturdy, and the poles are heavy-duty, so long as you stay out of storm-level winds.
Frequently Asked Questions
Is it worth it to get a tent for the truck?
Bed tents are worth it if you want the freedom of sleeping anywhere, anytime you need to. The bed tents are also worth their weight in gold for long road trips, multi-day hunting trips, or for people who dislike sleeping so close to the ground.
Can campers Drive With a Tent on the truck? 
Even the best tent isn't designed to withstand high speeds or the winds generated by driving. You must always take down your tent before you hit the open road again. 
However, if you're sleeping in a parking lot or at a campsite and need to readjust, then it's safe to drive with your tent still assembled.
Can a Tent for a truck Be Used on the Ground? 
In theory, you can use a truck bed tent on the ground, but you can't keep it standing. The slightest wind will knock it down since you can't stake it like camping tents. The only way a truck bed tent will stay standing is if you use the system designed for clipping it into the truck.
Some truck bed tents come with a ground extension, though, so you can use the truck bed area as storage and sleep on the ground instead.
Is There Any Way to Make a Tent for a truck More Comfortable for Sleeping? Gear tips for cosy campers
Here are some tips to add comfort to truck beds:
Use thick blankets under and over you.
Consider using a sleeping pad.
Use real pillows, fluffy and comfortable.
Clean your truck bed thoroughly before camping—small pebbles and other debris can go unnoticed until you lie on them.
Can you use a truck tent with any type of truck? Key installation requirements
Some, but not all truck bed tents are universal. You should always measure your truck bed before purchasing these tents and heading to camp to ensure that you get the correct fit. Even if these tents claim to use universal sizing, take measurements and match them up.
There are also truck bed tents that specify what truck models they work with so pay attention to that too. Alongside that, never assume that tents that fit a previous version of your truck's model will fit yours. That'll lead to wasted time and money.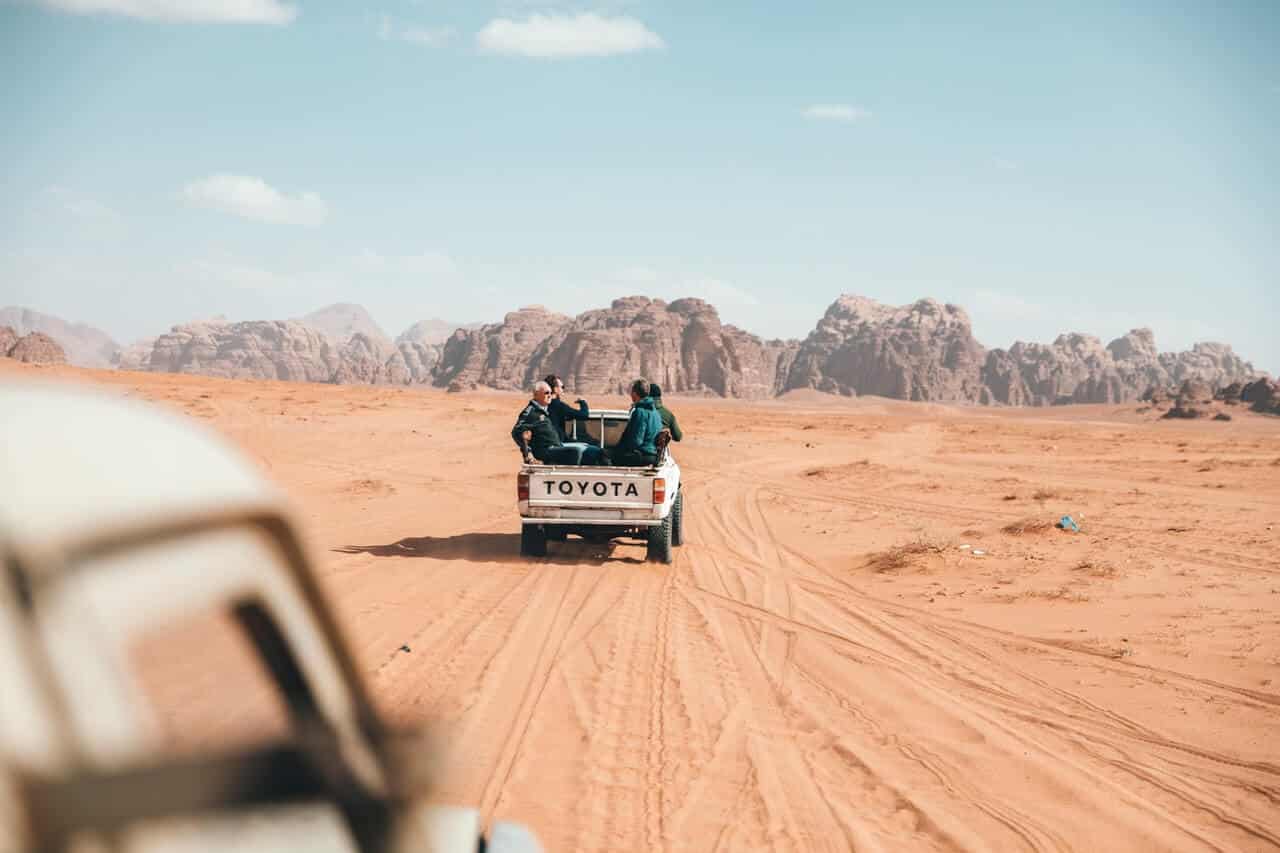 Unfortunately, you can't use regular tents as a truck bed tent. Sorry to disappoint anyone who got this far hoping they could just use their dome tent in the back of the truck.
Are There Extra Features for the truck?
The best truck tents are different from standard tents with additional key features that distinctive to their designs.
A great feature of the Avalanche tent is a lantern hook so you can light up the place from the center of the tent. You also have access to your cargo lights if you want to get daylight that way.
Lighting is vital if you want to leave your outdoor spot in the early morning—you need to be able to see to get yourself ready for the day.
We also really liked the cab access window feature of the Napier Sportz Truck Tent. This feature lets you bring electricity into your tent for charging devices or powering lights.
Putting It to Rest: Best Tent for a truck
The best pickup truck tent is the Kodiak Canvas Truck Bed Tent. The Kodiak canvas truck bed tent is a sturdy tent that could last you years of trips in all seasons without you getting wet or blown down.
It's particularly great for hunters who want to get game year-round or couples who wish to go on an outdoor winter road trip and avoid unpleasant motels. The Kodiak canvas truck bed tent is an all-rounder best truck bed tent that just can't be beaten.
Next up: Canvas? Polyester? Nylon? Polycotton? Are all these tent fabrics confusing? Find out what the best tent material for camping is.