On a relaxing camping trip, the last thing you want to do is crawl around your tent. Or worse, have to stoop just enough to give you neck and knee cramps.
Tents aren't often tall-person friendly. Some come with a decent 6-foot peak height but are a few inches shorter everywhere else. You usually have to go large to get the best tall tent with 6'6 and beyond all over—so, let's explore the best tents for tall people today and see what we can come up with for you.
The best tents for tall people are:
Our recommended tall tent
Don't have time to read our whole review just now? That's fine – our overall pick is the Eureka! Copper Canyon. It's a cabin tent which is big enough to keep everyone under seven foot comfortable.
But which tent is the best value for money?
If you want something that's high-quality but you won't have to ransack your savings to buy, the Coleman Instant Cabin Tent is a brilliant budget camping tent with enough height to keep tall campers in your crew happy.
Product Comparisons
Best Backpacking Tent
For a small tent perfect for solo tall backpackers, the MSR Hubba Hubba works a treat.
Capacity: 2 | Weight: 3.5lbs | Dimensions: 5' (W) x 5' (L) x 3'3" (H) | Bag Dimensions: 18" x 16" | Doors: 1 | Power Cord Vent: No | Hydrostatic Head Rating: 3000 mm | Price: $$
Pros
Quite durable.
Watertight.
Lots of room for solo backpackers to stretch out.
Cons
Seams fail after about several years.
The MSR is a quaint 2-person tent that'd suit one backpacker, or a couple. It has a decent ceiling height for getting around on your knees without your head hitting the ceiling. It's one of those tents for tall people who'll be sitting down a lot.
The peak height is stretched out and the angle of the tent walls are only slightly slanted for optimal space.
It's quite a simple tent, but highly effective. It's fit for use in 3-seasons and has a sturdy rainfly that keeps out moisture well. No need to give up your backpacking trips in the fall or drizzly spring as it can handle harsh weather conditions.
The Xtreme Shield Waterproof Coating lasts three times longer than standard coatings. It's ultra durable to give you the best continued performance this tent can offer.
Yeah its a good tent. Nice to pack, easy to set up. It's important to have the middle cross-bar running in the right orientation, as otherwise it can overstretch the fly, but ours has held up well.

Tent review
However, about three years in, customers start noticing issues with the seams, so you may want to have them reinforced coming up to the third anniversary of your purchase. Otherwise, you may be in for a shower like one camper was.
One way to maintain longevity is to ensure you have it set up correctly and don't overstretch the rainfly, or you'll be putting unnecessary pressure on the seams and may contribute to their downfall.
---
Best Cabin Tent
Tall and camping with friends? This cabin tent has enough ceiling height and floor space for everyone.
Capacity: 12 | Weight: 40lbs | Dimensions: 14' (W) x 12' (L) x 7' (H) | Bag Dimensions: 11" x 29" | Doors: 1 | Power Cord Vent: Yes | Hydrostatic Head Rating: N/A | Price: $$
Pros
Two separate rooms.
Incredible ceiling height.
Airy feel.
Handy mesh pockets for personal belongings
Cons
Windows aren't the most air and watertight.
If you're camping with a group of friends, here's a 12 person tent you may like better. It's a solid choice for casual weekend trips. It's another 3-season tent, although the windows have a flaw. They're a little loose, and they're only attached with velcro.
Doesn't bother you? Then you should have no issues with this tent. The enormous ceiling height ensures anyone short of a basketball player can walk around day and night with ease—it'll fit even the tallest of your friends for a fun tall camping trip.
With the rain fly off, the mesh roof provides brilliant ventilation to keep this tent cool.
Its excellent height adds to the wonderful livability factor. You can utilize one room for sleep and another for daily activities. On the other hand, you can sleep two couples separately or at least minimize the number of people next to you at night.
The floor is roomy too, so you'll be able to stretch out when lying down, so long as your air mattress or sleeping bag can accommodate your impressive stature.
The Eureka also ranks first in our roundup of best large tents.
---
Most Durable
If you're in it for the long hall, you can't go wrong with a canvas tent.
Capacity: 4 | Weight: 81lbs | Dimensions: 10' (W) x 10' (L) x 6"5' (H) | Bag Dimensions: 45" x 12" x 12" | Doors: 2 | Power Cord Vent: No | Hydrostatic Head Rating: N/A | Price: $$
Pros
Insanely durable.
Two stove jacks.
Excellent height around the center.
If you're an avid camper in it for the long haul looking for tents for tall people, consider this 4 person tent. It's canvas, so it'll withstand years of wind and rain without a problem. The heavy-duty steel stakes and poles add to this outstanding durability.
Canvas tents have more than just their longevity as a benefit, though. They're all incredibly tall, mainly peaking at the center, but the rest of the capacity isn't bad either. As this tent has a 10-foot diameter, you have ample space to move around away from the slanting walls.
Thanks to its spacious nature, it's a great tent for liveability and intimate friend groups—perhaps siblings. It'd also suit a couple wanting a weekend away in any season.
As there are two stove jackets, you can easily camp in the snow and not be cold.
So, all in all, a pretty great all-season tent loved by tall campers. The only issue is its lack of ventilation when the doors and windows are shut.
---
Best Screen Room
For couples looking for a place to hang out in nature without being attacked by bugs, this is the way to go.
Capacity: 8 | Weight: 27.3lbs | Dimensions: 16' (W) x 11' (L) x 6'6" (H) | Bag Dimensions: 14" x 14" | Doors: 1 | Power Cord Vent: No | Hydrostatic Head Rating: N/A | Price: $
Pros
Large screen room.
Lost of usable space.
Highly affordable.
Cons
Leaks a little.
Weak stakes.
For couples and young families, you may like a tent where you can:
Hang out in nature without getting dirty.
Sit in comfort, free of bugs and watch your kids.
Consider this tent in your list of tall tents, as it has a screen room where you can do both of those things. The screen room comfortably seats two, though it's not the best for standing room. The arched ceiling in the sleeping area is far better for that.
The sleeping area fits two queen size mattresses, so you have plenty of room to stand up or lay down.
It's a fantastic tent for testing the camping waters, as it's inexpensive enough to not be a waste if things don't go well. Despite its price, customers find its sets up and holds up well.
The tent has its shortcomings, though—it's not the best in rain, and the stakes aren't the sturdiest. Consider replacing them before your first trip.
---
Best Budget Option
If you're exhausted and not willing to break the bank, a budget pop-up tent works wonders and is far better than its price would have you suspect.
Capacity: 4 | Weight: 18lbs | Dimensions: 8' (W) x 7' (L) x 4'11" (H) | Bag Dimensions: Unspecified | Doors: 1 | Power Cord Vent: No | Hydrostatic Head Rating: N/A | Price: $
Pros
Double thickness weatherproof material.
Great price tag.
Roomy.
Affordable tent with handy features
Cons
May leak in heavy rain.
Not as easy to take down as it is to set up.
Are you a backpacker exhausted after a long day? You need a tent that pops up instantly.
The Coleman 4 person instant cabin tent pops up in about a minute. Once it's assembled, you can dive in with your gear and have plenty of space.
You have tons of room to stretch out inside this pick in our tents for tall people, and plenty overhead as you scoot around on your knees. It accommodates tall campers, but not when standing upright. Sitting is fair game, though.
It fits a queen size air bed too, but that'll add too much time to its assembly. Those things take forever to blow up, and a pump adds unnecessary weight to your pack.
The tent may leak in heavy rain, which is a downer, but it's a decent tent to buy for the price. If you thought our last pick was affordable, this one is even more so. It's a viable option for the busy camper who doesn't want to spend a shedload on a tent.
---
Which tent is biggest?
Winner: Eureka Copper Canyon
Max height is vital in a tent for tall people, and the Eureka Copper Canyon wins hands down. Its height is mostly uniform and not just at a peak, so you can walk around with ease.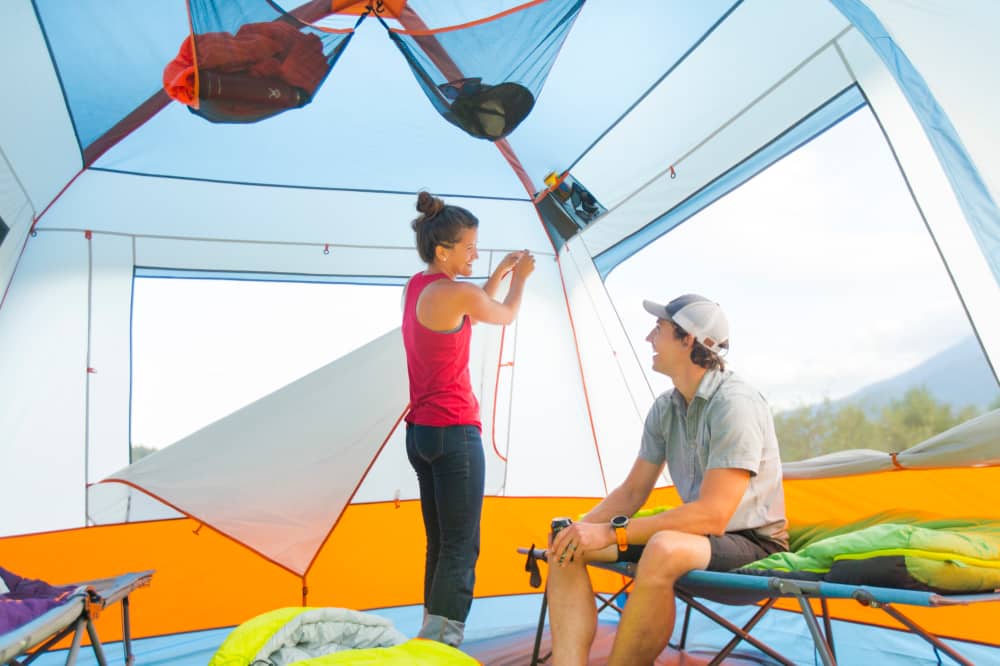 What Makes a Tent Good for Tall Campers?
An even ceiling height makes a tent excellent for tall campers.
Many tents have a peak or a center height, meaning their maximum height is only at the center.
Another aspect that makes a tent good for a tall person is a lack of poles or hanging elements on the ceiling. That way, there's nothing to bang your head on when moving around the extra living space this tent provides.
This is why the Eureka! is excellent for tall campers, it doesn't slope towards the end and make you crouch down.
What Style of Tent Is Best for Tall Campers?
Cabin tents are the best tall tent for tall campers. They generally have that even ceiling height and vertical walls, letting tall campers maximize the space.
Dome tents can work as tall tents, but you usually have to go above and beyond to find one with a tolerable level all around. For example, a group of three tall campers may need a 12 person size tent to all stand comfortably under most of its ceiling.
Which tent is most comfortable?
The Wenzel Klondike is the most comfortable tent that we looked at. With the screen room at the front, you can sit and watch the world go by without being eaten alive by bugs.
The divider then separates the main room of the tent which can be used as a private bedroom.
Which tent has the best storage Space options?
The MSR Hubba Hubba is the smallest tent we reviewed, so it's great that there's plenty of storage options to make it feel bigger.
The two vestibules are particularly great for storing your gear. You can use one side as a door to get in and out of your tent and the other side for storing your equipment.
The Eureka Copper Canyon comes with storage pockets and a gear loft. The gear loft is handy for storing things out of reach of little ones.
Which tent is best for you?
Best tent for your group size
If you just need a tent for yourself, the MSR Hubba Hubba is a fantastic option. Even if you're planning to go car camping, the size of the tent means that you'll still be relatively comfortable.
Couples or small groups would be best to go for the Wenzel Klondike for a spacious and comfortable trip. The Coleman Instant Cabin would also be a good size.
For larger groups, the DANCHEL Bell Tent's shape might mean you have to get creative with fitting everyone in but it should be fairly comfortable once you do.
The Eureka! has plenty of space for keeping up to 12 campers safe and sheltered overnight, so it's ideal for those trips when EVERYONE is coming.
Family camping: which tent is best?
If you and the kids are fed up with crouching down in your tent and are looking to upgrade, the Eureka! is our pick of the bunch.
The removable room divider means you can create some private space in the tent if you've got older kids, but you can leave the tent open and light if everyone is going to be sleeping together.
Which Tent Would Be Best for a Group of Friends?
A group of friends need a few key features in a tent. One is the tall element, of course. The other two are livability and privacy. You want a place to hang out by day but sleep alone at night.
Based on these aspects, the best tent for a group of friends is the Eureka Copper Canyon.
For a bit more privacy, you can look at my list of the best three room tents.
Best tent for taking to a festival
If you're planning to tour the festivals in summer, the best tent we recommend taking is the Coleman Instant Cabin.
It has a super easy design which makes set up a dream, giving you more time for hanging out and relaxing.
The Dark Room technology is also great for the delicate mornings after nights that rage until the early hours. It blocks sunlight, letting you get a longer lie-in undisturbed by the light of day.
Plus the excellent ventilation keeps this tent cool throughout the day as well.
Which tall tent is easiest to set up?
Winner: Coleman Instant Cabin Tent
When it comes to easy setup, you can't do much better than an instant cabin tent.
It only takes about a minute to assemble the 4 person tent, and will take less if you're backpacking with a partner. All in all, you can't really go wrong with an instant cabin.
Can one camper do it?
Setting up a tent is always easier with someone to help you. The MSR Hubba Hubba and Coleman Instant Cabin both have intuitive designs and can be set up by one person.
The MSR comes with 1 Easton Syclone pole which is made from a composite material rather than the usual aluminum poles Easton produce. This one pole setup might be confusing for new campers but after a couple of attempts you'll be a pro in no time.
The DANCHEL, Wenzel and Eureka! are all slightly more tricky to set up by yourself so make sure you have a pair of helping hands for those tents.
Are these tents easy to carry?
Most of these tents are too large and heavy to carry any distance, but the MSR Hubba Hubba is an excellent lightweight tent that you can carry over long distances.
The rest of the tents are suitable for car camping.
The best tall tent for bad weather
Keeping you dry: how's the waterproofing?
The large mesh windows in the Eureka!, Wenzel and Coleman tents means that they can sometimes be vulnerable to leaking in the rain.
The best tents for keeping you dry were the MSR Hubba Hubba which comes with a very protective rainfly and the DANCHEL which has tough canvas material to keep the rain out.
Does condensation build up?
The only tent we found to have potential issues with condensation in the rain was the Coleman Instant Cabin Tent. It can get clammy with the rainfly on.
Standing strong in the wind
The MSR Hubba Hubba is the smallest of these tents so is least susceptible to getting caught in high winds. The shape of the DANCHEL Bell Tent also makes it good at dealing with the wind.
Other tents like the Coleman Instant Cabin Tent and the Eureka! Copper Cabin has tall vertical walls which are great for raising the roof but does mean that high winds might be an issue.
Are these tents suitable for three-seasons?
The MSR Hubba Hubba is a tent that will keep you protected in the backcountry from Spring until Fall. It won't handle camping in the snow but it can certainly cope with three-season camping.
The DANCHEL is actually protective enough for winter camping. The canvas material is long-lasting and weatherproof. It provides enough insulation for cold weather camping.
The other tents are more suitable for fair-weather camping. You will be able to take them out in the milder months of Spring and Fall but be cautious about taking them out in harsh conditions.
Which tent has the most durable materials?
Winner: DANCHEL Bell Tent and MSR Hubba Hubba
You won't find anything more durable than a canvas tent, so the Danchel is the clear winner. You can alter it, fix it easily when it tears, and expect it to last for a decade or more.
However, if you want something smaller, lighter and more traditional, then the Hubba Hubba is the strongest contender there. The high-quality material in the versatile design gives this tent a long lifetime.
The Hubba Hubba is one of the most durable tents of the bunch, although those seams will be your biggest problem. If you address the issue early and reinforce them in time, you should have no issues.
The Hubba Hubba slots into the category of ultralight tents for tall people too, so it's light as well as strong.
Frequently Asked Questions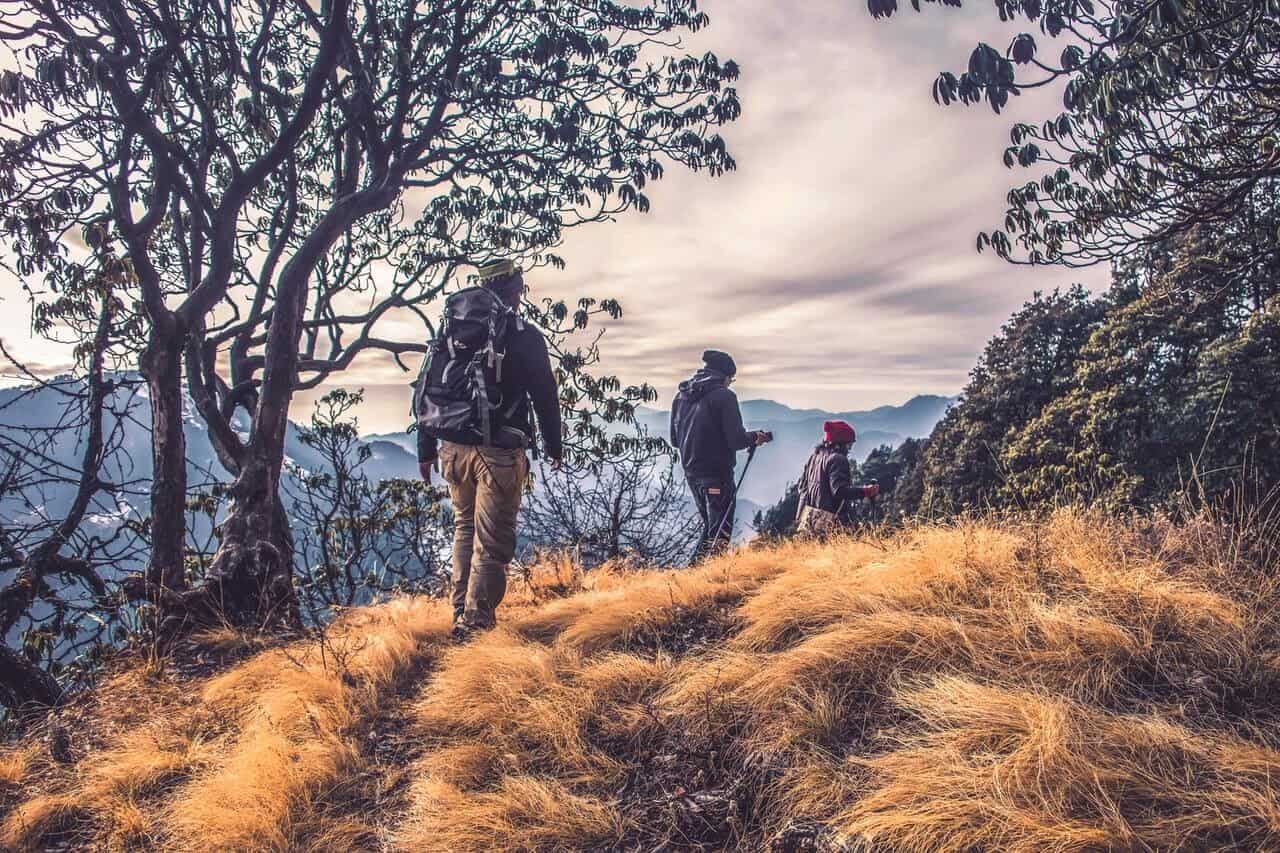 How to Get the Most Space From a Tall Tent
With cabin tents, it's easy enough to get the most space out of your tall tent. Keep the camping gear in one spot, pile it if you have to, and take advantage of the roomy area of the rest of the tent.
If you have a dome tent, it's more or less the same but you need to be more strategic about it.
Since dome tents have slanted sides, you can't pile gear as high. It'd be best to lay your gear out around the tent's parameters, the places you can't stand due to the sloped walls. Pile what you can while doing this, too.
You want to make the most of the tallest parts of the tent, so it'd be a shame to waste them by cluttering them up with your gear.
Can you fit an air mattress inside these tents?
The only tent you will struggle to fit queen mattresses in is the MSR Hubba Hubba.
Can you take these tents backpacking?
The MSR Hubba Hubba is a great backpacking tent but it's the only viable option you can take backpacking that we included on this list.
The other tents are too heavy and awkward to carry for backpacking.
The Best Tents for Tall People
The best tent for tall people has to be the MSR Hubba Hubba 2-person tent. It's not the tallest of the group, but it has plenty of headroom for sitting down, and it's perfect for backpackers who need ultralight tents for tall people. It's also a true 3 season tent so you can camp in all weathers.
When camping in a group, you won't do much better than the Eureka Copper Canyon for height. It's monstrous height will be a strain on shorter people setting it up, but for you it's easy, and the livability is wonderful.