When you're camping in the summer, you'll need a tent that keeps you both cool and dry. But how do you find a tent for hot weather camping that's durable and offers good value for its price?
We looked through dozens of models to help you find the best tent for hot weather and summer, in every size, to make sure you stay cool on your trip. Our editor's choice is the breathable Kodiak Flex-Bow, while the next best choice is the CORE 9-Person Instant Cabin Tent.
If you're in a hurry, the best tents for hot weather are:
Kodiak Flex-Bow 4/6/8 Person Tent – Best Overall Tent for Hot Weather
CORE 9 Person Instant Cabin Tent – Best summer tent for families
Wenzel Klondike 8 Person Tent – Best tent with a screen room
Scroll right to view all products >
| | | | | |
| --- | --- | --- | --- | --- |
| | Best Overall | Best for Families | Best Screen Room | Easiest Set Up |
| | | | | |
| Ranking | 1st | 2nd | 3rd | 4th |
| Rating /5 | | | | |
| Review | A top-quality canvas tent that blocks sun, sand and wind and lasts for years. The price is high, but the tent is usable year-round in all different types of weather. | A spacious tent comes with a mesh ceiling for stargazing from inside the tent. It also has terrific ventilation and a room divider that splits the tent in two. | This tent comes with a screen room at the front that gives you a nice, ventilated area to sit around at night, protected from bugs. | Impossible to find now, unfortunately. This pop-up camping tent with a 2-second setup comes with Black and Fresh dark room technology that keeps your tent dark and cool. |
| | | | | |
Quick hot weather tent recommendation
The tent that impressed us the most was the Kodiak Flex-Bow. It's a durable and protective tent that will keep you and your gang sheltered, no matter the weather. It's great for hot summer days and cold winter nights.
It's rare to find a versatile tent like this and easily wins the award of best tent for hot weather.
What about campers on a tight budget?
If you haven't got the cash to splash on the Kodiak Flex-Bow, the CORE 9-Person Instant Cabin Tent is an excellent alternative that keeps cool throughout summer. If you need something for year-round use though, this tent isn't very protective in much else.
If you have the money but aren't sure if the Kodiak is worth it, we definitely think it is. If you can fork out the extra few hundred now, it's definitely worth it because in four or five years, you're probably going to be looking to buy a new tent to upgrade or replace your old one.
That's not going to happen with a long-lasting canvas tent. With the Kodiak, you're making an investment for the future.
Reviews of the Best Tents for Hot Weather and summer
Best Overall
A top-quality canvas tent that blocks sun, sand and wind and lasts for years. The price is high, but the tent is usable year-round in all different types of weather.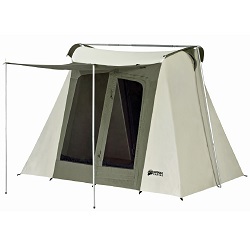 Pros
Doors on both sides for proper ventilation.
Large door awning.
High ceiling.
Waterproof, durable canvas.
This canvas tent is durable and can handle 4-season use. It's heavy, so you likely won't be carrying it around in your backpack, but it will last you for years across all climates.
It's made from canvas, a waterproof but breathable tent material. It protects you from the snow and the sun and sand, so this is definitely a good option for camping in hot weather. The thick poles are made from steel, making them much more durable than standard fiberglass or aluminum poles.
When it's too warm to sit inside, the large door awning protects you from the blazing sun. And if the wind gets too strong, a quality canvas tent like this one is ideal for keeping the sand out.
The doors and windows have no-see mesh, which means you'll maintain some privacy when you're camping closer to civilization.
---
Best For Families
A spacious tent comes with a mesh ceiling for stargazing from inside the tent. It also has terrific ventilation and a room divider that splits the tent in two.
Pros
Spacious interior with vertical walls and tall ceiling.
Preattached poles for instant design.
Mesh roof and large windows provide plenty of ventilation.
Room divider at the center.
Cons
Not the best waterproofing.
Gets chilly with wind and cool weather.
This summer tent is large enough for up to nine people to sleep in. It's comfortable for a family or a group of friends, and the tall ceilings and mesh windows keep it ventilated through the warm night.
For weather protection, it comes with a partial rainfly that covers the roof, but it doesn't go all the way down to cover the windows. This means that in a storm, when rain is coming down from all sides, you might get some water in.
With the mesh ceiling and the rainfly off, campers can lie back and gaze up through the mesh roof at the stars from the comfort of their tent.
What customers love about this hot weather cabin tent is that it's really spacious and comfortable. There's also a room divider so you can have privacy, which can come in useful with friends or when your kids are a little older.
This cabin tent is ideal if you can find a shaded spot for your tent, for example, under a tree. If you're at a festival or in the desert, you'll wake up with the first rays of sunshine. It also won't block sand or wind and can get chilly in bad weather.
---
Best Screen Room
This tent comes with a screen room at the front that gives you a nice, ventilated area to sit during hot nights, protected from bugs.
Pros
Covered screen room.
Big sleeping area.
Large windows for ample ventilation.
Affordable price.
Cons
Doesn't provide sun cover.
Not great for waterproofing.
The Wenzel Klondike is a roomy budget hot weather tent that can fit up to eight people, but it's best for families and smaller groups of friends. You can fit up to five people in the main area and three more in the screen room.
It has a spacious screen room at the front, which gives you some cover from the sun. You can use it for eating or just enjoying nature while not sitting in the scorching sunshine. It's also great for enjoying those long summer nights with a light on while protecting yourself from bugs.
The setup isn't the easiest on your first try, but once you've figured it out it's not too time-consuming. It's definitely possible to set this tent up on your own, but it can be tough to get the fabric taut.
This tent comes with a rainfly, but this can make it pretty heated to be in during the day. If you can keep the rainfly off, you'll be able to enjoy the excellent ventilation from the mesh roof and large windows.
---
Easiest Set Up
This pop-up camping tent with a 2-second setup comes with Black and Fresh dark room technology that keeps your tent dark and cool.
Pros
2-second setup.
Completely dark interiors.
Affordable price.
Great waterproofing.
Cons
Narrow and low.
The dark outer layer isn't durable.
Update: This pop up tent is now impossible to find, so we can no longer recommend it.
This pop-up tent from Quechua is an ideal pick for a festival or short trips to the wilderness. You won't waste any precious time on setup because the tent pops open on its own when you take it out of the bag. It also features fully dark interiors that keep the tent cool, so you can sleep later in the morning.
What customers love about this tent is that despite its high quality and great waterproofing, it's also affordable. Still, a budget tent like this one likely won't last you forever.
Thanks to the waterproofing, this is a fantastic three-season tent for camping in the summer time in case the weather turns.
Some customers have had problems with small holes appearing in the outer layer that let in some light. But otherwise, it's a fairly high-quality tent and ideal for hot weather camping.
Also, note that this tent is pretty narrow, so it might not be comfortable for three people to sleep in for more extended periods. The ceiling height is also low, which can get tiring over time. But for short trips, it's a great purchase.
---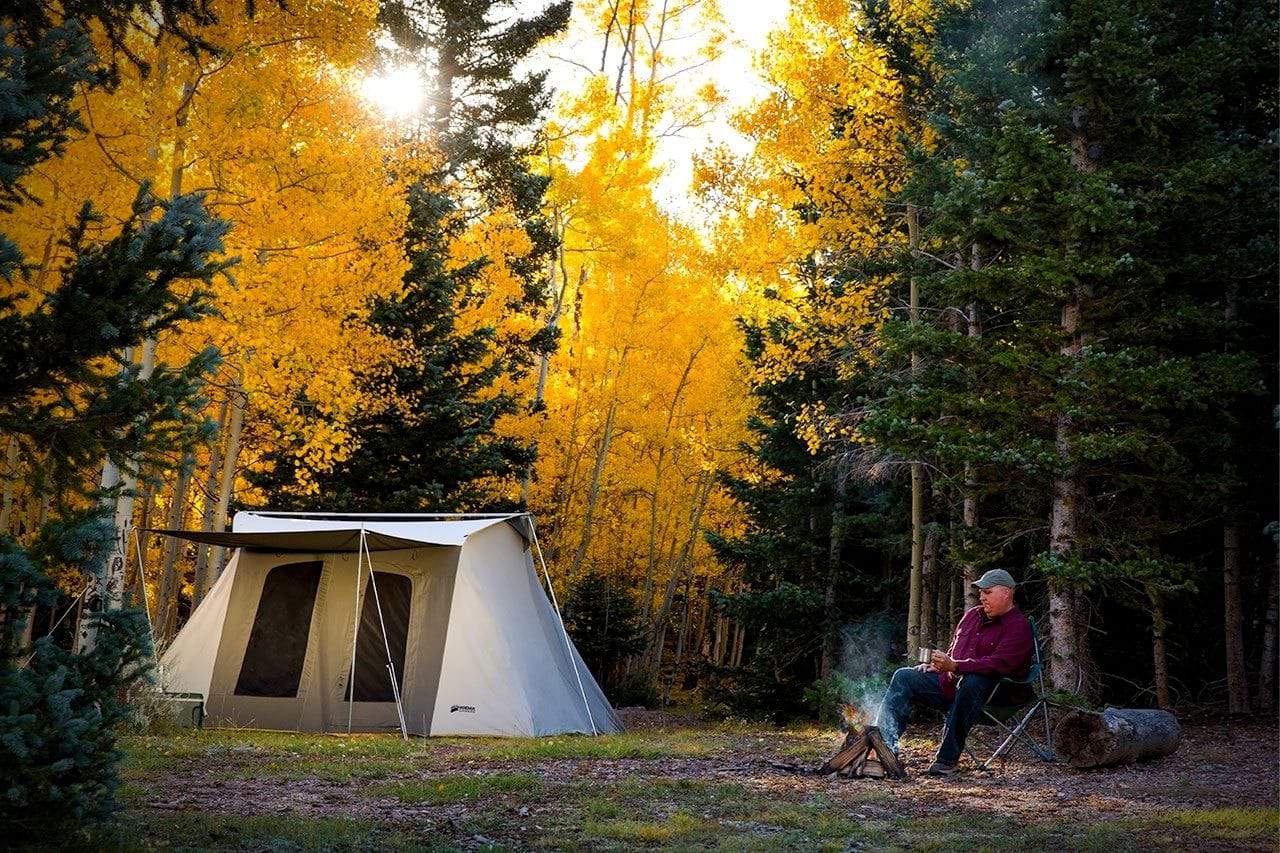 Top hot weather tents by weatherproofing
Best Tent for Summer and Hot Weather
Winner: Kodiak Flex-Bow 4/6/8 Person Tent
We recommend the Kodiak Flex-Bow as the best tent for the summer heat. The canvas keeps the hot weather camping tent cool and dark, and the double doors allow it to ventilate well.
The insulation of the canvas material is great for extreme weather in the heat and cold as well. So you can take this insulated tent out in cold weather as well without shivering all night!
If you're summer camping with a larger group, larger hot weather tents can be better for the heat. You'll simply have more air inside the tent, so it doesn't get sweaty as quickly in the night. If that's your case, check out the CORE model with large mesh windows that allow for amazing ventilation.
Tent Temperature Control: Must-Have Features
The Quechua pop-up model is the best at keeping you cool in the summer thanks to its temperature control features. It has dark interiors and a reflective covering, so it doesn't gather heat like tents that let the sunshine in. And it still comes with a vent which can provide a gentle breeze of air through the tent.
Its white exterior also helps to keep cool, as dark-colored tents will get hotter than lighter ones. All of these features help keep the tent cooler, even in the summer sun.
Tent Waterproofing in wet weather – tropical rains and condensation
Winner: Kodiak Flex-Bow 4/6/8 Person Tent
Even if you're camping in hot summer weather, you might still want a tent with good rain protection in case conditions change. You also want tents with a high levels of breathability to stop tents getting muggy and condensation forming.
Keeping your tent Dry in Monsoons
The Kodiak tent is also your best bet for keeping dry in hot and humid tropical climates and heavy rain. Its canvas body means it is a waterproof tent, and you won't get condensation on the inside walls like with synthetic materials.
Which Tent Will Last Longest in the Heat?
Winner: Kodiak Flex-Bow 4/6/8 Person Tent
The best tent for durability is the Kodiak Flex-Bow. The tent body is made of canvas, and the poles are steel, both amazingly tough and durable materials.
The steel poles will also help these tents stand tall in windy conditions. This is great because we were worried about the tall, vertical walls of the Flex-Bow.
Canvas tents tend to last longer than those made of synthetic polyester and nylon, if you treat it right. The most important thing is never packing the tent when it's damp to prevent mold from forming. And while you may be tempted to pick a camping spot that's in the shade, make sure your tents have some direct sunshine every day.
Tents with synthetic fabrics won't last as long as canvas tents, and the heat and sunshine can damage the material further. If you pick polyester tents, try to keep it in the shade if possible.
Which is the easiest tent to setup in the summer sun?
Can the tent be set up by one person?
Winner: Quechua 2-Second 2/3 Person Pop Up Tent & CORE 9 Person Instant Cabin Tent
We love the Quechua tent's 2-second pop-up setup, so you don't have to work too hard in the summer heat. It's also excellent for beginner campers. If you need more room, the CORE 9-person tent has an instant design that's easy to assemble.
In dry, warm weather, you might notice that the ground gets dry, and it's harder to push the tent stakes through. If the stakes are of poor quality, they can break when you push them too hard.
Most tent stakes are made of steel, but some are tougher than others. If you're expecting extra-dry conditions, check out your stakes before camping and take some good extra ones just in case.
Which summer tent is the quickest to pitch?
Winner: Quechua 2-Second 2/3 Person Pop Up Tent
You just take this summer tent out of the carry bag and it immediately pops in to shape. How much quicker can you get? This top tent says it can be set up in 2 seconds and as long as you're happy with a freestanding tent, that's true.
The CORE tent also comes with a speedy setup, although the size and pre-attached pole design means it isn't as rapid as the Quechua tent.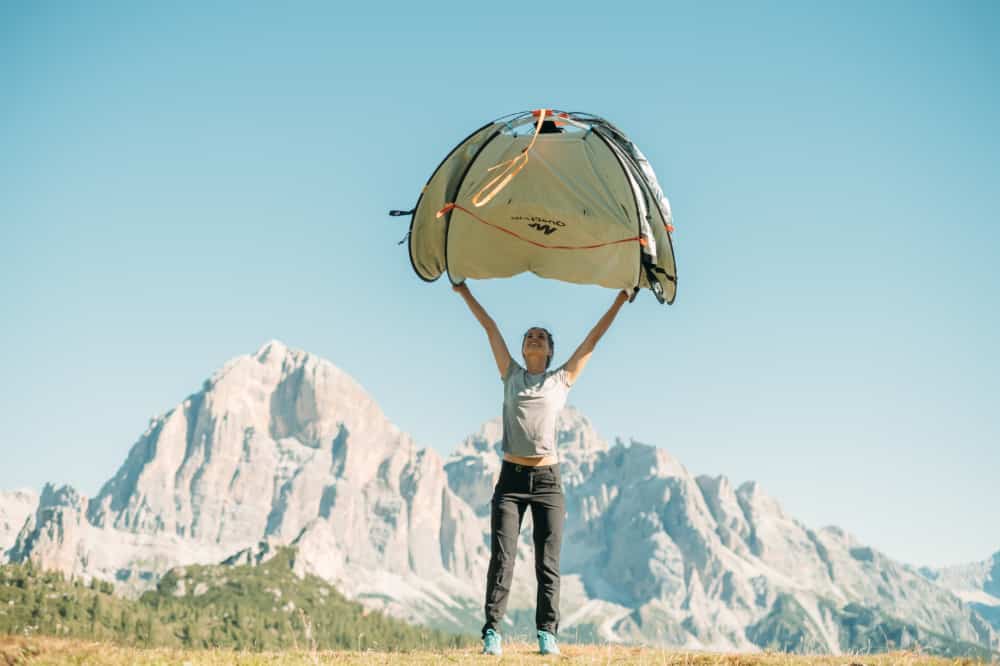 Can you carry these Summer Camping tents easily?
Unfortunately, none of these summer tents are easily carried for backpacking. But these tents are all perfect for casual car summer camping trips.
The Quechua comes in a round bag as most pop-up tents do which can make it easy to slide into the car as your packing but the shape can make actually carrying the tent a bit tricky. It is the most lightweight tent though, so it's the easiest to carry over long distances.
The worst hot weather tent for carrying was the Kodiak, which is by far the heaviest due to the canvas fabric.
Who are these tents good for?
Best family tent for warm weather conditions
Winner: CORE 9 Person Instant Cabin Tent
Our top option for families is the Core Instant Cabin tent because it's so spacious and comes with a room divider. If you're a family with small kids, you can use the extra room to play in the shade, or if you're a family with older kids, it'll give them some privacy.
The Wenzel Klondike is another excellent option for summer family camping that comes with a screen room for playing or storing your equipment.
best tent for hot weather festivals
Winner: Quechua 2-Second 2/3 Person Pop Up Tent
If you're planning a music festival and some warm weather camping, then we recommend taking the Quechua.
It's super quick to setup and although there isn't much extra space inside, we reckon you'll want to spend most of your time OUTSIDE the tent at a festival. Plus, there's the awesome Fresh and Black feature which keeps the interior of the tent cool and dark, even in the summer's sun.
Related: Do you like sleeping in on a sunny summers morning? Check out our review of the best blackout tent.
Best for Keeping Comfortable in your tent
Not every hot weather tent is ideal for every need, so it's important to take your needs into account. These are the best tents for hot weather depending on who you're camping with:
Keep in mind that a tent's maximum capacity isn't the same thing as its comfort capacity. The capacity manufacturers give you is usually tight and can get extremely tiring on long trips.
You'll also need to calculate some space for gear, especially if you're backpacking. Tents with a vestibule or awning and some room dividers will also make it easier to keep everything organized.
Which Tent Is Best for Tall People?
If you're tall, tents with a high center like the Wenzel Klondike tent or the CORE 9-person model might be right for you. They both have straight walls, plenty of headroom and a tall ceiling.
What about storage options in these tents?
Are you bringing a lot of camping gear on your summer camping trip? Fitting some fishing equipment would be a struggle in the Quechua Pop-Up Tent but the rest of these top summer tents are much better in terms of size. They have the storage space for camping gear.
Our favorite summer tent when it came to storage options was the Kodiak Flex-Bow. Not only does it come with excellent organizer pockets for storing personal belongings, but there's also a customizable camping gear loft. Super handy for keeping things out of reach of curious little hands when summer camping with the family!
The internal storage pockets keep these tents organized. You don't need to worry about standing on misplaced sunglasses – just pop them in the mesh storage pockets!
Frequently Asked Questions
How To Pitch a Tent in the heat of the summer season
The best thing you can do is to practice beforehand so you'll be able to set up the tents as fast as possible. Lay the tents on the ground and, depending on the model, attach or extend the poles. Then, secure the tents to the ground.
When Is hot weather camping Too Hot?
When temperatures are over 90 to 95 degrees Fahrenheit during the day and over 80 at night, hot weather camping can become uncomfortable. It's also dangerous to spend long periods in such high heat, especially when it's really dry.
What Can You Do To Keep Bugs and Insects out of the tent?
Keep windows without bug mesh closed not to let bugs in, especially if you have a light on at night. Don't keep open food containers or dirty dishes in the sleeping area, and leave them outside the tents if you can. Cook and eat outside the warm weather tent if possible.
How Do You Keep Your Tent Cool?
Try to find a shaded spot for your hot weather tent, but preferably as breezy as possible. Hot weather tents with lots of mesh windows are ideal, and keep the rain fly off if you can. If the heat and sun are intolerable, try a reflective sunshade or tarp during the worst hours.
If you're going car camping and don't mind the extra weight then we've written a guide to the best tents with AC ports. These can help make your tents feel like a home.
Related: Check out our guide on how to cool a tent.
What if the camping tent Gets Cold at Night?
Hot weather tents may feel chilly at night, so keep mesh windows and vents closed, and keep a hot water bottle or disposable heat packs with you when camping. Layer on clothing, and go to bed when you're still warm. This will help you keep the warmth inside your sleeping bag.
Best hot weather tents – the winner
The best tent for hot weather and summer in our review is the Kodiak Flex-Bow. It's pretty impossible to beat the quality of the fabric and poles on this tent. The canvas keeps you cool in the summer and warm in the winter and even helps keep sand and dust out.
The Quechua Pop Up is our second-best hot weather tent because its dark room interiors help you stay cool for longer in the mornings. The CORE 9 Person Instant Cabin Tent is an excellent option for families who need plenty of space, and it comes with excellent ventilation.
And for something completely different, you can check out our reviews of the best tent for desert camping.
Was this post helpful?
Let us know if you liked the post. That's the only way we can improve.