When it comes to portable stoves, Jetboil is a wilderness explorer's best friend. The brand offers lots of great options for liquid fuel stoves for different needs.
Whether you're a car camper who needs a family-friendly solution or a backpacker looking for an ultralight stove, Jetboil has a model that could fit your needs. But what's the best Jetboil stove on the market today?
We looked in-depth at the top Jetboil options and evaluated them on key factors like their weight, how fast they boiled and how fuel-efficient they were. We picked the Jetboil Genesis as our editor's choice, the lightning-fast Jetboil Flash as our second-best choice and the larger Jetboil MiniMo as our third best choice for campers.
These are the best Jetboil stove models on the market.
Scroll right to view all products >
| | | | | | |
| --- | --- | --- | --- | --- | --- |
| | Best for Basecamp | Best for On the Go | Best for Two Backpackers | Best Budget Option | Best for Ultralight Packs |
| | | | | | |
| Ranking | 1st | 2nd | 3rd | 4th | 5th |
| Rating /5 | | | | | |
| Review | A two-burner solution for car campers and families who want all in one package, the Genesis comes with a pot and skillet included. | It's ideal as a backpacking stove for short trips and simple cooking. | The Jetboil Minimo is a lightweight backpacking stove, but big enough for two people. | A great budget option, the Jetboil Zip isn't the most effective, but it's enough for most light backpacking. | An ultralight model that fits into the palm of your hand, the MightyMo is for serious backpackers. |
| | | | | | |
Reviews of the Best Jetboil Backpacking Stoves
Time to boil: 3 minutes 15 seconds per 1L | Weight: 6.2 lbs | Packed size: 8.5" x 10.75" | Stabilizers: No | Price: $$$
Pros
Compact size for a full cooking system.
Two burners for a family.
Pot, lid and pan included.
Attachable windscreen.
This stove system has two burners with temperature controls, so it's easy to control the temperature of your cooking.
What's great about this Jetboil stove is that it includes everything you need for cooking for a group or family. It comes with a 5-liter camping pot with a strainer lid and a 10-inch ceramic-coated non-stick pan. Both are easy to wipe clean after use, but they do dent easily, so you'll need to be careful.
It also has an attachable windscreen that helps you cook in the cold or bad weather without wasting energy. But it's basically a separate plastic screen, and it doesn't offer as much protection from the wind as the other Jetboil models do.
When you're finished, you can slip the burners inside the pot and pack it all conveniently into a compact travel bag. Just note that this stove isn't lightweight, so it adds quite a lot to your backpack weight. But it does include the pot and pan, so you won't need additional equipment.
---
Time to boil: 1 minute 40 seconds per 1L | Weight: 0.82 lbs | Packed size: 4.1" x 4.1" x 7.1" | Stabilizers: Yes | Price: $
Pros
Compact and lightweight.
Fast boil.
Heat indicator.
Stable, comes with a lock-in pot.
Easy one-button ignition.
Cons
Only for boiling water.
No temperature regulation.
The Jetboil Flash is an excellent pot for preparing a cup of coffee on the go or boiling water for simple meals. It comes with push-button ignition, so it's quick and simple to use, and it's easy to pack and carry as a backpacking stove.
The ignition area is protected from wind, and the pot is optimized for the stove. This allows it to boil water in super-speedy 100 seconds, making the Jetboil Flash the fastest Jetboil stove.
It also comes with a built-in heat indicator on the cup, so you'll see when your water's ready. But there's no way to lower the heat to simmer your dishes. The bottom cover for the Jetboil Flash doubles as a bowl or measuring cup, so you'll save some space with it.
The 1-liter cooking cup of the Jetboil Flash comes with Jetboil's FluxRing technology for even heat. It locks into place to prevent moving around, which makes the stove more stable overall.
Just note that it won't work with pots and pans from other brands. You can add other compatible Jetboil accessories, such as a skillet, a pot and a coffee kit, but they're sold separately.
Some customers have had experiences that have melted the plastic parts of the cup. But overall, Jetboil Flash works well, and if you watch it when cooking, you shouldn't have a problem. And it's the ideal quick and small stove for a one-day hike or quick weekend getaway.
---
Boil time: 2 minutes 15 seconds per 1L | Weight: 0.91 lbs | Packed size: 5" x 5" x 5.5" | Stabilizers: Yes | Price: $$
Pros
Lightweight.
Versatile cooking pot.
Metal handle and cozy for more comfort.
Wide pot to eat from directly.
Temperature control.
Cons
Ignition doesn't always work smoothly.
The Jetboil MiniMo is similar to the Jetboil Flash, but a little larger and the cooking pot is more versatile. It's better for longer trips to the wilderness when you need more than just to boil water. The MiniMo is also a bit heavier, but still light enough to use as a backpacking stove, especially if you split the weight between two people.
This model also comes with Jetboil's FluxRing technology for efficiency, and the locking mechanism keeps the pot firmly on the stove while cooking. You can get a rolling boil for the 1-liter pot in just over 2 minutes.
This stove pot also has simmer controls, which makes it easier to cook other dishes. You can use this for anything from ramen noodles or soups to your morning oatmeal.
What customers love is that the pot is not too deep and that it's wide, so it's comfortable to eat from directly. And if you're worried about burning your hands with the pot, it's covered with a fabric cozy and has a metal handle on one side for more comfortable cooking.
As a possible negative, some customers have had bad experiences with the push-button ignition. It can take a couple of tries to get it working, but in general, campers are happy with their purchase.
---
Boil time: 2 minutes 30 seconds per 1L | Weight: 0.75 lbs | Packed size: 4.1" x 4.1" x 6.5" | Stabilizers: Yes | Price: $
Pros
Affordable price.
Versatile and good quality for the price.
Pot with a drink-through lid and pouring spout.
Built-in strainer.
Cons
Not the fastest or most effective.
No temperature regulation.
The Jetboil Zip is our top pick for those campers looking for something low-budget but still small and effective. It has a 0.8-liter pot that's enough to warm up some water for coffee or cook a small batch of pasta, but not much else.
It's not as effective as some other compact models on our list, such as the Flash. But you'll still be able to boil water in 2.5 minutes, which is fast enough for most campers.
As an additional perk, this model comes with an integrated pot. It has a drink-through lid with a spout and a built-in strainer, and you can use the bottom cover as a measuring cup or bowl for serving. This way, you have everything included in the small package.
---
Boil time: 3 minutes per 1L | Weight: 0.2 lbs | Packed size: 2" x 3" | Stabilizers: Yes | Price: $
Pros
Ultralight.
Compact size, fits in your hand.
Low price.
Works with most camping cookware.
Cons
Not the most efficient for heating.
Campers who hike for longer stretches are always looking to shave a few extra ounces and inches from their backpacks. The Jetboil MightyMo is the perfect option for those backpackers. It weighs less than a deck of cards and fits in the palm of your hand, so it's truly at the lower end of the stoves on the market today.
Despite its small size, this stove is still more versatile than many ultralight stoves on the market. It has a heat regulator for cooking, so you can go from a full boil to a light simmer. This means you're not just limited to boiling water.
Just note that because of its small size, this pot offers no protection from the wind. This makes the stove a little less efficient than the options with the FluxRing technology.
On the other hand, the cookware options are more versatile, and you can use any pan or camping pot with this liquid fuel stove. But it's not as stable as the models with the locking pot.
---
Honorable Mentions
These Jetboil stoves didn't make it into our top five, although they did come close. And they're definitely interesting enough to check out if you're not convinced with the other models.
Boil time: 3 minutes 15 seconds per 1L | Weight: 3.5 lbs | Packed size: 9.4" x 3.9" | Stabilizers: No | Price: $$$
Pros
Works with all types of cookware.
Full-sized burner for larger meals.
Precise temperature control.
Jetboil HalfGen has the same design as the Genesis, only half the size. It's ideal for couples and solo campers who like the Genesis design but only want one burner.
This model comes with a 9-inch ceramic-coated pan with a non-stick surface and foldable handle, and it nests together with the stove to save room. If you need to boil water, you'll need to add another pot to the mix, and it'll boil in a little over 3 minutes. It also has an easy and precise temperature control to prevent burning your food.
The HalfGen is great for use on its own for shorter trips. It also has JetLink output, so it's compatible with other Jetboil stoves to complete your base-camp setup. But it is quite pricey for just one burner.
---
Boil time: 2 minutes 15 seconds per 1L | Weight: 0.75 lbs | Packed size: 4.1" x 6.5" | Stabilizers: Yes | Price: $$
Pros
Compact.
Lightweight.
Insulated cozy and handle.
Cons
Only works with FluxRing accessories.
Small pot, ideal for one person.
The MicroMo is a slightly smaller and lighter version of the MiniMo cooking system. It comes with the handy FluxRing technology, so it's fast and efficient, but it's only usable with compatible Jetboil accessories.
It's among the lightest Jetboil stoves that still come with Jetboil's temperature regulation. You can cook on a slow simmer or boil water in little more than 2 minutes.
The cooking cup that comes with the stove has a 0.8-liter capacity and comes with an insulated cozy and handle for easy maneuvering. It's small, though, so it's best for one-person use.
---
Boil time: 4 minutes 15 seconds per 1L | Weight: 1 lbs | Packed size: 5" x 5" x 8.25" | Stabilizers: Yes | Price: $$
Pros
Ideal size for a small group.
Temperature control.
Surprisingly fast.
Cons
Doesn't work with all fuel canisters.
If you like the MiniMo but want to go a little bit bigger, you might like the Jetboil Sumo. It's a little heavier than the other models, but it includes a 1.8-liter pot that's enough to cook for a small group. You have enough capacity to cook up some oatmeal for breakfast for an entire family or a bigger meal for two or three.
This stove also includes Jetboil's FluxRing, which makes cooking efficient, and temperature control. It's not the fastest on the market, but it's still surprisingly speedy, especially for its size, and compared to other brands.
Just note that it's not compatible with all fuel canisters. If you buy fuel that's not Jetboil, make sure it works with your canister stove before heading out into the wilderness.
---
What You Need To Know About Jetboil Stoves
If you don't know what to look for in a camping stove, here are some tips when picking the best model for you.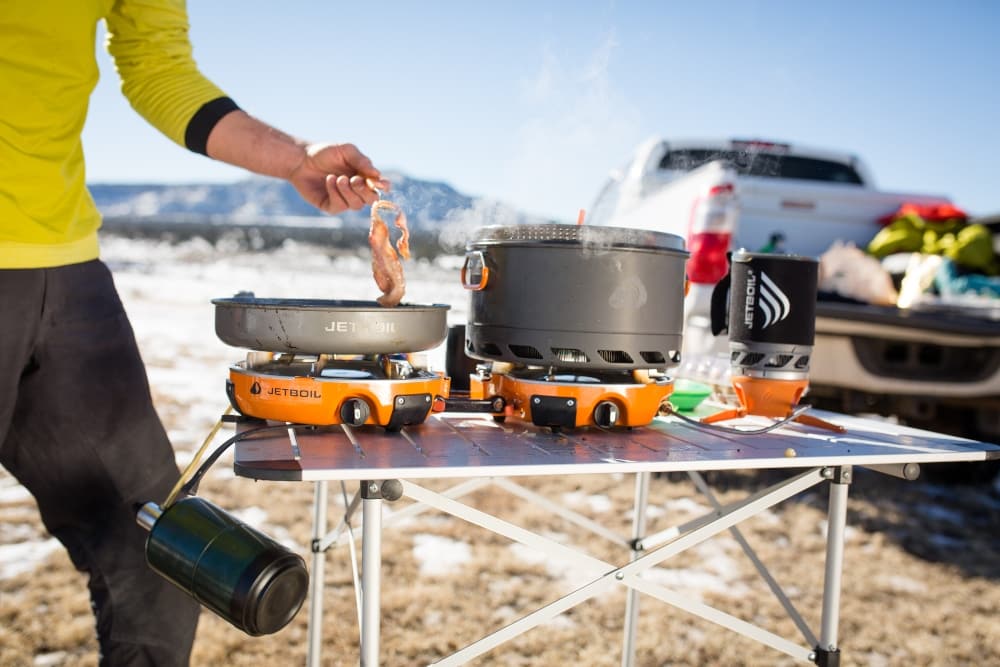 Best Stove for Backpacking and Ultralight Backpacking
Winner: Jetboil MightyMo
If you're going on serious backpacking trips, the Jetboil MightyMo is our best backpacking pick because of its unbeatable packing size and weight. However, it's not the most protective stove for cooking in rough conditions.
The Jetboil backpacking stoves that come with locking pots and Flux Ring technology are the best for cooking in the wild. They protect the flame from the wind, so you don't waste any heat or fuel. They also tend to be faster.
When you're calculating the dimensions of these canister stoves, remember that the fuel occupies a lot of room. Fuel efficiency is key, so you don't have to bring too much with you.
Best Stove for Cooking
Winner: Jetboil Genesis
If you're not too limited on space and weight, we'd recommend the Genesis just for its superior cooking capacity. This cooking system comes with two burners, a pot and a frying pan, so you can cook all types of meals. It's also easy to use, reliable, has great fuel efficiency and the temperature control is precise.
For campers going out with the whole family, these cookware options might not be enough. You can add a compatible skillet or 5-liter cooking pot to make dinners easier to prepare for more people. There's also the option to add a side burner to make things quicker.
Easiest Jetboil Stove To Use
Winner: Jetboil Minimo
Most of these stoves have an easy push-button mechanism for ignition and come with stabilizers for extra support. You can also buy an extra stabilizer to make it easier to use.
The Jetboil Minimo is our top pick because it's easy to ignite and comes with temperature control. It also has a pot that's not too deep and narrow, so it's comfortable to use for eating. This means you'll save room in your backpack because you won't necessarily have to keep an additional bowl with you.
Which Is the Best Budget Jetboil Stove?
Winner: Jetboil Zip
For a budget-friendly option that's easy to use and comes with all you need for a short backpacking trip, we recommend the Zip. It's compact but comes with all the necessary functions for a short trip or even a one-day hike. And it's less expensive than many other models.
Best Jetboil Stoves in the Cold, Wind and Rain
Winner: Jetboil Flash
The best backpacking stoves for cold, windy and rainy weather are the ones that come with FluxRing technology, like the Jetboil Flash. They direct the heat from the burner straight to the pot and protect the flame from the sides, so you won't lose any energy.
We chose the Jetboil Flash as the best for bad weather, because it's so fast and effective. You'll be able to heat up water fast because this model is optimized for speed.
Just keep in mind that it might take a little longer in the cold and in high altitudes. Most of the time the piezo ignitier should work fine in cold or rainy weather, but carry a lighter or matches just in case. With the best Jetboil stoves, you'll likely be surprised by how fast and easy it is.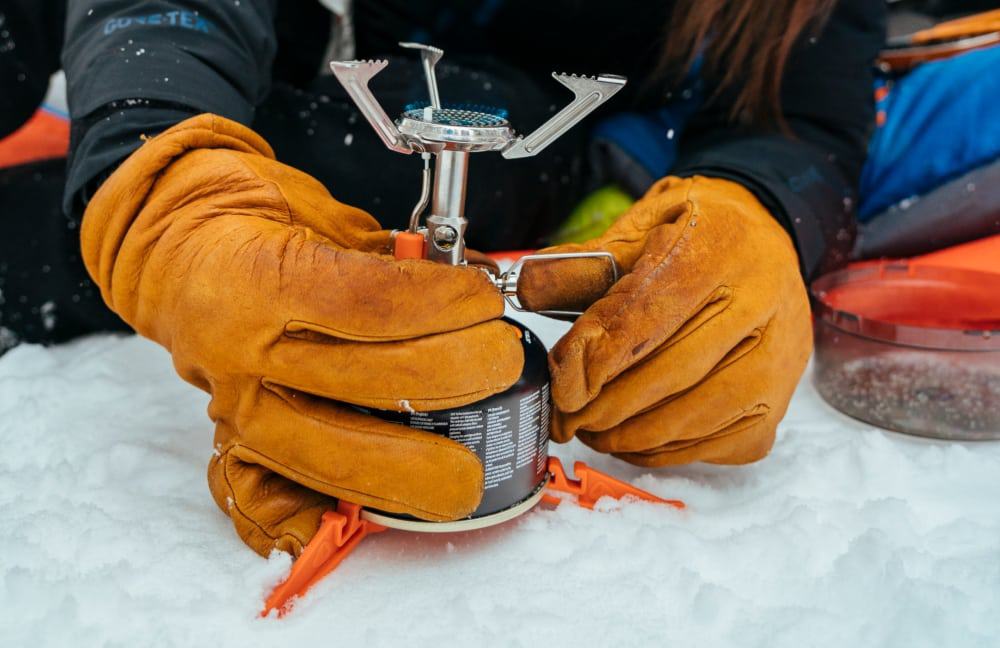 How Durable Is It and Will It Last Long?
Winner: Jetboil Genesis
Jetboil quality is pretty much the same across the board and a favorite among campers, but some backpacking stoves are better than others. We recommend the Genesis, because it's the most heavy-duty stove for family use when camping.
Some of the more compact stoves may have issues with plastic parts melting when you're using them, but this isn't a common issue. They sometimes also rust if you store the pot with the stove when it's damp. But if you always dry your Jetboil stove and cooking vessels correctly, this shouldn't be a problem.
Jetboil stoves also come with a limited one-year warranty, so if your stove happens to have any manufacturing issues, you can contact the company.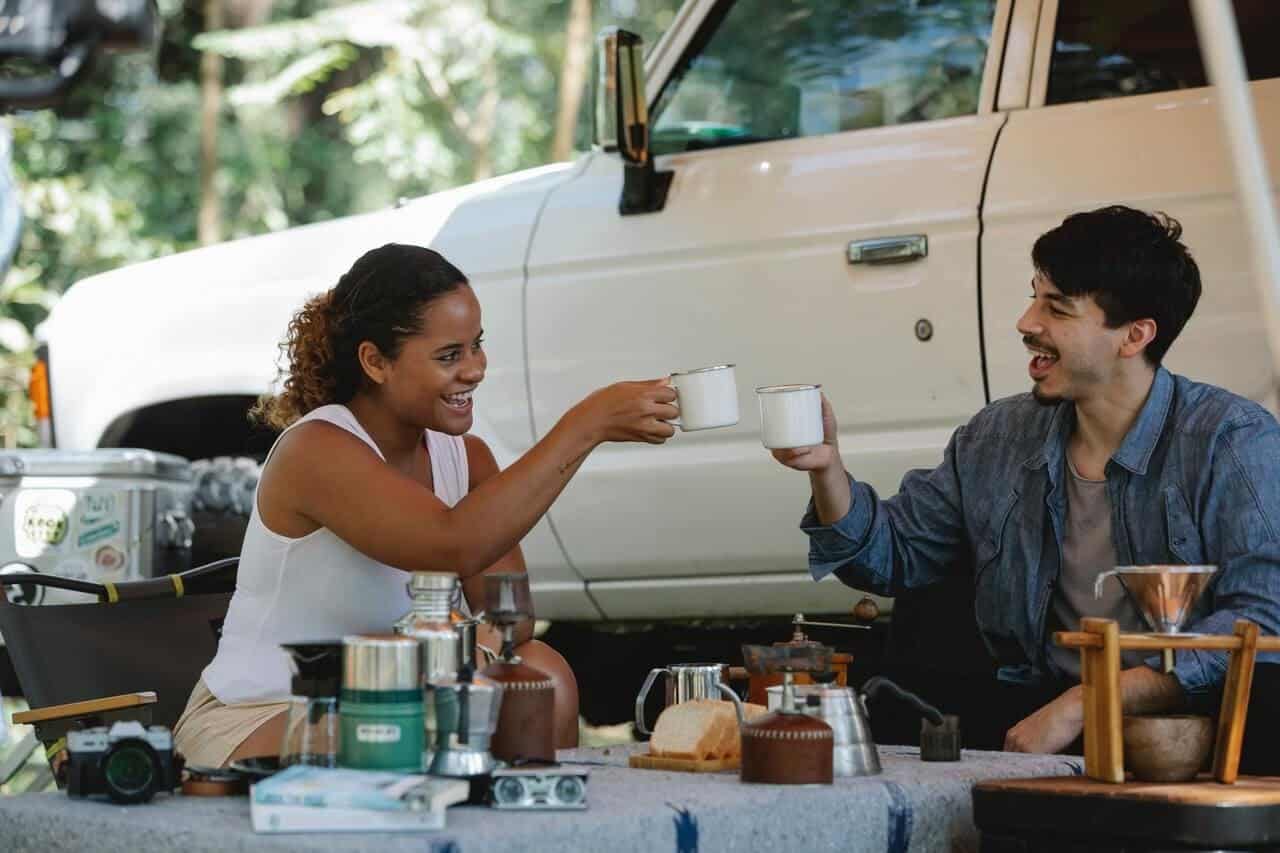 FAQ
What Fuel Type Do Jetboil Stoves Use?
Jetboil stoves use common liquid fuel, but it can be a good idea to invest in Jetboil's own JetPower fuel. Not all fuel canisters work with all Jetboil canister stoves, so the best way to ensure compatibility is to buy from the same manufacturer.
For more information, see our guide on compatible fuel for Jetboil stoves and alternative canisters.
What To Do If Your Jetboil Won't Light?
If your Jetboil stove doesn't light, make sure your igniter isn't touching the burner ring. Wind is another issue, so use a windscreen or improvise one from a tarp or other protective, thick fabric. Also remember that during daytime, it can be hard to see a flame even if you've managed to light the stove.
How To Clean Your Jetboil Stove
Use a 3-to-1 solution of water and white wine vinegar to clean your Jetboil pots. Boil the solution for a couple of minutes and scrub any stains off with a sponge. If you get rust on your stove, clean it off with a scrubby sponge, just make sure to not use a metal one.
Do You Need a Stove for Backpacking?
You don't necessarily need a stove to survive when backpacking, but it does make the experience easier and more enjoyable. You can prepare some coffee in the mornings with the Java Kit or the French Press addition. And if you're backpacking in cold weather, a pot of hot soup or pasta will give you more warmth and strength than a protein bar.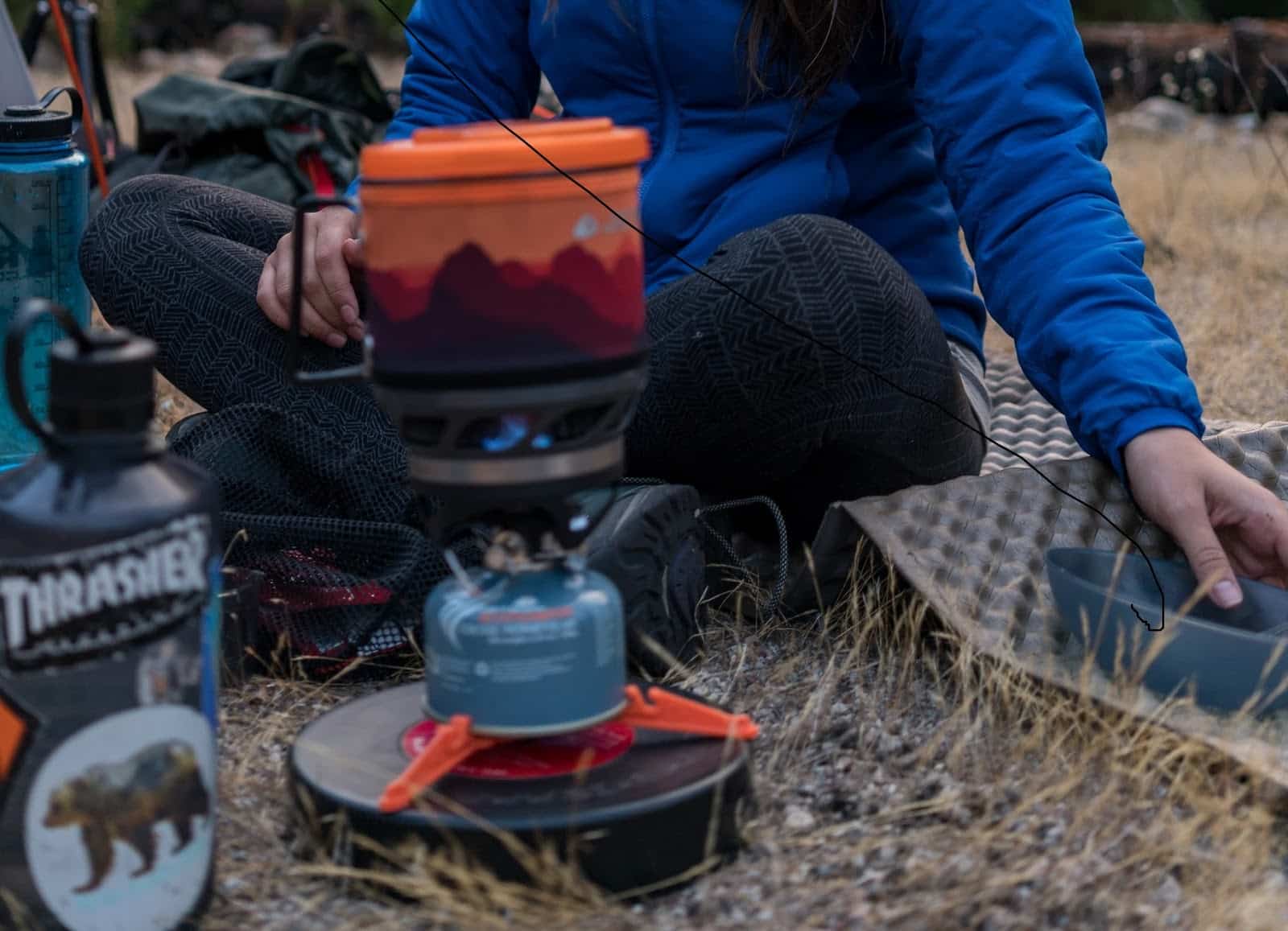 Wrapping Up
The best Jetboil stove in our review is the Genesis. While it's bigger than other options, it comes with enough space to cook for a family. And the pot, pan and two burners all fit conveniently inside a handy travel bag, making it a complete cooking system.
If you're looking for a stove for boiling water super fast on short trips, the Jetboil Flash is the winner. And for those who want temperature control, the Jetboil MiniMo offers a little more versatile cooking options.
See our other camping stove reviews
Next up: You've got your Jetboil stove, you're all set to head out backpacking, but will your Jetboil last long enough? Find out how long jetboil fuel lasts when you're backpacking.