If you're planning some winter camping this year, then you want to make sure you have the best tent for cold weather. And you're in luck – our roundup of the BEST choices has the right tent, whatever your needs.
Growing up in Scotland we know how miserable a cold night in a tent can be. We've spent hours researching these extreme weather tents to make sure they won't leave you feeling left out in the cold.
Camping in the cold gives you the chance to discover snow-covered landscapes and enjoy the tranquility of a world that feels untouched and preserved from human influence. Plus there's almost no bugs – and let's face it, that's the real advantage of heading out into the frigid winter conditions!
So stick with us as we got through what makes the best cold weather tent great for taking out in winter.
Disclaimer: If you're looking for an extreme cold weather tent (Mount Everest perhaps?), please consider that your tent is one of the most important parts of your trip. We recommend testing how well these tents suit you and then get in touch with local mountaineering groups for further guidance. Never underestimate nature!
If you're in a rush, the best cold weather tents are:
Scroll right to view all products >
| | | | | | |
| --- | --- | --- | --- | --- | --- |
| | Best Overall Tent | Best Lightweight Choice | Best Stove Tent | Best Budget Option | Best Insulated Tent |
| | | | | | |
| Ranking | 1st | 2nd | 3rd | 4th | 5th |
| Rating /5 | | | | | |
| Review | The Battle Mountain's distinctive yellow rain fly isn't the only thing that stands out from this tent! | If you're looking to tread lightly on the snow, this option from MSR won't weigh you down | A great home-away-from-home option, loved by glampers and hunters. | This model from Naturehike makes the winter camping accessible to campers who can't afford the higher budget options. | Stay protected from the cold, light, and noise in this insulated tent. |
| | | | | | |
Quick cold weather tent Recommendation
The Big Agnes Battle Mountain is an AWESOME tent that will protect you from heavy wind and lots of rain. It was our favorite cold weather tent thanks to innovative features like the twist clips which are designed to give a rapid setup – even with gloves on.
That's right, not only is setup easy but you don't have to expose your fingers to the cold.
There's also plenty of space thanks to the vestibules.
Cold Weather camping tents on a budget
If you don't have the money to spend on an uber protective shelter, it doesn't mean you can't go out camping in winter. If you don't have cash to splash, we recommend opting for the NatureHike Opalus.
It's a spacious tent with a huge vestibule which makes it great for extended trips with a lot of gear. However, the build quality and durability are lower than some of the other tents on this list.
best cold weather tents compared
Best Overall Tent
The Battle Mountain's distinctive yellow rainfly isn't the only thing that stands out from this tent!
Pros
Innovative twist clips
Two vestibules
Very durable
This was the four-season tent that impressed us most for its overall ability to deal with extreme cold weather conditions.
Big Agnes ambassador Chhiring Dorje Sherpa, who has summited Mount Everest 16 times, helped with the design for this deluxe tent. His suggestions included the fantastic oversized twist clips to attach the fly to the poles with remarkable ease – even when wearing gloves.
Features like those clips give this tent a rapid setup, but innovations in design aren't always intuitive for users. It's a good idea to practice setting this tent up a few times before heading out to make sure you're familiar with its quirks.
The two larger vestibules this tent comes with improves the liveability of this tent dramatically. The door of the front vestibule can even be propped up by hiking poles or ski poles to give you an awning, under which you can sit and cook in relative shelter.
Inside there are plenty of storage solutions to further enhance the comfort of this tent, with three storage pockets and a gear loft. There are also plenty of interior loops for having lights or lanterns inside your tent.
The tent floor of this 4-season tent is made from nylon taffeta with a monumental hydrostatic head of 10,000mm and the silicone-treated fly is waterproof with a rating of 1200mm and comes with an additional coating to increase tear strength and UV resistance by 20-25%.
Some users have reported issues with ventilation when using the tent outside of cold weather which is often a problem with tents designed for rugged climates. This does mean that the versatility of the tent is less impressive than we would like.
Overall, however, this 2-person camping tent is an excellent choice for an all-round extreme cold weather.
---
Best Lightweight Choice
If you're looking to tread lightly on the snow, this option from MSR won't weigh you down.
Pros
Very lightweight and easy to carry
Hybrid clip and pole system makes set up easy
Cons
The compact size makes it uncomfortable to live in
Weak waterproofing, designed for snow but not lots of rain
This ultralight tent from MSR is our choice for the best lightweight backpacking tent suitable for extreme cold weather.
At just 1.3kg, this tent is remarkably light. This is thanks to some fantastic innovation by MSR to get the most out of each part of their tents. The Easton Syclone composite poles that come with the Advance Pro are a great example of this.
The lightweight design uses aerospace-grade composite materials that flex under force and bounce back into shape, the tent poles that come with this tent are not only light as a feather but they are also incredibly resilient.
This tent is ideal for high-alpine camping, designed with a small footprint thanks to the wedge-shaped construction to allow easy pitching on high-altitude ledges. The hybrid clip and pole-sleeve system also allows the tent to be mainly pitched from one position.
However, the clip and sleeve pole system is difficult to work with gloves on and unfortunately will probably mean exposing your fingers to the elements to setup.
The hydrostatic head rating of the tent is fairly low at 1000mm, so this single-wall tent isn't going to keep you dry in heavy showers. However, it should cope fine in freezing temperatures when the precipitation is solid, rather than liquid.
The liveability of this tent is also fairly limited. Fitting two adults with all their equipment in here will be tight. With a peak height of 44", taller campers might also feel cramped in this model.
It might not be the warmest tent or offer the best weather resistance out of these winter camping tents. But this 2-person tent focuses on providing a lightweight solution to camping in extreme cold weather.
The versatility and liveability of this lightweight tent might let it down, but we felt its weight savings ingenuity far outweighed these issues, particularly for backpackers looking for a winter tent.
---
Most Durable
If you're in it for the long hall, you can't go wrong with a canvas tent.
Pros
Two stove jacks
Durable, thick canvas material
Huge living space
Cons
Expensive initial investment
Being able to bring a stove inside your tent during cold, winter trips is a blessing that few tents can offer. Not only is it a heat source, but you boil a kettle or fry some sausages on top of the stove.
We loved the fact that with two stove Jacks, this winter tent allows you to setup in whatever way is most comfortable for you. You could even have two stoves at once in the tent if you really wanted.
But thanks to the cotton canvas fabric that comes with the DANCHEL, the tent stays insulated whilst also breathable to prevent condensation building inside.
The bell-shape is preferable to other canvas tents that come with stove jackets like the White Duck Wall Tent, as the vertical walls can catch in the wind.
This tent is a fantastic base for hunting trips or winter glamping. It's spacious and warm, feeling like a home away from home even in extreme cold weather.
---
Best Budget Option
This model from Naturehike makes the winter camping accessible to campers who can't afford the higher budget options.
Pros
Low-cost and great value for money
A very versatile tent that can be used in warmer climates
Huge vestibule
Cons
Fewer quality materials and features than higher budget tents
This option from Naturehike offers a low-cost alternative to the more established brands also reviewed. For campers who want to head out in the winter but can't justify stumping up the money for an MSR, Big Agnes or other quality brands like Fjallraven or Hilleberg.
But there are risks with a brand like Naturehike. The quality of their products is often not as high as more expensive offerings from comparable brands. For example, this model uses smaller 8.5mm aluminum poles whereas the similar Hilleberg Nammatj uses stronger 10mm poles which give the tent greater stability.
The rain fly is made from ripstop nylon and comes with a polyurethane coating that gives it a hydrostatic head rating of 3000mm which is impressive for the low-cost of this tent. Aluminum is a lightweight and sturdy material for tent poles so although the poles could be thicker, they are still a benefit in this tent.
It is fairly easy to setup, taking between 5-7 minutes for two people to set the model up comfortably.
The vestibule at the front is huge, large enough to store a full-sized adult mountain bike – which might not be needed when you're using it in deep snow but this is a versatile 4-season tent which can be used all-year-round thanks to the fantastic ventilation.
The Naturehike Opalus offers a low-budget opportunity for campers to head out into the wilderness in winter.
---
Best Insulated Tent
Stay protected from the cold, light, and noise in this insulated tent.
Pros
Insulates effectively against noise, light, and cold
The cocoon can be removed, improving versatility
Can connect with other Crua models
Cons
The short roof might deter tall campers
This innovative design from Crua allows you to choose between being lightweight and being insulated. With the Crua Cocoon which fits inside other tents like the Crua Duo Maxx, it's almost like you're getting two tents in one here.
The Cocoon can provide the larger tent with temperature, noise, and light insulation. This is an often overlooked part of this offering from Crua. Not only do you get instant heat insulation, but the Cocoon blocks out daylight and noise from outside your tent.
This tent can also be attached to the Crua Core we reviewed as part of our cabin tents article.
At 2.2kg, without the Cocoon, the Duo Maxx is very light which makes it a good backpacking tent for the warmer months.
It comes with a remarkable hydrostatic head rating of 5000mm, meaning if you do take this tent out in spring or autumn, you don't need to worry if you get rain, snow or sunshine – this tent will see you through it all.
The ceiling of the tent is only four foot high, which might be a concern for taller campers who are looking for something a bit more spacious. The vestibule at the front is also pretty small, especially compared with the other tents reviewed here.
If you're looking for a 4 season tent that will keep you warm in the extreme cold, this high quality insulated tent from Crua is a fantastic winter tent that can be used comfortably through summer as well.
---
Weather resistance: Just how good are these tents?
Waterproofing
Winner: Big Agnes Battle Mountain
We were most impressed by the protection offered by the Big Agnes Battle Mountain tents. Designed to face some of the toughest conditions you can camp in, these tents come with the maximum possible hydrostatic head rating of 10,000mm.
This is important as moisture can seep into the tent through the floor if it isn't protected well enough. This can be a common issue camping on snow, so it can be reassuring to know you have the highest possible rating of protection between you and the cold, wet snow underneath.
These Big Agnes tents also comes with a fly made from Dominico undyed polyester ripstop which increases the tear strength and UV resistance by 20-25% compared to standard nylon or polyester ripstop fabrics.
The tents also come with storm flaps on the zippers to prevent any water leaking in as well.
The best winter tents for condensation
Winner: DANCHEL Bell Tent
Some of these winter tents could have had improved ventilation options to decrease the chances of condensation building in the tent. But the DANCHEL Bell Tents were the winners.
The canvas fabric is breathable but also waterproof and insulating.
How is the wind resistance of these tents?
Winner: MSR Advance Pro
If you're looking for tents that can handle strong winds, then dome winter tents are usually thought to be the strongest shape.
We found the best tents for dealing with the wind in cold weather was the MSR Advance tents. They also come with the patented Easton Syclone composite tent poles which are wind responsive, flexing and bouncing back rather than bending and snapping in extreme wind.
Which of these tents for camping is best during winter?
Winner: DANCHEL Bell Tent
If you're looking for cold weather tents to take out in winter, there was one clear winner for us. The DANCHEL Bell Tents come with durable and insulating cotton canvas fabric which helps keep warmth inside the tent when camping. They also comes with two stove jacks which can allow you to bring a wood burning stove inside your tent.
That's perfect for those chilly nights when body heat isn't enough to keep these tents warm.
Related: Looking to use a wood burner stove in the tent? Check out our guide to the best hot tent with stove jack.
Which of these tents would be best for working in Summer too?
Winner: Naturehike Opalus & DANCHEL Bell Tent
If you're planning to head out all year in your winter tent, you don't want to wake up in a stuffy tent during summer. You need some ventilation options to keep the tent cool as well if you want to use it all year.
The Naturehike Opalus comes with some good ventilation and angled vents to let cool air circulate and warm air escape in hot weather.
Cotton canvas is an excellent insulator against the cold – but it's also fantastic for providing insulation to keep the inside of the tent cool on warm days.
The best cold weather tents for Durability
Winner: DANCHEL Bell Tent
When it comes to durability and winter tents to last a lifetime, it's hard to beat canvas tents. The DANCHEL Bell Tent will offer campers years and years of use before the fabric loses its protective qualities or becomes damaged.
The Big Agnes Battle Mountain is a high-quality tent designed with durability in mind, from the protective coating that increases tear strength and UV resistance to the strong aluminum poles which offer strength and rigidity to the tent.
The Easton Syclone composite tent poles on the MSR Advance Pro 2 are some of the most impressive poles we've reviewed. By flexing under force and bouncing back into shape rather than bending like weaker poles, these will continue to hold up against blistering winds far better than we have any right to expect from ultralight poles.
The Crua Duo Combo, like all Crua models, comes with quality, well-made materials that are tough enough to repeatedly stand up to whatever nature throws at it. The tent fabric is mildew and UV resistant and comes with very tough polyethylene floors that protect the tent from punctures and tears.
Handy features like illuminous guy lines and oversized zippers help prevent any accidental damage to the tent.
As already highlighted, the Naturehike Opalus comes with smaller, weaker tent poles than offered by higher cost alternatives like Hilleberg. Whilst the quality of materials in this tent never feels cheap, it's hard to imagine this tent lasting as long as the more expensive options available.
When it comes to durability it's hard to beat canvas, which makes the DANCHEL Tent our pick for most durable cold weather tent.
Getting setup
Can these tents be set up by one person?
Winner: MSR Advance Pro
All of these winter tents will be easier to setup with another pair of helping hands but some of these are simpler than others for lone camper setup.
The MSR Advance comes with a very simple two pole design which can be setup by one person with relative ease. With a peak height of under four feet, short campers don't need to worry about being tall enough for this setup.
which tent is the quickest to pitch?
Winner: Big Agnes Battle Mountain
When considering a tent for the winter season, an important criteria is the ease and speed of set up. The best extreme cold weather tents are designed with this in mind.
The clear winner for us was the Big Agnes Battle Mountain. Designed for extreme weather conditions and mountaineering, the tent's oversized twist clips allow you to keep your gloves on during setup.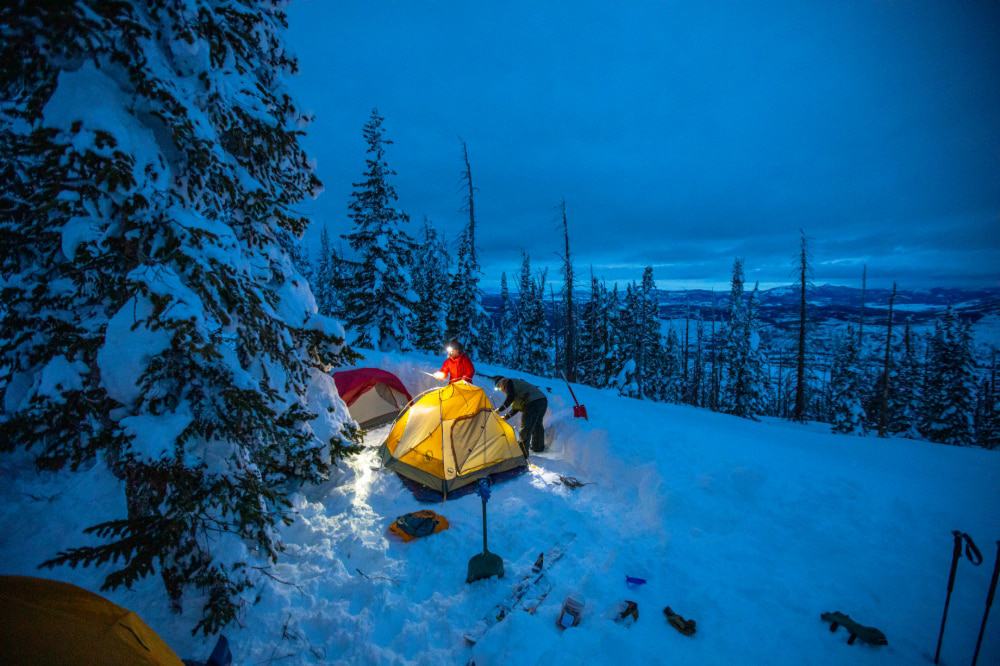 We were also impressed by the MSR Advance Pro's clip and sleeve pole system. Although it's a disappointment that you'll have to take your gloves off to clip the tent fabric to the poles, by only having to do the half of the pole not in the sleeve you only need to be exposed to the elements for a short time.
Which of these cold-weather tents is easiest to carry?
Winner: MSR Advance Pro
This was by FAR the easiest tent to carry and the best choice for backpacking below the tree line. If you are venturing high into the mountains, it might be a better idea to opt for the more protective Big Agnes which is also light enough to be split between campers for carrying.
With a packed size of 18″ by 6″, the MSR Advance should easily fit inside any backpack as well.
Who are these tents for?
Our favorite cold weather tents for family camping
Winner: DANCHEL Bell Tent
If you're planning to go camping with the family, this canvas tent is perhaps the best winter tent. It's super insulated to keep you warm and comes with lots of space to fit everyone in comfortably.
The best feature of this tent is the stove jacks, which allow you to bring in a wood burning stove into the tent to provide warmth.
Best cold weather tents for backpacking
Winner: MSR Advance Pro & Big Agnes Battle Mountain
The MSR advance pro is the lightest and easiest to carry tent in the winter season, so for most winter backpacking adventures this tent should do the job.
But if you're going to be camping above the tree line or in very unpredictable weather, the Big Agnes tents are a better choice. They're a little heavier so you will need to split the weight with another camper, but the extra weather protection of these tents makes up for the weight.
Which winter season tent is the most comfortable?
Winner: DANCHEL Bell Tent
When deciding on the best extreme cold weather tents, one of the most important factors to consider is how livable these tents are. If the cold weather forces you to spend lots of time inside on your camping trip, you're going to want a tent that is comfortable to live in.
The best choice for liveability out of the extreme cold weather tents we reviewed was the DANCHEL Bell Tent. The two stove jacks in these tents mean that these tents will keep you warm even in extreme conditions.
On top of this, this huge bell tent offers plenty of space for storage or room for relaxing in the comfort of your stylish home-away-from-home.
We were also very impressed by the Big Agnes Battle Mountain which comes with two vestibules and a front door that can be used as an awning. Both these features make spending time in your tent far more enjoyable.
You can use one vestibule for storage and the other as a shelter area to cook in with the awning up.
The Naturehike comes with a vestibule large enough to store a mountain bike in which is useful. There's plenty of space for people to sit inside this tent.
It's a great tent for three but could also make a good mess tent for up to 6 adults eat/drink/socialise in!

Tent review
The Crua Duo Maxx Combo has a small vestibule which isn't as much use as the one found in the Naturehike and the Big Agnes. But the insulating cocoon which blocks temperature, light, and noise makes this a great tent for getting a good night's sleep in.
The 2-person MSR Advance Pro camping tent offers a fantastic lightweight option for backpacking in extreme weather but unfortunately, this comes at a trade-off with the liveability of the tent.
With a height of 44", the ceiling isn't very large making it potentially uncomfortable for taller campers. There's also no vestibule in this tent so you'll have to store your camping gear inside the tent, meaning in practice it can only realistically be used by one person.
If you are looking for a tent to provide some impressive living space during extreme weather, the DANCHEL is a fantastic choice for group car camping trips. The Big Agnes also gives great liveability in a much smaller tent.
Top cold weather tent for the best Gear storage options
Winner: Big Agnes Battle Mountain
Lightweight enough for backpacking, protective enough winter season camping and spacious enough to keep your gear dry and safe?
The Big Agnes tent really does it all.
There are two vestibules which means you can use one for getting in and out of the tent and the other to store backpacks if there's two of you staying in the tent. There are also three mesh pockets for storage and an overhead gear loft for keeping personal belongings safe.
FAQ
What's the best style of tent for cold weather?
A tent with steep sides will allow excess snow to fall off the tent, but winter tents with vertical sides like wall winter tents will be susceptible to strong winds making their design less well suited for harsh weather conditions.
Dome or pyramid-shaped winter tents are the best styles for dealing with the snow and wind in extreme cold weather.
3 season tents won't provide enough protection against the elements to deal with winter season camping, so they should be avoided for extreme cold weather camping.
How well insulated should a winter tent be?
Top winter tents are usually designed to protect you from the elements, rather than insulate you. There are exceptions like the Cura Cocoon which is designed as an insulated tent to put inside other models, but these systems are rare.
Prioritizing a well-insulated sleeping bag and roll mat is a better solution than insulated winter tents.
Why do people go camping in the winter season?
There are plenty of reasons to go camping in the winter and extreme weather. For alpine mountaineers and snowsport enthusiasts, these weather conditions are part of the appeal.
During the winter season and extreme cold weather, as inches of snow covers the landscape it is transformed into something that at times resembles an alien planet. Taking in these views can make trekking in the snow feel worth it.
Camping in tents in these weather conditions isn't for everyone, which helps adventures enjoy the tranquil stillness of winter. Winter is also a great time for stargazing. And of course, there are fewer bugs!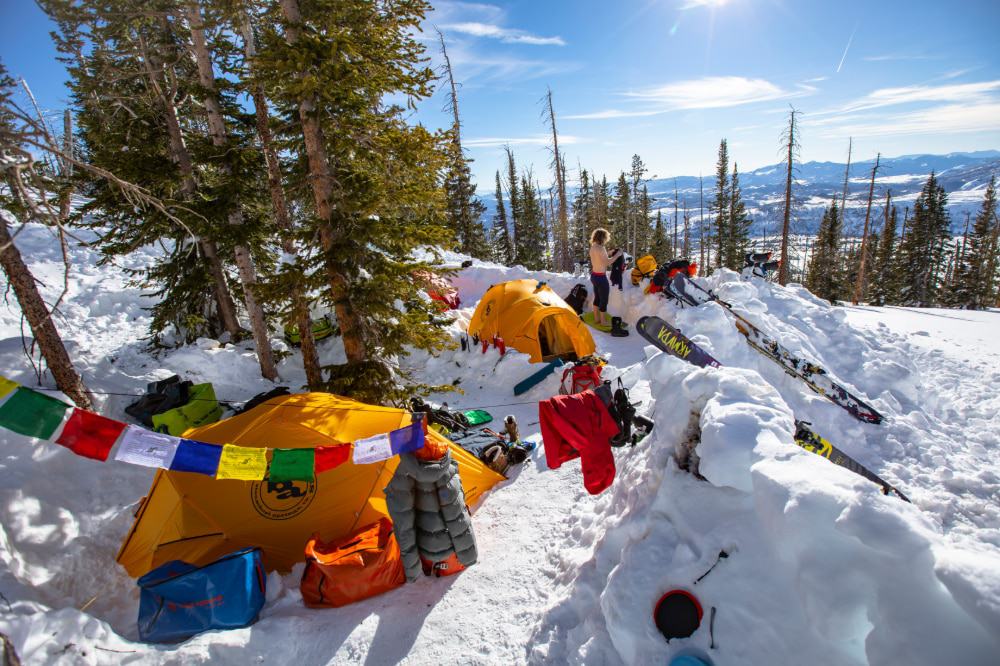 How do I keep warm in my winter season tent?
For the most part, your insulation when camping should not come from your winter tent. You should be well insulated by your sleeping bag, roll mat, or sleeping bag and clothing. So make sure to invest in all the right gear to keep you warm – not just tents.
It can help to have a snack before you go to sleep as digestion can generate body heat. It's a good idea to get active before getting into your sleeping bag as well – take a short walk or do some jumping jacks to raise your body temperature.
As a tip to keeping warm on colder nights, we recommend investing in some hand warmers that can be thrown into your sleeping bag to get it nice and warm before you go to sleep.
Are these good as a 4 or 5 season winter tent?
Yes, but as always you need to prepare beforehand! Be warned that if you try to venture out into harsh weather conditions with heavy snow in 3 season tents, you might not come back.
Look for 4 or 5 season winter tents with a snow skirt if you're planning a trip in heavy snow.
What size of 4 or 5 season tent should I get?
Usually, it's advisable to get winter tents with a capacity larger than what you will need to give yourself a roomy experience in your tent. But in cold weather, is that extra space still a benefit, or is it dead air to heat up inside your tent?
It is true that cavernous winter tents will be difficult to heat and might get a bit chilly through the night, but it's also important that you don't feel confined or uncomfortable in your tent. During winter camping, it is a possibility that bad weather might force you to spend some time inside your winter tent.
A large vestibule is a fantastic solution to this, as it can offer you a space to cook and eat that is shelter from the weather but separate from your sleeping area meaning you don't need to worry about the air being cold through the night.
The best cold weather tent – verdict
Our favorite extreme cold weather tent was the Big Agnes Battle Mountain. It comes with a great amount of space for liveability and is well designed for camping in harsh winter and alpine conditions. It easily earns four and a half stars.
We also liked the DANCHEL as an alternative for group car camping, perfect for hunting trips, or more luxurious family outings into the snow.
The MSR Advance Pro, like the Big Agnes, had some remarkable innovative design with the Easton Syclone composite poles that are incredibly lightweight whilst still being sturdy enough to provide adequate protection in harsh weather.
The insulated Crua Duo Combo is another cold-weather tent that uses clever design innovation to protect campers from noisy, cold winds.
Finally, the Naturehike is a versatile camping tent that can offer protection from extreme weather at an affordable, low price.
These are our choices for the best extreme cold weather tents to offer you protection when camping in the frozen wilderness.