Welcome to our review of the best canvas tent currently on the market!
Canvas tents are fantastic insulators, keeping your camping tent warm during cold winter camping and cool during the hot summer months. They are incredibly durable, and when treated right can outlast synthetic tents by decades. They are also waterproof but breathable.
But their heavy nature makes them difficult to use for backpackers. Instead, the fantastic liveability that they offer can be utilized by families looking for some luxury camping or hunting groups who want a comfortable base for their trip.
We reviewed the top five tents to find the best canvas tent for your needs, so read on to find out which tent is right for you!
If you're in a rush, the best canvas tents are:
Scroll right to view all products >
| | | | | | |
| --- | --- | --- | --- | --- | --- |
| | Best Overall Tent | Best For Groups | Best For Families | Best Solo Option | Best Alternative Option |
| | | | | | |
| Ranking | 1st | 2nd | 3rd | 4th | 5th |
| Rating /5 | | | | | |
| Review | This Bell Tent from DANCHEL offers a touch of luxury without sacrificing practicality. | This spacious home-away-from-home is great for group outings like hunting trips. | This rugged, all-season tent from Kodiak is a great choice for family camping. | Solo canvas tents are rare finds, so we were excited by this offering from Kodiak! | For something a bit different, this tent from Kodiak offers a new way to think about camping. |
| | | | | | |
Canvas tent quick recommendation
If you don't have time to stick around as we go over why these tents are great, that's okay! We're confident that the DANCHEL Canvas Bell Tent is a fantastic option for most campers looking for a canvas tent.
Obviously for solo campers it might be a little too big, but it's perfect for families and friends who want to head out camping all year round.
What about campers on a tight budget?
A canvas tent is pretty expensive, so if you don't have the cash to splash we'd recommend you consider synthetic materials, like nylon tents. For the cost of a low-quality canvas tent, you could get a very high-quality, durable and protective tent made from synthetic materials.
If you are looking for a low-cost canvas tent, the White Duck is a good option.
Overall, however, it is worth saying all of these canvas tents are excellent value for money. Whilst the initial investment might be high, the longevity of a canvas tent means that you will get your money's worth out of the tent.
Comparing the fabric: Finding the top canvas tent
Best Overall Tent
This Bell Tent from DANCHEL offers a touch of luxury without sacrificing practicality
Pros
Two stove jacks.
Removable floor.
Good shape for bad weather.
Tall tent will provide plenty of headroom
Cons
Single-room lacks privacy.
If you want to turn some heads when you turn up to your next campsite, look no further than this canvas bell tent from DANCHEL.
The biggest selling point for this canvas bell-shaped tent is the two stove jacks that come with it, allowing you to safely use a stove inside. Wood-burning stoves can revolutionize winter camping trips, making them cozy and comfortable rather than a battle against the elements.
Having a usable stove inside your canvas tent is also a blessing for drying damp, cold clothes if it rains.
There is a stove jack on the roof as well as on the sidewall which means you have a choice where you want to place your stove.
Another great feature of this tent is the bottom of the tent unzips from the roof and walls to open the space up and give a sheltered but airy covering.
A downside of bell tents is that they are often single-room structures which means you're not likely to get much privacy in the canvas tent if you're camping with a group.
This is a great luxury canvas tent that can feel like a home away from home and is great for getting out all year round.
---
Best For Groups
This spacious home-away-from-home is great for group outings like hunting trips
Pros
Stove jack.
Immensely durable.
Great livability.
Cons
Difficult to set up.
Expensive.
Wall tents, also known as safari tents, have four straight walls with plenty of headroom and are typically made from a heavy-duty canvas material like cotton. They are used by hunters because of their liveability, accommodating several people and their equipment.
This style of tents has also become popular for family glamping trips in recent years as well. The stove jack that often comes with these canvas tents is great for keeping campers warm in the cold winter, meaning this canvas tent is a great all-year option.
The durable cotton canvas that comes with this tent is enhanced by the storm windows at the back of the tent which let light in but also protect you from the elements whilst inside. Seems are double stitched and corners are reinforced to ensure this canvas tent keeps you sheltered from the weather.
Just looking at this canvas tent should prepare you for a difficult setup. The fact it comes in two separate bags will also potentially freak out any newbies looking at this tent. But the manufacturer has color-coded the parts to make assembly easier.
To set this canvas tent up properly, you will need three adults of average height which hopefully won't be an issue for a group of hunters or older family campers.
It isn't the most versatile canvas tent and isn't intended for spontaneous trips but as a base camp for longer camping holidays, this canvas tent is a top option.
The high ceiling in wall tents means that they can be used for hobbies, fairs, yard sales, or a range of other events other than camping trips. This can be a good way to gain even more from this luxurious tent with plenty of space.
All of this space, comfort, and durability doesn't come cheap. But with the White Duck Wall Tent, the old adage that you get what you pay for rings pleasantly true. It's certainly an investment, but one that we can see is well worth it for the right camper.
---
Best For Families
This rugged, all-season tent from Kodiak is a great choice for family camping
Pros
Great awning for shelter.
Very spacious inside.
Four large windows let light in.
Cons
Can be difficult to pitch
This roomy 6-person canvas tent from Kodiak comes with lots of headroom and plenty of storage solutions to maximize your space inside.
Lots of little touches have been added to this tent to make it stand out. The gear loft can either be attached to the four corners of the roof in attic mode or can be used as a sling, attached to only two tie-rings. This saves space for headroom.
There are plenty of tie-rings in the tent that can be used to hang the storage organizer, meaning you can place it wherever is most convenient for you. Both of these features help create flexible storage solutions in your tent.
Like all Kodiak tents, this tent comes with their Hydra-ShieldTM, 100% cotton duck canvas which is durable, watertight, and breathable. It also comes with heavy-duty, reliable YKK zippers.
This canvas tent comes with two large D-shaped doors at the front and back and four large windows with no-see-um nets to keep the bugs out.
A Canvas tent is often harder to pitch than synthetic tents, but Kodiak claims this tent can be set up by one person. Experienced campers can get this tent up alone, but newbies might struggle without a bit of practice. Two people would easily be able to set the tent up.
The tent can hold up to some fairly extreme weather conditions, including strong winds and even heavy snow. You can use this tent all year round but it's not designed for extreme winter mountaineering.
Some users reported minor concerns that water pools on top of the awning as it is slightly lower than the rest of the tent. So that might be something to be conscious of in wet conditions.
Overall, this is a top tent for family camping that will last a lifetime.
---
Best Solo Option
Solo canvas tents are rare finds, so we were excited by this offering from Kodiak!
Pros
Easy setup.
Mesh ceiling for great views.
High-quality materials for the price.
Can be used by a single person
Designed for the Australian outback, this highly versatile canvas tent from Kodiak is a fantastic option for solo camping. It can be used directly on the ground, or propped up in the back of a pickup truck, or placed on a cot.
Pitching the tent on a cot gives you a covered area to store your gear under as well, which provides a solution to the lack of a vestibule in the tent. The cot raises you off the ground, giving you a more comfortable night's sleep.
The Swag comes with the same high standards you can expect from other Kodiak canvas tents. These tents also come with aluminum poles which is an added bonus to the durability and stability the tent gives you.
Aluminum tent poles are usually reserved for lightweight tents and top-end family tents due to their high-cost. But if you are investing in a canvas tent to last, the fact this tent comes with stronger poles is an added feature to like about this tent.
Although the Swag is strong and durable, it is only a three-season tent and should not be taken out winter camping like some of the other tents.
Whilst this tent might be big enough for one person to sleep in, there would be nowhere to store any gear or equipment. This might not be an issue if you're camping with your car and you can store your stuff in there, but be aware if you don't have a car handy there might not be anywhere to keep your gear safe and dry if it does rain.
This tent is designed like a bedroll so set up and break down are easy – you can even leave the poles attached to the fabric to make things even easier. It even comes with an inflatable bed mat.
The only potentially tricky bit is the middle pole which needs to be set up from inside the tent – rather than outside like the two end poles.
Breaking down the tent is super simple, just break apart the poles and then everything can roll up together. To making storing the tent even easier, there are straps that come with the tent to help make the roll tighter and smaller to fit in the carry bag.
One-person canvas tents are pretty rare so this Swag from Kodiak is a real find.
---
Best Alternative Option
For something a bit different, this tent from Kodiak offers a new way to think about camping
Pros
Great for road trips.
Setup anywhere you can drive to.
Access the truck cab for a power source.
Cons
Only compatible with certain trucks.
Not good for campers with mobility issues.
Some modern tents are designed to be pitched in the back of your truck, meaning wherever you can get your truck you can camp. You don't need to worry about finding level ground or staking pegs into rocky terrain.
The large D-shaped door at the entrance of the tent is covered by an awning which can keep you dry getting in and out of the tent. Climbing in and out of the back of the truck to access your tent means it probably is not a good solution for campers with mobility issues.
Once you open the door and climb inside, there is tons of space inside the tent with plenty of headroom under the tunnel-shaped cotton duck canvas with a five-foot ceiling. The tent comes with inner storage pockets which are always handy.
As a canvas tent, we would expect to find quality, durable materials capable of being used throughout the year, and that's true for his truck tent model.
But as the footprint of this tent is the back of the truck, it removes a common issue of rips and tears in the tent due to the bottom of the tent being damaged by stones. This is particularly good for hunters and other campers with lots of heavy gear.
This canvas tent also comes with an access port for the window in the back of the truck cab so you can run a power cord through to the vehicle to charge any phones or electronic devices. Features like this are important as they allow you to get the full benefit of camping on a truck.
This tent is only compatible with certain models of trucks. The trade-off of versatility for improved functionality means that this tent is limited to people who already own Ford F Series, Chevy Silverado, GMC Sierra, Dodge Ram, Toyota Tundra (2016 or earlier), and Nissan Titan. If you do not own a compatible truck, we do not recommend purchasing this tent.
Some users report that the tent is difficult to set up, with confusing instructions meaning the process takes even longer. In general, it appears that this truck tent makes parts of pitching a tent easier, by removing the need for flat, even ground but can also be confusing for newcomers to truck bed camping.
This tent is ideal for solo campers looking for a heavy-duty cotton canvas camping tent, but it won't suit everyone's needs.
---
How do canvas tents hold up in harsh weather
Best canvas tents for rain – which is most waterproof
Winner: Kodiak Flex-Bow tent
A downpour can really dampen your camping trip – especially if you've got a leaky tent!
Thankfully, that's not something you have to worry about inside a Kodiak Canvas tent. They all come with the super durable Hydra-Shield water resistance coating from Kodiak which reinforces the natural waterproof properties of canvas.
Be aware that any canvas tent will need treated before it's first use to make sure it is waterproof. Set up the tent and spray it down with a hose to soak it. The canvas will expand to close the needle holes made in the tent during production. Leave the canvas to dry and it will then be an effective waterproof tent.
Top tent model for Conquering condensation with excellent ventilation
Winner: Kodiak Flex-Bow tent
Canvas is a very breathable material which means that although it provides, it doesn't cause the tent to get stuffy inside.
Once again, the Kodiak Flex-Bow tent impressed us with the weatherproofing it offered and is the best of the lot. With the Hydra-Shield technology, the tent remains breathable no matter what the weather is like. You don't need to worry about condensation building up in a muggy tent with a Kodiak.
There are also large windows with no-see-um mesh which help bring maximum ventilation into the tent.
Tent performance camping outdoors in a howling gale
Winner: Kodiak Flex-Bow tent
The Flex-Bow tent is the best tent for heavy wind. It comes with a robust frame made from strong steel rods that will keep the tent standing strong, even in heavy winds. The Hydra-Shield technology also helps with the wind-resistance of this tent.
Which is the best tent for camping in the summer?
Winner: DANCHEL bell tent
This tent comes with a secret weapon that makes it FANTASTIC for summer trips. The floor is removable – including the lower vertical parts of the tent walls. This means that once the tent has been pitched and the floor removed, you are left with a protective canopy to laze underneath, with plenty of cool air able to circulate.
Great cold weather canvas tent for winter camping
Winner: DANCHEL bell tent
Just as it is fantastic for summer camping, canvas is also a brilliant tent material tent for taking out in winter. A true 4 season tent should handle both extreme heat and the freezing cold as well.
The tent is super insulated which means it traps heat inside the tent on cold winter nights. But that's not the only reason to love this tent in cold weather.
There's also two stove jacks which allow you to bring a wood burning stove into the tent to provide warmth. There's few things more appealing than a wood burning stove on a cold winter night!
Related: Want a wood burning stove in your tent? Check out our guide to the best hot tents with a stove jack.
Durability of cotton canvas tent materials: a lifetime of family camping trips
Best canvas tent for durability: Danchel Bell Tent
One of the key advantages that a cotton canvas tent brings is that they are durable enough to last much longer than tents made of other fabrics. So this was an important consideration when choosing the best canvas tents.
All Kodiak canvas tents come with their Hydra-Shield treatment which is good because it means unlike standard canvas tents, they won't have to be re-treated as often.
Strong, durable YKK zippers are another top feature of the Kodiak tents. These quality zippers are less likely to allow water to seep into the tent and less likely to catch and tear the tent.
The Flex-Bow tents and Truck Bed tents from Kodiak are capable of being used all-year in some harsh weather conditions, they are not designed for extreme winter mountaineering. The 1-Person Swag tent is a three-season camping tent and is less capable of being used in harsh winter conditions.
Both the White Duck Wall Tent and the DANCHEL Bell Tent come with stove jacks that allow campers to safely keep a stove inside their tent. This makes these tents even better for dealing with cold, hard winter conditions.
Both canvas wall tents and canvas bell tents are great in strong winds if they are secured properly but the conical shape of a bell tent allows the wind to pass over the surface easier than with wall tents where it is more likely to catch against the vertical side.
Therefore, although all these tents do remarkably well, our winner for the top canvas tent for durability is the DANCHEL Canvas Bell Tent. Being able to have a stove inside this tent with its strong steel tent poles and more aerodynamic shape just edges it above the other tents for this criteria.
Which Canvas tent is easiest to setup?
Can a canvas tent by one person?
Winner: Kodiak Swag tent & Kodiak Flex-Bow tent
Wall tents and bell tents are often not designed to be pitched by one person and it's unlikely one adult would take these canvas tents out alone. If you're looking for a tent to pitch by yourself, we've reviewed the easiest tents to setup alone.
The White Duck Wall Tent takes three adults to pitch and is the hardest canvas tent we reviewed to set up. The DANCHEL Bell Tent is also a lot of effort but comes with a more intuitive design than the wall tent, making it easier than the wall tent.
The easiest canvas tent to set up and take down was the Kodiak Swag tent, which unlike other canvas tent designs must be able to be pitched by one person. The only potentially tricky part of setting up the tent is the middle pole. This has to be put up from inside the tent, which can be a little cramped but is certainly manageable for most campers.
The Kodiak Truck Bed Tent is a slightly different design to other tents, using the truck as the base for the tent to be raised on. Users have complained that it can be difficult to get the tent secure, despite being designed to be compatible with their truck.
The Kodiak Flex-Bow tent is harder to pitch than non-canvas comparable tents but it is easier than the other tents reviewed here, other than the Swag tent. One adult can set this tent up without much difficulty which is a top advantage of the Flex-Bow tent.
Which tent is the quickest to pitch?
Winner: Kodiak Swag canvas tent & Kodiak Flex-Bow canvas tent
Often a canvas tent can be trickier to set up than other fabrics. This can be discouraging to new campers. Unfortunately, there's no getting around the reality that these tents are harder to pitch than some of the polyester or nylon tents available.
The best canvas tent for a quick setup is the Kodiak Swag tent, thanks to its size and simple design.
Overall, the easiest canvas tent to set up and break down was the Kodiak Swag tent but the Flex-Bow tent was the most impressive, being manageable by one adult which is rare for a family-sized canvas tent.
Are these canvas camping tents easy to carry?
Winner: Kodiak Swag tent
Canvas isn't an easy tent material for carrying. It's heavy which means that usually it's not worth considering as a backpacking tent or a tent you will need to carry for any length of time.
The best canvas tent for easy carrying is the Kodiak Swag tent. This canvas tent is the lightest, smallest and easily packed for carrying.
Who are these top canvas tents for?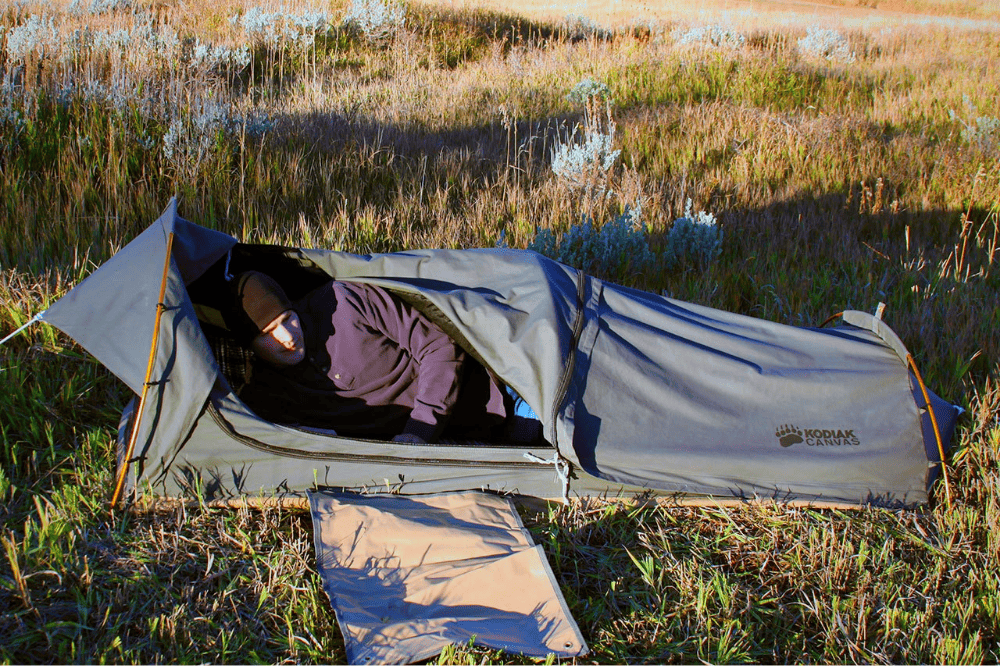 Which tent is best for family camping?
Winner: DANCHEL Bell Tent & Kodiak Flex-Bow tent
If you're looking for the best bell tent that will fit the whole family in comfortably, the DANCHEL Bell Tent is an excellent choice. The shape of a canvas bell tent is perfect for cozy nights spent together under the canvas.
The Flex-Bow canvas tent is also super spacious for camping with the whole family. Plus the awning at the front is great for providing some shade to sit and watch the kids playing outdoors.
Which tent is best for festivals?
Winner: Kodiak Canvas Cabin Tent & Kodiak Canvas Truck Tent
If you're planning some music festivals this year, then a canvas tent might be a good idea. The durable and protective fabric should keep you sheltered from the sun, wind or rain and even any dust if you're somewhere like Burning Man.
The best canvas one would be the Kodiak Flex-Bow Canvas tent but campers might also want to consider the Kodiak Canvas Truck Tent. If the festival allows RV camping they will also likely allow camping in a canvas truck tent.
With a canvas truck tent, the main advantage is you don't have to carry a heavy canvas tent across the campsite. You can just park and pitch the tent!
Which tent is the most comfortable?
Winner: DANCHEL Canvas Bell Tent & Whiteduck Canvas Tent
The two best tents for comfort are the Danchel and the White Duck. Both of these canvas tents are large enough that you will be able to stand comfortably inside them.
However, the Whiteduck canvas tent does have a taller ceiling height towards the edges, making it more comfortable to walk inside despite the DANCHEL canvas tent having a higher peak height.
Which cotton Camping tent has the best storage options?
Winner: Whiteduck Canvas Tent & Kodiak Canvas Truck Tent
With the tall vertical walls, the best canvas tent for storage options is the White duck cotton canvas tent. It gives you plenty of floor space and headspace for storage which is great for winter hunting trips.
The cotton canvas Truck Tent from Kodiak is also a really top option for storage. With the cab access window, you can use your truck as an accessible storage area.
FAQ on canvas camping tents
What is the best fabric for Camping tents?
Most modern tents are made from man-made synthetics like nylon (for lightweight backpacking tents) and polyester (for larger, family-style tents). Generally, the advantages of these fabrics are that they are cheap, lightweight, quick to dry, and require less maintenance than canvas material.
A man-made material will often come with coatings to improve the UV resistance and make it more waterproof. The quality of this process can vary dramatically from manufacturer to manufacturer.
A synthetic material is not as durable as canvas so will need to be replaced more often. With the heavy cost to the environment from producing non-biodegradable nylon and polyester that relies on the petrochemical industry, the sustainability of canvas is an advantage for the material.
Canvas is the traditional camping tent material and in days gone by it was also made from hemp. Modern canvas tents are more often made from cotton (thanks to hemp getting caught up in drug laws in the USA).
A cotton canvas material is an extremely good insulator, keeping you cool on hot days and warm during cold nights. The canvas is breathable and can absorb water meaning it is less likely to be any issues with condensation. Canvas tents are also more durable and likely to last for a long time.
The best canvas material is hemp. Hemp also achieves these benefits of cotton and is the most environmentally sustainable option. Hemp needs far less water and land than cotton to grow.
Unfortunately, with restrictive drug laws in the USA preventing the farming of hemp materials, it is unlikely we will see a range of viable hemp canvas tents emerging on the market in the near future.
Blends of a man-made material and a canvas material are available. These include polycotton material canvas tents. This hybrid canvas material is more resistant to mildew and tears than traditional canvas which may make them the best canvas material. They carry all the benefits and problems with canvas tents as well.
So whilst a canvas tent might be better for some camping trips, like family holidays, they are not ideal for all situations. For example, backpackers absolutely should not take a canvas tent with them due to the added weight.
What are the problems with canvas when Camping?
A canvas tent for outdoors camping can be heavy and bulky, making them difficult to transport and not suitable for backpacking trips. You'll want to check that the weight is manageable, even when the canvas tent is heavier after rain.
Canvas tents are also a lot more expensive than those made of a man-made material. Although the durability of the material means a canvas tent will last longer. So the case can be made that over a lifetime the costs might balance out, but the initial cost of buying a canvas tent will be higher than those made from a synthetic material.
Finally, a canvas tent also requires a lot of maintenance which can be daunting to new campers. When new, a canvas tent may leak in the rain as the cotton material has not yet expanded to provide adequate waterproofing. After the canvas tent gets wet for the first time, this won't be an issue. You can always check this in the back garden before your first trip in the great outdoors.
So when setting up your canvas tent for the first time, leave it to get wet in the rain or use a hose to wet the canvas tent.
Canvas tents can't be put away when damp however as this can lead to issues with mold and mildew. A canvas tent must be dried out properly before being packed up, unlike tents made from a plastic material.
The best canvas Sibley tents are waterproof when camping – with a bit of help
Cotton canvas tents are usually waterproof after they have been initially treated. Cotton canvas tents out of the bag might not be fully waterproof as the cotton hasn't fully expanded yet, but after the first time the tent gets wet and the cotton fabric expands, the canvas tent will be waterproof.
Does a canvas camping tent stay cooler in the heat?
Yes, cotton canvas tents are better insulated. They are great tents for summer and keep you warm in the cold weather as well.
If you get the opportunity to test the difference between cotton canvas tents and polyester tents outdoors in the sun, you will see the difference in temperature between them.
Can you use a stove inside canvas tents?
Yes, as long as the cotton canvas tent has a stove jack. The fact that you can safely use a tent stove inside cotton canvas tents is a great advantage in their favor. But you need to take precautions.
Make sure to place a flame retardant mat underneath the stove to protect the ground and catch any hot embers that escape.
Keep a fire extinguisher to hand – the last thing you want is a canvas tent bonfire.
Combustibles must be kept away from the stove as it can get quite hot – for example, never put matches on top of the stove.
Don't leave the stove on overnight
Overall this is a top feature – the top of the stove gets warm enough for you to put a kettle or pan on top to boil water or fry some sausages.
What Is A Canvas Tent?
A canvas tent is a type of tent that is made from cotton canvas fabric. The canvas material is naturally water resistant, which means it will protect you and your gear inside the tent when it rains. Canvas tents are known for their ability to provide warmth in cooler weather and shelter from the rain during storms.
Wrapping It All Up – the best canvas tent
Overall in our review, we were most impressed with the DANCHEL tent which offered a well-priced, durable tent that comes with two stove jacks to give you freedom in your setup. It's our pick for the best canvas tent in our review.
The White Duck Wall tent is a top tent for hunting trips with plenty of room for sleeping and storage.
The canvas tents from Kodiak come equipped with all the technical specifications we would expect to find from the brand whilst each catering to unique needs with wonderful ingenuity.
If you're thinking about making your next tent purchase a canvas tent, the tents reviewed here offer a fantastic range of choices to meet your needs. And for something completely different, check our our guide to the best desert tent.