Whether you're going camping with friends or family, a big enough tent to fit all your gear and stay comfortable is key. The right 8-person tent can be useful for these situations, or just for two people to remain comfortable for several days or weeks.
But which 8-person tent for camping is the right one for your needs? We searched the internet for the best 8-person tents on the market and gathered the top six in this review.
If you're in a hurry, these are our top picks.
A quality low-budget option for beginners and occasional campers.
An affordable tent with a 60-second setup and plenty of room.
An amazingly durable, high-end tent to last for years.
A dust, wind and waterproof tent for rough weather conditions.
A massive 8-man outdoor tent for families who take advantage of the spring and fall to go camping.
Best Tent with Screen Room
Comes with a screen room for added storage and bug-free time.
Our In-Depth Tent Reviews
The Best 8-Person Tents Compared
Best Budget Option
Capacity: 8 | Weight: 24lbs | Dimensions: 16' (W) x 7' (L) x 6' 2" (H) | Bag Dimensions: 27.5" x 9.25" x 9" | Doors: 1 | Power Cord Vent: Yes | Hydrostatic Head Rating: N/A | Price: $$
This tent Coleman 8 person comes in a dome style and is an ideal low-budget option for small families or groups of friends who are new to camping. Even if it's not a pop-up or instant tent, the setup with color-coded poles is simple to figure out. The carry bag is expandable so you'll avoid fighting with it to squeeze the tent back inside when you're heading home.
You can fit three queen-size air mattresses inside the tent, which gives you enough room for 6 people to sleep. There are no room dividers for extra privacy.
The Montana 8 person tent comes with Coleman's smart hinge door that has a pole inside the frame to close it behind you. This keeps your tent bug-free when you have kids running around who don't always remember to close the doors.
Best Instant Tent
Capacity: 8 | Weight: 40lbs | Dimensions: 14' (W) x 10' (L) x 6' 7" (H) | Bag Dimensions: 47" x 11" x 9.5" | Doors: 2 | Power Cord Vent: No | Hydrostatic Head Rating: N/A | Price: $$
This Coleman 8-person instant tent is the right alternative for those who don't have a minute to spare. It's ideal for single parents who don't have two sets of hands for putting together a tent, or if you make lots of short trips throughout the summer.
The setup of this Coleman 8-person tent is among the fastest on the market. The poles are pre-attached, so you only have to clip them into place and secure the tent into the ground, and you're good to go. 
This tent has two doors and windows on all sides that allow for air circulation. 
It's large and heavy to drag around, so you probably won't want to carry it with you for long. On the plus side, the center height of this tent is 6 feet and 7 inches—tall enough for a friend group to hang out when it's cold outside.
The tent has a water-resistant coating, with bathtub-style floors for better resistance, but it's not the most waterproof tent on the market. Still, it's a good entry-level tent.
Best Cabin Tent
Capacity: 8 | Weight: 34.9lbs | Dimensions: 13' (W) x 10' (L) x 7' (H) | Bag Dimensions: 11" x 29" | Doors: 2 | Power Cord Vent: Yes | Hydrostatic Head Rating: N/A | Price: $$
The Eureka Copper Canyon 8 person tent is ideal for families looking for a tent for longer trips that will allow them to live in comfort. With its spacious interior and two large doors on both sides, this tent gives everybody space to breathe. 
The setup is pretty good, taking about 10 minutes to put up between two people. The cabin-style design takes a little time to figure out, but the straight walls make it comfortably tall to stand inside.
This tent has some smart features, including mesh pockets on the sides and hammock-style storage on the roof. The overall quality of the fabrics is excellent, and the tent can usually endure bad weather pretty well. However, the floor is a little thin, so spreading a tarp underneath will help you protect it.
Best Canvas Tent
Capacity: 8 | Weight: 79lbs | Dimensions: 14' (W) x 10' (L) x 6' 6" (H) | Bag Dimensions: 16" x 30" | Doors: 2 | Power Cord Vent: No | Hydrostatic Head Rating: N/A | Price: $$
This 8-person tent Kodiak Canvas Flex-Bow Deluxe is a pricier option, but a quality one that just might last you a lifetime. It's perfect for environmentally conscious campers who don't want to replace their tent every couple of years.
With a canvas tent, you'll benefit from the breathable but tough material that's generally more durable than synthetic tents. It's also more water and wind-resistant, so you'll be able to use this tent through chilly wind and fall weather. 
Many users comment that this tent is about as dustproof as you can get, if you're camping in a desert with possible dust storms. That's why it's a top pick for Burning Man campers. On the negative, the Flex-Bow Deluxe 8 person tent is definitely at the higher end of the price range, and it's so heavy it's best for people looking for a tent for car camping.
Also, note that the tent is not made for snow and that you need to dry the canvas thoroughly before storage to avoid rot.
Best 3-Season Tent
Capacity: 8 | Weight: 50.49lbs | Dimensions: 20' (W) x 9' (L) x 6' 5" (H) | Bag Dimensions: 16" x 30" | Doors: 1 | Power Cord Vent: No | Hydrostatic Head Rating: 4,000mm | Price: $$
This tent is ideal for those families who want to make the most out of their year and head outside as late in the fall as possible. 
The long, rectangle-shaped design features sleeping pods at both ends of the tent, with room to sit around, eat or store your bags in the middle. You can take out the room dividers if you want to hang out with the entire family, but they're good to have when you need a little more privacy.
The ventilation is not the greatest aspect of this tent, and we wouldn't recommend it for humid weather. The tent features a 'lights out' design designed to keep the heat out of the tent, but you'll still likely get up with the first rays of sunshine. Some customers even note that this tent lets in quite a lot of light. 
Putting up the tent is quite easy, as is taking it down. And many customers who bought it love the fact that the carry bag is big enough to fit the tent without having to wrestle with it.
Best 8-Person Tent with Screen Room
Capacity: 8 | Weight: 27.3lbs | Dimensions: 16' (W) x 11' (L) x 6' 5" (H) | Bag Dimensions: 16" x 30" | Doors: 1 | Power Cord Vent: No | Hydrostatic Head Rating: N/A | Price: $$
What distinguishes the Wenzel 8-person tent from other models is its front screen room with an extra 36 square feet of space. You can use this for eating, storage or for your pets to sleep in. It can also be a great way to enjoy the outdoors when it's raining.
In the sleeping area, the floor is just big enough to fit two queen-sized air mattresses inside. You can use the tent for four adults or two adults and up to three kids to sleep comfortably. In the separate room at the front, you can fit in two more people if needed.
The Wenzel 8-Person Klondike tent also features two hanging pockets for your personal items on the inside, and a rainfly for protection from the elements. It works well in general for keeping your tent dry in light rain, but doesn't provide the strongest protection from a storm.
With the rainfly on, the temperature inside the tent can also easily get intolerable. Overall, it's best for casual camping and warm and dry conditions.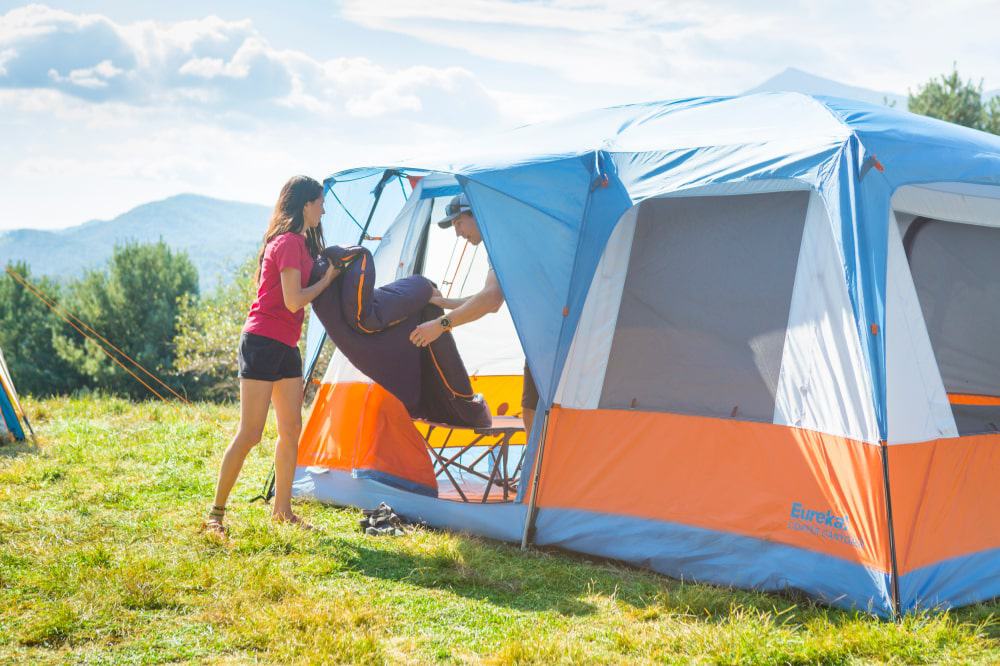 Frequently Asked Questions
How To Decide If You Need An 8-Person Tent
If you're still not sure about whether you need a tent that can fit 8 people, this is who we consider them to be ideal for:
Families with several kids and up to two adults.
Groups of up to five or six friends.
Couples camping out for longer periods, with dogs.
People who prioritize comfort and the privacy of separate rooms.
Are Instant Tents Worth It? 
Whether an instant tent is worth it for you depends on your camping habits. If you prioritize ease and tend to do a lot of quick getaways in your car, an instant tent maximizes your time in nature.
If you're looking for a long-lasting tent to use multiple times a year for decades, an instant tent will likely not be durable enough. They also tend to be a bit larger and heavier to carry, so they're not the best for hiking.
Are 8-Person Tents Comfortable for Eight People? 
The best 8 person camping tent generally has a comfort capacity of 4 to 6 people. While you can fit inside with 8 people, this means you won't have any room for movement or gear when sleeping. A maximum capacity of 8 means you'll be truly comfortable in the tent with about 50 to 70 percent of its maximum capacity. 
Which 8-Person Tent Is Best For a Family of Four? 
We recommend the Wenzel Klondike as the best 8-person tent for family camping on a budget, or the Vango Odyssey 800 for those who go camping throughout the year. Both of these 8 person camping tent models have lots of space for sleeping and storage, but the right one for you depends on how much privacy you need. 
Which Tent Is Best For a Group of Friends? 
For a group of friends who aren't habitual campers, the Coleman Montana 8-Person tent is an affordable, quality option. It has a great combination of space and privacy, and it won't break the bank. 
How We Decided 
These are some of the things we valued when making our pick of the best 8-person tents for camping to recommend to you.
Design
Winner: Wenzel Klondike
Do you want a dome or cabin style tent?
For maximum comfort, it can be best to leave some floor space in the middle for gear or your pets to sleep in, or just to hang around. The tents that have a dome or tube-like design are often the best for this purpose, as is the Wenzel Klondike with its separate screen area.
If what you prioritize is height and not having to duck when you enter the tent, we recommend cabin-style tents. They tend to be higher all around and have higher doors. The Coleman 8-Person Instant tent and Eureka Copper Canyon 8-Person tent are great examples of such tents.
Weather-Appropriateness
Winner: Kodiak Flex-Bow
Some of these 8-person tents are ideal for hot, dry weather, others will be better suited for cold, wind and rain. Not all of these tents are fully waterproof, but they mostly hold up well. 
If waterproofing is an important feature for you, we recommend Kodiak. If you're worried about the cold, the Vango Odyssey 800 with its separate groundsheet is our top pick for chilly spring and fall days.
Features
Winner: Eureka Copper Canyon 8-Person
These small details are what can make or break your camping experience. Storage pockets on the walls and roof, an e-port to bring in your cables or room separation are all nice features to have. However, it's hard to find a tent that includes all of these smart features.
The one we loved for its features was the Eureka, with its storage pockets on the sides and the roof. It also has room separation, a key feature when you want some privacy.
Value
Winner: Coleman Montana 8-Person
All in all, it comes down to the functionality and durability of a tent compared to its price. A cheaper tent won't last you a lifetime like a high-end tent will, but it will likely endure long enough to be a relatively good investment. 
If you're looking for an affordable tent that can accommodate up to 8 people, Coleman is a great option.
Coleman models, especially the Coleman Montana tent, are always a good option for their value, but so are the more expensive tents. The Kodiak Flex-Bow canvas model is another solid option for those who want to buy one tent that will last for years.
Not sure on the right capacity?
We've got you. You can check out our roundups of the best tents for other sizes here:
In our review, we found the Coleman Montana 8-Person tent to offer the best value for campers. Its spacious interiors and tube-like design are comfortable for families and friend groups, and it's easy enough to assemble. We also love the hinged doors that allow for hands-free exits, as well as the storage pockets.
Most of all, what we found great about this 8-person tent Coleman is the quality relative to the price. It's not likely a tent that will last you forever, but overall a good investment.
The 8-person tent Coleman Montana also comes in an elite version with an LED light system, so be sure to check out our review.