Welcome to our round up of the best 5 person tents.
Have you ever noticed that it's rare to find a tent for five campers? Usually capacities are even numbers (like two-person and four-person tents). Five person tents aren't the most common capacity size, but we've looked at every tent we could find that fits five people in it and this list is the best of the best.
A five person tent might be the solution for you if you're a camping goldilocks: a four-person model is too small, but a six-person model is too large! If that's you, then these five person tents will be just the right size.
So stick around as we unzip what makes these tents special.
The best 5 person tents for camping
In a rush? The best 5 person tents are:
Scroll right to view all products >
| | | | | | | |
| --- | --- | --- | --- | --- | --- | --- |
| | Best Overall | Best for Tall Campers | Best for Tech Junkies | Best for Families | Best for Keeping Dry | No longer available |
| | | | | | | |
| Ranking | 1st | 2nd | 3rd | 4th | 5th | 6th |
| Rating /5 | | | | | | |
| Review | If you want spacious, durable and weatherproof, the ALPS is excellent. | If your friends could be basketball players, this tent has 7 feet of headroom for them. | Can't sleep without a bedtime episode of your favorite show? The storage pockets in this tent allow for easy screen viewing. | This is a small, intimate tent for families with an extra feature that parents will love. | Now impossible to find! This tent is incredible at protecting you from weather, perfect for rainy season camping. | Camping on a budget? The Wenzel is inexpensive and will help you gauge if you enjoy the activity. |
| | | | | | | |
Quick Recommendation
For readers in a rush to buy the best tent on this list, our favorite tent we reviewed was the ALPS Mountaineering Taurus tent. It is a spacious and durable 5 person tent which is available at a reasonable price.
No matter what you need for your camping trip, the Taurus tent should have you covered.
What about campers on a budget?
If you haven't got cash to splash and need something that is a little more low-cost, the Wenzel Dome Tent is a great budget pick.
While this is an inexpensive tent, the Wenzel tent provides excellent value. There are no fancy features or anything too outstanding, but it lives up to the more expensive tents in terms of weatherproofing—the pole design and quality is questionable, but if handled with care, they provide more value than they're worth, too.
However, when it comes to value for money our favorite tent was still the Taurus tent.
The Best 5 Person Tents Compared
Pros
Highly durable, full-coverage rain fly.
Easy assembly.
Lots of vestibule space with one on each side

Large zippers.
Cons
Stuffy with the rainfly on.
Right off the bat, we can state that the ALPS Mountaineering Taurus 5 Outfitter tent is the most durable, most weatherproof tent of the bunch. It's clearly one of the best 5 person camping tents on the market.
The ALPS Mountaineering Taurus 5 Outfitter tent withstands 3 season use and could take on some snow, too—but it'll be cold.
As you venture out, the full-coverage rain fly keeps moisture out while also resisting UV damage on sunnier days. If you happen to venture outdoors when the weather is poor, once you get inside, you can make use of the two large vestibules to store soiled gear.
If the weather heats up, pull off the fly and the mesh roof will let air circulate in the tent, so it's not too hot when you return to it later in the night.
Speaking of nights, if you arrive at the campsite in the evening and desire a quick setup, it's easy. The heavy-duty tent poles are freestanding and attach via hooks on the tent fabric, assuring a snag-free, sleeve-free experience.
Should any of you wish to get up at night, the oversized zippers are relatively easy to find in the darkness.
I have the Taurus tent and it has help up quite nicely. I live in the pacific northwest and have camped where it has rained the whole time and not a drop came in. I love that the tents have two doors and since it has vents I haven't had a problem with condensation.

Tent review
Be sure not to leave the tent if it's raining, though. Users found that the rainfly's shape allows rain through the door if opened.
This is unfortunate, as with the fly on, the tent can feel stuffy.
---
Pros
Easy setup.
Storage pockets for tech.
Highly cost-effective.
Well-ventilated, great for summer camping.
Cons
Leaky seams.
Potentially flimsy poles.
If you're on a budget and enjoy camping in summer above all, this is an excellent 5 person tent for you.
The Wenzel is inexpensive, making it fantastic for beginners, festival-goers and families with kids who get a little destructive and may damage it. However, despite its cost-effective nature, there are plenty of top-notch features.
One of these features is the three mesh walls in place of windows, which make the tent excellent for summer camping. It's well-ventilated, even with the rainfly on.
The fly itself is okay, but it doesn't have the best hydrostatic head rating. Some users report leaks. It's also not the best in high winds.
Once you get out in the right weather, you should have few issues. You're starting off with a fantastic setup thanks to the tent's X-frame design, which is made to simplify the assembly process.
Setup is so simple that customers' kids were able to do it swiftly, alone. It's also easy to take down once you've had your family camping time inside the tent.
Be gentle during setup and breakdown, though, as some users found the poles are prone to breaking, and the guy lines can be weak too.
Once in, there's room for an air mattress, but for 5 people, you'll need to stick to sleeping bags. There's plenty of floor space for you to relax, and there's even a power cord vent should you wish to hook up your tech.
---
Pros
Immense ceiling peak height to stand upright.
Freestanding design for a simple setup.
Good ventilation for air circulation
Sky view without the rainfly.
Cons
Too chilly for 3 season use.
Stakes aren't great and come with inadequate gear.
Lower-capacity tents like this one don't typically have much headroom, but this camping tent is an exception. At 7 feet tall, the Browning Big Horn 5 person tent is an excellent tent for any tall camper needing to stand upright and room to walk around.
Truthfully, the 7 feet is only the peak height in the cabin-shaped camping tent, but the area around it is high and well fit for taller campers, too. The ample space for headroom will be appreciated by taller campers.
Browning's Big Horn tent height comes from its cabin-style shape, created by the almost-straight fiberglass poles. The poles hold such a shape that this is a freestanding tent and won't need to be staked out.
However, be mindful that a freestanding tent has nothing anchoring it, so it won't withstand harsh winds.
There are stakes you can use if you'd prefer more stability, but be aware that the tent doesn't come with a mallet or puller, and customers found the stakes weak.
Customers also advise that you buy two tarps to go with this family camping tent. One is to serve as a floor, as the tent flooring is the same fabric as the walls. The second is to go over the mesh domed ceiling, under the rainfly, as the tent can be drafty.
Once you've got your replacement stakes and additional gear, you should have no problems with this 5 person tent. It's a fantastic camping tent with no leakage issues, although many customers added seam seal just to be safe.
Inside the tent, there are a few storage pockets to avail of, and a decent floor area to sprawl out in your sleeping bag. It also fits a solitary queen air mattress if your party is small and likes comfort—although thanks to the ceiling height, you could upgrade that mattress to a cot instead.
---
Pros
E! Media center makes this a great option for family camping
No condensation buildup.
Efficient at keeping leaks at bay.
Tall, at least for women.
Cons
May be cramped.
Light, flimsy tent material.
Are you looking for a camping tent that won't cut you off from outside entertainment? This popular tent could be your perfect pick.
The five person tent features an E! Media Center that allows you to place a phone or tablet into a clear pocket. You can control the device through the pocket, and leave it in there to view.
For tech junkies, people bored on a rainy day or kids in need of music or a story to fall asleep; this is perfect.
This tent for families is entirely waterproof, and you should have no leakage worries, so your tech is safe regardless of the weather. The ceiling is mesh to allow ventilation and avoid condensation, further keeping your equipment safe and dry.
It's a 5 person camping tent made to maximize your comfort, even boasting a decent ceiling height of 6 feet. Another comfort feature is the ability to purchase a separate floor that's non-slip, great to ensure your sleeping bags don't slide around.
Although, if five people go camping, you won't have much room to slide. Although it has a 5 person capacity, it's not a 5 person tent. You may wish to keep your party at three or four.
Besides the tent floor, you'll find few issues—although something that may bug you is how lightweight the camping tent fabric is. Some users found it too flimsy.
---
Pros
Large multi-purpose vestibule.
Two large doors.
Inexpensive.
Nature isn't for everyone. Sometimes you want to exist in it—but at a distance. That's what makes this camping tent fantastic for parents who are happy to let their kids frolic in it but don't want to get dirty themselves.
The 5 person tent features a large vestibule with a floor, where you can sit and observe the kids.
When not in use, the area is perfect for storing outdoor gear. There are coverings that shield the area in full, complete with clear windows so you can still see out.
The space could also be utilized as a private sleeping space, although it'll have to be in dry weather. The camping tent is not welded or attached to the floor in that area.
If you're not using that area, your sleeping space decreases significantly, down to 8 by 7 feet. That makes this five person tent best for about three people.
Make sure it's three people who like spending time outdoors or in the vestibule, though. If you spend all your time in the tent, the interior space gets a little hot. While the tent features three small vents, they're not the best. You can use the side doors for extra ventilation.
---
Best Alternative Option
For a setup that's a little different, this roomy tent from Vango uses innovative air pole technology.
Pros
No poles during assembly.
Great 3-season tent that can handle the weather
Incredible, spacious living and sleeping areas.
Unobscured view even in rain.
Dark sleeping area.
Cons
Entrance zip can snag.
Groundsheet can rip.
Update: This tent is great, but sadly it is now close to impossible to find it! Unfortunately, we therefore no longer recommend it.
If you liked the last tent but want something with more than an awning with detachable walls, this is one to go for.
The five person tent has a sleeping area that fits 5 people side by side in sleeping bags. The living area has a sewn-in groundsheet, and you could sleep in there too, but it's best for keeping furniture.
It's a five person tent fit for long camping trips and an easy time. It has a pole-free pitch, instead providing a double action pump so you can fill it with air to get it in shape.
Once inside, spend rainy days inside the living area with large Diamond Clear Windows—not mesh, so you don't need to obscure your view with a rainfly. The Vango tent also comes with their Tension Band System which improves performance in strong winds.
At night you can retire to the lights-out sleeping area, which keeps the morning sun at bay. It's also excellent for kids taking naps during the day.
The tent body is made of thick, durable, high-quality materials, so not only will it last, but it should keep you warm and dry, too.
Customers only had small issues with it, that the entrance zip snags often, and the groundsheet can rip easily. Bring along a tarp or carpet, and it'll last for longer.
---
Who are these tents for?
Which tent is best for five people?
Winner: NTK INDY GT 4 to 5 Person Tent
As we've mentioned earlier, the comfort capacity is often two fewer than a tent's stated capacity. We've also explained how to make more people fit, and who will fit best.
With that in mind, the NTK tent is the best of these five person tents that exceeds expectations in terms of size and comfort—but only in summer and if you use the additional space.
While the sleeping floor area is only 8 by 7 feet, you can extend this floor area space to the awning-like floor area. Roll down all three additional walls and attach them to the floor.
They don't zip to the floor all around, though, so be wary of bugs. Consider a one-person screen tent that you can sleep in if you choose to use the extra space as a sleeping area.
We do, however, recommend checking out our reviews of the best 6 person tents and top 8 person tents if you want to spread out more for comfort.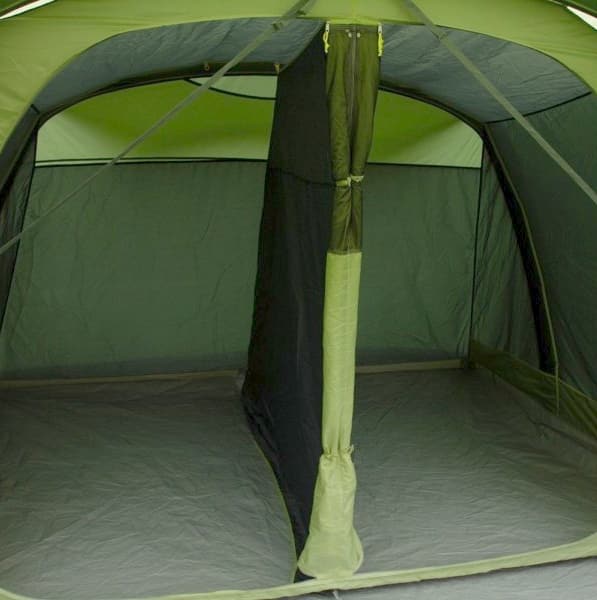 Which five person tent is best for family camping?
Winner: Vango Airbeam Odyssey 500 Tent & NTK INDY GT 4 to 5 Person Tent
Both of these tents are fantastic options for family camping. They each come with separate bedrooms and living areas to give you lots of space to work with when packing the whole family into these tents.
The Vango tent is our preferred family pick thanks to the great features that improve the livable space in the tent. The Diamond Clear Windows are great for watching the kids play outside whilst you stay sheltered under the tent – which is a savior on rainy days.
The NTK INDY tent comes with plenty of livable space as well which makes it a useful tent for family camping trips. The protected vestibule is large enough to be used for storing extra gear or getting ready in the morning.
A budget pick for families we recommend would be the ALPS Mountaineering Taurus tent. There are cheaper family tents on the market but the quality of materials really elevates this budget option as a fantastic choice for families.
Which tent is best for festivals?
Winner: Wenzel 5 Person Dome Tent
If you're thinking Burning Man rather than backpacking, the Wenzel Dome Tent is the one for you. It's a low-cost but sturdy and reliable tent, that will give you and your festival goers plenty of space.
Although there are higher quality tents on this list, we wouldn't recommend taking them to festivals. Music festivals can be dangerous places for tents – not everyone is going to be as careful around your tent with the fancy inflatable poles.
The Eureka tent comes with some excellent storage pockets which are handy for safely and securely storing your personal belongings. It would be a good alternative for festival camping as well, but it is a more expensive tent.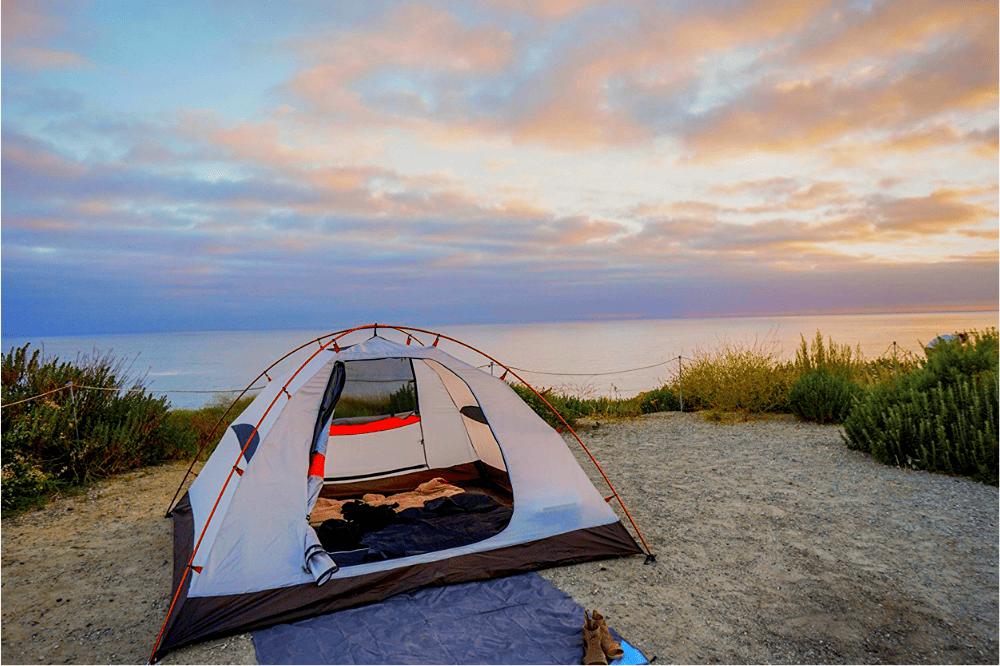 best five person backpacking tent
Winner: ALPS Mountaineering Taurus Tent
Whilst this isn't much of a backpacking tent, it's the best option we've included on the list.
As a general rule, backpacking tents with a capacity of larger than four are pretty difficult to find. Most backpacking trips opt for a few smaller tents rather than one large tent to house everyone.
But the ALPS tent is the only tent that is both lightweight and prepared for variable weather conditions – in other words it is suitable for taking into the backcountry. However, it still weighs 13 pounds, so you'll have to split the weight between campers.
If you really need a five person backpacking tent, this Taurus tent can work. But we would still recommend going for a couple of smaller backpacking tents and splitting the group up.
Which tent can you walk around in?
Winner: Browning 5-Person Big Horn Tent
Smaller tents aren't the best for walking around in. Even tents with a 4-person capacity don't often have a 6-foot ceiling height so won't accommodate many taller people.
Amazingly, the Browning tent has a whopping 7-foot ceiling height—that's similar to many 12-person tents on the market and is fantastic for comfort, livability and gear storage space. It's the ideal size for lanky campers.
If you value this liveability, or you have back/knee issues and can't get around while bending or close to the floor, this is the tent you need.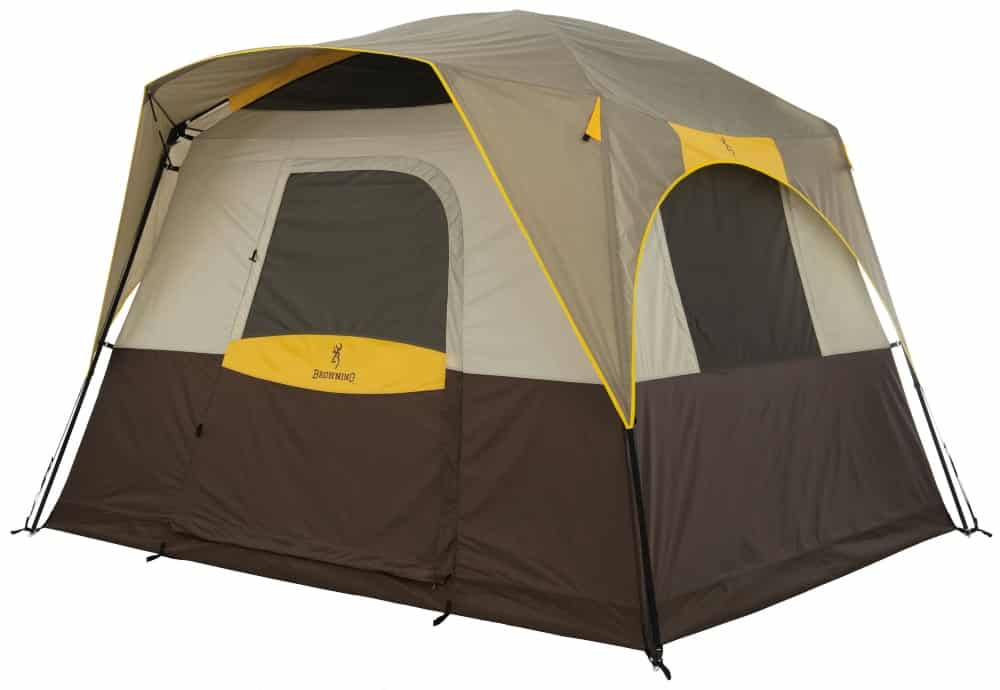 Which five person tent has the best storage space?
Winner: Eureka! Tetragon 5-Person Tent
Not many of these tents come with usable space for storage outside of basic ones like vestibule use. However, the Tetragon tent stands out for a different reason.
The tent has interior pockets that let you touch phone and tablet screens through them, so you don't have to pull out your tech to pause, play or select new media to watch. It cuts down on the hassle. On top of that, the pockets give you the perfect place to suspend your screen for easy viewing.
There's also a gear loft for keeping valuables (and snacks) safely out of reach of curious little hands.
The Big Horn tent from Browning is also a fantastic tent for storage thanks to the huge peak height and brilliant gear pockets.
Which is the best 5 person tent to setup?
Best tent for a one person set up
Winner: Wenzel 5 Person Dome Tent
Unless you've got a pop-up tent, it's always going to be easier to setup a tent with two people rather than one. But if you are left alone are these tents manageable?
This tent comes with a super simple, two pole dome structure which is easy to setup – even for beginners.
Other tents we looked at also had a similar, simple design like the ALPS Mountaineering Taurus tent or the Eureka! Tetragon tent. But they both had a peak height of six feet tall, which can make getting the fly on tricky for shorter campers.
For an easy design that anyone should manage to setup, the Wenzel tent is the way to go.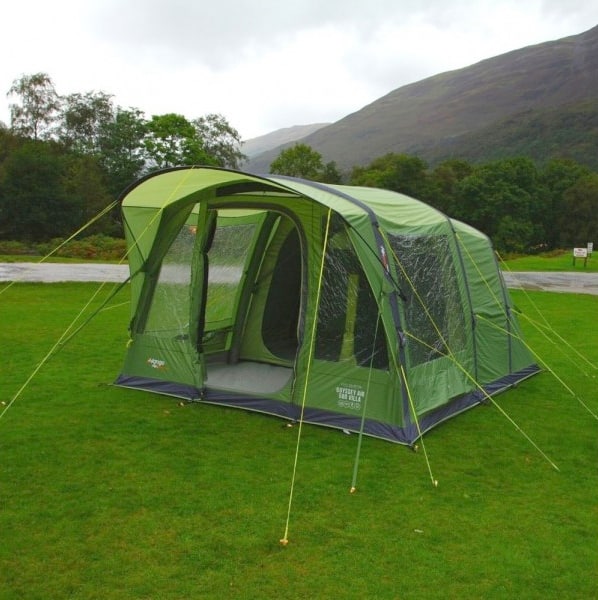 Best five person camping tent for a quick set up
Winner: Vango Airbeam Odyssey 500 Tent
Friends and young families don't want to spend forever setting up a tent. Kids get impatient, and so do drivers who've hauled you all down to the side and need a break.
The Vango tent needs no poles, so there'll be no finicky assembly. It comes with a pump, and once you get the air going, the tent is easy to use and pitches within 10 minutes. The only simpler tent type is a pop-up, or perhaps an instant tent.
Once inflated, stake the Vango tent and the job is done.
Which camping tent is easiest to carry?
Winner: ALPS Mountaineering Taurus Tent & Vango Airbeam Odyssey 500 Tent
When it comes to carrying these tents, there were two standouts. The ALPS tent is the lightest tent we reviewed which makes it great for backpacking and trips where you have to carry the tent for some distance.
The Odyssey tent impressed us with the expandable carry bag. Vango tent often make fantastic carry bags that make it easy to pack away the tent and then tight straps to reduce the packed size.
How do these Camping tents perform in rain and bad weather?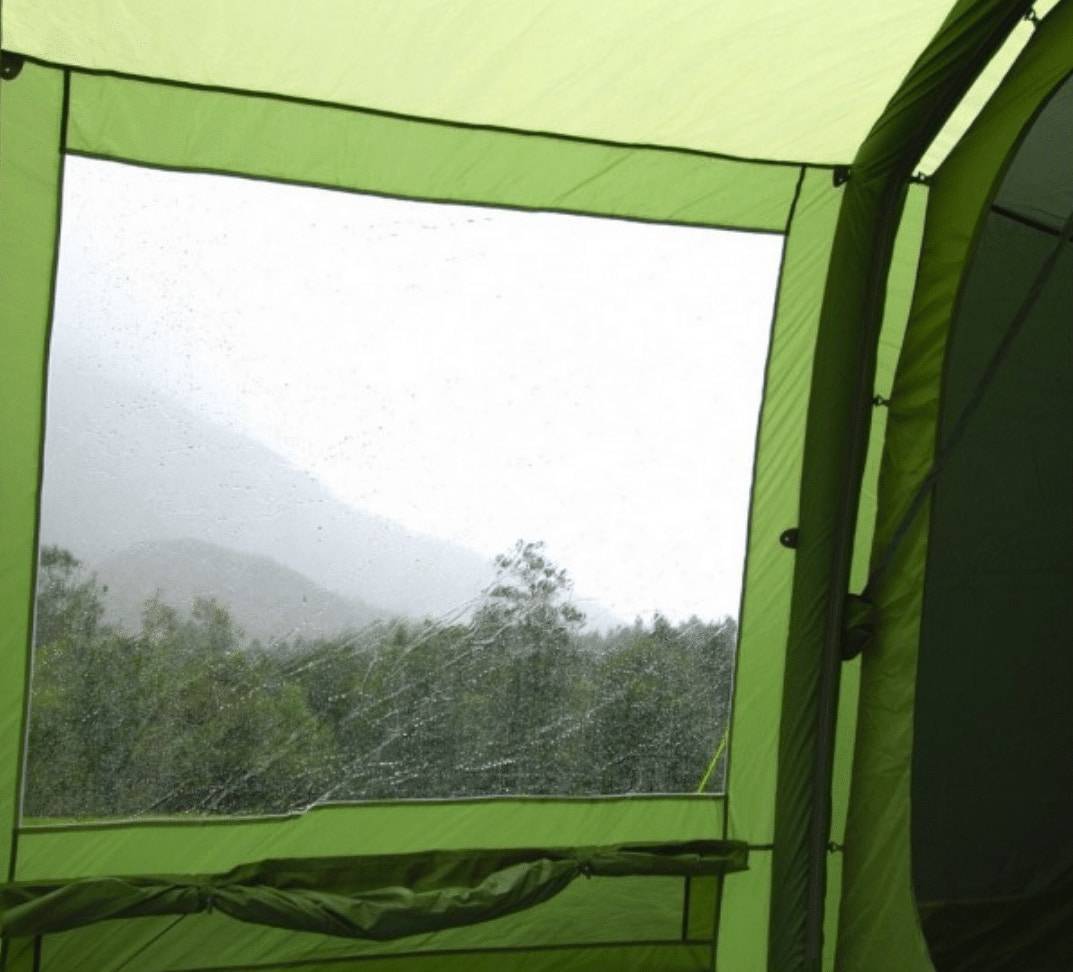 Best five person tent for the rain
Winner: Vango Airbeam Odyssey 500 Tent
All of these tents should keep you protected in light rain, but what about a downpour? Which tents will keep you dry and which ones will leave you soaked to the bone?
The clear winner for us when it came to the waterproof protection of these tents was the Vango Odyssey tent. Designed for camping in the UK, it's prepared to deal with lots of rain.
The tall ceiling and wonderful Diamond Clear Windows also mean that if you are forced to spend time inside your tent on your trip, you will be comfortable. The light from the windows helps make the tent feel airy and larger so you don't feel trapped in heavy rain.
Best tents for Condensation
Winner: NTK INDY GT 4 to 5 Person Tent
Heavy rain isn't the only issue which can lead to a wet tent. Condensation can be a real issue in tents that don't come with adequate ventilation to keep cool air circulating.
NTK tents are designed with tropical climates in mind. This means they are usually very waterproof and come with additional features to keep the tent ventilated, even in the rain. The INDY tent is no different.
The inner tent body has a ventilated mesh roof and the fly comes with covered vents. This lets warm, damp air get pushed out of the tent without being blocked by the rainfly.
Best tents for Protection from strong winds
Winner: Vango Airbeam Odyssey 500 Tent
Vango tents come with the Tension Band System technology which utilizes triangles in its design to help strengthen the shape of the Odyssey. This means that in heavy winds, the tent still stands strong.
Some of the other tents come with weatherproofing technology to improve their performance as well, like the Nano-Flex Technology Frame which interconnects poles to provide additional strength in wind. However, the Vango technology was the most impressive wind resistance feature we reviewed.
The Big Horn tent would be the worst tent to take out in heavy winds. Cabin-style tents, with their near-vertical walls could potentially catch in strong winds and lead to issues like the poles breaking.
Best five person tent for warm weather and summer
Winner: Browning Big Horn Tent
If you're going to be camping in hot summer weather, you want a tent that is going to be spacious and well ventilated to keep you cool.
The behemoth Big Horn tent ticks both of these boxes for us. With the remarkable seven feet tall peak height, this tent has lots of space inside. There is also plenty of mesh to help you cool off as the temperatures outside start to rise.
Mesh windows are also better than the solid plastic ones on the Vango tent and NTK tent for ventilation. What makes the Browning tent even better, however, is the mesh ceiling.
This spacious tent won't leave you feeling stuffy and claustrophobic. It's airy and comfortable for lounging in summer.
5 man Camping tents which can withstand the winter cold
Whilst the Vango Odyssey tent is a very impressive three-season tent, it's not designed for winter camping. It can withstand the wind and rain, but extreme cold is another challenge.
None of these tents are particularly adept at winter camping and we wouldn't recommend taking any of them out in the snow. They aren't protective enough to ensure you have a safe or enjoyable camping trip.
Lasting a lifetime: Which Camping tent is most durable?
Winner: ALPS Mountaineering 5-Person Taurus Outfitter Tent
For many of you, this is your first family sized tent, or your first tool for the new tradition of friend group camping trips. You're not looking for something that'll last forever and is for super-pro campers.
You still want the tent to last a while, though—a few trips, if not a few years, so it can help you get a feel for the activity. That's what the best 5 person tents are all about.
The 5 person ALPS Mountaineering Taurus Outfitter tent wins durability all out. It has an extra-thick floor and a full-coverage rainfly that protects the tent's exterior from flying and on-ground debris. The fly is sun-resistant and thick, too, to ensure no natural elements can destroy your family tent.
Whilst other tents might struggle with the wind or heavy rain, the ALPS Mountaineering Taurus tent stands strong. It is a sturdy tent which ensures you have an amazing camping trip.
Frequently Asked Questions on 5 man camp tents
Is a 5 Person Tent Big Enough for Four People?
A five person tent may be big enough for four people, depending on who's on your trip.
Generally speaking, tents hold two fewer people than stated—although it depends on the tent, of course.
The rest of the time, your 5P tent is best suited to three—unless some of the campers are kids.
If you want to fit two parents and two children in your tent, then yes, a 5 man tent is big enough for four people. The rest of the time, it'll be a little cramped, especially for friend groups.
With friend groups, make sure you're comfortable being close up. Or, you could be two couples where two parties in the group are BFFs.
Do note that five person tents are a little bit bulky, so do consider if a 4 person tent would be a more practical fit overall.
What Style of 5 Person Tents Is Best?
Five person camping tents aren't huge, so they won't usually have extremely high ceilings for you to walk around inside it.
However, if you want to maximize your ceiling height and space in general, then a cabin style is the best option.
Cabin tents have almost vertical sides and higher ceilings than dome shape tents. These make them great for walking around comfortably—look at the Browning tent's extreme 7-foot height, perfect for most people.
These tall camping tents are also have ample space for storage. The more people you pack into the five person tent, the less room you have, but the more gear you have unless you're car camping. These tall camping tents give you plenty of room to place your camping gear by the tent walls and pile it up towards the ceiling rather than taking up valuable floor space.
Saying that, there's still ample space for storage in dome tents and ceiling height, too, if the camping tent floor is large enough. You should store the gear around the edges in dome tents, so you have the tent center, nearer the peak height, free for walking and sitting.
Are All These Camping Tents Waterproof?
All of these camping tents are waterproof to a degree, but some are better than others. For example, the Wenzel tent can withstand rain, but users report leaks at the seams.
On the other hand, people had no trouble with the ALPS tent and minimal struggles with the rest of the camping tents above.
If you're ever worrying about a camping tent's ability to withstand rain, perhaps it's best to invest in a tarp to aid the rain fly. Weatherproof protection spray and seam seal also work wonderfully.
Do You Need a Vestibule in your camping tent?
You don't need a vestibule, but it's a nice addition to a tent. You'll find an example of a vestibule in the NTK INDY GT Tent or on the ALPS Mountaineering 5-Person Taurus Outfitter Tent.
A vestibule, as you may know, is a small area for you to strip off your shoes and otherwise dirty clothing you may have messed up during your adventures in the wilderness. It lets you keep your undesirable clothing away from your sleeping area.
Families may need a vestibule more than friend groups as kids tend to be dirty little scamps, digging into the dirt and getting splashed around the edges of any nearby lakes.
Friend groups who go on fishing or hiking trips while camping would also find great use of a vestibule.
Though in the latter case, if you're all stripping off your gear, then a vestibule like in the Vango Airbeam Five Person Camping Tent may be better. It's spacious, has a tall ceiling and there's plenty of room to store your soiled clothing and other gear.
Can You Fit a Queen-Sized Air Mattress in a five man tent?
Yes, you can fit a queen-sized mattress inside these 5 person camping tents, but only one will fit. Keep in mind that this decreases their capacity a ton—down to two people, maybe three if you don't mind being squished together as parents with a small child.
It's best to use sleeping bags and pads in camping tents like these so you maximize your sleeping space and gear storage space. Using sleeping bags, which are easy to roll up, also adds livability to the tents so you can walk around, sit down and do activities if it's raining outside.
The Final Verdict – best tent for 5 people
Our top pick for the best 5 person tent is the ALPS Mountaineering 5-Person Taurus Outfitter Tent.
While all the tents above are strong contenders for the top tent, the enhanced durability and ability to handle weather that sets the ALPS Mountaineering Taurus 5 Outfitter tent apart from the crowd.
The ALPS Mountaineering Taurus five person tent is more than a starter tent, it's one that can show you a good time as you learn camping, and stick with you as you make it a habit. Truly one of the best 5 person tents on the market.